Consumer Complaints and Reviews

I don't think this company even deserves a one star. They do not have a good customer service, and they nickel and dime you without any explanation. It is a highway robbery, and I will never rent with them again. I booked through Hotwire, but ended up getting charged by Hertz all over, and when I called them, the lady on the phone just hung up on me, for no apparent reason. Wow, I said to myself. They have just lost another customer. On top of this, I was charged an extra day, just because I was a few minutes late returning the car, due to heavy traffic at the airport. Wow! Expect no mercy from this company.

I am writing you all today to tell you about the worst rental car experience I have ever had. I flew into Melbourne FL (MLB) and had a rental car from Hertz for 2 days (around October 20). The entire experience was a bad one. The representative at the rental counter (who I assume was also the location manager) immediately after finding out I had flown in 1st Class tried high pressure tactics to get me to upgrade the vehicle and buy all optional insurances. To the point where I almost canceled the reservation and went to a different rental counter. After getting to my car and opening it up I noticed it smelled funny inside kinda like smoke but not quite the same smell. I was in a hurry so I just continued on my way. The inside of the car (namely the back seat) was stained or dirty.
As I was returning to the airport I got pulled over for rolling through a stop sign. The officer told me the car smelled of ** and he needed to search the vehicle and my person (well now I know what the funky smell in the car was). This made me late getting back to the airport. I informed the lady at the counter of the problems I had and she said "well why didn't you say something at the time of rental?" To which I responded "I didn't know what the smell was and was in a hurry to get to my final destination so I chose to overlook the smell." First of all being searched for this was humiliating, secondly it made me go into the 2nd hour of being beyond 48 hours on the rental. The representative at the location refused to forego charging me the extra 2 hours on the rental.
After calling Hertz customer service and explaining what happened the representative immediately credited me the extra hour charges (the only part of this experience so far that was good.) Now bring us to 38 days post rental. I get a phone call from my insurance company stating that Hertz has put in a claim against my insurance for alleged damage to the car during my rental. I did not receive a phone call, email, letter or anything else stating there was a problem with the rental. Nor did any representative from Hertz walk around the vehicle with me when it was turned in. Absolutely nothing was said about damage (for that matter they did not do a pre rental inspection with me either).
Today I have spent 4 hours trying to get in touch with someone who could help me. After being transferred and/or given different phone numbers to call at least a dozen times I finally got a Hertz Claim #, a name and a phone number of an adjuster. When I called the adjuster I had to cut her off mid-sentence and basically said "Look... if you are claiming I did damage here is what I need from you 1) I want time stamped photos from immediately before I picked up the rental car and time stamped photos from immediately after I dropped the car off showing there was damage done while I had the vehicle. 2) since it has been 39 days since the rental I want records of every rental that has been made on the vehicle since I dropped it off. 3) I want to see the damage/incident report with my signature on it from the time of the return."
After I made these requests the adjuster stated, "Well I don't see any way to prove you did the damage and you state that you did not so we are going to close the claim." After getting off of the phone with Hertz I called Geico back and told them what I had just been told at which time the Geico adjuster went through a fax he had received from Hertz and stated that he had been faxed an incident/damage report stating there was damage as proof of the claim but that the form was not signed. This seems an awful lot like insurance fraud to me.
This whole situation has left such a sour taste in my mouth that I can't even begin to come up with an idea of what would be proper compensation for the hassle and inconvenience or the possible damage I would have suffered for years to come from increased insurance rates. At the very least I don't see myself ever renting a vehicle from Hertz ever again.

Purchased a compact rental for 10 days on AAA. When I got to the rental counter, the on call manager was very rude!! She said that they could do nothing with my reservation, that they did not have a car that size. I have had this happen before, and I would usually get an upgrade. Here, they refused and wanted to charge me over 800 more for a full size car. I talked to customer service that got my rental down to 435... still up from my initial rental charge of 210. Also, they charged my card an extra 200 that they did not tell me about.

I reserved a 7 passenger car on 11/12/2016 for 11/23/16. Get to the place to pick up car only to be told there was not one available and I had no contact information but I received a confirmation email about my reservation being ready. I spoke with a so called manager named James whom was the worst manager ever and was very rude and not concerned, only wanted to push me off the phone by hanging up on me and not calling me back and when I called back put me on hold for 10 min. This was not acceptable!

I had reserved a rental vehicle through Hertz who I had used in the past. I did my sign in online and was all ready. My vehicle is being repaired so I needed a car. My son dropped me off. The young man there acted like he had no idea what he was supposed to do. He told me they had no vehicles yet so I waited. Thirty minutes later he told me he had a vehicle but the tire was low and had a leak and the check engine light was on. What??? Then he told me he had to put a $200 deposit on my credit card that would stay for 7 days. I told him I never have had to do a deposit unless using a debit card and never when I used my credit card. He asked "What's the problem? You don't have enough credit on your card?" That's not it. I do not want a deposit on my card if not needed and not for a week after I return a vehicle plus if I am going to rent a car I should not have to air up a tire myself or worry about mechanical issues.
I told him to cancel my reservation. While I sat outside waiting on a ride, several cars came in and I listened to people renting cars. He did not ask them for a deposit with a credit card. I will never use this company again and as a member of the National Educators Association I will let them know how one of their sponsors treats customers.
How do I know I can trust these reviews about Hertz?
633,474 reviews on ConsumerAffairs are verified.
We require contact information to ensure our reviewers are real.
We use intelligent software that helps us maintain the integrity of reviews.
Our moderators read all reviews to verify quality and helpfulness.
For more information about reviews on ConsumerAffairs.com please visit our FAQ.

Hertz Tucson International Airport, car was not available. Picked Chrysler 300 gave me a Buick Regal. When I would not accept the car they would not refund my money, told me I had to contact the "Third Party", Expedia. Also charged an additional $320 US for insurance and other fees. Rental ended up costing me over a $1000 Canadian dollars.

I booked a compact car (5 seater) with Hertz but I got a small economy car (4 seater). We were 5 people traveling. It caused a great inconvenience. Moreover, the fuel tank wasn't filled up which I brought to their notice and then they filled it up which caused so much delays in my travel. Now after 15 days, I received another toll charge on my card which I don't believe is correct. No one answers the call at customer care and call gets disconnected often. This is highly unprofessional service. I have used all the car rental services available and this is the worst experience I had.

I'm an authority on renting vehicles. I rent approximately 3 to 4 times per month for 3 days at a time for business. I am normally an Enterprise customer but their rates were extremely high recently so I decided to give Hertz a chance. Boy was that a horrible idea!!!! First of all the associate helping me tried to give me a yellow car. I explained my work requires discretion and a yellow car wouldn't work for me. His solution was an "upcharge" to another vehicle class. So that wasn't a very good start. I reluctantly agreed to the extra fee and away we went. The vehicle I was given was fine except the inside was dirty and the windows looked like someone puked all over them.
I had rented the vehicle on a Friday and was supposed to keep the vehicle until Monday. Due to circumstances out of my control I didn't need the vehicle for more than 1 day. I attempted to return the vehicle early and save a few dollars but that particular branch is closed on the weekends. I called the 1-800 number and spoke with a woman in India who offered to have me return the vehicle to the Hertz branch located at a local regional airport. She mentioned the charge for returning at a different branch than originally rented as $247.00 (my total price for the 3 days was 100.00). I asked if there was any way she could waive the additional fee and was told sorry no. I mentioned I would simply drop the vehicle at the closed branch and dispute the charge on the credit card and she asked me to hold.
Moments later someone from roadside assistance came onto the line and wanted to verify I was in fact dropping off a vehicle to a branch that was currently closed. It seemed they wanted to discourage me from dropping the vehicle off early because it was mentioned I would be responsible for any damage or vandalism to the vehicle. I asked the woman if she could help me get the vehicle to the airport and avoid the extra fees and she said, "the people who can help you only work Monday thru Friday." To be fair the woman was very nice. I will not be returning to Hertz ever again and will be disputing the charge on my credit card. I will be sending a copy of this review to Hertz corporate and will blast them whenever possible on social media.

Don't use Hertz. True, cancellation policies are stated online. Why have policies like that if you cater to the public? I reserved a car for 3 days and the next day my daughter who I was going to visit, said a neighbor would let me use their car if necessary. So I cancelled just outside of 24 hours. They kept $50 of my money! Had I called WITHIN the 24 hours they would have kept $100. I thought calling soon was helpful and convenient to them so they could rent out the car. The people on the phone said nothing to me about it (because it was stated online). By the way it said online they MAY charge a fee. That's how I read it. I didn't rent this car on some crazy whim! Now I am glad it was cancelled because I will never pay them another dime of my hard-earned money. My recommendation - use Uber to get around. Or don't be a planner - don't reserve until you absolutely have to. Let their cars rot on the lot.

I had a rental for a week with this company. I needed to extend my reservation. They charged my card $500 and treated me very rudely in front of all their other clients. They refused to extend the rental. They left me stranded at the airport with no transportation. I would not recommend this company! Thanks Jeff.

I found a $88.45 mischarge in my credit card account after 20 days renting the car, listed a lot of toll pass crossing I never went. I called and emailed but they only refund $4 admin fee!!! Never use Hertz again, stay away from it!!

My experience with Hertz at LAX was virtually identical to that of Nate of Marblehead at Newark. I paid Priceline in full. When I picked up the car I also was directed to a video kiosk. I never requested an upgrade nor did I agree to one. When I was billed $182 I thought Hertz may not have received my payment through Priceline. When I received my Amex statement I noted Hertz had been paid twice so I disputed the double billing. Hertz had the gall to claim the second charge was for an upgrade I never requested. Sounds like my experience wasn't an isolated one and leads me to believe this may be a systemic practice of Hertz. I wonder how many people pay without realizing they've been overcharged. My next step is to complain directly to Hertz, but I'm not optimistic based on Nate's experience. I will report back if I have any luck. Otherwise, I'm resigned to filing a consumer complaint through the CA Attorney General's office.

As the victim of being hit by another person and subsequently being sent (by State Farm Insurance) to Hertz as one of their preferred providers--I was directed to get my temporary rental car at Hertz in Franklin, TN. I was instructed by State Farm Insurance that EVERYTHING was already taken care of and that I needed only to bring my driver's license and a credit card to be used as security for any incidentals and/or damage. I was ASSURED that Hertz and State Farm had all the paperwork and all the details already arranged. I signed their 4.5 font rental agreement that they had already prepared and took the rental car. When I returned the rental car I was hit with a $336 charge for an insurance policy that Hertz provided.
Why in the hell would I need insurance on a rental car arrangement that was set up between the "preferred" rental car agency (Hertz) and the actual insurance provider (State Farm) who was paying for the rental car itself? Of course I contested this with my bank (Bank of America), State Farm Insurance and Hertz directly. These efforts yielded me absolutely NOTHING. Hertz deceived me... State Farm claimed ignorance in the whole matter and my Bank abandoned me. They can all rot. I will never use any of them again! NEVER USE HERTZ... they are the most unethical company I have ever had the displeasure of dealing with.

Hertz met my price. I picked up the car at Tampa airport, left the airport, figured out the AC controls and was suddenly enveloped by the stench of cigar smoke. After the car sat out in the sun, the pervasive smell worsened, it was literally nauseating. The response at the airport upon return of the vehicle was that they would remove the car from the rental pool. Hertz response was a voucher for future use... not likely!! No response from Priceline!!

I rented a car for two weeks while on vacation - since I have insurance coverage through my own insurance and the credit card I used for the rental, I declined any supplement insurance offered by Hertz. After returning the car, an additional $765 worth of insurance was charged to my card. After several calls with several different customer service representatives, it was finally stated that it was charged because the online profile they created for Hertz Gold Plus defaulted to accepting insurance. They stated that it didn't matter that I declined when making the reservation, that the online profile is proof that I accepted the charged. I am obviously very disappointed and won't be using Hertz again. I am following up with the credit card to dispute the charge since they already offered me coverage.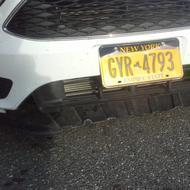 I made an 8 am reservation for a Hertz rental for 11/01/16 thru 11/08/16 as I had an extremely important meeting that day at 10 am. The rental agent was 10 minutes late opening the location. He proceeded through the process and was about to give me the keys when he stated the registration on the vehicle he was renting to me expired the day before. Shouldn't this have been known before now? It's now 8:20 am. I impress upon him that I have an important meeting that I can't miss. He goes to the back and brings a Ford Focus that he says "it has some plastic hanging, but it is safe to drive". I ask him again "is it safe because the front bumper strip is missing."
He assures me that it is safe to drive, gives me the keys and I'm off to fight the I-95 gridlock for my 10am meeting. I get on I-95 in less than 3 minutes and I almost have a wreck. The car began knocking and something was dragging so loud underneath that I began to swerve. Cars were honking me off the road so I pulled off and immediately phoned the rental agent Eric **. Needless to say I was going to miss this important meeting, as Mr. ** explained that he had to find another car and didn't know what time it would be there and that I would have to come back into the office. I was left sitting on the side of the road waiting.
Finally around 9:15 am, Mr ** says he found a car and that a driver (Joe) would bring it to me to switch out eliminating the need to go back to the rental office. All fine and good except it's 9:25 am and I can never make it to Center City, find parking and get to the lawyers meeting by 10 am. The driver Joe drives right past me, consuming more time. He drives back around and his first words to me were "This vehicle should have never left the premises, it has major damage and was scheduled to go out for body work." He then said the agent told him that I forced him to give me the car. I couldn't believe my ears. Adding insult to the major inconvenience!!! I missed my meeting.
When I returned the switched out rental this morning 11/08/16, I expressed my displeasure of the inconvenience and the blatant lie. I received a "sorry for the inconvenience". Nothing in return for an almost disastrous car wreck or for a missed meeting that was worth hundreds of thousands of dollars and on top of that he added a fuel charge without my consent!!! It is very clear they have absolutely no appreciation/value for their Gold members or customers.

My husband & I have been long standing consumers of Hertz Car Rental Agency beginning in 2015, which my husband rented from Hertz almost every weekend for out of town travel for which we paid out of pocket. On August 19, 2016 at approx. 9am we arrived at the Tampa International Airport Hertz location. We called to confirm the details of the rental the night prior to our arrival as there was a discrepancy in cost between the online reservation and the rental agreement email, the location reported a cost of $70.29 and the email noted a cost of $29.73. We were assured by ** that this issue would be resolved for pick-up and an email would be forwarded to the location.
We arrived with additional family members on the morning of the pick-up and proceed to the Gold Club Reward pick-up window on the fifth level where we encountered **. We were given the rental cost of $70.29, we noted the discrepancy and explained our communication with the phone rep the evening prior and noted that there was an email forwarded to the manager. We pulled up the rental agreement confirmation email on our iPad as directed by **. ** reviewed (extensively) the iPad confirmation noting the reservation numbers and other details which all matched with the exception of the amount. ** then proceeded to contact her supervisor ** via telephone.
As ** conversed with Ms. ** staff arrived and began to stand around the surrounding area, ** wrapped up the call and then informed me that I had put a code in the system that generated this error in pricing and I should not have. I stood there in disbelief first that she was speaking in such a loud tone and that she would be so unprofessional and disrespectful; I had no clue of the code she referenced.
As my husband gave ** his credit card to pay for the rental ** asked the type of car we were interested in (Altima or Chrysler 200), I began to answer and ** stopped me while referencing a comment to my husband telling him he needed to speak up, she admonished me and stated the rental is in his name, he needs to speak. Her demeanor was confrontational and smug to say the least. My husband answered saying, she (referring to me) can decide. I was so frustrated and embarrassed at this point, I then asked to speak to her supervisor; ** called ** once more and stated, "She wants to speak to you." I was informed ** indicated she did not have time to come and speak with me due to her office location and tasks she was involved in at the time.
I took the telephone as this was the option I was given, spoke to ** and very emotionally noted my displeasure. I was informed by Julia that she was in the middle of completing some paperwork and unable to come to terminal Red to assist. I informed ** I was leaving the Hertz counter and going to the Alamo counter due to the encounter with ** and the disregard ** displaying, ** simply said "Ok" and provided her last name when asked. I informed her of my intent to follow-up with corporate regarding the disregard and the lack of concern at the loss of a long-standing customer.
I took my card, left the counter feeling embarrassed, disappointed and frustrated. I called the customer service line and proceeded to voice the concern as the location manager was not attentive. I then proceeded to search other options in the area, due to the lack of option in the area; we kept the rental for the day. We proceeded to the lower level rental counter where ** was very helpful and professional. However, I left feeling Hertz does not value the average customer, the Gold Club Member, nor does Hertz value customer loyalty. I forwarded an email to the corporation soon after returning from vacation in early September 2016, which I have not received a response.

I contacted Hertz International to rent a car for our trip to Ireland in Sept. 2016. I was quoted a price in euros and dollars, and I called to confirm the price 3 times. When we got to the Hertz counter in Shannon, the cost was $428.40 more than the estimate. When I called to complain, they sent the charges to Shannon to "investigate". Four weeks later, the charges were considered appropriate. When I called customer service, I was told, "We don't handle customer relations over the phone." My only other option was to email or send via USPS my complaint. No one could explain why the charge was more. Get a copy of your quote in writing. Better yet, don't use Hertz.

After being a loyal Hertz customer today when trying to pick up a car I was told because I booked online and paid in advance that I would have to sit in the lobby for 21 minutes because I was early. I used their service, not their site, but because I paid in advance they cannot help me until 530 because I did not list it as 509. I now had to wait in line all over again at an airport because of this company's strange actions.

From the min I walked into Hertz I was completely unsatisfied. Boardman Ohio location the associate was terrible, and very unprofessional. Aside from the ridiculous 200$ deposit required (that I am still currently waiting to get back), there was a note in the car that I must have the car cleaned out before returning!! That I would be charged if they had to clean the car. What a joke. I will never ever ever ever use this company again. Pretty much ruined my vacation.

The wide introduction of vst in new cars has been covered widely in the press for their whining sound and non mechanical use of belts to replace older 4 + speed transmissions. Failures and problems are rampant. In addition the replacement of new coolant is being studied for heat and fires. Also, an issue with lack of spare tires leads to frequent road service calls.

I recently rented a car from Hertz at the Newark Airport. Paid for it through Priceline. When I got there the Hertz people told me to use the video Kiosk. I did and got my car without a problem. However, when I dropped it off they charged me an extra $85.00 stating that I received an upgrade. (I rented a full size car and they gave me a Chrysler 300. They call this a luxury car, which I had no idea.) I was never told about an upgrade, upgrade was never mentioned in our conversation and I did not agree to an upgrade. BEWARE of this tactic because a few friends of mine said the same thing happened to them. My guess is that the agents are getting a commission if they upsell you to an upgrade so there is a bit of sleight of hand going on. I complained and they offered to give me back 50%. So this is the second half of the Hertz shenanigans. I refused, I will not pay for something I did not agree to or was not made aware of. Thank you.

In July 2016 I hit a deer. My car was in the shop for 18 days. I rented a car through Hertz, paid for by my insurance carrier. A few weeks after the car was returned I received a statement saying I was charged for $56 in tolls and service fees. I called Hertz explaining I've never been on toll roads. It was explained that once you open the box that holds the plate pass, a daily service fee is attached along with a toll from Philly. I had at no time during my time in this vehicle has I gone there. My 11 year opened the box but closed it right away which apparently triggered the service fee to accrue daily. My money was finally returned after having to go through our local Hertz team.
Forward 3 months... I was rear ended and back into the shop my car goes. 10 days it's in the shop. Hertz being the negotiated rental company for State Farm, I decided to give them another chance. Knowing the problem with the last time I rented, we didn't touch the plate pass box, nor go anywhere with chargeable tolls. Last week I received notice that my debit card was being asked to pay $390 to Hertz tolls. My bank recognized this as a scan and didn't pay and flagged me. Hertz has tried to remove this amount twice more and each time my bank kicks it out as fraudulent. This week I cancelled the card on the banks suggestion. I asked and received a listing of where these tolls came from and it was 180 miles away from me in NY City and NJ!
The local office is trying to help resolve but the standard answer you get from Hertz is that it's not then, it's plate pass and plate pass just days you owe. I will never rent from Hertz again. This is huge scan. I work for a State Farm office and I'm afraid that my clients will get ripped off. We did everything correctly, yet I need to do all this leg work to try and fix it. How do you get Hertz to wake up and see the customers exiting the door? Stop this plate pass nonsense!

I'd like to say first off I would never rent a car from here ever again. Worst experience ever. I was referred by my insurance Company State Farm after my 2017 brand new car was wrecked by a Hit and Run Driver. Upon picking up the rental it was scratched all over. The interior was stained and had cigarette burn holes in Driver seat. Car smelled terrible. Was told this was all that was available to come back in morning. The next day while driving this car noticed front end made loud noise and pulled to the right and WE also realized they gave us a car with Bald tires.
Now as I was just in a car accident my husband was furious. We drove there to request a different vehicle three different times and was told "That is all we have available right now. Sorry we have to stay in your vehicle Class." As I'm shaking my head with disgust. Stay in my vehicle class. Are you kidding me? Hertz gave me a 2015 car that smelled like an ashtray with burn holes and bald tires. I'm sorry but nowhere near my vehicle Class a 2017 brand new 2 wk old car. Umm... I think not. I'm deeply upset with the Hertz car rental company.

Hertz on La Brea was in a rental bonus program with Lyft. Lyft required me to do 65 rides and Hertz was to pay for the rental. However, when I got there, Hertz still charged me 206 dollars for the rental. The Lyft Advisors promise that Hertz will pay me back, but Hertz never did. I have called over 20 times and shown up in their office and they keep promising to send me my money back.

While I do not mind paying a fuel charge back to Cape Town I do not agree with Hertz turning up at my property and the drivers informed me that they were on way to Cape Town International airport and then to take other vehicles to the Cape Town depot. Cape Town international airport is in a different direction to the Cape Town depot. Why should fuel charge for collecting and delivering of other vehicles to a separate destination to be used by Hertz staff in their working day. This hire vehicle was filled to the brim and then some more. Some twenty minutes before collection and I live less than one kilometre from the garage. Hertz depot Cape Town from my house is only 41.5 kilometres. The mileage shows 67 kilometres based on your invoice and the difference between the photograph I took of the vehicle's mileage just before it was collected. It is not about the cost but the principle.

Made a reservation for a rental from Hertz. Was told I could rent a Toyota Corolla from the Tampa, Fl. airport on Sept. 9th, and would be returning the vehicle back to the Tamp, Fl. airport on Sept 16th, 2016. I was told ref. my reservation that I could pick the car up at the Hertz counter, in the Blue, and by terminal 12. Upon arrival, no Corolla was there for us, I was told that I was in the wrong location and that I should be downtown picking up my car. I explained I was told to pick up the car at the airport and return it back there.
Anyway he told me I had to pay an additional $40 because I was picking it up at the airport. I had a confirmed reservation for those dates, that car, and at a price of $185.85. My reservation stated that was the total price, no changes etc. Upon calling the customer service, I was told they were right because not all the fees taxes etc had been added on. I tried to explain that my confirmation stated NO CHANGES TOTAL PRICE $185.85. So, now my bill is $225.85. So, since they think they are going to ** me I am going to refuse to pay them when my bill comes. HERTZ SUCKS AND THEY WILL NEVER GET ANY OF MY BUSINESS EVER.

I booked a car from Hertz and when I went to collect they asked me to wait one hour to get the car because the category I booked was not available. When I insisted to process the agent said he will process but then he said "no car for you because security test fails." That was the joke of the year. I own my house for years and my credit score is the best. So insist him to re-enter my details. I noticed him entering my details wrongly as he was ignoring some letters. I had no option other than book from next Avis counter. So technically agent can reject your booking if no car available and they say a reason as well. Such a horrible company. Never trust them.

I have rented from Hertz twice and both times were a complete mess. My first experience was in June and my second in August both of this year. The nightmare began when I noticed "Toll" charges on my credit card even months after returning both rentals with no explanation. Calls to Hertz went unanswered or they would put me on hold for at least 20 minutes before I hung up from the frustration. Till this day, four months later, Hertz is still falsely charging my credit cards for "Tolls."
The second time I rented a car from them (I am not sure why I did this to myself) I was leaving their Downtown Miami office when I noticed that the car had broken glass and ash all over the interior along with the smell of smoke. Being in a hurry to get to work, rather than go around the block and back to the Hertz office (remember downtown traffic is no fun), I called and spoke to a representative. I explained to him that there was ash and broken glass in the interior of the car along with the smell of smoke, and he told me I had two options. I can either return the car for another one right there and then, or keep the car and return it the way it was when I am done, with no cleaning charge.
Being late for work and not wanted to go back to Hertz, I kept the rental the entire 2 weeks. I called the Hertz location where I was going to return the car and made sure they had a shuttle I can take me to a body shop I needed to go to. I walked in to their Bird Road, Miami location to return the car and a representative helped me about 20 minutes after I walked in. He asked me for the keys, went to check the car, and came back. He asked me if I had smoked in the car and I explained that the car had the smell of smoke along with ash and broken glass in the interior when I got the car, and had spoken to a representative at the original location about the situation which told me not to worry about it (I gave him the name of the original representative).
The guy gave me a smirk and rolled his eyes at me, and told me it's the first time he had ever heard of a situation. Confused I again explained that I called the Hertz in Downtown Miami as soon as I left with the rental to explain the condition of the car which he replied, "I should charge you the cleaning fee anyway." I asked him what he said to which he started mumbling under his voice and walked away with the papers from the rental. To add, they did not have a shuttle and they couldn't tell me when a shuttle would be available. After waiting another 40 minutes one of their staff took me to the body shop. It has been a little over a month and I still cannot believe I had a Hertz representative talk to me like that. How is Hertz still in business???

As a business traveler I have been renting Hertz as a President's Club member for a few times a month and established a sense of a price point for rentals lasting 1-2 days each. Visiting my son during his college's Parents Day in Atlanta over the weekend of Oct. 21, my assistant booked the rental, as she has done the previous 50 times earlier, on Sept. 1st, and my wife and I arrived to pick up the car. After 31 hours and 99 miles of usage the bill was handed over to me was $340.05. I took a Delta flight out of Newark for $160 per person each way, so clearly this was out of whack or something must have been wrong.
I called back the billing department, I call Hertz after 25 mins in the queue. Apparently Hertz considers any billing question their lowest priority given you can connect to new rentals under 30 secs. The rep Annette (God bless her heart) lectured me that this is it. I should known the bill and should not have paid it or have negotiated at the pickup. I said that means 'we gotcha' and I have to deal with it. She had a moment of Freudian lapsus and said yes and then when she realized her mistake tried to convince me that this is actually a good price. I explained this translates to more than $3.4 per mile or $9/hr which made her pause. We know our country in general struggles with math.
I told her that I am stopping all future business with Hertz and will write this up in websites. She did not seem to care. Her motivation was to get off this call as soon as possible rather than making concessions or offering a logical explanation. SHAME ON YOU HERTZ. You lost my business and confidence in your integrity. I was put on Avis for a few times last year and I am sticking with them, Uber, or my limo drivers.

Lauren FixAutomotive Contributing Editor
Lauren Fix is an automotive expert who earned the title of The Car Coach, and is recognized throughout all forms of media as a woman with in-depth knowledge on vehicles, technology, automotive finance, repair and trends. Founder of Automotive Aspects, Inc., her understanding of automobiles has made her the "go to" person on TV, radio, print and the internet. She writes a column for multiple outlets including Parade Magazine, NewsMax and Car Coach Reports. She is a regular guest on all the major news and morning shows discussing the latest updates on cars that will help drivers of all ages learn to about cars and make smart decisions. More about Lauren→

Hertz offers rental cars in more than 150 countries across every inhabited continent. It has more than 10,300 corporate and franchise locations worldwide.
Loyalty program: The Hertz Gold Plus Rewards loyalty program comes with VIP benefits like faster pickup and drop-off services and member-only discount offers.
Business-to-business services: Business clients can save up to 25 percent on rentals and earn points for free rental days.
Accident partner: Hertz partners with many insurance companies to give drivers a quick and easy car rental while their automobiles are in the shop for repair.
Promotions and discounts: Hertz runs a constant stream of discounts and special offers on everything from extended rentals to weekend getaways.
Roadside assistance: In addition to liability insurance, Hertz has premium roadside assistance packages to help with situations like running out of gas, lost keys and dead batteries.
Many makes and models: Hertz offers multiple categories of vehicles, everything from economy to hybrid cars, convertibles and luxury cars to 15-passenger vans.
Car and Ride Sharing: Hertz has a Green Traveler collection, meaning all cars get a minimum of 33 miles per gallon.
Best for Vacationers, business travelers, event planners, temporary workers, those with cars in repair, those who want a wide selection of vehicles and those who don't own cars.
Company Name:

Hertz

Year Founded:

1918

Address:

PO Box 269033

City:

Oklahoma City

State/Province:

OK

Country:

United States

Website:

http://www.hertz.com/