Consumer Complaints and Reviews

Booked car via Expedia for the price $418 to be picked up in Frankfurt Ger. Ended up paying over $1000. How is this possible? First of all only Hertz had huge line at the counter, I guess many other people were scammed also not just me. After hour of waiting person at the counter told me that I have to have insurance. I told him that I opted out while booking this car. Then he pulled out laminated paper with highlighted small print stating that I have to have personal letter from Visa or Am Ex promising to pay damages. My response that "It is standard Visa and Am Ex policy to cover damages" haven't done any good. He responded "Are you taking car or not, I have many people waiting". I took it and my bill was over $1000. Rip off.

Rental from 08/03/2017 to 08/16/2017 total $655.96. We have rented a class L SUV, which was a standard SUV. Hertz gave us a mid size SUV which had a class Q4... The reps kept saying that class L SUV was what we got because it had five seats. Even in their email confirmation, it said we have received a Q4. They really took us for a ride. After our third attempt at their office, they finally admitted that class L and class Q4 were not the same. They had both five seats, but class L had a bigger trunk and probably a little bigger... And the rental price was different. Even after them recognizing that we did not get the right car, there were no attempt to find the right SUV. We were not given any remedy to our problem. We kept calling every two days and asked them if they had the right car, class L SUV.
We reserved that class L SUV about three months ago because we needed a bigger car for our baggage.
Reservation does not mean anything to your company either. We can't rely on your company. And your company lies about the size of car rented. We can't trust your company. At the end of the trip, we had a friend drive an extra car to the airport because we could not fit all our baggage. CAREFUL WHEN YOU RENT AT HERTZ, CUSTOMERS BETTER MAKE SURE YOU GOT WHAT YOU WANT BEFORE YOU SIGN. HERTZ WILL NOT HELP YOU AFTERWARDS.

I am a Platinum member. This affords me the convenience of a Hertz representative meeting me curbside at the terminal and a representative driving me back to a terminal for departure. I recently rented from SFO and was dropped off at the departure terminal by a Hertz representative. Approximately four days after I returned home I started receiving calls asking me to return the car. I informed each representative that the car was returned. The first seven (7) calls I held my "cool". I continued to receive 15 additional calls and 2 letter threatening criminal action and repossession. Additionally, Hertz tried to bill my credit card each evening for the daily amount. After 4 weeks they found the car. However, to date there has never been an apology. Destroyed a great customer!

I clearly directed the clerk that I did not require additional insurance. I was charged anyway. I was presented a bill over $1100 dollars, which I never received but it showed up on the email when I made the complaint. I booked via Autoeurope and paid in $420 in advance and I was under the impression that was it. Hertz charged me an additional $372 on my credit card at the end. Nothing adds up and I was scammed.

We rented the car from Bozeman airport location, and quoted for $527.73 for unlimited mileage for 7 days, and a free car seat with our AAA deal. We were supposed to return the car to Kalispell location, but I made a mistake of not checking the agreement paper that listed Bozeman as the return location. Tried contacting Hertz customer service 3 times, they told me they couldn't help me. They gave me a contact number in Bozeman and told me to contact them directly.
I tried to call them more than 30 times, but no one picks up the phone! Finally, I went directly to Kalispell location, and tried to return the car there. They couldn't give us the exact cost because they couldn't contact Bozeman location either. They told me it will probably cost an extra $300-$500 for changing the drop off location. So we did that. I received a missed call after our plane landed, and returned their call.
Bozeman location employee couldn't help me at all because their manager is not in, he said the manager will call in an hour, but he/she didn't call. I received a receipt through email the next day for $1688.23!! They charged me for the car seat and extra miles!! I thought it was free with the AAA deal, and we have unlimited mileage. I can't even contact them to talk about this ridiculous charges!! Will never ever rent from Hertz ever again.
How do I know I can trust these reviews about Hertz?
854,137 reviews on ConsumerAffairs are verified.
We require contact information to ensure our reviewers are real.
We use intelligent software that helps us maintain the integrity of reviews.
Our moderators read all reviews to verify quality and helpfulness.
For more information about reviews on ConsumerAffairs.com please visit our FAQ.

I'm a senior who booked my 5 day rental in Glasgow through Travelocity. The rental company was "Firefly" which is really Hertz as I discovered. When I arrived at counter for pickup the lady was very nice but suddenly this 22 pounds a day insurance came up. " You realize that you are driving without insurance if you do not take this. We will take the complete cost of the car from your credit card" (cost of the Vauxhall Cosa was close to 17000 pounds). When I refused and signed the refusal she became quite indignant and a change of attitude ensued.
Obviously this is an ongoing scare tactic money grab which I am now very much aware of. I assume that other car rental companies are the same. Also its cheaper if we fill it up' line came up. I rent a lot of cars in Canada and it is NEVER cheaper when the company fills it up. I always return the car full. It's about time that this business scam was exposed so the consumer could be more aware when renting in the UK.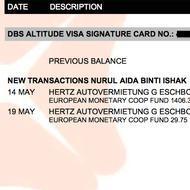 I rented a car from Hertz, picking it up from Dusseldorf Airport, and returned the car to Munich Airport, in May this year. When I pick up the car, I agreed to pay collision damage waiver, which came up to 487.34 Euro. The total charge to my card including car rental and taxes was 1342 Euro. I was told by the counter staff that the exact total amount is only 480 Euro, (car rental and collision damage waiver included), and the extra charges will be returned back to me once I've returned the car.
Unfortunately, the front bumper of the car was hit by something that I did not aware of throughout our rental. Upon returning the car, the personnel that inspect our car mentioned that the damage should be covered by the collision damaged waiver that I've paid. The coming week after I've returned home, I received email from Hertz that they will be charging me additional 290 Euro for the damaged that happened to the car during my rental period. I enquired him about the collision damage waiver that I've paid, but receive no reply from him.
Few weeks later, my credit card was charged SGD 2280 (Euro1412). The company has charged me the full amount of the initial charges they held on my card, with additional of Euro290. I've traveled and rented car from other companies before, and I've not charged more than SGD2000! And to begin with, it was not even a luxury car. Coming from a big company, this is very disappointing. I will not rent their service anymore in the future, and I suggest everyone should avoid Hertz too.

If I could give them less than 1 star I would. We prepaid for our car rental which was quoted as less than $400 and wound up paying more than $600. $100 extra for picking the car up at an airport facility. $42 for picking us up at an airport facility and more!!! I have never had a worse car rental experience ever!!!

I travel by air almost every week. I'm a Hertz Gold member. At the SLC airport, I stood in a very long line for more than an hour to get up to the desk. Then, I waited for almost another hour to get a car. The employees at the desk were nice, but as a businesswoman, traveling alone, to have to wait two hours for a rental car and to not get one until almost 10:30 pm, is troubling. I'll be returning to Enterprise and Avis, at the SLC airport, moving forward.

I will give zero star for Hertz. I rented a car from Hertz at Phoenix - 1133 West Bell Rd location recently. First the service was so horrible that I was the only customer there and it took more than 45 minutes to get me a car. While returning I missed my camera Bag which includes DSLR camera and HD camcorder (total cost be $1000) in the car and when I called them and asked to secure it so that I will come and pick it. They answered me that there was no camera bag found in the car. I called and visited the location as well and keep getting the same answer, "There was nothing found." We knew that it was missed in the car while returning it. I will Never ever do business with Hertz. And advice you not to. You cannot trust them. Very poor customer care and very poor service/response.

I'm usually a nice person but Hertz brought out the worst of me. The Hertz location in Concord are so rude and they lie about their prices. All they want is just money from you. I heard many good things from my loved ones about Hertz and how Hertz was there for them when they had accidents and how outstanding their service was and I'm so disappointed in that. Never again will I use Hertz and now that my loved ones are aware, they won't use Hertz either.

I was charged $300 for supposedly smoking in the car for cleaning fee when it clearly stated $100 fee on contract. I'm a smoker so I always smell of it but the car was spotless as I DID NOT SMOKE in the car. Worst experience with a company I've ever had. Do not rent from Hertz.

Hertz the Saga continues, they changed cars last minute when they left the airport, 3 tires with 32 psi, 1 with 27. This tire is now 22, and now 15 psi, and the Steppe, of course the empty Steppe. And the emergency service closes at 7:00 p.m. Winning company of what not to do, WHAT GARBAGE!!! HELP!!!

We booked a car through Hertz for pick up at the Portland Airport and were quoted the price of $699 total including all fees. When we went to pick it up, they tried to charge us $850 for the same car, same time period, same everything. We complained to the counter clerk who dug in her heels (after trying to get us to buy insurance we didn't need and misled us about how it would be cheaper if they refueled the car for us!), so I asked to speak to the manager (Will). He was rude too -- asked us to "prove" to him that we had accurately reserved what we needed for the car and acted like it was somehow our fault that the price went us. We showed him the quote, said that was the car and price we wanted/expected and got nothing but rudeness and a take it or leave it attitude. The clerk even said "It's fine with me if you take your business elsewhere" so we did. I will never use any Hertz again -- anywhere!

I prepaid $375.85 to rent a car for my trip back to England with my family. I turned up at the Airport. I thought I had booked the car from 7/4/2017 (when I landed). When I got there they said the rental was for 7/3/2017 (when I took off). Possibly my mistake. BUT, there I am. I have NO way to get my wife and my 8 year old daughter to my relatives 2 hours' drive away. The guy says I forfeit my reservation because I didn't turn up the day before. He has no cars. But, amazingly, he manages to find me a car (btw there was a whole parking lot FULL of cars across the street).
He SAYS he'll have to put me into the "next model up" ("Family car" instead of "4/5 door sedan" that I ordered) and that will be my final charge. What do I get? The original pre-paid amount is still there on my card. PLUS an extra $426.06 ON TOP OF THAT for: 1 less day in a slightly bigger car. I contacted customer service and they said they'll give me a "goodwill" amount of 75 if I don't dispute the charge or I can dispute the charge and I'll get nothing and have to pay anyway (because I signed the agreement). Customer service said they'd send the receipt (don't have it yet) and I doubt I'll see the 75 either.

First I acknowledge that part of what I'm about to discuss is my fault -- booked a Hertz car through a 3rd party website, but charge on my credit card says it was booked through Hertz in Oklahoma City. Hertz said I bought a voucher for the rental car, but they can't tell me where or through whom (I was in a hurry to go visit a friend who is dying and admittedly did not pay full attention to the fact I was booking on a 3rd party site). Therefore they can't explain the charges -- always used to use Hertz when I traveled for work and got great service -- this time they sucked and deny any knowledge of the voucher.
My credit card statement had a note "view details on merchant site." Merchant website only had the charge that was put on my AmEx after returning the card. Always used Hertz when traveling in the past. Never again. Voucher information is not on their website. If Hertz is allowing rentals through a 3rd party, they should make that clear and have a copy of the voucher. Lesson learned for me -- avoid Hertz.

My daughter's car was in an accident so I called Hertz to book a car for today and was told that I can pay with my debit card for the vehicle and my credit card would be the hold. I got all the way to Hertz at the counter talking to the lady and she tells me "No you cannot do that. I don't know who told you that. You can do two different payments but that's not allowed." I said "So why is it when I called customer service they told me that I can do that?" She said "I don't understand why but you're not the first person who came in here with this problem."
When I call Hertz customer service back they just wanted to say "I'm so sorry for the inconvenience." If you're not going to train your customer service reps better than that they don't need to be on the phone giving people wrong information. Then when I asked if I can change cars for a different price they told me "No we cannot do that. You have to make a whole new reservation and I'm not even sure we have a different car for you." I am so over Hertz. They are ridiculous.

I made a reservation with Hertz on the web. I came to the location in Brooklyn by The Body Shop. They told me that they have no cars so they sent me to the Atlantic Ave location (I didn't want to go there because I saw that the location has very nasty workers on the online reviews but I had no choice). So I went there and the lady at the counter told me that they would not honor the reservation with no further explanation so I showed her my reservation on my phone and she called the manager–a very nasty lady. She told me that I can have the car only on a new reservation that she would make herself and the price for the day would be $280 instead of the $48.55 that said on my reservation. I had no choice. I was rushing to my college class so I had to take the car. I would never rent a car with Hertz again.

I need to lodge an official complaint on a staff at Hertz Zurich airport return counter. I went to return my van which I had picked up from Geneva. The pick up experience was so good but the return was something I just want to forget due to one of the worst persons I have ever met. Her name is RITA and she is one person who will definitely damage the name and brand of Hertz due to her racial discrimination and attitude. She was literally ordering me to push my car here, then there and forcing me to park in tiny space!
Then she shouted at me to switch off my car when I had kept it on for her to read the mileage. When I told her that her tone was unacceptable for customer service she shouted back that she WAS NOT RESPONSIBLE FOR CUSTOMER SERVICE!!! Then she just flung my papers to a staff Sumayya who was of my ** as it was evident she had a nasty racial attitude and had no respect for Gold customers or for any customer for that matter. I need an official complaint into this matter as I have zero tolerance for racial discrimination and am ready to involve my legal office into this as my son has recorded her behavior.

With the first car we got, the remote to open doors or trunk did not work. I think the battery needed replaced and had to manually unlock the door. The driver's side mirror did not work, so after a very long day had to go back to the desk and explain. They did give us a different car at my request and it was very nice... Be careful in the gasoline tank thing. They will try and sell you a package where they fill up the car when you come back for $24. If you are not driving all that much it's a BIG ripoff. Check gas prices ahead of time and figure out how many miles you think you will be driving to see if the package fits your needs. Yes, it's convenient to not worry about looking for a gas station in a strange town but just be careful.

I recently rented a car from Hertz (who owns Dollar and Thrift) at Zurich Airport. At the time of return, the agent noted two scratches on the wheel of the right front tire. The scratches were probably 1 mm deep and definitely would not cause structural issue in my opinion. I am an engineer by training. I did not even know when and what caused those scratches and guessed those were probably due to parking on high curbed street of Europe. In any case, I was shocked by the damage the agent assessed, 491 Swiss franc or over $520!!! Both agents agreed that I could probably buy a set of 4 new wheels for that amount of money but claimed their hands were tight due to company policy.
I have rented car in Europe from Europcar, Sixt, Enterprise... but never had such a bad experience before. It seemed that Hertz can arbitrarily set an outrageous price and the consumers simply have to accept it. I would never rent from Hertz again. By writing this complaint I hope to alert other fellow consumers to be aware of this practice of Hertz and not being victimized like me.

Rented a car for trip, paid my tolls and have hard copy receipts of all, Yet they still pulled $20 from my account over a month after rental and claim it was in contract. They refuse to accept my receipts and pretty much told me, "Oh well." Will never use again, suggest ya'll don't either unless you like fake charges.

I am a 25 year old South African au pair in Atlanta on a study visa. My mother came to visit me for two weeks and we had booked a road trip and a rental car from Hertz months in advance. I made numerous calls to Hertz to confirm my reservation using a debit card, (I do not qualify for a credit card in the USA). I was assured that all was in order. Upon pick up at the location however, I was informed that my application was denied for unknown reasons. We offered an alternative method of payment, being my Mother's credit card, but because she did not have her driver's license present (she was never going to be the driver) this was also denied. We were left at the counter with no car and a two week trip booked and paid for.
The staff was completely uninterested and unhelpful, they offered no suggestions or alternatives and simply did not care about our predicament. Eventually, my employer had to come in and make the reservation in her name and add me as an extra driver, incurring extra charges. It took us three hours to finalize the reservation after much heated debate and stress. It appears almost impossible to hire a car in the USA as a 25 year old foreigner who does not qualify for a credit card. Overall it was the attitude of the staff that worsened the situation. Never before have I experienced such unprofessional careless customer service. I will never again use or recommend Hertz because of this.

I reserved a car for 7/7/17 through 7/17/17. To travel from Indiana to California. Upon picking up the car the rep took mine and my boyfriends license, said it's an additional charge of $16/day for my boyfriend to be added as an additional driver but it's free if I sign up for their rewards program, she sent me the link to sign up and didn't charge the additional driver charge. I tried to assure he was added for insurance purposes as she had handed him his license right back and she said "it's good, it's good, don't worry about it." I really don't believe he was added which could have been a problem later if anything was to have happened to the car.
Next, while refilling before returning the car we realized the plates had expired in June so we had driven 9 days in 8 different states on expired plates. Finally, awaiting an email receipt as the location was closed when dropping it off, I had to call and ask for one to be emailed to me, the lady said there was an additional $300 charge for smoking. I was on my break at work so after work, I called customer service to find out about the additional charge. The lady was rude saying "You're a rewards member and you didn't know you couldn't smoke in the car?" I explained the rep at pick up sent me the link to sign up at the counter, she never told me of a no smoking policy, the license plates were expired and how she didn't actually add my boyfriend on and she acted like they were all non issues! This was my first time using Hertz and the reps should be more informative.

My girlfriend and I booked a car with Hertz through Priceline for our trip out to San Francisco. We booked a compact car. At the desk, the clerk asked if we wanted an upgrade. We specifically told her no. We were given a Ford Fusion, which is so compact you can barely fit a suitcase in it. After arriving home, we see a charge for $137 for an "Upgrade fee". We call to dispute and are met with the rudest customer service agent I have ever dealt with in my life. As soon as we told her we did not request an upgrade, she screamed "I am not going to argue with you!" People, I cannot stress to you enough: stay away from this company. Do business with anybody else out there in the rental car business. This company is nothing but a bunch of crooks. You have been warned.

While renting in NJ I had the E-ZPass disabled with their provided cover and they still charged me! I should have learned from the previous time renting a car while in Florida when they ripped me off the first time. Congrats Hertz, you just lost a customer forever.

May 30, 2017 I rented a car through Hot-wire, the rental company is Hertz. I picked out a mid-size and agreed to the rental price of $383.28 for 10 Days. I arrived at Hertz at (RSW) Fort Myers Airport Terminal and was told that they only had a Jeep or a Chrysler C-300, I stated that I didn't need a full size and that I ordered a mid-size since it was only myself traveling. The rental agent advised me that there were no more mid-size cars available, so I took the Chrysler-300. 30 days after the end of my trip I notice on my credit card statement that there is a $265.00 additional rental upgrade fee charged to my account for an upgrade I never authorized yet they have my signature where I signed the original paperwork. Scam artists these people are. Please stay away from Hertz they are scammers, liars, and cheats just to make a buck. READ ALL THE REVIEWS. That's PROOF in the pudding.

On Dec 22 2016 I rented a car out of Det metro airport DTW. I had already paid my trip through Priceline. Like everyone else that has had this issue I declined insurance along with prepay gas like I always do when I rent a car. Evidently Hertz employees are ignoring this response and putting an accept response for the insurance at $29.99/day. This came out to $215.93 in my case and showed on my AMX a month later. Unfortunate for me I already an issue going on with Orbitz on another scam charge, so my statement was cluttered with extra charges. I honestly didn't notice the Hertz extra charge especially since I already paid my entire bill for that trip.
Now I'm stuck with having to pay. Calling Hertz to tell my side had no effect. AMX only cares about the contract paper with my signature on it. Total scam. I'm now filling a report to BBB. Hertz knows people are in hurry to get car and won't take all the time to read what they just signed for. It's a trick and should be illegal, my opinion.

Last year we rented a car by Hertz. We had to give a copy of our credit card. Afterwards some rates were deducted, like E-toll, etc. We received a note for this before it was deducted. That was OK. But some time later about 75 euro was deducted, without a note or an explanation. Several times I tried to contact them, just to ask for an explanation, but I never got an answer, except a general answer on my email, like: an agent of our customer service will contact you as soon as possible.

I rented a car from Hertz JFK New York to drive to Florida bec. it was expensive and had unpredictable taxes. (which was about $300) I decided to return it one day early to get a refund, they said that I will get a refund but until now I haven't received my money. The next month they charged me a pay toll from Arizona first $29, after a week they charged me again $49 even though I never drove through Arizona (we stayed in the West Coast). I have tried to call the customer service but they were never helpful.

Lauren FixAuto & Finance Contributing Editor
Lauren Fix, also called The Car Coach, is an automotive and auto finance expert. Her understanding of vehicles has made her the "go to" person on TV, radio, print media and the Internet. She has authored multiple books and writes a column for several outlets, including Parade Magazine, NewsMax and Car Coach Reports. She is a regular guest on major news and morning shows, discussing the latest updates on cars and car financing that will help drivers make smart decisions when buying, maintaining and financing cars. More about Lauren→

Hertz offers rental cars in more than 150 countries across every inhabited continent. It has more than 10,300 corporate and franchise locations worldwide.
Loyalty program: The Hertz Gold Plus Rewards loyalty program comes with VIP benefits like faster pickup and drop-off services and member-only discount offers.
Business-to-business services: Business clients can save up to 25 percent on rentals and earn points for free rental days.
Accident partner: Hertz partners with many insurance companies to give drivers a quick and easy car rental while their automobiles are in the shop for repair.
Promotions and discounts: Hertz runs a constant stream of discounts and special offers on everything from extended rentals to weekend getaways.
Roadside assistance: In addition to liability insurance, Hertz has premium roadside assistance packages to help with situations like running out of gas, lost keys and dead batteries.
Many makes and models: Hertz offers multiple categories of vehicles, everything from economy to hybrid cars, convertibles and luxury cars to 15-passenger vans.
Car and Ride Sharing: Hertz has a Green Traveler collection, meaning all cars get a minimum of 33 miles per gallon.
Best for Vacationers, business travelers, event planners, temporary workers, those with cars in repair, those who want a wide selection of vehicles and those who don't own cars.
Company Name:

Hertz

Year Founded:

1918

Address:

PO Box 269033

City:

Oklahoma City

State/Province:

OK

Country:

United States

Website:

http://www.hertz.com/