Consumer Reviews and Complaints

This is the worst experience we had in Atlanta (Marietta Area). No customer service, no breakfast as they said, the smell of the rooms are horrible, all the building have that smell. If you stay 2 nights and ask for cleaning the room the answer is: IF YOU WANT A CLEAN ROOM YOU HAVE TO STAY 7 DAYS, JUST BECAUSE YOU STAY TWO NIGHTS YOU DO NOT HAVE THE OPTION!!! OMG what. We came from Florida because of the Hurricane, the Marriott (Fairfield, Courtyard, Residence) Hilton's and others were booked because all Floridians came to Atlanta. This is not fair to any human being, you have this atrocious option, NO WAY PLEASE. PREFER TO SLEEP IN THE CAR. Advise do not reserve this hotel.

We checked in on Sept 9th. The room was sub-standardly clean and the AC didn't work. I went to the desk to get a new room and a couple was there checking out because of bugs in their room. The manager gave me a new room. As nightfall approached bugs were appearing in the bathroom (ROACHES) and bugs crawling on the furniture. We immediately checked out and went to the hotel next door. The hotel next door said they received several guests from Extended Stay because of bugs that day.
Since Hotelplanner isn't returning my calls I called the Extended Stay manager, Carrie ** in Landover MD. She stated the room was inspected by her and a company and no bugs were found. I assure you there were! The hotel smelled of weed on the 2nd floor. The elevator wasn't working and we had to take the steps. I'm in shape and can do that but if you went there in a wheelchair you'd be screwed. Disgusting rooms, management and customer service.

I've stayed here in 2014 in Louisiana, and I stayed for 2 months had nothing but problems the whole time here and when I went to check out they tried to charge me an extra $130 which was already paid for. They kept over charging me every week. If it were not for a employee at the front desk who knew my rate I would of been fighting them every week for money.
I was trying to give them another chance to redeem themselves and that went down the drain. I booked a room for Chicago and asked how much time do I have to cancel the room if I don't need it. The guy who booked my room said I had until the day of the stay before 4 pm to cancel. Well ended up my company said they were sending me else where and I went to cancel the reservations 2 days after I made the reservation.
This was a whole week before the job and they gave me some nonsense about advance purchase have to be canceled within 24 hrs. I did not make an advance notice that would be charged to my card. The guy said I had until the day of the reservation to cancel. All they told me was they had to review the conversation and for me to call back in a few hours. I called back several times and they never answered. I tried again the next day and they still didn't answer. I've been on hold both times for over 1 hour.
This is just ridiculous. Bad service and they lie about everything. Their service also sucks at their hotels. If I don't get a hold of someone to cancel this reservation I will contact my attorney, I don't have time for people like this. They have no right to charge my card because I was never told I had 24 hrs to cancel this reservation. I'll never stay at any of these hotels and my advise to you is to stay away. Very bad service and their customer service really is the pits and I mean the bottom of the pit.

My family and I checked in at this hotel on Tuesday Aug. 8 and right away had to wait over an hour to get our room. My family, 3 young children and I arrived at 2:45 and were told we couldn't check in until after 3 pm. We left and returned at 3:15 and waited in line until 4:30 to get our room. After going to the room, I noticed that the sofa couch was missing and the only thing left in that space were the two couch cushions and 2 springs. I went back out and spoke with man who checked us in and was told that he wasn't sure what happened but that I could speak with a manager the next morning.
We decided to visit the pool which after 20 minutes had to leave because we noticed hotel guests coming into the pool area with their dogs. One of the dogs, a husky, got so close to the pool that he nearly connected with my toddler's face as I held him in my arms inside the pool. Had I not jerked my child away, I'm not sure the animal would have bite or licked my child in the face.The owner didn't even try to restrain its animal. I voiced my concern of this at the front desk but didn't feel heard.
In order to accommodate ourselves in the room, my tween daughter and I had to share the 2 full beds in the room with my other two children. The next morning, we went to the front desk and spoke with the manager who heard my complaint about the sofa couch but told me that there was no way that I could get a new sofa couch or a roll-a-bed which I mentioned would make our accommodations a little more comfortable. She didn't seem to care that I was unhappy with our accommodations. She did promise that someone would come to the room and remove the sofa couch cushions and spring pieces.
That night when we returned from a long day at Legoland, we found out that our room hadn't been cleaned nor sofa cushions and springs removed. I once again visited the front desk and was told that somehow when we checked in, the clerk hadn't indicated that we wanted our room cleaned and there was no one else available but she, front desk person, to do housekeeping at 9 pm. She then told me that her job was not to do housekeeping. I was able to get a new set of clean towels but nothing else.
At that point I felt I had enough. I told the receptionist that the hotel's service was awful and she just gave me a smirk. The next day at checkout, Aug.10, I voiced my concerns with the manager and was compensated the first night's stay but not a single apology for poor service. I even mentioned to the manager that I had awoke with flea bites and her response was, "We are a pet friendly hotel and our carpets are currently being cleaned." I told her that I couldn't believe just how horrible their customer service was and that it would have been nice to get a simple apology. She just ended the conversation by telling me to have a good day and walked away from the front desk. She was arrogant and rude.
I left the hotel very unsatisfied with my hotel accommodations and wouldn't recommend this hotel chain to anyone coming to stay in San Diego. They seem to cater more to people who are looking to become tenants than hotel guests. What hotel makes you take out your own room trash or only cleans your room if you stay more than 7 days. At what they charge, they should be doing daily housekeeping and more.

In May of this year - 2017 we stayed at Extended Stay in Northridge, CA. WE PAID FOR OUR STAY WITH CASH - INCLUDING $100.00 CASH DEPOSIT- that we were told we'd be refunded at check out. When we checked out though we were informed that it is policy to refund deposits through mail out check and not cash. Anyway, here it is August and seeing as we NEVER HEARD FROM THE EXTENDED STAY OR RECEIVED A CHECK IN THE MAIL FOR OUR DEPOSIT, we decided to call Extended Stay's Guest Relations, and find out where our $100.00 deposit check was. We were informed that a check had been sent out to us on the 30th of June and we then informed them we had not received said check.
We were told that they would call their accounting Dept. to find out the status of the check. Like if someone had cashed it or if it was still unpaid on/not cashed, at what time we could all move forward on, what steps to take now on our getting refunded. We went on to call guest relations back several times with still no word on the status of the check they sent to us on June 30th. Once again we needed to call back so a new check could be sent and INVESTIGATE of the other check they supposedly sent out to us. At this time we were told that now we weren't receiving a refund check at all due to leaving hotel w/o paying for two days, which could never happen because they make you pay for the room BEFORE continuing to allow you to stay. I explained that. Then they told us it was because of a no show reservation - which never happened because A valid credit card would've been used and I only pay cash to avoid any problems.
I asked what happened to the check they said was mailed to us on June 30th? The guest relations supervisor kept trying to tell me I owed for two nights and had no explanation for 4 different guest relations reps lying to us, and wasting hours of our time. 2 times I actually waited 2+ hours on telephone hold for guest relations and then another hour + just to be told to call back AGAIN. I TOLD THE SUPERVISOR - Shelby, that something was wrong with her information and she all but came right out and called me a liar. Never could explain why the guest relations reps and accounting dept lied about sending us a check on June 30th.
It seems to me that whoever was at the hotel lobby counter when we paid for our room must've pulled some sort of funny business with our cash and has cost us our refund and our reputation with Extended Stay. Not that we will ever stay there again, because We won't and about 50 people we know will not and no recommendations either. As a matter of fact we plan on moving forward with a lawyer on this and I am going to go thru every public media option I can to put this place on blast for cheating us, lying to us, ripping us off, and mental and emotional damages, and a loss of wages for hours our wasted time. They really could've handled this like a responsible establishment and chose to be "shady". Shame on them. Don't get ripped off - Stay away from Extended Stay hotels.
How do I know I can trust these reviews about Extended Stay America?
882,235 reviews on ConsumerAffairs are verified.
We require contact information to ensure our reviewers are real.
We use intelligent software that helps us maintain the integrity of reviews.
Our moderators read all reviews to verify quality and helpfulness.
For more information about reviews on ConsumerAffairs.com please visit our FAQ.

Extended Stay America located in Carson, CA is dirty as hell. The room smell like meadow, the carpet was damp and dirty, stains everywhere, on top of that room had roaches and black spiders. There was a roach leg in the shower on the wall. They don't clean the rooms during your stay, you have to pay extra if you want them to come clean. There's a room in the hallway with trash full to the top smelling horrible. I will never in my life come by here again. This hotel gets no stars, all they care about is renting the rooms out no matter what condition it's in. Hope someone think twice about staying in this dump, unless you are used to it.

In April 2017 Booked and paid full in advance for 2 bedroom suites in Extended Stay America - Raleigh - Research Triangle Park - Hwy 55 for July 2017 stay. When I arrived at hotel, was told that the room I booked and paid in full no longer available. This NEVER happen in anywhere in USA before. Also. No house cleaning during my 2 weeks stay. No breakfast. Staff unfriendly. Slow internet. Was told by staff that cooking ware and silverware no longer available.

The hotel is dirty and carpet is filthy. There is trash at the front door. The side walk is dirty but could be cleaned with a simply pressure washing. They have an area inside the hotel where trash is dumped. No maid service and must clean your own room. The elevator is also filthy and nasty fingerprints visible. Trash from n2n and in all the hallways. This is the nastiest place I have seen. Motel 6 is better than this place. Does not deserve one star.

We had planned a trip for St Louis, MO for the 4th of July weekend with my wife, 2 yrs old son and mom. I had planned everything like where to stay, things to do on the way and in and around St Louis. Since I had small kid and old mom, I don't wanted to take any chances, so I double checked everything before we leave. On 24th I called Extended Stay America customer support and booked a 2 BEDROOM SUITE-KINGQUEEN-N in extended stay St Louis for 1st and 2nd July. On 29th I called customer care and property to make sure everything is set for us, since it was long weekend I don't wanted to take chance. I had even informed them that I'll do late check in, since we were traveling from North by car.
We left Saturday (1st July) morning at 6.30 am as per plan and reached Starved Rock State Park. We hiked, saw beautiful rock canyons, waterfalls. Had our lunch and left to Springfield. Saw Lincoln house and tomb. We reached Extended Stay around 11.20 pm. My son was already cranky and we were all so tired that we just wanted to hit bed. Quickly we unloaded our bags from car and went to the hotel. A shocking surprise was awaiting for us there. The woman in the front desk told there are no rooms. I showed her the copy of confirmation email and asked how can there not be a room booked for us. She told that they are full and no rooms available. I spoke to their customer care but no use. They called property and property manager, but they were care less.
After 30 mins I got answer that I have to book some other hotel room and manage that night and they would accommodate us next day. By then it was 12 pm and I was not able to use online booking. Since it will take my check in time 12 pm next day. We had to roam around in St Louis streets looking for accommodation in middle of the night with small kid and old mom. Finally, we were able find accommodation by paying a hefty amount for some good hotel. Those 2 hours were horrifying. And, our next day plan was completely screwed up. Next day I called Extended Stay guest relationship and explained what happen. They handed over number and told someone will reach out and today they have reserved the room. As we were paying high amount at another hotel, I did not want to extend my stay for another day. I vacated that place and went to Extended Stay, as they had promised today room will be available.
Again, same answer but with different story line. This time they told they have only king bedroom and don't have 2BEDROOM SUITE-KINGQUEEN-N. How 4 people can sleep on King bed? How can they be so irresponsible? I had to book another hotel room. In spite of planning everything perfectly and booking hotel well in advance I had to go through this. It was a lot of mental stress and I was not able to enjoy my trip.

Customer service is non existent and they're OK with racism - My family stayed in a location between houses previously and I would have given them 5 stars. This year, we again stayed with them (another location) between houses... Things were VERY different. Issue after issue after issue. We were then informed that we owed money. This didn't seem right and I spoke with the manager about speaking with them in detail the next day. "Okay, that's fine" I was told. That night, a knock at the door and the girl handed me an envelope. Basically, a letter saying since we were behind and owed money, we were getting kicked out.
The next day. I opened the door and went down the hall and got her before she went into the office (I was about 20 feet or more from her) & asked if the manager had spoken to them about it, she said no and I said "Well she should have" & turned back to my room... In tears, confused, etc. My husband (who was at the grocery store) came back shortly and I gave him the letter. I then had to take my kids somewhere. While I was gone, he went down to the front desk to speak with them about the letter and overheard the girl that handed me the letter, talking on her phone to someone. He was able to catch the last of what she said on video. He kept his cool, got a detailed, itemized bill from the desk and came back to the room. What did he hear?
"I handed her the letter and she got in my face talking about how she already talked to the manager. I told the ** I didn't know anything about that. She said 'The manager didn't tell you what we talked about yesterday?' And I told her 'no.' She comes at me again with 'Well, she should have.' Oh my God, ** people! This "b" doesn't know who she's messing with. I'll just deactivate her key and lock her out of her room. Then we'll see what she does... And it's so ** sick. I'm going to knock a ** "b" down." (after the "..." is what he caught on video.)
Instead of at least apologizing, management denied anything wrong was said. Also, going over the itemized bill, turns out THEY owed US money!! They were illegally charging us county tax for 2 months past what they were supposed to. Their reaction to all of this? They kicked us out. It's been nearly a month and we haven't gotten our refund, we haven't gotten an apology, nothing. In fact, we have called local management all the way up to corporate. We have yet to hear from anyone about this. They don't care about customers. Not at all.

I have been staying at the Extended Stay America in Woodbury, MN for over 30 days. Overall, the stay has been 'okay'. Most of the staff are friendly, and the room conditions and location are decent. They run out of supplies regularly, and if you come in after hours and your key isn't working, it's hit or miss if anyone will answer the phone to let you in.
I didn't have a significant issue until over a week ago when I was charged more than twice the quoted weekly amount, and had a set of sheets that broke out my sons face with hundreds of bumps. The front desk staff told me that only the manager could address the issue. I left a complaint with the front desk, submitted a complaint via the Extended Stay website, left multiple phone messages and stopped by the front desk multiple times to have the issue addressed. No one ever responded to my email or calls.
After a week, I eventually caught the manager at the front desk and explained the issue. The conversation was very friendly and polite on both ends. She explained that she would go through the charges and issue the appropriate refund and offered to call me to confirm that the issue had been addressed; I accepted. All the while that I was on the phone with the manager the housekeeper was in the room. As soon as I hung up the phone the housekeeper said, "Can I talk to you for a minute?". She then led me to the bathroom and showed me hair in the bathtub drain and said, "This hair is going to clog the drain." I responded by saying that this is just the hair from us [humans] washing our hair (no pets). What do you expect me to do about it? The hotel chooses to clean the rooms weekly and we don't have cleaning supplies. Her response was, "You could pull the hair out, but now I'm going to have to do it".
She proceeded to grab a glove and pull the hair out of the drain. Mind you that she's the housekeeper. I'm the hotel guest who's already spent thousands of dollars on the room and she's expecting me to clean my family's hair and who knows who else's out of a drain with my bare hand. She continued to clean the room with an attitude, which put me in a bad mood. Poor timing on her behalf and completely inappropriate. We stay at hotels frequently, sometimes for 2+ months. I have NEVER been told that I should be cleaning out the hair from the bathtub drain. Nothing was ever done about the report of my son breaking out with hundreds of bumps from a set of sheets, but the manager did acknowledge that something may have gone wrong during the laundering process.

I wouldn't advise anyone to stay at this hotel located at 2424 West Sam Houston Pkwy. This has been the worst experience to ever deal with. The incompetence at the front desk is mind-numbing. The lady overcharged my dad's debit card, by $300 dollars, and she had already charged us $300.00 for our weekly stay to begin with. She later corrected the issue, but, they should be taught how to do things the correct way first.
The second issue we had is that they don't fold the towels when given to you, they made us fold the towels ourselves and said that they were too busy with other hotel guests to correct the problem. The rooms are filthy and have bed bugs as well, so you get ate up in bed bug bites. They don't carry fruit or hot breakfast. Just awful packaged muffins and different whole oat & honey bars. It was fresh fruit when we first got here, but they changed everything. They now have security staying at this hotel because of illegal immigrants staying here, please be advised before staying at this hotel.

Well it has been 5 days since I have filed an complaint and still no one has gotten back to me, the service was POOR, the employees were very rude, bugs in the bed, on the carpet, in the tub and the floor... I was treated awful on the first time staying in an hotel and also there. I was referred there and never will I listen to anyone else again... I've been emailing and calling constantly and no one has gotten back to me yet. I was promised 3 nights free and no one lived up to that. I'm currently still calling on day 6 and I've been on hold for 1 hour... I am disgusted with these people.

I've stayed here (Northgate Extended Stay America) with my wife off and on the last two years, spent a couple $1000.00. No big thing. BUT today I went to check in and they also wanted my wife's DL. Well she has dementia and only has a paper copy of her ID. Jessie at the front desk usually takes care of me but today some full body Manager told me she needed a more recent ID copy that was dated in May. This one is April 2017. So we blew up to DMV at 3:00 PM closed at 2:30 PM. She told me they were open, NOT!!! Needless to say I'm a agent for a large corporation and had the power to award this NORTHGATE EXTENDED STAY A contract, NOT NOW!!!

This is truly the worst place. As you can see these are flea bites. I have almost 100 bites all over my body, my wife and my sons as well. We reported the problem with roaches when we first checked in. One of our sons killed 5 that evening. Over the next couple of days we had just a few bites. Thinking they were mosquitoes, we were just frustrated. Then at night things got worse.
We reported problems with bugs and they sent someone over to spray. We were told we could not get another room because they were booked. That same night I went to the bathroom and noticed tiny bugs on my feet that were biting my feet. I tried to brush them off but couldn't get them all off. I am miserable. Itch, burn, and can't wear shoes or socks. I have missed out on several meetings that I haven't been able to attend. I cannot wear pants because they rub my legs. When reported to the staff, they acted as though it's not important. I received an email from their loss prevention or whoever stating she was told we had an unpleasant experience in room 201. I am so angry! Compensation is or should be awarded.

My gIrlfriend and I recently found ourselves homeless without notice and a 1-yr old in tow to boot. After checking prices of all the hotels in the Salt Lake Valley this place seemed to be a bargain. Not so fast... as I said earlier, we have a 1-yr old with us and need a crib provided for her to sleep in. Most hotels provide one upon request. Not this place! Yesterday my girlfriend was approached by the General Manager after nearly 2 weeks of us staying here and told she needed to discuss a couple things with her. My girlfriend agreed to talk to her. The manager told her they've noticed we have excessive traffic and that one of our guests we had over 2 days ago is no good and to be careful with him around. He has a history with this company but stayed at this property around a year and is currently staying at another of their properties here in SLC. He can't be that bad if they're still allowing him to stay at one.
Now, excessive traffic? Seriously? We've had 2 friends over a few times and the rest of our guests have been family members. Excessive traffic would imply that we're up to no good by selling drugs or running bookers or something. Is it common or best practice to offend your customers in this manner? I've never been so offended by an establishment in my life!! Then this morning I was on my way to my car and lit a cigarette. An employee in the parking lot told me there's no smoking in this area, even though the signs say no smoking within 100' of any entrances and I made sure I was far enough away from any entrances before lighting my cigarette. I told her I'm getting in my car and leaving anyway so no worries. She replied with, "That's fine as long as you roll your window up". OMG, ARE YOU SERIOUS?? I was well away from any entrances but still need to roll up my window? Does my own health not count for anything?
Thus far we've been basically called drug dealers and told to inhale our own smoke over and over since our health means nothing tho I complied with the rules set forth by this company. We'll be checking out as soon as something better is available elsewhere. This place gets no more of our money!!! If you're wise you'll make sure they get none of yours either. If you do have to stay here do not have guests over or it'll be assumed you're a drug dealer... buyer beware!! This company has an agreement with the local police department (Sandy City, UT) to allow the police department to send cruisers thru the hotel parking lot and stopping to run literally each and every license plate on every single vehicle parked in their parking lot!!! Not looking out for their customers if you ask me... I'm curious though, what's the gain in that for the hotel?
Law enforcement cannot just come onto private property and start running every single plate on the premises without expressed permission from the hotel. So what is the hotel getting out of the deal? I can't say I see the benefit to them since they may lose business if the general public knew the hotel does not protect its patrons. Go somewhere else to spend your hard-earned dollar. You won't find any gratitude at this place and if you have a warrant or something you weren't aware of you may be going to jail straight from your room you just paid for... bad business practices in my honest and humble opinion. And please for the love of all you hold near and dear, do have not help to continue the success of companies like this. This is one of those companies that shouldn't survive and thrive considering the customer IS NOT THEIR #1 CONCERN!!!

I will never stay at this hotel, again. The lobby, hallway, and room was dirty!!! My water bottle cap had fallen under the bed, I was so disgusted when I looked under the bed!! I will post pictures.

So many bad things happened at this hotel I could write a book. Never in my 51 years have I had such SHOCKINGLY RUDE "SERVICE." These people are out of control! Example; the windows in my room did not open. When I asked the manager if I could change rooms, she tore into me so rudely I thought about calling the police. Another example; my room key card NEVER WORKED! The sixth time going to the desk to tell them my card didn't work they were laughing, THEY WERE DOING IT PURPOSELY. I WAS SCARED TO BE AT THIS HOTEL!!!

Worst place ever. When I arrived to my hotel in Fort Wayne Indiana they overbooked and sent me all the way across town to the other and it smelled of a sewer flood on all floors. Elevator out of order so I had to walk up the third floor all week. The Wi-Fi is like dial up unless you want to pay. Best fill them ice trays up right away because they have no ice on the property. Place is a disgusting dump!!!

This hotel uses false advertisement/photos to describe their rooms. Rooms are shown very beautiful in the internet with beautiful lobby. Their customer service is below "one star". Nevertheless, I made a reservation for several days and when I checked in I was shocked as the rooms are nothing like the pictures the hotel advertises. The next morning I woke up with severe back pain due to the defected mattress. I called the front desk asking for a new mattress and I was told they do not replace mattresses. I asked to be moved to another room but I was told that I have to wait until the next day. The next day I was totally ignored. The third day I went to the front desk and requested room change again and I was told that I cannot Switch! I travel a lot and spend many nights in hotels and this was the worst experience I had. I would never go back to this hotel.

The pictures online depict the property exactly. The customer service is great and the property is great as well. It has been recently renovated and looks awesome. It's quiet and the surrounding area is nice as well. It's well lit at night.

We had our reservation for 6 months, since August 30, 2017. When we arrived on Feb 24, 2017, the personnel at the front desk were unprofessional and their appearance was quite alarming. Anyway, they sent us up to room 164, which was supposed to be a NS, but it smelled like tobacco, so we called the front desk, and they moved us to room 165. Okay, fine. We unpacked. We were going to a wedding cocktail party that evening (Feb. 24), and needed to freshen up. I looked around for a hairdryer and there was none to be found, so I called the front desk and the lady told me that they would try and "locate" one. Pretty strange. I waited almost an hour and called back, at that point she told me they didn't have hairdryers. I could live with that and my husband was going to go to Walgreens and buy one. But first, we decided to rest for a while before getting ready.
I opened up the bed to find the white sheets full of black pubic hair and other black body hairs, and the bed skirt had dried sperm on it. I called to the front desk for a set of full bedding. Personnel brought up just the sheets, and I said I would like the full bedding. She stormed out of the room stating I had only asked for the sheets. The rude manager brought the rest of the bedding which at the time I also asked him for a new bed skirt. He slammed our door and came back with a bed skirt, at which time my husband told him that we did not appreciate the fact that he slammed the door on us, which he replied to my husband to "get out of my face" about 3 times, threatening my husband, and then said he was calling the police and he was kicking us out. Totally uncalled for, and the police arrived.
The police told us that they wouldn't even let their own mothers stay in this hotel as it was dangerous also. They also knew that Richard **, the manager, was lying and my husband even tried apologizing to him to calm him down. My husband did not need to apologize to him because Mr. ** was the instigator. He also was unprofessional looking with tattoos, piercings, and his attire was not appropriate. The police told us that these hotels can kick anyone out at anytime even if they don't like the color of your lipstick. We were horrified, and needed to find another hotel, which we had to pay $400 more for the week. We ended up missing the cocktail party that night because of this crazy fiasco.
There is more to this situation and no one seems to want to call me back. I have called about 4 times, emailed about 3, and I sent a certified letter to corporate headquarters last week, which they received March 27th, 2017. Please give me a call or I will continue to write bad reviews on your website. This hotel is a disaster. We do believe that this manager and the other woman at the front desk had been drinking, as they smelled of alcohol and tobacco. Call me at ** asap!!! PS: The picture of my socks are a clear indicator that the hotel room floor was filthy as those socks were perfectly white when I put them on.

Reported to management the very first day. After 4 days and repeating each day they finally showed up with spray. I had told them these were Pharaoh Ants and needed ant hotel bait. Was told this or nothing. My company leased 3 rooms for 23 days. Bathroom fixtures were very worn and needed replacing. Curtains falling off rods in bedroom. Carpet dirty. Totally unacceptable.

This hotel uses false photos to describe their location. Showing beautiful lobby, clean parking lot, lovely rooms. They customer service is below "one star". Arrived at 8:30 pm to be told room wasn't ready and I needed to wait at least an hour. Clerk not helpful, refused to speak a little louder so I could hear. No place to wait so cancelled and spent night on daughter's couch. Never again for Extended Stay America. They need to be closed down. What can the public do about this. I have written to Travelocity where I booked the room.

Do not stay here. This is by far the worst hotel in America. The staff yells at the guests staying here (by yelling I mean they curse at you). They ignore you and walk away when confronted with issues and problems at the hotel regarding fixing things and getting items at the front desk. They go through your mail. This hotel has the biggest bug problem I've ever seen. Roaches, bed bugs, mites, they bite you all night long. It's ran by people who mostly can't speak English and the ones that can don't give a crap whether you like it here. The towels and stuff they bring all smell like they haven't been washed and like cigarette smoke. They have drug deals going on all night including people coming from the other 2 hotels. They have the police here constantly kicking people out who can't pay but checked in. If you have common sense you'll read this review and take it to heart not to stay here. It's by far the worst hotel I've ever been to or stayed at.

We have been at this property for a year and a half. When the manager was Greta (who now manages the Wolfchase location) we didn't have one single issue. Since the new manager, Diane, began we have had NOTHING BUT issues. We had to withhold payment because of the LONG laundry list of items that were not fixed last summer. Now, they have entered our room and ILLEGALLY searched it because they smelled smoke AROUND my husband and myself as we were walking through the lobby. They have trampled my civil rights.
Furthermore, I am Pagan and my religion uses incense and candles. They circulated a letter saying that we could NOT LIGHT CANDLES in the room. This is religious persecution. You may think, as you read this, that I am being silly. However, when almost every single day there is another issue, another letter targeted to you, or another problem, this is a HUGE issue. They did not just do some things that were riding the line. The FOURTH AMENDMENT protects illegal searches. This is not a small issue at all!!

Very harassing and prejudice staff. My fiance and I have spent over thousand in rooms with Extended Stay America here in Columbia, South Carolina at 180 stone bridge drive off greystone blvd, my wife and I run a Psychic medium reading business and we are doing good. We however have been threatened to have Columbia Police on us by the staff. They have violated my fiance by calling out her name. There were many other residents complaining about bed bugs and as of earlier today the police were called for basically nothing. We let them into our room and they came in and said there was nothing illegal we were doing. They also told us we did not violate any hotel policies. I have been trying to reach their Corporate office for two hours no one is coming to the phone. This is a matter that must be heard due to a major staff malfunction issue and they need investigate.

Crossland Hotel Eugene-Springfield. Bed bugs, body fluids on mattress, sheets, blankets; dirty comforter; mattress pad with pubic & pet hair; no pans, silverware, cups, glasses, or dishes in kitchenette; we reserved a queen & were given a full-size bed; holes in the carpet; whole facility was supposed to be non-smoking but room reeked of cigarettes; cigarette burns in the bed linens; people were smoking in halls & doorways as well as people using ** everywhere & nothing was done about it. Mattress ripped & torn, with broken springs, the floor would have been softer. Found bed bugs in first room. Moved to a second room which was just as dirty. Pubic hair in sink. Dried food inside microwave. Pillows were the same kind toy get on a plane when flying coach & they refused to give us more than the 2 on the bed.
There were no extra blankets. They gave us a mattress pad to use as an extra blanket but it had pet hair stuck on it as well as it was stained with what appeared to be body fluids. There were mouse feces on the bed and under the mattress. The staff told us that they would strip off their clothing before they went into their house because the hotel was so dirty they didn't want to bring anything into their home. They told us bedbugs are a norm for them. The mattresses, padded chairs, drapes, etc are never changed after an infestation, even the ripped/torn ones.
The room had one "bath towel" which was just like my husband's so towels he bought at the industrial Costco for cleaning (tiny & rough). The Manager, Roni **, was unreachable as she wouldn't answer her phone. We were told that she NEVER answered her phone when she wasn't at the job. The new staff were left to their own devices without proper training.
Photos online showed kitchenette that was modern which was a bait and switch. The kitchenettes are outdated and run down. The backsplash was a piece of painted sheetrock... burn marks on countertop. Dresser with dirt, pet & human hair in it... etc. The shower had hair in the drain. The bathroom sink wouldn't drain. We had reserved and were charged for a room with a queen sized bed, but were given a full size bed. We mentioned this to the front desk clerk and were told the computers were locked up. Four days later we still have not received a refund in the charges (the overcharge for the first night and for the 2 nights we didn't stay).
We ended up having to leave & get another hotel which was 39 miles away which cost twice as much money. Since there was a children's sports tournament in town & everything else was booked, so we had a 40-minute drive to the event we were attending. There was no offer from the hotel to pay the difference in our other hotel. This hotel should not be given any stars. I could go on for hours.
I called corporate and was told that the hotel is franchise and there was no way I could be transferred to a manager. I would have to file a complaint with the person who answered the phone and wait for someone to get back to me. Meanwhile, the hotel has 3 nights of lodging, 2 of which I didn't use and the other I was overcharged for.

Started great ended in hate. My family and I stayed at this hotel January 4, 2017 to February 23rd 2017. Initially I was enjoying my stay with my family. Unfortunately that did not last long. There have been numerous issues. My room has been cleaned twice on schedule without us having to make a fuss about it at the front desk. Even upon cleaning our room it was as if they did not use a checklist. There are only two towels replacements, even though we leave 4. Our dish towel is non existent. We were left a note on the counter by housekeeping to take out our own trash. When we only left the kitchen garbage full. When we brought this to the front desk attention she assured me it will be taken care of.
The following week our room was not cleaned at all. They don't vacuum the floors thoroughly. The hallways smell like illegal substances although this is a NON smoking hotel. Company trucks take up most of the parking. They should be provided their own area. Grab and go breakfast is gone by 6:45 majority of the time. Only coffee and granola bars are available. NO oatmeal, fruit or muffins. Besides James the front desk staff was never there. I would call the number every time to get service at the front desk. I will never stay at this location again with over 2400.00 using promo codes : ) spent. I really think the Salisbury location is better.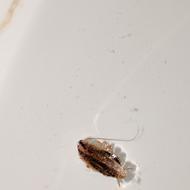 My husband and I have been staying at the ESA Orlando Convention Center in Florida for over a month now while waiting for a sale to go through on our house. We thought it would be a great place to stay since it had a 3 star rating, and allowed pets... We were wrong. We have been paying $480+ A WEEK to stay here and it's NOT WORTH IT!!! How this place has a 3 star rating is beyond me! I can't take it anymore. I can't keep suffering in silence like this. I urge everyone to keep away from this hotel chain!!! Here's a list why:
The #1 reason would be that THERE ARE ROACHES!!! We have to leave the bathroom light on and the door cracked to minimize the amount that come out at night! I saw them our first week here and have been dying to get out ever since. Unfortunately this is the only place that allows pets close to my husband's work. This is a major health hazard. I have taken pictures of them and I am prepared to share them with the world to prevent them from being stuck in such unsanitary conditions like we have been.
Secondly, the promised weekly maid service doesn't exist! On top of the $500+ you spend on the room, having it cleaned costs extra! It is not included like they say it is! We had to go out and get a toilet scrubber because of the toilet having mold on it after 3 weeks of not being cleaned. If we want clean sheets, we will have to wash them ourselves or pay them more money for a service that was supposed to be included in the booking fee. We're basically paying $2000+ a month to live in filth! It's disgusting!
You have to exchange your towels out at the service desk yourself. If they don't have any clean you have to wait til they get around to washing some. You can only get what you bring down to them so if you weren't given rags or a floor towel (like us, because they didn't have any clean - which was hard to believe), you're SOL. You also have to take your own trash out.
They offer a free breakfast from 6-9am or 6:30-9am depending on who is working, and it is always. The. Same. I thought for the amount of money we were paying for the room, surely they would have scrambled eggs, bacon, fresh made waffles or pancakes, biscuits and gravy, donuts or something along those lines, based on what I've received at cheaper hotels... Nope. Frozen waffles. Frosted Flakes. Oats cooked in hot water - that you have to make yourself. Stale bagels. Every. Single. Day. They don't mix it up. There aren't any healthy options. Just frozen waffles and sugary cereal.
The second you step off the elevator you get hit with the unbearable musty scent of mildew, body odor and curry. It takes your breath away. You'd think being a pet friendly hotel they would work twice as hard to keep it clean and smelling fresh but, nope. I highly recommend you don't walk on the floors without shoes or thick socks (not white ones) because the floors are dingy and turn your feet black. Which, if they cleaned the rooms every day, or every other day, they wouldn't be so filthy.
Don't use the cooktop for anything! It burnt my pan and nearly caught on fire without even cooking our food. Plus side, there is a Buffalo Wild Wings nearby. The ventilation fan smells like it's about to catch on fire too. The AC unit smells like mildew. The fan in the bathroom barely works so the bathroom steams up quickly - causing water to run down the walls... Which leaves a disgusting yellow puddle on the sink. I advise not leaving your toothbrushes or makeup brushes on the sink. You will end up needing to replace them because of the yellow water puddle.
The mattress is very uncomfortable and the pillows are flat. Some of the outlets don't work. There isn't enough lighting. Even though there are 4 lamps and 3 ceiling lights, they are very dim. The staff is mostly made up of nice people that want to help you but some act like they don't want to get up and deal with you needing clean towels or whatever. Twice they charged my bank account instead of my husband's after we told them to remove my card from file. I was issued a refund but it still overdrew my account and I didn't have any money for a couple days, because they charge us every Saturday for our room.
We were told that we would get 20% off for booking a month but once we got here we were informed that we would only get that back after we check out. I've read multiple reviews on this issue stating they never got their discount refund as promised and their calls to the company's customer service line have gone unanswered or returned. Same for e-mails they've sent.
There isn't a pool or a fitness facility here. We typed in specifically for ESA locations with these amenities and this one came up, but that was false. The wifi here sucks as well. If you want better wifi service to work from "home" you can pay extra for that according to their site you have to log into for wifi access.
There are parties in the back parking lot almost every night - be prepared to see beer bottles & beer caps everywhere (watch where you drive because of broken glass), and grown men exposing themselves as they urinate to make more room for alcohol.
There isn't a lot of parking because of the people traveling in semi trucks (without trailers), hummers, trucks with trailers and RV's. Not the hotel's fault, but definitely keep an eye on your car for dings and scratches because of the people who take up 6-10 parking spots. So, basically you don't want to stay here. We cannot wait to get out of here! I am 97% sure we will never stay at another ESA hotel anywhere and I'm 100% certain that I will never stay at this location ever again. Being close to SeaWorld is not worth it. I wish that we would have left our min pin with relatives back home until our new house is ready, so we could stay somewhere else but no. We're stuck in this disgusting **, roach infested, disappointing hotel. It's a complete waste of money.
Extended Stay America Company Profile
Company Name:

Extended Stay America

Website:

http://www.extendedstayamerica.com/