Consumer Complaints and Reviews

I booked a rental car for Frankfurt, Germany, using Rentalcars.com. When arriving at the counter I was told that Dollar (and only Dollar) absolutely REQUIRES the additional insurance. As usual, you are unsure of the legal status etc, and are bullied into taking the insurance. That more than doubled the cost of the rental car. Will never use Dollar again.

Had a rental from M-F listed for $105, returned on the correct day and they charged me $593. Couldn't tell me why (was a few hours after the listed return time). Contract says that they can charge me $16/day extra if I'm more than 12 hours late (was not anywhere near that late).

As I was going through my credit card statements, I realized that $500 deposit was never refunded to me. I call them and after 25 mins on hold they tell me that they do not have any access to any records passed 6 months. How convenient for them?! I find this absolutely ridiculous. I am extremely frustrated because $500 loss is something substantial. I guess this is the way this company operates by lying to their customers. Upon return there were no complains whatsoever. I travel a lot and rent a lot and I have never came across such horrible customer service. I will also make sure to get my word out.

I rented a large SUV for a business trip and my staff of 6. We received an Armada that was in terrible condition, without a key fob even. It smelled of smoke and didn't ride well at all. To make matters worse, I just received a bill in the mail from them for a "cashless" toll which I wasn't told even existed that was 1.00 and they charged me a 15.00 admin fee!!! No one informed of this toll, or even mentioned it was a thing. I WILL NEVER USE THEM AGAIN. I GIVE DOLLAR RENTAL ZERO STARS.

We arrived at Orlando airport to collect the rental car to be informed that we needed to pay an additional $126 for Florida toll roads. I explained that having previously lived in Fort Lauderdale I knew that I could pay cash. The dollar representative argued that ALL tolls were now cashless and therefore we would have to pay in advance. I continued to argue the point only to find myself confronted by a second Dollar representative who held up a mobile phone showing a photograph of a cashless toll. He also stated that ALL tolls were e-payment only. Anyway to cut a long story short on immediately driving out of the airport I drove through a toll where I could pay 25 cents IN CASH! In fact every toll between Orlando and Miami allowed cash payment. This is completely fraudulent by Dollar... Disgraceful. The employees in the garage where you collect and return the car were also unfriendly. I will never use this company again.
How do I know I can trust these reviews about Dollar Thrifty?
721,363 reviews on ConsumerAffairs are verified.
We require contact information to ensure our reviewers are real.
We use intelligent software that helps us maintain the integrity of reviews.
Our moderators read all reviews to verify quality and helpfulness.
For more information about reviews on ConsumerAffairs.com please visit our FAQ.

Very, very bad experience... I booked a car thru Priceline for $74.00 for 3 days. When I returned the vehicle on the third day, the staff started to say the car smells like cigarette and he have to charge $350.00 to remove the cigarette smell, then later on I found an additional charge of $250.00 for a lost key. The same key I gave to their employee. Who the heck is regulating this company?? A huge lawsuit should fall on them soon.

If went through a toll freeway 2 x in a Dollar rental car, 1 x out of the airport and 1 x back. The fee was .81 cents each for a total of $1.62. Dollar did not notify me that I had incurred this charge. They contract out to ATF, a company that bills and sends invoices out to rental car holders. Dollar states in the rental agreement that you can purchase an $87.00 unlimited toll rd pass. So, because I did NOT buy the pass they CHARGED $30.00 to process my $1.62 fees. That's just a little over 2000% markup.
I called NTTA (North Texas Toll...) and DFW Parking General and they showed NO toll charge present or past on my rental car license plate or my Oregon driver's license. At the very least, Dollar should notify the customer that a minimal toll fee has occurred and give the customer the right to pay before they "pay" on my behalf at such a ridiculous markup they claim as just processing. Not a nice business practice. Does Texas have no governing? Also, they charge $9.99 a GALLON if you bring the car back not totally full! I knew that ahead and made sure I stopped at the gas station by the airport.

I rented a car a few weeks ago and picked it up in Ft. Lauderdale. I had an unbelievably wonderful experience. I am an older gentleman and as an attorney have traveled throughout the USA. I had some of my family with me and after a long and arduous flight from Chicago, we were dead tired. We were visiting my 94 y/o mother in Boca and I was unsure of my directions there since we were going by way of Plantation. Mr. Eduardo ** was a fantastic help to us. Not only did he expedite my rental and get us on our way, he gave me superb directions [my cell phone was new and was no help] and we got to both destinations in excellent time. Congratulations on a phenomenal employee in Mr. **. I will rent from Dollar every time I get the opportunity now after the wonderful travel experience he gave us. Thank you for your kind attention and for Mr. **.

It would be 0 stars if I could. I booked a rental through Expedia; when I went to pick up the car they confirmed my reservation, but then everything went wrong. The guy at the counter kept asking me to sign off on things like, adding a Sun Pass (EZ), adding a second driver, adding more insurance, adding additional days, and a few other things I didn't understand. My original booking covered unlimited time for 3 days, 2 drivers, unlimited Sun Pass (EZ) usage for 3 days, and the largest insurance package.
I kept telling the guy I already booked this car with everything I needed and he lied over and over telling me I'm just signing off on that in person since I booked online. When I dropped off the car they charged my credit card for 150% more than my original booking costs. A $200 car rental booked online ended up being $500. I am working with my credit card company to remove the additional charges so we'll see how this plays out. I will never use Dollar Rent A Car ever again! Terrible.

I got a price of $585.35 to rent a car (from Dollar at the airport in Fort Myers FL) for 1 month. At the airport they suggested I needed a better car. This cost $420 more. That makes it $1015.35. They added all these other things I didn't need since I had AAA. They are billing my credit card for $1820. Next time I will read every word of every form no matter how long it takes.

WTH is a $25 "Early return fee" that is more expensive than the quote for the whole weekend? Reserved car for Friday 7 am returning Sunday. Prepaid $65 (including taxes/fees) for the rental (thru SW airlines site). Returned on Saturday at 11 am and the bill was $81 which included a $25 "ERF". Why not charge the lesser of the two?
Every time (not just Dollar RAC) I book a special rate, there's misleading upselling that somehow the rep is going to save me money by offering me an upgrade at a discount, which ALWAYS turns out to be 200-300% more than the current reservation. This is clearly a "Bait-and-switch" marketing tactic meant to take advantage of unsuspecting travelers. How can you save money by paying for an upgrade at full retail price when you originally reserved a vehicle at a special rate? My original reservation for the week was $350 and rep actually told me I could save money by upgrading to a full sized vehicle for $700 for the week! WTH? AT KCI (aka MCI) there's no obvious signage nor instructions given at checkout as to where to drop-off your keys after hours as there are in other airports. Lighting is poor, so MAKE THE SIGNS BIGGER.

My husband and I chose Dollar as a bundle deal through Orbitz when planning our trip to Texas. We pre-purchased our rental car and paid for insurance in advance as well. When we arrived to pick up our car, the very unfriendly representative argued with us that it wasn't pre-paid which I had the receipt for and then said we would also have to purchase insurance which was also listed on our receipt. When the very unhelpful agent finally completed our paperwork we were sent to the parking ramp and greeted by the same unfriendliness and told to pick a car. We looked at many cars, all of which were damaged in many ways.
We finally selected what was pretty much our only choice, asked the attendant to come and look at the car and showed her the damage (broken hub) on the front and back corner panel. She then proceeded to say "That's fine. No big deal." We went through the check out line and told the attendant about the damage. She walked around and looked at it and said very loudly, "This car can't go out!!!" We then had to go back, unload all of our luggage and find another car.
Needless to say, never ever again would we use Dollar Rental! Anyone considering using them, don't! I'm sure anyone reading this has never rented from them before and that is why you are reading the reviews. I'm pretty sure they don't have repeat customers, we all had to learn the hard way. I normally read reviews but in this case didn't, big mistake. I have seen nothing but poor reviews. HORRIBLE COMPANY!

I booked and paid the required deposit for the rental with my airfare. The guy at the desk tries to get me to upgrade for an extra $200, I declined. Asks me if I want them to fuel refill, I agreed. Big rip off, charging $42.00 for a refill on a mid-sized car that had 1/2 a tank, charged me insurance when I didn't need it as I already have insurance. Then instead of my bill being the balance of what the original agreement was $115, my card is charged $371.00. I never received a copy of my charges. I was never given a receipt of any kind. The attendant at the vehicle return barely spoke English. When I called billing the woman said she'd give me 10% credit on $65.00. I said, "So you overcharged me over $200.00 and you want to credit me $6.00?" Never, never, never again. Rather call Uber and be chauffeured! Beware of their fraudulent practice!!!

Rented a Dollar Rental car at the Denver AP on 2/2/2017. At the time, they made no mention of any tolls in Colorado and I had not seen any on previous trips. On 2/20/2017, I received an invoice from Dollar for $18.70, which was for a $3.70 electronic toll (they have no pay as you go tolls) and a $15.00 admin fee from Dollar.
I tried calling ExpressToll (the company that operates the Colorado Toll System), I was told I should have read the entire rental agreement and therefore it was my fault. In addition she told me, "now you learned a lesson!!" It is worth noting that Dollar can charge the $15 fee up to 6 times in a single rental, if the tolls warrant. The reality is they get you no matter what, because they offer a transponder that will pay the tolls for $3.95 per day plus the cost of the tolls. Of course, my agent failed to mention this to me. I would not recommend Dollar Rental.

We recently took a business trip to California. I booked the hotel and rental car thru Expedia. We booked and paid for 2 days. We were quoted a rate of 35.00 a day. We ended up needing the car for 3 days so I knew that I would need to pay the extra day upon return. I just got my bill and they charged me an extra 125.00!! When I questioned the charge I got several excuses like the system was down or the person I would need to talk to was unavailable. This went on for 5 days, each time being on hold from anywhere from 20 to 45 minutes.
Finally today I talked to someone and they said that was the rate for an extra day and the taxes?! That did not even include the optional insurance as I declined that part. I can not imagine how much they would have charged for that. They were very rude and said there was nothing they could do, that was the rate. No apology at all. I would NEVER rent from this company again. They are a total rip-off and customer service is horrible.

I am writing this review to WARN other customers to be very aware when they are renting a car at this location. Our insurance company sent us to pick up a rental car from this location. The first time we got there the service person told us very rudely that we need to get a particular paper from our insurance company and that he would not give us the car. I call Dollar again and spoke to a very nice employee, LORDES **, who discovered that we could not have one insurance on two cars and that was the problem. After a few days we went to the location to pick up a car and was attended by an employee, Oscar **, who spend more time on his personal cell phone than telling me what to do. The only thing he said to me that I had to bring back the car with a full tank of gas.
The next day I had to call Ms. ** for her to explain if the car had a panapass, which she did. On Saturday we returned the car to the location in Albrook and was attended again by Oscar **, who instructed me that I needed to take the car to a car wash before I returned it. After I told him I would not do such a thing, he called his supervisor and he spoke to me and told me not worry everything will be okay. On Monday I received a call from my insurance company telling me that Dollar wants to charge $75.00 to wash the car. PLEASE BE VERY CAREFUL WHEN DEALING WITH THIS COMPANY AND EMPLOYEES WHO NEEDED TO BE TRAINED PROPERLY AS MR. **.

It has become my personal mission to make sure that every human being able to rent a car never uses Dollar Rent A Car. For the past three years I have been stationed in Spain, yes I am in the US Military and I love it. I hadn't been home in three years so imagine how excited I was when my orders were going to allow me to travel home for the holidays before I went to several schools in route to my next command. I did some research and asked around. Several folks onboard my ship recommended Dollar because they were cheap and offered a military discount. So I got onto Orbitz and looked it up, sure enough Dollar was gonna run me 800 bucks for a month long. I thought that's pretty good considering I couldn't apply a military discount right there. So I went ahead and reserved it a couple weeks pass and I leave Spain. You would not believe the trouble I had when I arrived in Atlanta at the Dollar counter.
I asked the young lady at the counter if they did indeed offer a military discount. I was told that they did, but she couldn't apply it to an online reservation. A reservation mind you that I made to ensure a car was available when I arrived. So I suggested canceling the reservation I made as I was there and obviously so was the car. However, apparently, she couldn't do that. So I decided whatever I'm here, they have a car, what's 100 bucks off the total anyway. So the process begins... to get worse.
She asks what type of coverage I would like on the car. I politely inform the young lady that I have USAA and they cover my rentals. She tells me that I must get insurance coverage of some sort. I again tell the woman that I have USAA and they cover my rentals, even prove that I have USAA, and again tell her I do not require insurance. I'm told that if I do not pick a coverage option I will not be allowed to rent the vehicle. So I go with the "cheapest" liability coverage of some 30 dollars a day. When everything is said and done the rental that was going to cost me 800 ended up costing me nearly 2000 dollars.
When I arrived at my friend's house, as I wasn't yet going to go surprise my parents with my arrival since they didn't know I was in Georgia, I read the agreement that I signed. Lo and behold to my surprise in the agreement by the company it states I am not required to get ANY coverage and by denying their coverage I am accountable for anything that happens. If I have insurance they will work with that company and if the company deems me at fault or refuses to cover it I am held accountable for damages. So the company itself doesn't even require me to get their insurance. Well 31 days come and go I have a wonderful time with family and friends that I haven't seen in 3 years. I return the car and upon getting to my next location I call the company. They are closed when I call so I decide to email.
I still have not received a response from the email I doubt I ever will. When I finally did get ahold of a representative on the phone and I explained at length the issues I had I was, not politely but not rudely either, informed that it was my fault. Since I did not ask for a manager at the counter or call the company at the counter they could not and would not help me. I had the car for far too many days, insurance ended up costing nearly 900 dollars by the way, and they could not do anything about it.
I stressed to the woman I spoke with that the company essentially baited and switched my by advertising a rental for 800 dollars for 30 days on Orbitz then charged me nearly 2 grand. That's when she informed me that they are not responsible for upholding the price set or advertised by a third party. I believe that's about when I stopped being cordial and told the woman again, at length, sternly how this company is backhanded, in it for the money and nothing more, and I will be making it my mission to personally see that everyone knows Dollar and their Parent company Thrifty do not care about the people to include the military.
To quell my building rage she said that she will meet me half way and refund half the cost of the insurance but can not do more than that as I had the vehicle for too long. The vehicle that was returned in better shape than I got it by the way. Because the tires were not aligned, the wipers were so corroded that they did nothing to the windshield except leave streaks, a headlight and taillight was blown out, all of which I took care of.
I guess it wasn't all bad... I got 450 bucks back from the 2 grand that I spent on this rental when it was advertised to cost me only 800. Oh and because I was caught in traffic coming back to Atlanta and thus an hour late on turning it in I was charged for an extra day. Regardless of the fact I returned the car on the day it was to be returned, just you know an hour late. So if you love throwing your money away, or you have plenty to burn, by all means go with Dollar.

I rented a car from Logan Airport on Saturday evening on February 11th. And was very disappointed with the service that I received At Logan Airport. My wife booked it on Priceline and it was supposed to be $10.00 per day for the rental for a three day period and was supposed to amount to $68.00 total for the rental. When the women at the counter added everything up the $68.00 rental went up $213.00. During the process the women asked me if I wanted insurance coverage on the car and I told her no. I never get the insurance coverage on rental cars because my credit card covers me for insurance on rental cars. I did agree to pay for the cost of the easy pass even though I thought it was highway robbery. They charged $11.99 a day for the easy pass. I have been to other cities where they charge $4.00 per day for easy pass. $11.99 a day to use the easy pass twice is highway robbery.
When it came time to check out, the women just said I just need to push the accept button and then sign. She never went over the charges with me and I didn't insist because I was in a hurry. On Sunday night I just happened to look at the paperwork I received and was shocked to see that there was an $28.49 charge per day for insurance coverage that I never asked for. The insurance the women tacked on was more than double the price of the economy car I rented.
I was pretty upset when I found this out and decided that I no longer wanted to keep the car. I felt like she intentionally tried to cheat me and I felt this was a terrible way to conduct business. I doubt that I will ever rent from Dollar Car Rental again. I asked her why it was so high and she just told me, "Oh, the fees just add up." She told me that part of the reason why it was so high was because there was a deposit put on my credit card that would come off when I returned the car. I was in a rush and didn't thoroughly scan the papers handed to me. This was far and away the worst experience I have ever had renting a car and I will not be renting from Dollar again.

I rent a car to Thrifty. In MCCARRAN int'l airport in Las Vegas. We came late. So they direct us to Dollar counter. Which is open. My reservation is for compact car. Then the agent told me because it is holidays. We are only available for our reservation is a Van or pickup truck. I don't believe that. He said "that is the only available with your reservation." So my friend told me will just get the pickup truck. I gave my Master Card credit card. When we came to pick up the truck. There is no Van or pick up truck in the garage. Everything is cars. And the guy in the parking told us to choose what kind of car we want. We got the white Toyota.
After a few days Walmart notify me. That I order a gift card in the amount of $150 that will send to Florida on Jan.20. And also an Electronics that will send to Florida but different address. And the methods of payment is a Master card ending in my 4 numbers of my card. Which that's the last time I use my card is in Dollar Rent A Car. I called Walmart and stop all the transactions. And my credit card too.

Reserved a car through Car Rental 8 at Hilo, HI airport. I was quoted $376.00. $271.00 on my credit card and $115. due to Dollar Car Rental. I especially asked the pickup and drop off attendants if I would only have to pay that amount and was told that was the case. Come to find out the insurance I paid Car Rental 8 was not insurance (even though it looks like it on their site) and Dollar added on their own insurance after leading me to believe I had insurance through Car Rental 8. I will not do business with either company again.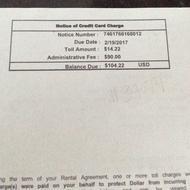 The entire experience was horrible! They billed me for insurance I didn't need. When I questioned the clerk (whom struggled to speak English) he told me it was a deposit and would get it back. It turned out that was a different fee. Then 2 weeks after returning home I received a $104.22 bill for tolls. The tolls were $14.22 and they charged me $90 for their administrative fees. To top it all off, the car we got was an inferior car to what we registered for. That is absolutely ridiculous!!! Please don't pick them, there are honest options out there.

I wish I had read the bad reviews before I booked with Dollar. I made the reservation through Expedia and had to paid all 7 days in full at time of booking. When we checked in at the Las Vegas Airport, we were told that I had to give them my driver's license number because I made the reservation, even though my boyfriend was the only driver. We told them again and again there was only one driver. I just received my credit card statement and found they had charged an additional $146. When I called them, they told me because there were two drivers. I argued that we already told them there was only 1 driver. She said if there were 1 driver, why they had two ID's on file, and that I should have my boyfriend's name on the reservation.
It seems, from reading other reviews, they will find one thing or another to add additional charges to renters. This never ever happen to us before. We travel all over the world and booked many car rentals before. I told them that there was nowhere on the Expedia website for me to put down the driver's info. She told me that I should not have reserved online. I think Dollar did all this on purpose so they can add charges to renters. If they were honest about this additional charges, they should have told us the cost of two drivers and charged us right on the spot. Why charged us after the fact. I WILL NOT EVER WANT TO HAVE ANYTHING TO DO WITH DOLLAR RENT A CAR AGAIN!! VERY GREEDY AND DISHONEST PEOPLE!

I rented twice from Dollar in January - first time I have ever used their service. Understand that I am in a rental car around 150 days a year. I prepaid the rentals for both New Orleans airport and Memphis airport... nice daily rates, decent cars--impressive. At the airports I was careful to make sure I had my gasoline receipts--have seen other's reports that you must show your receipt. I was NOT asked to show that receipt at either location and was NOT charged for gasoline as I filled it myself. So far so good...
At January month end I was filling out my expense report and comparing it to each line on my company credit card statement. I saw both Dollar charges, which matched the receipts I received at the airports but noticed two charges on my card that I disputed - both listed as "CARHIRE" and in the description "DOLLAR THRIFT IRL". I did a little research and found that Carhire was apparently based out of Dublin, Ireland and appears to be a travel service, similar to an Expedia or Orbitz. I immediately contacted my credit card company and disputed the charges (which did NOT match up to any dates I had traveled or rented a car).
A couple days later I received a cordial email from a company called "CARTRAWLER" asking me why I was disputing my charges. One again, another overseas company from somewhere in Europe. Both emails I received from Cartrawler referenced My Dollar rentals. I called Dollar and learned that Carhire/Cartrawler do the billing for prepaid rentals for Dollar. I closed the dispute and paid the bills for the two prepaids billed through Carhire/Cartrawler. My point is this--why do I as the consumer have to mess around with Carhire/Cartrawler and get two sets of bills. I rented from Dollar, not Carhire/Cartrawler. You too would have disputed these bills as they look bogus.
Also, the combined totals of the bill received at car return and the Carhire/Cartrawler bills combined make the Dollar rental not so competitive. The bill at car return is ONLY for the airport fees and any extras--it will not include your prepaid charges. Pucker up if you prepay Dollar rentals as they are NOT what they appear to be. Also, the combined bills for Memphis do not match up - are close but still do not match up. Again, cars were nice, fairly clean and people I dealt with were nice enough. I will NOT be renting from Dollar again based on the two experiences with a company in Ireland being involved in my billing and two sets of bills. Just not comfortable with the experience. There are too many other choices and they don't invoice funky like this.

I have never had such rude service as I encountered at the Charlotte Douglas airport. From the moment I spoke to the customer service agent, I was met with resistance and an attitude. When I explained I was renting a car because I had been in an accident and my insurance company told me to request the insurance rate, I was immediately told "we don't do that here, you need to go downtown." I then explained I needed to rent a car anyway since I had been dropped off at the airport. I was told "I can't make a reservation for you."
I told her I had made a reservation that morning, but didn't realize it was for the next day I was told "you have to change that yourself. New policy. All you have to do is go to Dollar.com." Being a frequent renter, I already know there is no way to look up a reservation without the confirmation # so I ask to borrow a pen. She refuses, tells me to give her my phone which has the confirmation # on it and she cuts and pastes the confirmation. I attempted to modify the reservation and got an error message at the end indicating the system encountered a problem and to try again later.
Again I requested a pen and again she refused asking "why do you need a pen?" I told her I needed to call the 800 #, she asked for my phone, handed it back to me since the screen had gone to sleep and barked "call it back up." Instead of giving me a pen, she writes the confirmation # down and hands it to me. I call the 800 # only to be told the reservation had been successfully modified. I hand the confirmation # to the agent and she finally enters it into her computer. She prints out the receipt and tells me to sign and initial. Kind of hard to do without a pen so I again request one which was met with an exasperated huff.
I go to where the cars are located and there are none available in the class I have rented. At this point, I have had enough and decide to call my insurance agent to see what my options are. While on hold, a Dollar employee asks me if I need help. I explain there are no cars in the class of service I just rented and she mumbles something. I have to ask 3 times what she said, explaining "I'm sorry, I can't hear you" and she points to a car and says "you can have that one."
Again, the same attitude as the agent. It is at this point that despite being a Dollar Express member I decide I am not rewarding this extremely poor service with my business. I go to the Alamo counter and get the customer service every person who is paying for a service deserves. Kind of sad that these Dollar employees are potentially the 1st people a visitor to the Charlotte area encounters. Definitely not the southern hospitality one expects. Quite frankly, the experience didn't even meet minimum standards of respect.

We had to wait and wait and wait for our reservation to be honoured at MIA last week. It was pathetic. No explanation. No reasonable estimate of when the vehicle that we reserved would be available. Just waiting and waiting. The Dollar staff were rude and quite ignorant. It was as if we had no right to want to start our holiday - by getting the vehicle that we reserved online. The Dollar staff did not offer us a better vehicle. Finally, we decided to take a smaller vehicle - just to get out of the Miami Airport Car Rental Parking Lot - BUT NO DISCOUNT WAS OFFERED. I'll never bother with Dollar again. There are too many better rental companies in competition. This company just stinks.

Disgusting condition of the SUV from Dollar Rent a Car - Fort Myers Airport location! Interior was never cleaned from the prior customer who clearly abused it. Attempts to contact the company were unanswered even with pictures documenting the condition. It was repulsive and I was afraid of all the germs! We sat on towels the entire time. Do not be fooled by the lower price because you get what you pay for. Spend the extra money and have a vehicle that is clean! I wish I had been warned!

Booked car reservation for my wife thru Orbitz.com. Reservation shown on Orbitz lists the driver as my wife, but, according to Dollar, reservation lists the driver as me. Dollar agent and agent's supervisor refused to honor reservation, asking my wife to make a new reservation at nearly 2.5X the cost. Unsure if the root cause of the electronic miscommunication problem originates with Orbitz or Dollar, but, ultimately, the customer should not be the victim of Dollar's inability to communicate effectively with Orbitz. Shocked and disappointed that Dollar would treat any customer in this manner. Confident that the manager could have done the right thing, but chose not too stating that he could not correct the reservation within Dollar's system or honor the rate.

40 minutes late costs $737.94 EXTRA?? PLEASE BEWARE - As if it isn't stressful enough getting to an airport late, try returning your rental car 40 mins late and getting a bill for $962.93 instead of the estimated $224.99! (My Credit Union blocked my card due to this expense which prevented me from purchasing a new airline ticket because I missed my first flight - Thank you Dollar Rent A Car!) My original estimate for a Mid-sized car for 4 days at $19.40 per day=$77.60+ additional charges* $147.39 = TOTAL ESTIMATED CHARGE $224.99.
I returned the car 40 minutes late and my daily rate goes from $19.40 to $156.82 (a day) AND they tacked on $26.66 late fee? Nowhere in this 7 page policy can I find any statement about returning a car 10-20-30-40 minutes late unless "Late returns may be subject to extra hour and/or day charges" is Dollar's ambiguous attempt at a warning (please see this statement in context below under Terms** from page 1 and page 7 below). An 80% increase in daily rate is ridiculous. Try adding up the taxes alone on that.
Needless to say I called "Customer Service" immediately and the woman on the phone apparently agreed that the new rate charge was wrong and she was going to credit me the difference. Nice, except I could not get her to understand that I wanted to be credited for the additional taxes I was charged ($188.26). She had no clue what I was talking about. I tried to explain how the taxes were taken on a total sum and she said that the taxes had nothing to do with the rental charge. I asked to speak with the manager and she said she was qualified to handle the billing. I asked again to speak with a manager and she told me there was no one to speak with, she "was qualified to do the billing" and that she was going to credit back the daily rental fee overage. I asked her to remove the $26.66 1 hour late fee and she told me "you were late. I can do nothing about that"... I could go on.
I just wonder how many folks get overcharged "scammed" like this? I was running late, they knew it, they upcharged (an additional $737.94) knowing I might not have time to go back to their rental counter and argue the cause. I took a day off from worrying about it and tried the customer service line again today. This time the Rep reviewed the bill and adjusted it to reflect my original estimate. She even deducted the "late fee". But at no time did I get an apology. Dollar Rent A Car will not be getting my business nor my endorsement. Just the opposite. I hope someone reading this learns something beneficial. I hope one person can gain wisdom from my very stress filled situation. Shame on you Dollar!

I returned rental car with full tank as I had refueled at the airport minutes before I dropped it off at 530 am in Sacramento. No one was there to receive it so I followed instructions. Usually I get a receipt emailed to me but I hadn't received one yet. So I called today to get my receipt and noticed a fuel charge for $17.73 on the receipt. I called customer service, they answered quickly and said as a courtesy they would remove the charge. The customer service rep was courteous and said it may take up to 18 days to refund. This was handled but the fuel charge should not have been added. Had I not looked at my receipt they would have had added a fraudulent amount to my credit card. The removal of the charge should not have been called a courtesy as the charge was erroneous. It was at the least a mistake and if not fraud.

The staff that gave us the car was rude, didn't show us how to use the car. They should know that people renting their car doesn't necessarily have the same car as they have. We rented a GMC Yukon 2017. He left the car in front of us and just left without saying a word, took us 10 minutes to figure out how to put the car on drive. Also, they over charged us. They charged us an additional $200+ mandatory fees.

Lauren FixAuto & Finance Contributing Editor
Lauren Fix, also called The Car Coach, is an automotive and auto finance expert. Her understanding of vehicles has made her the "go to" person on TV, radio, print media and the Internet. She has authored multiple books and writes a column for several outlets, including Parade Magazine, NewsMax and Car Coach Reports. She is a regular guest on major news and morning shows, discussing the latest updates on cars and car financing that will help drivers make smart decisions when buying, maintaining and financing cars. More about Lauren→

Since 1965, Dollar Rent A Car has grown to include more than 570 locations in 61 countries worldwide, including approximately 260 locations in the United States and Canada. As a part of The Hertz Corporation, this brand belongs to the largest airport and general-use car rental business worldwide.
Seasonal specials: Dollar Rent A Car offers various discounts for seasonal travelers. For example, summer renters can get 10 percent off a weekend rental, the most popular days for vacationers to rent a car. The Silver Club offers a 5 percent discount for drivers over the age of 50.
Dollar EXPRESS: This convenience program is designed for customers who don't have a lot of time to spend at the checkout counter. Dollar EXPRESS is a free program that lets users skip the line and go straight to a rental vehicle.
Easy reward redemption: The Dollar EXPRESS Renters Rewards program makes earning rewards easy and redeeming them even easier. Buy 16 days of car rental and get a certificate for one day free.
Business rental plans: The Corporate Rental Plan offers locked in rates with no peak season highs and lows, while the Flex Rate Plan gives users a five percent discount on the price, along with a three percent rebate for dollar.com bookings.
Multi-month rentals: In addition to low monthly rates for long-term rentals, Dollar offers multi-month options with convenient monthly billing. Ideal for workers on a temporary assignment, Dollar offers rentals for up to 11 months.
Many makes and models: Dollar Rent a Car features 16 types of rentals from economy cars to convertibles and open air all-terrain choices.
Best for Vacationers, business travelers, temporary workers and those with cars in repairs.
Dollar Rent A Car Company Profile
Company Name:

Dollar Thrifty

Year Founded:

2002

Address:

5330 E. 31st Street

City:

Tulsa

State/Province:

OK

Postal Code:

74135

Country:

United States

Website:

http://www.thrifty.com/