Consumer Complaints and Reviews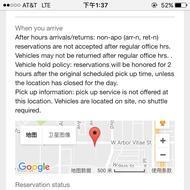 We made a reservation at Expedia with following information. Pick-up - 11/25/16 9 am, 2500 Mason St, San Francisco, CA. Drop-off - 11/27/16 3:30 pm, 5630 Arbor Vitae St, Los Angeles, CA. The pick-up store was closed on 11/25 Thanksgiving and we didn't get any notification before that. We called Dollar at San Francisco Airport (SFO) and the agent told us we could pick-up the vehicle at SFO with same price. It took us the whole morning to finally get the car and we had to delay our scheduled trip. When we returned the vehicle at LAX, we found the agent made a horrible mistake: he changed our return location from LAX to SFO! We had to pay additional $400 due to daily rental rate increase from $86.52 to $179.88. We've already talked with the Dollar manager at LAX (around 2 pm 11/27) and he told us the only solution was to let the SFO branch to change the daily rental rate.
We then called the manager on duty at SFO (around 2:30 pm). She is the worst person I talked with. She gave me a feeling that your company is reluctant to solve this problem. This case is your fault because no one told us the local Dollar was closed on Thanksgiving. No compensation for our wasted time and money. Now you charged us $400 more for your mistake. This is ridiculous! Hope you can help us solve this problem. Thank you so much!

First of all, I have been a Dollar Express member for years and have always had excellent services at the Orlando Airport until October 17. My reservation was for a full size car and I was able to take my pick from several. I chose a Ford Fusion. From the airport, I drove directly to my hotel to check in. When I tried to lock the car door with the remote, it didn't work so I manually locked the doors. When I returned to the car, the remote would not open the doors and I could not locate a lock in which to use the key. It turns out the key fob was not programmed as the panic alert did not work either. I call Dollar thinking they would send someone to exchange key fobs but they sent a lock service never telling me I would be charged.
The lock is well hidden on the new Fusions and unless you're familiar with the Fusion it is almost impossible to locate. When I received my bill at the end of my rental I was charged approximately $80 for the lock service and called Dollar to complain. Their response was, "sorry but they're not responsible". That is the end of my relationship with Dollar. I will NEVER rent from them again.

I am very unhappy with my experience with Dollar car rental. I went online to make my reservation from start date 11/14/2016 until 11/20/2016. My bill and total would only be $171.06. My total, when I go to Puerto Rico the girl at the counter tells me that my total for the car rental would be $334.00. I questioned as to why and she told me that that I was being charged $1.95 a day for trpp, $10.95 a day for sli, $19.21 for transp rec fee, $1.16 city tax, $12.21 for state tax, $1.39 a day vehicle battery rec, $3.89 a day vehicle excise charge, $4.95 a day and keep in mind these are charges per day and subtotal came to other charges $217.62. Grand total of $334.00.
The only reason that I did not put up a fight at the time was that I was tired from the trip wanted to go see my family which I had not seen in 5 years, but I did mentioned to the girl at the counter I have my reservation and the total that I have for those days is $171.06. She said it does not matter that the charges that she was imposing are the correct ones. It's unfair and I think that if the prices are going to differ from what you reserved online that they should advise you. I will never deal with this company again. They just lost a customer. I would like to get advice on what to do. If there is a case, I am not trying to create a problem just want to be treated right. Money does not grow on trees for me to throw money away like that. I have the receipts and the reservation for the $171.06!!!

I booked this through Rentalcars.com for early August. The hotel informed them that we would be an hour late. On arrival found it had been sub-contracted to Dvocek Car Hire. There was no car and we had to go to the Airport to pick one up. So wasting over two hours of our holiday. Car was fine. We damaged a wheel and the tire. It was about four weeks until this showed on my credit card statement. I have an excess insurance with Car Hire Excess and the claim handled by OSG Group. The latter has been excellent in this showing patience but obviously wanted to see the invoice. I tried to get an invoice but no success so I asked Rentalcars.com to obtain one. I also asked it to find out why I had to go to the Airport. I never have received an answer to the latter.
I passed these enquiries to Rentalcars.com and only received the invoice on November 12th. Then it contained a charge for out of hours. I have decided to give it all up now as it takes too much of my time. A cheque was received from OSG two days after I sent the invoice. Obviously I would not recommend Rentalcars.com as they appear unable to control the companies they use, nor Dollar or Dvocek Car Hire. I highly recommend Car Hire Excess with OSG handling the claims.

Upon arriving at the airport we were told we could not use our car insurance that does cover rentals, we had to purchase their insurance. There is NO WAIVER sheet for us to sign. We must get that insurance. We went upstairs, chose a car that had to be returned before we pulled out. Chose another. Did not notice the hairline crack in the windshield. Ended up paying for it with the insurance we had to buy. So 1st they could not find our prepaid Expedia rental on the computer so we paid 189.00 prepaid car rental and 260.00 when we arrived in Houston, Texas for insurance and toll charges. So Nov 17 to Nov 21 our car rental cost us 449.00 total. Never have to worry about spending in Texas again. Will never visit.
How do I know I can trust these reviews about Dollar Thrifty?
637,576 reviews on ConsumerAffairs are verified.
We require contact information to ensure our reviewers are real.
We use intelligent software that helps us maintain the integrity of reviews.
Our moderators read all reviews to verify quality and helpfulness.
For more information about reviews on ConsumerAffairs.com please visit our FAQ.

I frequently read complaints, so to you complainers, Dollar, Airport location was great. Nov 6 to Nov 20, 2016 - I was served in 5 minutes, had a choice of 5 cars in full size premium. Took Maxima with 2,000 miles, very clean. No surprises on price $327 all in for two weeks. Return was smooth, charges were all correct and service was outstanding, all it is usually with Dollar in Orlando where I have rented at least 8 times. Way to go Dollar!

You falsify your rates to customers. I reserved a car for pick up on 11/09 and picked up the car 1.5hrs early. Apparently with Dollar, this will change your daily rate. They don't tell you upfront they are changing your rate and it up to you the customer to catch this lying and deceitful way of doing business. I have rented multiple cars in my travels with various companies and have never encountered this way of business. I work for a major airline and will post a review of this experience on our internal website. You will never get my business again and I will adamantly advocate against Dollar every time a travel conversation comes up.

We rented a standard SUV in Phoenix, for a week, that was rented on-line and paid for in advance. When we arrived at the rental counter the young man tried everything in his power to get us to accept a more expensive vehicle, (for more money than the additional rental). We repeatedly told him NO, and asked for the car we had already paid for. Finally he agreed and had me give him a credit card and sign the waiver. Imagine my chagrin when I returned home to find a $502 bill charged to my credit card, from Dollar.
When I called to complain they said I had agreed to an upgrade and by signing the credit card slip I became responsible for the $502, (even though I repeatedly told him NO), and that even if he did lie to me or deceived me, I was still responsible and had to pay. They told me that upselling (after hooking you with low-ball pricing on the internet) is a common practice in the car rental field and they can't control what their ticket agents tell the clients. NEVER AGAIN will I rent from Dollar!

NEVER rent a car with Dollar Rent A Car! We had a terrible experience. We rented a car with the E-ZPass that did not work. We got fines for not having paid the tolls on the way to New York, even though we had rented and paid the E-ZPass for that. We tried to arrange this problem with them and they insisted we had to pay. We disputed the charge with the credit card but finally they won the dispute and apparently we have nothing to do but paying those fees. If you don't want to have trouble when renting a car, NEVER use Dollar Rent A Car. Their customer service is terrible and they will try to charge you as much as they can. It's not worth it.

I rent a car from Dubai international airport terminal 2 on 11th of October and returned on 15th. I paid extra money for full coverage and there was small scratches around all of the car when I rent the car. I didn't hit or cause any damage to the car until I returned it, and when I gave the car back your staff said everything is OK and made me sign on a tablet. But they charged me 700 USD (2400 AED = 2.000 Turkish lira) for those scratches that I didn't cause.
I called your branch a Airport Terminal 2 and they said I did it and I had to make a police report. If I hit the car I would call the police and make a report because I paid extra money for the FULL INSURANCE to not pay anything for these kind of things. And your staff on the phone hung up the phone because of there was a customer in there and he said he was going to call me in 10 minutes and he never called me back (it has been 20 DAYS). They don't reply my emails also. And I forgot a bag in the car at airport. There was an expensive professional digital CANON camera and 2 piece of women clothes that I bought as a present from GUESS and the said they didn't find anything in the car but I am sure I left it in the car!

I had away reservations 2 weeks in advance for a full-size car rental at the Greenville/Spartanburg Airport. I confirmed reservations on 2 separate occasions prior to my arrival on Saturday, November 5, 2016 @ 2:30 p.m. Upon arrival I was instructed to call Dollar and they would send transportation to pick up and bring me to the rental area which I did. Keep in mind this is a small to mid-size airport, after waiting 30 minutes in designated pick up point with no shuttle service I called again. The representative answered again put me on hold for 10 minutes came back to phone and then told me they had no vehicles available and could not help me.
I then had to scramble to the other car rental companies at the airport to try and rent another vehicle which took another hour and a half and cost me 3 times the amount of money I had planned on spending. The whole experience was bad enough but in addition to all that, this caused me to be late for the funeral I was driving to that was 3 hours away which was the whole reason I was for the trip anyways. My advice to anyone who thinks that "Hey" Dollar Car Rental looks like a good deal trust me BUYER BEWARE.

The lazy staff kept the customers waiting for long queue, have number of service desks but only serving two. That's my start with the renting a car with Dollar rental. I feel it's okay. I was pre-booked through Priceline with 105$ for 3 days. I took no extra coverage and no gas options. But I got charged for an extra 80$ for coverage which I opted out on site when I booked online and at the desk when I am collecting the car. But after return the car and see my credit card report it's charged 225$. After calling the customer service, I got to know that I was charged for 80$ for external damage cvg which got to 195$. And the surprising answer is they don't what another 30$ is. After a debate with customer support got 50% return.

Honeymoon road trip planned, 15 days roundtrip starting at Las Vegas. We found an online good price at dollar rental car (an expected 300 dollar at the end, including everything) and thought it was worth to try. Before writing anything else, I have to say that at the end everything ended well and we paid a fair price. But it all started as hell:
When we were at the counter we are told that we don't have any insurance at all, although we have a basic collision insurance purchased. The employee at the counter keeps saying that this is nothing. "What insurance do I have right now?" - I asked. "Nothing" - he says. So, evidently we ask him to add a basic insurance. Also, we need a second driver, and we agree with paying whatever that is for it is a 15 days trip and we will share the wheel. We have to sign into the screen as if it was the end of the process to get the "simulation" of the contract, because there is no way for him to explain what are we going to get/pay until we sign down.
We see an expected bill of 1.600 (thousand four hundred) dollars. We beg for one hour. We get a 1.300 dollars expected bill after the employee deducted some nonprimary lines. He says "all you see here is insurance, and you need that". He also says that we should call customer service to cancel the basic insurance policy we had purchased, because "you don't want it". We feel devastated. We go down to pick up the car and we find out that we have a higher class than the one requested. We go back to the counter to ask if we could get a lower class, and if that would led to a lower insurance price. The employee says that it is a complimentary upgrade because there are no spare cars of the class we booked. We feel that everything's wrong, and keep begging to find a better solution.
The employee says "come at the end of your tour, I'll see what can I do with the second driver". In my hometown that is against the law: a company has to offer a fixed price for the service beforehand. Yet, in that moment it seemed like he was really being kind and that we were going to have a (small) deduction at the end. We leave the place in the rented car but with a very bad feeling anyway, we were expecting a 300 dollar total bill, and now it was about to be a 1.300 minimum.
Two days later we took one break in our honeymoon to read carefully the contract we have signed. We find out that 40% of the bill is something called "loss damage waiver" which is stated not to be an insurance. It's some sort of responsibility transfer, but nothing that would not have been already covered by an insurance policy. In case of a catastrophe, I don't mind paying myself to Dollar something that the insurance company will pay me back later. Also, it has a monetary limit (not explained to us), so low that it is just a nonsense. So we decided that we don't need it. Another heavy charge is something called Supplemental Liability Insurance, which happens to be an extent of the minimum limits offered by the ordinary car insurance. I don't need any extension, for I don't have an extension of the minimum limits on my own car back home, and I don't plan to run over a bus stop. We don't need that thing either.
Another thing is an "insured and underinsured motorist protection", something that under my knowledge is also covered at some point by the ordinary insurance policy. So we don't need it. Emergency sickness protection. Well, just no thank you, we don't need it. Also, when we were at the counter we were given an example of "a few thousand dollars", and now we read that this ESP has a limit of one thousand dollars. On top of that, I checked inside the car documents, and I find a current valid insurance paper. The car itself has a basic insurance already, it seems. Very basic, but something.
We call the customer service and after half an hour bouncing from one department to another we are able to have a conversation with someone saying that it is no problem to stop the coverages any day in the middle of the tour, so we will not pay anything else since that moment. We say OK, we don't want anything right now, just the basic insurance we have already purchased in the beginning (the one we were told that was worth nothing). Then he says that we cannot do anything over the phone... we have to go a Dollar office and redo the paperwork. Very kindly he informs us that the closest office is 500 miles away.
Next day we decide to do a detour in our trip, and we go to that office. After those hours driving we get there, and then we are told that there is no way they can help us. They can do nothing but writing down in the system that we were there and the car was alright. One hour later, after insisting, we call customer service again. Another half hour bouncing from one department to another. Finally we arrive to someone (different than yesterday) but says that she cannot do anything. We are a thousand miles away from Las Vegas and no way we can go back in the middle of our honeymoon. We are told that once we are to Las Vegas they will not charge since that day that we are doing this request, but we get no paper, no document, and so far we only have one contracted signed agreeing with 15 days of useless and super expensive insurance (and semi-insurance!).
We leave the place really annoyed, and for the next days we keep feeling that we have no power. At the end of our 15 day trip we go to the original Dollar office in Las Vegas, we go straight to the manager, we explain to him what has happened and then we have to have a discussion with him for 20 minutes because he did not agree with our point of view. He kept saying that we had the contract since the very first minute and we could have read it. Which is true. But we are far tired, we don't want to discuss about the lies, the semi-explanations, and the detour, and the bad feeling we have had during our honeymoon. We insist, and finally, we get a clean contract, just as the one planned when we did the online booking, so the manager deducted the entire "insurance" charges since day 1.
It could be said that this was a happy ending. But I would rather prefer to pay a certain amount in the beginning for a fair service and to not care about useless stuff while having a unique time in my life ahead. I don't care if at the end we would have got the entire rental for free. No one will give us back the hours and headaches we have been through. Avoid Dollar.

I rented a car in the Orlando Airport recently. First of all we waited in line for over 40 minutes and I was one of the first in line waiting! When we finally got to the counter the service representative asked us if we wanted a sun pass. I haven't ever been to Florida so I had to ask what it was. Instead of explaining he just said, "It's over there on the sign". Of course it's for the tolls!! We found out right away leaving the airport to drive to our hotel. Of course we also got a bill shortly after arriving home. I wrote a letter explaining my dissatisfaction and all I got was a letter saying "we are sorry". Last time I ever rent a car from this company and I certainly would never recommend them!!!

Original car rental was for a four (4) cylinder SUV. Desk person (very nice person) recommended that we upgrade to a six (6) cylinder because we were going to Snow Mountain YMCA camp (a 50th year Peace Corps reunion) at about 8000 ft altitude. The car they brought up (Hyundai) was a 6 cyl but the tread on front tires was deplorable. We exchanged cars and we got a Dodge with better tread but it was NOT the 6 cyl that we were charged for. Unfortunately because of the stress of travel (plane issues delayed flight one day and two surgical procedures later this month – found out just before we left) my husband did not check under the hood until we got to friends home. My husband was disappointed with himself for not checking before we left the dealership to tell them it was a 4 cyl engine and get the 6 cyl we had upgraded to.
My husband called customer service that evening and although they were very nice, they told us we had to call the dealership the next day. He called Sunday the 2nd and was told that the matter would be settled when we returned the car on the 7th. We returned to Dollar on Friday October 7th and tried to get a refund. Cody (a new service rep and quite helpful) apologized to me for telling me we had a all-wheel drive after we went out and checked that it was not so. I tried to get the upgrade refunded on our credit card but Travis (Supv) would only give us $75 of the $174.87 and that was negotiating up from a ridiculous $25. If we do not receive the full amount of $174.87, we will assume this negotiating procedure is part of your company's approach to its customers and you have lost two customers forever. We will not go out of our way to discredit your company but can never recommend Dollar Rent a Car to anyone.
Please reexamine the following quote from your website because it appears to be just a smoke screen that sounds nice but in reality it is not the truth. The foundation of Dollar Rent A Car is built on a philosophy of exceptional customer service. That fundamental principle is passed on to each employee through our unique customer driven training program. Hope to hear from you very soon.

On Oct 8, 2016 I did a 2 day rental, returned the car on time Oct 10, 2016. The car was inspected and everything checked out ok. Total rental $113.21, received my credit card statement and the charge was $413.21. Called to find out why and they stated it was for a cleaning fee. There was nothing mentioned upon inspection that there needed to be cleaning done on vehicle. I called several times and no one can tell me what needed cleaning. Once the vehicle passed inspection you were not authorized to add additional fee on my credit card.

I recently rented a car from Dollar Rent A Car in New Orleans. The experience was fine until I returned the car. What was normally a 28 minute drive from my daughter's home to Louis Armstrong International Airport became an unexpected, nightmarish, one hour and seventeen minute nail biting trip. I have never encountered a gridlock of this magnitude. I thought that I had left plenty of time to get fuel along the way, return the car, and catch my flight. As it turned out, I just barely made it through TSA in time to catch my flight. I know that I returned the car low on fuel, and expected to pay the $29.95 fuel recovery charge that was my understanding of what would be charged in these circumstances. I felt that it was roughly twice what I would have had to pay for fuel if time would have allowed, but OK I was bringing it back low on fuel. My complaint is that the $29.95 fuel charge wound up actually costing me $103.18!!!
When I called for an explanation of these charges, the response was "We charge $9.95 per gallon of fuel in these cases!" They say that they used 10.8 gallons to fill my car. I feel that these charges are excessive, unfair, and indefensible! I don't even know how they can even be legal. They refused to compromise with me so I have resolved to never give Dollar Rent A Car another penny as long as I live!

Just received an invoice from Dollar for $1.40 in tolls and $30.00 in fees. When I rented the car, I spoke with a remote agent via a kiosk. Never was it mentioned about the tolls. Seems the last time I was leaving Miami International there were physical toll booths, but they are gone now and it's toll-by-tag. And there is no good way to escape the Miami Airport except to use the toll roads. I'm not arguing the tolls, but it seems $30.00 processing fees are excessive. Dollar, you have lost a customer for life.

In July I flew to Washington DC for a conference and then rented a car form Dollar. I picked up the car and drove to NC, and came back. Obviously I thought the car had a speed pass because it was stuck to the windshield and if anything they will charge me the toll amount with some fee. 2 weeks after I get a bill for 115.00 for toll charges? The total toll charge was 25.68 but each toll charge between each toll charge came with 15.00 processing fee. What is amazing is there are no toll collecting booth. How is one supposed to pay the toll? Why does it cost 15.00 to process 50 cents?? This should be illegal, it is highway robbery! Needless to say I will never rent a car from this company and will keep complaining until this practice changes. I am very disappointed that one company will be allowed to practice in this manner.

When I have rented in Florida before using Budget Rental Car, the tolls are charged with the Sun Pass and billed later with a $3.95 fee per rental day or max of $19.75 per rental month. Just returned from Orlando and Dollar Processing Services has sent a bill for 3 tolls totaling $5.50 and administrative fees of $45. When I picked up my rental, there was no discussion of choices about how tolls would be billed. I will not rent from Dollar again.

WE picked up our car on Thursday Oct. 20. To start off with, this has to be the worst customer service in all rental car service. If the lady isn't happy with her job, working with the public is the last place she needs to be. She was rude from the moment we stepped up to her. When we declined the insurance she more or less threaten us that even if a bug hit the windshield we would be responsible. We showed her our insurance card telling her we have coverage and she said our insurance was not acceptable in California. We told her we would fill up upon our return and she again snapped at us it had to be within two miles of the return lot and we must have our receipt. We have no problem with that it was the way she said it.
Then when we picked out our car and stopped to give the paper work and do a walk around looking for dings and scratches. We asked the next lady to do a walk around with us. She rudely informed us that was not her job to baby sit us as we did our walk around. Rude, rude, rude, is all I can say. The care was clean so we won't say anything about that. When we get out to make our selection in the slots we were given we had a choice of a Kia Kia Kia. Same small car just different color. Had a problem with that. The gentleman that greeted us upon our return was super great so won't take anything away from him. Will we rent from Dollar Rental again. Probably just not in Ontario California.

I reserved a car in October for a rental in November. I was concerned about how it would work using a debit card to rent a car, so I called the reservation number and made a reservation after talking to the reservationist... She did tell me a credit check would be ran, but did not tell me that it is their policy that you hold at least a 750 credit score... I specifically told her I would be traveling to Texas from Florida with 2 four year olds and did not want to get there and be stranded. She said they would never let that happen. Well, I get there and they run my credit, and tell me I did not rate high enough to rent a car from them. Nowhere in the contract does it say you need perfect credit to rent from them. By this time all other car places were low on cars and what they did have they were expensive. Never again will I ever rent or recommend Dollar.
I also called a supervisor as I was there waiting two hours for somebody to come get me (with 2 four year olds), to let them know they need to tell people using a debit card that they need perfect credit. She hung up on me, and I was being nice due to not wanting to upset the kids. Please. Don't believe a word these people say, or they will leave you stuck too...

I just received a bill 3 weeks after my Dollar car rental in Florida. For going though the new Cashless Toll booths, Dollar charges you an EXTRA $15 per booth. This is my bill: Toll Charge $1.32, Dollar Admin Fee $15.00. Toll Charge $.79, Dollar Admin Fee $15.00. This goes on and on to run up a total Toll charge of $10.82 and ADMINISTRATIVE FEES $90.00. It looks like there are lawsuits being filed against Dollar and other car rental companies. I have been renting cars for 30 years. I have never seen anything like this. Just educate me BEFORE and then if I agree to the admin fee... fine. The $90 charge is ok. Don't bill me after and state... oh well... it was in the contract. I cannot believe a $.79 Toll fee costs Dollar $15 to bill out and pay. This is a scam and I will never rent from Dollar again.

I have rented from this company 2 times, both times I had problems. The first time in summer 2016, it took me almost an hour to get the insurance taken off before actually getting the car and leaving the building. The 2nd time was returning car on 10/24/2016. I topped the gas off across the street of the airport. I drove the car to the airport and returned it. The next day, I seen a $43 charge on my card. When I called them, they said they had to put a little over 3 gallons of gas in the car. I stated I filled it up across the street. He continued to say it wasn't full... Even if they had to put an eyedropper of gas in the car. $43 for 3 gallons... Unbelievable. Will not use this service again.

I had a booking with Dollar Rent A Car with as I thought all insurances paid. At SF airport told I needed more insurance as if I had an accident and my car was off the road. I would still have to pay for the car with no replacement for all the time it takes to carry out repairs! I said no to this and then they started on tolls $160 for 2 weeks tolls and they outright lied saying the Golden Gate Bridge was now $11 dollars a trip and got their colleagues to confirm this and they are LIARS!
I have been coming to the USA for many years but over the last couple of years had one rip off after another from car rental companies. The last one with Budget adding fake insurances I never asked for and Amex siding with them even though it is a scam. When is some going to be done about this scamming as it has become an epidemic and will only get worse if nothing is done. Shame on you all the officials in SF who turn a blind eye to these legalized crooks! Is there a good rental car company out there and what happened to competition. Car rental companies as Budget, Hertz and Avis is the same company as are Dollar and Thrifty?

Cheaters. I reserved a standard car and paid it from Priceline.com for three days in San Francisco. But when I got there, they just give me a compact car. So I will never do business with this company anymore.

I'm a coach who was traveling with 16 athletes and two other coaches from Texas to Milwaukee Wisconsin and back this past weekend. My assistant coach reserved 3 minivans for our trip. Upon arriving they informed us that each coach had to use their own credit cards (instead of just one) if we didn't want to get charged $13.99/day for each additional driver because all reservations were made by my assistant coach. That is ridiculous. We're with a university and HAVE to use our university card. One of the three coaches doesn't have a university card so in order to avoid the additional charge of $28 for him (for a 2-day rental), he used his personal card ONLY because they assured us we could still just charge ONE credit card upon returning the vehicles. Well a few days later we return the vehicles during normal business hours and there is NO ONE there to help us. In order to make our flight we had to turn the keys into the after hours box.
We tried to call on Monday and of course they've already charged all three cards. On the phone the representative mentioned how we should've created a corporate account, but turns out this still would NOT have solved any issues as we would all still have been charged as additional drivers. STICKING WITH ENTERPRISE FROM HERE ON OUT!!!

This morning I was checking out car rentals, and saw a good price of 979.40 Australian dollars for a 19 day rental of an SUV from Vancouver airport. So I decided to book and just as I was about to confirm my credit card details, I noticed that the amount was the same, but the currency had changed to Euros. On today's exchange rate, that is a 44% price hike. Pretty sneaky. How many other have been caught by this little scam?

Reading countless reviews has prompted me to post a review here. I was also duped by the Dollar sales rep even though I clearly said I didn't need any extras as I had already paid for the car using my credit card. This didn't stop him and I thought I was signing just to confirm this. It wasn't until I checked my credit card that I saw they had charged me an additional $60. I called them, and emailed them and they used the excuse that I had signed the contract. No matter how often I emailed they did not want to discuss my case any further. I was not going to let them get away with it so contacted my credit card company with all the evidence. IT WORKED! I was credited this amount. It may have taken me longer than expected but I did it. Despicable. I will make sure to be careful when hiring a car in future.

I made it totally 100% clear we didn't want any insurance or extras. For three days rental, I got charged 74.95 extra which I didn't notice. They prey on foreigners knowing they are unsure of the system and have arrived on long flights. As I didn't notice this the first time (seen after viewing credit card) I used them again 5 days later. This time I was sharper. They put on pressure sales techniques to get me to pay for services. Even scribbling on the sheet that I would be ** if I break down. Horrendous service... Never again.

Lauren FixAutomotive Contributing Editor
Lauren Fix is an automotive expert who earned the title of The Car Coach, and is recognized throughout all forms of media as a woman with in-depth knowledge on vehicles, technology, automotive finance, repair and trends. Founder of Automotive Aspects, Inc., her understanding of automobiles has made her the "go to" person on TV, radio, print and the internet. She writes a column for multiple outlets including Parade Magazine, NewsMax and Car Coach Reports. She is a regular guest on all the major news and morning shows discussing the latest updates on cars that will help drivers of all ages learn to about cars and make smart decisions. More about Lauren→

Since 1965, Dollar Rent A Car has grown to include more than 570 locations in 61 countries worldwide, including approximately 260 locations in the United States and Canada. As a part of The Hertz Corporation, this brand belongs to the largest airport and general-use car rental business worldwide.
Seasonal specials: Dollar Rent A Car offers various discounts for seasonal travelers. For example, summer renters can get 10 percent off a weekend rental, the most popular days for vacationers to rent a car. The Silver Club offers a 5 percent discount for drivers over the age of 50.
Dollar EXPRESS: This convenience program is designed for customers who don't have a lot of time to spend at the checkout counter. Dollar EXPRESS is a free program that lets users skip the line and go straight to a rental vehicle.
Easy reward redemption: The Dollar EXPRESS Renters Rewards program makes earning rewards easy and redeeming them even easier. Buy 16 days of car rental and get a certificate for one day free.
Business rental plans: The Corporate Rental Plan offers locked in rates with no peak season highs and lows, while the Flex Rate Plan gives users a five percent discount on the price, along with a three percent rebate for dollar.com bookings.
Multi-month rentals: In addition to low monthly rates for long-term rentals, Dollar offers multi-month options with convenient monthly billing. Ideal for workers on a temporary assignment, Dollar offers rentals for up to 11 months.
Many makes and models: Dollar Rent a Car features 16 types of rentals from economy cars to convertibles and open air all-terrain choices.
Best for Vacationers, business travelers, temporary workers and those with cars in repairs.
Dollar Rent A Car Company Profile
Company Name:

Dollar Thrifty

Year Founded:

2002

Address:

5330 E. 31st Street

City:

Tulsa

State/Province:

OK

Postal Code:

74135

Country:

United States

Website:

http://www.thrifty.com/