CheapCaribbean.com
Doylestown, PA
Consumer Complaints and Reviews

You get what you pay for, sometimes, but these people are useless. When you order your vacation they try and sell you "insurance", who needs insurance when they never tell you about ways to upgrade your airline seats or that you may need transfers at a foreign airport. Cheap Caribbean only wants to sell you their services, never tries to help you the customer. Then trying to contact them, "we will get back to you in 24 hours". Nice customer service. Do yourself a favor, go elsewhere, buy a vacation from the hotel or the airline, bypass these folks. They are clueless!

We paid extra for a short duration flight, early arrival to our destination. They notified us of a flight change, put us in a flight schedule with 3 hour layover. Called to get COMPARABLE flight schedule and was told they have no control over flights. I asked if I could contact airline direct, was told CC buys in bulk so airline likely won't have my ticket info. I called airline anyway, and they happily corrected for me at no charge. I WILL NEVER AGAIN USE CHEAP CARIBBEAN. THEY ARE USELESS.

So, I will just start by saying that I normally don't write reviews, but due to the WONDERFUL customer service I've received just in the past day, I felt compelled! I was SUPER skeptical to purchase my vacation package with CheapCaribbean.com for the main reason you're probably on this site reading the reviews... I read some REALLY bad ones. As one would when they are about to drop some serious money, you do your research, cross your fingers, and hope for the best. When I clicked that submit button on their website, I got a little tingle of nervousness... BUT checked my email and had instantly received a confirmation email with all of my vacation details! I then realized that I forgot to type in a promo code to get $75 off --- SHOOT!
I quickly searched the "Contact" page and found a place to fill out an email to their support team. I sent in a short, descriptive email and within just minutes I had received a response back from a friendly customer service agent, Carmen, who told me she would gladly credit back the card I used to pay! WOOHOO! I then noticed that the flight information provided on my confirmation email wasn't what was needed on JetBlue's website... UH OH! The panic starts to sink back in... so, what do I do? Email to the customer service agents again! I sent my email inquiring as to why the airline locator didn't work on the airline website and AGAIN, within only MINUTES, I got another lovely response back, this time from Danielle with the airline locator that worked on JetBlue's site --- YES!!! Shortly after that occurred, I got the official email from JetBlue with all of my flight info and seat numbers.
I had some questions regarding my room at the resort, Grand Palladium Jamaica Resort and Spa, so since I have such great luck with my emails to CheapCaribbean, I said, "What the heck! I will email the hotel to see if they can assist me!" Sent my email to their support team, and like clockwork, within a few minutes I have received a super detailed and friendly email from a customer service rep of the hotel. All of my questions, answered and was even provided with additional information that was very helpful!!! I haven't even gone on my vacation yet, but if this is any indication as to how the trip will be, I am certainly pleased and looking forward to my upcoming time in PARADISE!

I am writing only because I recently viewed a commercial for Cheap Caribbean, and I realized more people will be likely putting themselves at risk thinking they are buying a fantastic vacation. In 2012, I booked a vacation package through Cheap Caribbean for myself and my boyfriend. We flew out via JetBlue and that part of the trip went well; however, the shuttle service provided in the vacation package responsible for transportation from the airport to the resort had an accident. The shuttle driver drove recklessly when another driver attempted to pass him. I woke up in the hospital. My boyfriend told me we had done a 180 degree turn and flipped. As a result of this accident, the right side of my head was split open and my back was broken.
When I got back to the US and was able to contact Cheap Caribbean, they were of little help. THEY WOULD NOT EVEN GIVE ME A REFUND. I had to fight the charges through my credit card company. I ended up paying for the bulk of the vacation nightmare because I used the round trip airfare and the resort wasn't the main expense. Plus I found out I COULD NOT sue Cheap Caribbean because they have a big disclaimer at the time of purchase. You can die on a trip and still not sue them. As a result, I am currently dealing with an international lawsuit with the transportation company. I have permanent nerve damage, difficulty with mobility, and about to have corrective surgery. It wasn't worth it. So my warning to anyone looking to enjoy themselves on a vacation and save some money, pay a little more and go with a reputable company. So if anything goes wrong you hopefully have more protection. You never think it will happen to you until it does.

We have always booked our vacations 2-3 times a year through another vendor over the years and have always had a great experience and usually stayed at an Iberostar Resort. We decided to take a chance and find a "better deal" through Cheap Caribbean. We booked a vacation this year to Jamaica with the Deal of Fortune which you don't know what you are getting until 1 week before the trip. All of the hotels showed 4-5 star rating and Iberostar was one of them so we assumed that they were all about the same. We were told 1 week before the trip that we are staying at Sunscape and went online to read all of the reviews and noticed it had the worst reviews we have ever read. I called Cheap Caribbean and asked to switch hotels and they said that we would lose the land $ (hotel stay) which was over $7000 if we changed PLUS $50 per person fee to change the hotel.
I asked the person if everyone gets booked at this hotel because that is what it seems and he said that the majority do because it is the least booked. (I wonder why) It seemed like to me that it was a scam just for that hotel and the other hotels don't even get booked. He said he would e-mail the hotel to see if they would waive the fee if we booked a different hotel and get back to me. My guess they never e-mailed them and why would they waive the fee to book to another hotel? That didn't even make sense to me. They also said that you have 45 days before the trip to cancel, how do you cancel a deal of fortune if you find out 1 week before the trip?
I then received a call from Danielle which I assume was the manager since she took on the management answers to everything and just said, it can't be changed. I don't know how people can look themselves in the mirror every day being able to just brush off $7000 of someone's money and seem like they don't care. I will never use Cheap Caribbean again and continue using Resortvacationstogo.
How do I know I can trust these reviews about CheapCaribbean.com?
763,773 reviews on ConsumerAffairs are verified.
We require contact information to ensure our reviewers are real.
We use intelligent software that helps us maintain the integrity of reviews.
Our moderators read all reviews to verify quality and helpfulness.
For more information about reviews on ConsumerAffairs.com please visit our FAQ.

This was the fifth trip using their service. In the past they sent us to a resort in Puerto Plata called LIFESTYLE. This year on two separate occasions talking with their agents they pushed us into going to a new resort that they represent. The resort was SUNSCAPE and as the agents explained it was a step up from LIFESTYLE. IN ONE WORD I'LL DESCRIBE OUR EXPERIENCE IN DEALING WITH CheapCaribbean and their recommendations. MISREPRESENTATION.
SUNSCAPE - was a disaster. Private beach was a joke. I lost air conditioning on 4 nights that I was aware of. Complaining did no good with the staff. Dining came with a waiter who took your entire order including dessert and then you never saw him again. And the bars don't open till 10 am, what a joke. Nightlife, nonexistent unless you want one of the hookers hanging around the pool late at night.

On December 9th myself along with my brother, and a good friend of ours, and his girlfriend flew out of JFK airport to enjoy what we hoped would be a beautiful 5 day vacation in Puerto Plata Dominican Republic. What we actually experienced was nothing short of traumatic. Upon arriving at Sti airport we located Amstar for our transportation to the hotel. We set this up through CheapCarribean (CC) thinking they would have our best interests in mind. Once again we were severely mistaken. This is where the lies began.
The representative from CC informed us that the trip should take 40 mins depending on traffic. This trip took us nearly 3 hours driving us through some of the most poverty-stricken areas, not the most ideal prerequisite to a beautiful vacation getaway. Some of the things we saw were actually quite disturbing. I understand that CC does not have any control over the current living situation in Puerto Plata DR, but I feel it is blatant disregard on their part to not mention such a disturbingly painstaking element to its potential buyers.
After our 3 hour ride, we arrive at the unimpressive entrance of the Sunscape Motel. Our bags are brought to the concierge desk by hotel staff who spoke little to no English whatsoever. My brother and I stayed in room 2103 which was a concrete walled asylum-like hotel room. This hotel was rated with 4.1 stars according to CC but the resort was nowhere near that. This resort has NOTHING to offer. Including a broken safe, busted door latch, stained mirror, terrible odor, door don't seal, peeling ceiling, dirty thermostat and dirty walls. Not to mention BUGS everywhere even in the dining areas. The food was sub-par how could a resort score 4-5 stars and serve ketchup packets at its buffet... What kind of quality is that. And outside at the beachside grill, spoiled bottles of ketchup left out in the sun. Disgusting. We could have all got sick from this type of negligence.
CC boasted how beautiful this resort was and for that I feel they are responsible for our terrible time. CC severely mislead us, it is disturbing how a travel agency can purposely misguide someone, let alone 4 individuals. CC provided no service here, rather a complete and undeniable disservice and waste of time and money.
As we ventured through the resort nightfall was near and we began asking hotel staff where the best place to enjoy our night would be. One worker informed us to go to the beach after 11 pm for a "party". Thankfully we did not do this seeing as to another couple who we encountered warned us that the beach was not a place we wanted to be past dark at all whatsoever. This was just the beginning of the unsettling feeling. It felt as if the hotel staff was out to get us in some fashion. We ended up in the Eclipse night club which was a sad excuse for a club at all. Including a disco light and some loud music and not to forget the multitude of prostitutes who were inside the club attempting to solicit themselves to my brother and I! Extremely disturbing and unsettling.
INSIDE THE RESORT! Along with the rough crowd which seemed to be locals from the surrounding area we stuck out like a sore thumb and immediately felt like targets inside the resort. The bartender at the premium bar recommended we venture out to the place nearby just outside of the resort called Clubber. My Brother and I took his advice and went. It was here that we again crossed paths with the same prostitutes and what seemed like pimps that we saw inside Eclipse nightclub earlier. We officially felt watched and had high levels of anxiety. These same 15 or so individuals seemed to continuously pop up at the same restaurants we went to and the same areas in the resorts. We were all almost certain the hotel was in on this charade and was allowing this to go on. This all took place on out first night... how disturbing.
As we retired back to our room happy to be back in what we felt was our only solitude the air conditioning shut off in the middle of the night. I called the front desk to aid me to which they replied in terribly broken English "The AC will be off till 7 am. It just does that." My brother and I rolled around in our respective beds sweating in the humidity and did not get any sleep. I shortly after called for some water bottles to which I was told "You are allowed 2 water bottles to the room a day" by the woman Johaira at the concierge desk. In 85 degree weather with 99-100% humidity... Extremely Unaccommodating. Nothing about the front desk was welcoming nor accommodating, neither to us or our language. In fact we were then questioned why we needed so many water bottles on the following day when we requested 4 bottles... absolutely disturbing way to treat an American citizen who has gone through the trouble of visiting your country.
The other time I called the front desk for pillows they made me feel as if I was bothering them for this request bc the pillows on my room were all deflated and worn. I had to call twice for them to address this. This trip was nothing short of an inconvenience. CC was supposed to be the factor in this vacation that lead to a happy vacation that went off without a hitch instead they were the sole reason why we were so disturbed.
We all ultimately felt unsafe after the first night. We were tired of the lies the staff was telling and the unsettling feelings we couldn't shake of us being watched. Another bartender at the pool bar informed me that 6-700 people would be arriving for the 4 pm foam pool party... the same 15 or so local individuals were in attendance as I walked by. How could someone say 6-700 people, such a blatant lie. We all decided it would be safest to cut our vacation short and opt for an early flight home. We then spent all of our second day on the phone with CC and Delta trying to make these arrangements.
Our second day, sleep deprived as it was, was now wasted dealing with CC reps over the phone. We felt complaining to the front desk would bring us even more unwelcoming actions from the staff. We truly felt trapped and unsafe. We switched out flight to the following day in an attempt to end out nightmare ASAP. We could not shake the negative unsafe feelings the resort and its staff had put in us we wanted out.

This is the worse company ever. We were scheduled to go to Jamaica and then Hurricane Matthew came around. We tried to cancel or move our dates many times. They will NOT refund our money or change our trip. We have a disabled son. How dare them think that we will travel to a little island that even though it was not directly hit lost power, no swimming in the ocean etc. I am going to have to contact an attorney if this does not get resolved.

Dec. 4 2016 - Beware of using cheapCaribbean. Was under the impression that CheapCaribbean would get me a good price without compromising quality, boy was I wrong! The representative on the phone told me it was a really nice property. I think CheapCaribbean lives up to its name because you get exactly what you pay for. The internet did not work. Could not check in at home with family. The food was either excessively salty or had no flavor. None of the Ingredients was looking step only the name of the food. Old Box TV with fuzzy picture. No movie channels. Bedding was old, worn thin and in need of replacement. Room had a musty smell. Paint chips falling on the exterior and in to plants beds. Pipes exposed behind a flapping door. Old fashioned key to open room door got stuck and sometimes took 5 minutes to get in to room.
Told management and nothing was done. Toilet was patched on exterior. Was given two small bars of round soap for 5 days. The entertainment was the quality of amateurs in a high school play. Poor costumes and lip syncing music while playing fake instruments. Each night performing was the same staff. Not an enjoyable trip.

This is the second time that my husband and I have had a vacation using CheapCaribbean.com. The resorts in both cases were great. The prices were VERY low. The resorts were all inclusive. We will use this agency again when we wish to go to any Caribbean destination.

We booked a Cancun, Mexico package through CheapCaribbean and they insisted that we also prebuy transportation with Amstar from and to the airport - it turned out to be a scam! DO NOT BOOK YOUR TRANSPORTATION WITH AMSTAR - they will ** you if you don't attend their timeshare like they did to us. We booked ours through CheapCaribbean (another mistake) and they charged us $74 for shared airport transfer (individual cabs take a maximum of $25 each way and SuperShuttle is even cheaper) but we bought it anyway since we thought doing it all together will be better (we were so wrong!); They require you to 'report' thrice at their counter before the pickup (day 1, day of pickup minus one and on the day of pickup); the first two times are done to ensure they have time with us to bore us with their timeshare holiday.
On day 1 when I reported at the counter, the guy at the counter (Ismail) was rude when, after listening to him push his sales pitch to me for 20 minutes, I said "Please do not push these, I am not interested. I only want my pickup and drop for which I have pre-paid." I couldn't believe it when he retorted "You don't care for your family? You are taking tours which will waste your and your family's time but not ours?" "Some people just don't get it; I have such a good deal and he doesn't want to listen." I just stood up and left. He got back at me by making sure we missed our return drop!! When we reached for the pickup at 10:55 am (the scheduled pickup time for our 2:01pm flight), he handed us a note saying "We waited for you till 11:05am but since we did not find you, we had to leave!!"
Aghast, I pointed out to him that it was still only about 11 so it is impossible for the car to have waited till 11:05 and left; he said he will try to arrange another car and kept saying we were late in the face of evidence in his face to the contrary! Then he was on the phone for 20 minutes supposedly "trying" to get me an alternate which he finally said he could do at 12:55pm; since this was obviously very late, I had to spend another $25 on a taxi after paying these scamsters $74!! Then he tells me "I am trying to help you and you are walking away!"

I've taken three trips through CheapCaribbean (Jamaica 2009, Costa Rica 2015, and Cancun 2016) and I have not had any problems whatsoever! I never had to call customer service because I booked everything on their website and like I said never had any problems. Rooms were all nice. Everything was great and CheapCaribbean made it cheaper and easy! The only reason I'm writing this is because I googled CheapCaribbean to book my next trip and saw all the negative reviews, I am shocked! Don't be discouraged, they are great.

Because of Hurricane Matthew the hotel we stayed at wouldn't let anyone swim at the beach any of the days that we were there. I called CheapCaribbean and they told me that the hurricane didn't affect Puerto Plata but I had a letter from the hotel asking us to take in balcony furniture because the hurricane was going to hit us. I emailed letter to CheapCaribbean and then they wanted to give us $100 of future vacation. We had 2 people and for all 5 days we couldn't swim. That's $10 a day per person. The trip was over $1000. I know that they don't control the weather but we should be taken care of. They can keep the $100 coz I'll never use them again.

So before booking through CheapCaribbean.com, my husband and I were extremely reluctant after reading countless bad reviews. The savings were significant enough for us to make the decision to go for it, despite the fear instilled from what we read. First booking, AMAZING. Not a single thing went wrong, and the customer service was top notch. The resort was incredible and was featured as the deal of the day, so what should have been a 2400 dollar PP resort (flights included), ending up costing us 1700 PP. After having such a great experience, we decided to go for it again! Our second vacation surpassed the first. Extremely great deal, wonderful customer service, and a drama free booking. We figured at this point, maybe we should think twice before booking for the third time. After all the terrible reviews, something bad is bound to happen right!? WRONG!
We initially booked a trip to the Bahamas and unfortunately were unable to fly there due to a major hurricane. First problem we ever encountered with a vacation booking, but a natural disaster nonetheless. Well the destination change was easy as pie, and the customer service we received while doing so was nothing short of wonderful. They were able to waive our resort fees and Orian, the travel agent we dealt with, looked into several resorts for us to find the best deal. We will remain loyal to CheapCaribbean.com for all of our future travel booking! Maybe after the bad reviews they received, they decided to up their game. They certainly exceeded our expectations!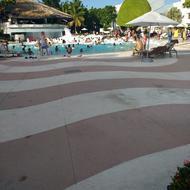 I and my partner have waited 10+ years waiting for a vacation. We get together Credit cards to buy our "dream" vacation. We arrive sept 21, thursday. After a very long trip from airport to hotel, we are received directly with SUN CLUB PROMOTION. We are exhausted but don't want to be rude. After 2 hrs of listening to a sales pitch we are finally cut loose with a arrangement of the following morning: BRIEFLY get into the presentation. We were happy with the hotel.
The following morning we are awaken with the call to our room. I said "we only want peace for our hard earned vacation. No calls please, no sales pitch." We proceed to breakfast and then beach!! On our stay in the beach we were asked if we were with the group of buses?? We didn't know what they meant, UNTIL WE GOT BACK TO THE HOTEL!!! It was lunch time and it looked like the entire town of Puerto Plata had taken over the hotel. No room in the pool. Overpowered staff with attitude, no courtesy in the buffet room, no space in the "Gaucho" restaurant, no Rum left in the bars come Friday night.
Well needless to say it was a HORRIBLE experience. No room in the pool!! No quality food service!! No domestic alcohol!! And a very annoying salesman who wouldn't give up until we went to the presentation for sun club... which was not a fast 90 mins. More like 2.5 hours!!! And from the beginning we said "we can't travel enough to be interested." What waste of our money and time. I want my money back!! Since I can't get my time back!!

We booked our trip at night and it was for $919.72 all inclusive, including airfare. We get a phone call this afternoon asking for another $240.00 or they would cancel our trip (Jeff from Cheap Caribbean). I said "No correct the problem on your end or give us another trip for the same price." I said "We are not canceling nor giving you any more money. We already paid in full." They refused and ended up canceling our trip. Not even an apology or tried to correct the problem. They are SCAM ARTISTS. DO NOT USE THEM.

I book a trip to Cancun with your company Cheap Caribbean (CC) in July 2016 to travel in December 2016. The agent was very enthusiastic to book and give all the information. She called on numerous occasions to get the sale and informed me that this would secure the low price. One month CC is advertising the same exact package for 60% cheaper. I asked if I could be compensated with a refund or upgrade my hotel. Many emails were sent to her, but to no avail. I really wish CC would provide some sort of compensation, as this trip we are celebrating my husband's 65th birthday, and I am now reading so many awful reviews. This is making me highly stressed... but I am still hoping for a good holiday in December 2016.

Me and my wife booked deep sea fishing excursion in Puerto Plata (lifestyle resort) 9-9-16 through Amstar DMC. They are part of CheapCaribbean owned by American company Apple Leisure Group. The boat sink about 12 miles off the shore. We got rescued 8 hrs later just 30 min before dark. Lot of mechanical issues from the beginning. Water was coming in 30 min after we left the marina and captain refused to come back to the shore. We didn't even know where to find life jackets. No one told us where they located on boat. People do not book any excursions in Dominican Republic. The companies like Amstar or CheapCaribbean, they only care about your money!!!

My complaint to www.cheapcaribbean.com and Dreams Sands Cancun Resort & Spa. I just want to know why my review doesn't show on their website. I did have a very bad experience non secure hotel. I want to know why your advertising as family resort doesn't meet requirements as a family resort. It's totally insecure resort and totally old and smelly resort. As a preferred club member I didn't have any benefit except I change 3 rooms and still was not happy with room. Your beach view or beach front same. Nothing different. I have a couple of pictures want to add in my reviews so people can see what I gone through and what kind of room I got as a preferred club room or member. I am totally not happy. I been travel all my life but this one I have a very bad experience.
Your prices was high, your hotels are not 5 stars, your rooms are bad and very old condition, your family resort are not for family, it's for young people who get drunk and start biting me. I am 51 years old. Return home with lots of pain and bruises on my face, with broken nose and swollen face. People from room service or med service steal my 2 very expensive sunglasses. Lots of people complains me that they lost in room and no one ever got their items back. It's a 2 star motel not hotel. Smells everywhere in rooms, in pool area, in the beach or from white sand. There was shower in bathroom was sucks, mini bar was not working, they didn't change the liquors, or sodas .
My request took 3 days to change mini bar. Buffet was very bad and dirty. Only couple of restaurant was good. No refund for romantic dinner because start rain and hotel didn't have umbrella. They move us inside with other people and my romantic dinner change to non-romantic public dinner. This vacation was very bad vacation my entire life...

We booked Riu in Montego Bay for a 6 day/5 night vacation. The resort is rated at 4.5 (I don't know how because they seem to not have any bad reviews on CC) but it was at least 2 stars short. The facility is completely outdated. To put things in perspective, they had a 19" BOX TV in 2016 at the resort in our room. Not only that, they didn't even have real comforters, just double sheet covers. The toilet seat was broken. Rain flies were all live outside our bedroom door as it was supposed to be cleaned by the housekeeping but no one did it unless we asked them to. Not only that, they have a huge restaurant with a buffet but they kept the doors open knowing well that the rain flies would be all over the food. Every time we went to get something cold like fruit, butter, cheese, fresh juice, etc, there were rain flies all over the food. The pool had so many spots where the floor was cracked and their tile/flooring was peeling.
We arrived on Saturday and notified CheapCaribbean on Monday about this and they said they would look into where they can move us. They never called back but we had to reach out to them. Then they only used the same excuse every time saying that they are waiting for RIU management to reply to them to release us of the early departure fees. We spoke to the management and they had no such inquiry but were willing to let us go without any fees. Then CheapCaribbean never got back to us but rather kept emailing to us that they weren't able to get a hold of the management.
Also, they said if we wanted to move, we would have to pay additional money for the other resorts. Now we all know that in business, you have relationships. I can't imagine where they didn't have any relationships, with the resort we were trying to leave and the other resorts which would have provided better facilities and amenities. Having said that, they were no help and I am very disappointed with CheapCaribbean. Your loss CC... You have lost me and many other folks I will pass the word with.

I booked a "Deal of Fortune" through Cheap Caribbean. It said that I would get one of 4 different 4-Star Resorts in Montego Bay, Jamaica. Once I received notification of the resort I received I immediately contacted them. They have me what they considered a 4-Star Resort - but fell at least 1.5 Stars short. Even on their website the resort was getting less than 4-Stars and I brought that to their attention. They said that they rated it that way. However when calling them, you are directed to someone who works from home and sells you vacations. They said I had no recourse other than to pick another resort and pay an additional $800.
I called again and asked to be moved to one of the other resorts listed. They said they would waive the $100 cancellation fee and it would be $700 more. So I did some investigating and check out the other resorts listed under the "4" they had listed. They in fact were beautiful 4-Star resorts with lots more to offer. And they had openings... I was told they were sold out. They continued to lie to me over and over in two phone calls. I could not get a refund. There were numerous families that did the same deal and ended up at "Sunscape Splash." They were also extremely upset with CC... they tried to get moved also. Same thing... BIG BUCKS!!!

I booked a trip for my wife and I from Jersey to San Juan Puerto Rico (Level 2). Due to some medical issue we aren't able to travel. (Bought insurance) Something you can't control. Called to try and get a refund or change vacation destinations due to Zika. CheapCaribbean clearly doesn't care about the effects that this has on certain people. The CDC has strict warnings about this. Spoken with a manager that felt like I should be watching the news every day. I have done business with them in the past and I sure won't anymore. In my line of work I deal with travelers pretty often. I would recommended United Vacations to anyone looking for a great price and a deposit option. I am out almost $2000.00. I guess the name of the website says it all.

This company has been a nightmare from the beginning. Our trip went down almost 2 grand for a 4 person vacation. The company would not help me at all - it was less than one week after I booked the trip. I get a trip confirmation with my name spelled wrong by 1 letter. I am sure the person hit the key by error - added an e next to the r in my name. They assured me I spelled my name wrong but could correct my mistake for 175.00 for the change - said the airline charges them. I called the airline and after about 4 hours on the phone learned they do not charge the company for errors but nobody will change my name. I hope our July vacation is better than the booking experience. I would strongly avoid this company!

I booked with CheapCaribbean.com for the first time. The place they advertised online was advertised as a 4 star hotel. The food was terrible and besides being terrible my son got food poisoning. He is 8 years old. The drinks were limited. They had no variety in food. The beach wasn't that great either. Not as clean as you would expect. I tried to call cheap CheapCaribbean.com to tell them my son got food poisoning and their 4 star hotel was falsely advertised and they did nothing for me or anything to compensate for misleading me as a consumer. We paid for a vacation where we couldn't even eat the food. CheapCaribbean is obviously a terrible place to book. Don't do it!!!

I have used CheapCaribbean several times in the past, but this time with Ryan **, it appears that soon as I booked with him, that ENDED his job! I was unable to book an ocean view room at Now Jade - Cancun without an upcharge of $198 per person. That evening I found the exact vacation for $12.12 cheaper but it included the ocean view room (no upcharge). I have emailed Ryan a total of 3 times and left voicemails. Finally after 3 days, he returned an email stating he was out of the office yesterday and only confirmed the dob question I asked but ignored the cheaper price I found. After emailing again and no reply for the next day and a half, I emailed him again asking if it was CheapCaribbean's lack of customer service or if it was just HIS? I told him that I needed him to get in contact with me or I would write a review. NO REPLY so here is my review. VERY DISAPPOINTED - NO CUSTOMER SERVICE AFTER YOU BOOK WITH THEM!!!

We purchased a trip to Jamaica via CheapCaribbean.com as we have done this previously on at least 4 occasions. The purchase was made with United MileagePlus Explorer card since we were flying United and using this card we were supposed to get 2 free bags and triple miles for the flight. What CheapCaribbean.com did is they charged my card the full amount and then paid for the tickets with their own card without letting me know that they have substituted the card I gave them. I think that their practice is deceiving and when I called them to complain that I was charged $100 for bags, they dismissed my complain and stated that this is how they do business. From now on this cheating outfit will not get a penny of business from me and I will make sure that the word about their deceiving practices is spread throughout internet.

I have always used Cheap Caribbean in the past for all of my previous island vacations. However, this last time has been the worst experience of all time. The balance for my trip was due on 4/1/16 which I called to pay via telephone. After speaking to an inexperienced representative, she proceeded to tell me that my card was decline (Complete lie because I have tons of funds in the account). She then put me on hold and told me she would try again (This time she told me I exceeded my spending limit) for the day which was another lie because I have spent more than $1,700 in one day in the past). She then put me on hold again and told me the card went through with no issue. I then believed her and got my confirmation number. Later that night, I check my bank account and noticed she charged me almost $5,000.00. I called Cheap Caribbean and they were unsure of what could have happened and told me to call my bank.
I proceeded to call my bank and spent about 3 hours on calls between the bank and Cheap Caribbean because no one wanted to take responsibility on what happened. I called the bank first thing on Saturday morning because I wanted my problem escalated and because I could not wait until Monday morning. The bank was able to reverse all the charges except the balance which I owed. Everything was okay throughout the remainder of the weekend until Tuesday morning. I experienced the same issue again. My account was charged AGAIN for another $5,000.00. I have been in contact with Cheap Caribbean Corporate and my bank to get my funds once again. This has been the most unpleasant, unprofessional experience I have ever encountered. I had to close my bank account, to prevent this from happening again. Cheap Caribbean has now lost a good customer and I thought it would be a good idea to make others aware.

I don't normally review things like this but considering my situation I felt it was necessary. Me and my 5 friends booked a college spring break trip at a resort set up by the agency. We gave them all of our information (obviously) yet they placed us in a resort that needed a 25+ to check us in (none of us were). If one of the guys on the trip hadn't double checked the resort a week before we would've lost all of our money, CheapCaribbean neglected to tell us that. When we asked to be put in a different hotel they charged us an additional fee and had the audacity to tell US to find a different resort (Ridiculous. This is literally their job).
Then one of our friends in the group was denied to leave the country because of "passport damage". When he called CheapCaribbean not only did they take 2 weeks to get back to them but they said that they could refund him only if they double charged his roommate for the trip to make up for it. All in all this is a terrible travel agency and I would not recommend anyone to book with these Jabronis.

Me and my boyfriend booked a all inclusive stay for 6 days 5 nights to Jamaica beginning March 3 2016.... I have to say it was a very good experience. No problems from beginning to end! Customer service was always available when we needed to call and ask questions. The only thing I did not like is they don't tell you your flight and hotel information till a week in advance. It's kinda nerve-racking... especially if you need to make plans to get to the airport. The hotel was okay. But I didn't expect anything too fancy especially going through this website.... And the hotel has nothing to do with Cheap Caribbean in my opinion. That's a separate review. But overall I will be using this website again. I used this company despite all the bad reviews. You have to take a chance and it was a very good deal and I had a very good time.

I purchased a package (flight+hotel) trip via CheapCarribean.com for two for $1,622.32 to Bahamas for a departure at 6 am on 1/22/16 and a return on 1/25/16. We were notified that our flight was not available at 10:30 pm on 1/21 at which point we contacted the company to seek alternatives. The two options we were offered were: 1) Leave on 1/22, go to Chicago, find and pay out of pocket for a one night hotel there, leave for our destination in late evening of 1/23 and arrive there in the early morning of 1/24; 2) Leave late on 1/22 and use a different airline for an additional surcharge of $286.
Neither of these options worked for us due to the significant difference in price and changed travel schedule so we requested a refund. CheapCarribean.com has refused to issue a refund and has instead given us a voucher for the price of the trip that is to be used within one year and requires $200 per person ticket exchange fee. This credit is useless to us because we have one week of vacation for the remainder of the year which is already booked and not via the services of CheapCarribean.com so we cannot use it.
The additional $400 ($200 per person) is not something we think is fair or reasonable of the company to force us to pay for a trip that was cancelled for no fault of ours. Even if the two prior points were not the case, our experience with this company has been so negative up to this point that we are unwilling to ever use its services again.
CheapCarribean.com not only ruined our vacation but has failed to refund us for services it never delivered to us. The predatory and unfair business practices of CheapCarribean.com pry on unsuspecting customers. The fine print of rules and conditions behind which the company hides leaves little room for recourse on the consumer side and gives the company all the leverage to take advantage of the customer. The company should be investigated in depth by consumer protection agencies and banned from conducting business in its current state. In the meantime, consumer beware! You have no rights if you do business with CheapCarribean.com.
CheapCaribbean.com Company Profile
Company Name:

CheapCaribbean.com

Company Type:

Public

Year Founded:

2001

Formerly Named:

CheapCaribbean.com

Address:

2500 Dallas Parkway

City:

Plano

State/Province:

TX

Postal Code:

75093

Country:

United States

Website:

http://www.cheapcaribbean.com/