Consumer Reviews and Complaints

First of all they claim to be merely an "advertising platform" which exonerates them from customer dissatisfaction with the listings placed on their website. I booked a room according to a description on Booking.com that states they have a nightclub, restaurant, lounge etc. I show up to the place, it's in a very sketchy neighborhood in London, there's no sign of the place anywhere outside. I had to wait out for 30 min for someone to show up, Long story short the place was a disgrace and utter dump.
I wanted to leave after 3 days and requested a refund. I contacted the management and they only agreed to give me 40% back out of 700! I was like, "This is theft", so I contact Booking.com explaining the situation. And they only made it WORSE. They kept changing customer service correspondents to handle the case with hotel's management, and I ended up not getting a penny back. Their staff is totally incompetent and clueless on how to handle customer complaints. They don't care about you or the money that you lost, it's just another case to them and they just want to go back home as soon as the day is over. Basically, I lost everything. Don't expect Booking.com to get your money back, if you have a problem try to solve it yourself first because they will not do anything. They're totally incompetent and don't have the proper training to negotiate for you. I will not use this site again because it's a sham.

Booking.com shows a total price of $500 (approx) for booking, nonrefundable and then when I commit, it shows a charge of over $700. There were hidden fees that Booking.com knew about but did not show in price until after too late. Called hotel and they say it's Booking.com fault for not showing full price. Booking.com offers phone number that does not work, hangs up after a few moments. No way to contact them to fix this issue right away so we can choose another reservation based on actual cost.

Booking.com charges a cancelation fee even if cancelled weeks in advance. Took me a week to get it reversed. Then they tried to book me in a Netherlands hotel weeks after I would have returned to the USA. Potential fraudulent organization.

Mysterious charges showed up a week after I stayed at one of their "providers." It took over a month and 7 emails to get them to finally admit they made a mistake. Go over your credit card receipts and verify they did not do the same to you. Their customer service is either run by very slow robots or uncaring, underpaid agents who will resist every attempt at helping to resolve problems. You are always better off booking directly with the hotel...

I am writing about my experience for booking a hotel in Istanbul via Booking.com and asking others never fall victim for this crappy website. When I got to the Diva's hotel in Istanbul, the room was located at the basement while smelling terrible. It did not have even private toilet, not even toilet paper on shared toilet, no towel, no blanket. I had my worst time in my life in that hotel which ruined my vacation. I contacted customer service and their answer was a shame when they said, "It is up to hotel to pay your refund and we cannot do any help." Please be aware and never give your card information to this website which otherwise will be loser.
How do I know I can trust these reviews about Booking.com?
880,156 reviews on ConsumerAffairs are verified.
We require contact information to ensure our reviewers are real.
We use intelligent software that helps us maintain the integrity of reviews.
Our moderators read all reviews to verify quality and helpfulness.
For more information about reviews on ConsumerAffairs.com please visit our FAQ.

I booked a room through Booking.com and has a confirmation code. When I arrived at the hotel I was told I did not have a reservation. Even though I had a confirmation code, I did not have a room. I had to scramble looking for another hotel that evening which added much stress to a stressful event. I tried calling them and they never answered the phone. When I got home from my vacation, I called them and finally got a real person on the line. They told me they would compensate my added expenses which was all just a lie. Stay away! Do not entrust this company in booking a hotel for you. Apparently I am not the first person this happened to and guarantee I will not be the last. Terrible company!

I made a reservation for an employee at the Hampton Inn in Palatka, FL using Booking.com. They had recently had a hurricane in the area and I knew hotels would be hard to find. I made the reservation the day before he was scheduled to leave. I was not going to send my technician down there if I could not find him a room. He drove 4 hours, worked all day and then had nowhere to sleep because the hotel claimed they never received the reservation.
The employee had a printed copy of the reservation with him. They claimed Booking.com did not transfer the reservation. There were no rooms available in the entire city. They refused to honor the reservation and no one could be contacted at Booking.com. There is no phone number available online. The Hampton Inn stated they had no obligation to honor a 3rd party reservation. Unacceptable. Unprofessional. They should not be allowed to contract with a 3rd party if they are not going to honor the reservation.

On July 27, 2017 I booked an online hotel reservation at Hilton Austin via Booking.com. I submitted a credit card and received a confirmation via email with a confirmation number. On September 13 I attempted to confirm my reservation with Hilton Austin. They had no reservation and my confirmation number was invalid. After calling booking.com, found out they never processed my reservation. I canceled my reservation with booking.com and reserved a room directly with Hilton.

Made a reservation on booking.com for an apartment located at Mijas Spain, the name is Airy Tranquil Retreats. The final price that I paid online was 178 euro. When I checked my bank account they charged me 55 euro more. I called them to see what is the 55 euro, they said it's for cleaning, but they didn't tell me in the beginning that it will be this charged. I called to get a refund but they couldn't help. The manager was rude and not professional at all. So guys, don't use the booking.com or be very careful if you do use it.

I booked a hotel thru Booking.com that could not provide the amenities promised by Booking.com. There was NO WI-FI, NO A/C, NO TV, AND NO HOT WATER FOR A SHOWER. There was a hurricane, but it was very mild in Puerto Rico. Other hotels just blocks away used a generator to provide the necessary electricity to support its amenities, but the generator at Wind Chimes was not adequate to provide anything but light. Since I did not get what Booking.com promised in its ad, I should get a full credit for cancelling my reservation in a timely manner. Instead, Booking.com did NOTHING. After several phone calls and being on hold for 30 minutes, they said that they would give me 20% off. They did not deliver, and I should get a full refund. If you ever need to cancel your reservation, do not expect a refund from Booking.com

I made a reservation at the DoubleTree by Hilton in Vancouver for 2 rooms and I had a confirmation number and printed out my reservation. My sister and her husband were traveling with us to go to a wedding. When we got to the Double Tree by Hilton they didn't have our reservation and the receptionist called Booking.com to find out what happened and she said the reservation never got processed. So we had to make other arrangements at another hotel and of course that made us late for the wedding which was for my niece. This thoroughly upset all of us.
When I got back home I tried calling Booking.com but they don't answer their phones and drop the call. We also went back and forth thru emails and I was told to send them the cost of the other hotel but they failed to give me an address to send the information. I asked them for a address and I never heard from them again. So if I were you I would go with another company. These guys aren't very reliable. But if you do go thru Booking.com be sure you check "your bookings" to see if it went through and was processed, that's the only way you can see if your reservation got booked.

Booking.com was once very good and considerate for users. That was 8 years ago. Now, on their website, there are tons of misleading and fraudulent listings by hotels in Spain, Europe, USA. I booked a hotel in Spain through Booking.com, when I made the booking, they use big letters confirming "free cancellation". The next day, I changed to another hotel, and cancelled my booking, two days later, I received email from them stating I was charged with full price of the hotel stay for cancellation. I called Booking.com, after 30 minutes of waiting on the phone and they told me they are going to contact the hotel and call me back. They never did. Do not use Booking.com.

Booked hotel in July for Sept. Had confirmation number and could not change booking. I would lose money. 5 pm When I need room that night find they have no rooms. This hotel is 90 miles from my home. All hotel room in area are out of room or overprice. My daughter slept in her car to make an event completion. Booking.com found room fifteen miles past the event and I could pay 100 more and not on bus route. I will have to drive to event 90 miles each way for 3 days.
Booking.com did not even return phone call. Don't use booking.com if you can guarantee room. They never attempted to call back. I have cell phone bill. 1 hour on phone after I call booking and received we will call you back. Never did. I will never use booking.com again. I don't like being roomless 90 miles from home. Thanks Booking.com for nothing. I am reporting to Better Business Bureau and Attorney General office. It was clear our rooms were sold for more money. I was told by booking it was because of hurricane victims in Florida. It is about a forty hour drive from MN to Florida. Really WTH.

We were due to arrive at New York-New York on Friday Sept. 8, 2017. However, due to the impending passage of Hurricane Irma, our flight from MIA to Las Vegas was cancelled. While at the AA office, we called New York-New York and spoke to a very helpful gentleman, James, who advised that due to the flight being cancelled because of the hurricane, our fees would be waived. BASED ON THIS, we went ahead and cancelled our entire trip (not like we had a choice!) We could not defer the days as our obligations do not allow. We also cannot fly to another airport as AA only flies to MIA from our country! We were told by James that the cancellation had to be made via the 3rd party site we used to book it, which was booking.com.
When we arrived home, FIRST the contact number was NOT working, so we had to resort to emails. BOOKING.COM said they had to be given the go ahead from New York-New York to make the cancellation without charging the fees. They then came back and advised that New York said they were not going to waive the fees. There was a constant back and forth between my boyfriend and BOOKING.COM with him trying to explain that we were told by the hotel directly that the fees would be waived due to the circumstances in this instance. However, BOOKING.COM has now stopped responding to the emails. This is extremely shady. Either the gentleman at the hotel gave us wrong information or BOOKING.COM is lying about trying to reach NY NY as we are being sent in circles!

Booking.com was an option to book a hotel on the Southwest website after I made a flight reservation. I booked the hotel and the email confirmation went straight to my boss. She informed me that she had already made a reservation. I quickly called the hotel to cancel the reservation I made but they couldn't locate the reservation. She proceeded to tell me that it might have been made through a third party and I should call them. So I looked back on my confirmation information and it said Booking.com. Called their customer service number and spoke with Ian. He reminded me they are non-refundable charges and to hold while he spoke with someone.
He came back and said they have to speak with the hotel and they make the call. He couldn't promise anything. So I call the hotel back and let her know what he said. She let me know that "He doesn't want you to get a refund because then he will not get paid for the reservation." The rep Ian at Booking.com told me he needed 24/48 hours to speak with hotel rep and see if they can cancel it. After reading 2,047 negative reviews and no refunds issued, I am not expecting much. Company... if you can call it that, should not be able to be in business. They are a big SCAM and I am still not sure why Southwest would allow them to be on their website as a affiliate. I'll get back and delete the review if I get my refund.

I booked one night accommodation at Dallas with HotelStorm website, due to Harvey disaster. I was charged full hotel tax for this accommodation by HotelStorm. Texas Governor later waivered all hotel tax for all Harvey victims. I asked HotelStorm to refund me the hotel tax, but they said they are third party website, and cannot refund me the hotel tax. The most funny thing is they even wrote me a email, clearly state that the tax they charge me is mainly for hotel tax the government already wavered. I asked them to provide an explanation where does the hotel tax money go, they said they cannot provide any breakdown.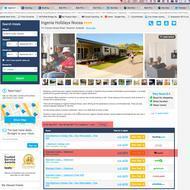 Price match guarantee, what a joke. You can dress a monkey in a suit, it doesn't change the fact that it's still a monkey!!! They change the naming of the room type in order to claim that the room type is not the same offering as others, just to get out of price matching. I query them on this before our trip, because the descriptions for all of the offerings I showed them were exactly the same. They still claim after the fact that their offering was different to all the others, even though I have the exact booking sheet from the site themselves which shows that the room type booked through booking.com is named exactly the same as all the others that I submitted to them for the price match "Standard Cabin".

I booked a trip through Booking.com and was overcharged for the rooms. I had never been to Myrtle Beach so I assumed the price I paid was reasonable. Upon arriving at the hotel I realized this was not a location that should be getting top dollar for rooms. When I checked out the bill given to me was $200 less than I prepaid with booking.com. I contacted them and the response was they shouldn't of showed you that. In addition, I looked up prices direct from the hotel and they were WAY less. So I paid an extra $200 for a two day stay or an extra $280 if you use hotel prices! Big Mistake!!!

Made reservations with Booking.com and got at hotel to find out we had no room. We had all of our paper working with everything on it but we had empty handed with no room for the night. Called Booking.com when we got home. They called the hotel and in a long run both sides of the parties could have cared less.

They charged me the total amount for cancellation. I called the Apartments directly and if I had booked through them it would only have been half the amount. Also, by calling, I found out that they had screwed up the reservation and instead of giving me the apartment with 2 bedrooms, they gave me two one bedrooms apartments. I know this building and have stayed there before - I only booked it because it came up on American Airlines. They should not suggest using this service!

Booked a room for our trip that was advertised as 43% off in Boulder, Co. Get the email to remind us of our trip and they charged us full price. I would not recommend Booking.com to anyone. I am removing their app from my phone as soon as I finish this review.

I used this site for the first time; the pictures do not reflect the actual condition of the motel as it is horrible. I found another motel down the road on their website that was cheaper and called for the price match. They refused to help over the phone and would not look up the difference between the two so basically we are stuck in this motel for the rest of our stay. I will never use them again.

I have been using Booking.com for a number of years without complaint. Of late I have encountered problems. Cancellation conditions not being properly shown and changed after time of booking. Monies being taken from account several days before due date. Lack of response from customer service re complaints.

Booking.com: Apartment in Westwood, L.A. was SCAM - NEVER BOOK THROUGH BOOKING.COM. Units are a scam and they will not give my money back - it was filthy, not the place I rented, and not ready on time!! I rented a unit with beautiful pictures - clean, bright, lots of light. Ashton Apartment 324. The apartment managers would not let me in until after the scheduled time and then the unit (#100) was FILTHY - NOT CLEAN - WORST I have ever seen in a rental. They were still cleaning - but had hours to go. HUGE pile of wadded toilet tissue next to toilet. Many trash bags stuffed and overflowing. Chunks of debris all over floor throughout apartment. Had not been swept or vacuumed. Drawers in kitchen were dirty. Everything was cheap and the apartment # was NOT the apartment # in the photo/listing.
Since it was NOT EVEN CLOSE TO READY at the appointed time - and it was NOT what I expected or contracted for - I talked with manager and their rep - They would not negotiate, give me a different unit, or give my MONEY BACK. THEY stole my money. I called Booking.com to report it - they did not negotiate a settlement - said sorry. NEVER BOOK THROUGH THEM! NEVER TRUST THEM. I have a witness - a person was with me when I entered the unit with the manager's rep. We stayed 1/2 hour to talk with the rep, the manager and determine if we could negotiate since the unit was not ready and was NOT the rented unit we contracted.

Stranded 4.5 hours from home - Our reservation through Booking.com was never communicated to hotel even though they sent us a confirmation number. We were without a place to stay as neighboring hotels were booked solid. Hotels.com came through in a pinch but it was a scary situation for about 20 minutes.

Recently booked a property and planning to travel with a friend. Site says "Pay when you stay". BIG FAT LIE. Charged full amount immediately. When making any inquiries says they can't do anything to help, they don't receive the payment, call the hotel. When you call the hotel, they say the same in reverse. BIG FAT LIES. Customer completely not helpful, condescending and rude. "If you'd stayed in a hotel before you'd know. I've been working with this company for many years and I know." UNACCEPTABLE! All I was trying to do was add my friend's name to our reservation since she was arriving before me. We'd already paid in full due to LIE #1. This shouldn't have been a difficult request.
After bouncing back and forth between hotel and Booking.com for 30 minutes, hotel was able to accommodate because they were being flexible despite the lies and misinformation provided by Booking.com on my reservation. Had a random FL address instead of my NC address in the system. They are the absolute worst. I'm 43, a seasoned business and personal traveler and have never dealt with such an unscrupulous group. And the savings weren't that great once you got to the end of the process. STAY AWAY!!

Booking.com advertised a Double Room and Double Bed room at Sea Cove in Ocean City, MD. When I arrived at the motel I was told that there are no double-rooms, but double beds. When I mentioned the advertisement, I was told that a lot of people are confused by the wording. I replied, 'double' means TWO, so there should be two rooms with two beds. I was then told since the word 'room' didn't have an 'S' on it, it only meant one room. Again I replied 'double' means two all day, every day!
Additionally, there were six of us, and the clerk told me they didn't accommodate six to a room. I told her when I booked the room, there was no mention of only four people in a room. Apparently, there was supposed to be a pop-up message letting me know I couldn't book six to a room. (4 adults and 2 children). So not only did Booking.com misrepresent the room they were advertising, they also allowed my reservation to go through with six people. Buyer beware! This type of misrepresentation should not be tolerated!

Worst experience ever. Do not recommend Booking.com to anyone. I have made a booking to Wild Coast. Lastly I receive a mail 1 week prior to the date that my booking is cancelled? What service is this? No phone call? I was told it's a automated system. I was also told that wild coast had cancelled my booking which is not true as wild coast contacted me and advised that booking.com cancelled the booking. Worst ever. Do not make any bookings through these guys!!!

I booked a hotel room only to find out the hotel does not honor reservations made on Booking.com. So the hotel was full and no rooms were available. Trip ruined, had to tell my son the fishing trip was cancelled, wasted a full day by driving 5 hours 1 way and then to turn around and drive home the same day. Worst experience EVER! Do not trust this website! Horrible.

I traveled to Italy in June 2017 and used booking.com to book accommodation. My complaint relates to one particular booking at Affittacamere PZeta in Cinque Terre. The booking was made well in advance of my trip and well in advance of the cancellation date. Before my trip (but still before the last dates to cancel) I reviewed my accommodation option using the booking.com application or "app" which displayed all my bookings on bookings.com – or so I thought! A trip that I booked to Vernazza in Cinque Terre, Italy totaling EURO 660 did not reflect on my profile on the "app". I only found this out when the owner of Affittacamere PZeta phoned me on the 24th of June asking me when I would arrive.
I had just checked in to Monterosso (a neighboring village) and was surprised that she was expecting me. I explained that there was obviously some mistake. The owner of Affittacamere PZeta immediately charged the full EURO 660 to my credit card. Granted, that the policy of booking.com does provide for the owner to charge the full amount on a no-show but what surprised me was that my profile on the booking.com app did not reflect this booking at all. On my return back to South Africa, I searched my emails and found a confirmation email from booking.com confirming the booking.
I contacted the customer support line and Trista ** responded that "There may be 2 reason which the Booking cannot appear in your app. 1. You made this booking on other affiliate --- Google website; or 2. You did not log in your account to make this booking." These are all plausible however I do find it rather disappointing on booking.com's behalf not to 1. Have the capability to detail all the bookings through booking.com, irrespective of the affiliate website used or 2. If this capability is not available, clearly bringing to the user's attention. My total accommodation spent on booking.com was roughly R36 000, R12 000 being completely wasted on the no-show.
What was even more upsetting, was that the owner Affittacamere PZeta immediately charged the full amount which comprised two rooms for three nights – which she was according to policy. On a softer side, she could have been amenable to the fact that a mistake has been made. She could have charged me for 1 night, both rooms with an additional charge had she been unable to rent it out for the remaining two nights, which was unlikely considering that it was peak season.
I phoned her the next day and she informed that the rooms had in fact been rented out. As an aside, the couple traveling with us had a similar issue with a no-show booking which they made through booking.com. It was exactly the same scenario that we had but the owner confirmed the booking the day before the time and realizing that there had a mistake, canceled the booking. This is an indication that the booking.com "app" clearly has some shortcomings. It would have been cheaper for me to use a travel agent. I would thus not recommend using them as the costs of a no-show could spoil the entire trip, as it did mine.
Booking.com Company Profile
Company Name:

Booking.com

Year Founded:

1996

Address:

4147 Eastern Ave.

City:

Grand Rapids

State/Province:

MI

Postal Code:

49508-3405

Country:

United States

Website:

http://www.booking.com/