Consumer Complaints and Reviews

Before we travelled to Paris on May 11th, 2017 we received a email from Booking.com offering discount entrance tickets to most popular attractions in Paris. We used this offer for entrance to the museum d'Orsay which we purchased from the main tourist office in City Centre for €12 each. The offer stated that we would be billed on return home which we were but we're very shocked that we have been charged £12 each ticket so where is the discount? Other travelers should be made aware of this.

When we booked a hotel in Koh Phangan with Booking.com we used my husband credit card. I was going there by myself. They charged us 500 nzd. (The full amount.) Then a few days later, I received an email from the hotel saying they can't let me stay unless my husband is with me. (The credit card owner.) Their Booking.com page says nothing about this. When you make the payment, you get no information about the owner has to stay. We asked them to refund the payment, of course they refused it. I was not sure if I went there and pay again, they would refund my husband, so I contacted Booking.com. They said, "Contact the hotel."
I wrote again, "Can you at least talk to them and get a confirmation that if I pay again, we will get the first payment back." (And the reservation is on my name, obviously they saw that the name on the card was different. If they have this rule why they charged it in the first place?) Anyway, Booking.com answered, "We talk to the hotel, hotel said, '.'" (Just this '.') At this point I realized maybe there is no human who checks these complaints. Otherwise they would know "." has no meaning - at least to my knowledge. I wrote to Booking.com again, asking, what "." means, are we getting back the first payment or not. They answered, "Contact the hotel."

Was told they would contact hotel to cancel reservation. They email back hotel. Agreed to cancellation. I got a second email today they can't help me. Website says free cancellation up to June 20th. FYI I cancelled May 15th 5 min after I made reservation and to put more fire on the situation it can be verified I have stayed at this Deerfield Best Western over ten times in last 2 yrs. This is not how you treat previous good previous customers. Bottom line I stopped credit card first time in 40 yrs. They are a not a company I'll ever do business with. I've asked for owner Mr. Patel to return my complaint but I guess he doesn't know how to talk or run a business. No response like the other customer's complaints. Booking.com and hotel double talk. Thank you for listening. Very bad company. I always dealt with Hotel.com. Never had a problem which is from what I understand is same co as Priceline Expedia so why such the???

I was looking for a hotel in Madrid and I pushed the "reserve button" to see the additional charges which I always do with other websites. It says, "Don't worry you won't be charged yet" under this button. So, I gave them all the information they asked. Then, they charged me. After I realized it I immediately tried to cancel, however, it says that my booking is not refundable. I couldn't even confirm the total price when they charged me. (I've never seen such a thing.) I called them, a lady from customer service talked to the hotel and confirmed the cancellation and transferred me somewhere else. Now, I've been waiting on the line for 1 hour 35 min! After 1 hour 35 min, they just hung up!

Sadly I tried calling Booking.com after booking hotel reservations and then finding the rates cheaper. They have a price match policy listed and cant get through. Also it said after the first booking if you accept their newsletter, you get $25 off your next booking, well three more bookings later and nothing. When you send a "Note" you get a generic response with the last line saying if you need more information, you will hear from someone shortly. Hmmm. Oh well, I will deal with the hotels directly and no longer consider Booking.com for future travel.
How do I know I can trust these reviews about Booking.com?
762,878 reviews on ConsumerAffairs are verified.
We require contact information to ensure our reviewers are real.
We use intelligent software that helps us maintain the integrity of reviews.
Our moderators read all reviews to verify quality and helpfulness.
For more information about reviews on ConsumerAffairs.com please visit our FAQ.

Have the same experience as many others who posted on Consumer Affairs. Deceptive advertising. I booked 3 different resorts for a trip to Tahoe, Napa, San Francisco. "FREE CANCELLATION" kept appearing...nowhere did it say my credit card would be charged immediately for a prepayment of 1 night at each hotel. When I saw my credit card transactions, I had multiple reservations at two of the hotels. I am still cleaning up the mess. I always have "putting in dispute with my visa company" in my back pocket...but what a nightmare. I have subsequently re-booked the 3 resorts directly with the hotels.
But as others have said, Booking.com tells you to deal with the hotel directly...you call the hotel, "oh no, you need to deal with booking.com". When you try to cancel the hotel on Booking.com, it tells you that is all you need to do; within ten days your credit card will be refunded. NOT TRUE. Fortunately I am almost done getting the refunds. This is the first/last time I will deal with Booking.com. And I heard Priceline.com and Hotels.com, etc. all have their issues so I will go directly to the hotel. And keep written copies of all the confirmations etc. Unbelievable waste of time, and in some other people, money too. STAY AWAY FROM BOOKING.COM!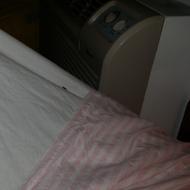 Booking.com doesn't show the exact photos of the property I booked with them but when we arrived me and my family we found the hotel ''InTown Suites Houston'' very unclean and full of roaches. I left the hotel after half an hour. The hotel administration were so rude. And booking didn't support me in refusal of charging me. They are careless about their customers. I wouldn't recommend it to anyone.

I try to book a hotel to Hong Kong 2 rooms for £626 which I finally booked and confirmed. The website clearly stated that it would cost £626.00. I was charged £689.00 and this is £63.00 overcharged for taxes and fee which they have never mention when you book it. At first I search on Hotels.com to see what is their price to Booking.com. Hotels.com charge £606.00 every rooms in the same date. This is £83.00 different now so I call up Booking.com, put me on wait for 15 minutes. Asking me all rubbish questions and finally asking me what am I calling about. I ask about the price comparison and on their website. They said they will beat any website which is cheaper than them. They ask me which website and I told them Hotels.com.
First she put me on hold saying she will check, come back ask what kind of rooms and date, put me on hold again. Come back in a few minutes saying the reason Hotels.com is cheaper than Booking.com is because the money is exchange rate is different to them. I say to them what £83.00 different for exchange rate. What a big big difference??? £83.00 are you having a laugh. Also can not cancel my booking and non refundable. They insist they can not do anything about it. I said to them to forget it and I told them that I never ever use Booking.com again. Also I will tell all my friends and families to stay out of Booking.com. If they do this to all their clients they are making plenty of money by overcharged and concealing their hidden charges on the website. STAY AWAY from BOOKING.COM and AVOID THEM. Bad service.

When booking a reservation, I was presented a date where a cancellation fee would take effect. I found out AFTER my purchase there was an immediate cancellation fee. I had tentative plans and it appeared to be a no risk reservation. I honestly feel this is either deceptive or at the least incompetent disclosure of fees. I understand it must be difficult for them to broker with so many independent hotels, but I just got ripped off. I will never use Booking.com again.

Well Booking.com is great service which I have used and trust your judgment. We stayed in New City hotel (not) in Stratford. Really it should not be on your books. It was not a good experience. Very dirty, asked online what requests with food, they have no choice. Well you would not really eat there. Blood all in bathroom. I feel it is letting Booking.com down and should be off the books.

I have used Booking.com in the past very successfully and the reason I have used them is because they advertise everywhere on their site that there is no booking fee and no fees payable upfront. However today when I made a reservation online the full amount was deducted from my credit card although all the way through the process it was shown "No payment required now" and even while completing my details on the payment screen there was a note saying "No CCV required as you will not pay anything now."
I have been left with no money in my bank account and when I realized this I canceled the booking straightaway (I think 5 minutes may have lapsed between the booking and the cancellation) only to be told I will only be refunded 30% of the booking. This is ridiculous and ludicrous. Why is Booking.com supporting this establishment??? This is daylight robbery. I have never, ever been so angry! I would like a total refund regardless of the hotel's policy. I was using Booking.com for a reason. Otherwise I could have gone straight to the hotel. The site, I feel, is not accurate and not doing what they advertise.

I will never use booking.com again. I booked an overnight stay for my husband and I at a hotel close by Toronto airport as we had an early morning flight the following day, the confirmation I received from Booking.com stated "Free public parking is possible on site, (reservation is needed)" which was the only reason I booked this particular hotel. I asked them for verification of this as we needed parking for 9 days - it took 3 days for them to respond and then all they said was that I needed to contact the hotel myself.
When I contacted the hotel they said parking was only free for the one night and as we're going to be away for 9 nights we would have to pay an additional $85. Needless to say I was not happy so I spoke with the hotel manager who told me that they had a "Park and Fly Rate" which was $30 more than what I had paid for the one night stay but then the parking would be free. I said great I would pay them the difference. She informed me that Booking.com had phoned earlier to ask my question re free parking for 9 days and she had told them it was not free - this information was never given to me. Then she informed me that as I had booked through Booking.com I could not make any changes to my reservation directly with the hotel. It had to be done through Booking.com.
This was news to me because Booking.com states that the cancellation policy is the hotel's not theirs, however the manager told me otherwise. She said she had no control over the cancellation fee. I wrote to Booking.com and told them that their confirmation information and advertising was very misleading, parking was not free and I asked them to either cancel my booking and return my payment or change my booking to Park and Fly and I would pay the difference. I am still waiting to hear back from them. So I am now $100+ out of pocket as the reservation could not be cancelled (even though it is a month away). Booking.com advertise that they charge no fees and have a free cancellation policy on most rooms. They also state that any question or enquiries will be answered within 24 hours. All of these claims are untrue.

I booked Sweet Home Sandy Springs through booking.com, but owner was unable to fulfill reservation. Sweet Home Sandy Springs is NOT a hotel I found out later, but an apartment that some guy rents out. Booking.com assured me that I would not be charged anything. However, two weeks later I noticed a charge of $900 to my card. I contacted the hotel owner who said that I would be refunded but gave no reason as to why I was charged. I tried calling booking.com three times but only had someone answer once (Erica) and she could not hear me and hung up on me. I have a bad feeling that Sweet Home Sandy Springs is some kind of spammer. I notified my bank and will also contact the Better Business Bureau to find out what else I should do to have this investigated. I have used booking.com in the past with no issues, but will most likely never use them again. I'll stick with Onetravel.com or Trivago.

We recently made a booking for a hotel for that night. Afterwards, I immediately called the hotel to verify the cost for our pet as Booking.com did not verify. The pet cost was NOT a problem. While on the phone with the hotel I asked about their hot tub. "Oh, our hot tub is NOT working". "Ok, please cancel our reservation as that is WHY I wanted to stay at that hotel." "No sir, you have to do that with Booking.com."
OK, so I went back to Booking.com to cancel the same reservation that I made only about 6 minutes before. They told me that I would now incur a $60 penalty for cancelling. HELLO PEOPLE!! I booked because they advertised a hot tub that was NOT even working and NOW, 6 minutes later they are going to stiff me for a $60 cancel fee. I complained to my credit card company but all to no avail. I will NEVER ever use BOOKING.COM again. They are a RIP-OFF!!!

I booked a two bedroom apartment with separate sleeping area in den. This property was certainly misnamed as "The Best of Vancouver". There were five in our party in age from 17 to 88. Upon arrival at the given address the concierge had no idea about this property. I called the number given but no answer so I called Booking.com. The customer service person was nice and said she would try to contact the property but she also had no luck. At this point they offered to rebook us. We asked for three rooms since we would have essentially had three with the den, this request was denied. Basically being on the street we accepted the offer of two rooms and Booking.com said they would pay any difference. We then booked in a hotel that had small old rooms without refrigerators or any method to cook so all our groceries were spoiled.
Now the real fun began when we tried to get our refund. To cut to the chase it took numerous emails, several tweets, and three international calls to get it. The best part was when they sent me a link to request the refund and surprise surprise it did not work so I had to call and after numerous promises it was about two weeks later I finally got another link. Had I not been overly persistent I'm sure I would have never received anything. I travel a lot but will never use Booking.com again.

I booked a night in Atlantic City through Booking.com and should have listened to the warnings here. It was to Tropicana in Atlantic City. They said I could cancel up to May 24th. I cancelled May 29th and was still charged by TropWorld. As a result my other check bounced and I was charged $35. I called Booking.com and they agreed and refunded my nights stay that I cancelled in time, but still out $35. So don't believe the free cancellation nonsense, they will charge you anyway. Very shady operation.

We booked an apartment in Amsterdam in Feb, 2017 for a vacation in May, 2017. We received confirmations on 2 occasions prior to our scheduled trip. The day we were leaving for the airport in NYC we learned that Booking.com had canceled our confirmed reservation and were suggesting an alternate location. After quick research we discovered the alternate location was completely unacceptable based on location and type of apartment. They suggested 1 other option, also in an unacceptable hotel and location. Having nowhere else to stay, we accepted one of the options and were then told we needed to book it ourselves online. Since by then we were in the airport, booking online was not an option. We ended up calling a friend, who helped us book a lovely hotel in the center of town. Unfortunately it was twice the price. We will never use the services of Booking.com and suggest that all those reading this review do the same.

I made a reservation for my hotel room on Booking.com at the Ibis Budget Limoges France for a seven-day stay and decided because of my extreme fear of flying in airplanes to cancel the reservation the following day. I called Booking.com's customer service and the representative said that the hotel does not give refunds. I canceled the reservation more than 30 days before my expected arrival date. The reason why I decided to make a hotel reservation on Booking.com's website is because of a recent televised promotion that I watched the advertisement stated "Free Trip Cancellation," there was no mention on any restrictions. The Hotel Ibis Budget in Limoges, France has plenty of time to rebook the room. These crooks got away with stealing my money.

I booked lots of times with you with no problems whatsoever, however I am totally disgusted by the way I have been dealt with when I booked a villa in Praia da Luz, Portugal. The booking for Casa Secreto was confirmed but they later offered a so-called upgrade which was not, more of a downgrade. When I said that I would prefer the original booking which was confirmed, I was told that our booking would be cancelled. On Friday May 5 I contacted one of your representatives who agreed that this was not acceptable and promised that this would be dealt with as soon as possible. As I did not receive any communication by Sunday 7 May, I phoned your company to find out more information only to be told there was no booking.
As I am responsible for booking on behalf of six other people, you can imagine how stressful this is, especially as the flights have now been booked. If I had cancelled this booking I would have been liable for approximately 427 euros. Please explain to me why this has happened and please also note to add insult to injury, when I phoned your representative for details he was so rude and actually put the phone down when he could not find the booking. An early explanation and response would be appreciated. Please advise best way to deal with this.

The Booking.com does not post very negative comments for other travelers and that is why you may get booked some properties with problems such as no WiFi and dirty bed sheets. The Booking.com's wrongdoing hurts travelers. For example, I have experience with the booking at Hospedaje K'uchuwasi Backpacker, Peru. My comments were not posted for other travelers because I have low rate due to no WiFi and dirty bed sheets. The Booking.com sent me a message and claimed that my rate was posted for other travelers but I checked and only I can see it when I logged in.

Recently my wife and I had a short break near Paris. Due to return to England on the Friday, we decided we didn't want the hassle of driving up to the Midlands so we booked a hotel at Pevensey Bay through Booking.com. We filled in their form and because I'm disabled (COPD lost 75% lung function) we also filled in their information box to let them know of my disabilities and very limited mobility. Friday came and we presented ourselves at the hotel. The hotelier could clearly see my condition and showed me a very steep flight of steps going up to our intended room. She explained that this was the first flight and there were a lot more (nearly 40 in all) to the room a the top of the hotel. Impossible for me, it would have killed me.
I told the hotelier that I had written on Booking.com's form of my disabilities and the hotelier stated that Booking.com neglected to inform her of this. She then stated that this had happened many times before to this and other hotels in the area. In fact another cancellation was made that same day for the same reason. The hotelier was very kind and even though it was no fault of hers she managed to find us another hotel (a bit of a drive away and twice the price). When I returned home I wrote an email to Booking.com complaining about their appalling service and I asked why this information had not been passed on.
I received a reply from Booking.com. Here is a transcript of it: "Thank you for choosing Booking.com. We are writing to you regarding your reservation. We sincerely apologize for this inconvenience. We've checked on our system to find your request. Unfortunately, there were no request from you on our system. We're sure that if we received the request, we would pass on the request to the property. Please feel free to contact us with any additional questions." I replied to this: "Why am I not surprised that this would be your response. It would be expected after your appalling service to call the customer a liar to cover your own backs. I can assure you this request was sent in front of 3 witnesses so please do not adopt this attitude with me or you will be facing litigation." We received no recompense from these people. My advice would be to stay well clear of this company. Their customer care or people skills are zero.

It is becoming quite obvious. Booking.com do not check the product they are selling, you will find something very different from what they are stating on their page. This weekend after spending one night at a disgusting place & finally agreeing a refund for the second night we booked an apartment with booking.com again (for the last time ever).
When arrived at the nice pristine apartments block we are advised by the receptionist booking.com do not have apartments in this building & when we ring someone will come round & take us to a different place. He advised us strongly to complain as this is a regular occurrence. We were collected by a gentleman of Indian/Moroccan origin who took us round the corner to an absolutely disgusting apartment which had a notice in the hall stating anyone staying there for under 90 days would be breaking the law. Some very strange going ons plus the added minus they deduct more from your account than agreed. Never again!

I booked an apartment over 7 months in advance, as me and my spouse were attending a destination wedding in Puerto Rico. A few weeks before our arrival date, I received an email from the property informing me that due to a mistake, they wouldn't be able to accommodate us. I urgently called Booking.com for help and they told me that that was unacceptable of them, that they would look into it and help me solve the issue. They never did!!!
I booked another location, attempting to give them another chance and when we got to the location, the room was not what we had reserved. We reserved a "Deluxe" room with a balcony, and the room was absolutely nothing as the reservation indicated. I spoke to the hotel management and they couldn't do anything, due to not having the room available. I called Booking.com and couldn't get through. I had no other option than to stay there. Upon returning home, I went through the gauntlet of reaching a customer service agent, and after waiting for more than 45 minutes, the agent who seemed sincere told me that they would take care of it and promised to call me with a resolution, NEVER DID either. I've emailed them several times and they continue to ignore my emails... Terrible way to do service!!

Made a reservation for Ed and Ellen's Lodging on Big Pine Key, FL. Showed up on time, 6 PM, there was no-one available to check us in. Spent 1.5 hours calling and texting the facilities' posted numbers, with no response. There was a guest in the subject apartment, who could not get a response either. He mentioned that he planned on being there 3 more days. With no other choice, apparently a guest already in the room, we left to find other lodging. Neither Booking.com nor the lodging have responded, in any way, to my request for crediting the deposit they charged to my credit card. It has been nearly 2 weeks. Disappointing that Booking.com has no apparent mechanism to protect the customer when the lodging fails. Do not understand the complete failure to respond.

Booked a hotel in Portugal and had the worst experience ever, so much I had to cut my holiday short! Booking had great reviews. All of which must be fake, I've never seen so many 10's. I didn't research this just took the rating at value! Awful hotel, stinking, small, middle of nowhere and noisy! Booking told me I could get rebate if I wrote to them, just the most useless waste of time! Book elsewhere!

We booked three motels through Booking.com and upon arrival not one had our reservation. We had hard copy of our confirmations so multiple attempts to locate the reservations were done. None were found. We were lucky that each motel had a room for us, but we would prefer that Booking.com actually did some booking.

I booked a short stay in Corfu for three adults, I received three bookings instead and my credit card has been charged three times! I certainly did not put my details in three times and two of the bookings were made at exactly the same moment although the operator I eventually got to speak to thought that this would be a feasible option! Clearly the problem has been with their system but trying to get any response via email or phone has been incredibly difficult. They are now telling me that it will take four days to check their systems so they will email me a response. I then contacted my credit card company and thankfully, BARCLAYCARD can see the ridiculousness of the situation and are fighting my corner. I've used Booking.com previously but never again, their customer service is non-existent and customers are left high and dry when problems occur.

I recently booked a hotel in East Ham for 4 nights and was told that I would not have to pay until the evening. When I arrived I was told my booking had been cancelled as they had tried to take payment from my card, which had expired and I had a new one. Instead of ringing me to ask for an update as they could see the card had expired they emailed me which I did not see as I was driving to the venue. This caused upset, worry and more work in having to try to find somewhere each night for my friend and I as most hotels were fully booked due to a huge seminar at Excel. This is not satisfactory and Booking.com could have seen the card had expired and rung me, in fact they did this to two other couples at the venue. I certainly had no apology when I called them, no response when they said they would find somewhere else for us. I therefore will not be using their services ever again.

I booked and paid for a stay several weeks in advance via Booking.com at a high quality holiday home property in UK. My daughter needed to attend a hospital in that area and we wanted to stay nearby. The booking was confirmed, but I was unable to get any response from the property owner by phone or email via B.com to get access details.
Over a couple of weeks, and several days before the stay contacted B.com 'customer service', who were also unable to get any response from the owner over a period of 2 days. I asked B.com the day before to cancel and give me a refund as the owner was not resident at the property and I had no access details. They first said they could not refund me until they had phoned the owner yet again on the morning of the stay and given them another half hour to respond then they could refund me.
We had to leave home for the hospital visit early that morning, so I again phoned on the morning before leaving and found they had still not phoned the owner. They said they would then phone while I held, but got no response again. I was holding on the line for nearly an hour yet again and they then said I would have to go to the property after leaving the hospital and if there was still no contact from the owner they could then refund me, but not before. I said that after a day in the hospital I was not prepared to go and wait outside a property in an unfamiliar area in the evening with a daughter who had been in hospital all day on the off chance the owner might turn up, and if not make last minute arrangement to stay somewhere else, but we would make the long journey back home instead.
I had to get very insistent and they made me quite angry with their glib robotic responses, constantly changing story about how much time and how many chances the owner would be given to make contact, and changing stories about when they could refund me and whether a fee would be charged or not, and the literally hours I had spent holding on the phone. We had to leave for the hospital and they said they had to phone the owner one more time and give them yet another half hour to respond, so I asked them to leave a message on my mobile phone and email after the half hour, and confirm the refund.
I did not get a phone message all day and could not get access to email, so we came home and arrived back late evening to find an email message and a message on the home phone (not the mobile!) saying the booking had been canceled and a refund would be issued. A bad few days, made worse by B.com's bad handling of the situation and constantly changing story about when and how a refund could be given. I await the refund with bated breath. I will never deal with this company again.

When we arrived at the hotel booked through Booking.com we were charge a fee each day for the cleaning of the room not explained to us by Booking.com nor the motel on checking in. Other hidden costs were associated with the bill at the end of our stay which were not explained i.e. we were charged an extra rate for the room other than the rate we had already paid.

ConsumerAffairs Research Team
The ConsumerAffairs Research Team believes everyone deserves to make smart decisions. We aim to provide readers with the most up-to-date information available about today's consumer products and services.
Booking.com is an Amsterdam-based company founded in 1996. Unlike most travel companies, it focuses exclusively on helping travelers reserve rooms.
Free cancellations: Booking.com offers free cancellation services for most rooms.
Daily deals: New deals are added to the website every day.
Verified reviews: Booking.com has over 81 million reviews written by travelers who have used the website to make room reservations.
Apartment rentals: Booking.com can reserve short-term apartment rentals as well as rooms at hotels and resorts.
Hostels: Travelers can use the site to find hostels in their destination cities.
Best for Budget travelers.
Booking.com Company Profile
Company Name:

Booking.com

Year Founded:

1996

Address:

4147 Eastern Ave.

City:

Grand Rapids

State/Province:

MI

Postal Code:

49508-3405

Country:

United States

Website:

http://www.booking.com/