Consumer Reviews and Complaints

Waited 11/2 hours to get a car. They had one agent most of the time. The car was dirty. Didn't get the car they promised. Car made noises when driving. Really don't feel good about driving it. One of the worst experiences I have had for any business transaction in my life and I still have to return it. Was also told We cannot drive it out of Colorado. I will post my return experience but I would NEVER RECOMMEND this company.

Follow Up: ACE quickly apologized for the way this was handled and refunded the extra day I was charged. My advice to them was to just educate their employees in cases such as this where the extenuating circumstances should not place the fault automatically on the client. I have changed my rating from 1 * to a 3*. I still was not impressed with the condition of the car (I expected a much cleaner/ new condition vehicle for a 2017 model) or the fact I had no choice but to pay for an upgrade since the originally booked category was not available.
Original Review
Was supposed to get an Altima but of course it was the old "We only have a van or convertible" which I didn't want. Finally they said for $5 more per day I could get a SUV which I decided was my only real choice. Car was dirty inside and out when I picked it up and it showed a lot of wear for a 2017. I tried to return it the day it was due but they were closed. ACE claims they sent an email to return it early because of the hurricane but I checked all folders and never received any email from them. No drop box was available at the return but the rep on the phone told me to return it the next day when they were open and I would not be charged the extra day.
After getting the bill they indeed did charge me for the extra day. I spoke with someone who said they were a Manager and they said that was just the way it was. Seriously? I will never use ACE again. They should at least be in Agreement with their own lies. I even returned it with a completely full tank which was almost impossible after Irma with all gas stations closed.

Upon our arrival at the Orlando Airport, we were consigned a Nissan Altima in the late afternoon of Sept. 6, 2017. During the rental process, we were told it would be good to activate the SunPass for $6.00 and we accepted. We realized later that the Governor of Florida had suspended the tolls on Sept. 5, 2017; one day prior to the stipulation of our rental agreement. It seems strange that ACE was not aware of the suspension. After the person at the gate inspected the car for body damages - NOT FOR SAFETY ISSUES - we left and drove North towards Gainesville, Florida.
The first thing we noticed was that the control board indicated that the front right tire was low on air. We continued to Gainesville and on Sept. 8, 2017 I stopped at Tires Plus to check the tire as all gas stations had long lines and those without gas had no compressor on. I was amazed when Devon, the person that inspected the tires said that the tire needed to be changed; he proceeded to check the rest of the tires and said that all of them had to be changed as they were not safe. He gave me a business card with the name of the Service Manager to give to ACE. I called ACE and spoke with LIV in Orlando. She said I had to return the car there to have it exchanged.
Now, we are in the midst of Hurricane IRMA and I am supposed to drive an unsafe car to Orlando and return to Gainesville with all major highways open to move North only, not South, and then brave the traffic upon my return to Gainesville. I asked why the tires were not inspected and I was told I was supposed to check them before driving the car away. Now, the person at the gate only inspected the car for body damages, not safety issues. I had never heard that a car rental company asks you to check the tires of the vehicle rented; I was under the impression that the law required them to make sure that all safety standard are met, before renting their vehicles.
I asked to speak to a manager but I was told there were none. I wonder how ACE can be in business if it isn't able or willing to guarantee that its cars are safe to drive. I especially wonder about their service department. Who authorized the car to be driven even though, as Tires Plus indicated, all tires had to be changed as the car was unsafe to drive? Needless to say, I do not recommend ACE at all; unsafe cars is not what I am looking for. Service people that seem to neglect important safety issues and customer service that is totally unresponsive to your requests is not what I would expect from a rental company. If it weren't for the current ranking of 1 to 5, I would have given ACE a "ZERO."

Worst rental EVER! The worst problem is that the rental process was a scam. The counter person tried to refuse me the rental car unless I purchased your liability insurance. I had already refused the extra insurances that were covered by my credit card. They added the liability insurance without asking or letting me know. I found it by comparing the price I had a quote for. 99% of folk would have missed this as they also had a security deposit added. Then they told me I had to purchase it or they would not rent me the car. This was taking a long time so I started telling the other customers at the counter that they should check with their credit cards and refuse the extra coverages. They realized they were losing money so they started to work faster to "get me out of there". They also tried to force me to purchase prepaid tolls with a threat of a $25 a day fine if I had any tolls.
They had trouble finding the keys to my car. I think they were trying to get me to upgrade to a better car. Well, not better. It was in the same class as the one I was suppose to get. They probably just wanted more money for it. You have an offsite location. The problem is that it not easy to find the shuttle to the location from the airport. I had to make several phone calls to find out where to go. The airport shuttle drop off (after I returned the car) was really far from our terminal. We had to drag our bags a long way.
Overall, this was the worst car rental experience I have ever had. I am planning on telling Priceline that they should either terminate offering rentals for ACE, or had some kind of disclaimer about how bad the Orlando ACE is. Another note: This was not just my experience. The other customers at the counter were also very unhappy. Also, I was very lucky as I was first in line. Extracting money from folks takes time, and there were many people in line behind me that had to wait much longer than I did. It probably took over 40 minutes (I was not timing so I don't know exactly) to get my rental, even though I was first in line.

ACE Car Rental ORLANDO - Totally horrible experience that caused my heartaches & heartaches on my Vacation. From the time we picked up the vehicle and from the time we dropped it off. To start, watch out because this rental attacks you with "YOU Must purchase what they offer..." They overwhelmed you, they're sales people that don't let go until you are completely frustrated. I vacation in May, the charge after all they say YOU NEED/You MUST... It almost double the amount Expedia quoted me on my itinerary. Way too much money for a car rental.
I have rented with other companies and never ever did experience this bad time/ordeal. When the vehicle gets dropped off, they rush you out of there without even giving a receipt, and when asked they so claim they are printing. The SHUTTLE closed the door and was leaving. It is now three months later, and I now have another charge that I tried to dispute but is causing too much trouble again. I WISH no other person goes thru the same bad situation I went thru and put my family thru. DO NOT conduct any business with this Place ACE RENT A CAR.
How do I know I can trust these reviews about ACE Rent A Car?
885,230 reviews on ConsumerAffairs are verified.
We require contact information to ensure our reviewers are real.
We use intelligent software that helps us maintain the integrity of reviews.
Our moderators read all reviews to verify quality and helpfulness.
For more information about reviews on ConsumerAffairs.com please visit our FAQ.

SUCH A BAD EXPERIENCE, NEVER AGAIN. Last February, I have made a reservation with ACE Rent A Car. The total rental cost has been paid the same day. When I got at Goldcar desk (the rental car supplier) at the end of June 2017, there was no car reserved under my name. GoldCar never got my reservation from ACE rent a car and they give me a document to confirm the situation. For the same car category with same coverage, GoldCar were asking for 4,2 times the amount of money I already paid to ACE rent a car.
I tried to phone for 30 minutes ACE rent a car at the number specified on my contract. Nobody to answers. So I spent another 30 minutes of my holiday time to find the best deal among the other rental car companies at the airport. I finally found one at 3,6 times the amount of money I paid ACE rent a car. On my return, I have been in touch with the Customer Care Service of ACE rent a car. They are willing to reimbursement the extra rental cost but not the applicable taxes even if our rental contract specifies the opposite under the general conditions. Worst, they don't damage you for the trouble nor the time you took on your holiday time to find a solution to their mistake. So, do yourself a favor, go to another rental car firm.

I booked my reservation through Expedia. I thought that I will be paying 438.40USD only but I picked-up my car and was advice that I need to pay 250.00USD for deposit and 6.00USD / day for the E-path and another 25.00 USD for the fuel. ACE representative said that if I will not pay this amount they collect another 250.00 USD for being penalize. So ok to charge since she was threated from the car rental.
She checked her account was charge for 839.24USD total. So she asked why she charge this amount which she calculated and there is a difference of $150.00+. So I asked Manager and he is very rude and unprofessional. He denied the amount and said that they will not honor the amount quoted from the agent. Now I take the car and it smell cigarette and they give me w/ the damage one. So manager I will be charging for 250.00USD since there is a damage on the car. So I decide to return the car now August 13, 2017 but ACE Rental Car said they will charge 350.00USD+taxes and fees. This car rental is disgusting and unprofessional customer service. I WILL NOT RECOMMEND THIS ACE CAR RENTAL TO ANY CUSTOMER!!! YOU ARE SCAMMERS and LIAR!!! I will file report to you from my attorney!!!

We have never rented a car from ACE Rent A Car before. We NEVER will again! I reserved an Economy Car from the Denver, CO location two days before arrival. I called the morning of the reservation and was told they had plenty of cars on their lot. When I arrived at the TRAILER (not a building) I was given three choices of vehicles and none were an Economy Car. They finished with my contract and mentioned that I was the only driver allowed to drive the car (I was never questioned on additional drivers before the contract was done). When I said my husband would also be driving, I was charged a FEE for an additional driver and the contract had to be done again. I was finally handed the keys to my rental vehicle and told to mark any damages on a sheet or come back into the trailer if I did find anything.
Next I got to wander their lot looking for my rental vehicle. It was very obviously NOT washed. I checked for damage or scratches on the body, NEVER THINKING TO LOOK FOR CHIPS IN THE WINDSHIELD!!! The inside of the vehicle was very obviously NOT cleaned as well. There was garbage on the floor and the cup holders and storage compartments in the doors were all sticky. We had to go buy some wipes to stand touching any of the surfaces.
When I returned the car, I'm not even sure if I had it in Park yet and the woman standing there waiting to check me in informed me I would have to escort her to file a claim because there was a chip in the windshield. She was very obviously trained to spot a chip even before I departed from the vehicle! Neither my husband nor I are aware of ANY rocks hitting the windshield. It would be our guess that we weren't the only customers that had to file a claim on the same chip. I was informed I could either pay $44 or deal with it later. I learned my lesson. We will NEVER rent a car from them again.

Rented a car in Orlando, Fl. through Expedia. When booked was told car rental was $128.85 due at car rental counter. I also paid $50 for the car insurance. When we arrived at ACE the lady asked about insurance and I told her I already purchased it and she commented on the great price I paid. She also asked about their SunPass that we needed to go through tolls because you can't pay cash. She said it would cost $6.99 one time fee so we took it. Now I receive my credit card statement and the price is super high so I called to ask why. I first was told the account is closed and oh well there is nothing they could do about it. So I tried to call corporate. That number just sends you to their regular customer service number so they are no good.
I must have been transferred like 20 time before I finally talk to a lady that went over my bill with me. I was charge an extra $63.96 for their insurance so basically the $50 I paid was a waste of money. The SunPass that was $6.99 was actually per day for a total of $28.00 when in actuality I could pay cash and it would have cost me only $4 total for my entire trip. They added roadside assistance and some other bullcrap charge. THEY ARE TOTAL SCAMMERS AND LIARS. I will NEVER sign anything again until I read every line and not trust anyone. I will NEVER RENT FROM THEM AGAIN... BEWARE!!!

I have never experienced renting from a company so negligent and careless about people's life while using one of their vehicles. The car I rented battery died, and I was told that it was my responsibility to buy a new battery plus pay a tow truck to take the car back to the rental location near the MCO airport. My life and the life of the people traveling with me was in danger and this company did not care. This company should not be in operation for the sake of people's life.

The price was much higher, they didn't accept the car insurance I already bought, I had to buy another one from them, much more expensive. Avoid them! And avoid Gold Car also, as is the same company.

I rented from ACE Rent A Car and had a horrible experience. I rented through the Travelocity website. The agent was unfriendly and misrepresented charges. I provided proof of auto insurance including comprehensive and the agent added it to my bill without my knowledge. I did not sign for additional insurance as it was completely unnecessary. Additionally, I was charged for a full tank of gas when the car was completely full. As a result, I was charged $70 plus too much.
I subsequently called the location and explained the bill error and the agent basically said too bad. The manager will not call me back and there is absolutely nothing I can do. This is the worst car rental experience I have ever had. The agent was determined to add costs to my bill. She represented the tank fill by $2.05 a gallon implying that they would fill up the tank and charge me for the filled amount. They charged me for a full tank! And will not take the charge off.

Just moved to Florida a month ago. Made a reservation with ACE car rental 3 weeks ago for a standard convertible for 5 days unlimited miles which totaled 279.16 through Expedia. Called twice beforehand to confirm my reservation. Nothing needed but driver's license and credit card. Ok got that. But when I went I was told due to me being a "Florida resident" ...(which I got my license changed 2 days ago) I will be charged more. Huh? I was told I can get a full sized car Altima or Sonata. But when I swiped my card to pay... guy says "I got you a Nissan Sentra." Wait what??? And it totaled (with 200$ deposit) 564.35$. Not only was I downgraded but I'm paying more for a smaller car with only 150 miles per day! Seriously... was I just SCAMMED!??
If I had a ride to get me out of there, I would have left. But I pretty much had no choice stuck there. I would never rent from ACE Rent A Car again! I called Expedia to let them know how unsatisfied I was and they called ACE for me. Was told "ACE" would like for me to call them directly. I called and was pretty much told "You're assed out." No help whatsoever! DO NOT RENT FROM ACE RENT A CAR! They are scammers!

We rented two cars in Ft. Lauderdale, FL for a day on 7/22/17. We finished our cruise at Port Everglades at 9:30am and was looking for a phone # to call to get a shuttle to pick up us. However, there are no local office # on ANY of websites. Finally we had to call their customer service but took over an hour to have a human answered!!! From the moment we were looking for a shuttle to pick up our rental cars, it took TWO full hours!!! Moreover, after we picked up our cars and drove 1 hour away, we realized that they gave us a wrong key for one of rental car. We couldn't re-start the engine after we visited the farm and we had to call the office again to have someone to deliver the key. We waited another 1 plus hours with 95 degree outside!!! Because all of these, we had to cancel all our plans on that day!

There was no Ace Rent-a-Car counter at the airport (Palma Mallorca). Rentals were handled by Goldcar. There was no sign anywhere near the rental counters that said Ace is handled by Goldcar. Had to ask a few different rental counters to find out it was Goldcar. After saying we had our own insurance the agent insisted she would charge us 1100 Euros that they would not refund. Asked if we wanted the charge in Euros or Dollars we clearly said Euros. She charged in Dollars. When you return the car you do not get a receipt! Unfortunately this was through Priceline. No satisfaction there yet.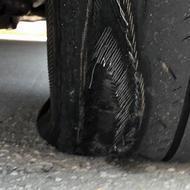 I rented from ACE Rent A Car in Clearwater, FL on 7/17/17. On 7/19/17 I had a flat due to the tire that is pictured. How could they allow a customer to rent a car with a tire that is so worn? Guessing the inspection wasn't done multiple times. Told the manager on 7/19 around 3:00. She didn't seem that concerned. Do not rent from Ace Rent A Car unless you want to put your family at risk.

I rented a car in Ft Lauderdale, FL to go to Orlando, FL for the weekend from July 14 thru 17th. I booked on-line and arrived about 30 minutes early on Friday, the line was out the door and there were 4 people at the counter helping customers. About 5 minutes later two employees left and one was taken outside to check a car with a customer so one employee was helping and the others did not return. I was waiting in line for 40 minutes by the time I got up to the counter there was only 2 cars left on the lot.
The guy at the counter was friendly but I was already frustrated with the wait and he proceeds to tell me that since I am a local driver that the mileage is not unlimited and that I would be charged if I went over 450 miles in the three days. He said it was stated on the online reservations which it was not. It states unlimited mileage. So I needed the car and could not leave without it so I just took it. The car sat the entire weekend once I got to Orlando.
I returned the car on Monday and I walk in and there is no one in the entire place helping anyone!!! I waited a few minutes saying, "Hello! Is anyone here?" and an employee came in from outside and told me to wait. After 10 minute he helped me return the car... I WILL NEVER RENT FROM THESE PEOPLE AGAIN!!! Very unprofessional and it is not worth the money you think you are saving!!!

I had a reservation for a rental car pick up at 12:00 a.m. on July 8, 2017 at the Orlando airport location. Our flight had been slightly delayed. Upon arrival, 12:15 a.m., we found out that the rental car location is NOT at the airport and we'd have to take a shuttle to the rental car company. We waited outside at the shuttle pick up for about 10 minutes or so with two other people who had car reservations as well. When the shuttle driver arrived he told us that there were no rental cars left and that they cancel the reservation if you do not pick up on time. Really? So they do not take into account flight delays? DO NOT RENT from this company. I should have known better, but they had the lowest price. Had to rent from Budget which ended up costing $120 more because it was last minute.

I HAD to give a STAR or it wouldn't expedite my review. The service was SO DEPLORABLE!!! Patrick **, the owner, is nothing but a common criminal. Never returned my money from my credit card. I have now filed with small claims court. NEVER rent a car from ACE!!! You're better off walking.

Firstly, the rental center was advertised as "at the airport", however it was not located with the car rental services that were at the airport, we had to take a shuttle to the rental center. The rental charge was fine, the car was fine, but we were unhappy about the drop off charge added to our credit card if the office is not open and you need to drop off the car at an alternate site. This would not have been an issue if it was located at the airport as was advertised. The information MAY have been in the fine print. I have not located it yet, but when we indicated we would be dropping the car off at their office right at opening time, you would think that they would have mentioned that there was a charge if you arrived earlier and had to drop off at their alternate location. When I called to communicate my disappointment, I was coldly told, "it was in the contract". I am not happy with their customer service and will choose another company in the future.

We had a bad experience renting a vehicle through ACE Rent A Car while on vacation in Colorado from June 16th through June 23rd. First we discovered that the car rental place was off site so we had to take a shuttle to the rental trailer! Once there we waited in line for about 40 minutes. Finally got waited on to get our car which we requested was a Toyota Corolla or similar. They offered a Ford Explorer and I confirmed with them that there would be no extra charge for the bigger vehicle. They urged us to buy their toll pass at $11 a day for which we did not need as we did not drive where there were any tolls. They did not ask if we had auto insurance. They gave us a pink slip which indicated that the vehicle's gas tank was full, which it was only 1/4 full. They gave us the keys and told us to look the vehicle over and indicate on the pink slip if there was any prior damage. They did inform us of the hail damage from the recent hail storm.
The vehicle was filthy inside and out. They did not wash it from the previous renter and they did not clean the inside out. There was garbage in the seat pockets and dog hair in the back cargo area. We did not feel like waiting in line again so we took it and tried to contact them by phone with no success. The dirty vehicle ran great the whole week and we returned it early on Friday, June 23rd. There was a line again and an employee told us if we were dropping off the car to just put the pink slip and the keys on the counter and we were free to go. I commented on the dirty vehicle on the pink slip. We took the shuttle back to the airport.
Then on Tuesday, June 27th my husband got a call from an ACE employee saying that our rental car was overdue. He indicated that we returned the vehicle early on Friday morning and proceeded to tell the guy how disgusted we were with Ace when the man hung up on him. My husband tried to call him back to finish the conversation but could not return the call as it was marked unknown caller on the caller ID. WE WILL NEVER RENT FROM ACE AGAIN, NOR DO WE RECOMMEND THEM TO ANYONE!!! HOW UNPROFESSIONAL!!!

I made arrangements thru carrentals.com to rent a car in Denver. Ace Car Rental by far had the best price for my needs so I made arrangements to rent a car from them. When I got to the car counter I presented the information that I received for the rental. I was then asked a number of questions, one of which was where I was taking the car. I told them Colorado for a wedding then Wyoming to see Yellowstone. I was told that Ace DID not allow the car to leave the state of Colorado and that it was disclosed in the terms and conditions. I showed them what I received as a confirmation and that limitation was not disclosed. I asked them to produce that information and they could not. After much conversation I left and went back to the airport and then got a rental car without limitations from National Car Rental. The cost was $500.00 more than the Ace quote of $199.00. $699.00 total for 7 days.
It seemed to me that they DID not want to honor the quote and could not produce the documentation I should have received stating that I could not leave the state. This is a basic bait and switch issue to get customers in the door. Note that I was the only customer in the place and Ace only had about a dozen cars to rent. Ace was at a offsite location and they worked out of a trailer. Not a professional operation! I then contacted rentalcars.com with the issue and they said it was in the terms and conditions.
Since I travel about 6-7 weeks per year, I rent cars often. Never have I ever had an issues or a limitation of where I can drive. I asked National Car Rental the same question and they never heard of such a thing. This appears not to be an industry standard. Avoid Ace Car Rental and carrentals.com. You need an attorney to go through the paperwork to confirm the deal you are promised and in the end they still may not honor the deal as quoted. Don't let Ace or carrentals.com ruin your vacation or business trip!!!

My family and I were recently on vacation in Miami. We decided we would try to rent from them because they had good prices online and the model of minivan that we wanted which was a Nissan Quest. When we got there we realized what a hassle it was to get to and from the rental agency. Once at the rental agency, it took more than half an hour to be taken at the counter, although there was no one ahead of us in line; then once at the counter it was much worse.
First of all, we were told that they no longer had a Nissan Quest (even though it was the only one being advertised on their website AND we could look out the window and see 3 parked in their lot and one being returned). I told the man behind the counter that I had made a reservation online with the driver's info but the passenger's credit card. I gave him both the driver's ID and the passenger's credit card (both us were present). He would not take the passenger's credit card because he said that it had to be the driver's credit card. So we gave him the driver's credit card and kept asking him how much is it going to come to? First he said $250, then $350, but $400 was actually charged. Even still, we thought it was a good price so we accepted.
Two weeks later I look at my credit card statement (the passenger) and I see a charge for $500. I immediately call them and they tell me that the $400 that was charged at the counter (driver's credit card) was in addition to the $500 charged on the passenger's credit card. So they in fact did take the passenger's credit card and charged a total of $900+. And now they refuse to return the $500 to the passenger's credit card. BEWARE OF THESE PEOPLE! THEY WILL TELL YOU ONE THING AND DO ANOTHER! DO NOT RENT FROM THEM!!!

Arrived in Orlando and didn't realize this was an off property rental place. Once I get there they do not accept debit cards. Only credit cards so if I didn't have a credit card I would have to get back on the shuttle and head back to the airport. Rented the car from Friday May 19th - Monday May 22nd. When I returned the car on Monday May 22nd took the shuttle to the airport, went through security and realized I left my prescription glasses in the car. I called ACE and was told by Daniella that they had already re-rented the car and nothing was put in lost and found. I then asked if she would be able to call the customer who had just taken the car to see if they can check for my glasses. She proceeded to tell me that they do not disturb the customer while on vacation and that they are not responsible for items left in the car.
I called back again and asked to speak to the manager. She gave me all the reasons why I couldn't speak to the manager but saw that I was not getting off the phone when she finally put the manager Andre on the phone. He told me as well that they are not responsible for lost items but that the people who had my car would turn it in on Thursday 5/25 by 11:15 and he put a note on the account for them to check for the glasses. I called back on Thursday 5/25 at 9am to remind them and Daniella said there is a note on the account.
I called back on Thursday at 12 noon and Daniella told me that the car was not brought back yet. I called again at 3pm and Daniella was quite frustrated and reiterated that there is really nothing they can do. When I asked to speak to Andre the manager she proceeded to tell me that he has more important things to deal with than my lost glasses. I then told her that I am not getting off the phone until I speak with the manager as this is not the way you treat a customer. Andre gets on the phone frustrated as well saying that he has important meetings he needs to be at and I am interrupting them. I then say, "Is this how you treat customers", he then lowers his tone and tells me that the customer that has my car extended their stay to Sunday May 28th and that Andre himself personally will call me on Sunday to let me know if they found my glasses.
Of course Sunday came and went and I never received a call from anyone at ACE. I did call at 7pm and a nice young lady helped me. She goes by D. She said the car came in and they checked and found nothing. I then called back on Monday to speak to Andre to see why I never heard from him and of course he never came to the phone but the girl who answered the phone told me that he is off on Sunday. This place has such poor customer service and the managers are even worse. I would never use them again. I made sure I gave them a negative review on Expedia as well. BEWARE!! DO NOT USE ACE!!!

We reserved a rental car through ACE. We got in line to pick up the car and heard from one of the employees that there is an out of state restriction on their cars so you can't take them across state lines "Or the GPS locator will turn the car off on you". Never EVER have I heard that you can't take a rental car across state lines, so I didn't even think to look for it in the rental agreement/reservation. We had unlimited miles, so that shouldn't have been a problem. We had out of state plans with the car so we couldn't use ACE. This left us with a 2+ hour delay leaving the airport and seriously increased the price of another car rental because we were stuck and didn't have time to shop around. Our rental car with another company ended up costing 600 dollars MORE than we were expecting.
Additionally, the airport shuttle (Denver International) was painfully slow and took an hour to get back to the airport from the rental center. We were waiting in the shuttle for it to leave but the manager wouldn't let it until the another one arrived. This was absolutely unacceptable and would have made us miss a flight if we rented through ACE. Absolutely absurd. We will never go with ACE again.

We had the absolute worst experience. We along with 5 other couples that we met in a span of 3 hours all had a bad experience. The customers have no way to contact customer service-we waited over an hour in 40 degree weather waiting on a shuttle. There is no signage for the airport shuttle... Beware of the price!!! They advertise low price but when we got to the (construction trailer) rental location they marked the price up $80. Then they refused the payment options that we could use!!! So we were stranded for another 2 hours without a rental.

I rented the car online and with a discount code provided to me in an email sent by Ace to me. My rental price was 119.22 and after declining many attempts to add on things we did not need my husband was asked to sign the contract on a BLANK screen pad and was handed the contract. He didn't look until after we had dropped the car off and we were charged 143.22. Called Fort Lauderdale Ace after returning home and they refused to refund us. Kept saying she didn't see a reservation for 119.22 when I have a printed reservation with that price on it. The woman at this office was EXTREMELY rude! Have never had any problems with rental before and will NEVER rent with them. There is no recourse if there is a problem... NO customer service. DO NOT rent with this company.

Really bad experience with Ace. I recently completed a 15 days rental from Ace at the Mexico City International Airport. Among the issues we had were: Unfriendly counter staff. Car was not washed. The car was very old and smell terrible. I requested another car and my request was declined. The right back light did not work. The guy was trying to sell a local insurance to get a commission. I declined, so after an hour of arguments he finally gave an old car. It was about 2 AM and I just wanted to get out of the airport and drive to my hotel.

The wait at the airpot was so long. The car was in very poor shape. They charged me $289 in toll violations that were completely not true. We asked for the dates that these toll violations happened and we were at a resort and did not drive our car on that day. I am not sure how you could go through 10 tolls in 1 day?!?!?

All rentals are off site from airport. Just called when we arrived and the shuttle was there to pick us up within 10 minutes. No charge for the shuttle. The "surprise" car booked through Expedia was a new 2017 Elantra. Great deal for the price we paid. All fees were disclosed before we left the lot. Would recommend this agency.

Lauren FixAuto & Finance Contributing Editor
Lauren Fix, also called The Car Coach, is an automotive and auto finance expert. Her understanding of vehicles has made her the "go to" person on TV, radio, print media and the Internet. She has authored multiple books and writes a column for several outlets, including Parade Magazine, NewsMax and Car Coach Reports. She is a regular guest on major news and morning shows, discussing the latest updates on cars and car financing that will help drivers make smart decisions when buying, maintaining and financing cars. More about Lauren→

ACE Rent A Car has grown from a neighborhood car wash into a rental company with more than 350 locations worldwide. It focuses on top leisure destinations for vacation rentals.
Easy rewards program: With the ACE Rental Genius program, for every dollar spent, participants earn points. As the points add up, customers can earn a higher tier, letting them get eight percent off instantly. There are no black out dates for rewards program.
Points for prizes: In addition to instant discounts and higher tiers, customers can spend their accumulated rewards points on products like Xbox ONE and Samsung Galaxy Tab 4.
Valet service: ACE offers valet parking and fast shuttle service at airports to make travel easier and less stressful.
Reservation look-up: If travel plans change, customers can easily find and adjust a reservation with their confirmation number and email address.
Early booking: Many companies only take reservations six months in advance, but with ACE, travelers can reserve a vehicle up to a year in advance.
Car Selection: Most locations offer economy cars, compact sedans, full-sized cars and luxury cars. Some locations offer minivans, 12/15-passenger vans, SUV's, trucks or specialty vehicles.
Best for Those who plan ahead for vacations, business travelers, temporary workers and those who want a wide selection of vehicles.
ACE Rent A Car Company Profile
Company Name:

ACE Rent A Car

Year Founded:

1966

Address:

4529 West 96th Street

City:

Indianapolis

State/Province:

IN

Postal Code:

46241

Website:

http://www.acerentacar.com/