Consumer Complaints and Reviews

DO NOT BOOK WITH COMPANY. They are crooked! When you received your bill upon returning your car you will have so many extra charges added to the bill. My original booking was $106.00 and at the end it was $360.00. Getting through to customer service can take you hours because they hope you will give up.

Last month (September) I made a reservation by the website Expedia.com. br of a rental car at ACE RENT A CAR. The rental for 1 week with taxes and fee was US$ 105.56. By the time we arrived at the Ace Rent a Car Orlando, they started to charge other taxes and I informed that I do have a MasterCard Platinum Insurance, so I wouldn't need an insurance. They gave us a paper with a lot of abbreviated charges and I argued on time that we do not need an insurance and they said it was only state taxes charges.
But when we saw at our credit card invoice, they charged US$ 312.66. I really don't know what are all the other charges and already send an email for ACE RENT A CAR asking to detail the abbreviated charges but they never answered. So I looked at google and found out that one of the charges it's an insurance called MCO SLI, which I told and showed the credit card with insurance included. There is a charged called "MCO PASS24", that I did not authorize it.
It was really confused at the store when we arrived but they said the charges was only mandatory. No different charges. They LIED!!! Now I am trying with Expedia.com. br but they said they cannot help us. Because ACE RENT A CAR do not give any answer about this problem. And ACE RENT A CAR never answer me by email. And any person who answers the phone, keep saying that they cannot help us because it is not their responsible area. I feel very aggrieved. I will never recommend ACE RENT A CAR to anyone. Please pay attention in charges and question everything right away.

At LaGuardia Airport, a large airport, had 1 car for me when I got there. Had 110,000 miles, accident damage and windshield wipers that didn't work for $88 a day. A complete rip off. Should be called rent a wreck and for close to the same price as the competition. Ridiculous!

We were with friends who returned a rental care on June 22 to the Orlando location. I left my phone in the car. An employee called us within a few hours of returning the car to let us know that they found my business cell phone had fallen between the seats. Upon our return to Montana, I contacted the Orlando rental location to arrange to have my phone returned. I was told I needed to "send a pre-postage paid package" for your company to ship my phone back to me. Honestly, I was a bit shocked by this, assuming, this would be a small customer satisfaction gesture to simply ship my cell phone to me.
So, the following week, I went to my shipping company, they prepared a return pre-posted package (which cost me over $50!!). After almost 5 weeks, I contacted my shipper who, via package tracking, informed me the pre-paid return had indeed arrived at the Orlando location on July 6th and was signed by June **. However, at that time, 5 weeks later, my phone had not been returned. When I called the location, it took over 5 different phone calls to finally speak with "June **" (she was always "out" when I asked for her by name). I was told, "I will leave her a sticky note to call you" - that never happened!
Finally, when I was able to speak to June in person, she informed me she never received a prepaid package to return my phone. When I told her she was the person who signed, I was told, "my employees just sign my name when I'm not in". Really? What kind of in-office policy is that? Now, she was taking no responsibility because "they just sign my name when I'm not here" (which seems to be quite often given the multiple times I tried to contact her). As ridiculous as I found that, I asked that the company simply return my phone to me. At which time, she told me she had no idea which phone was mine. After describing it, she charged my phone and identified my husband's contact. We confirmed she was holding my phone and we had identified it as my phone. She then, asked me to resend another prepaid package. Really? We are talking that my phone has been sitting in Orlando for over 3 months, I live in Montana!
So, after another 3 weeks, I received a call from my shippers that my phone finally arrived. When I went to pick it up, they told me it was returned, not in the first package I sent for $50, not even in the second package that was resent - but in a makeshift box. Oh well, at least they returned my phone after nearly 4 months now. Oh! By the way, did I mention while my phone was in the possession of whoever was "securing my phone", I received several text messages from total strangers on the east coast (remember, I live in Montana) informing me they were receiving text messages from my business phone requesting credit card information regarding a Capital Credit card! That's fun to deal with as a business owner whose phone is at a rental car company in Orlando.
Ok, my shipping company called me today, that my phone finally arrived! Well, guess what - the ** show that you run at your Orlando location sent someone else's phone to me. $50 dollars shipping later, some very rude conversations with "June **" (a supervisor who allows other employees to sing her name?), text messages from people that my business is requesting credit card information... and now I have someone else's phone in my hands. What the hell? Seriously, I was so impressed with the immediate notification that someone found my phone in a car.
I will never rent a car from your company, I will inform everyone I know of how your company has no customer service and how your company allows supervisors to have others fraudulently sign their names, and then not take responsibility for that signature and lack of follow through. We will definitely inform our friends who frequently rent through your Orlando site to never rent from your company, again. You should seriously examine your policies because I am absolutely appalled at the treatment we received from your company. You should be ashamed!

Required me to take Supplemental Liability Insurance (SLI) or take the shuttle back to the airport and find another car company. First I reserved a mid-size. The agent offered me an AUV for additional cost. I refused. He then offered an SUV for NO ADDITIONAL charge. I said I still wanted just the mid-size... guess what, they did not have any mid-sizes available. Then the SLI requirement. If I showed them my auto insurance policy which has liability coverage they would not require SLI coverage, which is optional according to their policy.
Well at 10:30 pm (Orlando Airport) I would not have it and could not "call my agent" as he suggested. But he said if I could produce one later they would reduce the charge. Well I did call my agent and he emailed me my policy and I then called them and said I would email my policy... they said they do not accept emails and I would have to come in to present my policy. What a scam! I had to take the SLI under duress and I still have not gotten an answer after sending certified mail to them requesting a compromise. HORRIBLE company.
How do I know I can trust these reviews about ACE Rent A Car?
609,949 reviews on ConsumerAffairs are verified.
We require contact information to ensure our reviewers are real.
We use intelligent software that helps us maintain the integrity of reviews.
Our moderators read all reviews to verify quality and helpfulness.
For more information about reviews on ConsumerAffairs.com please visit our FAQ.

We had a really miserable experience with ACE rent a car and I would like to warn other travelers about it. I booked a car for 6 days with ACE rent a car at the JFK airport. Our flight got there at about 11:40 am and I called ACE around noon after picking up our baggage to send their shuttle. We waited for half an hour and then called again to check if they had sent it. They assured me someone was sent for a pickup. After waiting another half hour, I called again. This time they said the guy picked up other passengers, but did not see us. There was no way this could have happened. People at the waiting area told us a black or a white van from Hilton will come to pick up and we have been waiting for an hour or so.
Anyway, they sent a shuttle finally at about 1:30 and we reached the ACE desk at Hilton Garden at about 1:45 pm. The customer service person was attending to another customer and we were next in line. Amazingly, it took close to an hour for that person to process and we finally got to the counter at around 2:45 pm. We were planning to go to Montreal, Canada and mentioned it to them. The person said there is an additional charge of $100 to go to Canada. I wanted to speak to the manager to understand why that was the case. The person spoke (or pretended to speak) to someone on the phone and never gave us a chance to speak to anyone. We finally reached our destination (Poughkeepsie) around 5:15 pm more than 5 hours after landing in JFK!!
The unfortunate thing was we finally did not go to Montreal, but ended up getting charged for it. When I called them to say that we did not go to Canada, they said it is too late (understandable). However, I wanted to speak to the manager again and was told to call again later and it is in their policy to charge us. I asked to show me the policy and they would not oblige. Also, the car was in an average condition and said maintenance required. Thankfully there were no problems on the way, but you can bet that I would not go to them again.

I booked a car through Travelocity and was told the total for the time period would be 166 and some change. After returning the car and looking at my credit card statement, I see a charge for $300 greater than the bill. Called them up and they said it was a credit hold and that it would be posted within 5 business days. I called my credit card company and asked them when the hold would be released and they stated there was no hold on the card. I called Ace back and their policy is to charge the customer the "hold" amount plus the actual fee, then do a refund.
Now, I'm not sure what the interest rate on your credit cards happen to be, but even a 10% APR on an extra $300 in a billing period is stupid and unnecessary. If I had rented this car later in the month, my billing period would have rolled over and I would have been charged interest on something that shouldn't have been there. Shady business practice right there... If you're going to put a hold on a card, actually issue the hold, don't charge the consumer then refund it. You think they'd pay for the interest on that too? Unlikely. Next time I rent a car, it'll be from a company that doesn't try to upcharge.

Do not rent from Ace Rental located in Miami nor anywhere in that matter. The customer service was horrible. The car was junk. I had a flat with no spare and was responsible for the tow. When the flat happened I called Ace rental for help and they told me it was my responsibility and they could not help me and then hung up the telephone. Very rude. They need to be fined and inspected and closed down. Unsafe for renters and they do not own up to any of their mistakes. All they care about is the money.

We booked a pre-paid car rental from ACE thru CarRentals.com. The package includes Theft Protection and Collision Damage Waiver. ACE was only a broker, the car renter was Green Motion Car Rental (GMCR). When we picked up our car, GMCR refused the insurance and wanted to scam us another high premium insurance with £1,500 deductible and £40,000 liability for a £15,000 car. GMCR cancelled our reservation when we refused their insurance, and ACE's help phone did not work to sort out the mess. We have to dragged with heavy luggage to take public transpiration back to Heathrow Airport to rent another car hours later with exhausted bodies.
When we asked ACE for refund, ACE said the transaction was completed, and accused us had no insurance and refused to refund, while we did not get car from ACE's package and our rental package included theft protection and collision damage waiver insurance. We are still trying to get money back from ACE. Get clear from ACE, they will lie to keep your money.

Do not rent from this place we live in Kansas and booked online for the one in Miami when we got there they had a completely different price than what I had booked online for and charged me 134$ for their insurance which I did not initial next to that I wanted it. When disputing the charge they were not nice or sympathetic at all. Being so far from home we ended up having to just deal with it but it would have been cheaper to just take a taxi to our hotel in Ft Lauderdale. Total waste of money.

Today 9/2 is my first time renting with ACE and wasn't the best experience at all! First of all the employee offer me the option to pay the gas so I can return my car empty for a total of $30, that is for the 4 days rental. I ask if the gas tank will be full and he said no but the car right now has 3/4 of gas. So I said to myself that is decent. I put 10-15 dollar more to fill the tank and head to my destination. I inspect my car for any damages - everything good! But after I get out from the rental place I see that my fuel tank is only 1/4 of gas!!! Unbelievable!!! I had to stop in a gas station to fill up the tank and I spend the same $30 that I paid upfront to have my car full of gas! Second the car wasn't clean at all!! Was filthy inside and outside, and I even had to take trash out from it!
I definitely will not recommend this company at all! Since I felt that the employee lie to me and the condition of the car wasn't the best! The only thing that it was great was the price for the rental.

Beware of this company. Their rates for Orlando showed up in comparison sites as one of the cheapest, so we booked with them. However, on arrival, we were told that their "International Drivers" policy is a MANDATORY charge for CDW and SLI. We tried to cancel at this point, but were told that if we cancel they wouldn't refund our booking which has been pre-paid. They have an option to "pay now" or "pay later" which is more expensive - If you do opt for this company, make sure to choose pay later as it is a complete scam.
Their stated policy online for International Drivers is that they need to see Proof of Full Coverage, so what the person in the counter told us is incorrect. I am trying to get a refund. They have told me to call back again tomorrow as they have no management coverage on the weekend and to go back to their local office to provide the proof of insurance. To be doing this while on holiday is a disaster. DO NOT BOOK WITH THIS COMPANY.

We arrived late in the day and had rented a van in Tampa FL. They told us they were giving us one van and then no maybe this van. He couldn't decide which van he wanted to give us. Finally after he decided what van and we signed the papers and I added the toll package. They finally drove the van around, it was dirty inside and out and a lot of scratches. They handed me the paperwork, I told my husband to start documenting the scratches and finally he took the car in and said there was too many scratches to document and they said it didn't matter. We went to eat and then got on the road to drive to Siesta Key and the van starts shaking when we get to 50 MPH. By this time it's too late to turn around and ask for another car. So driving all over the Florida area was not very pleasant with a shaky car.
After a week, we took the car back and as soon as we drove in and started getting the bags out of the car, one of the workers came up and asked for the keys immediately and said he had to get the car ready for auction! We are hurrying to get our luggage out and stand in line to check out. When I got to the front the worker asked for the keys and I said the other guy took them to take the car to auction. He tried to accuse me of giving the keys to someone off the street. I said "No he worked for you." We proceeded to check out and had to wait a long time to get to the airport to make our flight. Almost missed it. A month later, I get a charge on my credit card. I call them, got the runaround. Finally talked to someone and they said I did not purchase the toll package so they charged a $50 surcharge for my $8.00 in tolls. VERY SHADY COMPANY. DO NOT USE THEM!

Prepaid for a compact/economy car. Went to pick up vehicle, didn't have any offered a car where the trunk doesn't open. Cancelled my reservation and refunded $61 LESS (was NEVER told I would be charged a fee by the agent in person and on the phone). Very poor business practice and horrible customer service.

All I have to say horrible customer service! I called for ACE Rent A Car in Montreal. First they don't have a number to call directly the store you going to rent from. They told me there are no cars available when online I made a reservation and I told the guy "thanks I will find another company", he hung up on me. HORRIBLE comments and reviews about this company and I now know why!

We reserved a midsize car with unlimited miles for $306.22 for a 10 day time period. When we went to pick the car up, we were told by the ACE employee that they would not give us a mid-size car for that price, only a compact. They then proceeded to tell us that since we are Florida residents, we were restricted to 150 miles a day and required to put down a $300 deposit, despite the fact that our reservation stated unlimited miles and that the price included all taxes and fees. None of these changes that ACE was forcing us to now accept were in the original reservation contract. We were stuck at that point since we had no back-up reservation, so we took the compact car with the mileage restriction and put up the deposit they required.
It wasn't until that evening that we realized the car they rented us had expired plates on it. We drove back to Ace and arrived right before closing requesting a different car that had legal plates on it. The attendant brought out another car which we inspected and noted that one tire was almost flat. The attendant went back and checked his records and said they had had a problem with that car because of a slow leak in the tire. They then brought out another car. By that time, it was dusk, they were closing and they hurried us through the paperwork and inspection. The car also had no gas in it so we had to go immediately to a gas station to fill it. Since Ace was closing, they told us that we could go get gas and then return it empty. [We returned it with a tank even though it was given to us empty.]
When we returned the car, we walked around with the attendant who originally found no scratches. Then as she walked back in the door looking back at the car, she walked back out and pointed to a scratch on the underside of the right wheel well area. My husband told her that we did not scratch it and explained that when the original inspection was done it was getting dark by that time and ACE was closing, and so since you have to back away from the car to even see it, it appears it was missed in the inspection that night. Looking down as you walk around the car, even she did not see it until she went away from the car and looked back. She agreed with my husband that it could not be seen while walking around the car and it could have easily been missed when the attendant conducted the inspection with my husband that night.
She then asked my husband to write a confirmation on the paperwork that stated he had not hit anything, which he did. She said that would take care of it and we would get our deposit back which she marked for reimbursement on our paperwork. She highlighted the deposit account on our paperwork and the paperwork even shows -$300 showing it was being returned. Then to add to the nightmare, they told us that their shuttle was broken and they could not return us to the airport. We had to catch a ride on the Enterprise shuttle to get to our plane.
A week later, we get a letter stating that ACE is filing a claim against us for $364 which included repair of the scratch and rental charges for the car for its non-use while being repaired. I requested a picture of the scratch and the photo they sent shows a large black area over the scratch. It was not the scratch originally found on the wheel well but was apparent that they altered the scratch. Since the scratch was not prominent originally and the ACE attendant agreed with us that the location was easily missed and telling us we were getting our deposit back, we did not take our own photos.
Despite explaining this to your insurance claim department, Ace said they are proceeding with the claim against us. The degree of deceit and unprofessional treatment through this whole procedure is overwhelming but appears to be their MO from reading the other reviews. Unfortunately, I did not read the reviews before renting. Never again!

I booked a car on line from Ct. for my son's vacation in Orlando. When he went to get the car they did accept the price given on line and was charged 550.00 for 10 days instead of 376.00 that was on line. Also he had to give 300.00 more for a deposit which it didn't say in their website. When I called to ask about this they were not cooperative and refused to change this ridiculous amount. Besides this the person said that they will charge 25.00 per day if he returned the car (around 275.00). They charged him also 120.00 for mileage and 72.00 for the sun pass. None of this was specified in their website. Please investigate this matter because I consider this to be fraud. I tried calling corporate offices but no one picked up. One worker's name starts with D. (a woman) and the other with A. (a man). I am very upset and disappointed. Never like this situation has happened before and I have rented cars many times in other places.

I reserved car online several weeks in advance. Return flight was @ 6AM. Needed to be at airport 2 hours before. They charged us 20.00 plus tax to return the car to a parking lot down the street due to the fact that they didn't open until 5AM!! Not informed of this until picking up the car. When I called to complain about the tax added to the 20.00 I was hung up on, then tried to get corporate number. Person took my information and asked me to hold. She hung up also. I was informed they just started staying open last week. Doesn't help us any, does it. The car was not cleaned and had several dents and scratches. I made sure to video it. I don't trust a company you cannot find someone in charge. Never again. BETTER USE WELL KNOWN COMPANIES...HERTZ, ENTERPRISE...ETC. It will be worth it in the long run.

I think the other 200 bad reviews summed it up. This place sucks and I'll never use them and I will ensure anyone I know going on vacation knows not to use them either. I hope they go out of business because did I mention they suck. I would give negative stars if I could because they suck that bad. Ace Car Rental... YOU SUCK!!

DON'T BE TEMPTED BY THE LOW PRICE! YOU WILL END UP PAYING A LOT MORE THAN THAT PRICE! I rented a car for 11 days in Jamaica starting from 12/7/16. Although they operate under the name ACE, the documents are on the name of the branch: DANJOR. The price seemed to be good. Immediately after leaving the company I found out that the key doesn't lock the car. As they don't have any sign showing the company name, and their address cannot be found on the GPS, I had to drive around for approximately 1 hour to find the place. When I told them, they said they know it. Of course, I was upset for the time I lost from my vacation and for they didn't mention it in my check-list.
When I returned the car they show me a small spot at the back bumper, that they said it wasn't there when I rented the car, and demanded for it US $150. The car was a piece of garbage, the body was rusted and full with dents and probably its total value in the US won't exceed $500. To ask $150 for a small dent it is a rip off. I offered to fix it by myself at a garage, but they told me that I am not allowed to do this and anyhow, it has to be "to their full satisfaction" that costs US $150. I argued and at the end they accepted to charge me for US $100. They are crooks, their attitude to do business is not honest, and if you still choose to be tempted by the seemingly low price: You have Been Warned!

We booked our rental car online with ACE for $222.72 to be picked up July 19th at 10:30 pm. Our flight landed at 10:00, we took the bus to the car rental place and called ACE to come and pick us up. 40 minutes and 4 phone calls later a van came for us. There were 4 other people waiting there also, calling!! They advertise they are a mile from the airport! I believe that must be as the crow flies because by the time we were at the ACE place it was 11:40 pm. We told them we did not think it was fair we get charged for a full day as in 20 minutes it was the next day. We rented the car until July 27th. "Sorry, no can do" is what we were told. We asked to speak to a manager "Sorry no one there but 2 workers!" We rented a Hyundai Sonata online and all they had was a Hyundai Santa Fe SUV for us. (Much more gas, larger than I am used to driving)! Sorry!
Car smelled like smoke and the tank was not filled but of course we did not realize the gas issue until we drive away and at 1:30 am after all the bs we were not going back. They did note the smoke issue. On the return date when I went to drop the car off the place crowded, 3 other people I spoke with and the people we rode the van with to the car rental center had nothing but complaints about ACE stating it was the worst experience they ever had!! The person who went out to check the SUV looked at the car and said, "Okay so you owe us $445.25!!" "What are you talking about???" My response!! That is what they were charging me and I said, "No way." She took me into her office but said I really should have read the contract before signing! I did and it said 222.45!
She then said, "Oh, I'll give you a voucher for $200! It may not appear on your credit card for awhile!" Fine, just give me my $ back you snakes!! We get in the van, with 5 other people, it is 96 degrees and someone says, "Is the air conditioning on?" The driver says, "Oh, it's not working!" We all just groaned and said, "NEVER AGAIN will we rent from ACE!" It is better to pay a little extra with Avis or Hertz and get quality service! TERRIBLE SERVICE! I look at my bill. They have someone else's email address on my account! Awful, awful place, location, customer service! A nightmare!

Just to add some balance to what seems to be a flood of negative reviews. We rented through Priceline.com on 7/16 for a one week rental. I had never heard of ACE but the deal was excellent ($175 for 7 days - full size car, unlimited miles). Picking up the car was a bit of a hassle as we were at their location for an hour with the same 4 customers in front of me in line the entire time. Not sure why they ALL took so long but it seemed a lot of these issues were coming up (charges for insurance - a credit card in someone else's name means they must be added as a driver etc).
When it finally was my turn I walked up to the counter and the rep walked away without a word for 10 minutes. He did finally return and my processing took only a few minutes: I declined the insurances, I declined an extra driver, declined the pre-paid toll package (BTW drove all over Orlando and to Tampa and back and never once encountered a toll road!). And the rep explained the $300 deposit would fall off once I returned the car. All good - even got an upgrade to an SUV at no cost (likely they ran out of full size cars). The rep was not pushy and very friendly. Handed me the keys and told me to go to #53 in the lot. I asked if they were going to come with me to inspect the vehicle. He said "we inspect all the vehicles before we rent them out". Hmmm... ok.
Anyway the car was great. Returned it on 7/23 and saw a giant mob out front waiting for the one shuttle that was operating at that hour (5:45am). Our flight was at 8:15 so we had time but didn't want to risk it so we cabbed it to the airport for $20.00. So really - other than the long wait... and being abandoned at the counter for 10 minutes. The rest of the experience was excellent. The $300 hit my bank this am. So we got a great car at a great price and just a little inconvenience. I WOULD rent from them again.

Please do not be tempted by the relatively cheap rates! These people are total scammers. The first time I thought it strange that they accused me of not having a full tank despite the fact that I had just filled it to full at the gas station across the street. They said they would charge me for a full tank because it wasn't full at their rate of 5 times the going price. Luckily I had extra time so I went back to the gas station, put like 5 cents in (all the tank would take). Then upon my return, they said they needed the receipt for the gas? What? Ok - went back and got it.
You think I would have been alerted and not used them again but the cheap price was again too hard to resist! This time I brought the car into the lot, full with the receipt in hand. The car was in perfect condition because I checked it at the station right across the street. I go in to check out, it was busy, the lot is small, I wait like 15 minutes or more online, check out and the attendant comes in and starts filling out an accident claim with no explanation... I questioned him and he said the car was damaged... WHAT?? I go out and there are two new surface scratches on the right passenger side back bumper.
Making a very long story short, their claim to my American Express was for $2200 worth of damage!! Of which AMEX paid my $500 deductible. Although I am out no money, this is total and complete fraud to American Express. Even though I reported the scam, Amex still paid it. Do not under any circumstances use this RENTAL AGENCY. I HEARD SO MANY PEOPLE COMPLAINING ABOUT THEM WHILE I WAS WAITING TO CHECK OUT.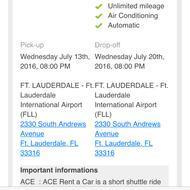 On July 13, I flew to Ft. Lauderdale from New York. The flight was 4 1/2 hrs delayed. When I showed up at Ace rental car office, the receptionist was telling me that they could not find my reservation at first. I showed him the confirmation via email from my phone, then the man was telling me they released my car because of my actual pick up time was beyond their "2-hr window" policy. So I told him first of all I had prepaid my rental fee in full with credit card when I made reservation. Secondly, I argued that there is no such "2-hr window" policy written on their website. The man who dealt with this matter kept saying, "I am sorry, my love, Ace is a private company"...
In the end, they gave me a smaller car than I had reserved (from full size to standard). When I mentioned the refund of price difference of rented car, he brushed me off with "only couple of dollars difference anyway". I took the car and left simply just because I prepaid rented car, in addition, in the midnight and middle of nowhere left me no options at all! It's the worse car rental experience, I will not use Ace rental car company at all!

I've rented so many cars from different agencies so far. ACE is THE WORST. I planned for my weekend in advance. My brother booked a hotel and prepaid the whole hotel (non-refundable). I booked and fully prepaid for a 7 passenger minivan but then when I wanted to pick up the car there was no car available (if you don't have the car, why do you request for money???). They DIDN'T EVEN BOTHER find me another one. They just simply said "I'm sorry. Check other agencies." That day, I couldn't find any other available car because it was in high demand. Me and my family had to stay at home while we had booked a hotel. They told me "The customer care will call you in 48 hrs" however no one called me so far. Such a shame for this unorganized company. There is no way that I will EVER even think of ACE again. IF YOU CAN'T MANAGE A BUSINESS SIMPLY DON'T START it in THE BEGINNING. I can only call this FRAUD.

I just got off the phone with ACE after finding out that I end up paying $100 more than I expected. They did not seem to care much about that. My experience is as follows:
I rented a car via Rentalcars.com, paid for insurance and my booking receipt stated that I was to pay $282 when I arrived at ACE to pick up the car. When I arrive I tell them that I wish to add an extra driver and nothing more. That amounts to $15 extra. Then I put my signature down thinking that I was signing the insurance. After I have delivered back the car, I get a receipt from ACE where 3 optional types of insurances have been added to my rental!!! I had no idea that I was buying them, I didn't want any of them having already paid for insurance, and I was definitely not explained that I was buying them. Together they added around $100 to my bill.
When I call ACE they ask me if I signed for the insurances and I realized that I'd been cheated right away. YES - of course I signed where they told me to sign! But they can't just make me sign for extra costs and options without even telling me anything!!! It would be the same as if your local grocery store just added groceries you never asked for to your bag, made you pay and sign the receipt. ACE rental cars are deliberately cheating people!!! They know few people read what they sign, let alone understand what all these types of insurances are!

This situation is solved after the full refund of the amounts paid, done by CarRentals and Allianz.
Original Review
I have done a reservation of a car by the rent-a-car CarRentals.com, an Expedia Inc Company. Going on vacations to Dominican Republic, have rent this car by the site, and also took a extra collision damage insurance by Allianz that is presented also by CarRentals. However when arriving to the office of the renting (ACE) in Santo Domingo Airport, and presented the voucher printed from CarRentals, I was astonishing with the events.
First they did not accept the coverage insurance for the collision done. They said that insurance have no legal support in that country. Further, that, if I want to take the car, I was needed to get a mandatory insurance for that period, in the extra amount of 566.00 USD, besides what I have paid by the renting in the site.
Without that extra cost that was mandatory and not an optional extra, I could not get the car. So I decided not to pay this extra because is not supposed, after to present a voucher from CarRentals to have to pay more that was accepted and within the contract. So left the rent a car without the car.
After that I have exchanged several emails claiming this situation and requesting the total refund paid previously to CarRentals, but by now with no success. I assumed when I agree to rent a car in this site, that I will not have to pay any other extra cost but this is not the situation. So this was not an optional, was not for fuel or an optional insurance. This was part of the renting cost, as said by the responsible in the ACE office was a mandatory insurance, and without that I could not get the car.
Besides the claim made, and as said, several exchanged emails this site and related support team are avoiding the subject. I have paid for something I was not able to use in the amount paid. As a client I should know before the payment and the contract, the total amount I will have to pay for a service and not to be forced to pay more, if I want to rent the car. So when reserving the car by CarRentals.com, I have really not paid the full amount, but really only an entrance and a previous payment. This is not legal. But by now I'm still waiting for the common sense from this company to refund me.
I have claimed also for the collision insurance made, something that have no legal support in that country according with the employer of the rent a car. So instead of getting the total support from the company CarRentals.com, I'm dealing alone with 2 companies, trying to get the refund of what I have paid worthless. Shame.

Well, I can say I will never rent from ACE ever again! This company is horrible!! My boyfriend and I arrived in Orlando, FL on 6/23/16. After we picked up our bags, we were directed out to the shuttle which was already full, so we were told it would be a 10-minute wait. No big deal until 10 minutes turned into 45 minutes! After we finally got on the next shuttle, it was about a 15-minute drive just to get to the rental property. We walk inside to see a short line of maybe 4 groups, with them having four employees already helping 4 other groups which we weren't too concerned about. However, we waited in line for an HOUR!! CRAZY!! Once we finally made it to the front desk, I handed the gentleman my confirmation email and driver's license. As he is checking out my information, I read this note on the desk stating, "If you are paying with a credit card, you have to put down a $200 and if you are paying with a debit card, it was a $300 deposit!" WHAT???
That was NEVER stated online. EVER! We were quoted $171.50 online, for 5 days. After I read that, I was fed up, so now our running total was $471.50... PLUS he never asked me for my car insurance, so that added on another $50.00! With all these add-ons, that maxed out my car, as I have a limit set. So I turned it over to my boyfriend. He handed him his card. The gentleman stated that if he is paying for the car, that he has to be a driver on the car! That was an additional $7.99 a day... After everything was said and done with taxes we ended up going from $171.50 to $571!!! I can say that I will never rent from this car company ever again. And I will make sure that my friends and family will never rent from them either!

We rented a van in December of 2015. We had an incident on the highway with some debris flew and hit the driver side sliding door. Took the vehicle back to the rental place and had to pay my deductible which was $500. If the damages was under my deductible they'll refund my money back. Today is 06/29/2016. It's been about 6 months. My insurance company and I have been trying to contact "Lisa", the person in charge. Everything we would called, she would make an excuse that the file is locked up or the office manager is out of the office. We have attempted several times but it would be the same excuse. Or when we get a hold of her she would say that the damages is just under my deductible. My insurance and I has requested paperwork stating the damages but she has not reply back.
This place is not a good place to rent any vehicle of any kind even if it's cheap.

We are Florida residents, but reside in another state since my husband is in the military. We still have a FL license, but with our current address in TN on it since the state of Florida allows military members & their families to maintain their home of record. Their (Ace) policy states LOCAL RESIDENTS are only allowed 150 miles per day. I booked this reservation thinking I was getting unlimited miles. Wanda was very rude, and said because we hold a FL drivers license it doesn't matter we live in TN. We are considered LOCAL. Then as she looked into our reservation she seen that I booked for a week. Then we were informed that we were only allotted 750 total miles for 7 days. I went from thinking we would have unlimited miles to 1,050 to 750. This experience just kept getting better & better.
Wanda also gave us a hard time regarding our full coverage insurance. She stated we needed to have a FL policy. We do hold a FL policy, and she wanted to argue with me that it's not possible since we reside in TN. I had to pull up my declarations page to show her. Makes sense right? According to the mileage policy I'm considered a local, but my insurance (according to miss know it all Wanda) it wasn't possible to hold a Florida policy while residing in another state. I will never use this company again, and I will make sure other people that are Florida residents that are affiliated with the military do not use this company.

Lauren FixAutomotive Contributing Editor
Lauren Fix is an automotive expert who earned the title of The Car Coach, and is recognized throughout all forms of media as a woman with in-depth knowledge on vehicles, technology, automotive finance, repair and trends. Founder of Automotive Aspects, Inc., her understanding of automobiles has made her the "go to" person on TV, radio, print and the internet. She writes a column for multiple outlets including Parade Magazine, NewsMax and Car Coach Reports. She is a regular guest on all the major news and morning shows discussing the latest updates on cars that will help drivers of all ages learn to about cars and make smart decisions. More about Lauren→

ACE Rent A Car has grown from a neighborhood car wash into a rental company with more than 350 locations worldwide. It focuses on top leisure destinations for vacation rentals.
Easy rewards program: With the ACE Rental Genius program, for every dollar spent, participants earn points. As the points add up, customers can earn a higher tier, letting them get eight percent off instantly. There are no black out dates for rewards program.
Points for prizes: In addition to instant discounts and higher tiers, customers can spend their accumulated rewards points on products like Xbox ONE and Samsung Galaxy Tab 4.
Valet service: ACE offers valet parking and fast shuttle service at airports to make travel easier and less stressful.
Reservation look-up: If travel plans change, customers can easily find and adjust a reservation with their confirmation number and email address.
Early booking: Many companies only take reservations six months in advance, but with ACE, travelers can reserve a vehicle up to a year in advance.
Car Selection: Most locations offer economy cars, compact sedans, full-sized cars and luxury cars. Some locations offer minivans, 12/15-passenger vans, SUV's, trucks or specialty vehicles.
Best for Those who plan ahead for vacations, business travelers, temporary workers and those who want a wide selection of vehicles.
ACE Rent A Car Company Profile
Company Name:

ACE Rent A Car

Year Founded:

1966

Address:

4529 West 96th Street

City:

Indianapolis

State/Province:

IN

Postal Code:

46241

Website:

http://www.acerentacar.com/