Consumer Reviews and Complaints

As an overall healthy family (thankfully) we have not had experience with the "American Mafia" of healthcare until recently. My son got a virus that he needed medication for. We had the Dr. call it in to our closest pharmacy which was Walgreens. We received a call from the pharmacist (who was very nice) saying that the price was going to be over $600 and Blue Cross Blue Shield was not going to cover it because of our deductible not being met. This was for a generic brand! The Dr. informed me that pharmacies charge different prices and to shop around. I had NO idea that you can clip coupons for medication and frankly, this seems wrong to me.
In researching, I found that Costco charges $35 for the same medication! That is a huge difference and one that has compelled me to write this review. I found **. If you are getting ready to fill a prescription, plug it into this site and it will pull up a list of places that carry it and at what price. I also had NO idea that Costco has a pharmacy!

I have been going to Walgreens for 3 years to get my **. I had been going every two weeks but asked my doctor if I could go once a month. It was too much twice a month. I had got my dates mixed up from the switch and had taken my prescription a few days too early a couple of times and Walgreens would only let me pick it up two days early. Well since hurricane Harvey some of my friends who were on them as well told me my Walgreens was out. I didn't have a car this month either and CVS is across the street. I was early again I guess but CVS gave me the ten and the clerk said if I filled the 10 it would cancel out the whole prescription. I know that is not true. Usually they give you what they have and you can come back when they get the order in.
So I went ahead and got the ten and decided to ask the pharmacist. The clerk told me to sit down and wait. The pharmacist was looking at it. I guess he called my doctor to get approval to fill the 50 on a new prescription. I don't know? So the clerk told me that I have a refill on the 50 and they didn't know when a truck would be there. So I call Walgreens where I normally go and they have them. I didn't give Walgreens my name and ask could I have a refill transferred there. They said, "Yes, what is the prescription number?" so I gave them CVS's. I assumed it was being taken care of. I called the next day to see if ready. Whoever answered looked my order up and said no it didn't get transferred because it was a new prescription.
So today is Monday all this other was on a Friday. I called CVS today is Monday to see when their truck would be in. They told me this evening around 5 pm and what is my name and DOB. I gave it. She paused for a min like she was reading something and told me, "Yes, the truck is coming in but you cannot pick up your prescription until tomorrow." What has happened is the two pharmacies has talked and Walgreens has told them probably that the reason I came to CVS is to get my prescription early which is not true. I did not have a car!!!! And CVS is across the street from my apts.
Bottom line is now CVS is telling me I cannot pick up my prescription and tomorrow will be 30 days. Why are they playing God. I am on ** so I want be a drug head but you get treated like one even if you're trying. They had no business discussing with each other when I picked my prescription up and should not set a deadline. I am so mad. I am waiting until midnight and I am going to get them. If they give me a hard time I am going to be pissed off. See they are really the only two pharmacy chain and really the Heb's and Walmarts do not carry the **.

The Walgreens Pharmacy staff are frazzled and overworked and make an astonishingly large number of mistakes. A recurrent problem that I have is I will order a refill of a particular prescription, and then when I go to get it they have a different prescription ready for me. They call it an internal error when this happens. It is a maddening situation, because I will have staff try to tell me that I ordered this other prescription when I did not. They will even change the records in the system to make it look like I ordered a different prescription than I did.
This is insane. The most recent time this happened I wound up having to go to the pharmacy on four occasions and I had to call my doctor's office when the pharmacy insisted that my doctor had not authorized a refill yet. According to the nurse at my doctor's office, Walgreens is notorious in their Healthcare System for pharmacy errors. She let me know that my prescription refill had been authorized by my doctor several days previous. When I went back into the pharmacy for the fourth time to explain this, finally instead of telling me that I had ordered a completely different prescription somebody told me that because I was on another medication that was somewhat similar that somebody had made the determination that I was no longer in need of the other medication which I take for a completely different reason, and had changed my refill to this other medication which I did not need a refill of.
This is absolutely insane. It makes me sick to think of elderly and or very sick people driving in inclement weather over and over and over to this stupid Walgreens Pharmacy because their employees are making changes like this. It should not be happening. The only reason I use Walgreens is because it is the only Pharmacy which is convenient to my home. However, Walgreens does not deserve my business or anybody else's. The other thing they did which is absolutely obnoxious is they started this Rewards program where you accumulate points for your purchases which can be redeemed for cash amount of merchandise.
Out of the blue, Walgreens decided that they didn't approve of people accumulating substantial amount of reward dollars, so without announcing it they zeroed out everybody's accounts so that people had to start over from scratch. There were many people, particularly elderly people, who had accumulated $50 plus worth of rewards that they were just saving up for a special day to go on a shopping spree. How dare Walgreens steal this money from these innocent people without even letting them know that this was about to happen. It is outrageous. Walgreens is all about greed, greed, and more greed. They don't care about people. All they care about is money, money, money. Shame Shame Shame on this disgusting business.

Purchased a prepaid Green Dot VISA from Walgreens 34 dollars was supposed to be loaded on card. Tried to register the card it said invalid can't talk to agent without the card info or personal info and I don't have that info because it's invalid and won't allow me to register the card. Walgreens won't refund and can't get contact with Green Dot. Spoke to a supervisor at Walgreens who said they have been having Green Dot card issues for the last three days. That's fraud. If they know it's issues going on and still selling Green Dot cards while being aware of card issues.

I feel very fortunate to have Walgreens as my pharmacy. There has been no turn over at my Walgreens Pharmacy which means for me, that both pharmacists and the techs know me and my prescriptions. When I drop off or pick up prescriptions I am greeted with a sincere smile. I always feel like a valued customer and that is rare these days. I also use their mobile app. It is easy to navigate and contains all the information you could need. I definitely made the right choice choosing Walgreens as my pharmacy.
How do I know I can trust these reviews about Walgreens Pharmacy?
883,201 reviews on ConsumerAffairs are verified.
We require contact information to ensure our reviewers are real.
We use intelligent software that helps us maintain the integrity of reviews.
Our moderators read all reviews to verify quality and helpfulness.
For more information about reviews on ConsumerAffairs.com please visit our FAQ.

If the staff was not so worried about socializing at this store you might not wait for hours and sometimes they do not answer questions just as directed.

I had used the Walgreens app like I usually do when requesting a refill on my medication and made the pickup time for Monday at 5:00 pm. This was done on a Sunday btw. I noticed I never received a text Monday after work to let me know that my prescription was ready to be picked up. This was odd because I had never had this happen before. I went by Walgreens to pickup my medication that I pay cash for and pick up what I can when I have the money to do so. I get to the window and tell them I'm there to pick up my prescription and after what seemed like 2 minutes the lady comes back and tells me that the pharmacist said I should have enough to last until tomorrow that he will fill it tomorrow. I told the lady that I'm not using insurance that I pay cash for my medication and I could pick my medication up whenever.
My doctor wrote me a one month prescription and I could have picked it all up the first day if I chose to but because it's so expensive I pick it up when I can and not that I should have to explain to them but I wouldn't be in town until the end of the week and I was leaving out tomorrow morning. Well that didn't matter to the pharmacist, his reply was for me to find a Walgreens wherever I was going and have it filled there. I spend at least $600 a month there at this particular Walgreens but after this I will never deal with them again. When someone is written a prescription, who gives the pharmacist the right to tell them when they can pick it up especially when it's part of an existing prescription and the person pays cash? I could have picked it all up the first day I dropped it off but evidently because I couldn't afford to shell out $400 bucks that day the pharmacist thinks he can dictate when I can pickup the rest. Won't be going back there!

There is no reward program at this new store. I've never gone inside because they have a drive thru so I can stay in my car - this is a bonus because I'm handicapped & this way I don't get wet or cold!

Service is prompt, courteous, professional and pharmacist informs me about my medications and contraindications. The store is always clean and I appreciate being able to get medications through drive-through as well.

Walgreens one of the worst pharmacy systems I have ever used! Took a refill prescription in with several refills in the early afternoon to the Walgreens at the corner of Cedar Springs and Oaklawn in Dallas TX. Was told it would be ready that night. Went back and it wasn't ready! Went the next am to get it and it hadn't even started to be filled! Was told it would be ready after 2 pm. Went back at 3 pm and one was ready. The other they hadn't even started! Went again to get it the next day as they clearly need more time.
Finally 4 attempts later was able to get my refills only to find out they screwed up the prescription on refills and now I have no refills when I should have 2 more. This isn't the first time Walgreens pharmacy has screwed up my refills and caused me to go back to the doctor to get another prescription to get my meds filled! Will definitely not be using this terrible pharmacy ever again! It isn't just here it was also Walgreens pharmacy in New York and Iowa! Gross incompetence is what Walgreens pharmacies bring to the table!

I really like the pharmacists at Walgreens. They all seem to be very knowledgeable, polite, & professional. I only had one pharmacists that I really don't think she is competent. I asked about a chemical in a vitamin & she did not know what it was.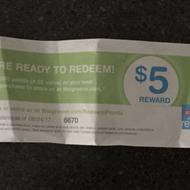 Walgreens rewards program is based on purchase and points received. Lately for the past six months at purchase the machine releases you are ready to redeem coupons with a $5 or $10 amount listed as of the date on the coupon. When trying to redeem that value - the store clerk reveals that it is not valid. This has happened now 3 times to myself so far and apparently others have complained as well for their situation. I brought it to the attention of their customer service hotline. She added the points last time and apologized. Ok. However, it has continued to happen and this is unacceptable customer care. Why can't they spend the extra money and get that coupon machine fixed already.
Furthermore it leads me to suspect what kind of billing practices or points practices is that company engaging in. On the face of things, it appears to be nothing more than a sham and a corrupt attempt to gain access to an individuals personal data for marketing purposes but with no real set and properly working rewards points system in place. Individuals rely on the distributed coupons and then are turned away at the store with nothing more than, being told: "oh those coupons were printed in error". That to me is a sham.

The best part about Walgreens is it is close-by. Wait times, particularly at the drive-up window are ridiculous. Some of the staff don't seem bright enough to come in out of the rain. But, they manage to dispense the required drugs so they're average overall. Certainly nothing exceptional about them.

Each store's pharmacy that you go to has different standards and ways that they handle their policies and procedures. They don't keep enough medication in stock cuz they are always out. They have long lines at the pharmacy and waiting times on the phone.

I made an online purchase because they do not carry the item in the stores, but the item I received was not the one I ordered. I called their customer service number, and after 45 minutes, was told that they would not send me the correct item until I returned the incorrect item. They said it was because the item I ordered cost over $75, but the item I received cost $33.99 online. I tried to explain that they sent me a cheaper, incorrect item and they had my money already. They still refused to send out a new item until they received the incorrect item. To make things even worse, they wanted me to return it to the store. Really? I ordered it online. Why should I go to the store? Finally she agreed to send me a return label, but no refund.
I have several prescriptions with Walgreens and I have trouble getting refills all the time. For example, my doctor will fax in a prescription and Walgreens claims they have received it. This often happens. I've only stayed with them because they are conveniently located, but I've had enough of their poor customer service. There are so many other places to shop and have prescriptions filled. I'm moving all my prescriptions elsewhere.

I like Walgreens. They are always open when I need something and the pharmacy staff is always very helpful and knowledgeable. They file my insurance claims for me and let me know if there are any delays, when refills are due, and when they are ready for pickup.

My appendix burst. I went to Walgreens to pick up my meds. It was 5 days early so my Dr. had approved an override so the insurance would pay. When I go to pick them up the pharmacist (JESSICA) tells me she doesn't care that I had surgery. Today was 5 days early and it don't matter if my Dr. had them pre approved today. I was paying for them and for generic ** 150 pills costs $114.00. I have had to pay before and the name brand was $110.00, generic $49.00. She replied today the price is 114.00!!! I also give my rewards card never to have it scanned! I know as a company you care about my cash but you should stop and think how many people your employee's let die every day because they don't take to that extra step. One last thought, greed and the love of money is the root of all evil!!! Every American deserves free health and dental care!

I was told to contact in 2 days to refill by pharmacist. I contact pharmacy 3rd day, and Babak ** (manager) says wait 2 more days. That is fine, but what he says after that was just accusatory tone of "Why do you need so soon, you should have some left!!!" I told him I am just doing what I was told, and why are you arguing with me? He then respond, "Because you are arguing!". I never did. I told him that he needs to learn how to talk to customer. He was still going off on me, I did not care to listen to him and hang up. 2321 N. Hawthorne location usually have nice people there but this one was something I never encounter with. This type of people make me want to change a pharmacy.

Through my insurance I was forced to switch to Walgreens. I enrolled in the automatic prescription delivery system wanting the convenience. My prescription was suppose to be delivered on Thurs., as they did not arrive I went online to check on its status on Fri. There was a message saying there was a problem with my credit card not on file. I check my account profile and found my card info to be on file and correct. I called the customer service number and after a lengthy hold the apologetic rep said she would correct the matter and overnight my meds at their expense, and the fastest they could arrive would be Mon. Monday arrives but not my prescriptions. So I call back and after another lengthy hold the service rep says I will have them Wed. I ask him to switch it to my regular pharmacy so I can have them picked up immediately. He said no problem, he said he was taking care of it and my pharmacy would call when ready.
I waited a couple of hours and thought I would call my pharmacy just to see if they were ready. They had no record of my order. The pharmacist said they would try and resolve the mistake and should call back in 30 min. after being on hold for 26 min. on this call. I agreed to call back. While waiting I called the customer service center again to find out why they didn't send my prescription over, and to make sure it got done this time as I have been out of them for 4 days. They said the order was sent to shipping and I should receive them in a few days. This company is "The Worst" in all aspects of customer service or satisfaction.

I have been refilling my prescriptions at Walgreens for several years and never had a complaint. Within the year, the service at the pharmacy has become so bad it is almost like a different store. The pharmacy manager is hostile, does not text using Walgreens app when your prescriptions are ready, denies prescriptions when there is no reason to and then just says she doesn't know why the prescription was denied. For example, she denied my DOG'S medicine when I pay for it. I called the Vet's office and they said they would never just deny a prescription. For some reason she is not telling the truth.
The tip of the iceberg was she made a snide comment about ** use by me in front of her techs and other customers. If there is something a pharmacist needs to discuss with me, I have no problem with that. I do have a problem being told in such a rude way. Walgreens is my preferred pharmacy through work, but I am switching. Nothing is worth the hassle and total unprofessional attitude this store has adopted.

Jason ** who is the pharmacist at 83rd Ave & Thomas Rd is a very rude, obnoxious, unprofessional, racist individual: with no integrity!! My daughter has suffered from severe migraines and my doctor called in a nausea medicine. He told me why did I need the nausea medicine, what was I doing with it. I hung up on him and called my doctor to withdraw the medicine from there. Jason called my doctor and assumed that I was doing something with a nausea medicine that is used for allergies. Jason was very unprofessional, he speaks before he thinks. He should be fired or transferred to a community where he does not have to judge people.

I went to the drive thru to fill a prescription written from my doctor. I've been going to the Walgreens in West Long Branch NJ for a while and it's always a pain in the neck, but tonight was the last time. I handed the person my prescription and license. She said all was good and just stop back or come inside. I asked her just to confirm that all was good before I parked and came inside. She said yes and she did spend some time working on it so I figured I'm ok to come in and get my prescription. It's 9:00 pm mind you so I'm not looking to hang around too long, but also I was being nice and patient.
I come inside and they page me in about 10 minutes- lo and behold they say they can't fill my prescription because I'm "too early". They contended they filled my previous 30 day supply 30 days ago, but didn't pick it up right away (because I was on vacation and actually had to lower my dose to make it home because Walgreens gave me a hard time the month before) and they go by the "pick Up date not the dispense date" so I would have to wait three days! LOL!!! This must be a new rule because my insurance company filled the prescription but Walgreens wouldn't dispense it. It's also the smug attitude and lack of respect for my time. They could have told me this at the drive thru instead of wasting my time and aggravating me.
I will never ever ever go there again and am happy to go to Shop Rite, Rite Aid or CVS and give them a try. I was a long time customer there and filled mine and my wife's prescriptions and my kids and I spend money like a drunken sailor as well, so definitely their loss. Who needs them anyway. Earth to Walgreens- not everybody is a drug addict trying to get over on you- some people are actually just trying to get the prescription filled so they can get home to their families. Jeez - It's like they had four people staring at me like I was some kind of crook! You're not detectives people. Stop changing the rules every week and just fill the damn prescription (if all is in order).

When I first started using Walgreens regularly about 2.5 years ago, we had no problems whatsoever. Phone calls were smooth, interactions were smooth, flawless communication between Walgreens and my family's doctors, etc. About 8 or so months ago, they hit the toilet. The website was revamped and therein started the issues. I have gotten the all clear or go ahead to transfer scripts or fill scripts over the phone, told they'd be ready that day. I went to pick up these items and of course, the actual pharmacy has no idea what I'm talking about, can't see this, can't do that. It is ridiculous.
On 8/1/17 my step daughter (14yrs) wanted to spend a week with her father and me. Great! We love having her. She does take meds and needed three scripts filled. Her mother said she was fine with us transferring to our local Walgreens, as they live over an hour away. So, I called the Walgreens store and at first, the operator said I needed to call the store directly. Ummm, I told her I did, and she said "okay, let me see on my computer" (yes, Walgreens, we know it's a call center nowhere near the actual store, you're not fooling anyone). So she finds the information she needs, she says "oh, okay it's just a simple transfer of meds, you can pick up all three in about an hour".
Okay, well I let her know I didn't need them until the following day but was giving plenty of time to arrange. She said the extra time was unnecessary, but thanked me. I asked if I needed to call back to confirm (been down this road before), she said "no, it is already taken care of". Great! Not so great when I arrived at the pharmacy the next day. The tech told me at first there were NO meds in her computer for my daughter. Then, said "Oh yeah I do see something, one med." I said, "No, there are three. She said no. I said to check again. She checked again. Then said "oh yeah, hahaha, the doctor just approved this evening. Hahaha". She was laughing and I was frustrated.
So then she says "oh we don't have any other information and it looks like this is a Wisconsin Walgreens". I said, "yes, so what?" She said "oh it has to be filled in Wisconsin". I said "so you're telling that the person on the phone lied when she said it was handled and I didn't need to call first and check on it because I know you all are fairly incompetent. You are also telling me that my daughter will go without medication and you all seem to be fine with that. And lastly you are telling me, my daughter can never leave the state of Wisconsin if she is anywhere near to needed her meds filled. Is this what you're all telling me?" The tech shrugged her shoulders and at that point, I said "no more" and left, disappointed with this pharmacy yet again, aggravated, and upset that they were messing with my daughter's health at this point.
I have begun the process of transferring my scripts to Walmart for myself (5 scripts monthly), my disabled mother (9 scripts monthly), my disabled father (4 scripts monthly), and my husband (3 scripts monthly). I will also no longer be able to entertain any shopping needs there for any reason. I do not abide by corporate abuse and actually paying to be abused. Kiss my rear end Walgreens. Never again, and now I have to tell everyone I know yet again, about the crap you give people who are already frustrated, have PTSD, anxiety issues that you insist on exacerbating, and are in generally poor health (hence why were are at your pharmacy, to begin with). Goodbye and good riddance.
My final question for this pharmacy last night was, and still is, why over the phone is everything just great, just super and taken care of. Then, when you get to the pharmacy, they don't know what the hell is going on. How much confidence do you believe your patrons have for a company who cannot manage to communicate accurately and effectively from phone to person? None, that is how much. I refuse to allow you to abuse our family any further with your crap communication policies.

Yesterday I found out I've been overcharged for several years. The medicine was increased from $25.49 to $86 in a month. I have Medicare ID. This year I paid out of pocket for schedule 3 until I met $205. The meds on sch. 3 have $45 copay after contribution is met. This month I had $20 left to pay until $205. So they charged me that plus $45 copay for a med that costs $25.49. Questioned pharmacist, he said, "Well that's the price" and wouldn't allow me to dispute. I said if he will pull up computer screen it will show actual price I've been paying. He said they don't have that in computer, I should've saved every printout. I had called UHC and they said Walgreens must've raised the price. Pharmacist dived current printout and said, "See that's the price." I said, "I know that's what you're charging this month and I want to know why it went from $25.49 to $86." He then went to give me back my Rx. I left without filling it.
So it was then filled through OptumRx for $28. Also the other schedule 2 meds were shown on printouts for literally at least $100 per Rx more than actual price per UHC. For years I've paid $45 copay for $25.49 med and UHC has been overcharged by thousands. UHC and OpumRx only pays a small fraction of what Walgreens tells me is real cost. Now I just read that they overcharged Medicare, Medicaid and insurance companies. If you have no insurance you pay full price of more than 300% actual cost. Walgreens also kept $45 copay and billed UHC. I've been paying for 5 years and only found out what they're doing yesterday. I want to know how to address this. They won't acknowledge that I found out the truth. Fort Wayne IN.

I ordered ** opt drop Monday - Friday still not in Stock. Asked if other Walgreens locally has it. Pharmacy said "how would we know?" Asked when med would arrive "how would I know THERE IS NO PHARMACIST IN STORE." A CALL THIS AM 7/29, PHARMACY HAD NO IDEA WHEN THE DRUG WHICH I'VE
refilled 4x with no delay would arrive. Obtained Rx copy went to CVS in stock filled $5.00 less same Rx plan.

I have been going to Walgreens for years and have accumulated many points that I wanted to use for something later. I was told a month ago that you were now going to expire the points. Not happy, but just had to live with it. Today I went to the store. I have 67,000 points and wanted to use them to pay a $40 checkout. But your new rules would not allow me to spend more than $5 or $10 of my balance. I entered my zip code 3 times correctly with the manager watching, and it would not accept it then on the 3rd try it wouldn't let me use ANY because we tried too many times. I am disgusted with Walgreen's program now, can't use points, can only use the amount YOU decide and frankly, this stuff gives the impression of a real cheesy operation. Maybe you just want us to have the feeling of getting something, not the actual reward. I have spent a lot of money in your store and loyalty should count for something, but apparently not.
Somebody needs to realize that your policy is penny-wise and pound foolish. You have created the impression of a greedy corporate office when such loyalty costs you a little money. So shopping loyalty is worth less to Walgreens. I am done. Let's see if you even respond to this with some ACTION, as your words mean nothing.

The only reason I ever go to Walgreens is because it is my insurance's preferred pharmacy. I have never seen anything like it. Each and every time I go there or call there, there is a problem. I waited at the drive thru for 40 minutes while the pharmacist argued with this irate women. She asked the lady to pull off to the side to allow the increasingly longer line to go thru the drive thru. She would not listen. Same thing happened just a few weeks ago while I was in the store. Why are they allowing these people to back up the whole line for such a long time.
I brought 2 scripts in on Monday, they needed to be taken simultaneously. They needed to order one of the medicines. Tomorrow is Friday and I still don't have it. I asked her why they didn't check to see if another Walgreens had it. Her response was that I never asked her to do that. Please, that's a bunch of crap. It was this same pharmacist that promised that she would call me back in 30 minutes so she has time to assess the situation. She never called back. This happened a few days in a row. I must have called there a half dozen times over this few day period. Each time I called I was put on hold for no less than 20 minutes. That's 2 hours of hold time. That's INSANE. The stories I have. The list just goes on and on. I am actually surprised that you are still in business. You guys are so caught up in this big business bureaucratic bull that you totally.

\We originally were with Walgreens due to convenience but could not get my medicines in stock or filled in a timely manner so we switched to CVS. Two years later our insurance under Obamacare no longer covered meds at CVS so back to Walgreens we went. If anything the service is WORSE than before the pharmacists and staff are never friendly, have only had my medicine in stock twice, have lied that my Dr. didn't call it in when I know for a fact they had and have flat out denied a prescription fill ONE DAY early due to us going out of town. I am done with these people. I guess I will try one of the local supermarkets, maybe they will at least have some personality, compassion or at least have my meds for me when they are needed.

Sometimes it's a bumpy road and when ordering medications you may not get the right medications or you may get the wrong amount or you may be running back and forth to the pharmacy, this creates a problem with the consumer. I shop at the Walgreens at Macon Road and Kirby Whitten Road 38134. This has happened to me a couple times but the manager Mr. ** over the pharmacy at this location really does care about customer service. He's very consumer-friendly. He always has a smile and he's more than willing always to correct the problems within the store when they arise right away before they get out of hand. The PR and customer relations this man serves to his consumer is an absolute Plus. If you go into this Walgreens ask for Mr. ** if you have any problems. Remember Walgreens at the corner of Macon Road and Kirby Whitten Road right below I-40 in the 38134 zip code.

Today I went to Walgreens to pick up 2 prescriptions. They told me that they only had 1 for me. Apparently they are out of stock on the other. Last month they had given me a partial supply because they were out of stock. No phone call when I ordered the refill... Just waited until I showed up and then told me that I could go to Hy-Vee or Cub to get it. They will not have the drug until September. This is a VERY common High Blood Pressure medication. They have been out of stock for month and expect 2 more months. They can't even bother to notify me or my doctor about the issue. At least 5 times I have sat in the drive thru for 20 minutes. The Pharmacy lacks management and I am done with them. I have moved my prescriptions to Hy-Vee.

ConsumerAffairs Research Team
The ConsumerAffairs Research Team believes everyone deserves to make smart decisions. We aim to provide readers with the most up-to-date information available about today's consumer products and services.
Walgreens Pharmacy is a widely-known provider of pharmaceutical services across North America. Walgreens' online pharmacy is a quick, convenient way to get prescriptions refilled. Prescriptions can be delivered to a specific store and managed from anywhere with an Internet connection. Consumers can set up an account and manage their health from an online dashboard.
Prescription refills: Consumers can refill prescriptions online using their online account or by checking out as a guest. Guest checkouts allow for multiple prescriptions to be refilled at once with a prescription number and an email address. Consumers can also refill prescriptions via email and text message.
Medicare Part D: Consumers using Medicare Part D can check online for a full list of providers that use the Part D savings plans. Walgreens offers zero dollar copays on tier one, generic prescriptions on selected plans. Medicare Part D members also receive drug plan options such as personalized drug plan advice.
Medicare Part B: Medicare Part B is a Medicare plan that caters to diabetes customers and does not come with a prescription plan. Walgreens offers zero dollar out-of-pocket costs, 90-day prescriptions refills, 24/7 access to a pharmacist and same day availability for Medicare Part B customers.
Specialty pharmacy: Customers who require specialty medication for long-term treatment plans can enroll with Walgreens' specialty pharmacy. This accredited division of Walgreens Pharmacy will ensure drugs are delivered with care based on their storage requirements. The specialty pharmacy can manage customers' prescription refill schedules, help find financial assistance and explore customers' benefit options.
Mobile app: Consumers can manage their health from Walgreens' mobile app. They can set pill reminders, keep track of prescriptions, schedule refills and earn rewards points from their mobile device.
Accreditation: Walgreens specialty pharmacy is accredited by the URAC and the ACHC.
Best for people with Medicare and special medication requirements.
Compare Online Pharmacies
Walgreens Pharmacy Company Profile
Company Name:

Walgreens Pharmacy

Formerly Named:

Walgreens

Website:

http://www.walgreens.com/