Consumer Complaints and Reviews

BEWARE of Zales' deceptive practice of "deferred interest!" I just found out I got blasted with over $900 worth of finance charges!! After paying down our card to $2500, NEVER late on a payment, I get the shock to see my payoff is now nearly what I owed a year ago. ABSOLUTELY absurd!!! YES, I was aware of the no interest for the first year, but I was told I would begin paying the interest after that time. NOT that they would add all the interest from the first year!! And now I have to pay interest on the interest!! How do they get away with this!!! I want everyone who is considering dealing with ZALES to know about this SCAM. I think I am more upset because there is nothing I can do about it now, but I promise I will not let anyone I know fall for this!!

My husband purchase a wedding set for our 25th wedding anniversary. We spent almost $2500 and we also purchase the lifetime warranty. After 3 years something went wrong with my band and I went to Zales to get it repair under the warranty. They told me that I would have to bring it in every 6 months to have it cleaned and checked in order to guarantee the warranty. I went there at least twice to get it cleaned but they never document it. I hardly wear this set as I wear my original set everyday. They told me it would cost me $700 to $900 to get it fixed. I will never buy anything from Zales. Never ever in my life. They are a scam and a rip off for selling you a warranty that they know they are not going to honor when something goes wrong.

BEWARE OF UPSALE! I went to Zales outlet store located in Rosenberg around July the 1st. I left my wedding bands (you can understand their importance to me) in the store for regular cleaning and filling estimate, and got a phone call the same week with the prices. I approved only ONE of the rings for an enhancement they stated to be $200. After 2 ½ months of no updates and unclear statuses, I finally reached the manager on September the 12th who confirmed the ring's readiness.
I went to the store the next day only to find out that instead of $200, the new price for the job was $260. On top of that, the second ring which I DID NOT approve for a filling had the service done. The final price was said to be $700, $500 above what I had approved. The store refused to return me my wedding bands even though the mistake is purely theirs. I claimed BBB complaint as well.

Me and my boyfriend bought 3 rings at Zales, two for me (one diamond ring and one wedding band), another band for my boyfriend. It cost us about $1500. We bought them in store and the store manager helped us. She was nice at that time and seems professional. Then after we selected the rings, she let us know there is a protection plan, which including sizing, cleaning, replacing, polishing, and the most important thing is she told me it includes stolen! I asked her how about loss, she told me it only cover stolen, not loss. She only told us this protection plan, and did not mention there are two different ones.
When check out, she sold us the protection plan which did not cover stolen! We were not aware of it, we were told there was only one protection plan! This is a trap! Also, she asked when did we need the rings, I said as soon as possible, she put it as rush and did not let us know it charges rush fee, which is $39 per ring, and it was about $120 for no reason?? I was angry when I went back to pick it up.
After that, my boyfriend and I went travel, and our car got broken into. Our rings got stolen, that was how we found out how cheap Zales is! When we entered the store, we brought our protection plan to the staff, and she told us this protection plan does not cover theft! What? I was not aware there were different protection plans and the store manager told me it covers stolen... Then I talked to the store manager, the one who sold the rings to us, she was not helpful at all and she denied! She insisted to say she told us there were two different protection plans and we chose the cheaper one which did not cover stolen. What? She made this up to cover herself!! We were not aware of it and this is definitely a trap!!! Then she told us we cannot get anything back. This does not make any sense to me. This store fool people and try to take money from people as much as they can and leave you alone. DO NOT BUY ANYTHING FROM ZALES.

I purchased a bridal ring set for my fiance and wedding band for myself on 8/2/2016 from the Zales Greenbrier Mall location in Chesapeake, VA. They were sent off the orders only to resize. My wedding band arrived in a timely manner but the bridal set took longer and was soldered together sloppily. I let the store staff know that we did not want the bridal set soldered and would like it separated. They acknowledge the error and assured us the set would be unsoldered in about 2 weeks and it would not compromise the quality of the ring. They then called me on 9/2/2016 to pick up both rings but the set was still soldered sloppily. I was so displeased not only with the ring, but the lack of customer service from the associates that I returned both rings and will be closing the account I opened solely for this purchase.
My fiance called the corporate office and was advised the district manager will to contact me in reference to the matter and was also informed every Zales does not use the same repair shop so I may consider shopping at another Zales, depending on how I can be compensated for this grievous mistake. Because of this we have had to cancel an engagement announcement party and delay sharing the news with our family, my fiance's grandfather passed away amidst waiting for this repair.
How do I know I can trust these reviews about Zales?
612,345 reviews on ConsumerAffairs are verified.
We require contact information to ensure our reviewers are real.
We use intelligent software that helps us maintain the integrity of reviews.
Our moderators read all reviews to verify quality and helpfulness.
For more information about reviews on ConsumerAffairs.com please visit our FAQ.

Zales took over its sister store Gordons. My husband and I had bought and paid for 3 rings to which we got a cleaning twice a year. They guaranteed the diamonds and would replace them if they fell out. We had a loose diamond in one so they sent it out to be fixed free of charge. Now Zales will clean your ring and not replace the diamond. They want you to pay to have it fixed so they never have to replace the diamond. This store is so crooked and don't know what good customer service is. I will never buy from them nor will my family and friends after this.

Do not buy at Zales!!! They lie. Bought a ring and was told I could trade up at any time as long as I spent more than the ring purchase. Went to do that today and was told I had to spend AT LEAST DOUBLE! Deception and lies! Our family spends thousands and thousands here. And this is how we get treated. They nor their sister stores, Gordon Jewelers, will get one more dollar from us the rest of our lives. And my friends and family will know too. Facebook will know. I may even pay to share this hurtful experience.

Over several months starting in Jan, 2016, I attempted to pay off a $ 1,200.00 balance on a purchase. After sending Zales $200 payments 8 times they returned 5 of them and charged me a late fee for late payment. The $200 payments were well over the required minimum payments and the balance would have been paid off in 4 months. But because of their unbelievable incompetence I still have a $600 balance which I attempted to pay off online but was unsuccessful. They don't take credit cards online!!! Stupid just doesn't cut it!! Imbeciles!!! Stay away from these morons!

My husband purchased this ring for me as a birthday present. I was thrilled when I opened it. The ring was beautiful. Unfortunately it was 1/2 a size too big. I took the ring to the store to be sized. 3 weeks later it was ready to pick up. When I got the ring it was evident with the naked eye that diamonds were missing. I asked for a magnifying glass and she tried "not" giving me one. She said there's no diamonds missing. There weren't any there to begin with or maybe it was because the ring was so dirty when you brought it in (brand new, never worn) that it just looks different because they cleaned it. Very rude people.
After much hesitation on her part she handed me the magnifier. As I looked I could clearly see where diamonds were missing, prongs still there but no diamonds. After that I asked her to test the diamonds and she told me they were too small. I've had smaller tested. I felt like I was being treated unfairly after my husband spent $800 on this ring. I returned the ring that day. I will NEVER purchase from Zales again and do not recommend to ANYONE. Columbus, Ga.

About a year ago, I turned my engagement ring to get re-coated (white gold). When I went to pick it up, they pulled out a bag with my name on it and tried to give me someone else's ring. Trenita laughed and said, "You should've kept it 'cause hers was a 2 carat ring." I didn't find that funny or professional. Once it was located, I had Joan (who apparently is the Mgr.) read the serial numbers to me to ensure it was my ring and stone (which when I mentioned to her a year ago, acted like it never happened and she had no clue what I was talking about). 6-9 months ago, I was in the store for my inspection and mentioned resizing my rings to Joan since I'd lost a lot of weight. She talked me out of it, even though I'd told her my rings sometimes fall right off. I later went to another jeweler who confirmed my fingers had gone down almost 2 sizes and that I should have them resized.
I went back to Zales and requested my rings be resized. Trenita looked at the rings under a loupe, used a light to test the diamonds and ensured all stones were present, flawless and the rings were both in perfect condition. She put both rings in a bag together, with my information. When I went to pick them up, Rick handed my engagement ring and said, "There you go." I said, "Where is my wedding ring?" He saw clearly on the bag it said 2 RINGS. He went through the inventory and couldn't find it, then found it randomly in a drawer by itself. He handed it to me and again was like "There you go." I looked at the ring and there was a stone missing right in the middle of the band. This was the beginning of a 3-month nightmare.
The ring was sent back twice to the original jeweler who scratched some of the stones (which Trenita later tried to blame on me after her boss Joan started harassing the staff, even when I have pictures to the contrary), added glue (this ring never needed glue as it was channel set so this guy was throwing stuff together, hoping it'd stick) and left gaps between the stones and the metal. I started calling corporate and District Manager Kim didn't call me like she was supposed to, never called for follow up when she said she would and wouldn't call me the 4 times I left messages about how pissed off I was with their service, attitudes and that they kept ruining my ring more. Only when I left a message threatening to call her boss did I finally call back.
After the first jerk kept ruining my ring, they sent it to their "very best jeweler in their entire network." He messed with it several times and again, made the ring worse than the first guy. By the time all was said and done, there was almost $200 worth of damage to a ring I originally paid $600 to have custom made by different company. The stones had to be replaced due to the other jewelers either damaging what was there or putting lesser quality/non-matching stones in it when they screwed up the original stones (which were perfect prior to them).
I sent Zales documents showing how much it would cost to get the ring fixed by a professional jeweler (not ZALES) and they said they'd mail a check. I had to keep calling to remind them to mail it and it finally came... without the $100 gift card District Mgr Kim had promised to send for all the hell I had to deal with. Oh yeah and her boss, VP/Director Sean never called me as Corporate said he would either. The staff was completely unprofessional, did not accept responsibility, lied constantly, never called when they said they would and then had attitudes when I asked for updates and answers.
I was nice and pleasant throughout the ordeal even though most of them deserved a punch in the face. Go on the Better Business Bureau site and you'll see thousands of complaints for Zales Corp, Kay's, Jared... all part of Signet Jewelers (tons of articles about them stealing stones are on the web too). STAY AWAY from their low-quality products and "services."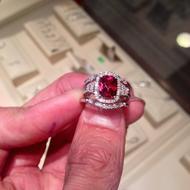 I went on 5/4/2016 to Zales at Citadel Mall to find a wedding band that would possibly match my engagement ring. After about 15 min the sales clerk showed me a ring that was brought back to them which I fell in love with. I was told that I might have to pick it up in GA since I was getting married there and there was no guarantee the ring would be done before we would leave. We looked a branch up. Afterwards the information was put in to have my wedding band fixed so my engagement ring would sit in the middle of it. The date came back as 5/25/16 to pick up the ring at the store. When I got there on said date the ring was not in the store. The clerk called the jeweler and asked what was going on and was told they had a problem and tried to contact Zales which was not on recorded in their system. We discussed options and came up with them fixing the rings and overnight them to a store in GA. That never took place.
We contacted them Friday on the way there and again Saturday since nobody called us only to find out the rings were shipped to the store at Citadel Mall, Charleston, SC. I then was promised it would be shipped overnight to the nearest store which was a little over an hour away one way. We called the store in GA and were told the ring wasn't going to get there until Tuesday the following week. My husband called corporate also on Saturday and was told they would see what they could do. He demanded to have somebody call him back Tuesday. Guess what? We're still waiting for the call. It's Tuesday evening. My husband did get a call from the store in GA telling him they mailed the ring back to the Citadel store - no overnight.
I'm not sure when I will get the rings but if they're messed up I will raise hell in front of everybody in the mall. I will also contact the BBB, the newspaper and post on facebook and everywhere else not to buy at Zales. My wedding day came and is gone. The rings would have meant the world to me. Zales ruined it. :-( Added a pic on how the ring looks like. Unfortunately it's not on my finger. :-(

I was gifted with a rose gold ring December 2015. The rose color lasted maybe a month. It is now May 2016. Rose color 100% GONE and now the gold is fading to silver. Definitely rethink buying ANY rose gold jewelry fr Zales.

I drove 45 minutes to the Zales location last Wednesday. Went inside - seen the ring I want to buy and was highly NOT impressed by it. So, I looked around and see another beautiful ring that I just fell in love with. I decided to buy it but not have it sized with Zales due to all the complaints I read online about their sizing issues. The sales clerk in the Durham, NC location decided to NOT inform me about the fact that the ring was so large and my size 4.75 finger would be an issues. After nearly a 5 day ordeal and 3 different jewelers later, I find out this ring CANNOT BE SIZED any smaller. RUINED my ENGAGEMENT! Humiliated me in front of all my friends and family. I was going to return the ring at a closer location by Sunday. So, I did and I wanted to reorder the ring in a smaller size and see if I could get it cut down that way. NOPE!!! The ring only went to a certain size 6 and it will was too BIG to be cut down.
The male associate at the Cary, NC location was rude and I was a bother to him. I called customer service later that evening who then confirmed that NO this ring is what it is and cannot be resized due to the vintage detailing in it. I was really let down and majorly disappointed. I decided to call the DURHAM, NC location to speak to the associate that originally sold me a ring in the first place. Brandi answered the phone. She is also the sales associate. Began to argue that the ring CAN be sized and was "Sorry they upset me" meaning the other jewelers when they told me I couldn't get it sized. The sales clerks need training. They also need to take responsibility for their wrongdoing. I shouldn't have been sold a ring that couldn't be sized down to a 4.75 to begin with. Unhappy customer. NEVER returning to ZALES again!

Wow. I don't even know where to start. My husband and myself went to Zales to get my wedding ring. Found this one that I fell in Love with. 1st we had to get it sized which took 1 month b/c the 1st jeweler he couldn't fix this particular ring that we had found. So after I got it back about 8 months later we had to take it back b/c the bridge had broke under it. So they told me that I would have the ring back in about 2-3 weeks. So I went to pick up the ring on the date it was due back. No ring. The sales rep called and the jeweler said that he had to send out to China for some more stones b/c the colored stones that were in my ring had turned another color. So I told her to have him send it back ASAP b/c I was not going to wait any longer then.
So when I received my ring back half of the chocolate stones were white the other half was the original color. So I then told them to give me my money back. Now the ring was so messed up that the assistant manager had a ** up look on her face. So they wanted to make it right so they said "well how about we just do an equal exchange for something else". So we agreed to that so I found another. So we sent that one in to get sized. They emailed me the date that the ring was going to be in.
I called on that day and they told me that it was not back so I called my husband and he called just all of a sudden the ring was there 5 min after I had spoken with them. Went and picked up the ring and to my surprise the damn thing was messed up in the back. It was now an oval shape instead of the ring shape it should have been. The sales rep then said "well we can send it back to the jeweler and have him reshape it". I told him I didn't think so. They had already messed up 2 wedding rings that I had. I called the corporate office and I spoke with the store manager Jason over at Stone Briar Mall. He was so sorry that all of this happened and so I was promised all of these things and have yet to receive them. So whatever you do RUN FROM ZALES.

This was my first time shopping at Zales, it is also my last! Bought a gift for my wife for Mother's Day, GUARANTEED to arrive by Mother's Day, and I'm still waiting for the gift. The website stated that, (copied directly from their site) "Special Order Item: Order by Thursday, May 5th for guaranteed Mother's Day delivery. Normal processing for this item is 5-7 Business Days before it ships and it will ship via your chosen ship method after the processing time is complete. Signature required for orders over $100."
I placed my order on the morning of May 4th! I even did a live chat with "Tony" to confirm that this gift will definitely arrive before Mother's Day, and was told "Absolutely". Needless to say, my son didn't have a gift for his mother on Mother's Day and felt pretty bad about it. So much for their guarantee. Of course, all my emails come back undeliverable and I don't have time to wait on hold again. Like I said, this is the last time I deal with Zales. Either online or brick and mortar. If they can't get a simple gift purchase correct, I surely will not trust them with my future more expensive purchases.

On April 23rd, my fiance bought a ring. Gave it to me on the 24th of April. We immediately went to the store to get it sized as well as have two diamonds replaced as they had fallen out. We placed a rush on it (had to $35 at time of pickup) April 4th to have it ready by 05/05/2016 the latest. Today, 05/05/2016, I logged on to make sure the ring had shipped and there was a pending approval for $47.99 for engraving (this was free as it was previously paid for by my fiance when he purchased the ring).
I called the store, they told me to just approve it and now the ring won't be ready until May 26th. When I called the store, the gentleman that answered the phone had nothing to say other than there's nothing he could do, to call at 1 pm when my sales rep came in. This is frustrating. The first bill has come in, due the 15th and we have no ring. We needed the ring for this weekend as it was previously specified when we called and now we have to wait yet another 3 weeks for a ring.

I cannot even begin to tell you how TERRIBLE Zales is as a company!!! I have purchased 5 different pieces of jewelry from them and 2 of those items had to be totally replaced, one burned up in house fire, one was just a man's wedding band with no stones, and the other one just happens to have stones that have not fell out yet (We haven't had it long though). This company sells warranties for many pieces of jewelry that they know are un-repairable. That means if you are buying a warranty on a piece of jewelry that you really like, chances are that if a stone falls out, they will hold on to your jewelry as if they are going to fix it but then call you to let you know that the jewelry cannot be fixed but they can give you a one time replacement. This now means that if you want a warranty on the new piece of jewelry you have to buy another warranty!! Zales truly does not care about their customers.
Before writing this review, I called Zales guest services 6 times after being lied to from the manager and district manager. I don't have time to write my whole experience right now, but know that I gave Zales many, many opportunities to fix the problem that I have. Please feel free to message me for the details though or wait for me to finish my review when I have more time. Bottom line is that Zales is a lying company that sells terrible warranties and junk jewelry. I will be writing to local papers, online sites, and even my local news stations with a full review of my experiences with Zales, especially the one I am currently going through. Zales fooled me once but they aren't ever going to fool me again and I am going to let as many people know as I can!

Zales is a horrible company to deal with. My fiance purchased my ring in Oct 2015 at the Smithfield, NC location. When I got the ring, it was too big. We went back to have it sized. When he purchased the ring, he was told that he could bring it back to have it sized at no charge. When we got there, the grumpy old man told us "No, you have to buy this protection plan for $130." We purchased it and was told it would be back in 2 weeks. It came back 3 weeks later. A month after having it, a diamond fell out. Again, we returned to Zales and was told that it couldn't be repaired because we didn't have a diamond bond. We never got a diamond bond. So grumpy old man puts in a request for a diamond bond. He says when you get the diamond bond IN 2 WEEKS, bring it back and we will fix it, which will take 4 weeks.
2 weeks later, we get the diamond bond. We go back to get it repaired. Another employee, a lady helps us. We tell her the hassle over the last 3 months with this ring and company. She tells us that we didn't need to purchase the protection plan because it was within the 30 days. Too late now. Then she tells us that she will send it off and will be 4 weeks. This was on 2/20/16. We later look at the receipt, the estimated return date is 3/26/16, which is 5 weeks. We have called the store, 800 number, and have emailed Zales with no answer as to where my ring is. It is now almost 7 weeks later. DO NOT SHOP AT ZALES. They only want your money and don't care about their customers.

When I purchased a necklace for my granddaughter I was told if I purchased the lifetime warranty protection plan that I could exchange the chain at no cost to a larger size when she outgrew it. 5 years later I brought the chain to Zales and was told the protection plan did not cover the cost of a longer chain. Unbelievable. Done with Zales.

When purchasing a ring from Zales it takes the company four to six weeks to return your ring for the inspection. They tell you when you purchase the ring that they need to inspect it every months, but fails to tell you it takes 3 months to get your ring back. So for half the time you have your ring and the other half they have your ring. So in short if you do not let them inspect your ring it voids the warranty but the store has your ring just as much as you do. This is already experienced in the Wilkes Barre Pennsylvania store which they fail to tell you upon purchase.
They keep on telling you that there's a new vendor then expect their ring which is a downright lie and they deceive you upon your purchase. This is no way for a large company to do business but after awhile the customer decides that bring the ring in is not worth the trouble or aggravation that the story continues dealing with their customers. I highly recommend you not uses store since they do not stand by the promise upon purchase.

On 07/26/2015 I went to Zales Jewelry store in NorthPark Mall in Dallas to buy a Diamond ring for my girlfriend of the original price $8339.00 (with a big Sale and discount for that day). Trans/Reg# ** (Invoice under my girlfriend name) I paid from my pocket. 1CT Celebration 102 face cut Diamond, SN# CEL712736, *Weight: 1.03CT, *Color: E, *Clarity: SI-1. I took to the different Jewelry store in town to check the diamond and found out the diamond is not the right quality as it show on the certificate. Weight and Color is correct, but the Clarity is wrong, it had 2 big trash in the diamond, it's worth less in the value ($3000 or Less).
We went back to the store and request for a return and the salesman did not even look it because he know the condition of that diamond sold to us. He beg us not to return, He will exchange for us another ones the same quality as the ones that I bought within 2 weeks. He call us after 2 weeks to come pick up the exchange. When we pick it up the exchange we ask for the diamond certificate from the company make. He told us the diamond come in but the certificate not come in after a week or 2.
He give us the appraisal certificate from another local company HML Diamond Connection LLC. (Fraud Appraisal company) On the certificate of the Appraisal company HML Diamond Connection LLC (Fraud Appraisal company), the certificate listed diamond *Weight: 1.0CT *Color: F *Clarity: SI-1 (Weight/Color is different) (Weight/Color/Clarity is the value of the diamond in price). I ask the salesman why? He said for right now just take this and later if he had better he will change. I ask him that is not the right service and I still asking him for a original certificate.
2 weeks after I came back to the store the salesman not working there anymore. I request to the Store manager, name: Chris. He said he does not know why they replace like that. He told me he's going to looking for the same replace for me, during time he will order the original certificate of the replacement that they had replace for me.
I called the Zales Corporation to complain about the problem. They told me whatever quality I buy I should be replace with the same, they giving me case number # **. They told me they will contact the store manager to contact and fix the problem for me ASAP within 48hs. I never receive any call from Zales Corporation or store manager for 2 weeks. I call back in Zales Corporation, this time they make the store manager Chris call me back. The problem is not fix, certificate not there, they just tell me they will look for another diamond for me and order the certificate. Every months I check with them, but the problem still the same. The problem is not fix, certificate not there.
6 months past by I call the store manager Chris asking him I will do some things if he do not respond my problem, and after a week he call me, come in to take the original certificate (he said it just come in). Does it weird that the Diamond out of the factory to the market and sell to buyer without certificate after 6 months... (They are hiding something, my thinking).
5 months ago the local company HML Diamond Connection LLC do the Appraisal for Zales on that diamond that they had replace for us on the appraisal certificate show: 1CT Celebration 102 face cut, Diamond SN# CEL69119, * Weight: 1.00CT, *Color: F, *Clarity: SI-1. 6 months after The Celebration Diamond Collection certificate show: 0.97CT Celebration 102 face cut, Diamond SN# CEL69119, *Weight: 0.97CT, *Color: F, *Clarity: SI-2. This is why they hide from me, they do not want me to see the original certificate for the last 6 months and giving us a fraud appraisal certificate...
When I pick up the certificate from Chris (store manager) I ask him right away why? I bought Original 1.03CT/Color E/Clarity SI-1. Now is replace with 0.97CT/Color F/Clarity SI-2 (less than 1CT, low in Color/Clarity). In a diamond network if your Diamond less than 1CT value less $2000-$3000 + Color/Clarity. Chris said let him check with the Corporation Office and ask me to send to him the certificate of the original first one that I bought so he can compare and check with Corporation. I send picture to email for him and he did notify to me that he received 02/18/2016.
I had contact the Zales Corporation district for a previous case number #**, they change my case number # ** complaint about the case going on for 6 months had not been taking care and about the fraud that they do on the certificate. Finally I talk to a man name SAM. He call himself as Zales DFW district manager, he trying to tell me 1.03CT and 0.97CT is the same / color E and F the same / Clarity SI-1 and SI-2 is the same. He do not want to take care the problem. When I told him that I will report this to (FTC.ORG) Federal Trade Commission, he know that I'm real upset and he offer me to take back to the store and refund the money back.
I told him this have nothing with what I want to return the diamond because if I want to return I did return soon I found out the problem. I will not allow your people to begging me for a replace. This had to do with the ZALES Store had not honest to their customer and this is a FRAUD sale, a CRIME. I want The Zales Company & Corporation have to do an honest replacement for whatever I buy. I had contact the News Channel 4 & Dave Lieber, CSP Watchdog Columnist - 214-977-2952 (Story tip line), davelieber@dallasnews.com
What I do there: Dallas Morning News Watchdog page. He told me: "They're hoping you don't know your rights as a consumer. Under Texas law, your right is to sue in small claims court for under $10,000 without a lawyer; you'd do that in your home justice of the peace precinct. You just have to prove your case with documents, estimates, pictures, whatever. You can research, file a Texas small claims court lawsuit on the Internet and also go to the court for paperwork. You have to alert them first. They may settle before you file. Let them know you talked to me. If you get a court date, let me know and I will try to come cover it for the paper. Good luck." So I give them a warning first before I send this case to Court. Warning to Zales customers. Be careful what you buy in the Zales Store & What you got...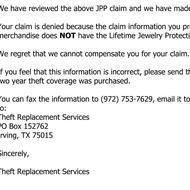 Don't BUY from Zales. They are a scam, especially when selling warranties. Apparently all Zales reps try to sell you a Lifetime Jewelry Protection Plan (LJPP) but it doesn't cover loss or theft? Then why didn't they mention there is more coverage? Now I'm out almost a grand for a band someone stole and I had a warranty I thought was good but was to replace the ring if it got broken? Anyone on here suffer from broken ring? I think they are a complete hustle and scam when it comes to losing jewelry. Their intention is not to ever give you a new piece of jewelry.
The people that answer the claims are trained to say "it doesn't offer two-year theft protection what you bought, the people there would've told you there are other options". First you are making assumptions for a situation YOU weren't even there for. Second you're a fat face liar, because no one would buy a warranty and not know there was a better one. That's bad consumer buying and bad business on Zales part because it's more money. UNLESS having to dish out a new piece of jewelry cost more. Even if the buying experience is good, pray that in life you never have to file a LOSS/Stolen claim because odds are you will never get a real response and more importantly, the piece of jewelry. The 699.99 band that says covered was not covered according to zales.

My husband purchased an early Valentine's gift to me that needed to be sized. The same day he purchased it we sent it to get sized... Two weeks later the ring is still not ready. On Thursday I called the store and they it would be ready by Saturday (Which was 2 weeks from the date of purchase). On Saturday I called and they said it would be ready on Monday. Today I called and they said it should be ready this afternoon or tomorrow. I was told I could check on my status online but the website doesn't even show as actively being repaired.
My husband decided we would just go in and get our money back. Guess what??? They said they couldn't get me a refund until the product was in the store. Asked to speak to a manager but there is no manager. Was told she was working in a different store that day. I called the other store and spoke to the manager who said she would check on the status TOMORROW. Explained the situation and advised her, "I wanted my refund today." She called the store and advised the lady working the counter that she authorized the return. The lady at the counter was upset that they had authorized the return... Too much drama for a little ring. I'll just go to a REAL store and buy something better... Horrible service all the way around.

My engagement ring had a loose prong, so I took it in for repairs on January 9th. I was told that it would take a week and a half. I called multiple times and nobody had any idea why they hadn't sent it back. Finally, a MONTH later, they told me that somehow they had lost a stone from my setting and couldn't find a replacement because it was custom. I went into the Easton location and the manager, Tim, was beyond rude and offered to KEEP my ring and give our money back and kept trying to get me to buy ** brown Levian chocolate diamonds, when the stones that were lost were blue topaz. Finally, I got a call saying they would be replaced with blue diamonds. It is now almost 2 weeks later and it has not been shipped back yet. I have rescheduled my engagement photos twice and am now out the deposit for those sessions and they have had my ring for almost 2 months.

I went to the Zales store at River Center browsing for jewelry that they had on special. I spoke to the salesman at the counter and he was totally disinterested and all he could say was the items I asked for were only online. I told him did he have anything similar or in my price range and he just was not helpful at all. I left with a very bad taste in my mouth. Not shopping there again.

My husband upgraded my wedding ring on our anniversary. The first set of wedding rings that I had spent more time at Zales for repair than on my finger. Because Zales was tired of replacing the Diamond, my husband decided to just get me a new one. I received my new ring in Sept 2015. Jan 1, 2016 I noticed that one of the small diamonds was missing. So on the 11th of Jan, I was finally able to take my ring in for repair. I was told that my ring could be fixed for free under the warranty and that it would be back on the 15th of February. My ring was not back on the 15th, and when I called to check on it three different people told me three different dates. I finally received my ring on Saturday, only to look down today and notice that another freaking diamond is missing... I am so pissed. The ring I bought at Walmart 3 years ago still has all the freaking diamonds...

Zales Eden Prairie - I have done a little business here, and known a few people that worked here. I will never again shop with any Zales location, nor will I do business online. This store location in particular has the worst customer service I've ever experienced in 25 years of shopping for myself as an adult, wife, mother, and retail worker. All anyone cares about is making money. The jewelry repair service is dismal at best, with poor quality and return time. The Brazilian lady loves to push people into buying the most expensive items possible and gets rude and ** if you don't want to buy what she wants you to buy. She's rude to customers and employees alike. I fail to understand how she keeps her job. The jewelry quality is less than stellar and the whole store is so disorganized it's hard to find what you're looking for.

I bought a diamond ring for my mom anniversary in Zales Store but after she saw the ring then she didn't like it so we found another one from Zales outlet.com and I actually went to Zales outlet store at Seattle premium outlet for my mother so she can have it on this weekend, her anniversary. The sale person was ok but when I tried to exchange the ring in that store and another which I had bought at Zales Store. The manager, Stacey, talked to the sale person that we have to sign on the receipt to ensure I'm not going to exchange again. I was thinking Zales policy is that the customer can exchange or return within 60 days with new condition of the item. I was confused because I have never seen any jewelry or any whatever store do that to the customer. Zales outlet should fire that manager cause she made another rule and that is not Zales policy. Hope Zales will solve this trouble. Otherwise I will ask my lawyer to find out.

My fiancé and I found a engagement ring I fell in love with at Zales, price was decent and we were both extremely happy. I wore the ring for a couple of days and I notice that my 10k ring was turning my finger green like it would when you purchased it at a 25 cent machine! We couldn't find the receipt and when we finally did it was 4 days outside the return policy. I contacted the customer service line and asked what my options were. What could we do! NOBODY WOULD HELP! They said "although your cut off time was 4 days ago there is NOTHING we can do!" Working at a large company I know there is always exception that can be made. Now we are stuck with a ring that looks cheap and turns my finger green or we lose $370 dollars. Wow I am shocked that a company that is suppose to make dreams come true caused a heartache to my fiancé and myself.

I took my ring to get a new diamond & crown put on. Was told that it would be $450.00. They then called after 2 weeks & said it would be $600. I threw a fit so they said they could put a diamond that was already set in the crown for the $450. About a year later 2 of the prongs got bent so took it over to them to fix. Told me $36.00. They call a few days later & said it would be $40 more as the prongs needed new tips. I really threw a fit & said "just give me the ring back." The day I got it back I took it to a family owned jeweler. There was nothing wrong with the tips, that the diamond wasn't set right to begin with & that the crown wasn't attached to my ring correctly. I will "NEVER" buy from or recommend this rip off place.
Company Name:

Zales

Year Founded:

1924

City:

Irving

State/Province:

TX

Country:

United States

Website:

http://www.zales.com/