Consumer Complaints and Reviews

On 04/07/2017 I went into the Zales outlet store in Philadelphia Mills mall. I decided to purchase my husband a ring. We decided on the 1 karat Ever Us men's wedding band, we met the store manager Evalina at that time and she encouraged us strongly to buy the ring. I said "Fine" because my husband loved it and I had cash to buy it, Evalina suggested that I apply for a Zales card even though I repeatedly said I had enough cash. She insisted why pay so much at once if I could get the card so I did. She rang up the ring for the cost of 2,253.53. That was the ring and lifetime protection warranty.
After that she tries to give us a size 10 ring. We immediately said that my husband cannot fit that ring and she said take it home and she will special order the ring in a size 13 after sizing his finger, my husband and I agreed that we would not take such expensive ring home that he could not wear so Evalina said she would keep it there and put it in the manager's safe and she would call me when the size 13 got there which would be 4-6 weeks, WELL 6-7-8 weeks passed! So I called and said if it was not there by the end of week 9 that I did not want it anymore! So that Thursday she called and said the ring had arrived!
I sent my husband to get his ring. He called me about 5-10 minutes after he got it and told me that the ring looked scratched and scuffed up and that the band was very thin and it didn't look like the original ring we choose, so I told him to come home and let me see the ring myself, when he got home on top of what he mentioned I noticed that the ring was also dented. It was NOT a perfect circle. I called the store immediately after I saw my husband's ring and found that Evalina was gone for the day so I spoke with Joanna (assistant manager). I shared my thoughts that I believed the ring was stretched from the 10 to a 13 and that is how it got scratched and scuffed and dented and she said that she didn't know what happened but she would place a order and expedite it for a size 13 ring and that it would be there in 4 weeks.
I got a call in roughly 4 weeks and we picked up the new ring on 06/22/2017. On that day Joanna was supposed to return the old ring and give me a $200 courtesy for my troubles as agreed upon by Evalina and the district manager Phillip **, upon entering the store we noticed in the (Ever Us) showcase that the ring was on sale so we brought that to Joanna attention and mentioned to be sure to ring it at the sale price plus add our discount coupons back. She said that she did that and then she asked if I wanted the $200 courtesy in cash but looked in the drawer and said all she had was $189 in the drawer so would I like it back on the Zales card. I said, "Yes that's fine", meanwhile she pretended that she rang the new ring up as a new transaction and added discounts and plus put the $200 courtesy on my Zales card, that was a LIE!
She put the credit on the Zales card but she did not ring the new ring up at the on sale price. She left it at the original price and did the transaction as a exchange! After that not knowing her crafty behavior I made a $100 payment from my bank account then a $300 payment in the store and then a $48 payment from my bank account but with all of this my bill didn't seem to be correct! I contacted the number on the Zales card statement and explained that my balance seemed too high and I explained everything so the rep put in a dispute, I received a second statement and it was higher than the first statement??? How was this possible! The first rep told me not to make any payment until the dispute was resolved but then they charged me a $25 late fee! I called and set that straight then I headed to the Zales store to see if someone could show me in person why the amounts were not adding up!
At first Joanna was not there and the 2 store clerks could not figure it out although one of them did come close to what I was thinking the amount should be, my husband and I walked to Kay Jewelry and asked them if they could look at my paperwork and help me figure it out. I had been doing math for 4 days and my brain was tired and frustrated! We then went back through the mall to go back to the car and noticed that Joanna was now in the Zales store so we went back in, we sat down and I pulled out all of the paperwork including the bill statements. Joanna repeatedly tried to tell me everything was correct and I just got tired so I said I will just call corporate and see if they could help.
At that time Joanna said that basically the $200 credit wasn't showing as a positive because it was actually a way to bring the price of the ring down. I was SHOCKED. Clear deceit! She said it was just a misunderstanding on my part... It was not! It was deceit on her part for doing a exchange at the old price instead of a new transaction at the new sale price! At that point I was stressed OUT. I said I would just like to return the ring because I don't like not knowing EXACTLY what was happening with my money! She then stated that because the first transaction was from April 7th 2017 that I could not return the ring that I picked up on June 22 2017.
Now keep in mind the ring from April was stretched, scuffed, dented and scratched by the store manager Evalina trying to deceive us into thinking it was a special order from "Ever Us" so I said "We purchased this good ring on June 22nd 2017 so how is that all possible." That's when we found about the exchange deceit! We told Joanna that we never had these issues at Kay and that the customer service was always pleasant that we never have been so stressed out! And I just wanted to return the ring and NEVER DEAL WITH ZALES AGAIN! She said I could not.
I called corporate and she Joanna called her DM and stated that the only reason we wanted to return the ring is because we wanted to go buy one from Kay??? That was a HUGE lie! So I told the rep at corporate that Joanna was lying but we did praise the customer service at Kay. As I sat there on the phone with corporate 2 security officers come into the store and asked what the problem was because clearly my husband and I was sitting down with paperwork out and I was talking to the corporate office. Joanna goes on to tell the security officer that I was calling her a liar and I was!
The security asked me was I on the phone with the Zales store or corporation. I said yes and he said that I wasn't doing anything wrong, however as Joanna spoke to two male customers that came in I heard her make a statement in reference to my religion, "Those ** people in here calling me a liar," at that point the security officer, my husband and I went to the side after I finished talking to Joseph ** at corporate that I had spent over 1 hr on the phone with and we told security the issue. He shook his head in disgrace and said he hoped we would enjoy the rest of our day, meanwhile although I purchased this ring of horror on June 22 2017 I was being told on August 2nd that I could not return it?
This has been the most horrific retail experience ever. The people at Zales could not care any less about the consumer. All they care about is the SALE and their store revenue and as Joanna said she would lose her job because mine would be her 3rd complaint in one week! Do not shop at Zales. THEY WILL DECEIVE YOU, ROB YOU, STRESS YOU OUT AND MAKE WHAT SHOULD BE A HAPPY THING INTO A PURE NIGHTMARE! Just stay away and purchase jewelry from a place that actually cares more about the customer! I'm currently still waiting on a call from someone above store level. All I have is 2 ticket numbers ** and I'm ** as well I believe... SMH!

My wedding ring is under warranty with Zales and I have kept up with the care of the ring. Making sure it's clean and the prongs are checked thoroughly. This is done twice a year (Jan & Aug). My next scheduled visit is Aug 2017. Well, today my prong broke off and the diamond was on the floor by my desk. I am furious mad, due to now having to take my ring in the store only to be told that they cannot fix a broken prong. So, they will tell me an outrageous price to fix the ring therefore, trying to get me to purchase a new ring. This is my second ring from them. We purchased this new ring 3 years ago and now the prong is broken, we paid $685 due to it being on sale from $1100. This store is in North Little Rock, Arkansas (McCain).

My children bought me engraved charms for each of my grandchildren this past Christmas. Each charm has a name and birth date engraved on it. The engraving on the charms is horrible and barely visible. I contacted customer service and complained. These charms are non-returnable because they are customized. I do not have the receipt as my daughter placed the order on her credit card. Zales should be ashamed of themselves for selling these.

I wish I had looked at this site before I bought my wedding band at Zales. Within one year one of purchase, one of the four prongs broke off. I reluctantly brought it back to the store to send it off for repair. Reluctantly because I was told it would take 3 weeks. Dropped it off on June 18th. Was due to be picked up on July 9th. It is now July 18th, and still no ring. I called corporate, and they have no answers and no real customer service and just refer me back to the store. The answer the store gives me is that this is a normal wait time. Even though I was told 3 weeks, it usually takes much longer than that. The store will not give me a phone number or address to the repair company. I feel like my ring was stolen from me. At this point, I have demanded my ring be returned to me, repaired or not, so that I can take it to a reputable jewelry/repair store.

An engagement ring and wedding band was purchased from Zales in Miramar Beach Florida. Immediately both rings began to look tarnished. Upon asking a salesperson, I was told that white gold HAS TO BE RE-DIPPED EVERY 6 MONTHS!!! This WAS NOT TOLD TO US UPON PURCHASE as if it had been, the rings would not have been purchased. They require the rings be brought in every six months for inspection. However, I always receive the most unhappy, unhelpful person if I even get waited on at all.
No one has the courtesy to even say "Hello, welcome to Zales." Instead, they ignore you and you end up walking out. Do not purchase anything from this company. All they want to do is sell you something you will be unhappy with!!! I will never go to another Zales and nobody I know will go there. Save your money and your peace of mind by going somewhere else!!!
How do I know I can trust these reviews about Zales?
851,205 reviews on ConsumerAffairs are verified.
We require contact information to ensure our reviewers are real.
We use intelligent software that helps us maintain the integrity of reviews.
Our moderators read all reviews to verify quality and helpfulness.
For more information about reviews on ConsumerAffairs.com please visit our FAQ.

Repeated Horrible Experiences: We sent my new engagement ring to be sized. The store doesn't tell you, nor is it documented in any paperwork that they give you, but it can take 4-8 weeks for any repairs. They are sent to their "home office." After repeated resizing, I could finally wear my ring. It was purchased in Sept; it was now Dec. A few months later a small diamond in the band had fallen out. I reluctantly went back to have it sent out once again. 6 weeks later it came back and I noticed immediately that a diamond in the halo had been replaced with what looked like a cloudy pebble. It was so bad that the store associate tested it to see if it was real. She said that "home office" couldn't keep up with their repairs, and we're subcontracting to other jewelers.
I decided to send it back yet again and asked if they could put a rush on the repair. I located the phone # of their home office, and when I called, was routed back to the general customer service dept. 8 weeks later my ring came back and this time, 12 small diamonds in the band (3 on each side x 2 - split band) had been replaced with cloudy pebble diamonds. I finally accepted defeat. I haven't gone back since. The $ that my fiance paid for the extended warranty was a waste.

My husband bought me a new wedding ring 6/1/2017 from the online store. We went to pick up the ring at the Zales store and it was shipped out as a size 4.5 when the order clearly stated size 7. They ladies at the store were very sympathetic. They could not do anything as it was a pre-owned ring. They said all that they could do was offer me the protection plan so $97. The protection plan pays for resizing. I have to wait 2 more week for the mm to size the ring and ship it back to me in CA. Not a very happy customer.

My husband bought my wedding ring from Zales which we upgraded in 2014. The diamond ring was 2 1/2 sizes too big, which they sent off for 3 weeks to have sized down, which at the time I had no idea in situations like this of downsizing by 2 sizes should be custom made not sized down because it misplaced the gemstones and thins the band. This is only part of my problem with this company. I didn't even realize until I got a call from them about a different ring my husband purchased in 2015 that is emeralds & diamonds, which also had to be downsized by 2 sizes. Again, I didn't know until another jewelry store informed me this shouldn't happen, but custom make the ring.
Fast forward to 2016. I lost an emerald and my band was slightly bent and since I purchased the warranty on both rings, I had it sent off. Took almost a month to get it back but everything seemed fine. 3 months later the ring is again slightly bent on the band, and again they send it off which took 3 weeks this go around. No problem. Yesterday, yet I had to take the ring in to have it sent off to fix a bent band. This morning I get a call from the same guy who I dealt with yesterday, stating that the band is thinning "normal" wear and tear and they don't cover that, so it's going to cost me $249 to add more gold to the band to correct the problem. My husband only paid $259 for the ring to begin with since it was on sale at the time and is regularly $400. Of course I said no I'm not paying that and it's only been 2 yrs of having the ring and shouldn't be thinning already.
Then I notice my wedding ring is also thinning! Both have been sent off in the past to fix bent bands. When I told the gentleman who called to inform me, they would be charging me the ridiculous amount to fix the thinning that shouldn't be happening in such a short time of owning the rings, that I'd be there today to pick up my ring and never again will I buy anything from them nor will I recommend them to anyone. I have a lab emerald ring my husband bought me from Walmart 9 yrs ago for $80, which they had a new one sent to them for my size at time of purchase that I have worn since the day I received it and NEVER has that cheap ring had the slightest dent or thinning in the band, unlike both the rings in the short time I've had them from Zales, on top of losing an emerald in one of them. STAY AWAY FROM ZALES.

Arrived at Zales outlet Cooper Street Arlington, Texas. I was returning a broken pearl necklace and the missing diamond from a diamond ring. The guy was looking at my account then he left, gave the account to the young manager who approached me and told me that I cancelled my warranty on my pearl necklace and I would have to go home to get my receipt for my diamond ring for the missing diamond. I have to have a signed receipt showing that I purchased a diamond ring there. I told the lady it was okay. I can go to another Zales store that I know the manager and they know me very well there and they're a lot nicer and kinder. I called customer service, spoke with the young lady there. She looked up my merchandise. She verified my receipts, my warranty and everything. She informed me that I didn't have to need that if I was doing a repair. I informed the young lady on the phone that's what the manager told me that I was not covered.
The young lady over the phone stated, "If you want me to call the store I will let them know." I said, "Please call the store and let the manager know" but every time I have gone into that store I've had a problem with that manager Zales outlet Cooper Street Arlington, Texas. She's very really very disrespectful towards me like I didn't have warranty on my jewelry and I didn't like that so I looked at the young lady and said, "You know what it's okay man. Don't worry about it. We'll get this handling another store." That store's close to my home. I had to drive 50 miles out of my way to have my jewelry service. Please do not go to Zales outlet on Cooper Street Arlington, Texas. The manager just looks at you like "oh you're not spending any money so what do you want in my store." I would not go there again.

I hesitate to write this review because I can't really find proof. My husband bought me a new wedding ring in 2000. My original ring from out 1982 wedding had to be cut off due to a baseball hitting my ring and to save the finger I had to cut off the bent ring. Well, we were financially much better off this many years later and my husband decided I needed a nicer, more expensive ring. We purchased a band that had a row of 5 diamonds. It originally was close to $8.000.00 but we paid about $4,000.00. Through the years I constantly got compliments on the "sparkle" of my diamonds, and even a jewelry told me once that they were a great quality.
I tried several time to take it to Zales and do a "check" and on the ring and they never could find our records. Unfortunately we had a fire at our business and the original receipt was lost. It really was hit and miss, sometimes they would take it anyway without the receipt to "tighten" the diamonds and clean it, other time no. Sadly in April 2017 I lost a diamond. I took it in and they would NOT honor the warranty without records, we went ahead and paid the over $500 to replace the diamond. Here is my problem. Although I can't prove it I think I was sent a different ring! This ring's diamonds look smaller, they are not as "sparkly". With my old ring I would frequently have to twist my ring in the proper position because my "big" diamonds would hit my other finger and turn it, that NEVER happens now because it is smaller! I think this is a smaller carat ring! What should I do?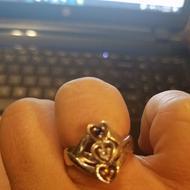 My husband ordered a Mother's ring for me from you, Zales. After you got it wrong twice (placing Ryan's name by Logan's birthstone and visa versa), he called and got a nice old customer service lady and got yet another return label in case he wanted to send it back. He then wrote a less than nice email to the company and got this in return. "We sincerely apologize for the communication gap regarding the ring that you ordered. We have verified with the jeweler that the diagram on the website is correct. The third name is engraved on the second ribbon on the right hand side, next to the second stone; and the second name is engraved on the third ribbon on the left hand side, next to the third stone. We are not able to have the engraving placements changed from what is showing on the diagram. "
He just shot a reply to them. It reads as follows. "Well, maybe you need to add that placement order to the description of the ring so folks know to order it as backward to get it the way they want it. You will never receive another order from me. I'll be finding somewhere that takes responsibility for their mistakes and puts the customer first." Mind you, we sent it back once, and had to wait and REORDER it, and then wait again. This is ridiculous!! It might be hard to tell, but my sons' names should be James, Ryan and Logan to go with the stones!! NO they go James, Logan and Ryan. I was so disappointed.

I purchased a necklace from Zales in 2015. I also purchased the lifetime jewelry protection plan (LJPP) for this piece of jewelry. The protection plan states it covers chain and bracelet soldering, refinishing, polishing, and rhodium plating. After 2 years of wearing my necklace, the pendant's silver backing began to rub off from laying on my neck. I also accidentally had it ripped off my neck from a child, causing the chain to stretch and break off 2 inches from the pendant. I personally went to Zales on 4/30/17 (Westroads Mall, Omaha, NE) to turn in the necklace to have it repaired. I showed the gentleman behind the counter my proof of LJPP. He stated the chain might need replaced if they cannot repair it (which I actually stated that I assumed it was going to be replaced and was hoping it could be replaced to save the repairman's time).
I also asked if I could have rhodium plating since the back of the pendant looked bronze more than the original silver. The gentleman stated it wasn't a problem and added rhodium plating to the work order. He told me it would be repaired and back in the store by 5/21/17. I signed my name on the repair order and left. Today (5/17/17) I received a phone call from Zales that said my necklace was done and in the store. I got off work and drove to Zales to pick it up. I spoke with the same gentleman who put in the work order initially. It took a few minutes for him to find my necklace because they had the order placed in my first name and not my last (last name, first name). After he found my necklace, he pulled it out of the plastic bag and it was in a complete knot. The entire chain was in a huge ball. I was offput initially because I could see the chain still looked stretched. He spent about 10 minutes untangling the chain and was successful.
He brought me my necklace and said, "I don't know what they did here..." He held up my necklace and it was THE SAME CHAIN. Not only was it the same chain, but in an effort to connect the broken ends together, they soldered a noticeably larger link (the same link one would use to connect the necklace together, one that is supposed to be on the back of your neck) to the broken ends to connect them, 2 inches from the pendant worn in the front. It looked horrible. I stated my frustration about the 'repair' with the gentleman that it looked like the necklace was backwards because of the obvious link in the middle of the chain, and that it was still stretched. He agreed and said, "I understand, this looks bad, I don't know why they would ever send us this back like this." He handed me the plastic bag with the work order.
I dug around and pulled out a new chain. I held it up to the gentleman and suggested that this was probably the chain that was intended to be the replacement chain. He looked at the new chain and said he doesn't have the tools to solder the new chain to the pendant. He stated, "That's the purpose of us sending in the chain to be repaired, the repairman is supposed to do this". I became even MORE frustrated. He handed me my necklace. The pendant wasn't even touched. WHAT!? He showed me the work order he sent in on 4/30/17 that stated 'please replace chain' and 'rhodium plating'. The work order sent back had 'no work done' written in ink on the receipt. That's all. No work done? Why? The pendant was supposed to be retouched! It had not even been touched, let alone looked at or even cleaned. I stated, "Why couldn't they at least work on the pendant?", and the gentleman said he did not know since it was an easy fix.
I expressed my displeasure with the service I was provided by Zales. Why was my necklace sent to sit in a plastic bag for 3 weeks to just be left untouched? Why was a call not placed from the repairman to the store stating why they couldn't do anything? Why didn't the repairman put the new chain on? The gentleman made a new work order, placed it on fast shipping, and told me it should be back in 7 days. After I get my necklace back next week, I will never do business with Zales. I will never recommend Zales to anyone and will turn away people if they ask about my experience. This was lazy service. I could have saved my time (an hour total spent in Zales) and just went to a local jeweler and just scrapped my LJPP. This gives the statement 'you had one job' a fulfilling meaning.

I purchased a Diamond ring for my wife for 26000 dollars, give 5000 dollars down and was told no interest for 5 years. I paid 400 dollars every month for 15 months then I got a statement in the mail and Zales added 8800 dollars interest to my account. I called them up and they will not take off the interest so I am going to have over 40000 dollars stuck into a ring that is worth only about 26000 thaws. People at Zales are crooks. They have put me in a bad financial situation and they don't care. I hate them and I want my money back. I am looking for a lawyer since they lied From the start.

I walked into the Zales in the Ocean County Mall a month ago, April 2017, and was greeted by a very sweet blonde girl. I believe her name is Marge or Margo? Anyways, she was amazing with me, helped a lot! Then another woman came and got herself involved in our conversation, after being completely condescending to the young lady I was working with, she told me the ring I had did not look right on me and gave me an attitude the whole time! My pleasant experience quickly went awry. Who invited her into this conversation? No one if you ask me. I took her card so I could call and complain, her name is Kim. I have never been treated so poorly. She acted as though she was a manager but in related was a jewelry consultant. She was awful to her coworker, and worst of all to me and my wife. I was so angry. I left thinking wow there goes that experience!
So, my wife and I decided we would give it one more shot, we came in and requested the first young lady who helped us. I couldn't recall her name, but described her well, needless to say, they made no effort to figure out who I was speaking about and we wound up with the same unpleasant woman. There were three workers I could see that day, two older women and a young lady with dark hair. They all looked miserable! I was nice enough to give this Kim a chance, but that was a mistake. She insulted my wife, again, and I felt like I was mistreated very much. I wouldn't buy a thing from her, even if she reduced the price to nothing.
I wonder why Zales would have so many unhappy people in one store? And why that nasty woman would be taking customers and not fired by now? She was once again rude to her coworkers. I called and complained once more but I saw the other day she is still there. Listen Zales, if you want to succeed you need to get rid of that unhappy staff you have and promote the good ones! I won't be back thanks to Kim and her unpleasant ways!

I made the first purchase on 2/14/15. I had multiple diamonds fall out of this ring and after having it fixed three times they convinced me it was the style of the ring that was the issue. If that was the case I am not sure why you would sell a product like that in your store but it is what it is. After having to leave my wedding ring with you for a month at a time on three different occasions myself and my husband decided to upgrade to what we thought would be a better fit as far as better quality as we paid 4500.00 for the ring this time and it was a different style.
I lost a diamond in my upgraded ring about 8 mos after the upgrade. I then brought the ring in, had it fixed. Four weeks later I got my ring back, a month later I noticed another diamond was missing! Saturday April 29th I went into the Northtown Mall where we bought the rings and spoke with the manager that was there (it's never the same one as the turnover is frequent with all employees there). She explained that she was filling in from another store but she would work with her manager to get this resolved. At this point I explained to her that I did not trust Zales and I do not want to own a ring from there as I have had so many issues with the quality of your product. This is my wedding ring. Something that is very special and marks a special lifetime moment and to have that ruined with the issues I have had with the symbol that represents it is very disheartening and sad.
I feel like the fact that it has been almost a week and my husband has made multiple calls to the store as we have not gotten a call from the manager to let us know what will be done to rectify the situation. And not one of the calls has been returned and still no call from her! I am extremely disappointed in the quality of your product and the customer service that we have received! I need resolution in this matter. I am not able to wear my wedding ring as I do not want to cause any further damage and was told not to leave it there as the manager would be contacting us with a resolution... This has not happened and at this point I don't think it will happen.
I really hope someone with Zales will understand my frustration and contact me back with a resolution that is fair. Hopefully within the next couple days not months! I really want to be able to wear the symbol of my marriage and be proud of it not embarrassed of the quality! It extremely embarrassing to have people ask "where's your ring" and having to say I lost another diamond. Still nothing after contacting Zales Customer Service.

Where do I begin. A TAD over a year ago I bought an engagement ring for my fiance (now wife). I was told by the associate that the card would be interest free for 1 year then a very high interest rate would start. I quickly pay off that ring and buy a wedding band for my wife and myself. Besides a long long long story where the store messed up my band and had to reorder it 5 times, the associate who ordered me the ring apologized and offered me a 10% discount. The next day the store manager called me and said that they were sorry but the associate who gave me the discount had no authority to do that and that I wouldn't be getting any discount. I was pissed. However, my ring came back and everything was done. Now all I have to do is pay the bill and never look back at Zales.
Well, today the bill came in and I knew all I had was a little over $200 left. I was finally going to pay off this bill from this horrible company. To my surprise, I see an added amount of $365. Turns out, my offer wasn't interest free for a year. It was a deferred interest for a year. So, if you didn't pay it off you acquired all that interest. I was 2 weeks too late. Customer service, no help. Comenity Bank (the bank that Zales uses), no help. I am fuming! Do not shop Zales! They are deceptive and they are thieves. I have never hated a company more in my life. You better believe I am all over social media with this. Absolutely outraged! I have made a vow that I will tweet at least once a day for a month and make a status once a day for a month. If I change 1 person's mind about shopping at Zales then I did my job.

I ended up returning my fiancée's engagement ring after 3 tries and it being messed up all 3 times. They never even caught the mistakes (diamonds twisted, band warped, prongs holding diamonds all at different lengths, diamonds twisted again). Luckily my fiancée has a good eye for detail. Their solution? Send it back yet again. Finally when I brought it back and demanded a refund they offered to replace it... too little too late. Me and my fiancée were done. Go to another jewelry store and tell them the situation, they immediately state that Zales should never have tried to size down the ring 2 sizes, they should have had one custom made in her size. I was told by the Zales associate that sizing down 2 sizes was easy. Dealt with both the Zales outlet in Marysville, Wa and the Alderwood mall store in Lynnwood, Wa. Absolute disappointment, they will never get my business again.

Customer service horrible. My fiancé and I were treated like we were young and stupid, or maybe it was because we were a lesbian couple. Who Knows? The manager of the store was condescending and not helpful. The product of the ring my fiancé purchased was not at all up to par of what was sold to her. We went and got it appraised and the jewelers wouldn't even give us more than 400 dollars for the ring. When we brought the ring in for repair it came back more screwed up than it already was. Then they told us we couldn't fix it, then they said they could. They gave us a ring "in the meantime" while it was getting fixed that the diamonds were yellow, oh but if my ring couldn't be fixed we could keep that one instead. UMMM NO.
To me something sounds fishy. They said they "FIXED" the ring, and when we brought it to get it looked at by other jewelers, they looked at me and said "who sold you this ring". We said ZALES, and he said well that is why. The repairs looked like a toddler did them, there was a crack in the main diamond that wasn't there before, and the prongs on the ring were messed with. DON'T EVER BUY FROM THIS ZALES, OR ANY ZALES FOR THAT MATTER. THEY RIP YOU OFF! The rings are crappy quality, and the customer service goes right along with the crappy quality. Thank you Zales for ruining this special time in our lives. A customer never returning and who will continue to bash the company on BBB, social media, word of mouth, etc.

I got a diamond cross pendant from Zales on a credit account. Made my payments on time but somehow they was showing that they wasn't paid. Called them to fix the issue. Had all my receipts. Took them 4 months to fix the issue after I made my payments on time. Zales credit system sucks.

My husband wanted to buy me a ring. He liked the open heart ones. We bought the insurance and 6 months later I had a rough corner on the ring. We took it back and they said pickup will be 3/25. Needless to say I've had a gut feeling it won't be there. I have been calling this week checking. Well today it's not there. They said it's being processed. I am calling back at 2 to speak to manager. We are thinking of getting our money back. Almost 3 weeks and it's not back in store? I do not trust jewelers in the mall. This is Zales in the mall in Bakersfield CA.

Be aware when you purchase financing. Zales does not have a tool that lets you make a recurring payment, so you have to pay each month online. I believe it will be very convenient for them if you forget as they will charge you the full interest for your purchase.

AVOID ZALES AT ALL COST! (Peoria, IL Store Experience) I own several service oriented businesses and I can say with 100% certainty that this store has the worst customer service I have ever witnessed. I can only conclude from this experience that Zales is a heartless and mindless organization. My wife went to the store last week with my two young sons to get her ring checked and cleaned. While she was there she mentioned to the store manager that she needed the Diamond Bond paperwork printed off again as we moved a little over a year ago and it might have gotten misplaced.
The store manager told my wife that is against store policy and that if we don't have that paperwork there is no guarantee that the expensive set would be covered if a diamond fell out. My wife replied letting her know she used to work there at the store and they printed those out all the time. The store manager told her that it has never happened and that my wife was wrong and an idiot.
My wife said "this is BS" and the store manager said she was going to call Mall security. Please keep in mind my wife is under 120 lbs and had my two young sons with her. She didn't raise her voice or make any threats. My wife left and called me from the parking lot in tears from the way she was treated. I had to leave work to drive onsite and I went in to the store myself. The store manager and district manager were there at the time of my arrival. I mentioned to both of them who I was and that my wife had just been in and was mistreated.
They both said that they would not print off any original Diamond Bond paperwork with the original number. They would only print off an extended diamond bond form that would reset the policy, but with no coverage guarantee. I questioned this again and was firm with my expectations to no avail. I had them clean the ring and while that was going on I turned my discussion to the store manager that was incredibly rude to my wife.
I told her I did not appreciate her trying to call mall security on my wife and let her know I am still quite well connected to various police officers if she really wants to get someone else involved. She said my wife used the word BS in front of customers and I let her know the last time I checked it wasn't illegal to do that nor was it a crime. She walked away and wouldn't even look in my direction again.
Once I left the store I called corporate and I explained my situation. The customer service rep checked the policy and when she came back on the phone let me know that the store manager was incorrect on her understanding of the policy. She put me on hold and reached out to the district store manager to notify them that they need to print out the original paperwork. Then she picked up my line again to notify me that the store manager would reach out to me when the paperwork was ready. I told the customer service rep I still wanted to talk to the district manager for the way my wife was treated.
Now here comes the district manager experience. She called within a few days and leaves a message for me to call her. I am a busy person with my companies so I call her back on the following Monday which is today 2/20/17. I left her a voicemail and she called me back. When I answered I jumped right into my frustration with the experience. I didn't yell and I did not cuss at her even one time. I gave an accurate account of what transpired and instead of following the most basic golden rule of service where you admit your mistakes she does not. She claims that neither her nor I were there so we don't really know what happened. Which is essentially calling my wife a liar. She offers no apology and says that her manager was upset with that situation as well and that she has never had issues in the past with those types of experiences.
I'm nearly dumbfounded by the lack of understanding who the heck you work for in this engagement. I let her know that I will make it a point of going out of my way to make sure their sales are affected. She asked what she can do and I said "you can send my wife a written apology" which she offered maybe a phone call from the store manager which I had no interest in scheduling since this person was nothing but horrifically rude. I let the district manager know I have several other peers that have had awful service experiences within the last few years at the Peoria Zales as well which she didn't seem interested in hearing about.
To top off that conversation the district manager mentions the customer service person was wrong and if you read the paperwork it says that is the policy. Which I countered that "They don't look at the same paperwork as you do?" She said "I don't know what they look at." I said "Aren't you the same corporation and it's the same document?" No answer. She knows that I am now on a quest to make sure everyone is informed to avoid this plague they call Zales. The principle of this matter is beyond frustrating.

I bought a new wedding ring the end of Nov. 2016 & it had to be resized. As of today's date (2/17/27) I still haven't been able to wear the ring because it has never been sized right. It is still uncomfortable to wear and has to be resized again. Every time I get it sized it doesn't fit right and it takes at least 2 weeks or more to get it back! I am very frustrated with this since now I can't even return it since it past the 60 day limit. I don't want the ring anymore but it cost me over $400!! So I guess I have to keep it, but I hate the fact that I have to wait so long to get it right. Also I received a birthstone ring for Valentine's and it too big!! Just can't win! So now I have 2 expensive and special rings from Zales that I am not wearing that don't fit...

My husband and I went to the Philadelphia Premium Outlets to shop at Zales jewelry store. We purchased them in Oct 2016 and we left for our trip on Dec 15th 2016. We then renewed our vows. We did so on the 16th of Dec 2016. My husband worn the ring for 15 days and then realized a diamond fell out. When we arrived home a month later we contacted the store. They said come in and we will take care of it. I drove 30 mins to the store and wasted a hour and a half to find that the ring is defective, the gold was flaking. They had one in the showcase that they inspected and found that it also showed signs of flaking. I was told, 1st, they would special order a ring. Please keep in mind the sentimental value has been lost. I had really no option but to say okay.
I then asked for some compensation due to the fact they did not inspect the ring before taking my money, and my special occasion had been spoiled due to their lack of expertise. Plus we still have no ring. I filed a complaint with Consumer Affairs or whatever they call their customer resolution department, then the district manager called me said I should pick a new ring out, different style since there is obviously a defect with the workmanship of the ring. So I found one that would match my ring. It had good ratings and then was told it was way more money than I paid for the ring that I purchased. Which is funny they gave me those fake discounts which made the ring cheaper, WHATEVER. Bottom line this company cares only about the sale and only the sale. Customer service is horrible and arrogant. Last time for us.

I am upset about the new Zales prime time TV ad. I have been a customer since 1978. I have always used Zales as my Jewelry store. I have pursued many pieces of Jewelry, but after seeing the new campaign ad for trying to attract new consumers I will NEVER use this company again. I do not want Gay lesbian ads shoved into my home on prime TV making it seem to be the norm. This is not what I want my growing family to see. I am proud to say that I still believe in family values that are and have been taught from the Bible. I still believe that God made a Man and then a woman for his companion. God never made Eve to be with another woman. He wants a man to be with a woman to populate the Earth and spread the gospel. I know the values of a family has gotten completely out of control, but I always thought Zales built their company in 1924 on values, morals and RESPECT for the American family.

I would give them no stars if I could. I ordered a ring online and the website guaranteed shipping by valentine's day. They shipped from Texas to NY the day before while I live in california. When I called they told me they would overnight it for free. When it didn't come in the next day I called again. They said they gave me the wrong tracking and I would have to wait. Now I get to tell my girlfriend I don't have her present. They then guaranteed it would be here within 24 hours without even knowing where it is. Hopefully the third guarantee is the charm.

I was shopping for a Valentine's gift. ZALES advertises 2 day shipping. After I order I am informed the item will take 10 days to arrive. I call and cancel the order. I am told I would receive a email confirming my phone conversation. I call back a 2nd time same ** Lies. I have not received a confirmation of my phone conversation. Then to make matters worse I click the link to email them. I receive a notification that the email does not exist. I am going to contact my credit card company because it appears they are complete SCAM ARTIST. Stay away from this COMPANY. The cancellation # they gave me was **.

After viewing your current ad campaign, I will never even consider doing business with you. I resent having the Gay, Lesbian or any other alternative sexual relationship being shown to my kids on prime time tv. You are not going to force this minority view to me and make it seem normal. I really hate the fact that you find it necessary to pander. Good luck and may you only serve the market that you are aiming for!

My boyfriend has been contacting Zales since late December (after Christmas) for a return label. The charm I received as a gift broke the second day I wore it. It is the last day of January and I've yet to receive my return label. He's spoken with numerous people, on several occasions and they still insist on mailing me a label, rather than emailing me a return label. I don't want the JUNK charm that I've been left with. Thieves. I don't have my order # handy as the person who gave me the gift has that information.

It's not just a coincidence that Zales has received millions of one star bad reviews and I'm going to add another just in case it helps someone in their decision for shopping Big Box stores!! The jewelry will never be worth the money you pay but IF you plan to buy a piece for whatever reason, remember you're buying it for a reason but its retail, you rarely get paid more than what you paid. But why does the customer service or customer satisfaction not matter at all? It's a shame that so many people have gotten screwed! Lighten up Zales! Karma is a, you know what! If a jewelry store's success has anything to do with their online rating and horrible negative customer feedback, then hopefully we'll start seeing more Kirkland locations instead! ;-)
SO HERE'S MY STORY... My boyfriend and I went into a Zales store to look at jewelry. I gave him jewelry as a Christmas gift idea for me so we went in. I wasn't sure if I wanted a ring, bracelet, necklace, etc. A day or two later I went online to check out their selection of watches for my boyfriend. Ended up splurging a little more so bought him a nice watch to seal the holiday. Turns out, he already had one. He was aware he could exchange it in 60 days. After asking about the status of the watch, he advised that he found another one on the website that he'd like to exchange it for. I asked him to see the receipt myself and clarified it says, "Jewelry has a 60 day return policy, watches only 30 days." OOOPS! It was 10 days later than the policy typically allows but surely they'll be fine if a customer is exchanging a brand new watch for a more expensive watch, not counting we have all original packaging and required items all together with it.
Ended up calling Zales customer service a littler later in the evening so maybe that was partially the problem. The girl seemed like she just wanted to go home and could care less about providing customer service so stayed pleasant and patient. After all, I'm at home and she was having to work and deal with me. Wasn't sure why I was on hold for almost 8 minutes; seemed fairly cut and dry. You either want repeat business so will extend an exchange/return for scenarios involving customer exchanges especially when it still falls within your 60 day jewelry return time period... OR you don't because you really don't care. That's Zales!
She did apologize for the long hold period and said she asked approval from a couple different higher ups and they all turned it down. I asked if anyone told her why no if I'm going to exchange it for another product?? And she said they didn't say. So I will not ever buy from them again nor will I ever recommend Zales! They do not deserve to make money off of people by trickery or deceit! Just do your research!

ConsumerAffairs Research Team
The ConsumerAffairs Research Team believes everyone deserves to make smart decisions. We aim to provide readers with the most up-to-date information available about today's consumer products and services.
Founded in 1924 in Wichita Falls, Texas, Zales is a jewelry company that sells its products in more than 750 stores across the United States and Puerto Rico. Customers can shop for jewelry from Zales at retail outlets and online.
60-day returns: Zales customers have up to 60 days to return any purchase without question.
Design your own: The company has a Design Your Own program that lets customers custom create not only engagement rings, but other decorative jewelry pieces as well.
Free shipping: People who shop on Zales.com receive free shipping when they spend they choose to ship their purchases to a Zales retail or retail outlet store.
Credit options: The company offers credit plans with no annual fee to help customers pay for their jewelry and products.
In-store services: Zales customers can take advantage of many in-store services, including lifetime cleaning and inspection.
Best for Couples getting engaged, customers looking to buy a luxury gift and people with broken jewelry.
Company Name:

Zales

Year Founded:

1924

City:

Irving

State/Province:

TX

Country:

United States

Website:

http://www.zales.com/