Consumer Complaints & Reviews

I am closing out my Sears account and will NEVER do business with Sears again. I will do future business with organizations who better understand the value of loyal customers, and believe in customer satisfaction. I have been a loyal Sears customer for many, many years. We have given them thousands of dollars in business. Just in the last two years alone, we have spent well over $10,000. That will no longer be the case after today. I made a purchase on my Sears charge last month (June 22, 2016), the purchase color did not work out so I went to return it today, with ALL tags attached, but was told that I could not return, exchange, or get an in-store credit because the receipt was 1 week out of the 30 day window.
The manager (Cathy) said she could not do anything about it, and I was basically stuck with a $75 purchase. She explained that it was a "new" policy. I informed her that I was never aware of this "new" policy, the cashier (Holly) pointed to a piece of paper on the counter and said it was posted there. However, we had to move my purse and merchandise so that she could even show me. If a policy is not visible then what good does it do? Cathy wrote down the 800 number and said I could call "them" about it. I called, and spoke with Nicole who said there was nothing that could be done about it because it was a policy. I explained I had never had this issue before, nor was I aware of any policy and ask if I could speak to a manager; Nicole said, "NO", I was stunned!
I ask if could leave a voicemail for the manager; Nicole said, "NO". Now I'm insulted and beyond angry. I ask how were they supposed to communicate with managers if VM or E-mail was not an option, she said she "walks over to their desk". WOW! WOW! WOW! I asked if she could "walk over to their desk", and give them my name and number and have a manager call me back. I have no faith that will happen. I do not expect a call back. Bottom line, I am closing out my Sear's account, and stuck with $75 of brand new merchandise that has tags on it. I will ensure everyone knows that Sear's has no concept of customer service, will deny customers the right to speak, e-mail, or leave a message to managers.
They do not empower their managers to resolve small dilemmas. This issue should not be at this level. Denying an in-store credit or a credit to my card cost them much more in the long run. Allowing me an opportunity to speak with a manager or leave a message should have been granted, as well. Sears culture and mentality is an organization I want NO affiliation with! I can buy merchandise and appliances anywhere, not just at Sears! I have never in my life been so insulted by a public organization, and would never had expected this from Sears.

I was on hold for over an hour this morning, trying to settle an issue that arose from the Sears Outlet website. I ordered a suite of appliances from Lowe's, and then learned about a fantastic slide-in gas range on the Sears Outlet website, Item #37047. This range included the very feature I wanted from the freestanding unit I had ordered from Lowe's, a cooktop griddle. This is what was advertised: The GE® JGS750EEFES slide-in gas range provides all the special features you want for quick, convenient everyday meal preparation... A round burner in the center of the cooktop and a non-stick griddle give you even more cooking options. The cost for that unit is $1,299.93.
Unfortunately, and based upon this representation, I went to Lowe's and canceled my order for the freestanding range. That meant losing out on $200 of a rebate, making my rebate reduced from $500 to $300, as I no longer would be purchasing four (4) appliances. However, I much rather wanted the slide in unit. I went to order this unit from my cart in the outlet, and learned that this unit indeed, does NOT have the cook top griddle feature. This was verified at the GE Appliances website.
Stuck with a $200 loss on my rebate from Lowe's (because I canceled the order and to get the $500 rebate, all four (4) appliances have to be on the same receipt), I then looked at another slide in range on the Sears Outlet website This one had a double oven (which I didn't want because it means bending over floor level for the larger oven) but it did have the griddle, and was priced at slightly over $1,600. I put that model in my shopping basket on the Sears Outlet website. Not wanting to spend an extra $400, I still put that item in my cart, so that I could have a range with the griddle feature. It was their mistake, but I was at a loss - if I wanted the griddle feature, I would have to purchase the more expensive model.
When I went to check out and pay (at about 4:00 AM this morning), I kept getting an "error" message, and could not put it back into my cart. I kept getting that error message and could not load the item into my cart. I went back to the product page to try and re-load the item into my cart; to my surprise, the price for that item had risen to over $1,900. This was in the course of about ten minutes. At that point, I got up from my bed, and went into my home office on my desktop computer. I got the same error message. I called the Sears Outlet phone number and spoke to a person named Brix. I explained the above to him. The call lasted over an hour and four minutes. As I was on the phone to Brix, the price of the range went up over another $1,000 and it is currently listed for $2,079.99. All in the space of about an hour, this unit's price jumped every time I clicked on the appliance.
I believe there probably is some sort of algorithm whereby the price rises the more clicks it receives. Regardless, what I do know to be a fact is that the price rose from about $1,663 to $2,079 in a matter of about an hour. I believe that because the appliance was in my cart, the price was triggered in some sort of fashion to rise. As of 8:10 AM, Brix's manager still had not contacted me. She finally called, but could only offer $150 off the higher price and a $200 gift card. That was NOT THE SAME to compensate me for the price being raised about $500 though. With delivery, I could not afford to do it.
I am furious. First, because in reliance upon the representations made concerning the first range having a griddle, I canceled my order at Lowe's and now face a $200 loss on my rebate. Additionally, if I wanted to order the same unit from Lowe's again, the price at Lowe's is now $218 higher, making my losses at Lowe's $418, not to mention the inconsequential damages I now face at home with my kitchen still being torn apart, the time and frustration now (over 5 hours) loss of work, aggravation, loss of peace at home, etc.
Every time I called corporate, their "operators" put me through to "customer solutions," and THEY CAN"T HELP me. They don't handle OUTLET sales. So who do I speak to? Their operators are rude and don't listen. I have emailed at least four people in corporate. I got an email back saying to leave my number so they can call, and I responded, but no call yet. Funny also, because my signature line on my email also has my number. I also am frustrated beyond words. These are unfair trade practices at best, and false representations at worst. There could be a price setting scheme on the site, which needs further investigation. I am considering going to the Attorney General to certify a class of consumers for a class action lawsuit, and Better Business Bureau. Buyer beware.

In March 2016 I purchased a five drawer chest from Sears. I had the chest 4 months and it started to fall apart. The wood began to crumble and when opening the drawer the handle came off. I blame poor quality. I contacted Sears and reported problem to customer service they referred me to the manufacturer. The manufacturer will only replace parts. I wish not to replace because of fear of the same problem happening again. I also was told by Sears of their warranty policy of 90 days return.
Tried to explain my personal situation of my loss of two children. I buried my son and then soon after my daughter. Of course I could not think about warranty date. I am willing to pay more for better quality tried to explain that to customer service but no one can help me. I am writing to you for help and understanding regarding this matter. I want to purchase another chest through Sears on my card for a better quality chest for my grandson if possible. Thank you in advance for your help and understanding.

I was driving down 270 in Columbus by the airport exit when a Sears vehicle that installs garage doors passed me going over 70 mph with an old door tossed into the back of his open truck. A roller from one of the garage door rails fell from the truck and struck the undercarriage of my car. I tried to catch but could not. I caught up to him at the Broad St. exit and confronted him as to what just happened. He did not believe me and took off. When I got home I called the garage door division 888-745-3667 and told them what happened and gave them the truck #1127. The person on the phone told me a supervisor would be calling me as to damage to my car. It's been 2 weeks and no call. I guess this shows the total lack of concern and disregard of a situation that could have been tragic.

In August of 2014 I purchased a Kenmore Elite Dishwasher item number 12774 valued over 1000.00 dollars. I expected it to perform well. I was mistaken. I had multiple service calls about the dishwasher not drying properly. Their only response was to add rinse aid and make sure water is warm when it enters the dishwasher. This continued; they finally came out and put in something that made the water heat. It was not working correctly and put on a new gasket. I just got tired of the hassle and quit complaining. That was a mistake. I should have stayed the course with the problem. After 22 months, my dishwasher malfunctioned and melted the shape of my tervis tumbler - on the top rack - and it also melted the gasket in the bottom of the dishwasher. I am not sure what happened.
I have no warranty. Sears will not offer a free consultation to come out and check the problem. That would cost 50-200 dollars just for the visit - no parts or labor to fix the problem. If the dishwasher overheated to that point, I cannot trust it in my home. Poor quality, poor service and no more Kenmore purchases for our home. I have talked to the store manager and Sears corporate, They say they understand but offer no reconciliation. I purchased a lemon. Don't follow me down that road. Kenmore appliances have performed poorly for me and I will not be a return customer. I hope that you will not be their customer either because the road can be bumpy if you are the lucky one to purchase a lemon. I failed to purchase the extended warranty and that was a huge mistake. They would have been more accountable if I had.
How do I know I can trust these reviews about Sears?
555,606 reviews on ConsumerAffairs are verified.
We require contact information to ensure our reviewers are real.
We use intelligent software that helps us maintain the integrity of reviews.
Our moderators read all reviews to verify quality and helpfulness.
For more information about reviews on ConsumerAffairs.com please visit our FAQ.

Purchased a Kenmore washer from Walter ** at Sears Valley View. We intended to use our pedestal from the dead washer, which was a Kenmore and the exact dimensions as the new purchase. Walter failed to tell us that NO new washers would work with our pedestal and that we would need a new one. The delivery guy arrived and REFUSED to set the new washer on the old pedestal, citing safety reasons. He said that this had just happened with another customer and they got mad and told him to just leave and not install the washer.
I told the guy that the salesman knew that we were putting the new washer on our existing pedestal but he still refused. I called Sears and after venting with the manager, she offered a 10% discount on a new pedestal and free delivery. That just made me madder! Finally she ended up giving me a 20% discount and free delivery. What a horrible experience! All the salesman wanted to do was sell the washer and the hoses, the maintenance agreement and the delivery fee. Never again!

I order something by phone and the guy write all the information wrong... How do I found out? Because I didn't received the order confirmation so I called again and the lady told me that the person that did my order he wrote a wrong email so she fix it and sent me the confirmation of my order. When I open my email the address was wrong and the phone number too??? My husband told me, "Cancel the order. We may have the wrong items too." So I called again. Now this is the 4 time and other guy answer and transfer me to a manager. Her name was MAXIE and she told "I can't cancel your order" but I told her "I just order one hour ago."
I know it's her job stopping cancellations but she didn't help me. Neither she asked me for the address so I gave it and she said, "We have other here (of course the guy wrote wrong information). She "nothing that I can't do... I can't cancel and I can't change the information." I said, "What??? What about my money. What about if I don't get the items for the wrong address..." She said, "Sorry. The only thing that I can do is give you the tracking number and you find out..." That is crazy... So what I did I went to the Sears store. Spoke to the manager all about what happened by phone. He called the store to explain the situation and guess what. The manager MAXIE fix the information but she told me no because didn't want the cancellation of the order.
Mistakes happened but she suppose to help not tell people find out what to do. I suppose to receive the items tomorrow but I am nervous because according to my email the information is wrong... but according to the manager in the store she fix it but she never say it. I am glad that was just $46 dollars, if I lose won't be too much. But from now on I will go always to the store or do it by myself online. Never call again.

I placed an order for a wooden backyard swingset on 6/7 via telephone with Sears/Kmart. The item cost me $605 and delivery and set up was included. When the item was delivered on 6/22 the workers refused to assemble it and told me it would take too long to assemble. I told them to take the item back and I did not want it if they were not going to assemble it. I immediately called customer service on 6/22 explained to them what happened. Told them I returned the item with workers and I wanted my full refund. Since 6/22 up until today 7/26 I have been calling every week sometimes 2 times a week checking up on the status of my refund. I have spoken to one incompetent representative after the next and the management department is worse! No one can explain to me what's going on.
All I keep getting is "We are going to send an email to our Home Delivery department and someone will get back to you within 2 business days." LIES! No one has contacted me and I am sick and tired of calling every single week hearing this! I will never again purchase anything else from Sears or Kmart. Horrible, Horrible customer service! I am desperately hoping the right people will see this and I am refunded my money!

I ordered a portable ac unit online. I went to the store to pick it up 3 hours later and still had to wait and had to call an 800 number to request they release the item. I called one of the 800 numbers on the back of the manual to ask questions about the unit. I was transferred 5 times to various places in the world. Two of the reps were inaudible due to poor connection. The last I was transferred the phone just rang continually with no one pick up. One rep told me because I ordered the item online that it was not in the system yet so they could not answer any questions. The way these reps handle issues to transfer you without your consent to a department that has nothing to do with what you need. Do not understand how Sears is still in business.

I will never purchase another Sears product ever again. I have had numerous issues with Sears products. I have purchased warranties for every Sears product and have had an endless amount service calls. The service technicians never fix the real issue with the appliances and have to come back over and over again. Customer service has refused to replace the failed product even after purchasing warranties every year and after failed attempts to repair the appliances. I have placed numerous phone calls and have taken the time to have numerous long conversations explaining the problems and have also taken the time to write a letter to the corporate office and no one has bothered to fix these issues! Sears products do not last and are not made to last and their customer service is not good to say the least. Once my warranty ends I will replace all Sears products.

In July 10, 2016 I placed an order for furniture set from a vendor on the Sears website. When I received the furniture it was not what I expected and was sub-standard in quality. It would cost more to return, than what the furniture was actually worth. The order is #** and tracking #**. This experience has been a nightmare with no response other than emails from the vendor, after repeated requests for phone contact from the vendor. The vendor will not return my phone calls at all. Feeling very frustrated and confused I called in to explain the situation and the customer service agent wasn't able to help so I spoke with a case manager. The case manager said it would take three business days to figure out about sending the furniture back, which is a ridiculous lie, because per their email, the policy should be resolved within 7 days.
I asked to speak to a manager and was advised the manager was not available and I was told they would call within 1-2 hours. No one has returned my call to date. I am writing to dispute this purchase because I refuse to pay furniture that is crap. I had no idea it would have been my experience. Its been awful. I know I will never shop at Sears with an online vendor again and will always highly discourage anyone against shopping there. This has been a nightmare and I have wasted so much time talking to customer service reps, case managers, and actual managers. Not one of them was able to help me.
Please do not shop here. A company with this poor of customer service does not deserve to be in business. Sears has the worst customer service in the entire world. I would appreciate a response regarding this complaint. The entire process is designed only to try to make you give up in frustration. After almost two days of dealing with surly CS reps who could barely speak English and did so with such a thick accent as to be unintelligible.

I ordered a Sears Kenmore upright freezer model 21242 on-line 5/31/16. Arrived 6/2, compressor failed 7/3. Contacted customer service 7/4 scheduled repair for 7/19. Supposedly repaired 7/19. Seemed to be running OK until 7/22, not cooling enough and there is green stuff (almost looks like antifreeze, is probably refrigerant oil with leak detector indicator dye) coming out of unit. Called customer service 7/23 12:10 AM - can't have someone here till 7/28.
I am very disappointed in this purchase. Tried to write a decent review on Sears.com but it was rejected, my guess is they scrub the poor ratings out. The supposed cost for the last repair under warranty was more than I paid for the unit, makes one wonder! Tried calling to reach someone in customer services to complain however all #'s I have found send you to their repair dept and all they say is sorry. I will need to go to Home Depot in the morning and buy a unit that works to save my freezer full of fish. Sears/Kenmore doesn't really seem to care.

Ordered an ac/dc adaptor I needed for my big flat screen TV. It's the only one we have and the old adaptor quit working. Ordered item June 13 and got a confirmation email from another company Sears farmed out to. Today is July 22 and still no adaptor. Call Sears, they say to call company that sent it. But that company never answers their phone and won't let me leave a voicemail. Sears will not help me in any way. This is why so many Sears stores have closed. Customer service SUCKS!!!

I ordered a fridge online on July 5, 2016. They have since not delivered it! When I call them they say they can't find my order, call "escalation dept" blah blah blah. I have now spoken with over 20 different people in different capacities and these morons cannot get their ** together. I am so beyond livid that I simply went back to my credit card company and disputed it! WILL NEVER BOTHER WITH THESE SIMPLETONS AGAIN!!!

I bought a new washer and a new dryer at Sears in May in Bay City, TX. After installation the dryer works, but washer doesn't. We call Sears, they told us it's in shipping mode. In order to fix it, we have to unscrew 4 bolts on the back of washer. It still does't work. Since we are working in fishing business, we have to leave home and would not be back a month later. After came back from fishing trip, we call Sears again. They told us it has been more than a month since we bought the washer, they can only fix it, no exchange.
Sears did send a serviceman the next day. He could not fix it, and speculate that the electrical board was bad. He told us order parts and return to fix the washer taking around one month. I called customer service to complain that I can't wash my clothes by hand for another month and need a exchange for new washer. They told me it's my fault, that I should call them within 30 days. Should they replace the washer since they sold us a defected device.

Awful service. If they know you have a Sears Protection Agreement they will schedule your appointment much later than if you don't have it (try the difference in scheduling an app online - selecting "Not sure" when asked about which warranty type or selecting Sears protection Agreement: see the difference in dates availability). In fact: you have already paid them with the Agreement, you won't change service provider, and they know it. No interest in providing a quick and satisfactory service to the one who should in fact be best treated. The phone diagnosis a fraud: they never guessed it (and I'm talking about multiple times) and just added more days and frustration to the whole process. Stay away from them!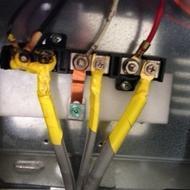 Last week Monday I was making dinner and my stove sparked and blew the circuit. I had purchased the stove when I purchased my first home in June 2009 brand new from the Sears in Portage MI. The following day I had an electrician come out to fix the problem. When he opened up my stove he was shocked at what he saw, he could not believe that I had brought the stove brand new. He could not believe a company would send a brand new product out with yellow electrical tape all over the cords. He suggested I contact the company. So I did on Tuesday of last week. The lady I worked with was also floored and could not believe that the stove was sent to me in that shape. She transferred my case and said I would hear from someone within 48 business hours.
After 48 hours I still had heard nothing so I called again on Thursday. The employee I spoke with transferred my case to a higher person and said again I should hear from someone within 48 hours. I never received a phone call so here a week and a half later I still have no stove. Today I called again and after waiting on hold 30 minutes I was told that if I would've bought my stove in July they could of done something about it but since it was bought in June, they cannot pull up my receipt and they can give me 10% off the part or 20% off the service.
To me this is not acceptable. I understand the stove is 7 years old, if it was normal wear and tear I have no problem paying for it. But, when I have someone who sees problems like this daily telling me that this is something that is not normal, and the company should not have sent me a brand new stove that way, that is when I have the problem.

We spent 1200 dollars on a mattress that is not comfortable to sleep on. They refuse to make good on the warranty. They no longer send some to physically look at the problem. We now have to take a loss on this mattress and buy a new one. It won't be from Sears or a Sealy.

I ordered a table online. Two hours later I changed my mind. I located my order and tried to cancel it online but the only option given was to call the 800 number so I did. After being transferred twice the agent said she could cancel the order because the status was processing. She said "I have cancelled your order". The very next day I got an email from Sears stating the order has shipped. When I called customer service again they showed I called to cancel but somehow it was not submitted. I had to speak with a supervisor and she said she would try to cancel the item before it shipped. Bottom line is I will have to wait over a month for the item to ship and then be returned before I get my refund. I will never order from Sears again. And I will make sure none of my friends and family do either. Online shoppers beware!

I have a 4 year old Kenmore Elite French door refrigerator which failed on the 25th of June. Called for service on the 27th and have had 3 techs come out and still the refrigerator is not fixed. 2 main circuit board over 2 different service calls have been replaced by the 1st tech, a Sears sub-contractor/part changer. A real Sears service tech came out and determined that the problem was the compressor. It was ordered but is now on back order as Sears didn't have it and is trying to find it. Turns out I am now being told that there are now 4 parts being sent. I think they are rebuilding the refrigerator??
I requested they replace the refrigerator as I have a Sears Master Protection Agreement/warranty. But it states the product/refrigerator must have 3 failures in the same year before Sears will replace the refrigerator. I have talked to at least 15 customer service people who have to work in a badly flawed system that prevents them from actually giving good customer service and getting something fixed. You also get to repeat the whole story just about every time you call after going through a long menu/phone tree.

This is in regards to an order placed with a customer service representative to buy a bundled fridge, oven, and dishwasher from Sears online. First of all, Sears sold us a package with a refrigerator that didn't fit even after we asked specifically if it would fit. The specs on the fridge were 69, two inches too tall for the space we had but the customer service representative told us that it had two inch adjustable legs and could be made short enough for our 67 tall space. It turned out that the legs could only be made taller by two inches.
The customer service representative also failed to inform us that we needed to buy hoses and extensions if we wanted Sears to do the installation that we paid for. So, when Sears delivery team called and told us that they could not do the installation due to this we had to push back the delivery in order to purchase the needed extensions. When they did sell us the extensions, they told us that we needed a hose for the fridge that turned out to not to be needed and is useless.
The exchange process was terrible. I found a fridge that did fit but was more expensive. When I explained the situation to a customer service representative I was told that I could exchange the two fridges at the same price because we would not even have bought the bundled kitchen set from Sears if we knew that the fridge wouldn't fit. I was told that the difference, which was $130, would be charged to my credit card and then refunded. I even gave the customer service person my credit card number after he asked for it. I was given an order number ** for my order.
I called again because we were told that the delivery department would call within 24-48 hours and the delivery dept. failed to get in touch with me. Sears crosschecked with my name and phone number and the order had not yet been placed. I asked to speak with a manager. I had to go through the exchange process once again and reorder the fridge. I was told that the same order number that I had been given but did not appear in the system would be my new order number. I asked the manager for identifying information so I could get in touch with him directly if something went wrong. He would only give me his first name and would not even give me a direct number to call him back. I asked him for a receipt and an email of the transaction that has occurred. He sent me no receipt of the transaction.
His email is supposed to detail the exchange but is very unclear. It does, however, have the order number on it acknowledging that the transaction was complete. I was given a case id number **. The customer service was very nice up to this point, but apparently lying to me. I was never charged and refunded $130 but Im still worried about what the customer service representative that asked for my credit card info will do with it and why he asked in the first place.
A person who identified herself as Susan from the delivery and installation dept called and informed me that the exchange still hadn't been made and that she only had notes about the action I wanted to take to exchange the fridge. She stated that the order number for the transaction that proved that it was made was not in the system. She got an attitude when I became upset about it. She told me that she could make the exchange but I would have to pay the $130 difference. She insisted on this even after I told her the whole story, stressing the part where I had been told that the exchange would be made free because: 1) it was Sears fault that I bought a bundled kitchen service with a fridge that did not fit and; 2) I had been told repeatedly that the exchange would be free.
I finally got her to come down to charging me only $27 dollars when she said she would give me 15% off, but it was exhausting and it seemed to be petty on her part. She gave me the same order number even though she said no order had been made before her call. I asked her to send me a receipt of the exchange. She sent me a receipt that did not have the fridges on it and was not a receipt of the exchange. The receipt only had a delivery fee on it which happened to be $27. I was also told before that I would not have to pay for the delivery of the exchange. This was all so upsetting and tiring that I didnt call back to ask for another receipt.
The fridge was finally exchanged by two very nice delivery men. All of the delivery men were very nice and the only highlight of my experience. Susan, the delivery/install women that actually did the transaction for the exchange called back. She had forgotten who I was and asked how the experience was and as soon as I told her it was horrible she got an attitude again. She cut me off several times while I was trying to give feedback (the point of the call).
She does not seem to be the right person for this job. I told her that I wanted a receipt of the actual exchange in case something happened to the fridge and I needed to return it. She said she would send one but never did. It seems to me that this exchange was never made official and this is why I can't get proof of the exchange. I had to miss three days of work because of the need for another delivery due to the exchange and because for some reason Sears will not deliver the dishwasher on the same day as the fridge and oven. This also meant that I had to tip three different sets of delivery men.

Do not purchase any protection warranty agreement with Sears. We bought one with our refrigerator. I have been without a refrigerator since June 8, 2016. I have literally had a technician come out almost every week. They are unskilled, waste my time (4 hour time blocks) and do not fix the problem. They put in a whole new compressor for the price of $900 and it still does not work. I have parts currently that the last guy said they need to fix it and they still can't seem to schedule the work to be done in a timely manner. Horrible customer service! They do not care that the consumer time is being wasted and really all the money that they spend on parts that don't even need to be repaired. Do not buy from Sears and certainly do not pay for the protection agreement. It will just cost you time and headaches trying to deal with these people.

I bought a new weed wacker last spring. Had problems with it. Took it back for repairs. They could not fix it. Gave me another one, 27 cc, and it has been there for repair twice, and this time they said they could not fix it. So they attempt to give me another one. I don't want a speed start one. I have bought the speed start accessories and it still does not start. I called the warranty number. I was told I have to take another weed wacker or I will lose that 159.99 credit that I have paid for the thing. I would not ever buy another piece of equipment from Sears again after approx 3 hours of my time back and forth trying to get them. You give me my money back on a gift card even. Was not durable. I will take it back and get another one, and sell it I guess, because I bought another brand, not Sears!

Ordered a replacement throttle cable for a 10 yr old Craftsman mower. Had a discount for 15%. Ordered went through, discount applied, and shipped to local parts center to be picked up. Now the problems start. I waited 30 hours after the UPS tracking said it had been delivered. They couldn't find it. I pulled up the confirmation and they finally tracked down who had signed for it and got it to me. Got home and opened the box. The bag had the correct part number printed on it but the plastic bag had been opened and taped shut again. Someone had written "auger cable" on the front of the bag. Of course it was the wrong part. Instead of 946-** it had 746-** printed on the cable. I assume a cable for an auger not a mower.
Go online and chat with rep. Can't seem to understand the problem. Ask to speak with someone. Give me the 800 #. Talked to someone who promised to take care of it and get the replacement expedited. I get an email showing the part is expedited and being delivered the next day (Friday) at no charge. Waited until Monday then checked on delivery. Check the order online and order details show they charged me again for the part, no discount, and charged me $18.00 for shipping even though it was to be shipped to parts center.
My lawn is now unmowed for 2 weeks and 10 inches deep. Go online again and chat with rep. Part not available and they must order from manufacturer. Won't be delivered for another week, no discount. "Sorry for your disappointment." Escalate to supervisor. Nothing she can do. Offers 20% discount on future order. Me: "There will be no future orders. I want this part expedited." She wouldn't even admit that her warehouse screwed up and shipped wrong part. Just have to wait another week and hope I get the correct part. Now will escalate to Sears corporate if I can find who to call and number. Way too much aggravation for an $18.00 part but customer service this poor needs to be called out.

In June I placed an order for a furniture set from a vendor on the Sears website. I never received a confirmation email so called in to have it sent. I received it and the estimated arrival time was ~2 weeks. After 2 weeks and no shipping confirmation I chatted in to see what was going on. I chatted with Cheryl who informed me the furniture would be arriving the next day. I asked for additional details about shipping as I live in a high rise apt building but she was unable to help. I called the vendor as recommended by the automated Sears hotline and when I spoke with the vendor they had no record of our order and beyond that they didn't ship to our address.
No record despite having placed the order over two weeks ago and having someone tell me it was arriving tomorrow. Feeling very confused I called in to explain the situation and the customer service agent wasn't able to help so I spoke with a case manager. The case manager said it would take three business days to figure out what happened to the order; not to process or ship the order but just to figure out what happened with it. I was told I would be contacted and never was. I called back again and spoke with another rep and then case manager to ask what the situation was with the order, they had no idea what the status of my order was.
After several days and many frustrating phone calls I decided to give up and cancel the order. Not only did the case manager not know if the order had even gone through at all but they were unable to cancel. I spoke with Judy, emp id ** and she was so rude that I demanded to speak with a different manager. She would not transfer me until I had asked several times. The manager was not available and I was told they would call within 1-2 hours. After three hours I called in to speak to the manager and was put on hold for another 10 minutes until finally speaking with Nate emp Id **. He told me he could not cancel but submitted a cancellation ticket and told me I would receive confirmation when the order was cancelled the next day. I called in the following day and asked about the order status and was told I would find out in two days.
At this time I still do not know whether or not the order has been cancelled but I know I will never shop at Sears and will always highly discourage anyone against shopping there. This has been a nightmare and I have wasted so much time talking to customer service reps, case managers, and actual managers. Not one of them was able to help me. Please do not shop here. A company with this poor of customer service does not deserve to be in business.

Ordered a refrigerator from Sears for a summer rental we own at the Jersey shore. Ordered two weeks in advanced to make sure we got the specific date and time we needed. Called twice to confirm before the date. The night before (after business hours) we got a call saying the fridge would be delivered 4 hours after the specified time. Because they call you so later there is no way to correct the problem that night. You can only talk to their offshore "help" center. Not helpful. Talked to the warehouse the day of delivery and they did get the fridge to us a couple hours earlier than first said, but still late. But wait, there's more!!! Fridge didn't work. We called, and were given some crap about it taking at least 12 hours for a refrigerator to get cold.
We gave it a shot, but the next morning it still didn't work. Calling they told me it would be THREE DAYS until they could "replace it'. That wasn't acceptable (we had renters) we found another fridge that day, and paid extra to have it delivered on a Sunday. Trying to get the fridge picked up and get a refund was even tougher. First they told me Tuesday for pick up, and 7 to 10 days to get a refund, and told me to call again on Monday. On Monday they told me Wednesday and two weeks to get a refund, saying that they had not scheduled a pick up the day before. Half a hour on hold later, we got back to the Tuesday pick up, but they REFUSED to give me confirmation email. We'll see if they come through, but they have certainly lost a customer.

I bought a new Kenmore refrigerator and noticed pools of water on some of the interior glass shelving. Initially I wiped the shelves down thinking I may have spilled something but over the next few weeks the pooling continued, so I am now wondering where this water may be coming from. Called Sears to report this issue before my 30 return date and was answered multiple questions about the leaking. The service tech keep insisting that I spilled something and was pushing a "Appliance Warranty." Seriously, how could I be spilling something in the three shelving locations for the past few weeks! He kept insisting that I purchase the warranty! Jesus Christ what an idiot!
Anyways, they were unable to schedule me for a tech until after my 30 days trial period was over... how convenient for Sears! I located a crack in the ceiling of the fridge interior. Called the Store and one of the sales person gave me a number for service. I am planning on returning the defective item... ON HOLD FOR 20 minutes. No one picked up my call nor do I believe that anyone would be planning on picking up the phone. So unacceptable... and the people that work in the store are clueless. They can only supply a phone number for you to contact. Sounds like Sears has this all lined up so that you have no choice in keeping damage merchandised.

No wonder Sears is going out of business in many states!!! I purchased a women's shirt in June... Exactly 32 days later, after returning from a 2 week vacation I attempted to return the shirt at the store. Unworn, tags on and with receipt. I was told I couldn't return it because it was past the 30 day mark. I asked for store credit instead of a refund and the sales clerk said she couldn't do that either. I will not be purchasing from Sears unless it's a necessity!

June 24 2016 a rowing machine from Sears showed up on my doorstep and wasn't signed for. Here are the details: Item was ordered on or around 5/15/2016 and I was billed $741.41 on that date (ordered online). 5/28/16 I canceled order after being told it was still on backorder and no ship date could be provided. I was told the order was canceled. No email confirmation was provided. Item appeared on my doorstep 6/24/2016. Contacted Sears 800# on 6/25/2016 to request Sears issue call tag and issue refund. Was told "offline team" needed to be engaged and I would receive an email with status in 24-48 hours. Furthermore I was told that refund could not be made since item was ordered on 5/15 (no mention was made that I did not receive it until 6/24).
7/9 contacted Sears "customer relations". Provided case number ** and was told that returning it would not be a problem since it was within the return period. A return label would be emailed to me and an apology letter sent. Right, as of 7/14/2016 I am still waiting. When I requested that they send me an email detailing their offer so I had it in writing they said it wasn't possible! 7/14: contacted Amex are crediting me and taking it up with Sears. God bless Amex! I'm not sure what has happened here but at a minimum Sears accidentally, or not, shipped an order that I was told by a Sears customer service rep had been cancelled.
I am not concerned over what Sears partner may have shipped this product or what the mix-up was. I am demanding that a call tag be issued and that an immediate refund be made to my Amex card. If this isn't expedited I will pursue any and all opportunities to repair the situation and move swiftly to post the appropriate consumer reviews on Sears and notify both American Express and the Department of Consumer Affairs. Accidents happen but professionally run companies fix them swiftly and fairly, as companies like Amazon can attest to. Absolutely unbelievable that a supposed major retailer in this day and age could have this type of customer service. Do yourself a favor: don't shop at Sears--ever.

I bought a new washer and dryer from Sears and they were just delivered. I did not order the pedestals at the time. I now have ordered the pedestals and Sears says it won't deliver them or install them. I am willing to pay the fees. I am disabled and my wife had surgery just a short while ago. This is a serious complaint and I believe discrimination.