Consumer Complaints and Reviews

On January 9, 2017, my husband and I went to our local Burbank, CA Sears Store to purchase a new washer and dryer. A very friendly salesperson named Maria (associate **) helped us. She honestly answered our questions and she was very knowledgeable about the Maytag products we were considering purchasing. Maria efficiently completed the sales transaction and set up delivery for 2 days later. The delivery team arrived on time (in fact, early) and were very friendly and pleasant. They quickly installed both the washer and dryer and fully explained how to operate both. They left with a handshake and a "thank you for choosing Sears". We were very happy with the entire process of shopping at Sears and we are happy that Maria explained the advantages of purchasing the "extended service contract".

Hi. I live in the UK and ordered a product from Sears International. After the stated delivery time had expired, I e-mailed Sears International: they told me that I apparently had changed my e-mail address and delivery address to Ohio US. I told them I did not and after some time the company dispatched a replacement, allegedly to my address - the very same thing happened, my delivery address having been changed to an address in Ohio. They said that the product had been delivered long ago and gave me a tracking number which proved that the item had been delivered - but to an address in Ohio! By this time I had had enough and wasn't prepared to wait yet one more month for the item so I cancelled the order. No response.
After repeated e-mails I started receiving nonsensical e-mails from them in such bad English that they could not be understood. 2 months later (!), I received an e-mail from them that the order had been cancelled "because it hadn't been processed correctly". Keep well away from this company - you will only have a really bad experience. They even had the cheek to say that their system was fine after I suggested that they take a look at the vulnerability of their system to hacking. What arrogance! Hands off!

This experience with Sears will be my last visit with them online or in their store. Their Customer Service is very unprofessional. I called to return the defected merchandise within the 30 days return policy. I was told 3 times over a total of several weeks that someone would return my call within 24-48 hours. NO ONE called me for the pick up and then when I get this rude rep on the phone today and said that I cannot return the items because it's over the 30 days time frame. Well, yes today it is over the 30 days but I called for the pick up and return before the 30 days. This rude man... He hung up on me and he put in the notes that I cannot return their defected items. I was ripped off for sure! I am stuck with merchandise that basically don't work properly.
This is shouldn't be the way a Corporation conduct business! I will take this lost but I'm writing to warn anybody that wants to know. Please take your business to a more professional retail store!!! This won't happen again because I will from now on read reviews before I make large purchases online!!! This was my first time ever writing a review. This is bad and unethical business practice Sears! Sears will never be my choice for any future purchases!

I attempted to get a broken dryer looked at by Sears Repair Service. After making an appointment and staying home from work for an afternoon, I was notified in the afternoon that they would have to reschedule the appointment because of weather that must have been happening in China since it was not happening in my city. I rescheduled the appointment for two days later only to find out that the crew was overbooked and my appointment was moved back another day. I called customer service and was on hold for 30 minutes before getting the full run-around and the "I'm sorry but the technicians are booked today and there is nothing I can do." They get paid to sit on the phone and put you on hold but I don't get paid to sit home waiting for a technician who never seems to arrive. How do these people stay in business? I called another repair business who came out the same day and repaired the problem... Sears is the worst!

On 12/27/16 I ordered from Sears.com 2 bar stools that were sold by Sears from their website. Cool, awesome, looking forward to receiving the 2 packages on 1/5/2017. That day I received 2 packages however I received 2 incorrect items (2 console tables that were over-sized and NOT what I ordered). I work in a manufacturing facility and know that sometimes wrong items are shipped, accidents happen. But the big difference here is that we actually stand up and help when we are at fault!
So I promptly called Sears and spoke with a representative who couldn't find the product I received incorrectly since the item I received is not sold by Sears. This representative was Extraordinarily rude, proceeded to call me "Ma'am" when I consistently told her I was a male and asked her to stop saying Ma'am to me. She was unable to provide any support and continued to call me Ma'am disrespectfully! She told me without any reassurance said that I would be receiving an email and a phone call from Sears within 72 hours. Ok... I never received any info or contact from Sears.
I then got the chance to speak with a Hazel via Sears.com's online chat system on 1/6/17. Hazel was sort of helpful. At least she was MUCH more kind than the first representative I spoke with. Hazel actually took down the wrong product dimensions and shipping information so that I could get return shipping labels from Sears to have the wrong items shipped back. She ensured me MULTIPLE times that this would happen. She also ensured me that the correct products would be expedited to my home the following Monday, 1/9/17. Turns out it doesn't matter how nice Hazel was... she was LYING just to end the conversation.
Well, as on 1/9/17, I had received ZERO communication from Sears until receiving an email saying that the labels couldn't be provided with my work return address on the package. WHATEVER just send me return labels I need!!! So I called in on 1/9/17 and immediately requested to speak with management regarding my case. There were ZERO previous notes from my case!!! NOT THE FIRST CALL, NOT THE SECOND CONVERSATION. So I eventually, after MUCH PRYING spoke with Manager Ray who while on the phone with me accepted that he needed to supply me with 2 shipping labels.
While on the phone he sent me only 1. Smh. I asked why there was only 1 in the email while on the call. He said that's because there was only 1 tracking number associated with the original shipment. WHAT!?? I told him to look at the tracking number with UPS and it CLEARLY shows that there were 2 packages shipped to me incorrectly. PLUS I have verbal explained what I've received MULTIPLE TIMES NOW!! He said I would receive the additional label from the "offline team" sometime within 24-48 hours. MIND YOU MY RETURN WINDOW IS DWINDLING BY THE DAY!!!
Now I asked Ray to kindly address the items I was expecting to receive last week. He said that I can return the wrong items and they will then ship out the correct items ONLY with a new order entered. WHAT??? I said "you were in the wrong, Sears sent me the wrong item. I'm willing to ship them back with your labels but Sears should have already submitted the replacement order as Hazel promised and have correct product expedited to my home." He said that they were unable to expedite orders and I would have to pay again. I asked "what about my coupons and rewards used on the original order; where I paid $102.75." He told me the new order would be $136 or something like that. NO, NO, NO! I said "I do NOT accept. Make it the Same or BETTER YET REDUCE THE PRICE FOR THIS RIDICULOUS AND UNNECESSARY HASSLE."
Well, He was in fact able to reduce the price to $97 and some change to which I accepted, very reluctantly, and then provided him with my credit card number. He then tells me he cannot apply one of the discounts and cannot provide that price of $97 anymore and it would be $113 and some change. WHAT??! AT THIS POINT I'M SO COMPLETELY FED UP! I TOLD HIM "DELETE MY ORDER! CANCEL IT!!! ABSOLUTELY NOT!" I told him this was/is the worst experience I have EVER had in my life! He apologized to which I did not accept! I do not accept your apologies as you are full of malarkey!!! Finishing up my call with Manager Ray and confirmed with him again I would be receiving the additional label today, 1/9/17.
The next day, today, 1/10/17 I got NOTHING from them. No info, no communications at all! I then chatted back with Sears.com and spoke with a Harlen who needed all my information AGAIN and who CLEARLY didn't read the case. Telling me to ILLEGALLY Ship the TWO packages with the same label! NO. ABSOLUTELY NOT! That's Fraud! I said "I require an additional label to be supplied. I need this TODAY." He did ensure to me that I would receive that within 24 hours. I said "NO! RAY said 24 hours yesterday. I do not accept. The 24 hour clock already started LAST THURSDAY!!! I would need that call tag today." I was less than confident that this would happen. And then I was even considering what I could do with the product I'll likely be stuck with.
Luckily this afternoon I received a phone call and an email with the additional label. I mentioned this situation should NOT have been this complicated. When a company is at fault ADMIT IT! AND HELP YOU CUSTOMERS!!! Sears... SO HANDS OFF AND SUCH UNACCEPTABLE CUSTOMER SERVICE!!! You may want to enhance your training guidelines. SO NOW, the products will be shipped back to Sears tomorrow and I'm really hoping that the full refund is taken care of without hassle! The manager who called me this afternoon with the additional label said that there would be No issues with the returning items. We will see.
How do I know I can trust these reviews about Sears?
671,225 reviews on ConsumerAffairs are verified.
We require contact information to ensure our reviewers are real.
We use intelligent software that helps us maintain the integrity of reviews.
Our moderators read all reviews to verify quality and helpfulness.
For more information about reviews on ConsumerAffairs.com please visit our FAQ.

We ordered a lawn tractor and bagger for a housewarming gift on 11/17/16 - both showed to be in stock. After 3 reschedules from Sears the lawn tractor was delivered, but not the baggers. They have been rescheduled 3 more times - the latest being 1/21/17. They charged us in full on 11/17/16 but will not send the product. While Customer Service is "very sorry for my frustration" they are not willing give me back my cash and charge me only after they find and ship the item.

Bought refrigerator the day after Christmas 2016 -- did not discover delivery date of 10 Jan 2017 till we got home -- old refrigerator not function -- must feed it ice cubes from supermarket 3x/day. We have called Sears getting the Philippines and other exotic world locations with no real help. Once got an automated message that delivery would be on 03 Jan 2017 but that never happened. Now Todd in Framingham deliveries told me delivery would be today at 11 am. It's now 11:28 no delivery no call... I think you should discount our bill by at least $100 in compensation for our inconvenience -- not only did we have two weeks without refrigeration and hours of complaining to your customer service to no avail. I am about to call back Todd to speak with his manager.

I purchased two Sears Craftsman 1/2 Hp 315 MHz garage door openers and had them installed November 2015. In December one of the garage door openers started opening and shutting on its own. I had to keep disengaging the door when we left for work. The problem was very sporadic and I did not take action right away until... one day while my wife was backing her car out, the door closed on its own on top of the car, ruining the door and scuffing up the car. Since I now had a security emergency (the door could not be closed), I contacted a door installer which also happens to do the Craftsman installs in the area. (I did not call Sears right away which is my error.) In addition to replacing both my doors they reprogrammed the opener to avoid any extraneous signals from neighbors, etc. The openers operated fine for 10 months.
Two weeks ago the opener started operating again on its own, and I immediately called the same installer (not Sears) who performed the original install. They confirmed the only remaining option is to replace the board in the unit based on their experience. I called Sears on Jan 4, 2017 and was told the labor for the service call would be $55, but the parts have 3-years coverage. I made the appointment frustrated that I had to pay for the service call for a covered defective part. The service tech. arrived and indicated the visit is $155, not $55, and the parts are NOT covered on this unit. I immediately called Sears and asked them to look at my initial call during which they quoted the above. They said there is no reason to check the call because the service call is $155 and the parts "are not covered regardless of the phone conversation".
I stated clearly I would pay for the full charge of the visit despite the misquote (no I did not mishear it, and I repeated it back to her to confirm), but I wanted Sears to stand by its product, 1. because it failed weeks after the install which I can prove, and 2, because they stated the warranty covers the parts. The manager said there is nothing they can do since I did not call in the initial 90 days when the accident occurred. So, I am left to deal with a bad defective product (I recommend staying away from Craftsman), and customer service handled the situation as unreasonable as possible considering the facts. (I recommend not stepping foot inside any Sears store.)

This is in regards to the incompetence of your customer service department. I placed an order for a high-efficiency laundry center on 12/27/2016, $1531.85 was readily debited from my account and item was to be delivered on 1/6/2017. The week of 1/4/2017 I called the delivery team three times verify the delivery date, time and location. I SPECIFICALLY told them this was not my primary residence and that it was 3.5 hours away and I would be driving down for the delivery. I told them I lived in the country and confirmed delivery times from 11:15 to 1:15. Needless to stay 11:15 to 1:15 came and went and no delivery.
I called Sears and they said they could not get up the driveway with their truck, which is ironic as CenturyLink made it up the hill in a truck that was twice as big as Sears and had a bucket on it. Then Sears said they would be bringing a different truck and it would be there by 2:00 pm. 2:00 pm came and went and of course no delivery. So I called again. Keep in mind getting a foreign person every time would could hardly speak English, let alone assist me as it was obvious they were reading from a script. When I requested an English speaking supervisor they put me on hold each time for at least 5 minutes and said no supervisor was available.
Anyway back to the 2:00 pm call, the representative then said the delivery was in route and would be there in the next 2 hours, at 4:00 pm at the latest. Needless to say 4:00 pm came and went and no delivery, no call from Sears or the delivery personnel. I then called again, as it was my intention to head home that afternoon. The representative informed me the delivery personnel was done working for the day and the delivery would have to be rescheduled for late January or early February. REGARDLESS THAT I DROVE 3.5 hours for this delivery.
Due to my aggravation I instructed them that I no longer wanted delivery as I could not trust them to arrived as planned, so I said I would pick the item up in my town of residence, near Independence Missouri. The representatives proceeded to tell me the item had been delivered successfully. THE ITEM HAD NOT NOR HAS IT EVER BEEN DELIVERED (The web site says it was delivered). The representatives were so confused by the process. They informed me the closest location I could pick up the item would be in Texas and proceeded to give me the number for a store in Texas. When I told them I would not be driving from Missouri to Texas to pick up the item, that I needed a local number they gave me 1.417.869.6950, and when you call this number it has been disconnected. INCOMPETENCE!!!
When I tried to speak to someone AMERICAN at the local store in Independence that was not possible as it forwarded me back to this call center. Needless to say on 1/8/2017 I attempted to cancel the order and request an immediate refund, the representative said it would be 10-21 days for a refund (which is totally unacceptable) and refused to give me a confirmation number. I have contacted my bank and reported this charge of $1531.85 as fraudulent on the part of Sears.
And on a second note at the time of order, I ordered all of the required supplies from Sears online and my credit card was debited on 12/27/2016 26.45 and 24.89. Within 2 hours of the order the local Sears in Lees Summit called and said regardless of what the online site said the items were not in the store and the order would be canceled because they were not available. To date 1/8/2017 26.43 has been credited but the 24.89 has not been credited. Once again I reported this to my bank as fraud.
I have NEVER been given such a runaround, never wasted so much time, never been treated so poorly by a customer service department, nor have I ever seen such an incompetent group of individuals. Be assured I will let everyone I know of Sears incompetence and HORRIBLE customer service. I sincerely hope you take this message and concern seriously as this is unacceptable and shows complete lack of respect for consumers and DONT TELL ME YOU'RE SORRY AGAIN. I want my money back immediately and I want this issue taken care of. I will never purchase another thing from you! I urge you to avoid Sears in anyway possible, as they do not care about consumers.

People need to begin boycotting companies who off shore customer service. I know I will gladly pay a little more to get treated like a valued customer, not like an afterthought. Sears customer service is incredibly poor and I hope people look elsewhere when making substantial purchases. I know it will save them a lot of aggravation.
I have been a good customer of Sears for well over 50 years. I recently purchased a refrigerator and range. Both delivery dates were set. 2 were needed because I elected to have them to install the range. The refrigerator was delivered a day late because of weather. That was acceptable, but what is not acceptable is when you want to get an answer as to why it'll be late. All you get is a scripted answer about weather delay. You get nothing else.
The range was set to be installed 2 days later on 01/09/2017 after an initial delay which again all you get is scripted answer and they have no information other than "product not available". For this installation I received a call form the local installer that we're all set for Monday 01/09/2017 between the hours of 10 and 2. On 01/08/2017 I get an automated phone call saying my range was further delayed and call customer service. Don't you think a company would ensure the range is available when they set up an appointment.
I did and of course all you get is product is not available and now the installation is pushed back until 01/17/2017. 8 days later. How can a company have an installer call with a concrete date and not live up to it. Of course when you call customer service all you get is a pleasant person on the phone saying they understand and continually read the product is not available. Whatever happened to customer service staff who actually try and work with the customer to resolve the issue and hopefully get a better date and try and keep a customer happy, even if it is a bit later.
There are 2 e-mails I sent to Sears customer service and received no response that they even received the e-mail. Management just doesn't care about customer loyalty. Is it any wonder Sears is having deep financial issues? I will not do business with Sears.

I purchased a top of the line Kenmore dishwasher from Sears in 2013. I hated it from day one because the top rack would slide out as soon as the door opened. In order to put dishes in or take dishes out of the dishwasher, you had to hold the top rack in with one hand while trying to load or unload the dishwasher with the other hand. It was maddening!!! I contacted Sears several times with my complaint, but was told nothing could be done about it. Last month a plastic piece broke off of the top rack piece that attached to the slider. I got the part number off the piece and called Sears to order a replacement part. I was told that my model dishwasher didn't have a piece that corresponded with the part number that I got off of my broken piece. When I asked why, the lady told me that I had a substitute piece on my dishwasher. She said that when they were manufacturing appliances, if they didn't have the correct part, they would put a substitute part in.
I ordered the correct part for both the broken piece on the right side and the correct piece to replace the left side as well. When I received the correct pieces for my machine and I installed them, it now works like a charm. I spent almost 4 years with a defective dishwasher because Sears didn't put the proper parts on mine in the first place. And to top it off, Sears CHARGED ME for the two parts that should have been on my machine to start with. I told the Parts lady that I would NEVER AGAIN PURCHASE AN APPLIANCE FROM SEARS. She said she would not either and she recommended Kitchen Aid appliances.

Sears delivered a refrigerator to my elderly parent's home. Apparently the delivery/install guy was confused that there was no water shutoff valve behind the existing fridge. Although it is a simple matter to shut the water off at the main valve and install the fridge and ice maker. So he did not install the fridge/icemaker and left my elderly parents without a fridge.
They had already been without a fridge for 5 days. When I called sears customer service to redeliver the fridge, the earliest they would do it was 15 days later. I spoke with customer service several times and they never called me back when they said they would. This was an emergency and they would not help at all! They are horrible at their job. I will never, ever do business with Sears again. No wonder they will go out of business soon.

The day after Thanksgiving this year my husband and I went to the local Sears store to purchase a washer and dryer that was on sale. We requested delivery after Christmas and everything went smoothly. I took off Friday, December 30th for the delivery. When the delivery men came, I heard "she's not going to want this". You know damage is bad when the delivery people are urging you not to take a shipment in so many words. The washer looked like it had been dropped at the warehouse as the right side and back were pretty smashed up. The delivery man immediately got customer service on the phone and explained the situation to get a new washer on order. The customer service rep said that this could be delivered on Tuesday, January 3rd. I explained that it had to be after 4pm because I had to work. "No problem, I will note that," she said.
So I get my confirmation call Monday, January 2nd and my delivery window is 11 am - 1 pm (not after 4pm as I was promised). I spoke with Adele in customer service letting her know the situation, what I was promised and that I need delivery Tuesday. She tells me that it is too late to get next day delivery, but that she will note I need delivery after 4 pm on Wednesday, January 4th. She also then mentions the home remodeling options Sears has. I tell her that I am not interested. Later that night someone else from Sears calls me to talk about my interest in the home remodeling options as Adele had noted that I WAS interested.
So Tuesday, January 3rd I get my confirmation phone call regarding delivery for Wednesday, January 4th. Now my window is between 9 am - 11 am (even though I was promised after 4 pm again). I spoke with Paul in customer service, who was only concerned with reading from his script. He could not do anything for me as they don't set the delivery times. Told me that I need to tell the delivery driver when they call me the next day to say that time does not work and they need to deliver to me after 4 pm and that won't be a problem. I asked to speak with a supervisor/manager and he would not connect me to one, only telling me that he was a trusted advisor. Imagine my sheer delight at this comment. I hung up on him and tried to call the local store where I had made the purchase but the phone would ring and then disconnect. Apparently no one there answers the phone.
Wednesday, January 4th the delivery driver, Will (who was on the original delivery to me with the damaged washer) calls me at 6:30 am and I tell him, "No," that I need delivery after 4 pm. I also mention this is what Paul in customer service told me to do. Will said no. The route is scheduled and he is not in my area after 4 pm. I plea with him to help. He said he would call his supervisor and call me back. I never received a call, so I left a voice mail, and that received no response back. I then called customer service again, refused to speak with a rep, and demanded a supervisor. I spoke with Ellie who "understood my situation" and did a very thorough job of reading from her script. I explained how everyone in her company had only given me false information and promises and no one there seems to be customer focused.
I had been inconvenienced and that someone in her company needs to make it right. She told me that I was not able to get the delivery after 4 pm because I had not paid the premium delivery rates. I asked her how she was the first person to mention this to me, and asked why I even had to pay any delivery fees at this time for all the troubles. She said she would send an email to the delivery department noting after 4 the next day since it has been rescheduled (which I will add was by the delivery drive and not me). She then told me that it didn't have to be me home, but anyone over the age of 18. Really, if I had the ability to have someone there, why would I be having this conversation, I would have accepted the delivery on Tuesday...
The washer was finally delivered Thursday, January 4th, almost one week later. I was promised a time between 4 pm - 7 pm. However they called at 2:30 so I had to leave work early, otherwise who knows how long it would have been? So in theory, no one at Sears cares about the customers. They all make promises for other teams they cannot fill. You are left to deal with three departments: the store associates that sell you the products, customer service who only reads from a script and over promises, and the delivery people, who are mad at customer service and don't go out of their way to help with anything. Needless to say I will NEVER buy another appliance from Sears and will urge anyone else to take their purchases elsewhere, which is a real shame since my grandmother worked and retired from Sears after 30+ years.

I had purchased LG washer and dryer from Sears on 11/24/2016. The details of my purchase is mentioned below. You can track the order through **. I selected this product based on the input provided by the Sears associate in the store. He intimated me that I'll get the washer and dryer on 12/19. Actual problem started when the delivery date was postponed. I got a email stating that the deliver was delayed by one day and was intimated that items will be delivered by 21st, and then subsequent delay in delivery notifications on 23rd and 28th... on 4th of Jan I got to know that it will be delivered on 25th Jan 2017, that's also I came to know when I called. As such I haven't got any mail...
I moved to the house recently and removed the old washer and dryer by thinking, that I will buy new one... Now I'm living with kids without washer and dryer for the last two months because of me choosing Sears. Being family person and with two little daughters how can I live without washer and dryer in home? In the last few weeks I had spend more than 10 hrs with your customer service time following up on this order... and no one has provided me an optimal solution... And finally I got a case manager. She claimed that she will provide me some solution and failed to do so... she suggested me to take different washing machine and when I asked for the delivery confirmation on one machine, she herself was not sure on the date delivery. When everyone enjoying their vacation I was not able to do so because of this.
Sears representatives were explaining me that there was manufacturing delay. I don't know how come suddenly LG coming into play. I was not told about manufactures when I went to stores on the day to buy... if there's a delay/issue between LG and Sears it's not my problem... I came to sears not went to LG. You know I'm shuttling between laundry and my home on alternative days for washing our clothes... and wasting time, money and energy. Can you imagine the amount of frustration I'm going through now. This is going to my last purchase in Sears. Please do think twice before going to Sears for any purchase.

Sears.com are liars! They will not give me my money back for an order that I canceled!! They keep on making up stories, and I will never get my money back! I have turned them in to the attorney general's office.

This complaint is about the Sears service scheduling only, not the local service provider. A&E Factory services has always been excellent. It took 3 calls before we got a technician out here. The first call, over a month ago, was essentially ignored. The second time they told us someone would be here last Friday, a wait of a week from the call. No one showed or called. When we called we were told the appointment had been changed to Tuesday morning, the 3rd. He said he would call back and confirm the appointment. He never called. Luckily the technician showed up today, following his call, and he's repairing it as I write. I repeat that A&E service has always been top notch, and Sears' customer service is always the same, lousy.
This follows on the heels of our last experience w/ Sears. On Feb. 14th we purchased this refrigerator, a Kenmore French door bottom freezer. Nine days after delivery it died. We immediately called customer service, a Thursday morning, and were told the earliest a service tech could come out would be the next Tuesday and that food spoilage was our problem because we had not purchased the extended agreement. We used dry ice to save our food. We had another service company look at it and Sears had a sold us a unit with a defective plug, no ground. I promptly went to the local Sears and informed them of our predicament and they switched out units for us. Again, the local store has been helpful and courteous. I only wish Sears customer service was.

I scheduled an appointment for a repair technician to repair my 4 yr old Whirlpool washing machine. I received several confirmations that a technician would be at my house today 1/3/17 between 8:00 am-12:00 pm, so I had to take half day off work to be home. At 11:55 am no one had come as yet so I called Sears. After trying for 20 minutes to speak to a human, I was told by a very robotic CS agent that there was an error in the system and no technician was working in my area today. No one had the courtesy to inform me of this. I ended losing more than half a day's work. Apparently, they don't care about your time and money wasted. Even speaking to a supervisor did not help.
The next available appointment was then Jan 9... almost a week! I now understand why many people say that Sears is a dinosaur... a dying company! The only thing carrying them are their appliances. But if there is no service for these appliances then why buy them from Sears? I contacted Whirlpool and they are sending out a technician tomorrow who will keep me updated on his arrival time. Now that's service!

I had a appointment to have my refrigerator repair on June 3rd 2017 between the hours of 10 and 2. At 1:30 I call to find out where is the technician. I was told that no technician was assigned to my repair order. I received several emails leading up to the 3rd stating that the technician will be there between the hours of 10 and 2. I was told that I have to reschedule for another day. I asked "how are you going to compensate me for my inconvenience." The response was 20% off parts. Then I said "suppose I don't need parts or I decide not to fix it I suggest taking 20% off the diagnostic fee." His response was "no. That's the best I can do." WOW. No courtesy call to tell me my technician is not coming, no compensation for my inconvenience, no apology. I was just asked "do you want to reschedule or not". Customer service this awful. How can you even trust that your Appliance will be repair correctly. My advice stay far away as possible.

I placed an order on Nov 29, 2016, Order # ** for an LG dishwasher. I was given delivery date of December 27 and got a call on December 26 that this will be delivered tomorrow between 3-5 PM. I had to get rid of the old dishwasher and which was supposed to be hauled away by them so I unplugged the existing dishwasher. Got a call next morning that delivery is delayed and will be a week from today. I prepared myself for one week without dishwasher. Got same call for delivery time. But again same surprise another call for delay and this time another month with same excuse that manufacturer did not deliver it. Although this item is available in every other store and ready to be delivered next day. These are cheater, irresponsible and do not value customer time, do not care about customer inconvenience, and they don't have system to give you correct and honest information.

Absolutely the worst return and customer service I have ever experienced. Faulty Craftsman wireless garage door opener, keypad within the one year warranty. Store will not do anything but give me a worthless phone number. After calling nine different numbers I was given each from a previous contact and at least four transfer, departments I had already talked with, talking with twelve different people no one could provide me with information how to get a replacement control under warranty. The last straw was when the final contact was going to transfer me to the number that I started with. Customer service is probably the first to go in a company that is in the process of going out of business.

This was the first time I used sears for repair and most likely the last time!! Not only was I overcharged the technician was rude and sarcastic. He was supposed to arrive between 10 am and 2 pm didn't arrive until 5 pm and still charged me a 80 dollar service charge!!! Unreal!

We purchased a GE washing machine from Sears in August 2016. We previously had a 3 year old Samsung which continually failed until we finally gave up and threw it away. One month later the Samsung machine was recalled due to a settlement but our was already in the landfill. When we purchased the machine in August we expressed our desire to have a reliable washing machine and the simpler the better. There is just the two of us so it is not like we are doing laundry for a large family.
On December 22nd, the GE machine stopped working. We went to Sears that night and they could not come to look at the machine until December 27th. That was when the real painful experience started. The service technician could not figure out how to get the machine apart to do an inspection of the problem. After 45 minutes on the phone he determined that he needed to order a bunch of replacement parts.
When I asked him for an explanation he basically accused me of leaving change in pants pockets and it must have gotten lodged in the machine. How he could determine that in spite of not taking the machine apart is beyond me. In addition, if change in a pocket will cause catastrophic failure of a washing machine something is seriously wrong! He told me that there were no openings on the schedule and the next time they could come out to perform the repairs was January 9th. So basically we are without the machine for over two weeks. The service technician was incredibly rude throughout the call.
Three days later, on December 29th I decided that I would go to the Sears store in Cedar Rapids, IA where I had purchased the machine. I was hoping that maybe they could help me understand the situation better. My optimism was soon dashed as the appliance sales person that waited on me was ruder than the technician. He basically said there was nothing they could do to assist and we needed to work it out with the extended warranty group. On several occasions he said it "was not their problem" and we must be to blame as we must have left something in a pocket.
We had asked for a machine replacement or at a minimum a refund of the extended warranty so we could cut our losses and throw this machine in the landfill to join the Samsung. Sears would not accommodate either request. At this point we are going to have the repairs made under the extended warranty. We will be purchasing a "Speed Queen" as we have talked to many satisfied customers. We will never darken the doorstep of a Sears Store again. It is fairly clear to me why this organization is in total disarray and headed toward inevitable bankruptcy!

Over Christmas our 32 year old gas range died, and I soon discovered that the part at fault was no longer available. I went on the Sears website to look for a new one, and found just what we wanted at a Lawrenceville GA Sears Outlet store, showing as "in stock" online. We went, there was no sign of it, but we were confronted with suggestions for lots of other more expensive models instead. The next day I repeated the exercise, this time selecting the Tucker GA Sears Outlet Store, same deal - they supposedly had it in stock.
I did an online chat, and the fellow offered to check the store inventory for me. He returned in a few minutes, stating that he had called the store and that someone "had put their hands on" the one we wanted. He began a long "better buy it NOW in case someone beats you to it" which got a "thanks, but we're right outside of the place now" response from me. You guessed it - not a one in sight in the store, no one knew of there ever being one in stock, but plenty of other more expensive ones here. I'm thinking a salad of bait and switch, outright lies, and who knows what else.

I place an order with Sears online. Everything was fine until I receive the order. Wrong size dining table. The table top was suppose to be 30X30. I got 48X48. I returned because was not what I order. The total cost was $974.00. And they credit to my account $430.00 and nobody in the customer dept. was able to help me. Be careful with Sears online orders. If you get the wrong item either you get stuck with it or never going to see a complete refund. I have been a customer for about 2 years. This was my first big purchase with sears and the last one. They don't care about your purchase satisfaction. I will never use Sears again.

We ordered the part E109835 for a new Sears Vacuum that we have had for a few months. They said it would take 2 months to get it, then we got a notice that it would be delayed for a longer period of time. Is it coming on a ship from China? We can't use the vacuum without it because it overheats. We vacuum 2x a week since we have 2 dogs. The part in question, would unscrew itself from the vibration of vacuuming, then when we would open the bottom, the part would fall out into the waste basket.
Unfortunately before we could bring the vacuum back, (me being sick with the flu), my husband unknowingly vacuumed one day didn't know about this, so it was left in the waste basket. We went to the store to buy the part, they don't sell it. They wouldn't even give us a vacuum to use for the holidays and said there was nothing they could do. It's not like when Mr. Sears owned this store years ago. I bet the whole Sears family sold out to who knows who. It's a terrible store. Well, the "old days are gone" and so is Sears. Sears is dead to us.

You ask us to respond responsibly when you don't. I was so angry when your service person was here. I asked for his assistance to push this refrigerator off my 15 foot high deck. I am presently on my second compressor, and this thing runs continuously. It is so loud that it drowned out the sound of a hovering helicopter over my house. Your service person blames it on LG, and the EPA. Sears accepts no responsibility for an unbelievably poor product. I was also informed that all the products I purchased, which included the fridge, oven, dishwasher, microwave, will only serve me for 7 years max.
Never in my wildest dreams, that something that said Kenmore on it would last just seven years. Sears has taken decades of customer loyalty, and spit right in their faces. Sears will go out with a whimper, and no one will give a damn. I am taking this 3-year-old piece of crap and making a YouTube video filling it with 80 pounds of tannerite, and blowing it to the space station. Along with it will be my craftsman toolbox, and craftsman tools. You have created the "anti Sears". Enjoy your time in HELL.

On Cyber Monday I ordered a television from Sears Marketplace. The order was supposed to be fulfilled by Dell. I verified my order status and it said the item was to be delivered a few weeks later. The tv was not delivered. I contacted Dell, they said I had to contact Sears, Sears said to contact Dell after numerous calls we had to do a three way call. They finally located the order and said the tv was on back order and that as soon as it came in they would expedite the shipping. A Week before Christmas I contacted them again and was informed, on another three-way call, that the item was expected to be in stock on December 30 and shipped immediately thereafter. On January 1st., I received an email from Sears stating that the order was canceled.
I looked online and saw the following... "To ensure the best possible customer satisfaction, orders that are over 30 days past the Expected Ship Date will be automatically cancelled. Please note that Sears Marketplace does NOT support back orders. Sellers will not receive payment for orders that are sent out after they are auto-cancelled. Please be sure to keep your inventory updated and use item level lead times to limit order cancellations."
I was furious that they canceled the order because I had been in contact with them, on numerous occasions. The Sears supervisor said that they don't cancel orders the supplier does. I told him that they cancelled the order, Dell still has it listed as being processed. I told him that their website even states that they cancel back orders. I stated that I didn't want to cancel the order because the tv was $140 less than what they were charging. Bottom line he said there was nothing he could do. If Sears is going to allow other companies to sell on their website the nation be held accountable for their actions. I will never buy from Sears or any of their affiliates again.

I purchased Batman light up boots for my nephew and the beginning of December. I get charged and I go to pick them up two days after the guaranteed day. I also received a phone call and email telling me they were there. I wait one hour for Sears employee at Vancouver Mall to tell me that he cannot find them. He says they will be on the truck tomorrow. I go back no boots. I then purchase my nephew a different gift deciding his birthday present would be those. I go after the holiday to get them. Nope no boots. They were damaged, lost etc. The store guy says, "we have no boots in the store." I walk out to the shoe dept. I find boots that are not Batman. I almost purchased them but why should I give Sears service at all. They have no clue in store or online what they are doing. I'm a homeowner that needs new appliances but I will not get them from there. I rather pay more than give them my business.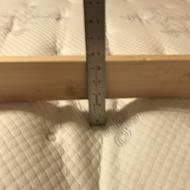 Bought a new beauty rest King mattress. Within 6 months the mattress started to sag so bad it was hard to get out of the bed. Followed their guidelines to submit claim. Clearly showed the mattress was exceeding the 1.5 inch, requirement with a 2.5 sag yet I was denied. After 2 years with my second attempt to show the mattress had meet the replacement guidelines. It was again denied. Then I was told I could only put in 2 claims. And no further claims could be submitted. This is a total scam, all they do is deny all claims. Please help.

I ordered a bed a mattress and box spring along with a bed frame on December 18th. According to the original order details my delivery date was scheduled for the 22nd of December. During the evening on the 21st I received an automated call from Sears confirming my 2 hour time window from 3 p.m. to 5 p.m. on the 22nd. The 22nd comes and my time from 3 p.m. to 5 p.m. comes and goes. No contact from Sears. I go onto the app to discover the delivery date has been changed to the 30th.
December 29th comes. In the evening I received an automated call from Sears delivery confirming my 6 p.m. to 8 p.m. delivery window. On Friday December 30th in the morning around 10:30 I decided to check the Sears app. Once again delivery date has been changed with no notification or explanation. The new delivery date is January 6th. Terrible follow through, no contact, quite possibly the worst customer service I've ever received for such a large purchase. It amazes me Sears still in business. After the first reschedule I called and spoke with someone asking for a 5% to 10% compensation for my time wasted and for their lack of follow-through. I was told that it wasn't a possibility.
Sears Customer Service Company Profile
Company Name:

Sears

Website:

http://www.sears.com/