Consumer Complaints and Reviews

Sears home warranty has been out to service our Sears Kenmore Elite refrigerator nine times in the past 12 months and it is still not running perfectly. One of three things is evident: they are instructed to do the least expensive adjustment or the technicians have no idea of what they are doing or the appliance is extremely poor quality. I no longer recommend anything with the Sears name including the warranty service.

Our washer broke down Jan 25, 2017 and we called Sears customer service since we purchased extended protection plan. First tech came replaced the part called HUB. After the tech left, I immediately try to load to check if the issue is resolved and still having problem. I called back so they send another tech the next day. This time 3 parts were needed, the sub rotor, bearing and Basket ASM. The tech issued a ticket and schedule next appointment Feb 8, 2017 from 8-12nn.
Feb 1st, there's 2 boxes that arrived. I called to let them know if any more parts coming or is that all so maybe we can schedule an earlier repair date. The customer service could not confirm so I agreed to just wait for the schedule service date. Feb 8 is here, no additional package came so I just waited for a tech. It's already 10 AM and nobody calls to confirm. So I called customer service. They said the appointment time they have was for Feb 10 and also just now telling me about that one parts it WON'T arrived until March 10. I'm like why am I just finding this now? You change my schedule repair date without coordinating this with my schedule. Then now they're telling me I have to wait for 1 month.
So with my frustration I asked for a manager and talked to Gina. She told me to talked to their protection team to give me instructions and more info about rental reimbursement or laundry care reimbursement. Spoke to another guy from Sears protection team. Put me on hold for several times. After being on the phone for almost an hour, the guy said that everything is scheduled for Feb 10 @ 8 am. So to my surprised but I still verified that I will no longer need to go the process of renting a washer on a center because a technician will still be coming on Friday, Feb 10 at 8 AM and that it resolves everything. The next day my husband received an email that the appointment is now moved to March 15. So I called back to verify where all this confusion coming from. Protection Team Derek and Kaya telling me they didn't find any schedule appointment for me at all until March 15 and just hanged up on me. This is just UNACCEPTABLE.

Sears service is garbage. First and last time we will ever purchase an appliance from Sears. After purchasing a Kenmore wall oven from Sears in mid-November and numerous tries to get the oven fixed we are still here in Mid-February with no working oven and two small kids. The first time we used the self cleaning feature the oven locked and would not open. The first appointment we had was a no show. The second outside repair person came after a week and a half and was unable to fix the oven and said a Sears tech needed to come. We had to wait another few weeks for an appointment.
Sears tech comes and determines that the door needs to be ordered. The part comes in and an appointment is scheduled for the following week and once again a no show with no phone call. Totally unacceptable. The next appointment is not for two weeks out and now someone needs to miss work to get this fixed. Incredibly frustrating and unacceptable. I should have went to Home Depot like I was planning to. I've been with a non working brand new stove for the past 6 weeks. Totally unacceptable.

I bought a dryer a month ago. I know nothing about installing a washer/dryer but when these guys arrived to deliver the products it was clear I had more knowledge about how to install them. And they kept asking for my help. They made a mess and installed the dryer by crushing the dry vent against the wall. I asked them if this was an acceptable way to install the dryer and they informed me it should be fine.
When I contacted the company and the person who sold me the dryer, they both agreed that was not an appropriate way to install it. So Sears came back and took the dryer saying they would deliver another one as soon as possible. They still haven't delivered it. They keep "scheduling" a delivery but that doesn't mean they plan to bring you an appliance on the scheduled day. It means you should receive an automated phone call with a time window the night before. But if they don't call you then they're not coming. Which means you get to call them (good luck with that) so they can re-schedule. I suggest they look up the definition of the word "schedule" and choose a different term. Such as "We are planning to jerk you around again on Monday." As a side note, I bought the same dryer at Home Depot and they delivered it properly three days later for free. Just go there.

Final repairs - I see that Sears is disputing our complaint. I am at a loss to understand by. They never contacted me resolve this issue except to reclaim a part that the second service person claimed that they never sent. Actually they contacted me twice by phone and sent me an e-mail to return the part. They sent FedEx to my home for pick-up prior to the calls. I will clarify that I did try to discuss my problem with Sears but only at my initiation.
How do I know I can trust these reviews about Sears?
693,837 reviews on ConsumerAffairs are verified.
We require contact information to ensure our reviewers are real.
We use intelligent software that helps us maintain the integrity of reviews.
Our moderators read all reviews to verify quality and helpfulness.
For more information about reviews on ConsumerAffairs.com please visit our FAQ.

SEARS WOULD NOT TAKE BACK A NEW UNIT THAT CAN'T BE USED HERE. I purchased a new Kenmore window unit 253.77250 in Oct 16 for my rv window and did not install it till Jan 17. My installer said I could use it even though it's a 220 volt unit. Tried to use it and it won't come on. Reason is requires a 220 line. I called Sears with my Sear service tech today Feb 7, 2017 and got a supervisor on the phone who was getting the information from technician. Then he hung up and I tried calling back but he made it impossible for anyone to forward my call to him. He is using the return rule of 30 days which I was unaware of since they say if anything is wrong in 1 yr they will fix it. I would like to have someone at Sears who is responsible get in touch with me.

Went to Sears on Jan. 10, 2017 and bought a dryer and side by side refrigerator. Paid some for them. When the dryer was delivered it didn't work so I had to wait for 5 days for them to send me a new one. So the second dryer came and it didn't work. Sent it back. It took over a week to refund me my money. I paid for installation on the side by side refrigerator and it took them two weeks for them to come and do the installation which they charged me twice $109.00 each time. The guy from installation called me and told me that he had to re-schedule for him to come and connect my refrigerator. So I took the refrigerator back to Sears and now it has been 3 weeks and they still have not refunded my money for the refrigerator over $1,500. When I try to go get my money back from Sears in Columbus Ohio Polaris Fashion one of the salesman had the nerve to cuss at me and nothing was done to him.

Ordered gas dryer on 1/31 over the phone from Sears with a delivery date scheduled for 02/03. Never received the promised delivery confirmation call the night before. After repeated calls to Sears this morning (02/03), was finally given the phone number for the "local" contractor providing the delivery and installation. Delivery and installation had never been scheduled with the contractor. The earliest delivery date, when the contractor is in my area, is now 02/08 for which I'm going to have to take another day out of work. As other reviewers have stated in various ways... no wonder Sears is going down the toilet.

I hope you like a good story. I live in NW Washington State. On Jan. 10, 2017, I purchased a 27" electric wall oven through the Naples, Fl. Sears Outlet Store. I added $250.00 for shipping costs to my purchase. The sales person [Steve] was very helpful and said I could do my purchase directly on the phone, rather than online thru PayPal or another source. I did and received a receipt thru email. Next stop for this item was during the week of Jan. 17, when the oven arrived in a warehouse in Tacoma Wa, approx.125 miles from my home. A warehouse rep. ["Air Van", a moving & storage facility] called to say they had it and were awaiting the "OK" from "Home Express", a middle broker for SearsOutlet shipping, because [and here's the "catch"] my zip code is "remote" and deliveries to my area are infrequent. I do live on a large island, 1 hour ferry ride from the mainland of Wa. state, however freight companies deliver stuff EVERY DAY.
I even gave the Home Express rep. the name of a shipping co. that delivers to my zip code by ferry and they said, "They don't deal with them." I offered to meet them at a mainland area zip code that was within their delivery area and they gave me such a run-around, eventually referring me to a Sears Customer Service phone number: 1.800.341.2517. The plot thickens... Sears has no record of this being a delivery item, as it was not online, but through the store directly and though they could find it in their records, it was listed as "store pick-up" [hard to do when you live 3,000+ miles away]. So, here I am, between a rock [Sears] and a hard place [my growing anger with Sears] and ready to reach for the phone to my lawyer [Legal Shield] and file a lawsuit against Sears for miscommunicating their delivery system.
Bottom line: I was told directly by a "Home Express" person that delivery would not occur until they built up other items in my zip code to justify the truck ferry expense" and that "this could take a long time" - no date even mentioned. I was further told by one rude employee of theirs: "Well sir, you did choose to live on an island". Bottom, bottom line for me: if I want the item in a timely manner, I will have to rent a pick-up truck and drive [125 miles (250 RT) to the holding warehouse and get it, which I will probably do. MORAL FOR ANYONE READING: DO NOT PURCHASE THRU SEARS OUTLET. And here's another reason not to: Around the same time I bought the oven, I also purchased a Sears Kenmore Elite Gas Downdraft Cooktop from a local Sears Outlet and picked it up in person. Store was polite and I installed the item.
When I picked it up, I inspected it [ok] and took a box of parts [the downdraft stuff] and a plastic bag labeled "LP Conversion Kit". We use LP [Liquid Propane] Gas on our island and you need a different pressure in the regulator and 4 different burner "orifices". I've done this before, so I know what I'm talking about. Inspecting the bag when I got home, I noticed that the 4 orifices were not included. I called the store. They said "Sorry sir, you bought this AS IS", telling me to go to Sears Parts Direct, which I did. These 4 items, about the size of your pinkie finger and 3/8" long, cost $135.00!!! Not only that, I ordered them 12 business days ago and they have still not arrived. I've gotten items from China faster.
If you're reading this and thinking of buying thru Sears Outlet STOP/GO BACK TO START/DO NOT GO FORWARD. If you're reading this and you're a Sear's Co. representative... shame, shame on a company that my father loved and when I was a kid, we used to visit weekly. I'm not done with you yet SEARS... there is a lawsuit somewhere in all of this and when I get together with my Legal Shield counsel soon, we will figure it out.

Purchased the dryer + the "required" parts for Sears to install - the delivery people left the dryer, NO "required" parts that I paid $70.00 for and advised that I call a handyman... Really? No wonder you are going out of business.

Sears Canada: I purchased a range, microwave, dishwasher and a fridge from Sears. My experience with this company has been absolutely horrible. Originally the reason I chose Sears instead of Lowe's/Home Depot was because I was able to save $300. As a smart shopper and bargainer I thought this was a better deal, but I was very wrong. First of all when the delivery truck came they emptied all the products except my Fridge. When I asked where the fridge was they said they didn't know and for me to call the customer service department. When I called the customer service line the girl told me they didn't know where my fridge was but they knew earlier that it wasn't loaded in the truck because they didn't have it at the warehouse. When I asked why did no one call me and tell me they had no response.
I paid a carpentry to come to my house that day to frame around the fridge, so when the fridge didn't come I still had to pay $300 (which was my original saving when choosing Sears). I called back and spoke to another representative they told me they didn't know where the fridge was or when I was going to receive it. After talking in circles for 20 minutes with no support, I requested to speak to a manager. Eventually I spoke to a supervisor Tracey who assured me she was going to take care of this and give me a call the next day with a resolution. It's 6:30PM and after 2 phone calls and 2 messages I still have not received a response. I just moved into a new house today with 2 kids and no fridge. How this company is not already bankrupt amazes me. BUYERS BEWARE. Pay a little bit more knowing you will get quality service from a company that cares about their clients.

I purchase 2 major appliances gas range and a refrigerator that's has filter water dispenser, crush ice option and other features that interested me in this item. 1st complaint sales guy never told me that I was responsible for disconnect the gas line to my old stove to have it remove from my home upon the delivery of the new stove. The delivery guy tells me to call Sears once the old stove is disconnected and that Sears will send someone out to pick it up. I get someone to disconnect it that night. I phone Sears first thing in the morning and the customer service agent tells me that it will now cost me $25 for pickup. Now I have a stove sitting on my back porch. Ok I got over that!!
My biggest complaint #2: The refrigerator I purchased this item with no knowledge that in order for the item to work properly in now need to order a water line for a tune of $189.00 plus tax. The salesperson never shared this information with me at the time I was considering such an item which had he shared this information is would have choose a different option that did not require additional parts. This new information is told to over the phone and I'm also told that I can't order the part over the phone and have to go in-store to order this part. After all of that I ask the gentleman I'm speaking with to transfer my call to put in a complaint and he himself hangs up on me. I'm a very unhappy customer and this will be my last purchase with Sears. They showed me no apathy regarding my 2nd complaint and that's makes me a very unhappy customer. I will share my poor experience with as many people as I can from this day forward.

My Wife and I just purchased a new fridge and range from our local Sears and paid for it to be delivered. We removed the old fridge from the kitchen to the garage a couple weeks prior to delivery because we had our hardwood floors refinished. When the delivery team arrived I told them the fridge that was to be removed was in the garage and they could just set the new range in the garage as well. I leave the garage for a second and come back in and I see that he had grab my dolly that was in the garage and started to roll the fridge away. I stand there and wait to see what he would do. He sets the fridge down and then uses my dolly to roll the new range up as well. I would have mind he used it if he had asked. I didn't like the fact that he saw it in my garage and just grabbed it. Just think of what else he could have taken if I was not there.
Prior to bringing in the fridge the delivery man measures the walk ways. He noticed a dent in the door way and we both agreed that they did not do that. So they now carry in the fridge and install it. After they leave I go back and double check everything and I noticed scuff marks on the other side of the doorway along with scratches to the newly refinished hardwood floors.
I contacted Sears delivery right away to filed a complaint and waited for about 2 months for them to investigate. I sent them pictures of all the damages as well as receipts proving I just had my floors refinished. I just received a letter from them stating they will no longer be pursuing this matter and they determined that their delivery team did not cause those damages. Now we are left with scuff marks on our doorway, floors and a sour taste in our mouths.

We purchased a Kenmore Elite refrigerator with the bottom freezer and the water and ice dispenser in the door over 6 years ago. Paid over $3,800 for it! THINKING KENMORE TO BE A GREAT PRODUCT! This is our second fridge from Sears in 12 years and I can just say "Never again". Same issues with the water leaking from the pump... We searched online for parts to repair and seems like they have been discontinued. GO FIGURE!
I called for a repair on the fridge and here's my story. First when I called on a Monday they said they would be here on the Friday to see what they would need to repair the refrigerator. So I waited then the call center called to reschedule the appointment to Monday. I could hardly understand the individual I was talking to because apparently their call center is not in North America. "No problem," I said so on Monday I waited and no show then the call center called again to reschedule to Wednesday because the individual was sick. Not a huge problem cause that happens.
On Wednesday they called again to reschedule to Friday. Thursday night they called again to say they will have someone contact me to reschedule again... What is going on Sears? Now as I'm typing this I got a call to say that they have acquired McNeice repair service to do the job... But why do I need to pay more for the call than previously? Pissed client!!!

I ordered a Maxi Climber fitness machine for store pickup. Online it showed as in stock for my store location. After I paid $200 and received an email confirmation my order was cancelled because they did not really have the machine in stock as stated online. Instead of checking another store which did have the machine in stock they took my money out of my account and then offered me no options to pick up the machine elsewhere or offer to deliver it to my house. They said they were unable to provide further assistance. The customer service staff and supervisor were extremely rude and now I have to wait for them to refund my money 5-7 business days. Unacceptable!!! Never ordering anything from Sears again.

I purchased a 1 carat, diamond solitaire ring from our local Sears that is going out of business on 1/20/17 for $970.09. The purchase was made with "all sales final" and I accepted this in good faith. However, I was not informed that this diamond was of poor quality, not certified and rated as a 1 for clarity. The ring was beautiful in store, but upon inspection in normal lighting at home the diamond is literally covered with inclusions (carbon) throughout that is visibly obvious to the naked eye.
The specifications and details of this diamond were not specified on the ring's tag, on the Sears internet site, nor by the sales associate. The sale of this ring was deceptive by the omission of facts, unethical and certainly with dubious intent. I have contacted Sears by phone and letter; written a review of the sale on Sears.com; filed a dispute with Sears's complaint and Solutions Dept., case ID **; written numerous letters to executives; and disputed the charges with my Visa credit card bank, in order to obtain a refund or exchange of this ring.
I fully, completely and without reservation understand the phrase that "all sales are final," as in my case, however, the withholding of pertinent, relevant information/data was not ethical, fair or acceptable. It was sold under false pretenses and nowhere was it stated, implied or written that the diamond was being sold "as is". I would have never purchased the ring at any price!! None of my attempts to resolve this have been addressed and are being ignored. Sears.com customer service representatives have assured me on 2 separate chat sessions that I have transcripts of, that my satisfaction was guaranteed and a refund would not be an issue. I am incensed, frustrated, angry and determined to find a resolve in my favor!! I am pursuing assistance and/or suggestions for a fair and equitable resolve to this matter. It is an outrage!!!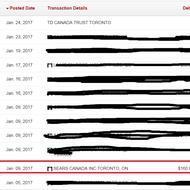 I had ordered a crib mattress from Sears Canada to be shipped to my local distribution center on December 28th. The estimated delivery given was 3 to 7 business days. That delay passed and about a week later I received an automated call saying that my mattress had arrived. When I went to the depot in Sept-iles to retrieve my purchase the sales lady there told me that they do not call customers and that my order was not yet in. A week later, I still had not received my mattress so I called Customer service. They told me they didn't know where my mattress was but it was probably in transit so to check back in with the local distribution center the next day. The next day my mattress had still not arrived!
A week later I call Customer service again who then tell me that my mattress is in Quebec City and will arrive the next day in Sept-iles. The mattress did not arrive. So after about 4 more calls with Customer service and about a half a dozen emails they finally inform me that my mattress had arrived in Sept-iles but that the lady there had shipped it back to Calgary (for God knows what reason!). I am now 39 weeks pregnant with no crib mattress. They told me they had refunded me (which is a lie, I have yet to receive my money), and as compensation for all my problems they will send me a $20 gift card which will arrive in about 6 weeks. I find this $20 gift card as compensation insulting considering all the stress they have put me through when I am just trying to guarantee that my baby will have a place to sleep when we get home from the hospital!
This company is a joke! Do not order from them especially if it is an important purchase such as a crib mattress!! I am predicting they will be out of business very quickly if they continue treating their customers this way. The worst part is that if I had not constantly harassed Customer service they never would have informed me that my mattress order had been cancelled.

My problem is quite long so try to get to the facts. I was sent to the store by Member Services. Chelsea told me she transferred my case after back-and-forth between the store and this Chelsea case ended up back with her. I had a authentic exchange written up with the store stamp and she would not honor it after she sent me for it so I ask for her supervisor which was the team leader which was a big mistake, Dana won't talk to me only emails. She wants to take my mattress, send me a check in about two weeks and give me $50.
I don't shop rewards card to buy an air mattress to sleep on knowing I'm a cardiac patient and I need a mattress exchange badly. She states Sears can't please me with an exchange but all the mattresses come from the same company. I felt really hurt and insulted to think a sears employee would treat me so disrespectful. If it wasn't for us customers she wouldn't have a pay check. I realize a Sealy mattress set is out of the question so I would be grateful for another new Beauty rest mattress. Please let me know if you're able to help me. I'd like to get this resolved and concentrate on my health.

I ordered a sound system from Sears website. Nowhere online, or in any verification emails that I received did it mention I needed to be present at the time of delivery. When I tracked my package and saw "delivery attempted, will reattempt tomorrow" I called Sears to change the delivery address. They said they were unable to do this, but couldn't provide a reason as to why. The first associate told me to cancel and reorder, which I didn't want to do because I had used points and wasn't sure if they would be valid on the repurchase.
The second associate I spoke with then told me it was too late to cancel, and there really wasn't anything I could do. If I had known a signature was required I would have the package shipped to my job. This is after buying a refrigerator from them during the summer and having the salesperson "guarantee" the delivery men could bring my old refrigerator downstairs. Naturally, the lazy delivery men get there and say "We don't move appliances". I guess they'll tell you anything to get a sale. I will never be buying a product at Sears again, as they use shady sales methods to take your money, and then can't even cancel an order in a timely fashion. This company is horrible and it's no wonder they are struggling financially.

I was on the phone for two hours today trying to get my annual tune up for my washing machine. I was told last week to call this Monday which I did then told to call on Friday to schedule the tune up but then said my service agreement was up as of today. I was switched to a manager who couldn't help and then service product section in which I was disconnected twice. After being on the phone for two hours with absolutely no resolution and disconnections I am thoroughly dissatisfied and NOT calling Sears again. And I still have not scheduled my tune up. Very very disappointed with Sears and will never buy another Sears product.

Purchased a $2100 washer/dryer from the Provo Sears store. After 2 failed deliveries, I had a dryer hooked up. BUT my new washer was sitting in my family room not hooked up due to showing up without parts twice AND they stole my old working washer that we did NOT ask them to take. When I called our salesman Jake, he took NO responsibility for anything saying they contract out for deliveries and his instructions were clear, yada yada yada...
Then he lets me talk to his manager Erika. She was the most patronizing woman I have ever spoken to, and again, she too took no responsibilty and said she'd TRY to get back to me in a couple days. Supposedly delivery men will be at my house tomorrow to complete installation but the process has taken over a week with me not having a washer for the past 4 days because they stole my old washer that was hooked up and working. I WILL NEVER SHOP PROVO SEARS AGAIN!!! Horrible store and awful employees!!!

The experience was fine - I was told my washer would cost over $500 to fix so I declined the estimate and figured I'd buy another. I paid on the spot. I've received two bills from sear's fake "collections" department and they acknowledge the mistake but continue to send threatening bills. I call to speak to them and I'm rerouted from one department to the next. Completely unsurprising that they are going bankrupt with this kind of service. I'll be going to Home Depot from now on.

On January 9th 2017 I ordered a Olympic weight bar. Was supposed to be delivered for pickup at the store on January 13th. I got the email and a text on the 13th saying my purchase was ready for pickup. As I was leaving work to go to the Maryville TN, sears to pick up my purchase an employee calls me to say that my weight bar was not on the truck and to ignore the emails and texts that I received. He told me that it will be on the truck the following week. So another week went by.
On that Friday I showed up in the evening to pick my purchase up and scanned my bar code at the kiosk. An employee came out of the back and said that my purchase was not there and I would have to call the website customer service. I called customer service and the lady said she would send an investigation application to management and I will receive an email update in 72 hours.
3 days went by and I got an email saying my purchase has been picked up from their store and the investigation has been dropped. Called back customer service and the lady told me exactly the same thing that she was sending an investigation application to management. So now it's 2 weeks past the time I was supposed to receive my weight bar and this lying scandalous company has completely stole from me and from what these other reviews say is a lot of other people. Sears needs to close their doors. What they are doing should be illegal. I will never shop there again.

I ordered a KitchenAid mixer that was 70% off online. The money was withdrawn from my account. Several days later I still had not received an email letting me know it had shipped. I spoke with Customer Service who stated it would be shipping 3 days later. Two days after I spoke with Customer Service I received an email saying that the product was sold out and my money was being refunded. I called Customer Service right away and asked what was going on and they said they had oversold the product and would not be able to fulfill my order. I said that I would be happy to wait until they receive more of the product and they said that they could not do that and I will just have to accept the refund. They did offer me a 10% discount if I ordered the product online again but that was quite different than the original 70% discount.

I ordered a washer and dryer from sears.com, they charged me and sent me an email saying my delivery was scheduled. Later that day he sent me an email saying my order was canceled? I check my bank account and the money was taken out! I was on the phone with six different people and no one could tell me why my order was canceled or where my money went!!! This is the most horrible customer service I have ever encountered. I still don't have my money back three days later, and I will not be receiving a washer and dryer!! NEVER ever trust Sears. They are thieves.

I purchased a ring from Sears. I went to the store to return the ring (within the 30 days) and was told it was not returnable because the tag was removed. I explained the sales rep removed the tag for me and did not mention the ring could not be returned if the tag was removed. I spoke to 3 employees at the store, including the assistant manager. The tag was in the bag along with my receipt. I asked for the corporate phone number with no assistance. The rep over the phone explained the return policy is listed on Sears.com. This policy is wrong and misleading. If I was told that the ring was nonreturnable while in the store I would not have purchased it. The reps over the phone were not helpful. I will never shop at Sears again! I am totally dissatisfied!

On Wednesday January 18, 2017, I received an automated phone call stating that my product was going to be delivered between 0700 and 1800 on Friday January 20, 2017. I called the 1-800 number back to inform them that no one was going to be home until after 1230. They noted it in the comments (they said) and also informed me that I would be getting a closer time frame the next day. I received another automated phone call on January 19, 2017 saying that the product was going to be delivered between 1050 and 1250. I again called the 1-800 number to inform them that no one was going to be home until after 1230. I was assured that they would note that and that the delivery driver would call prior to arriving to ensure that the delivery time was accurate. I again asked to make sure that the delivery time was noted. I was assured that it was.
I received a phone call at 1125 on the morning of January 20, 2017 from the delivery driver asking if anyone was home. I said no, that no one was going to be home until after 1230. He told me he was at our house. I was able to leave work and made a mad rush to my house to accommodate the delivery people as I don't believe it was their fault. I asked if they were informed of the scheduling issue that I had. The main delivery person said that no, he was unaware of the time that was requested. Needless to say, I am very displeased with having the customer service call centre situated in another country (as most are nowadays). It would appear that the almighty dollar is so much more important than good customer service.

Bought a washer online, clicked on the "free" delivery of new and haul away of old washer. Lead time was 3 weeks?! Laundry was building up so called "customer service" to change from delivery to pick up myself. A rep with a strong Filipino accent I could hardly communicate with then tells me I cannot pick up myself as the washer is on order and in another state currently; I proceed to tell them I am online and it shows me the option to "pick up at store" if I purchased right now. The rep then lies and tells me that would only be a floor model "do you want a floor model sir?" I hang up, cancel my first order, re-purchase online again (for a better price so thanks for that) but choose "pick up in store". I drive down and pick up my brand new washer (which was not in the store as I was directed via text but at the warehouse a couple miles away as I was told by a store worker).
I then call to see about hauling away my old washer; I am then told that I chose to pick up the new one myself so it is not possible to have Sears haul away my old one. I argue it's no different except I saved them half the work and it's only because they would have taken 3 weeks to deliver. Again in a Filipino accent "sorry sir but I cannot do that thank you and have a good one". I replied "thanks for nothing". I will never purchase from Sears again, there is no customer service. Just a powerless, hard to understand person on the other end you get after a frustrating series of automated recordings. Common sense is non existent and nobody is accountable or has the ability to help with anything. They are better off not even having a "customer service" line as people might be less frustrated lol. The washer works great but the anger and frustration of dealing with Sears' people sucks... never again!

I called on Christmas Eve 12/24/16 to schedule an appointment to have my dishwasher repaired (less than a year old), since it decided to go out on the busiest cooking day of the year for me. A "technician" came out on the following Tuesday and told me he had to order a water valve. Left me his telephone number - which was a ruse, since he never answers or responds in any way... 3 weeks later, no part, no tech and no viable dishwasher. I call the 888 number again. One sheeple told me that the part was still on order. Another told me it hadn't been ordered. Another couldn't find a record of any of this happening. Finally reached someone who spoke American English who rescheduled a different technician to come out. Supposedly, one is to receive a call the morning of the scheduled tech appointment, to let one know approximately when one should be home to answer the door for exalted tech repair person.
I got the phone call when he was 5 minutes away from my home. I work for a living. I do not work at home. I had to call someone to get there, so I didn't lose the damned appointment. Never heard from the lordly tech. I called this morning, only to be hung up on 4 times before I got a "supervisor", who could only tell me that the parts had been ordered and that I have an appointment February 4, which will be 6 weeks after the brand new dishwasher decided to not work. Sears "repair" service sucks. Sears shouldn't sell things that they won't stand behind or can't get the parts for. I want a new dishwasher, since they obviously are NOT able to get the proper parts and they need to fire the whole "Customer Service" team, since it doesn't really exist anyway. Lots of laughing and goofing off going on in the background... "Supervisors" need to be fired, since they aren't "supervising" anyone.

My husband and I bought 6 new appliances in November to be delivered to our new home on 12/13/16. We purchased the Kenmore Elite SS kitchen appliances and washer/dryer. On delivery day the two men that delivered the appliances gouged up the fridge doors and put a gouge in one of the handles on the double oven doors. We called that same day and reported these issues. A door handle for the stove was delivered to our home within a week and on 12/31 they came out and replaced the two fridge doors and in doing so, put a scratch on the bottom freezer door and told us they could not change out the handle on the stove. I called the 1-800 number and told them about the scratch on the freezer to which I was told that it could not be changed out but was given $345 in points to spend at Sears. They also set up for someone else to come out and change out the handle.
This past weekend 1/14/17, I received a call at 6:50 in the morning on a Saturday morning. Mind you, waking us up, inquiring what the issue with the handle was. Around 8:00, 2 guys came by to change the handle, while changing the handle the glass was shatter on one of the oven doors. He called Sears and I spoke to someone for over 20 minutes on the phone to get a, now, new door for the oven. I was told I would get a call within 72 hours to make an appt to have the new door installed. I waited the 72 hours, didn't hear anything. So I called this morning, 1/19/17 to try to get this squared away because I have a stove without an oven door in my kitchen. I was hung up on twice after speaking with someone for almost 20 minutes and the second person told me that if we were disconnected they would call back. He never called.
I made a 3rd call and explained the situation again, was transferred to delivery personnel and spoke to someone named I believe she said her name was Kim who sounded much like the person I have spoken to on several other occasions. She told me that it was someone from the warehouse that would be in contact with me. She provided me with my claim number ** and told me I would have to wait another 24-48 hours for a call. This has to be the worst customer service I have ever experienced!!! We spent almost $8000.00 on appliances and this is what it gets us... lousy customer service. I now have a scratched freezer, $345 in points to spend at Sears which is really the last place that I want to shop at, at this point, and no door on my oven. I would like a call back at ** to see how I can get this resolved. I currently do not have my order number but using my phone number you can easily look it up. I live in Rochester NY.
Sears Customer Service Company Profile
Company Name:

Sears

Website:

http://www.sears.com/