Consumer Complaints and Reviews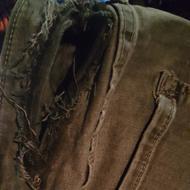 I haven't shopped Old Navy for 15 years because their clothes are horrible quality. Everything I bought either shrunk or got holes after 1 wash, and their clothes aren't low cost. My daughter has started to buy clothes there. I spent 200.00 on spring clothes there. 42.00 jeans got a huge rip after 1 wash. Old Navy won't exchange them if they have been washed. They will never get another dime from me. Don't waste your money on their clothes.

I have a very expensive bicycle - my only means of transportation. Only be has no place to lock up bikes. I asked if I could have my bike inside the store of wait up when nobody would be able to it would not be this way. They said no without any exceptions. They were very rude to me about this so they lost a lot of my business. This is the worst store ever.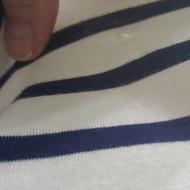 Everything I purchase from Old Navy that's made of t-shirt material RUNS! I just put on a t-shirt I've only worn a couple of times and it now has runs in it along the bottom front. This is one of many that I've had this happen to. This happens to them even before they're washed! Don't know why I continued to purchase from them! Very upset!

DON'T USE SUPER CASH. When I purchased 180.00 worth of items, the limit on Super Cash (I'm not sure exact, but let's say 50.00). So they spread out the Super Cash they called prorating, which took off the amount on each item. So, even though I could have had the same discount on 50.00, they now will only take items back for the sale price. THIS IS ILLEGAL. The Senior Customer Service advisor said no one else we could speak with and that that's how it works. So, basically then they took my receipt and now I'm home with no receipt from the Birch RUN outlets. Basically you need to know if you give any money to OLD NAVY you are screwed.
I will never shop at their stores anywhere again. I was within return time and it did not matter. The rules change daily and when I called another store, she said, "Yes we do that all the time because you would have gotten the discount on fewer items." The store said you can only use once and that is the way they are stealing from consumers. WHO IS OVERSEEING CONSUMERS' PROTECTION? Just about no one. We are paying for government agencies to do everything but protect us.

I bought three pairs of men's jeans last year that fit fine. Within a year the zipper had snapped on all three. Once the piece comes loose it is impossible to fix, so I essentially had to throw away barely worn jeans. I have never had the same thing happen with another brand. These are not a good product, and you should not purchase them.
How do I know I can trust these reviews about Old Navy?
744,857 reviews on ConsumerAffairs are verified.
We require contact information to ensure our reviewers are real.
We use intelligent software that helps us maintain the integrity of reviews.
Our moderators read all reviews to verify quality and helpfulness.
For more information about reviews on ConsumerAffairs.com please visit our FAQ.

My mother purchased some school pants for my son online. She ordered the wrong size. So when they arrived I took them back to Old Navy to exchange them for the correct size. I was told they do not exchange online orders. The pants would be returned back onto the card which will take 3 business days then you can purchase the correct size. All of that to just exchange for a different size. That's horrible. So basically make sure whatever you purchase online is what you actually want and correct in size. Because if not you will go through a process just to exchange a item.

FYI... Do not shop at Old Navy. I had a store credit card with them, which I have used off and on for the last 2 years. Buy some things, pay off balance. Notice I said HAD!!! Received a letter today that my account was closed. Letter said they did a review of my credit and the decision was made to cancel account. My credit is better now than when I opened the account. So if you are a good customer, use your card, pay your bill on time and always pay more than the minimum, your reward is cancel your account. How about reviewing my payment history with Old Navy? Never late, pay more than the minimum and pay way before due date. Called customer service, surprise, surprise don't talk to anyone in the US!!! Their answer to why my account was canceled? You will receive a letter!!! OLD NAVY sucks for customer service and business practices!!! Will NEVER shop at Old Navy again!!!

Bought a jacket as a gift for my daughter. She needed a larger size which several stores no longer had. She was offered a refund, but the refund was much less than what I paid for it. Called the store, called "customer relations" dept., even headquarters--which by the way, will give you a phone number that will circle you back to the initial "customer relations" dept. My daughter returned the jacket w/o a receipt but soon found the receipt to prove the cost paid. The receipt become invalid because she didn't have it at time of return. All we wanted was exactly what we paid for the item! They didn't even offer a gift card for the difference. So "goodbye" Old Navy! You have just lost another family.

The last shopping experience at Old Navy was its last chance and I won't be going back nor will my family and our business will no longer promote it. Its sales aren't sales at all unless it's on a clearance rack. They advertise one thing and once at the counter they charge you a higher price and then give a convoluted explanation of how they have to ring it up so it's in the customer's best interest if they have to return the items. Even after doing the math with them they couldn't provide an answer that made mathematical sense. After repeating what the sale was supposed to be staff stated that it did seem confusing to consumers but it's just the way the sales work. Somehow this happens every time we shop here.

I purchased 2 coats for my 10 y/o son from Old Navy. They looked good and they were on sale. Now, I did have issues with a coat I purchased for him two years but I thought, "maybe this one will work." Delivered on time, we loved the looks of both coats. The lighter one had a plastic zipper, which works great. The one for the winter is just horrible! The zipper is basically too thick for the coat. I felt so bad for my son two days ago when he carried his coat out of the class room. We had to literally have him out. My husband put some Vaseline on the zipper hoping it would glide up and down. Our son wore it the next day and it seemed okay when he walked out the door. Same thing happened when I picked him up today. Ugh! If the class would've gone outside, my son would have to stay inside! Not cool Old Navy; not cool. No more--I'm done!

I placed an order that was stolen due to the fact I got the shipping information the day of delivery. I was not too upset because it was a steal so I called to see what they could if anything. The girl told me she would reship me out a new one that would be there the middle of this week. When I checked my email there was the return for the original order then a new order number for the reship but the status said CANCELLED. So I called and was on hold for 30 minutes. I hung up and said I will try again in the morning. I emailed as well.
I finally spoke to someone on the phone after another long holding period and she said my order was cancelled because stores fill the reships and they can't do expedited shipping thru the holidays. "Ok fine. So I should be expecting a refund correct?" she said "yes." I get an email the next day from another customer service rep that says my order was reshipped and I should expect it within 5 to 7 business days. Now I am confused so I emailed back and the rep told me 2 days later that no my order is cancelled and I should receive my refund within 3 to 5 business days from the cancellation. THE ORDER HAS BEEN CANCELLED NOW FOR A WEEK AND A HALF! I am so irate at all the miscommunication and misinformation! NEVER AGAIN WILL I SHOP OR ORDER FROM OLD NAVY!

I placed a Christmas order with Old Navy on December 8th 2016. On Dec. 20th I received a partial order. The next day I called to find out where the rest of my order was, after 2 calls in and 1 hour on hold the very nice customer service rep told me that my order was going to be sent overnight and would be here Friday December 23rd. Ok so I didn't complain, it's going to get here before Christmas, I thought. At 6:18 today Dec. 22nd I received an email telling the products were no longer available!!! All this time??? They kindly offered me a 10% discount on my next purchase, you've got to be kidding me. I will never shop there again.

I placed an order for 3 pairs of leggings on December 10th. Not a huge order, not a holiday order, just pants I need for my daughter that they refuse to carry in stores because they hate Petite sizes and charge you MORE for a size with less fabric than for a normal non-petite size. These idiots took 10 DAYS to put three pairs of pants in a box to mail out. 10 DAYS. I order and received over a dozen packages from Amazon in a 4 day period and these people can't get a box out of their warehouse in less than 10 days? But nope, here I am, 12 days out from my order and I'll still be waiting another 2 days for my kid to have pants. Ludicrous, and you can bet I'll NEVER order from them again...

I placed an order on Dec. 11th. It is now Dec. 20th and my order status is still in Pending Shipment status. I emailed 2 times, no response. Tried to call 3 times, but I am on hold forever! I am just wanting to cancel this order and can't even get through to anyone to do this. My next step is to go to the store and have them handle it.

I bought several items in November for Christmas gifts at Old Navy Onalaska, WI. The clerk asked if I would like to open a credit card for extra savings. I replied that I did not do that, I always use my visa for everything then I don't have to worry about paying other things off. She suggested I would get more savings and I could go home and pay the card off. So I thought OK. So I did just that. Later, when I needed to return some of the items they would not give me cash but would only put it on the card that I already paid off. So I would only be getting store credit. I was sick about it and the clerk had never mentioned that would happen if I returned any of my gifts.
I also received other merchandise from OLD NAVY online and they were all wrong sizes. Now I am stuck with about $150 in merchandise that I will get back in store credit only. AND customer service rep Marisha #** was very cavalier about saying that the company COULD put all the returns on my visa because the online order was on that, but they choose not to, because they sell tender for tender. Even though the clerk never explained that to me. So the items I purchased in store will not go on my Visa. Never shopping at Old Navy again, and I have 5 boys, so I have always gone there for everything. Wish I had never signed up for that stupid card just to get about 10% off. Really upset.

I placed an order on 12/8/16 & received an email stating my order will be at my door 8-11 days. It's now 12/19/16 & the order is "still pending shipping". I called customer service two different times checking on the order & got two different lies. I sent two emails to customer service & NOTHING... My 2nd call got me a promise to deliver by 12/23 and a $8.40 discount which is not even close to the recent drops in prices for the items in my order. Calling customer service was 35 minutes for the 1st call & 15 minutes for the 2nd. This has been a horrible nightmare as these are items for my college granddaughter for Christmas. Needless to say, I'll not be shopping at Old Navy online ever.
Nor will I shop in the stores as the reason I shopped online is because the store Academy in Colorado Springs would not help me when I showed them the online prices which were lower than the store prices & simply blew me off by saying the retail stores have different prices than online. Well idiot you just sent me to online with a hope you close your store with such bad attitudes, but now the online experience is worse than the horribly frustrating in-store experience. I think Old Navy should be Old News & stop making promises it doesn't keep & for heaven's sake provide pricing for current products awaiting to be fulfilled for whatever century they'll be shipped.
I wanted to forward my emails to headquarters but there's not email publicized which shows they have way more complaints than they want to deal with or they just don't give a damn (bingo!). It's noticeable that the quality of their products has taken a dive over the years even with the prices but I always buy during sales so I don't feel so bad if there's only a one year use. So frustrating Old Navy. Get your act together.

I have been a valued customer with Old Navy and shop there constantly. I have never had a problem with them until now. I ordered my items two weeks ago. This is about three weeks before Christmas and they guaranteed the purchased items were available and ship to me 8-10 business days. This is perfect! I get an email today saying that they cannot locate several items and that they will reimburse me the funds. Well it six days before Christmas and now if I do online shopping I will have to expedited shipping and have it cost more to send or I have to go to the stores and hopefully find something that is close to the items ordered. This is absolutely ridiculous. Who waits to tell you a week before? They think it would be great to give me a 10% off coupon that expires in six months. That is a slap in the face! The way they handle this situation was not thinking about their customer. They do not care.

I have ordered online several times. I ordered some items on December 8th because I needed to have appropriate work attire for a new job, so being used to quick shipping and online sales I decided this would be the perfect option. On December 13th I became concerned and called Customer Service - held for 33 minutes. The rep did not explain the long delay and tried to make me feel like canceling the order would be so difficult. On December 15th I still did not have any shipping notification or response to my request so I called again. Held for a lovely 46 minutes this time!
The rep explained that the order takes 24-48 hours to cancel. I reminded her it was 48 hours when I called. I asked for a supervisor, who supposedly was "too busy" to come to the line and speak to me. I was told to check my email in 30 minutes. Sure enough the items were canceled one-by-one for a total of 6 emails. The messages say that if I paid with my credit card I have not been charged. NOT!!! My credit card has been charged, so I guess now I have to call and ask how long it will take for the charges to be reversed. Has oldnavy.com Customer Service & shipping fallen apart? I will be using this experience to spend my clothing dollars more wisely. I'd rather purchase higher quality and own less pieces. Goodbye oldnavy.com! Thanks oldnavy.com!

I placed an order on Nov 29, 2016. It's now Dec 12 and when I log on to check the order. It says "pending shipment". I emailed on Dec 9 and called and I'm on hold now (12 Min and counting) and I also emailed today as well. Nothing. Can't get a human. It's a forever hold. At this point I just want a refund.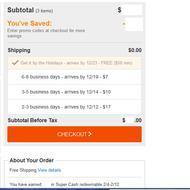 I have long been shopping at Old Navy and even opened an Old Navy credit card. I do have an issue with their shipping policies, though. I have several times placed orders and never received a shipping notification. I recently placed two Orders, one on November 25th, and one on December 4th. I haven't received a shipping notice for either order, but my concern was the order placed on the 25th. When I called the customer service line, after 20 minutes of being on hold the associate told me it would be here by the middle of next week. I asked if that was normal, because it has been more than 10 business days since I placed my order and I selected 5-7 day shipping.
She told me I did not pay for shipping (which is free with a larger purchase so why bring that up?) and at the time of purchasing there was an extended delivery estimate in the shipping window. I did expect delays for Black Friday, but my concern was a lack of a tracking number. She assured me it would be here by next week and didn't tell me when to expect a tracking number. Today I filled up a cart and took a look at the shipping option window, I often choose free shipping because I'm already spending at minimum $50. It reads "5-7 business days, arrives by 12/23". (See image.) Today is the 7th of December, seven business days from now is the 16th of December. I understand processing time, and think that the excess of a few days is acceptable considering holidays.
I find the 'fine print' strategy used when choosing shipping options to be shady, as it appears to contradict itself with no explanation. Other retailers add in a blurb about processing time, or holidays. Old Navy does not. I am away at work most days and shop online frequently, tracking numbers are immensely useful to me because I know to let someone at home know to expect mail or packages. Without a tracking number I have no way of knowing when the package will arrive, only the 'promise' that it will arrive by the middle of next week.

I ordered some boy's jeans online and had them shipped to me. When I received them they looked like they'd already been worn and were falling apart. The hem had holes in them and around the pockets it was frayed. I was disappointed and feel like I should've been shipped the jeans that had a newer of a quality to them. Not ones that looked like they'd already been worn and were coming apart.

I placed an online order and needed to return/exchange 2 items. I had my receipt and told the cashier and she said with online purchases that she had to reimburse my card then do another transaction for what I was getting in-store. Cool. But it wasn't. The funds weren't immediately put back on my card and being on a tight budget I only had the return amount to get it with. The cashier held my stuff and said to give it a few hours. It's exactly 24 hours later and it's still not there. They are quick to take your money but hold yours for at minimum 24 hours... Ridiculous! Oh yeah, their online customer service offered me a $10 gift card, and get this... I'll receive it through email in 2-3 days. WTH, Old Navy?!?!

I tried to order from the website, but had moved since the last order. I changed the shipping address. After placing the order my confirmation said that it was shipping to the old address. I sent several emails to get it fixed before it shipped. I finally got a reply the next day. They told me that they couldn't fix it and if I hadn't received the order in 7 days to contact them again. If I hadn't received the order that they shipped to the wrong address?!? I ended up calling, and the automated data told me that my order had not actually shipped. I ended up canceling the order and I will not order from them again. They seriously wanted me to wait 7 days before calling about package that they knew was not going to be shipped to me, that they actually hadn't even shipped yet!!!

I purchased several items on the Old Navy Website. The ease of navigating the site and getting to checkout was great until I went to check out my cart. Apparently I'd had an account before from years ago, so I had to change the password so I could log in. Once I did, I updated my address and personal info BEFORE even submitting the order. I received an email the next day saying my order had shipped. I then receive another email 2 days after the original one saying the order was on its way. That is when I discovered the address was incorrect. The items had been shipped to my old address. After calling customer service, they told me there was nothing they could do about it and that I should try calling up UPS to have the shipment changed.
I called UPS AND the US Postal Service (because my shipment was being delivered to a certain point and then being turned over to the Postal Service for completion). Both told me that the shipper (Old Navy aka Gap Direct) had made it so that if the package was deemed undeliverable it should be returned to sender. For 3 days I tried to get it delivered to the correct address, both UPS and the Postal Service told me that the shipper could call them and have the package redirected. I called Old Navy to inform them of this and they told me they couldn't do it and I would have to wait for the package to be returned to them and then they could overnight it back to me.
Today the package was returned to them. I call back again and they say I have to wait a couple more days for it to be shipped back out because the package goes back to the warehouse and they have to open it and blah blah blah, so it will essentially be another week at the very least, before I receive my items. I don't shop at Old Navy for myself because their clothing is ill fitting on me. The items I bought were for my toddler son for the Fall because Old Navy had a really good 40% off sale going on and a coupon for free shipping. After this, I will never be shopping at Old Navy again.

I ordered clothes for my son and chose just the standard shipping which is supposed to be 5-7 business days. I didn't need the clothes for him for another 10 days so I felt that 5-7 days would be fine. I ordered my items at 9 am and the money was taken out of my account immediately but my items did not ship until 4 business days later. After it shipped it took another 7 business days for me to receive my items which was a total of 11 business days and I did not receive my items on time. If you are going to hold the items that long at least send it through a method that is going to ensure that I get my items in 5-7 business days like I expected.

Placed an order online and they immediately charged my account. Two days later when the order was shipped they charged me again! Now they are telling me it takes 3-5 business days for the first charge to disappear. The reason for two charges is they make sure the funds are available and then charge when it ships! What kind of company does that!? I shop many online stores and have never ever had this experience!!!

I order short every year for school for my son. This time I paid 22 dollars for next day. Ups say they tried to deliver to my home at 9:15 pm and no one was home. Lies. As a matter of fact I was home all day. I have a doorbell. No one EVER rang the door bell nor did they knock. Ups always leave a slip on the door telling you they tried to leave package but were unsuccessful and will return the next day and the time they will return. Absolutely nothing left in the door. I called Old Navy and spoke with Vince. He told me he couldn't give me my money back for shipping. The only thing he could do was to resend the package or give me a 20% off coupon for my next shopping.
Since I do not shop at old Navy often tell me what good it would do. I am very disappointed in the service I received. If Old Navy cannot deliver in one day they should not offer it and for them not to listen to the customer it really put a bad taste in my mouth. 22 dollars may not be much money to some but to other it is a lot of money. I know I am only one customer and one customer NEVER ORDERING FROM YOU COMPANY AGAIN WON'T MAKE OR BREAK YOU, but just maybe someone else have had or will have the same experience and horrible treatment as myself and they will speak out too.

I purchased five pairs of jeans from Old Navy in St. Petersburg Florida. All five pairs ripped on me right in the crotch area. I wore them just one time and washed them once. All five tore in same area. I returned the jeans and exchanged them. I could not believe that again they all tore in the same area. So I work outside and I travel for my job. I went to a different store in a different city. The Old Navy store in Melbourne Florida is about 160 miles away from the St. Petersburg Old Navy. I told the manager there and she explained sometimes they get a bad batch and she assured me I would not have the issue again. Well I exchanged all five pairs. Again they all tore in same areas and even in the front this time. This time I didn't wear the jeans I just washed them. I will never purchase from Old Navy again. It's embarrassing when you have to walk around with jeans that tear in the crotch area. I wish I could just get my money back instead of keep exchanging them.

Ordered online and went to the store to exchange for different sizes. Took some time to find the items since the store was a bit messy and unfortunately the one dress was only available at another Old Navy store so I would have to return the dress but exchange two shirts. Turns out Old Navy does not do exchanges. I was told that I would have to return all the items and repurchase the shirts. Really why? I asked if the refund would be put on my card immediately and the clerk did not know but told me she thinks it takes a few days. I asked because a friend returned items to Old Navy and it took months and a fight to get her funds back. Not sure if it's a problem with online orders returned to store but it's unacceptable. I ended up just returning all items because of that issue. Turns out I still don't have the refunded money while writing this review.
What kind of company doesn't refund your money immediately and instead asks you to spend more money on items you already paid for? A bad one with horrible policies. Old Navy clothes are not the best but are trendy and I don't expect them to last but a season and I am fully aware of that but for a company to ask that you pay for things twice is 100% wrong. After spending time to purchase online then return to the store and find the shirts again, I left the store with no clothes and less money in my account. Buyer beware.

Yay Super Cash except it excludes damn near EVERYTHING at old navy. Online it says excludes everyday steals, hot deals, etc. Which is fine except during the super cash redeeming period stuff that normally isn't a "hot deal" or "everyday steal" magically becomes one. At least Gap allows you to use their Gap cash on majority of stuff and even Kohl's lets you use it as if it was actual cash. Pretty much every pair of kid's jeans and shirts turned into a hot deal rendering Super Cash pretty useless. You may as well just wait until they have 30 or 40% offers that say no exclusions. And what you can buy with Super Cash is probably what is not really selling for them and it's their way to get rid of old inventory. And I have like 5 pairs of their women's jeans that keep ripping. Their jeans should be $15 not almost 40 because the quality is just not there.
Company Name:

Old Navy

Website:

http://oldnavy.gap.com/