Consumer Complaints and Reviews

We returned a pair of defective shoes to Finish Line in Big Flats NY, and only received a partial refund. They do not stand behind their products. Try and make a complaint to a real person on the phone. Forget it if you want to talk with an American. And finally I found the young female manager Tess to be very impolite, when I advised her how I might handle the situation around her her response was "That would be a scumbag way to do things." Very professional response from the store manager. I and my family will never shop there again...

Wish I didn't even have to give this place one star. Ordered two pairs of shoes for my son for Christmas. They arrived a week later and in one of the boxes, it was MISSING A ** SHOE! Yes, you read that right, a whole big ** shoe. Wow! Please tell me how TF that happens. Don't know but it does apparently. So I called and lady starts laughing, tee hee ha ha... whatever you know because it was funny at first. Not now though. Told me they would be "rush delivered" 2 day shipping and a whole WEEK went by, still no package. Called again, spoke to someone else, said they forgot to send the shoe. Well I'll be **! Said would take another 3 days. Okay. Called the night before the 3rd day to make sure was in route to be here the next day, and then made up some ** about a missing label??? Blah blah blah...
I have heard so many different stories from so many foreign people, it's beyond crazy and disgusting. This place disgusts me!!! We are going on 2 weeks now and still have not received the shoe. I cannot tell you how pissed I am. I better get a refund and then some. Never again. YOU HAVE BEEN WARNED! Stay FAR FAR away!!!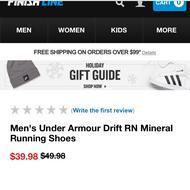 I recently ordered a pair of shoes from this website. They said it would be to me within 3-5 days. I received it almost 1 1/2-2 weeks later. The shoes I ordered on the website were the color red, when I received them the first time they were maroon/purple. After this I called the customer help and was told that I would be sent a new pair of the 'red' shoes within 3-5 days. A week later I received the package which contained the SAME pair of maroon/purple shoes. I'm almost positive the person I spoke with was the SAME person I spoke with before. I then explained that I had already gone through this process and was doing it again. He then told me to wait on hold for 10 minutes; after which he told me that the shoes were not actually red, but maroon.
I explained that on their website the shoes were red and that the photo was very misleading and they need to change it. He then asked if I wanted another pair or a refund and I told him that I would like a refund. He then put me on hold for another 10 minutes to go and just SEND ME the email of the UPS label. Not pleased at ALL with this company. Very poorly run and very misleading.

I placed a order on November 11, 2016 to be picked up at store #418. I received an email that the order would be available for pick up in 2 hours. I ordered the sneakers for my nephew's birthday present and was highly upset when I arrived at the store and was told that they deemed my order out of stock because they couldn't find the other sneaker. I wasn't notified and only had a hour to get to my nephew's party. The three girls at the register was unapologetic and told me to call customer service because they couldn't do anything for me and continued to talk amongst themselves.
I stayed on the phone with customers services for 25 minutes only to be told they would have to refund my money in 3-7 business days because she couldn't locate the sneaker in their database and told me to have a nice day. I have never been treated with such disregard from a business in my life. It really blew my mind that I wasted my time and had to search for another birthday gift last minute when I thought I had a gift. I always shopped at Finish Line for my kids sneakers and expected much more than the service I received.

I ordered a pair of shoes for my daughter's birthday 9 November. Today 15 November I go to try & track my order only to find out it has been canceled!!! I go online to see if they still have her size & I see the price jumped from $89 to $109! What a coincidence. I called customer service and they had the nerve to tell me my banking information could not be verified & that's why my order was canceled. I call BS!! They canceled my order to try & get more money from me. I will NEVER buy anything from them again.
How do I know I can trust these reviews about Finish Line?
638,664 reviews on ConsumerAffairs are verified.
We require contact information to ensure our reviewers are real.
We use intelligent software that helps us maintain the integrity of reviews.
Our moderators read all reviews to verify quality and helpfulness.
For more information about reviews on ConsumerAffairs.com please visit our FAQ.

I placed my order on Oct. 16th for a pair of Nike Flyknit Rainbow Colored. It has been almost a month, and the item has still not arrived yet. I contacted Finish Line's customer services. Although the assistant promised me to contact the store to confirm the status, she never called me back and got me the updates. This website is a garbage that costed me $175, and I hope no one else would make the same mistake as I did.

I am a very frequent Finish Line customer. I purchase 2-4 Pairs of shoes a week & earn $20-40 rewards weekly for every 200 points earned. Lately the Finish Line App hasn't been working properly so have been unable to use my rewards on purchases. I called customer service on 10/26/16 and it was the most horrifying horrific experience of my Life!!! I was in the store on the phone for almost 3 hrs. The customer service employees didn't speak English well and seemed to be reading from a script. I kept telling them I was in line making a purchase of 3 Pr's shoes & a sweat suit and was unable to pull up my rewards. I wanted them to give me the rewards numbers. I had $40 in rewards & wanted to use them. They kept giving me the runaround, put me on hold for about 20-30 mins. The salesperson even called them to straighten out matter for me because I'm a regular customer at the store & I spend a lot!!!
I asked to speak with a supervisor and they said there wasn't one!!! Unbelievable, by this time I was APPALLED & extremely FRUSTRATED!!! I was boiling!!! How could a company of this Magnitude have workers in Customer Service that don't speak or Understand English. I'm a regular high spending Customer. I have boxes of Shoes from Finish Line & any other Company would value Me!!! Something needs to be done with Finish Line, false advertisement, not honoring their Rewards program & an App & Website they have been working on for weeks so they say. But in the meantime Customers suffer & can't use the rewards they are entitled to!!! This is happening everywhere, all over the USA.
I was in NM recently, went to a Finish Line & wasn't able to pull up my rewards money, called customer service & experienced the same situation. Thus seems to be a pattern with them!!! They Need to be stopped. This Company has Extremely Awful Customer Service & are Using the Customers in a Terrible way!!! I'm extremely Frustrated with them & they owe me $60-80 in rewards money!!! I definitely want my rewards Money!!!

Customer service does not exist. Bought 5 pair of Jordan's. Since March tried to use my winner circle points. They said that I only had 160 pts. How? 1 pair of Jordan's is 200 pts. So I call customer service, very nice people until they can't help you or tell you why even if you have receipts. They hung up on me 4x. Lol. Are you serious? Oh and they do not have a supervisor. Don't believe me, call and ask. Bet they say they're busy or they will call you in no longer than 24 hrs. Lol. Called several times, still have not heard from a supervisor.

I ordered 2 pairs of sneakers from their online site 2 weeks ago. First, they sent it to the wrong shipping address. When I called to have corrected they told me there was nothing they could do and would have to send me a refund. I called again and said I didn't want a refund but I just wanted the shoes. She told me it would be at a USPS not too far from me and I would be able to pick it up before it got sent back out. I went there first thing to be told my package could not be found and was being sent back. I called again and demand a reorder. They gave me one and a 20 dollar rebate on my next order. I was told it would be overnight air and it wasn't. It was 2 day shipping.
A week later, still no package. As I was tracking it I realized they screwed up the shipping address again. Now UPS can't deliver my package because they have the wrong address. I've been on the phone a total of 6 times in the past 2 weeks. The customer service is being outsourced to India and their agents barely speak English. I repeated the address about 90 times and they still got it wrong. I just told them to hold it at the local office so I can pick it up. This has by far been the worst online experience I've ever encountered in my life. By other reviews I see I'm not alone.

Tuesday, August 9th, I went to the Finish Line store and ordered a pair of tennis shoes. They gave me my receipt and said I should receive my package within 4-5 business days. I received the shoes the following Friday, August 19th, only to find that the shoes were 2 different sizes. Upon seeing this, I contacted customer service and was on the phone for about an hour. They told me that they would be sending me the correct size in the left shoe and that they would call me on Sunday and give me the tracking number for the new package.
Tuesday rolled around and I had not heard anything from them so I called them again. They gave me a tracking number and said it would be a few more days. I looked at the status of the package and it said that I was supposed to have gotten the day before. I called UPS and told them this information and they said my package was lost and to contact Finish Line again and have them resend the shoe.
Today, August 17th, I called them and told them what was happening and that they would send me the shoe and that it would be another 4-5 business days. I asked for a new tracking number, never got one, and they seemed more concerned about me sending the mismatched shoes back than me actually getting the correct item. The whole conversation felt scripted and I am thoroughly irritated with the customer service I have received from Finish Line. If I do not receive my shoes I will be requesting a refund and will take my business somewhere else.

On 8/1/2016 I ordered 4 pair of shoes for my children to start school. The shoes came in different packages being they were shipped from different stores. I have been ordering with finish line 20 years being that my son now is 19 years of age. All of the shoes came in for the first day of school on 8/11/2016. I look at the invoice that was in one of the packages and realized that two pair should have been in the packaged box. I then called customer care to let them know and the rep ask to place me on hold while she contact the store where the two pair of shoes should have shipped from.
When the rep came back to the phone she said the store associate said that the shoe that I ordered was mismatched so they just didn't ship the order (keep in mind I paid for the shoe with shipping and they just didn't think to contact someone else so the shoe could be filled by another store in a timely manner). The rep offered my 15.00 credit for the inconvenience and found where the shoe was in stock and reordered the shoe and promised that my daughter would have the shoe the next following week which was Tuesday 08/16/2016. Well I called to check to see where the shoe was being that it was getting late on Tuesday and my daughter which is 10 years old was standing by the door patiently waiting for the delivery of her shoe. My daughter was upset because she had to start her first day of school with an old pair of shoes, while her siblings and friends had brand new shoes.
At this point the rep at the time was rude about the whole situation and seemed as if she did not care so I requested to talk to a supervisor. Her extension is ** and name is Lauren. She got on the line and I explained to her my situation and she said "well the shoe will get to you on Thursday 08/18/2016." So I said the other rep "promise me that it will be overnight-ed and my daughter would get the shoe on 08/16/2016". The rep just repeated the same thing as if she was reading this from someone who was telling what to say. She did not have no compassionate for what I was going thru with this order.
I ask "could I just order another shoe and have the shoe discounted and give those shoes to my daughter and I still would keep the other shoe to give to her as well." The rep declined. I have never in all my years ordering with finish line have had any trouble like this with finish line. I will make sure when my daughter receive her shoes I WILL NEVER, EVER ORDER A PAIR OF SHOES FROM FINISH LINE. Was a sincere customer for over 19 years.

The most disgusting customer service ever experienced. I called 8 times in 5 days due to a refund for returned shoes. They sent me 2 left shoes for men's Jordans which was supposed to be a gift. The first lady I spoke with sounded drunk as a skunk and she was totally rude. The 7 other fools sounded like they were reading off a script lying as they went along. For shoes ordered in March I am still to get my money back!!! At this point I think they have just decided to keep my money. Everyone there is confused. They barely speak English and have no clue what the hell is going on. PLEASE BEWARE this whole company is a total scam. Wish I never had done business with them. Worst experience with any company in my 31 years!!!

Purchased a pair of men's Nike Classic Tennis shoes (Order number: **) on July 26, 2016 with $6.00 economy shipping and received order confirmation in less than 10 minutes. On the same day, another email came in with the following status and tracking number. Shipped; One or more of your items are on the way; Tracking is below, give it 24-48 hours to update. Check it out; Shipped - Track it; Tracking number **. There is no shipping carrier name associated with the tracking number and could not clip on "Track it".
There is no any email from finishline.com regarding the order status since then. Called finishline.com customer service on 8/1/2016 Monday at around 9:30 PM EST. Very long wait, then spoke to customer service rep. Was put on hold for around 30 minutes and then was told that the finishline.com store in Boston ran out of shipping box and boxes were just arrived on today. My order would be shipped out tomorrow. Also was told that the Tracking number ** was not legit. Waited two days, no email and tracking number. Called customer service on 8/3/2016 Wednesday at around 8:30 PM. I was told that could not get hold of anyone from Boston finishline.com. I asked to speak to a duty manager, and was told politely that no duty manager or supervisor was available. I asked for a refund and a refund confirmation number.
Customer rep was very polite and told me that she could not generate one and email to me. I called Discovery on the same evening and requested a dispute claim. Discovery customer service rep was very polite and I explained everything to her. Today, I called Discovery and $46.97 was credited back to my account. The prices of finishline.com may be $5.00 - $10.00 less expensive, but getting what you paid for is a big question. This is my first and last time to deal with finishline.com. Buyers beware and buy it from reliable and respectable vendors. I regretted that I did not Google any comments and rating of finishline.com before I placed the order. Always read comments and ratings of vendors. Last statement is "The worst internet vendor". I was reluctant to rate one star which is the minimal. finishline.com does not deserve any star.

I placed an order on August 1, 2016. I was told that my order would be delivered by August 11, 2016. On August 3, 2016 I checked on the status of my order. The order had not been shipped. On Thursday August 4, 2016 I called customer service and was told that my order would be shipped on Friday August 5, 2016 and was promised 2 day free air shipping for the inconvenience. On Monday August 8, 2016 according to my tracking number my order had still failed to ship. I then called customer service again. I was told that my order would be shipped out by August 9, 2016 and was promised a $20 gift card to Finish Line for my troubles and was given a new tracking number.
On August 10, 2016 I called to see where my package was, my tracking number was still not working. I was told that my shoes would arrive that night and was promised another $20 gift card. I was then told when asked to speak to a supervisor that I couldn't receive a total of $40 in gift cards. My total compensation for this order is a $20 gift card, free shipping on my order and free 2 day shipping on my next order. I am still highly unsatisfied and will not be ordering from Finish Line again.

Jul 23, 2016 placed an order. Jul 29 called and requested a refund because I never received the order even though their website said it was delivered. Turns out part of the address label was cut out. Was told refund will be credited in a "couple days". Aug 1 called to tell them I did not receive refund again. Was told to wait. Aug 3 called again. Was told "give it more time". Aug 8 called. Was told a rep for some reason cancelled my refund because she thought I was going to return the shoes (that I never received) to the store and wait again 5-7 business days! Totally incompetent people who do not know anything about customer service and how important it is to a company's success. Never ever purchase anything from finishline.com.

I ordered a pair of size 13 low-top sneakers. I received them by mail within a reasonable amount of time which was nice and the shoebox displayed the correct size and style however... When I opened the box there were size 11 high-tops in the box. I thought "Hmm... Apparently they didn't take shoes 101 and learn that you ALWAYS check the shoes in the box before giving them to a customer." I called their 800 number for customer service and after waiting about 30 minutes I finally got someone. I gave them my order number and explained the mix-up and asked that they expedite the proper shoes to me and provide a label to send the wrong shoes back. The agent on the phone promptly said "We can't do that. We are out of stock in your size so I will need to refund your money."
I asked her if a different color was possible (Converse All-Stars). She said quickly and abruptly "No". I pressed a little more and she broke down and called a few stores to see if they had them. About a half hour later she comes back and tells me. "I checked 8 stores and none have your shoes so I have to refund your money." I have built and manage a Customer Care Department in my current job and the basic function of such a department is to find solutions to issues that satisfy customers. Finish Line apparently doesn't subscribe to that philosophy. I will NEVER buy even 1 single item from them ever again and hope that all who read this heed the many warnings on this and other like sites.

I was sent used sneakers. The bottom was dirty and used with dirt stuck between the bottom of the sneaker. There were scuff marks on back of sneaker, crease marks on front top part of sneaker, sneaker was damage on inner part of the outside of sneaker. I call Finish Line up and they told me a label would be in my email yesterday or today and so far no label to send back. It's gross. The fact I was sent used sneakers and the company may or may have not known.

Where is my order # **??! I am beyond tired of playing phone tag and getting nowhere with their customer service. I ordered shoes for my niece's birthday which was more than a week out and of course I have to spend money AGAIN to buy her shoes because they still haven't shipped an order that was placed, 7/18/16. Don't generate a shipping label and tracking number for me if you don't have the item to begin with. Customer service at Finish Line is the worst. You have people answering the phone, repeating the problem, giving no solution, then asking "Is there anything more I can assist you with today?" before the call ends. I have to say you need to change the script when you DID NOT HELP ME WITH ANYTHING to begin with! With help like that, why would I want you to assist me with anything else? It's wasting both parties' time!!
One rep said they would refund my shipping fee, 7/22/16, and my order would ship from the Hattiesburg, MS store later that evening. I haven't gotten the refund and nothing has shipped. THAT WAS A LIE! The next rep I spoke with 7/25/16 told me she was going to call the store and find out what happened but they wouldn't open until 10:00am CST. She called me back at 9:32am CST and told me, "Ma'am I apologize but the store isn't open yet. Your items should ship later today though!"
Firstly, don't insult my intelligence because I can tell time, so of course the store isn't open a half-hour earlier than you originally told me. Lastly, I don't care for explanations JUST FIX MY ISSUE. Cancel the order and refund my money!! Don't tell me to wait until WHENEVER I get them and then send them back (shipping costs on me) or take them to a local Finish Line (which there isn't one in my town) for a refund. I want everyone to know how disappointed I am with Finish Line. GO TO FOOT LOCKER or a store where you are treated like a priority!!!

After finding a pair of shoes in the store I liked, the worker told me they could order them and have them shipped free of charge to my home in less than 10 business days. That was almost two months ago, and I still don't have the shoes. I will add that they were to be a birthday gift for my granddaughter and I thought we had plenty of time to receive the order.
After three phone calls with the so called customer service (including talking to one so called "supervisor") and them telling me the order should be here the next day, even though they kept telling me the WRONG shipping address. I've been told too many lies from these people with not enough being done on their part to make it right. If I had read the reviews posted here, I would NEVER had ordered from these low lifes.

I purchased sneakers for my boyfriend on 6/5/16 for his birthday, which was on 6/16. I physically went into the store and ordered them with my boyfriend there as well so we both witnessed the same stuff. We put the correct information in because we hit "OK" after the cashier asked us to review it. They had our correct address, name, email, and number... So we thought. When a week went by when we were told it would be to us between 3-4 business days, I called to check on the status. We received an email that it was "processed" and everything, however the tracking number didn't exist. I spoke to customer service, #1 he was SOOO rude, #2 whomever put our information in manually messed up our phone number. We both have 504 area codes, not 516. He's in the military and from out of state so why would we have a different area code? And I explained that numerous times.
I gave him all the correct information, except the right number which was not even our fault. He would not give me any information on it because of the phone number issue. Why the hell would I try to scam anyone for a pair of sneakers? THAT WEREN'T EVEN MINE? Conversation ended with him sending out the order again for a "replacement" and explained it would be to us within 3-4 days because it actually was never processed. 22 days later and we finally got the sneakers. I will never purchase from this company again. So completely unprofessional and careless with who they hire. If my boyfriend didn't want these sneakers so bad, I would've cancelled immediately. Do not purchase from Finish Line.

I purchased Nike FS Lite Running shoes 12 days ago and my son starting using them 4 days ago. Paid $74.99 for them. As of yesterday, there was a hole in the top of the shoe! After 4 days!!! Brought them back to Finish Line at Lincolnwood Towncenter and the Manager would not take them back. He said he could only exchange them. Since my son was not with me, I had to leave with the defective shoes. I suggested we call Nike and Alex said, "We don't deal with Nike". Really! Don't shop here. Don't buy from Alex. They don't stand behind their shoes.

I ordered a sweatshirt on Finishline.com. When I got my package I opened it up to find a short sleeved shirt. After looking on their site I see that this shirt was not even on the site. So not only did I not get the sweatshirt that I had ordered they sent me a shirt that was not even on the site in the first place. And how convenient that their online chat was unavailable and anytime I try to email them they never respond. Would like to say this is the first time they messed an order up but sadly it's not. HORRIBLE customer service.

This company has no clue what they are doing in the online shopping area. I ordered my product, and within two hours it was shipped. I went and checked my product and there was no tracking info. Days later the same thing shipped with no tracking. I contacted them several times and got several different stories, which I find crazy. Do they not train anyone? Next thing I know I get another email saying one of my products is out of stock. What! I have been told by 5 people that my product has been shipped! Busted!
So the way their online shopping works is you place the order and your product actually comes form a store. So now your purchase is put in the hands of employees making minimum wage, and are too stoned to tie their own shoes. Your shipping label is printed and sits at the store until someone decides to pull your order. In the mean time, customers in the store are buying your shoes, and now they are out of stock. But on your end it still shows your purchase is shipped.
So after several days of fighting with their customer service and getting nothing accomplished they are like oops we are out of your product. They offer you a 20 buck gift card (can you make that for foot locker) and a refund that takes 2 weeks to get. So after weeks of waiting you still don't have your shoes and now you are stuck with a gift card to a company that at that point you wish would go out of business. Avoid this place! The in store customer service is horrible also. You deal with minimum wage stoners and overpaid lazy managers.

They said the shoes I ordered was available but when I paid for them they said they was sold out and I have to wait 48hrs to get my money back. I asked to talk to a manager. They told me none was available! ** I will never order from them again.


Purchased a pair of running shoes online. I received a confirmation on my order. The next day I get a "Bummer, this is kind of awkward" e-mail (what business talks like that?) saying my order was cancelled! I called to find out why and they said something about my phone # not matching up and that it would be 7 days to get my refund. What I wanted to know was if the phone # didn't match up, why was the order confirmed in the first place. I wanted to speak with someone higher than Customer Care and they were always unavailable (in a meeting, going to a meeting, or on a call). I tried to contact a higher up three times to no avail. I also asked for corporate's number and that number sent me right back to Customer Care. It felt as if they did not care about me as a customer AT ALL. I buys sneakers often and have a son who buys sneakers constantly. I will not do business with them again. I do not like the way they treated me as a customers.

Ordered a pair of Under Armour Engage BL running shoes. Was a great deal for 40+ dollars with taxes. Ordered on 5/1/16 to pick at local finish line store in Brandon, FL so I can save shipping. Next day got an email stating my order is being processed then shortly after another email stating they were feeling awkward that my order would have to be cancelled due to being out of stock. Ok fine I won't deal with this company again, but what I did see on my bank account is that Finish Line had already charged me price of shoes. Now they have 42 bucks of mine and I have to hold out on buying shoes until I get my money in 7 business days. I'm on a budget and can't just be buying shoes, being charged for them and not receiving them. BS. With reviews I have read I am not the only one. Go elsewhere. Finish Line lost my business and I'm sure they don't care.

Ordered on 4/12/16. Told that my order would arrive no later than 4/21/16. Called Finish Line to find out that Finish Line CANCELED my order on 4/13/16. I never got a call nor email. I paid through PayPal and now I have to wait until Fri to get my refund. I should have gotten my refund last Fri since Finish Line quietly canceled my order last Thursday. Wtf. Smh. Never will I ever order from Finish Line again!

I ordered shoes from Finish Line for my son. It's been 3 weeks and my order has not been processed due to not having the shipping label. Every time I call in they tell me it is going to ship and it never does. I was told since it should have shipped, that it would be a rush order and shipped over night. It's been over 3 weeks and I have gotten nowhere with this company.

I approach one of the employee in this store and ask about the shoes that is going to be released today and this employee told me that they don't have it. But as I know they have it. I can see that the employees of this store is trying to keep the shoes for themselves for them to sell them in a much higher price. A friend of mine went to this store early in the morning and ask for the shoes and one of the employee or we think it's the manager told him that they are going to release the shoes around 5-6pm today. How come that the employees of this store keeps lying to customers? I hope the owner of this store will do something about this hoarding of the shoes.
Finish Line Company Profile
Company Name:

Finish Line

Website:

http://www.finishline.com/