Consumer Complaints and Reviews

I have been a continuous member of Costco for 29 years. Started in Kirkland, Wa in 1987. I love Costco. From great quality of goods, great, inexpensive snack bar, good service, the list goes on and on. Have moved several times during the years and the stores are all consistent. In Iowa now and love the Coralville store. The indoor parking garage terrific in our A to Z weather.

Bought TV via Costco online w/ free delivery option. Was shocked to hear via recording (NO live person) that I had to reserve 8a.m. to 8p.m. for delivery. Even Comcast (who everyone loves to hate), doesn't have a 12 HOUR service window. Hard to believe Costco couldn't use a 3rd party delivery service that had its act together.

Recently I got the Nov 11 2016 Costco Shopper and was interested on 2 65" TVs, the nearest Costco from where I live is a 2 hr ride so when I noticed that the tvs did not have a model number I decided to call because of the distance and the thousands of dollars I was going to spend. To my surprise I made more than 10 calls and called all the 4 Costcos in Puerto Rico and guess what?... I am still waiting for anyone of those employees to pick up the phone... I'm pretty sure these people get well paid and I don't understand for what if they don't even know how to answer a phone. Their service is very very poor and all I can think is that they're trying to fool the customers and make them visit the stores with their lack of info and bad customer service. Forgot to say I saved all calls for evidence if someone in Costco cares...

I purchased prime rib, and filet mignon many times at Costco and they were great, tender and tasty. Last year I bought ten skirt steak and it was shoe leather. So today November 18, 2016 I bought skirt steak again, thinking ok, maybe last time was a fluke. It's in the pail. Shoe leather again! Disgusting and no flavor. I am going back tomorrow and I want my money back. So disappointed. I hope someone from Costco reads this, because I am a very good customer, and expect better from Costco. Anyone out there eating this, this not what skirt steak tastes like. It's garbage. Don't buy it ever. Sooo disappointed. What skirt steak tastes like.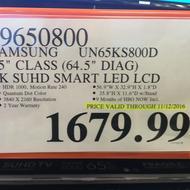 The offer promises 9 free months of HBO Now with the purchase of more expensive Samsung televisions is fictional and deceitful. The promo card included with those televisions provides a Samsung promo link that does not work. Even after registering the tv, the link fails and states that the serial number is invalid. This happened both to myself and a family member who separately bought a similar tv. Multiple attempts to retry were futile. Calling Samsung customer service was met with over 30 minutes of wasted time with a barely English speaking resident of India, who had no idea what I was talking about. Same thing with the family member who also wasted nearly an hour and getting nowhere. I complained to Costco.com, who stated that the alternative is to return the $1800) set, but no help and zero interest in helping solve an issue in which Costco is facilitating bait and switch.
How do I know I can trust these reviews about Costco?
636,825 reviews on ConsumerAffairs are verified.
We require contact information to ensure our reviewers are real.
We use intelligent software that helps us maintain the integrity of reviews.
Our moderators read all reviews to verify quality and helpfulness.
For more information about reviews on ConsumerAffairs.com please visit our FAQ.

Recently I purchased the following: Frozen Onion Soup - Last year it was 12oz and this year it is 10oz and the same price. Marie Callender chicken pot pies - It was 12oz and now 10oz. In both cases I noticed the cooking time was less, so this led me to check the size. Of course the price did not change - same price for less. This seems to be deceptive trade practices and I would like to see a consumer law that merchants need to notify you of a change in the size.
Same thing happens quite often. For example Oscar Mayer purchase a popular turkey bacon company that sold 12oz Turkey Bacon and immediately changed it to 10oz for the same price. We discontinued to purchase the bacon. Now I have noticed that some stores do not carry it any longer. I am sick and tired of companies purchasing another company and making the consumers pay for the purchase price. Likewise I am sick and tired of companies decreasing the size and keeping the price the same. Consumers cannot be protected from everything, however this is something that should be put into place. Companies complain about Government Regulations, but in some cases it is warranted. You cannot make companies honest, but one would expect that companies would at least disclose this information.

At Costco today we were charged twice for a single item. A rug. When I told the man at the door he called a supervisor who we had to wait for and the only thing he could say was "Sorry about that." If I tried to walk out of the store with the 15.00 dollar rug without paying, do you think that a "sorry about that" would have been sufficient for them? After waiting another 15 min. for them to credit my account we finally left. I feel Costco should be more responsible for items checked out a double check or item count. I am very disappointed that I had to find this overcharge. I hope this is not something they do on a regular basis.

I recently changed tires for my Audi SUV at Costco Tire center in San Diego. After two months itself, I had a flat tire so I took my car back in for them to look. While taking off the tire and putting back in they put a scratch on my car's bumper. Since, it was early morning, so I didn't look but after going home I realized it. I went there in the evening and told them about the incident and filed a claim form. Claim manager called me and said that "you do not have any proof" and she will take their employee word over us. I am a Costco executive member from past 9 years and always had good things to say about them. I even encouraged multiple friends to buy their membership.
However, in this case they treated me as a customer very badly and rudely. They are telling me to show the proof that means someone needs to videotape the incident. Tire center doesn't allow anyone to enter the shop floor and neither Costco have a videotape in their workshop for tire center, so how can anyone give them any proof. They are stating that their employee never lie which is very weird statement to go against. All I want to say that I am never going to use Costco tire center services again and discourage my family and friends as well.

I am writing with respect to my experience today at Verne Roberts Location in Antioch California. I have shopped at several locations before but this location is a total different experience. I entered the Tire department to take advantage of the lifetime balance and rotation plan that I purchased in February 2015. The clerk advised that the service was no longer available as my membership expired. I explained that the clerk I spoke to at the point of purchase, advised that the service continues rather I reinstate my membership or not. Moreover, my Costco membership and lifetime Balance and rotation are 2 independent products that are not contingent on the other after purchase.
I asked to speak with the General Manager and the gentleman referred me to a Terrell **. He approached me prepared to argue instead of listen to my concerns. He explained that one has to remain a member if he or she desires to take advantage of any services that he or she has paid for and refused to hear me out. I asked if the contract explicitly states that or if this implied per Costco Policy. Mr. ** replied "I don't know." An answer that in my opinion is not sufficient in providing a desirable experience for a customer or prospective customer.
Correct me if I am wrong as I am not council, thus I am not qualified to interpret the law; however, per my understanding a policy is proprietary to a company and does not supersede contract law. If there is any ambiguity in a contract and the requirements are not explicitly stated, law generally leans on the side of the consumer.
Let's view this same policy from a different perspective. If what he saying is true then it would be safe to say that if one were to purchase a Cellphone from Costco, he or she must relinquish the product upon cancellation of his or her membership. I paid $55.00 for my membership and $56.00 plus tax for my tire protection plan. I am not sure why I have to pay to service a plan that is already prepaid.
Again my issue is not the fact that Mr. ** did not honor my request, rather he did not do his diligence in researching the matter prior to responding. He simply referenced a blanket Costco policy as a conclusion. I am not sure if he considered the fact that each department is separate entity with different functions within the organization. Can someone please provide me some clarity?

I got convince to purchase the expensive membership they have and I'm a regular buyer in Costco warehouse store in Norwalk. On Sunday October 30, 2016 between 4-5 pm while shopping in Costco our truck was stolen and where we had park there was another vehicle. We had park 48th next to the shopping carts. It was hardly any open parking space lots of people. I call for the Costco manager and tell her what had happen and she was sorry there's nothing I can do! I say there's cameras you can help me. She's trying to contact security by walkie-talkie and nowhere to be found and she says to me, "Sorry the cameras don't reach this part of the parking lot. Like I said, sorry there's nothing I can do. I can only take you inside so you can call the police." Omg! I say I buy your membership I park in Costco parking and spend so much money and not just me others and eat the food you sell and you can tell me my vehicle can't be safe!
She say, "We are not responsible for stolen or lost things!" I say, "Yeah it don't say. There's no sign says park at your own risk." She seem not hear and she didn't care and since I wasn't gonna go inside she say, "Ok sorry I'm leaving back in." And while she left still looking for the security guard. Surprisingly I didn't see no security the whole time we were there and thank god I had told my hubby call 911 while I go look for help in the store having my 4 little kids with me. Only the guy who ask to see the membership when you go in the store that I speak to asking who can help me cause they stolen my truck with everything inside in the car seats. Reacted surprise, worried and couldn't believe it. And say, "Wait here I will get the manager now," and he did.
Manager was careless attitude and as if it was like nothing to worried about of course it wasn't her vehicle! Still waiting to find my truck and Costco nothing and my husband is surprise knowing that it happen in Costco parking lot and in city of Norwalk and nowhere else. It is the first time it happens to us. There's no word to explain how I feel a lot more for Costco the store and manager since they make lots of money sell food outside with tables to sit and parking only for customers. And I'm like light shopping this time and something to eat for my kids is just right here and this ** happens and that's the help I get from the store! If I knew I had never purchase the membership and had a hard time convincing my hubby to buy Costco membership than Sam's Club. And this ** happens and no no help from the store at least try or manager to say come in and we check the cameras. I might be wrong!

I ordered a couch from Costco online Sept 4. The delivery date said 3-5 weeks and that the shipping company could call to set up a convenient time for the delivery. My credit card was charged in Sept. 8-weeks later and I still do NOT HAVE my couch. I have spent countless hours on the phone on hold with Costco online. I am told that the problem will be resolved and that I will receive a call or email and then nothing is done about it. My couch has been sitting at NLI Shipping for over two weeks now. Why Costco use such an inept shipping company is beyond me!! I have no idea where or how hey are to ring my couch THAT I HAVE PAID FOR, or what kind of condition it will be in when AND IF I ever receive it.
After speaking with another Costco Representative again today, they said my order has been back ordered and that I won't receive my couch until sometime in November. This is ridiculous since my couch has been sitting at the delivery company for the last two weeks (or more than that now.) What Costco should say on their ordering page is that "your delivery could take 3 months or more but we will charge you right away" and also that "the shipping company will only deliver to you on a day that is convenient for them (NOT CONVENIENT FOR YOU) between the hours of 9-4". Had this information been on the page I never would have ordered from Costco online. The customer service is absolutely ridiculous. This will be the last time I ever order anything from Costco online. And if my couch is not delivered this week, I will never spend another penny at Costco again!

Brand new wood floors damaged by movers who delivered mattresses. Beware! After dealing with poor customer service from the original contractor and delivery company, after being given the run around for months, we contacted Costco.com. Their original response was they were not responsible, it was a vendor problem and Costco was not liable. We informed Costco that we needed a Costco membership to purchase the mattresses and we "paid" Costco. To add insult to injury, in our $9,000.00 order, we had to contact them several times about the refund for mattress we returned. We will never order from Costco.com again. We will use Amazon.com! It has been 5 months and we still have not been reimbursed for damages to our floors.

I purchased Kirkland salmon a Costco Brand. While chewing my salmon, I felt something crunchy in my food and thought that it was a bone. It was not until I chomped down on a hard object that it occurred to me that something was not right. I called the number on the can to let the provider know that there were foreign objects in their salmon but was told to bring it back to the store.
When I brought the can and the object back to the store, they threw away the can and object. I did get my money back but it was not clear to me if the object was glass, plastic or a pebble. I wrote to Costco Consumer and have not received an answer. Someone can be seriously hurt especially if the object was glass. I am not looking for any monetary compensation but would like to know that someone will not be hurt if it was a piece of glass or choke on a pebble or plastic. SOMETHING WAS WRONG WITH THE BATCH of salmon that I bought and it needs to be looked into.

COSTCO Had an ad for 4 Michelin Defender Tires 90,000 mile warranty. The paperwork I received noted that they installed 4 Michelin Defender XT Tires and I paid for the Michelin Defender XT. On my 2010 Prius mileage dropped 7-8 mpg. I complained to Michelin and during the investigation I discovered they installed a 60,000 mile Michelin Tire. No help from the COSTCO Manager and no help from Michelin. Michelin has no responsibility for the tires COSTCO installs. COSTCO made their sale and they are done. How many other drivers have they ripped off. Stay away from the COSTCO in Greenville SC but I suspect it is being done everywhere. BEWARE.

Oct. 15, 2016 - I am writing this letter to express my severe disappointment with Costco's Window vender, Graber and Home Remedies Interior Design companies. I called to have an estimate on wooden shutters for my new home. The consultant, Judi **, came to my house on Oct. 14, 2016 at 1:15 pm and left at approximately 2:00 pm. I consider this to be a very short visit for 346 square feet of real wood shutters to be discussed, selected and ordered. Especially considering the fact that two of the windows were sliding glass patio doors!
She failed to explain anything necessary for me to make an informed decision on wood shutters. She did slightly explain the difference between wooden and composite shutters. She failed to explain on how to decide on the size of the shutters, the frames, hardware, durability or even the warranty difference between the two. It appeared when she entered my home that she did not plan on being here long and asked no questions about what I was looking for in shutters.
When I asked her specific questions about colored finishes on real wood shutters and how to determine which one was best. She states that whatever I choose would be fine because they have a wide variety of stains. When I asked about what are the most popular choices that customers pick, she could not give an answer.
I did receive a very vague estimate. It was written with the number of shutters (11) without the square feet, type or color of shutters to be purchased, the retail cost was $21,725 and the Costco cost of $15,225. The tax was listed as $1210 and a rebate of $1644 which was not explained at all. I had to call her back the next day to determine what the square footage of the windows were and the price per square foot because it was not listed on the estimate.
After several specific questions from my husband about the specifics of such an expensive purchase, I realize that this woman, had no intention of educating me about real wood shutters, nor was she interested in having me make a purchase with her company. Judi left and told me that she would order a sample of the shutters colors that I selected so that I could look at them in my home before making an order. She stated that it would take a week to arrive by mail in a week! I specifically told her that I wanted to have shutters for the Christmas holiday and that one week pushes us even closer to the deadline.
After watching a single video for 6 minutes on Youtube.com, I realize that I learned a ton more about this process that the entire time with Judi. I live in a million-dollar gated community and I cannot believe the service I just received! I had a neighbor that asked how the appointment went, as this was my first consultation for wood shutters, I told her not consider Costco because of the poor customer experience that I had with Judi! I will make sure that that I tell all of my new neighbors on the Next Door app not to use Costco for blinds and shutters.
My husband and I have been Costco members since 1997 and converted to a business membership in 2005. This is our first and last experience with any of your vendors. We have shop at Costco at least three to four times a month for several years. I cannot believe that this is the quality of the vendors that you select to represent your other services. I called about receiving an estimate on flooring as well, it took Shaw floors a week to call me back! Shame on you, Costco for having such poor vendors!

I bought Kirkland brand environmentally responsible ultra clean laundry detergent at Costco. After using for about a week, my husband started breaking out head to toe in quarter sized, itchy hives. This prompted us to get online and look up reviews. Well, it was obviously the new detergent. I immediately stopped using it BUT after several rewashings, the detergent is still in the clothes and a month later, he is still covered in hives because it will not wash out of clothing! Most other online reviewers had same experience. Average review said after spending hundreds at Dr., they found out it was detergent. Not to mention the soap residue ate the paint off the shelf I was storing it on!!!
I called Costco headquarters and got no help. Just told me to call warehouse I purchased from and get a refund! I don't want just a refund! I want it pulled from the shelves period, so others don't have to unknowingly suffer with these problems. Also, it is known to cause skin problems of all kinds, respiratory compromise, DNA alteration and cancer with a moderate risk!!! Please do not buy!!!! Not worth it!

In the past 2 months Costco has placed a $100 hold on funds for 5 full days, for $30-40 gasoline purchases when I have used my bank debit/visa card. On October 8th, I made a $336 purchase. There was an immediate $336 deduction from my bank account PLUS a $336 HOLD on my bank account. I contacted my bank and they said this was action on the part of Costco. When I contacted Costco they denied any involvement and referred me back to my bank. The bank again researched the issue and assured me that it was solely initiated by Costco.
I have incurred charges related to the transfer of funds to cover subsequent purchases at other business establishments. Costco is the only business that this has occurred. I shared this information with another person who goes to Costco frequently and they said they had the same experience and were also awaiting the release of funds from their bank account. I noticed this occurred with the institution of the Citibank visa and questioned the assistant manager regarding this, but he denies any connection. Has anyone else had a similar experience?

The new CITI Visa is horrible! Customer service on the 1-855 is abysmal. I despise the website, statements can't be accessed online and it is difficult to navigate. Why did Costco make the choice to do this to their customers? AX was 100 percent over this! I have been evaluating how much do I even want to go to Costco if I have to deal with CITI to do it!

I joined Costco in August, and on one of my initial visits contracted with DirecTV for service. The service was installed 08/27 and in the 5 subsequent weeks we have experienced numerous system failures, hours on the phone with DirecTV customer service, 3 additional technician repair appointments, new equipment (with an attempt to bill me for shipping), and finally my canceling the service. Then DirecTV wanted to charge cancellation fees. NO! DirecTV waived the fees. Costco should not represent such a shoddy service, and being new to Costco it makes me suspicious of their other products and services.

I love Costco. I enjoy much of the product offerings. I hate this new Citi card. The customer service is offensive, the web interface is an abysmal failure and charging customers for their errors is downright criminal. I am seriously considering bailing on Costco as if I have to deal with the inept people at Citi one more time, I might just cry!

Today at Costco we browsed for a bit (I just happened to tag along with the folks) and it seemed like the place was busy as always. I'm surprised that so many people think this place is that great; in fact, Costco seems like hype. You don't always save money by shopping at the place; a lot of their canned goods are only marginally cheaper than what you find at grocery stores (like paying $0.60 vs. $0.65 or so at the grocery) and some things were actually more expensive (some of the sauces were pricier, for example).
The clothing is bland looking backwoods crap (I know that Costco isn't a fashion center but please...) and some of the other stuff like home decor is cheap, kitchen tools that are junk (the folks bought some 'santoku' knives that cut worse than our butter knives) and furniture that looks like Walmart grade stuff. There is stuff that is cheaper here than elsewhere but that's mostly if you either buy a ton of rice/sugar/flour for some business or if your family eats some sort of meat and salad diet.
Also, the store has sort of an awkward layout (just getting to the bathroom means wading through the checkout lines and squeezing past the people buying the various junk) and I don't care for the employees at the entrance pestering you about your membership card or wanting to check over your receipt like you're a shoplifter. How nice. Oh, and most of the customers seem to have room temperature IQ and move at glacier speed (no, you can't stand in the middle of traffic like an idiot and no, the store is not a daycare). Costco is overrated if you ask me and for the record, Sam's club and Aldis come across as just as weird. This whole business seems like a creepy cult to me! Yes there are worst businesses out there but don't believe the hype.

I have bought your razors for years and feel that the razor heads should also be sold at the Costco stores. PS... This is important to me as I search for places that sell them and it is not convenient. I don't like to return things but if I cannot get replacement heads for it, I may be forced to return the product.

American Express was a very simple card and I enjoyed the balance of customer service and benefits. Since switching to Visa, I have become increasingly frustrated with both Visa and Costco for forcing this change and the poor customer service that goes with it. I have attempted to set up auto pay each month since getting the card. Auto pay was NEVER an issue with Amex. I get disconnected multiple times during each call, and when reaching a customer service representative they are unable to help. My wife and I each have a card, and when setting up the account with my user ID, I cannot set up auto pay. It would have been great to have been told this the first call. This second call, I need to have my wife now set up a separate user ID, and set up auto pay. Why the hoops. I just want to avoid fees, pay as I go in full, and be a great Costco member. I am considering the switch to Sam's Club out of principle. Great job VISA!

I've been shopping at Costco for over 10 years now. I've always had a pleasant experience and have enjoyed shopping here. I've actually never written a company review before, but my experience today motivated me to write one. Upon checkout I was told that there were no boxes left by both the cashier and the bagger. I was surprised by this since other customers around me were getting their groceries packed into boxes. After I paid and all my groceries were skewed in my cart I went to the box area by the bathrooms to pick up a box and went back to box my groceries. I even told the guy who put my groceries in my cart that there were more boxes and all he said was 'ok' with his head down.
I don't care so much that I had to box my own groceries, but the fact that both the cashier and bagger stated there weren't any boxes upsets me since they blatantly didn't want to go out of their way to gather more boxes. Yes, there were long lines, but as a Costco customer I've always expected to have my groceries in boxes since they don't use bags there. And since Costco is a wholesaler boxes are usually plentiful. I live on the 5th floor of an apartment, so having to make several trips without boxes wasn't ideal. Like I mentioned before I usually don't write reviews, but this experience really upset me and I don't know why I was treated differently than other customers.

I stepped into Costco at Lafayette location. A ** employee with dark, short hair asked for my card and demanded I go to the membership counter. I went through the process of obtaining a membership. I stepped into Costco at Lafayette location a second time without my card. Again, the same lady asked me if I had a membership. I said, "Yes, but I don't have the card." She demanded I step at my left and go to the desk for a membership with a smirk on her face as if she thought I was lying.
After receiving my temp card, I asked her if she remembered me there waiting on tires. She said yes. I felt as though I was being harassed. I asked the lady to remember my face and proceeded to walk away. When I turned around, I noticed the employee mocking me to the other ** employee at the exit. Ok and what if I didn't have a card - isn't Costco a public place? I'm aware that purchases can't be made without a membership. Very Rude! By the way, this happened 9-22-2016 at about 10:30 a.m.

I placed a tire order on Costco.com on 8/16/2016, the website said that the order couldn't be completed and to try again later. On 8/17/2016 I placed another order for tires, believing that the first order was never completed. Within 5 minutes of completing the second order, I received an email confirmation for 2 orders. I called Costco.com. They said both sets of tires were en route to my local Costco and it would be taken care of at the warehouse. I received a refund for one set of tires at the warehouse. Costco is claiming that I received 2 refunds, and according to my bank statements that never happened, I received one. Costco.com went into my account and stole 498.36. They are trying to force me to pay for a product I never received. Yesterday they realized their error and refunded me the money. Today they took it again. I have been a Costco shopper for more than 10 years. I may never go back again.

On two occasions we had to return spoiled meat that we purchased. Got a refund with no issues. However there was no ownership for the issues and we never spoke to anyone past a cashier. We even heard that since no one else returned anything it must not be a wide spread problem. Bad meat smells.

Why are you cutting the cap off the prime grade ribeye steak? This is so disappointing as now we shop elsewhere for a prime ribeye. Asked butcher and he says it was a corporate decision. Please give reason as price is very high anyway.

Visited for 1st time since husband purchase executive membership. I bought a slice of pizza & a drink. I was finishing my pizza & notice something hanging and connected to other piece of pizza. To my surprise, it was a long strand of hair, cooked within the pizza. I have been nauseous ever since. I tried to make food come up or go down. Supervisor was helpful, as well as food service staff upfront: they apologize & gave me my 2.59 back & took the stand of hair. 2 employees in the back preparing/cooking were wearing hats but no nets. One said the hair looks blonde, the hair was streaked. Do I care who had blonde, brunette etc hair? Bad taste in my mouth???

My Samsung TV went out last week and it is still on warranty only bought 1 year and half ago and already went bad wondering about the quality of the TV. So I called Costco Concierge service, went thru all the diagnostic/troubleshooting, they said that some technician need determine the issue. After googling apparently this model of Samsung has lot issue with T-CON board where the image is not displaying but the sound is working. They told me that they would call me back waited for 2 days no answer.
So called the extension number that the case person provided me, it is alway busy. Then called the main line they said that someone is looking at my case, then another 3 days went by with no answer until I called them back again on the main line since I could reach on extension provide to me and I asked why is the status since is almost a week, They told me that they need a technician to replace the part and will call me when they get the part.
No answer for two days - I called again. They said that manager decide to replace the TV instead of replacing the part and send technician and that I could bring the TV to the costco where I bought. They told me that they will send email to the store bought within a hour. Where I can return my TV and pickup the replacement. So after work, I went to the costco where I bought the TV the manager told me they have not received any email about my case. But I told the store manager that the concierge told to come here. I wasted my time and gas bringing the TV back and forward. So I call the concierge service again and this other person told me that the email has not been sent, and he cannot do anything until Tuesday when manager Julie look at the case. This is worst customer no services. I think I will never buy any TV or electronics at Costco. What happen - Costco use to have great customer service?
Company Name:

Costco

Address:

PO Box 34331

City:

Seattle

State/Province:

WA

Postal Code:

98124

Country:

United States

Website:

http://www.costco.com/