Consumer Complaints and Reviews

Beware. Costco is not good in service for or any control on their partners (like Ameriprise insurance or any) services. We blindly go with Costco's partner product as we trust to Costco and we think Costco will cover us if there is any problem. But it is wrong. Ameriprise insurance suddenly increased my home and auto insurance (doubled). I have no claim till date, credit score is high & good history, no ticket. I was surprised. Talked to Ameriprise and Costco client support. No use. It seems Costco people were on Ameriprise side. They told me my cost went up because of Washington new insurance laws. It doesn't make sense. I checked online and there is no new insurance law.

Wish I could do 1/4-1/2 rating. What a disappointment. Costco has gone so far downhill! Costco has become so Cheap/greedy that they made a mistake and Partnered up with Citibank. Citibank gives you the runaround on everything!!! They don't know their own products, guidelines, can't answer questions other than tell go online (NO CUSTOMER SERVICE). Hang up on you when asking questions and if lucky enough to ask then it's only Misguided information and if they bother listening... Tried buy a car through Costco and Wow I would have been Taken. AAA came through!!! Tried to do a refinance through Costco and they wanted to screw me - Got a GREAT Deal through the Credit Union.
Point the partners Costco has brought on board are the LOWEST bottom feeders ever. No wonder why there are News Reports about Costco having issues!! Costco may have a great bottom line $$$ because they are taking advantage of US - they're making $$$ off of US. Time to speak up and say enough is enough. Mr Paul Latham needs to hear your experiences.

Prices very reasonable, with a very good return policy. Also you can believe what the package tells you, as they I am assured investigate it, before putting it on their shelves, example: Wild Salmon from Alaska.

Costco.com online SUCKS!!! I placed a $300 order and, as I expected, the funds were put on hold on my checking account. HOWEVER, what I did not expect was ANOTHER hold put on my account the next day when the items shift for another $250.00!!! This overdrew my account. Customer service was useless. They explained to me that that is their policy and that the additional charge will drop off my account next week. WAY TOO LATE FOR THE OVERDRAFTED CHECKING ACCOUNT. I will NEVER order from costco.com online again. From now on its Amazon all the way!

I have been a Costco Member since 2003, and have recommended the store over similar options since then. The quality of the products is much better, and I have always been happy with the service. Recently the store changed its accepted credit card to Visa. First - I thought Visa is only debit and gift card now! Aside from this, I refuse to change credit cards to accommodate one store. We have another card which they used to accept, and only have a Visa debit, which is not ideal for a store that usually my checkout is upwards of $200. So today, rather than $200, I spent $28. If Costco wants higher sales, they need to add another major credit card. They lost $170 today; multiplied by thousands this could equal stores closing or worse.
How do I know I can trust these reviews about Costco?
668,849 reviews on ConsumerAffairs are verified.
We require contact information to ensure our reviewers are real.
We use intelligent software that helps us maintain the integrity of reviews.
Our moderators read all reviews to verify quality and helpfulness.
For more information about reviews on ConsumerAffairs.com please visit our FAQ.

I feel that the prices on the food and beverage field are not only less competitive than before but frequently more expensive than some other discounter especially Aldi, or Smart and Final. I can wait until Lidl come in 2018. At the same time the amount to be bought in one package is getting bigger and bigger. Companies such as Aldi, Smart and Final (CA) have no membership due. IT comes to a point that I reduced my purchases by 70% and intend to just forget about Costco. The advertisement from Costco are deceptive.

I always buy the $50.00 bon bons firstly because they have not got the imported cheap crap inside. To my very great disgust this year I bought 2 packets as I was expecting 20 guests, and I had 5 very upset guests with nothing but a paper hat inside. How do you repair a spoiled Christmas tradition?

I love Costco for many reasons. The prices are terrific, the quality is very good, there are many seasonal items, and I always find something that I want to buy that I didn't expect to see there. If I should buy something that I later decide that I want to return, Costco will give me a full refund even if I have had it for a few years and I can't find the receipt! Whenever I need anything I always check at Costco first. The price of my Executive Membership pays for itself almost immediately with savings over the normal retail of the items that I buy there, and at the end of each year of my Executive Membership Costco rewards me with a rebate based on a percentage of what I spent during the previous year, which has always exceeded the $110 annual price for their Executive Membership fee.

I bought a LG 6.3CuFt Slide-in GAS Range with ProBake Convection for $1,494.49 online. I need someone to install this range because it's a Gas device. Costco advertised that will deliver and install with a "While Glove" service; therefore I bought it. The delivery vendor told me that he does not have the extension/coupling to connect the range to the gas connector from the house. I told me to go to Home Depot to get the extension/coupling and call Costco back to schedule time for him to come back to install. I do not know what he's talking about. Go to Home Depot to get WHAT?? I told him that I don't know and need someone to install for me. He insisted that nothing he could do; and left. I then called my contractor to install the range. Cost me $150 but it's worthy. I have been with Costco for over 10 years and very disappointed with the experience. First and last Online order for me.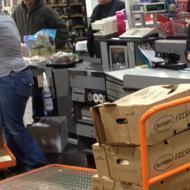 When the manager put a Flat Bed Cart on my foot and I was screaming at her she pulled it off and I was passing out. She didn't call EMS or anyone to care for me. Are they taught to not help the injured person? They deleted the surveillance video and Zoey **, Jill ** and Cashier Lena lied in deposition. The cashier Lena talked to the police on January 15 and said it happened and they were having meeting to cover it up. In Deposition she said Costco came to her house and she cried! I was talking to the Manager at the Quincy Costco whom worked with this Ladies at the Arvada Store where I was injured. She said they must have threatened Lena. Is this what this store is about? Lying! Deleting the evidence! I've called and tried to talk to CEO Craig Jelinek and they won't put me through to him.
I was lied to, bullied, followed when I was in a wheelchair, and the Police Officer Jeremy ** and I were yelled at by someone from the office. I believe her name is Desiree. We loved Costco before this happened. Joan, Stacy **, Annalisa, Lena the cashier, Zoey **, Jill ** and all the cashiers that were working on October 21, 2014 know this happened and are trying to cover it up. After both of my surgeries I had to crawl around my house. The first surgery I crawled around my house for 5 weeks. I will keep calling CEO Craig Jelinek and see if he approves of all of this. I will write a book if I need to. This story needs to be told!

Costco: excellent prices for large quantity amounts of high quality food items such as meats and seafood, vegetables, fruits, eggs, canned items, dairy, bread, rice, beans, nuts, and lots of other items for large family living or those who want to shop twice a month instead of daily or weekly.

I had the worst experience. Placed an order for a TV that was on sale for black Friday. After a few weeks nothing was going on with my order so I called customer service. Apparently my order was going to be on back order for 2 to 3 weeks and the rep said it's a good thing I called since my order wasn't going to go anywhere as they needed a physical address and no one was going to call me to inform me of this. After another week, I find my order canceled. Had to call customer service again, and replace my order, which means this will be another 2 to 3 weeks from this time.
After a week I find my order was canceled. Called customer service again and the reason they canceled my order was that instead of verifying my billing information with my credit card company they were trying to put my shipping address as my billing as they didn't correctly read my information. After 3 weeks of going back and forth with customer service as the verification department is in the US and we are not allowed to reach out to them and they kept saying they tried to get a hold of me, which never happened, never had a missed call. I had to cancel once again my order and replace it for the third time, once again pushing my order for another 2 to 3 weeks and I don't even know if I will get the item. I'm so glad I ordered this way before Christmas only to find out Christmas has gone and passed and they still couldn't get it there on time. This was a terrible experience and it's still not over with after dealing with this for over a month.

My mom purchased this stroller for my baby and in less than 3 uses the wheels started squeaking and I literally cannot turn the stroller without having to carry half of the stroller. I'm over this brand. It was a complete waste of money and I wish I could get a refund.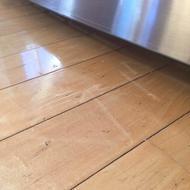 My mom recently purchased a $1000 fridge from costco.com, and the delivery service provided by Costco mistreated our floor and left us with $6000 worth of damages to our floor. The same fridge was available at my local Lowe's, but I decided or order from Costco.com. This was our biggest mistake trusting Costco would be a stand up company. After purchasing it in August, we did not receive the fridge until November. This is all fine. What is truly upsetting is that the delivery service Costco subcontracted out is a scam - they used a company called XPO Logistics who then subcontracted out to Razaat Transportations LLC. What Costco calls "White Glove Service" in reality is two guys dragging the fridge into our kitchen with their bare hands, no layering of protection on the floor, no use of any professional delivery tools, just dragging the fridge using their bare hands all over my hardwood floor.
After I called Costco customer service, they filed a claim for me and then said they are no longer responsible since they subcontracted out the delivery service. The subcontractor refused to acknowledge their mishandling and tried to blame us. From the photos, it's clear that the gouges on the floor was from dragging the fridge. If we just bought the fridge at Lowe's, we would've never been treated like this by a company. We had to have a Costco membership to buy the fridge. We PAID Costco. Costco now denies any responsibility and forces their customer to deal with 3rd party subcontractors that are scammers and amateurs at best.

Went to my local Costco today with my son who is home from college for the holidays. He and my wife have a membership (we transferred mine to my son when he went to college), but we found out today that using his membership I couldn't use my debit card to pay because he was the member, not me. Now, I could have paid with cash for him with no issues, but I couldn't pay with my debit card (same as cash?). We had to leave empty handed after waiting in a long line because we don't carry cash and we didn't load up his debit card because he is home. I'm sorry, but whatever excuse they have for that policy, it is a crappy one.
The cashier was absolutely nasty about the whole incident right from the start. Because of this and other issues that seem to be inconsistent lately, we won't be renewing our membership. I know it won't affect the mighty Costco, but I will take my business to a company that actually wants to provide a service and take my money.

Today I returned a Christmas centerpiece that I bought recently. I felt that it wilted quicker than it should have. As always, I was greeted with a smile and no problem attitude by the service person at the front counter. I was refunded my money (I went and bought another one). I shop at Costco all the time and it's always a good experience. Staff there are always friendly and quick to help!

Horrible customer service. Managers and employees at the Returns desk treats you like a criminal when you want to return an item. If you want to be humiliated, disrespected and treated like a criminal go to Costco in Lancaster, CA. PLEASE AVOID COSTCO if you can. I am not sure who is doing the hiring, but they are hiring HORRIBLE EMPLOYEES. Costco's employees are truly a JOKE! BE CAREFUL.

I visit Costco Issaquah about once monthly (these days) and have been visiting for eighteen years. My purchases these days are largely meds (about $2000 a year). My wife and I purchase some additional items. For the last nine months, I've had a handicapped tag that I hang on my rear view mirror when I'm using a handicapped parking slot. No matter what day of the week or time of the day I visit, handicapped parking at Costco Issaquah is essentially never available. I visited today (Wed 14 Dec 2 PM) and the spaces were full. I walked further from my car to the entrance then I walked from the entrance to the pharmacy counter... and entrance-to-pharmacy-counter is a 7 minute walk at my pace these days.
The people I see entering or exiting cars in the handicapped spots are NOT handicapped. It could be, of course, that they dropped, or are picking up, the handicapped user at the ENTRANCE. IS COSTCO ADEQUATELY MONITORING USE OF THE HANDICAPPED PARKING SPACES? Have you designated an adequate number of handicapped spaces? Are handicapped employees filling the spaces so they're full all day long every day?

I purchased the Whirlpool 5.3CuFt Cabrio® High-Efficiency Washer with Precision Dispense 8.8CuFt Cabrio® GAS Dryer with Quad Baffles in White | WTW8000DW, WGD8000DW in July 2016 on sale at Costco online. It worked ok but started to noticed white residue on my dark loads. At first I thought there was soap residue in the drum so I cleaned the drum and also used the clean cycle for the washer. I still saw white residue on my dark loads. I decided to handwash or rewash the clothes. I called Whirlpool and they told me use less detergent or spin on max or don't overload. That didn't help so I called Costco concierge and they were no help either. I was stuck in the middle and started to tell my problem to at least a dozen different people. I was frustrated and exhausted. I wasted a lot of time on the phone and doing the same load of laundry to resolve this problem.
I wanted to return the washer and dryer back to Costco online! I don't care what Whirlpool says because I bought it from Costco online! They will not take responsibility nor guarantee any customer satisfaction. They keep sending out technicians and keep wasting my valuable time! I have 3 kids with mountains of laundry, I really don't have time to handwash them. This washer is JUNK and I would highly recommend not to buy anything from Costco online! Costco online and their concierge service is a JOKE! They act like they care about your problem, but in actuality they really don't. They don't even know what they are doing... No one can give me a straight answer, they keep telling to call another department and I keep getting transferred to someone else. If I could I would tell everyone NOT TO BUY ANYTHING WHIRLPOOL AND FROM COSTCO ONLINE!!

I ordered online over 6 times, same shipping address. Paid express, got order confirmation, funds were taken out of my credit card. But I called, asking where my express order is, and the order was blocked. Their system showed my address a commercial freight forwarding address??? They have my credit card on file, got their money, but never bother to look into my account history or communicating with me. After a total of 1 hr and 45 minutes on the phone with customer service, nothing they could do. After 30 min, "Oh you are right, we shipped to that home before." No apology, no service, no accountability, no extra service or expedited service. Nothing. Just attitude from the Supervisor Cindy. If there is a question email, communicate, but don't take the money and sit on the order. Very very unhappy about Costco today.

I've made many complaints to no avail. The Costco gas hut is never open at 6:00 AM like the signs state. The person working there is never on time. I've been a Costco Executive member for 13/14 years and I'm so frustrated with how unprofessional Costco is. If their hours of operation are posted 6AM - 6PM, then someone should be there ready for operation at those time. Why am I paying to be a member if their workers can't be on time? If I have that kind of work ethic, I'd not have a job! Get someone in the gas hut, ready for operation at 6AM, so of have to get to work on time!

I have been a continuous member of Costco for 29 years. Started in Kirkland, Wa in 1987. I love Costco. From great quality of goods, great, inexpensive snack bar, good service, the list goes on and on. Have moved several times during the years and the stores are all consistent. In Iowa now and love the Coralville store. The indoor parking garage terrific in our A to Z weather.

Bought TV via Costco online w/ free delivery option. Was shocked to hear via recording (NO live person) that I had to reserve 8a.m. to 8p.m. for delivery. Even Comcast (who everyone loves to hate), doesn't have a 12 HOUR service window. Hard to believe Costco couldn't use a 3rd party delivery service that had its act together.

Recently I got the Nov 11 2016 Costco Shopper and was interested on 2 65" TVs, the nearest Costco from where I live is a 2 hr ride so when I noticed that the tvs did not have a model number I decided to call because of the distance and the thousands of dollars I was going to spend. To my surprise I made more than 10 calls and called all the 4 Costcos in Puerto Rico and guess what?... I am still waiting for anyone of those employees to pick up the phone... I'm pretty sure these people get well paid and I don't understand for what if they don't even know how to answer a phone. Their service is very very poor and all I can think is that they're trying to fool the customers and make them visit the stores with their lack of info and bad customer service. Forgot to say I saved all calls for evidence if someone in Costco cares...

I purchased prime rib, and filet mignon many times at Costco and they were great, tender and tasty. Last year I bought ten skirt steak and it was shoe leather. So today November 18, 2016 I bought skirt steak again, thinking ok, maybe last time was a fluke. It's in the pail. Shoe leather again! Disgusting and no flavor. I am going back tomorrow and I want my money back. So disappointed. I hope someone from Costco reads this, because I am a very good customer, and expect better from Costco. Anyone out there eating this, this not what skirt steak tastes like. It's garbage. Don't buy it ever. Sooo disappointed. What skirt steak tastes like.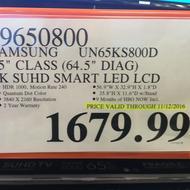 The offer promises 9 free months of HBO Now with the purchase of more expensive Samsung televisions is fictional and deceitful. The promo card included with those televisions provides a Samsung promo link that does not work. Even after registering the tv, the link fails and states that the serial number is invalid. This happened both to myself and a family member who separately bought a similar tv. Multiple attempts to retry were futile. Calling Samsung customer service was met with over 30 minutes of wasted time with a barely English speaking resident of India, who had no idea what I was talking about. Same thing with the family member who also wasted nearly an hour and getting nowhere. I complained to Costco.com, who stated that the alternative is to return the $1800) set, but no help and zero interest in helping solve an issue in which Costco is facilitating bait and switch.

Recently I purchased the following: Frozen Onion Soup - Last year it was 12oz and this year it is 10oz and the same price. Marie Callender chicken pot pies - It was 12oz and now 10oz. In both cases I noticed the cooking time was less, so this led me to check the size. Of course the price did not change - same price for less. This seems to be deceptive trade practices and I would like to see a consumer law that merchants need to notify you of a change in the size.
Same thing happens quite often. For example Oscar Mayer purchase a popular turkey bacon company that sold 12oz Turkey Bacon and immediately changed it to 10oz for the same price. We discontinued to purchase the bacon. Now I have noticed that some stores do not carry it any longer. I am sick and tired of companies purchasing another company and making the consumers pay for the purchase price. Likewise I am sick and tired of companies decreasing the size and keeping the price the same. Consumers cannot be protected from everything, however this is something that should be put into place. Companies complain about Government Regulations, but in some cases it is warranted. You cannot make companies honest, but one would expect that companies would at least disclose this information.

At Costco today we were charged twice for a single item. A rug. When I told the man at the door he called a supervisor who we had to wait for and the only thing he could say was "Sorry about that." If I tried to walk out of the store with the 15.00 dollar rug without paying, do you think that a "sorry about that" would have been sufficient for them? After waiting another 15 min. for them to credit my account we finally left. I feel Costco should be more responsible for items checked out a double check or item count. I am very disappointed that I had to find this overcharge. I hope this is not something they do on a regular basis.

I recently changed tires for my Audi SUV at Costco Tire center in San Diego. After two months itself, I had a flat tire so I took my car back in for them to look. While taking off the tire and putting back in they put a scratch on my car's bumper. Since, it was early morning, so I didn't look but after going home I realized it. I went there in the evening and told them about the incident and filed a claim form. Claim manager called me and said that "you do not have any proof" and she will take their employee word over us. I am a Costco executive member from past 9 years and always had good things to say about them. I even encouraged multiple friends to buy their membership.
However, in this case they treated me as a customer very badly and rudely. They are telling me to show the proof that means someone needs to videotape the incident. Tire center doesn't allow anyone to enter the shop floor and neither Costco have a videotape in their workshop for tire center, so how can anyone give them any proof. They are stating that their employee never lie which is very weird statement to go against. All I want to say that I am never going to use Costco tire center services again and discourage my family and friends as well.

I am writing with respect to my experience today at Verne Roberts Location in Antioch California. I have shopped at several locations before but this location is a total different experience. I entered the Tire department to take advantage of the lifetime balance and rotation plan that I purchased in February 2015. The clerk advised that the service was no longer available as my membership expired. I explained that the clerk I spoke to at the point of purchase, advised that the service continues rather I reinstate my membership or not. Moreover, my Costco membership and lifetime Balance and rotation are 2 independent products that are not contingent on the other after purchase.
I asked to speak with the General Manager and the gentleman referred me to a Terrell **. He approached me prepared to argue instead of listen to my concerns. He explained that one has to remain a member if he or she desires to take advantage of any services that he or she has paid for and refused to hear me out. I asked if the contract explicitly states that or if this implied per Costco Policy. Mr. ** replied "I don't know." An answer that in my opinion is not sufficient in providing a desirable experience for a customer or prospective customer.
Correct me if I am wrong as I am not council, thus I am not qualified to interpret the law; however, per my understanding a policy is proprietary to a company and does not supersede contract law. If there is any ambiguity in a contract and the requirements are not explicitly stated, law generally leans on the side of the consumer.
Let's view this same policy from a different perspective. If what he saying is true then it would be safe to say that if one were to purchase a Cellphone from Costco, he or she must relinquish the product upon cancellation of his or her membership. I paid $55.00 for my membership and $56.00 plus tax for my tire protection plan. I am not sure why I have to pay to service a plan that is already prepaid.
Again my issue is not the fact that Mr. ** did not honor my request, rather he did not do his diligence in researching the matter prior to responding. He simply referenced a blanket Costco policy as a conclusion. I am not sure if he considered the fact that each department is separate entity with different functions within the organization. Can someone please provide me some clarity?
Company Name:

Costco

Address:

PO Box 34331

City:

Seattle

State/Province:

WA

Postal Code:

98124

Country:

United States

Website:

http://www.costco.com/