Consumer Complaints and Reviews

We been shopping at Burlington coat factory in Phoenix Az for years. Today we went in to buy a $45.00 dollar suit for my son. I had $35 dollars in cash and quarters for the rest the cashier was helping out counting with nobody else in line, I was glad not to be holding up the line when a manager stepped in and said we can't take the loose change because it will take too long to count at the end of the day. $14 dollars in quarters can't take up that much time can it? Is that a good enough reason to not sell something? It took us 2 hours to find the perfect suit for our special event. The floor manager Frank on looked down and wouldn't even make eye contact. We just left the store, don't think I would ever go back.

I had done one order at Burlington Coat Factory's online site after seeing an ad on another page. The problem occurred when I wanted to see something like my account, etc., and I couldn't find the link at their site. (Yeah, sometimes I miss tiny text at my age.) So, I logged into my email and checked the order confirmation where I was able to click a Check This Order link. It took me to a page that had all of my information, name, address, phone, email and it was NOT a secure page. I checked this page in both Chrome and Firefox and both warned it was NOT secure or private.
Called the number on their page - (855) 355-2875 - and chose "Help with web orders" selection, however that person was unable to check or do anything about it saying he would escalate it to "technical". This is dangerous in the age of identity theft. I do not know if their mobile site is secure, however would advise checking if you use your cell phone to make purchases. I will not be making any more online purchases there until they fix the security and privacy issue they currently have.

My family and I decided to go to Burlington for some clothes. I was very pleased to see clothes in my size being a bigger individual. Once we were ready to get rang up for the merchandise is where it went downhill. The cashier was very rude and unfriendly. We have our son who needs to be in a car seat. Their carts are too small for being car seat friendly. When leaving the store our child almost flew out of the car due to what they say as a magnetic lock on the wheel to prevent customers from taking the carts outside? What store would prevent from using a cart after spending money in their business? We were then approached by a very rude worker who seemed irritated and took the cart from us. Once leaving the store we were almost ran over by a driver, who want to curse at us.
We called the store to speak with the manager in regards to the locks on the carts. We even said we may have not saw the sign if there was one posted. The manager wanted to be extremely rude and unprofessional about the situation asking "how did you not see the sign?" Why would you be that uncaring to a customer who is paying your paycheck? This location and company will never have my business again. Your employees are highly rude and unprofessional. It looks like if you need a job, go to Burlington. They will back alley hire anyone who is breathing. Basically, trash is what they look for in employees. If you keep up with your idea of customer service standard as what I encountered today, good luck on trying to keep the doors open. This location is a joke! Nothing but total trash!

Every time I go into this store on Florin Road the restrooms are always very disgusting. I visited this store a couple of days ago and there was no toilet paper and no toilet seat covers in any of the stalls. I found an associate and let her know how nasty the bathroom was and she replied "we will get to it later". Mind you it was later in the evening and they were not busy at all. This is not okay.

I bought a dress for a July wedding for $49.99. I wasn't crazy about it so I hung it in my closet with the tags still on. A couple of weeks later I found a dress I liked better which I wore to the wedding. I went to return the dress to Burlington and was told because it was after the 30-day return (it was 50 days) period I could only get a refund of $34.99 and only as a store credit. The cashier claimed that there was no way to "override" the register to even credit my debit card. So now I have a lousy $34.99 gift card to a store I never want to shop in ever again. The dress was still in season and had the tags on and was obviously never worn. Terrible policy and they have lost me as a customer. Maybe I'll donate the gift card.
How do I know I can trust these reviews about Burlington Coat Factory?
609,317 reviews on ConsumerAffairs are verified.
We require contact information to ensure our reviewers are real.
We use intelligent software that helps us maintain the integrity of reviews.
Our moderators read all reviews to verify quality and helpfulness.
For more information about reviews on ConsumerAffairs.com please visit our FAQ.

I wanted to buy a bottle of obsession. I checked the price on line. I forget what size. I then went to a local rite aid. The price at rite aid was $10-$15 cheaper than at burlington. I thought all prices were supposed to be cheaper for all products. I guess not.

I usually have great experiences at Burlington, but I do not quite know what to make of this incident. I found an item of clothing that I liked, so I took it to the register to pay. The item was in perfect condition, but the cashier seemed so hostile. I am guessing she does not like ** people, and she looked like Mexican or something. Anyway, she bagged the item, and I tied the bag in a knot so that my fashion jewelry items would not fall out. When I got home, I placed the bag on a table, and the next morning I opened the bag, and put the item on. That is when I noticed that the decorative chain was broken, and the gold metal decorative bar was missing. It was not in the bag at all, and I know that it was intact, and very sturdy when I took it to her register.
I immediately returned it, and spoke with a woman claiming to be a manager. She thought it was okay for the cashier to rip it off because she dismissed me completely, and said I should return it. Of course I was there to return it, but there are cameras in that store. I am pretty sure. So why is it okay for an employee to vandalize? If she tore it off by accident, and I cannot imagine how that could be an accident. She should have said something before bagging it. These two ought to be fired. The name of the cashier is Madonna, over at the Arcadia, Calif. store. The store # is 00195. The date is 9/10/16. The transaction # is **. The time 7:12 PM. The register # is ** Visa Card. Total $31.57.

Wow! Wish I had done this process before purchasing from Burlington Coat Factory at 2920 SW Military Drive in San Antonio, TX!!! On July 15, 2016 I purchased several back-to-school outfits and as usually happens because of the bulk of clothes, one of the items did not get the security alarm tag removed. Oddly enough, when I walked out the sensor did not go off.
Yesterday, 8-18-2016 I took the item back to get the tag removed and the poor cashier requested my receipt. Of course I did not have it. But she made a half effort to look in the computer/register by my phone number (as they ask for that when you purchase) and asked me when I thought I had purchased. I said maybe late July... just couldn't remember. She said, "It's not showing up here". But may I add, she made a point of saying it so loud so that people in line (cause there's always a line ala Walmart) could hear. She said other items are showing up but not this particular item. I asked for a manager. (Now I'm laughing after reading all the complaints on this site! Where do they get these people??) So another "cashier" replies, "that would be **". Then she adds, "but we don't take off the security tags without a receipt".
Now, being that this was THEIR mistake - as I pointed out to her - she just "plopped" the item on the counter. By this time the folks in line are looking at me as if I had shoplifted the item. BUT... once I got home I found my receipt! I am so looking forward to returning today and will politely tell the cashier and/or manager to eat the security tag for lunch. I would add a copy of my receipt but again, from reading the reviews of this store, I don't want my card double charged!! ;)

Were you aware that Burlington Coat factory has a secret policy that could block your legitimate returns? They have an agency counting the number of returns you make, and when you go over that number you will be blocked from returning for 180 days. Of course, this policy is not posted anywhere in the store, nor or the managers and other employees aware of it. I went to return a purchase within 4 days of purchase and my return was blocked. The store manager tried to override and then was on the phone for over an hour talking to higher-ups, and was told there was nothing they could do. I am pursuing legal action against BCF.

Please do not put anything on layaway at Burlington. I spent an hour in the store only to see that the person who was helping me was also confused about how to complete the layaway. As a result I got frustrated and did not purchase what I had on layaway. I opt for store credit and purchase something else with it. I was so confused that I will not go back in that store again until they change their layaway system. I will go to Macy's or Marshalls.

I was able to visit the Burlington in Tracy and the one in LA and both stores needed more salespeople! If you needed assistance, it may be difficult to find one because of the lack of staff. They are very large stores and they offer a lot and you can find almost everything here. They have clothes, toys, shoes, luggage, handbags, accessories. It is a very good place to find very cheap goods - you just have to be patient enough to look for worthy finds. They carry designer brands like Calvin Klein, Perry Ellis, Penguin, Sperry, Florsheim and the likes so it is definitely worth a visit if you have the time and money to splurge.

The Hallandale store, nr. 00491, FL 33009, is not respecting the company customer satisfaction policy: "If for any reason you are not satisfied with the purchase, just bring it back within 30 days with your receipt". I bought a pair of leather shoes Sperry Top Sider. After wearing the shoes for a few days, the tread in the stitches started to slide out, making the shoe unwearable. I went back to the store timely and was refused a refund for the defective shoes because the shoes were worn. The supervisor was incompetent, the assistant store manager was rude, refusing to give me her name, and the store manager Donald ** was unreachable.

Burlington Coat Factory at 140 Orangefair Mall Fullerton California is a disaster. I bought a pair of shoes in January of 2016 that I felt would be comfortable for me at work since I stand up for 10 hours at work. When I wanted to wear the shoe after about 3 weeks of purchase I discovered that the upper left side of the lace hole of both pairs was defective. It was slit open so it could not hold a lace. I took it back to the store to exchange it with a functional one but the store female supervisor refused to accept it even though the tags were still there and the shoe was never worn.
She even accused me of causing the defect which I presumed could be a factory defect. I was so frustrated that I left the shoe in the store and called Burlington corporate office. I was eventually asked to speak to the store manager, Brian who affirmed that they do not accept defective returns. Woo!!! Not only were Burlington staff rude but accusing a loyal customer of purposely destroying a $32.00 shoe is unfathomable and unethical. Burlington return policy is a disaster. The staff require training. Check carefully what you buy at Burlington Coat Factory because you may end up with a defective item like the shoe I left behind. They may have put it back on the shelve for sale.

I ordered a juniors dress online for my daughter's graduation. The dress had a horrible, very visible snag all across the front so I called Customer Service to have another one sent out & I would return this one. I was told to take photos of the damage and reply to their email. So I did. They offered me a 10% discount on an item that cannot be worn so I called back. I was offered free shipping if I reorder, but I have to pay the shipping up front when I reorder the dress and then call to get a refund. Asked for an email confirming this and was given an attitude. This is incredibly poor customer service - and I do not see shipping refund being easy. Hoping my daughter finds a dress she likes as well, and I will NEVER shop at Burlington Coat Factory again, online or stores. If zero stars was an option, that is what I would give.

My daughter just had a baby and none of her before baby clothes fit. We had been having a hard time finding plus sized jeans locally under $60 bucks, so a friend suggested Burlington Coat Factory as one just opened in our town. I checked online and sure enough they had her size in the style and wash she wanted for just $12.99 a pair. Instead of getting out as I am disabled I sent the husband to load my prepaid debit with cash so we could just order the ones she wanted and not risk them being out of stock in store. They according to the website only had 3 of one pair left and 6 of the other.
I went and placed both in my cart and checked out. I filled out my card information (mind you I shop online with this card at least twice a week) and hit submit. It came back rejected. I thought it was because I used my daughters address as the shipping address so I changed it to match the billing (IE I used my address) and hit submit again, and again it was rejected. I opened another window and logged into my cards website and I see the first charge and then a immediate credit back but the 2nd charge is showing as posted with no credit back. I called Burlington and because there was no order actually made (because it was declined) then they had no way to even help me out, saying, "If it was declined then we may have made a hold for the amount but we didn't charge you."
I assured him it was a posted charge and again in the most rude tone I was taken through the steps that happen, although I am a seasoned vet at all this banking crap, thanks to years and years of online orders and mishaps. I thanked the man and just got off the phone so I could call my GoBank card and find out if this was for sure a charge or just a pending/hold that would fall off in 3/5 days as I understand does happen.
Once I spoke with three people at my bank they assured me it was a charge and that they were trying to charge again. She closed that card out and now I get to wait 7 days for my new card to even access the funds that are still in the account. I understand my bank did this to prevent additional charges from Burlington. I never even had an order number but that didn't stop them from taking over $35 bucks. I am now waiting till 5/3 to see if the charges fall off. If not my card company will work with me to dispute the charge. All this because I wanted to save myself the trip and order my daughter a few pair of jeans. Now I have to go out and buy her jeans tomorrow and fight for up to 45 days for the cash I already paid Burlington for two pairs... This was my first and last experience dealing with Burlington, and will never step foot in the one they built here this year.

Cashier lady was very rude/trying to make the return very personal. I wanted my money returned to be back to my debit account which I paid with initially, and which most store do that. She said she can't do that and she only can give to me cash. I asked to talk to the manager. Unfortunately the manager backed her; that's not what bothered me, her tone and the way she was saying "she didn't believe me" and how she was trying to argue back with me and making it personal instead... This was very very unprofessional of her. She needs to learn to deal with customers without including herself. I will never back there. Awful place.

I am a "frequent flyer" at Burlington. I love the quality of their merchandise and clothes. On the afternoon of 3/31/2016 I visited the Snellville Burlington on Highway 78. I'd been eyeing a tufted bench I wanted for my bedroom but of course wanted to take advantage of the layaway option. After standing in line on my lunch break I was told by the cashier that there was no space of my layaway item. There was no alternative give by management at all.
I then asked if they could discount the item for their lack of space and the cashier said "NO." I wanted the bench so bad and the only option she offered was to drive two hours away for a layaway. WOW! I just had to let my voice be heard, the professionalism at this Burlington is sub-par all the time. This time I just couldn't ignore it. It was the worst!!! There has to be some solution to this lack of customer service.

I placed an order online. I later received a confirmation email that my order had shipped. A few days later I got an email that said four of the item I ordered were unavailable. When I received my order, I was missing an item and two of the items were mis-sized. I also got a random pair of Men's Size 52 black denim shorts in my box! Customer service would not send me a prepaid shipping label to return the items that didn't fit. They did credit me for the missing item but I was counting on it to come, so that was disappointing. The four items that I was told were shipped, later became unavailable. Customer service said it's because their website only updates inventory once a day. I was all around very disappointed and will not shop online with Burlington ever again!

I have shopped at the Burlington Coat stores. I had never shopped with them online. This is my first and very last experience. I did my online purchase and immediately, I noticed that they had done the transaction from my credit card, the very same day. When I tried to make an online account during this purchase, the site said they were having trouble with this issue at this time and to try again later. I tried 7 times in 2 days. Each time, it was the very same issue. They do this for a reason.
In order to check the status of your order, (and get a tracking number), you have to create an online account. I tried contacting them by emails. I got an automated response telling me they received my emails and that someone would get back to me within 48 hours at the very most. I never received any, even after 4 days. During this time, I called them by the only number they give you online. I called 5 times throughout 2 days, each time at different times during the day. Each time, an automated response told me that "they were experiencing very high call volumes at this time and to try calling back later."
I called at 8 am, when they first begin taking calls. I called at noon, late afternoon, and just before 5, when they no longer take calls. Each time I got the same automated response. I waited for over a half hour each time, in order to get someone to speak to me. No one ever came to the phone or tells you where you are in line or how long it will take to speak to someone. Obviously, no one will ever answer your call. No one will ever answer your emails. Because I cannot create an account, my order does not exist, except for the fact that my credit card was charged for the order. I will take my copy of the transaction to the local store and start from there. I have sent a copy of the transaction as well to the corporate office by mail. I have contacted my credit card company to cancel the transaction. Absolutely under no circumstances should anyone ever shop at Burlington Coat Factory, online or otherwise. They are a company who commits fraud.

I used to like this store fine for its deals, but then I tried the online store in December. I was charged a lot for shipping, which I accepted, because it's a coat (not exactly a small or light item). Unfortunately, it didn't fit. Per the website, I assumed I could just bring it back to the store to return it. I drove 45 minutes to my nearest Burlington Northern with the coat, the strangely incomplete receipt that came in the box with the coat, and a printout of my order confirmation just in case. But they wouldn't return the item. It had its tags on, was unworn, etc., but apparently what they needed was to see a bar code in my shipping confirmation email. Fine, I thought. I went on my phone to find this email, and it wasn't there!
I confirmed later at home: I was never sent a shipping confirmation email. They offered to let me return the coat in the store for store credit, but at this point it was clear that I was NEVER doing business with this store again, ever. Talk about fine print and garbage! I ended up paying another $15 to mail the coat back so that I could get some amount of refund. What a waste of money, time, and frustration. As I said, I'm never doing business with them again, in store or online. And I definitely recommend you at least avoid purchasing online. This is not a reliable store. DO NOT trust their return policy for online items. (And considering other people's reviews, I just wouldn't trust this store for anything.)

I went into Burlington coat factory on 1/12/16 in Gainesville FL for an online return purchase. There wasn't any employee working the customer service desk. I stood there approximately 10 minutes before anybody showed up to assist me and another customer. A manager was call to assist me with my return. I had my invoice from the online purchase I made off of my debit card. I told the manager directly to return my money back onto my debit card but instead she put my money on a Burlington coat factory gift card and wrote it off as if I didn't have my receipt/invoice. I was pissed. she was very rude, unfriendly, unprofessional and loud. She spoke with a Jamaican accent or something, with nappy braids in her hair. She really need to go back to the basic training when it come down to dealing with customers & returns etc. And her terrible attitude needs to be adjusted.

My purchased a light weight coat at Burlington store 890. She didn't even wear it and price tag still intact. She puts the coat in her car and fading occurs. She goes back to the store and request for return. The store manager refuse to refund for my wife. She said that when my wife brought the coat it wasn't fade. The manager then walk way. I search through the coat and cannot even find where it is made. This is my first time been to Burlington and may the last time of my life.

I was returning a pair of boots I had purchased December 31. I did not want any money back, but just store credit to get a new pair because I purchased with my debit card so I can show proof. I didn't have the sale receipt. The boots had only been worn maybe about two hours tops because they were too small. They were in perfect condition. I was told they couldn't take them back because they had been worn. I said "well if you do business like this you lost mine."

I ordered a Christmas gift for my mom the other day and I checked my shipping status today and it said canceled and that they had run out of my order which I find ridiculous because when I ordered it there were five left in stock. Now 5 days before Christmas I have to run around like a chicken with my head cut off trying to come up with a gift!!!

On Saturday December 5 2015 I went to Burlington in Des Moines IA. I was looking at some clothes and I went to the fitting room to try them on. After I got done I forgot my jacket in the fitting room. About 5 or 6 minutes later I realized I forgot my jacket so I went back to the fitting room. I found my jacket hanging in the fitting room. I checked my pockets. I found the chest pocket open and my phone was gone. I checked my other pockets. My wallet and keys were still there.
I talked with the employee at the fitting room. She said "no one came in after you, only one person" then I talked with the manager and she said "leave your number and we'll call you if it's recovered". I asked if I can see the cameras and she said "we'll have our IT will take a look at it". After 1 week I called them back and asked what has happened they said the manager (Taffy) will come at 4 o'clock. After a while I went to Burlington I asked for Taffy and I talked with her. She didn't really care of what I had to say and I asked if it could've been the employee at the fitting room.
She started being mad at me and saying not to accuse her employees. She said I can talk with the loss intervention and she gave me his number. So I called the loss intervention. His name is Jake **. He said "I didn't see anyone coming out with a phone" and that he cant do anything about it unless you file a police report. And I told him I did then he said "the police have to request to see the video of the entryway to the fitting room". I don't really care about the phone I just felt mad that how they treated me as their customer because I always shop at Burlington but that's my last time shopping at Burlington coat factory.

I used to shop at Burlington for kids clothes but my granddaughters are more grown now. I can't find any junior size items for them that they like at this store. Last year I was in the Burbank, CA store and noticed that all of the announcements were in Spanish. I don't speak Spanish and this is not a predominantly Spanish speaking community. I complained and said I'd never go back but I did months later and the same thing. I'm offended!! This is prejudice!! We are an English speaking country. I have money to spend too. Why are they only catering to Spanish speaking? Insulting!

I ordered a gift card for my granddaughter on 10/26/15. The money was taken from my account on 10/30/15. Birthday came and went and no card. Each time I called it was blamed on the US mail. There was no tracking number on the order. I was also reminded of this each time I called. Here it is a month later and I have still not been satisfied with either a refund or gift card. Wondering if someone put the gift card in their pocket since there is no way to track where it is. I was told today that I would hear something soon and it usually takes 24 hours when complaint is submitted. I order gift cards for all of my grandchildren because we live in different states. I have not experienced this before. Will continue ordering cards but not from Burlington.
Updated on 12/1/2015: Another call to Burlington today in regards to not being contacted yet in regards to the complaint of 11-23. I was told I would receive an answer within 24 hours. Today I spoke with a girl named Kayla. She was very sweet and I assured her that my frustration was not with her but with Burlington. She asked if she could put me on a brief hold and she would talk to her supervisor. She came back to the phone and said it would be taken care of ASAP. I would like Burlington to not only refund my 50.00 but to also send my granddaughter a 50.00 gift card for all of the frustration I have been through. I am sure this will not happen but I feel I should be compensated for my experience. Amazon and Walmart thank you for your courteous and fast service I always experience when I deal with you. Burlington you need to take some lessons on customer service.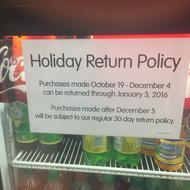 Recently I went into Burlington Coat Factory store on Mesa St to purchase slacks for my sons for a funeral. My father a Vietnam vet past away on October 17th. The slacks were purchased on the 20th or 21st on my credit card. The pants were too big. When I went to return them on November 8th I could not find the receipt. I called before going since I rarely go there. I didn't know the policy; they said it was fine as long as the tags were on. I didn't think there would be a problem. When we went the cashier seemed annoyed that we didn't have the receipt. She was treated the pants if they were dirty picking at the lint of one of the pants. Immediately I thought our dog but looking at the pants it was just my sweater lint. Chris ** was called and he said they were dirty and they could not return them! Really at this point I was very upset!
My husband and I asked to speak to a manager but he said he could not return them since we had no receipt and the Burlington tag was not present. I had forgotten since all manufacture tags were there; originally they had to scan another pair. He said, "How do we know you bought them here?" The original cashier entered it manually and it did go through... 19.99. We were humiliated. The cashier was swinging the pants and picking lint. We obviously went there at a bad time. I took pictures of the pants... They are not dirty. We had them hanging in our door way. Such a horrible experience added to an already emotional time. I also did explain the reason for purchasing and they could care less. I took pictures of the sign in case I were to find the receipt and the manager that did not help. I will donate slacks but what a horrible experience!

My husband and I went to the Burlington Coat Factory in Revere MA and it was the most disorganized, and dirtiest store I have ever been to. Clothes were all over the floor being stepped on by other customers. You can't find what you're looking for because it was all mixed up. I wouldn't go back to that store even if they paid me to. So sad how they can't keep their environment clean. It's just nasty. Please get it together.

I went to check out to buy a coat in the Gaithersburg, MD Burlington Coat Factory Store. The store mislabeled the coat and I asked for the manager. The manager ripped the mislabeled tag (I saw her do it) in front of me and said that someone had slipped the tag on the coat. She lied in front of me instead of admitting that the tag was mislabeled by the store. They did not honor the tag that was on the coat. I would have bought the coat if she was honest but because she lied, I will never shop at the store again and will spread the word about the dishonesty of management at that store location.
Burlington Coat Factory Company Profile
Company Name:

Burlington Coat Factory

Website:

http://www.burlingtoncoatfactory.com/