Consumer Complaints and Reviews

Bought the two pack flea collars for $40. Less than an hour later my husband asked me why I didn't put the collars on the dogs yet. They fell off and we could not find them. The kicker, they are clear and since it happened outside, anywhere in a 30 acre range, it's like looking for a needle in a haystack. We looked for almost an hour... $40 gone.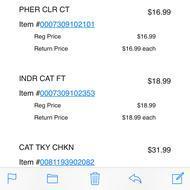 Sentry PurrScriptions indoor squeeze on for cats and kittens - Like many you have mentioned, I should have done the research first. Within a couple of minutes my cat was still able to reach and lick the stuff off. He started foaming at the mouth and began to run away from me. I immediately went online to figure out what was happening. I'm completely sad, upset, and feel incredibly guilty that I exposed my cat to this product. I washed the product with Dawn like many recommended and then took him to the vet.
I'm afraid of all the side effects or permanent damage it might cause my cat. Blindness, neurological defects, organ failure and such. I'm now on watch until I see that he is back to normal. No one should have to go through this, because I can tell you that it is absolutely heartbreaking to think that I can lose my kitty. I feel for everyone that has a loss a pet because of these products.

This is my take on this... No one is being held accountable and this junk is killing our family members. It is unacceptable and we need to take action. We need to file a Class Action Lawsuit against Sentry. We cannot let the bigwigs keep living the high life making millions off of us (who trust them to make safe products) while our babies are dying slow painful deaths at their hands. It's not right. I'm ticked off after buying this stuff and reading these reviews. I'm awaiting the outcome after putting it on my Shih Tzu. He didn't like it so I washed it right off and looked it up. Now I'm heated. Who do they think they are? I'd like to put this stuff on the owner of Sentry and see how he likes it.

After administering this Sentry Fiproguard Plus flea medication on my 3 cats (one who's nursing a 3 day old kitten) I went on to read the reviews and began to panic after reading the horror people have gone through with this brand. I am however one of the lucky ones. My cats had no bad reactions and the next day I started finding dead fleas on my bed and in my restroom floor. This stuff really works. I kept my cats away for a few hours after I administering the medication so they wouldn't lick it off one another.

As senior citizen on a very tight budget I decided to go to the local animal control facility and get a dog as a companion. For a fee of $40 I brought home an amazing little dog that the pound had named Snickerdoodle. Snickerdoodle obviously had been neglected and allowed to run loose before coming to the pound. In spite of this, she had plenty of energy and a perky personality but was infested with fleas. I brought her home and we bonded immediately as I gave her a warm bath with flea shampoo.
Later we went out to my large fenced back yard and as she joyfully raced around the yard at top speed I decided to rename her Bullet. The next morning as we snuggled on the couch I realized that she still had a lot of fleas in spite of the shampoo I had given her so I made a trip to Petsmart and purchased Sentry brand flea medicine for small dogs. Having had dogs in the past, I was aware of proper application procedures so I carefully applied the medicine as directed. I did not see an immediate reaction, however the following day I noticed that she threw up.
The next day there was more vomiting and she started to lose her appetite and only drank water. Although I gave her the food that initially she ate with relish, she only looked at it and walked away. By the next day (Sat.) she had become very lethargic and when I went outside with her I realized she had severe diarrhea. She was still drinking water but was not tempted by the bland rice with boiled hamburger that I fixed for her. Sunday she had diarrhea in the house and the odor was extremely bad.
On Monday morning, one week after I brought her home from the pound, I made an appointment at the vet as she was deteriorating rapidly and my efforts had not improved the situation. At the vet I explained that I felt the dog had a reaction to the Sentry flea medicine since she had changed drastically starting the day after I put it on her. The vet then asked if she had experienced any neurological symptoms and when I replied no, she stated in that case she did not feel it was a problem caused by the flea medicine but possibly could be Parvo. (The dog had been vaccinated for Parvo while at the pound.)
The vet then went on to say that in order to diagnose and treat the dog she would have to keep her for testing and observation. As there was no way a definite cost for this could be given at that point and I knew from past experience it would possibly run into hundreds of dollars, I made the unhappy choice due to budget considerations to have my sweet little pound dog that I brought home just one week before euthanized so her suffering would end. I feel that both Perrigo and Petsmart are unethical to continue selling this product and I also feel that vets should reconsider whether this product can be harmful and possibly fatal even when no neurological symptoms are experienced. Perrigo stated they would not pay my claim for the vet expenses I incurred since the vet felt their product was not at fault. However, they did reimburse me for the cost of their product (minus sales tax!) that caused me so much grief and expense.
How do I know I can trust these reviews about Sentry Pet Products?
763,773 reviews on ConsumerAffairs are verified.
We require contact information to ensure our reviewers are real.
We use intelligent software that helps us maintain the integrity of reviews.
Our moderators read all reviews to verify quality and helpfulness.
For more information about reviews on ConsumerAffairs.com please visit our FAQ.

March 24, 2017 at 8:00 pm after reading the directions and the all natural ingredients with no chemical mentioned I applied the flea tick mosquitoes drops to my 1 year old kitten. Immediately after application I smelled the very strong odor. He ran away into the corner and started to try and shake the drops off then my kitten started foaming white slimy bubbles at the mouth while making and doing a chewing sound and motion with his mouth. I immediately started to wash the now oily drops off. He allowed me to only to foam at the mouth more and the more I washed him he relaxed then running under my bed refusing to come to me. His behavior was completely changed. I serve a Mighty High Powerful God and He was in total control while I hysterically took care of my kitten (Son) who trust me to do so now has every reason not to trust me.
I watched him throughout the night into the next day. Washed him several times again and now noticing hair loss where I applied this product. I wished I never did this to him. I'm watching him get back to his lovable self and trusting me as his Mom instead of some kind of monster stranger. I had to tell my story and my horrific experience because I love him with all my heart. Then I Googled this medication, read these stories, cried, prayed and ask God to comfort these people. I don't know but we shared a very intimate experience by just loving our family member. I'm thankful my lil man (kitten) is going in a positive direction of feeling better but I had to publicly document this. This is a harmful product and need to be taken off the shelves and completely out of business. DOCUMENT, SHARE, KEEP RECORDS.

Requesting your assistance. Administered Fiproguard to one of our rescued babies, Y'ssi. Rescued him as a 6-8 week old kitten from a grocery store parking lot. He's now 8 months and handsome. He's vomited, and is lethargic and reclusive, consistent with a class of poisoning reports throughout the Internet. Very upset and motivated to discover a solution to the parasite problem. Research requires funding. Just conducted archival research to track down and substantiate the research hypothesis. Inquiry rationale is science-based and sound; solution looks straightforward. Seeking your input and assistance. A grassroots effort via social media to raise awareness and funding? Contact me if you can help GT&T find an answer.

I used this product on Saturday, March 11th. My ex-husband brought his puppy over on Sunday to spend the day with our boys. Monday morning he is lethargic and wobbly, peeing appt and acting as if he couldn't get enough to drink. By Tuesday it got worse, he had trouble walking at all and would respond to sound. Come Wednesday he was running a fever so I gave him a bath to soothe him. During the bath he went completely limp so I took him out. His body tensed up, his head flung back and he began seizing (screaming out like no sound I've ever heard). I rushed him to the vet.
The vet said it sounded like he had gotten into a toxic chemicals so he gave him an IV and sent him home for me to monitor (money was tight so he couldn't stay). When home he ate a little but I had to force feed him Pedialyte and water every hours. He couldn't hold his eyes open, was not responsive and was soiling himself. His pee had specks of blood in it and he was peeing like every 20-30 minutes. Come 11 pm he started having seizures, his breathing got more shallow by the moment. He seized off and on for 3 hours struggling for breath (especially in between episodes). He passed at 2 am on Thursday morning. All this resembles liver failure which Sentry products have been known for. I am devastated???

How I wish that I had read the reviews about this toxic product. Within an hour or two my pup showed symptoms mentioned in earlier complaints. I immediately gave him a bath with his oatmeal shampoo, then a second bath with dish soap and baking soda, then a third bath with more dish soap and baking soda. I didn't have Dawn so I hope that doesn't make a big difference. He is pacing and scratching and whining. No signs of neurological issues yet. Stuff is absolute poison.

I applied Sentry Pro XFT on our 3 dogs this morning. They are 80, 60 & 25 lbs and all are about the same age - 11 years old. Our youngest, Jack became ill a few short hours after the application. He has been crying, restless, panting, can't walk well and a host of other problems. Once we realized how seriously ill he was, we rushed him to our Vet. He looked the product up and found that it can cause neurological problems in small dogs. Say what??? He gave our Jack a steroid shot and told us to bathe him twice 3 hours apart with a product like baby shampoo. Nothing with flea or tick medications in it. He was so miserable after the first bath, I called the emergency 800 number on the package. I was told that there is a known problem using the product on smaller dogs. It has to do with one of the chemicals used. It causes tingling and pain and all of the other symptoms he is experiencing.
I was instructed to bathe him with Dawn, concentrating on the specific areas where it was applied, to open up Vitamin E softgels and apply the Vitamin E on the areas affected and to apply ice packs. The rep also told me that it could take up to 72 hours for all of this to pass. Now, are you ** kidding me?! These yahoos know this product should not be used on smaller dogs. Why are they producing an inferior product? This product is dangerous! DO NOT USE!!!
I told the woman that this is woeful neglect and is unconscionable to do this to animals. I then told her to take the product and apply it to her small dog and see what happens! I will be taking the product back in the morning and will be writing a letter to the company as I believe the more letters written, the better their response. So PLEASE if you have had problems with the product, WRITE! I wish I had asked for ** and or pain killer from the Vet but didn't. The only thing that seems to be helping right now is we are holding and petting him constantly to try to comfort him.

Sentry Pro XFT for dogs - Within 5 hours of applying this to my dog, she started snapping at the air, snapping at her skin, trying to bite her back, scratching with her hind leg, shaking her fur and desperately rubbing on the carpet and my bed. Then she started twitching. She had no signs of fleas before or after applying. I started researching online and saw that there were MANY complaints and a move to remove this product from the shelves, with these symptoms as well as convulsions, dry heaving, vomiting and burns on their dog's skin with emergency room visits to their vet.

Sentry Pro XFT - I gave this to my dog before not thinking it was the problems she was having till now. This time 3 days ago I put on my 55 lb dog and she started biting rear near tail. Scratching site bad and wanting me to keep itching it and spasming bad and gets really scared with noise storms, tremors, drooling. Not good. What should I do? And give her for spasms and is she in pain? I notices redness on her belly where there was no hair and applied ** on it. Gave ** to help her. Today still bad going to vet. What does anyone recommend to do and have this stopped?

I purchased Sentry flea & tick from PetSmart. About 2-3 hours after applying to my cat, he was all of a sudden very scared of everything. That worsened as the day went on. I noticed he could hardly see and his legs were twitching. How in the world is this product still being sold.

I recently purchased Sentry Pro XFT PetSmart. I had 4 dogs and normally buy the generic Frontline from Sams's Club but they haven't had any in stock lately and I was in PetSmart and decided to buy the Sentry product. I have never used it before but seeing as how it was a pet store I didn't hesitate to purchase this product, BIG MISTAKE!!!! On Jan 15th, around 3:30 pm I applied the Sentry product to all 4 of my dogs. At approximately 8:00 pm my 11 year old Chocolate lab started having convulsions. He was diagnosed with Laryngeal paralysis in Nov 2016 but has been doing well.
We attempted to get him to go out and it took approx 10 mins to get him up he walked the 75 feet to the door and then just collapsed. After much coaxing he attempted to stand and his whole body started convulsing like he was having a seizure and he was having trouble breathing so my wife and I assumed it was his larpar causing the issue. We then decided with heavy hearts that we couldn't make him suffer if he was going to keep having convulsions. So we called the vet and took him in.
He went peacefully that night. However when we got home we let our 2 9 year old female pits out of their kennel and Sadie couldn't stand and was twitching and convulsing just like our lab Brody. My wife and I then came to the realization it was the Sentry Pro XFC we had given them earlier. I immediately googled Sentry pro XFC and was horrified at what I found page after page about poisoning and other complaints against this product. Then this page almost 600 complaints to consumer affairs in almost every state.
I immediately called the vet and was instructed to bring Sadie in immediately. Once at the vet was told Sergeant's flea and tick products were toxic and never to use them. Sadie was bathed and observed overnight and as of today is symptom free. However this morning 1/17/17 my other pit and beagle were both anxious and when I tried to pet either of them on the back they both whined in pain near the product application site. I immediately bathed both with Dawn and thankfully both seem much better now. HOW CAN THEY SELL SUCH AN OBVIOUSLY TOXIC PRODUCT???

I purchased Sentry XFT Pro at PetSmart today. Within 1 hour my American Bulldog was panting and slobbering. Then she couldn't use her back leg and kept getting up to poke with her bedding, then she started whimpering, and then her back leg was spazzing, and she kept kicking in the air. The only thing I did different was use this product. I got on here to research it and was shocked.
I bathed my girl 3 times, leaving the soap on each time for a few min. After that I poured baking soda and apple cider vinegar and let that soak. It's been an hour and she seems to be fine, but I think that is due to me noticing immediately. And I don't know how she will be when she wakes up. This all happened within 3 hours. I also bought for my 15 lb cat. He isn't showing symptoms, but I washed him too. I don't want the poison anywhere near my pets. I'm so disgusted with myself for trying to save a buck. I'm returning this tomorrow. I think a class action suit should be brought against this company.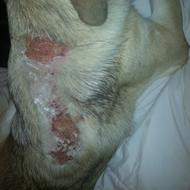 I purchased the Sentry flea medicine for my 93 lb Great Pyrenees/GSD mix. This flea medicine basically burnt her skin. The trail followed from her neck down to the middle of her back. She was in terrible pain. I got her into the vet and they actually had to sedate her to shave her down. She's now on medication for the next two weeks. What I thought was saving money by buying this, shall we say poison, ended up costing me close to $300.00 to save my dog. I sent a picture of my dog to the company and I was told to fill out the form they attached. I won't even bother because I know it will not go any further than an opened email on their part. My dog now has to take an oral flea med because her skin will not be able to tolerate a spot flea medicine again. DO NOT take a chance and use this product on your pets.

My dog must have picked up his first flea at the vet during a nail trim. I saw a couple of ear-scratches. Purchased Sentry Pro XFT 21 at PetSmart and applied it, once, to my dog's back. He's a 2 year old doxie. There was an immediate, bad reaction. Scratching, whining, twitching, restlessness, pacing, foot gnawing and lots of eye gazing, which in doxie-language means "help!" I bathed him a couple of times but it's hard to watch him in such discomfort. I hope the effects subside sooner rather than later. Based on all the comments, which I now see, this product is evidently toxic and should not be sold to the public -- it harms pets.

I applied the flea treatment to my cat's back. He was unhappy and was walking funny crouched down. I thought at first he was just not liking the wet liquid sinking in. (The cat doesn't like baths either). The adverse side effects turned into SEIZURES and uncontrollable back spasms that my cat has suffered for over 24 hours!!! Now taking him to Emergency Care at Vet hospital per the recommendations posted on Pet MD website. Poor baby. He is hiding in closet which he NEVER does. All noise scares him right now. His nervous system is totally having BAD SIDE EFFECTS. I am crying that I put this on my precious cat. Yes, the fleas are gone now but will NEVER POISON MY CAT with this bad product again! NEVER use this on your cat!!! It should be BANNED!

I purchased Sentry Fiproguard Plus at Petsmart store #1141 in Clearwater Florida on 11/25/2016. The ingredients listed were identical to Frontline Plus. Completely ineffective. I was a certified veterinary technician for 35 years and clearly understand the flea life cycle and correct application. After 10 days I am still seeing live fleas, flea dirt (feces) and cats are not happy. I called the customer service line and was immediately offered a refund. Hmm. I also was advised NOT to use another product for fear of "toxicity". This company is selling a product that states the ingredients are the same as Frontline Plus. In all my years of experience I can not recall an adverse reaction to Frontline or Frontline Plus nor a continued infestation.

Sentry Fiproguard - We purchased this poison from Pet Supplies Plus. After applying to our 6 month old Basset Hound, about 30 minutes later, she started scratching, whining, rolling on her back and dragging her back legs. Immediately we put her in the bath with dawn platinum and scrubbed her 3 times! Needless to say our 4 children were beside themselves with worry. After contacting the 800 number on the back of the box, someone finally was able to speak with us. We were told what to do and explained that we had already bathed her and given **. We were finally able to get her settled after about 5 hours. I cannot understand why this product is still being sold. Do not buy this product and Do Not Use this product. We will go back to Frontline which we have never had any problems with.

My sister and I bought Sentry XFT Pro at PetSmart on October 29, 2016. My sister is a vet tech and applied the product to our older dogs -- Maybel (11) and Alvin (10) because we adopted a puppy that had fleas. (We also purchased Capstar -- generic version for the puppy.) Exactly 5 hours after my sister applied the Sentry Pro XFT, Alvin was growling. He was by my feet, so I checked on him. I noticed that he was air scratching with his hind legs, his muscles were twitching, he was having spasms, shaking like he was wet and trying to dry himself off, tremors, and weakness. He was taken to the ER. The vet thought his symptoms were back related because he had back surgery a little over 2 years ago.
On Sunday, October 30th, Maybel was sleeping with me, and I could feel her leg twitching. She had all the same symptoms as Alvin, but to a lesser degree. While I was tending to the dogs, my mom called the number on the box, and spoke to Abby. Abby told us to wash the dogs in a dish detergent, like Dawn 3x, apply vitamin E oil to the site where the medication was applied, and to use an ice pack on the site. She said the symptoms would resolve within 24 hours.
Alvin's symptoms got worse after his bath. My mother called the number on the box again. The representatives are basically reading off of a script and are no help at all. Alvin was taken back to the ER. The strange thing is, his symptoms would abate when he'd go to the vet. The vets were never seeing the full extent of his symptoms. (I think they thought we were crazy, even though my sister works there and showed them videos.)
On Monday, October 31st, we called the number on the box again. Both dogs were still experiencing symptoms and getting worse. The representative told us to take the dogs to the vet and have them call them... Our vet did not call the company, she called poison control and Ohio State. There is no antidote. The only thing that was recommended was ** 500 mg three times a day. That didn't work. Went back to the vet on November 1st. Another vet was there. He did research. He called the company. The representative told the vet that the symptoms could last 72 hours. Why did they keep telling my mom 24 hours? And, when the vet calls because my dogs aren't getting better, suddenly it can take up to 72 hours?
On November 2nd, we called the number on the box AGAIN. The product was washed off of both dogs on October 30th, around noon. Both dogs were worse, not better. Alvin's symptoms were much worse. Again, the representative said to take him to the vet. (That's what we had been doing every day since we applied the Sentry Pro XFT.) We called our vet. He thought it would be better to take him back to the ER. The same vet that examined him over the weekend, examined him again. He came into the exam room and apologized for believing the issue was his back.
Alvin's symptoms progressed from hind leg issues to twitching of the front legs. He also had facial twitching. (Maybel had the same symptoms, but as I said, to a lesser degree.) Although Alvin's symptoms got better when he was excited, the vets were able to observe his symptoms while he was hospitalized. Alvin's blood work was perfect. So an infection was ruled out. Alvin was released the following day. The vet said to keep both dogs on the ** for 7 days. If they didn't get better, the next step would be to consult with a neurologist.
I recently lost 2 dogs within weeks of each other. A 12 year old beagle who had chronic kidney disease and likely cancer. (She developed several large masses quickly, along with clumps of swollen lymph nodes). And, an almost 14 year old pug, who had so many health problems. I had 2 healthy dogs. Both recently had physicals. Now, they're air scratching, their legs are shaking, they're having muscle spasms, tremors, and twitching? Alvin is weak. He cries, whimpers, and moans. That's a terrible life. I don't know what they're feeling, but it has to be horrible to not have control of your own body. Their personalities have changed. I don't know if it's because they don't feel well or if it's because of the product. But they are not the same dogs.
When you call the number on the box, it directs you to the main company, which is Sergeant's. My mom was told that I could submit their medical bills and fill out forms. The bills have to be paid in full. And, from my understanding, they will decide whether or not they will pay the bills. I'm 36 years old and disabled. I've borrowed money to pay their bills. I don't even know the cost of the hospitalization. I know I can't afford to pay for it. Sergeant's is responsible. I would NEVER have applied Sentry Pro XFT on my dogs, if I knew there was a chance this could happen. From the research I've done, there have been enough incidences that it should be listed as a side effect/complication on the box. The fact that the company continues to ignore this problem is pure negligence. I may not have money to get a lawyer, but I intend to go to the media. Pet owners need to be made aware of the dangers of this product.
Today is 11/24/16. I'm finally finishing this review. We never had to take Alvin and Maybel to the neurologist. Slowly, their symptoms subsided. Both dogs still have skin sensitivity (especially outside when the wind blows). This product needs to be taken off the shelves before this happens to another dog or cat. We've used Frontline and Revolution before, without any problems. Sentry Pro XFT left a greasy mess all over my dog's fur.
In the past, whenever I applied Frontline or Revolution, once it was applied to the skin and I put their fur down. I couldn't see where it was applied. Sentry Pro XFT left a greasy residue on their fur. Their fur was still greasy when we bathed them the following day. That's extremely dangerous for humans and pets. The product can rub off on anything and an animal can lick it. A human can pet their dog and without thinking eat or do anything where they'd ingest some of the chemicals. Simply petting your animal, would expose humans to the chemicals.
I'm not sure if Sentry Pro XFT is supposed to be greasy or if I received a defective product? I don't know if the package was labeled incorrectly. We bought the package labeled for dogs 21-39 pounds. The barcode on my package is 7309102910. Regardless, the issue remains... I have 2 dogs that were healthy. My sister applied Sentry Pro XFT and they were air scratching, twitching, shaking as if they're trying to dry off, having tremors, spasms, and skin sensitivity.
DO NOT BUY THIS PRODUCT!! (Because I am disabled and suffer from a disease that causes chronic pain, I advocate for chronic pain patients.) I will do everything I can to get this product off the shelves. I have videos of my dogs. Sergeant's knows this product is dangerous and continues to sell it, without even a warning on the box. If it was a human medication, and 1% of patients suffered a side effect or complication, it would be listed. It should be the same for animals.

Sentry Pro XFT - I put these drops on my Mini Schnauzer and Havanese at 9:30pm one week ago. At 3am, my Mini Schnauzer was in so much pain I had to take her to the emergency vet for a shot and meds at home. Her stomach was so swollen she was in so much pain she could not lay down. She was salivating so much she could not drink water. She has been twitching on and off. She is not herself still and that was a week ago. She won't eat much at all. The Havanese has stopped eating also. Both dogs are scratching themselves ferociously. I am having to give them Benadryl. I am about to have to take both dogs to the vet again. These drops should be ban!!!

Yesterday I bought sentry liquid for fleas on my 10 year old cat. I followed the instructions to place between shoulder blades. Approximately an hour later she started throwing up. She continued this up into today. When puking today it was dry heaves as there is nothing left in her stomach. She is very quiet. Sitting in one spot. This is not her normal behaviour. Not eating, not drinking. I took her to the vet to the tune of 900 dollars! They are keeping her overnight soaking her in a dawn dish liquid bath and putting an iv in her. They are taking blood and checking kidneys and liver. The vet said she is very toxic and that the sentry drops are a pesticide! Why in the name of God are stores allowed to sell this. I am beyond appalled, upset. She could end up dying overnight. Please please please do not ever buy this crap. I feel horribly guilty for this. I won't know anything more until morning.

I wish I would have never bought it. It's going on a week and my dog has been scratching his neck area non stop. He drags his back legs when he walks like he had a stroke or something. It must have burned his skin or nerves because he cries in his sleep. I have been up with him in the night for days now trying to calm him down. I gave him the dawn bath and oatmeal baths to try to weaken the dose. It makes him worse when it gets wet. I hope my dog does not have permanent neurological damage. Bought it at Petsmart and will be taking it back.

We bought this product in good faith at PetSmart and it was stated that this has the same ingredients as brands we trust like Frontline. This is NOT Frontline!! Both cats were fine at first and then we noticed some off behavior. Not anything concerning, just odd for our cats' personalities. We didn't put 2 and 2 together with the collars until one of our cats stopped eating. We immediately removed the collars, but it was too late. One of our cats passed Friday while we were at work and the other passed tonight right in front of our eyes. PLEASE, PLEASE DO NOT BUY THIS COLLAR!!!

I'm sick to my stomach. I wish I would have looked up this product before I ever tortured my dog in this way. She is a 64 lb lab and within hours she was literally dying. Panting heavily, heart beating rapidly, twitching. I quickly jumped online and saw these horrific reviews. I was losing my dog and I hated myself for EVER using this. I quickly put her in the tub and starting washing her with Dawn dish soap. She was lethargic and just laid there. I washed her really really well TWICE. Immediately after, I called the emergency vet and let them know I was bringing her in. Slowly she came back to life. She's still not herself, but I'm praying she will be ok in a few days. This stuff needs to be banned forever. Don't purchase this thinking you will save a few bucks. Instead you will end up with an enormous vet bill, an animal that is no longer the same as they used to be and worse of all, a deceased pet.

Two weeks ago I thought I saw a flea on my sock so becoming frantic I decided to go get some treatment for my indoor cat as well as an outdoor cat. I never thought to check reviews before and I purchased this because yes it is more affordable. Thank God I applied it to both cats and they never had any reaction whatsoever. So today I decided to get on to check reviews just to see if it does work, and WOW I'm shocked to see what it is doing to your precious pets! I'm so sorry to all of you that have had terrible experiences with this Sentry, and I immediately after reading these reviews chased my cat down and washed her back with Dawn and I will never use this product again. I plan on going to pay the extra money for the safe treatment for sure. I'm just so glad my pets were safe after using this!!

I used this on my cat for a minor flea issue and he is now in the hospital with acute liver toxicity. Please save your animal's life and don't use this product!! I cannot lose my baby. I was trying to avoid a chemical and ended up poisoning him with clove oil. How can Sentry put this in their product!?

I can't believe this product is still on the shelves in major pet stores. The chemicals in it are NOT the same as those from your vet and are extremely toxic. I used it on our healthy, strong 16 lb. male cat. Almost immediately had severe adverse reactions, including burning and fur loss at application site. We ended up bathing him with dish soap (no easy feat), but will probably have to do so again in the next few hours. Our vet said that selling this product bordered on unethical. Can't believe I put my cat in danger and causes him pain just to save a buck. Pay a little extra for a reputable product that works and is safe.

Do NOT use this product!!! I have American Bulldogs, GW and Jeb. This product caused a neurological reaction to Jeb. He was unable to use his back legs and we are still not sure if he will fully recover!!! It also caused him to have episodes of panic and slapping his gums. You can view my videos on my Facebook page: Emily **.
This product is highly dangerous has thousands and thousands of terrible reviews!! How is this still on the shelves at trusted pet stores??? Please stop this company!! This is also the same company that produces Hartz, which also has a long history of hurting animals. This needs to stop!!! The only side effect warning on the back of the box indicated rash -- there needs to be more than just rash to warn people!!!
Sentry Pet Products Company Profile
Company Name:

Sentry Pet Products

Website:

http://www.sentrypetcare.com/default.aspx