Consumer Reviews and Complaints

My perfectly healthy long haired Jack Russell was active & fine until I started giving her SENTRY FIPROGUARD due to the horrible tick season this year. Within 2 weeks after the first dose she developed dehydration & severe intestinal tract problems resulting in emergency surgery. After that episode, and a second month's dose of FIPROGUARD shortly thereafter she started dragging one leg, then two & finally was diagnosed with a neurological condition called ATAXIA resulting in the brain's inability to translate messages to the legs & their movement.
Gracie's quality of life diminished from that point so with no cure to be had I dreadfully had to put my sweet girl down. From all the research I've done & from reading these posts I have no doubt that my baby was poisoned & wholeheartedly agree that there should be a class action suit against the makers of SENTRY FIPROGUARD!! I will work towards that end & fight for other animals in Gracie's name that have to suffer such a dreadful fate!

I just want to know who is going to file a class action law suit against this company? My poor baby was vomiting, couldn't breathe, panting, crying in pain. I washed my dog 7 times, it was too late!! Third degree burns, my dog is my child. It has been about two weeks, and now all his hair is falling out in the area I put the medication.

I originally bought the waterless flea/tick spray by Sentry and shortly after applying it by the directions, my cat bathed herself as cats do, and following that she went into seizures and almost lost her. I took the product back to the store I bought and exchanged it for their dual action flea and tick collars, three weeks after having put the collar on the second cat, he ended up raw around the neck. He has no hair and sores all around the neck where the collar wore off the hair. THREE weeks! Now after talking to the corporate office regarding this product, and the other product almost killing my cat, they seem to think they are only refunding me two collars, they got another thing coming. I can't get my cat back to how she was before and that is bull!

A Petco employee recommended Sentry Pro XFT saying it is the same as Frontline which I quickly found out is not true! My poor pug was in agony after applying the flea medicine. She can't sleep and her heart is racing. She is scratching and rubbing against furniture and running in circles. She is whimpering and clawing at me for help and shaking. I have talked to 2 vets and they both said this is a toxic flea medicine that affects the neuro system with no antidote and I can only wash her with dish soap and give her ** and hope she comes out of it. After reading multiple complaints about this poison I am very nervous about the outcome. Many people have lost pets from this awful stuff and my hearts go out to them after this experience.

I'm experience with my dog which is my kid the same experience everyone else is experiencing with this product! Her skin is probably on fire. She hasn't slept all night. I've given her two baths with her regular dog shampoo and thanks to all the reviews I went and bought Dawn soap and chamomile tea! It's horrible that people have lost their loved ones due to this product that is still on the market! She still hasn't been able to sit still and relax. Sentry Pro if my baby isn't going to be ok you will be getting more than a bad ** review!
How do I know I can trust these reviews about Sentry Pet Products?
882,235 reviews on ConsumerAffairs are verified.
We require contact information to ensure our reviewers are real.
We use intelligent software that helps us maintain the integrity of reviews.
Our moderators read all reviews to verify quality and helpfulness.
For more information about reviews on ConsumerAffairs.com please visit our FAQ.

I applied the above Sentry product (Fiproguard Plus Flea and Tick Squeeze) to my Coton de Tulear last night. She had a horrible reaction to pooping in the house, vomiting over six times this morning, and now is shaking (tremors). I called the company and the representative states it is unlikely a reaction to their product unless she ingested it. Which is crap. I put a portion of it on her and threw it in the tall wastebasket. She never had additional contact with the medication nor could she reach it with her legs or head. The representative said this reaction is uncommon and never had heard of this reaction. As I read this forum, obviously it does happen and not limited to my dog. The rep said she probably needs to go to the vet. Disgusting company. At least have a back-up plan so when dogs have a reaction we can curtail it from the beginning. NOT IMPRESSED and very angry with Sentry.

Two days ago I bought a Sentry flea and tick collar. I needed an affordable collar for the moment until I were to get paid the following week. I noticed that the following day my Chihuahua was not acting normal. I brushed it off due to me thinking he "marked" in my home or done something else he wasn't supposed to do. I woke up this morning and he was still acting a bit strange (his collar fell off of him last night beside the bed, but I told myself I'd put it back on him tomorrow). Things happen for a reason! I started petting my pup and I felt something around his neck, kind of like dried syrup/candy on his inner neck fur. So, I look and was horrified at what I seen. My baby has a sore on his little neck. I cringed as I parted his fur to get a clear view of this... I am truly sick at what this "flea collar" has done to my dog. This is obviously poison to animals. Yes! I should have reviewed the product first, but at that time it didn't cross my mind.
I am livid that products like these are even allowed on the shelf... But not shocked. Everyone I know always wonder why I use all natural for just about everything. I use whether my own products or for my babies. That same day that I got the Sentry flea collar I also purchased some all natural flea powder and shampoo. I wasn't able to the all natural flea tags that evening, they are $50 per tag and I have three pups. Needless to say, I took both collars off of my pups (I also had a collar on my shepherd mix pup, thank goodness he didn't develop a rash or sore). I will NEVER in my life purchase anymore products from Sentry. I will definitely be calling Sentry today and give them a picture perfect piece of my mind.

I bought this product at Petsmart thinking it was a safe product to use on my 10 year old cat. I used other mid priced brands without any issues. I by no means wanted to go cheap but felt this product should be good at the price it was. $25 for 3 single monthly doses. I applied on the back of the neck between the shoulder blades. He seemed fine. A little groggy as usual but not out of the ordinary. I was horrified in the morning when I saw his neck with patches of missing fur and a red rash. He was upset but not physically sick but I could tell he wasn't happy with his human. I panicked but he ate his food and was acting normal without anything else but the rash. I certainly will not use this product and will be returning it back to Petsmart completely dissatisfied with the outcome. Shame on all of you that let this overpriced cheap product sell on the shelves.

About 2 hours after I applied Sentry Pro to my 60 lb boxer female she started itching and acting irritated so we kept an eye on her and gave her a **. She then fell asleep. The next day she was acting irritated again so we decided to give her a bath. After she dried we then observed her behavior to see if she was any better and she wasn't. So then we tried to give her another bath to rinse off the product. While giving her a bath, when I was rinsing her off she dropped dead in the bathtub and I had to immediately pull her out of the tub and onto the floor. I then began CPR and chest compressions and about five minutes later I was able to bring her back. We then took her to the emergency vet and after tests they decided to keep her overnight.
At around 6:30 a.m. that morning the vet called me to tell me that she had passed away. After reading the reviews and what other pet owners have gone through with this product and other flea and tick treatments it fits exactly what we went through with Lilly. I believe in my heart that this is what killed my three year old boxer. I believe flea and tick treatments are dangerous and should not be used on dogs or cats.

Sentry PurrScriptions - I bought this product for my 3+ month old kitten since I was bringing home another much younger, feral kitten. I bought without looking at reviews but the product *looked* trustworthy in the store. Anywho, I applied about half the dosage but the scent was still overpowering. I monitored my older kitten as much as possible but she still managed to get some in her mouth because she's a cat and she does as she pleases. She began foaming at the mouth and "chewing." I haven't noticed any major behavioral changes though save for the tension of the new kitten in her territory. I washed off as much as she would let me with Dawn but I can still smell the medication on her. It is late at night so there is no vet available. I am terrified that I will wake up to her sick, or worse. There doesn't seem to be a solution even if I do take her to the vet tomorrow. I don't know what to do.

My 4 year old cat had snuck out into the yard a few times. So against my better judgment we decided to buy a collar to prevent fleas and ticks. I went to PetSmart and after what seemed like forever I decided to go with a collar instead of the drops. Sentry PurrScriptions, dual action with natural oils. Now when I say I obsessively Google reviews on everything, know that that is an understatement. Why I didn't review something that I was putting on one of my animals is seriously eating away at me. My cat is usually snuggled up in his bed unless he's eating, so I did not notice the reaction until it was too late.
I was feeding him today and he happened to jump up to his food and I saw that his fur in the top of his neck was gone... bald, right to the skin. His skin is severely affected and raw, and the irritation started to completely ring around his neck. I immediately took off the collar and washed him. His behavior never changed after putting it on… he acted like it wasn't even there, I just can't believe this. Then I did a search for reviews and cried seeing the reviews for this company. HOW CAN THESE PRODUCTS STILL BE ON THE SHELVES!!! Today I'm going to PetSmart, bringing the collar and packaging in with the pictures. I will show the manager the reviews from this site as well as my pictures and demand they be removed, for whatever good it will do.

I bought 3 Sentry products. Flea meds for both my dogs and cat, also home & carpet spray. None of them work. Now my fur babies will have to wait a month before I can treat them w/ a different product. Truly dissatisfied.

I read reviews but not on here! I bought the squeeze on for my 2 dogs and 1 cat. I am thankful my cat did not get sick like others! But it did not work at all... I just wasted $100. On all of it. Now I have to wait till I can come up with the money again. You would expect something to at least work a little bit! Don't waste your money...

After following directions my 2 cats ran around like they were on fire. I finally got them to calm down and the oily stinking Sentry flea drops was the problem. Right away I bathed them both in Dawn to get this horrible product off them while begging them to forgive me, and asking God to please not let them die from this poison I had put on them thinking I was helping care for my boys. Then I found out the complaints, how can Petsense sell this stuff.

I bought this product at PetSmart on Saturday and put SentryPro XFT down my German Shepherd back. Within minutes my dog was running crazy scratching and whining. I thought because she is a big puppy and this was her first treatment she just maybe didn't like the feel. As the hour was passing she was acting worse and ripping out her undercoat. I looked up online then about the product and saw all the reviews in horror. I quickly got Dawn and bathed her three times. She was still miserable shaking, pacing, rapid heartbeating, whining, and now drooling uncontrollably. She didn't sleep. She was up yelping, scratching, having muscle spasms, pacing, and so on.
On Monday morning a friend stated his dog experienced the same thing with this product and recommended Burt's Bees dog shampoo. I immediately bought Burt's Bees shampoo and Benadryl. I gave her two baths with it and then gave her Benadryl. Still with little relief. She was running and yelping like she was set on fire as she was scratching out her hair. I continued to try to help her so by later in the evening I read Chamomile tea could help. So I boiled it, cooled it and started putting that on her back and giving it to her to drink. She stopped drooling. She was feeling relief as I did it but when she would get dry she was yelping in pain again here and there. I used a spray bottle to keep wetting her with the chamomile Tea. I gave her another bath in Burt's Bees and Chamomile tea. She finally fell asleep about 11:00 pm and was no longer yelping. She slept through the night.
By now Tuesday she is still not 100% but definitely feeling better! She is no longer pacing, drooling, yelping, having muscle spasms, scratching uncontrollably. She is eating and drinking fine. She is still trying to reach her back here and there licking where she was treated but it's not as often and is playing again! I'm going to continue with the Burt's Bees shampoo and Chamomile tea.
Due to all the online reviews I read I decided for my dog taking her to the vet was not worth it. So I tried other things which worked thank goodness. But I wish I would have read all the reviews before I used the product. I will say from now on I will do the research. Please beware and do not buy this product. It is very dangerous and it's the worst thing ever seeing your animal in pain helpless. It is not worth taking the risk of your animal being in pain.

This product has made my cat VERY sick! I should have read reviews before purchasing this product because 90% of the reviews I'm reading on various sites say it has made their cats sick or in some cases, they have died. Like other reviewers, I've sent an e-mail to the company asking when are they going to improve the formula.

I was lucky to react fast to my dog's reaction over this product (Sentry Pro- flea and tick). I applied half the dosage and in the next couple of hours the poor guy wouldn't stop scratching, shaking his ears and body and jumping out his bed onto the couch or anything, running around the house desperate. As soon as I saw this reaction, I gave him a deep shower with his normal black coat shampoo, but still didn't help. At the vet they suggested bathing him with Dawn and I did, twice. Next day he went to the vet again where he was treated with antihistaminics, anti-inflammatories and another shower. He still is shaking his ears (floppy), but in better shape than the day before. This product has a warning on the back, explaining side effects such as scratching and suggest visiting the vet if worsen. If this is so, why even distribute it? Why would stores like PetSmart sell it???! Please STOP IT.

I bathed my Frenchie Bulldog earlier in Sentry Flea & Tick Shampoo for dogs & Puppies Sunwashed Linen Scent, because I found a tick on her after being out on the property with us. Four hours later, I notice she's very lethargic, did not come get her dinner, and her head would shake and bob, and then every 15-30 seconds she does this quick jerk backwards with her head, and her eyes wide. She's pretty much limp, her back legs are always in squat mode, even walking. She's foaming at the mouth and it is all over her chest.
SO I bathed her in the Dawn twice, THEN I used a charcoal detoxifying shampoo on her and left it on for about 15 minutes wrapped up in a towel... limp in my arms. I got some honey water down her, about a tablespoon and a ** and some cheese. Just a bit... (Make a couple "cheese balls, feed it, then squeeze some around the pill, give it, then a couple more balls for good measure). Anyways the bath seemed to help a bit, but she seems the same... not worse. I will go on to the vet in a few hours, it's 2am. I can't sleep. I'm so worried.
You know, I know a few lawyers in my immediate family that would LOVE to take on a case like this. Has anyone gone forward to sue this SENTRY company?
Well, I am going to do some more research and fact checking and see what's up, because I am very angry about this for my dog, AND ALL THE OTHER DOGS AND CATS that have DIE and/or SUFFERED by their owners purchasing their products!!! Sentry you should be ashamed of yourself and you should have had a recall and pulled this poison off the shelves. Hope everyone saved their receipts and empty bottles, vet bills, and receipts, photos, letters and documents from vets friends, pet sitters, boarding places, etc.

Do not buy Sentry Squeeze-On for cats!!! Applied this to my cat this morning and in less than 5 minutes I heard her crying. Went to check on her and she's hissing, panting, pupils dilated, agitated and running around the house. Behaviors I've never seen since we adopted her. Tried to carry her but she doesn't want to get touched specifically back of her neck where I applied the Sentry squeeze-on. Finally was able to get her in the bathtub after more than 15 minutes of chasing as she doesn't want me to go near her. I gave her a bath with a dish washing liquid as this product is oily followed by her Burt's Bees hypoallergenic shampoo with shea butter and honey.
I called the number on the back of the box and they sent me a form to fill out for an open investigation. I hope nothing bad happens to her. Should've searched for reviews first before using Sentry Squeeze-On on her. I made a review at PetSmart specific to this product but it is still not posted on their website. Does petsmart have anything to do with this? OTC product but so many complaints, adverse reactions & deaths and yet still on the shelf and they have so much stock too!

Sentry Pro XFT. Do not buy this. I bought this item at Petco. It does not work. 3 days later my dog is still in solitary confinement. She has fleas crawling all over her, eggs everywhere and itching non-stop. The products efficacy is zero out of 10. Do not waste your money.

We applied Sentry to two of our cats on Thursday, June 8, 2017. Friday morning we had to take one of them to an emergency vet visit because he was foaming at the mouth and it wouldn't stop. It was scary for him and for me. The vet assured me his heart and lungs were good and it was "probably" a taste reaction to the spray. He came home and was very tired all day. Saturday he back to normal. Sunday it happened again. He was again fine for several days. Today, 6/14/17, he had a seizure. After a number of tests, they said he's reacting just like a poison. I've essentially poisoned my own kitty. I just hope he's going to be okay.

I bought this collar (Sentry Dual Action Flea and Tick Collar) and put it on my 9 pound Maltipoo yesterday. I noticed he was itching under his chin and a little while later he would be restless. I took the collar off him within 12 hours because he looked uncomfortable. He was very restless and kept twitching his back legs. He kept me up all night long. He would jump up, jump down, go in circles, lay down for a few then back up again. I was beside myself. I started to rub his belly and he immediately felt better but as soon as I stopped he started all over again. This product is horrible and should be taken off the market/shelves. Shame on me for not reading reviews first.

I purchased Sentry Pro XFT Flea and Tick Squeeze-on for Dogs from PetSmart. I applied only a portion of this product on my dog. He immediately began jumping around, scratching, and whining. I assumed he was irritated by the fleas reacting to the Sentry solution. Within the next 15 minutes, he began vomiting and running around uncontrollably. I tried to hold him and console him. He squirmed, moaned, cried, and rolled around in pain. I immediately went to the internet for answers and to find any information about this Sentry Pro XFT Flea and Tick product. My heart dropped and I was horrified by all the terrible stories of other consumers and their pet's discomfort after using this product.
I went straight to the bathroom and gave him a bath. I washed him several times with Dawn. He still appeared to be in lots of pain and vomiting even more. When he began to foam and drool at the mouth, and have convulsions, I rushed him to the nearest emergency pet hospital. He's not doing well. He is still receiving medical treatment. I only wish that I had reviewed this product before buying it. Dangerous, painful, and terrifying experience.
Thanks to all the other consumers that posted their stories, I knew I had to act quickly to save my dog. I only hope that now the doctors and medication can save him. Why is this product still being sold by these trusted vendors such as PetSmart? Please call your local stores and corporate offices and provide them with copies of all these terrifying stories and ask them to pull this product from their shelves.

I bought this at the usual chain pet store I go to for all of my cats needs however, this product (Sentry PurrScription Indoor) should be pulled from the shelves (or the brand) to avoid anymore of these cases. I applied the squeeze-on medication as instructed, monitored my cat to make sure he did not attempt to lick it off, and within 15 minutes my cat began to act odd. He began racing through my room and stayed in the closet where I could hear him making noises. He was in the corner where he did not want to come out until he raced to my bed where he began to drool and foam at the mouth. He was shaking his head then his legs. As he began to calm down I immediately wrapped a towel around him and washed the area where I applied the medication.
This was a very scary experience where I may have had to rush him to the vet. I felt very terrible for putting my cat through this and angry that this seems to happen often with this product. After the situation, I looked online for reviews where I began to read all of the terrifying experiences other pet owners had. I wish I would have read them before purchasing this product.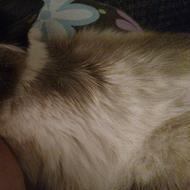 A regretful life changing purchase as a first time customer. I purchased Sentry Purrscriptions Plus for cats from my local Petco store around May 25th, 2017. I went in specifically for flea medicine for my cat and after careful comparison of the different types, I chose this one. The deciding factor why I bought it was because it said quick drying, economical and it claimed to do everything else the other brands did. I also read the cautions on the box while in the store and my cat met all the requirements deeming it safe for application. So I felt confident and made the purchase. When I was about to apply it to my cat, I re-read the cautions, instructions and double checked I had the right one. Everything was a go and I had no hesitations about it in general or how to apply it as I have done this many times before.
Long story short is that as of today, May 30th, 2017 the end result is this: I tried to do something good for my fur baby while trying to save money but instead, I came home today with a near $300 vet bill and with news from the doctor that they recommend euthanasia for my family pet. He has heart failure and fluid filling up in his lungs. My cat went from being completely healthy and strong to doing a 180 degree turn for the unthinkable. He was active, eating and drinking like the little piglet he is, playful and social to fighting for his life throughout the Memorial Day weekend. I so wish I never ever bought this product because had I not, my kitty cat would be perfectly fine. His time with our family would not be getting prematurely cut short due to this horrible, I repeat HORRIBLE product! Completely heart broken!
The sickening part is Sentry has received an astronomical number of complaints concerning their products due to severe illness or death. This is for both dogs and cats. I myself have emailed twice in the last four days and I have not had a reply. Needless to say, even if my cat hadn't gotten deathly ill, their product is not quick drying as they advertise! It was the worst ever. Dark, oily residue at site of application with pink colored skin. My cat suffered severely and is paying with his life! Just as many other animals have too! All for the sake of Sentry's profits! They are completely aware of the extreme adverse reactions their products are having to people's pets, including mine.

We put this Sentry Pro XFT product on our Pomeranian today. Within an hour or so he was having a bad reaction to it. He is miserable. He is itching, whining, and just very uncomfortable. I got the product online from PetSmart. I used on the other 3 Pomeranian and they seem to be fine. I will never use this product again. I am going to see if I can get a refund for the product that I haven't used. I am very dissatisfied with this product. I want to let everyone know that this product is not good. I wouldn't recommend this at all.

I purchased the Sentry Pro XFT 61-80 lb. formula for my 2-year-old, 71 lb. Plott hound when we ran out of our usual preventative. I was trying to save some money and figured if it was sold at PetSmart, which is where I purchased it, then it should be fine to use. Wrong. My dog and I suffered allergic reactions to the product. I washed my hands after applying, but must have brushed against my dog at some point because my nose, eyes, and cheeks swelled. I felt a mild burning sensation throughout my nose and face for the next 12-hours and the tip of my nose went completely numb. Now, 36 hrs. later I feel fine.
My dog on the other hand is still suffering. Within three hours he was extremely agitated and couldn't sit still without scratching. Since I was also reacting, I knew it had to be the Sentry and immediately washed him down with Dawn soap and water. I washed him down twice more throughout the night while no one slept because my dog would only calm down if someone was running their hand over his agitated skin. I took him to the vet in the morning where he was given 5-days' worth of steroids. He is finally beginning to calm down. Having read reports about other dogs reactions, I know I am lucky that my dog's was mild by comparison and I don't foresee any lasting damage.
Going forward, I will never again skimp on spending for a product that touched my dogs skin. I will also say, and luckily can say since my dog is recovering nicely, that the support I received from Sentry was apologetic and helpful in telling me about the Dawn soap. That said, I will never be using any of the products owned by this company again.

I put this on my 65 lb 7-year-old Boxer to keep ticks off while we are camping. I applied 1/2 of a tube on Thursday night and it is now Monday and he is miserable. He acts like his skin is crawling and now his back legs and by his tail seem to be in pain when I touch him. He runs in circles trying to get comfortable. ** is the only thing that is somewhat helping. I took him to the vet on Friday and he received shot of steroids and we are going back to the vet today as there hasn't been any improvement. The reviews on this product are awful, some of them even mention death. I would highly recommend trying a different product if you do not want to watch your pet suffer. This stuff should be removed from the shelves at PetSmart!

I purchased Sentry Pro XFT Flea and Tick prevention from Petco. The label read for dogs 40-60 pounds. I administered it to my 50 pound dog an Sunday evening. As I was placing the liquid on his body he became very squirmy, yelped and tried to pull away. He immediately started running around as if something was bothering him and began nipping at his back. As the evening progressed things only got worse. He could not sit or lay down due to discomfort. He began twitching, jumping, and running around the house.
At this point we poured cold water on him to try and settle him down which didn't help. During the night, we then gave him a full bath which did nothing to help his discomfort. Finally at 7:00 AM, I administered 50mg of ** and gave him an oatmeal bath. He was still in very uncomfortable and at this point I researched the internet only to find hundreds of horror stories listed along with videos of dogs who had the exact same symptoms as my dog. From the advice of others on the internet, I began bathing him with Dawn soap detergent and continued administering 50 mg of ** every four hours.
I called my vet and was told that the product has many side effects and that I was following the right course of action, but was warned that the dog may need to be taken to the emergency vet if he started convulsing or had uncontrollable shaking or drooling. Luckily after 6 bathes and 6 doses of **, he began getting some relief, was still itchy, but did not require emergency care. It has been almost 48 hours and he is still not back to normal, but has shown improvement. NEVER buy this product!

Bought the two pack flea collars for $40. Less than an hour later my husband asked me why I didn't put the collars on the dogs yet. They fell off and we could not find them. The kicker, they are clear and since it happened outside, anywhere in a 30 acre range, it's like looking for a needle in a haystack. We looked for almost an hour... $40 gone.
Sentry Pet Products Company Profile
Company Name:

Sentry Pet Products

Website:

http://www.sentrypetcare.com/default.aspx