Consumer Complaints and Reviews

Do NOT use this product!!! I have American Bulldogs, GW and Jeb. This product caused a neurological reaction to Jeb. He was unable to use his back legs and we are still not sure if he will fully recover!!! It also caused him to have episodes of panic and slapping his gums. You can view my videos on my Facebook page: Emily **.
This product is highly dangerous has thousands and thousands of terrible reviews!! How is this still on the shelves at trusted pet stores??? Please stop this company!! This is also the same company that produces Hartz, which also has a long history of hurting animals. This needs to stop!!! The only side effect warning on the back of the box indicated rash -- there needs to be more than just rash to warn people!!!

Yesterday morning I put this product on my 18 pound Jack Russell Terrier. Within minutes he began running through the house frantic... rolling... pacing. I called the vet. They said, "Wash him immediately with Dawn," which I did. It helped a small amount but he continued the behavior... panting, rolling, lay down 3 to 5 seconds, up and moving. Vet visits later, it has been determined it was the poison in Sentry Pro that is causing the issues. He is on muscle relaxers... ** and ** which ** did not help at all. Today he is slightly better. Still rolling in to walls and the floor. Was told by vet the muscle relaxer will help him rest and this will last 48 to 72 hours. HE is NOT out of the woods yet. NEVER EVER USE THIS PRODUCT AND PLEASE PASS THE WORD BEFORE ANOTHER FAMILY MEMBER has a reaction or dies from a product that should be off the market!!!

I put the Sentry flea and tick drops on my 35lb beagle. Within hours the site where I applied it became severely irritated. He kept rolling on his back yelping out in discomfort. I called their after hours line and was told to bathe him with Dawn, which I did. It's been 2 days and he's still very uncomfortable and barking/yelping out in discomfort. The affected area was oozing and now it's scabbed up. He's still licking at certain spots and I'm afraid he's going to lose his fur. I've been giving him ** which seems to help for a while. But last night I was woken up by the constant rolling around and yelping. Terrible experience.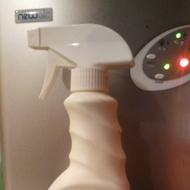 I am heartbroken as my third cat is dying from use of this product. It causes seizures, confusion, total neurological problems... stumbling when trying to walk, falling down, and hiding from the people they love so much. Then they stop eating and drinking. I am beyond upset, and so mad at myself for buying this product that has already killed two of my healthy babies, and the third will have to be put down in the morning. We are talking about healthy indoor cats!

Like just about everyone else has already - this product should be banned! I had used it on a previous golden retriever without incident but today when I put it on my current Golden he experienced every single symptom everyone mentions here. Gave him **, bathed him with Dawn, bathed him with Johnson's Baby Shampoo, even had him swim in the pool for an hour. He came out of the pool & the first thing he did wasn't to shake all the water off, it was to start biting the base of his tail! Now he's scratching, rolling, drooling incessantly, panting again & he's suddenly jumping on my sofa - something he's never done! I will be filing complaints with the Consumer Product Safety Commission & anyone else who wields any power over companies with unsafe products.
How do I know I can trust these reviews about Sentry Pet Products?
611,030 reviews on ConsumerAffairs are verified.
We require contact information to ensure our reviewers are real.
We use intelligent software that helps us maintain the integrity of reviews.
Our moderators read all reviews to verify quality and helpfulness.
For more information about reviews on ConsumerAffairs.com please visit our FAQ.

We gave this treatment to our three dogs. Two did okay. The other we weren't so lucky. Within a short time (30 mins) he was pacing and acting like he was on fire, looked it up and saw all the horrible things. We immediately did the Blue Dawn twice it burned thru his fur and left him with huge sores. About a week later he was throwing up and acting lethargic so off to the vet for blood work. Came back with very high liver counts. Needless to say this Thursday we will be putting our beloved dog to sleep, our kids are heartbroken as I am too. He is in complete liver failure. He can't eat or drink without throwing up. His stomach is so bloated he looks pregnant. I swear if I knew this was going to happen I never would have put my dog thru such hell. We are heartbroken and hate seeing him like this. Why are they still selling this??? Maybe they should put it on themselves and see what it feels like!! How could you sell this? Heartless.

To say that I am angry is an understatement. I went to one of the largest pet supply chains and purchased flea medication for my 3 cats. I purchased Sentry Purrscription Plus for cats over 5 pounds and at least 12 weeks old. It is the purple box. Very soon after applying it to my animals in the correct dose, my youngest cat began having seizures and disorientation. She had vomiting and loss of balance. My two older cats also became skiddish and disoriented. They also have bald spots and chemical burns where it was applied. My animals suffered with these symptoms for 3 days. After doing research on the product, I became aware of hundreds of cases like mine with some having to euthanize their pets to end their suffering. Why is this product and others like it still being sold? Something has to be done! If a human ever had a reaction to meds it would be immediately removed and recalled. Please help. This is so disturbing.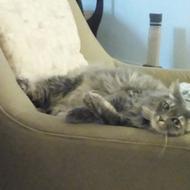 I have 2 cats. I used the Sentry for fleas on both cats. Tuesday night I put it on them and my female went crazy and hidden for 4 days. I tried to wash it off and that's when she past out on me. I took her to the emergency room. Now she is dying cause of the poison I have put on her. She had blood transfusion and on all kind of medication. She is not getting any better, she stopped eating and drinking. Tomorrow morning, I have to make the choice of Euthanasia my baby. She is only six years old and was very healthy. They Killing my baby!!! My male cat keeps on licking the spot, I have put that poison (Sentry). I tried to wipe it off him. This product is dangerous, it shouldn't even be on the market. Please, do not use this on your pets!!

Bought the flea meds in the green Sentry box for my 4 month old cat because it was pretty affordable. Within 12 hours of using it my cat started getting lethargic and his skin where I applied it was deep red. Called the vet and they told me to wash it off ASAP and bring him in. He's okay now thankfully. After reading the other comments I feel terrible that I gave it to him without researching the product first. There seemed to be more fleas on him than he started with and it caused so many serious problems. Thank goodness he wasn't one of the cases where the animal passed away from it. I'm horrified that this product still exists. Never again will I buy the cheaper brand and not research the product first.

A week ago I applied the appropriate dosage of Sentry Pro XFT topical flea and tick medicine to my 3 dogs, 2 labs, and a Shiba inu. One of the labs reacted where he started twitching while laying down. It wasn't a seizure but reminded me of when dogs run in their sleep. The second lab started gnawing on an area near his tail. He chewed to the skin. The Shiba inu chewed badly so I got her a cone. I called the vet line associated with the product which is really not a vet line at all but more like calling customer service. Was told to bathe 3 consecutive times in blue dawn. Did this with all three animals. Was told that in some pets it causes a tingling sensation like pins and needles. And dogs don't understand it.
It was supposed to go away after 2 days. Well it's been over a week. The vet told me to do ** to relieve any itching where they had already been chewing or scratching. Yesterday the Shiba inu got her cone off while unsupervised and chewed through her skin into her muscle. She's going in to the vet today and I'm praying there isn't lasting damage. Would not recommend this product. I only wish I had seen these reviews before buying.

Squeeze on topical flea/tick liquid; Blue & Orange, for diff weights. TERRIBLE!! Dogs acting strange, worse -- itching like crazy!! Scary at first, then heartbreaking discomfort over several days. Multiple baths in Dawn, then oatmeal immediately -- nothing worked. At best, discomfort cut down from 7 to 4-5 days. Dogs had to bear it out. Apologies/denials from the company, told me to do what I already did -- no help. My bf realized later, a blue shampoo we stopped using last year was also by Sentry. Again -- itching like crazy. Their staff is terrible!! So sorry to hear about people losing their pets!! HORRIBLE BRAND, HORRIBLE PRODUCTS.

We used the Sentry product nearly a month ago on all four of our animals, two dogs and two cats. Luckily, two of them, one small dog and one cat, did not have any reaction to the product. I would note that they did not kill the fleas on hand. However, the first reaction we noticed was on our 100 lb dog. He had open sores on the back of his neck where the treatment was administered. This took almost two weeks to completely heal. This was terrible but not even close to the worst reaction that was had by the product. A couple hours after administering this product to our cat, we notice he was lethargic, panting and have neurological issues, unable to walk correctly. We took him to the vet immediately. He was treated for POISON. After multiples phone calls with the veterinarian and discussions of possible euthanasia, they were able to administer enough fluids to flush out his system, enough to break his fever.
Now, I would do anything to save my animals as they are not property, they are family. That trip to the vet cost us in excess of $1,200. After looking at reviews, which I admit I should have done in the first place, many others have the same complaints of these symptoms occurring to their animals. I feel truly sorry for those who couldn't be saved. DO NOT RECOMMEND. EVER. They are marketing to the middle to lower class due to the lower price but a product that has had this many complaints from families with sick pets should have been taken off the shelf a long time ago. Again, I DO NOT RECOMMEND. Indulge and spend the extra $50 to get a product that has been proven to work and keep your pet safe.

I bought Sentry CapGuard for my 9 month old cat and it made her very sick. I gave her the flea pill and within hours was not acting right. Very lethargic, stopped eating and drinking, acting paranoid, didn't know where she was. Within days she was having seizures foaming at the mouth and when I got her to the vet it's was too late. We had to have her euthanized. She died in enormous amount of pain because of this poison that is being sold as a safe way of getting rid of fleas. Please don't make the same mistake I did, please don't buy this product. If you care for your pets please stay away from Sentry CapGuard!!

I contacted Pet Smart/ PetSense as they are one in the same, all they wanted to do was argue about everyone who wrote in about Sentry Pet products harming their animals just had to make a mistake. Because in no way is Sentry nor Pet Smart doing anything wrong. So once again the mighty dollar wins out, because they are going to continue to stock Sentry Pet Products. Bottom line... DO NOT put any of this poison on your pets, and DO NOT shop at Pet Smart / PetSense.

Recently I have been getting a lot of flea bites, which I am allergic to. Haven't had this in many years. Have dogs 10 and 13 and never in their lives did I get one flea bite. Which brought me to the human flea bite site, which mentioned this site. My dogs are not itching and currently seem ok. However after reading the reviews I knew this was why I had the bites and thinking back to the beginning of the month when we give the flea drops, I was horrified. My two Bassett Hounds were so sick at the beginning of the month it was very sad. I have never seen a "lake" of vomit but this is what happened to both my dogs. Diarrhea and shaking as well. Looking frightened and acting very unusual. I guess I attributed the shaking to all the vomiting. At least they were continuing to drink, and one was eating small amounts. I never once thought it could be from the flea medication.
My husband had purchased Sentry Pro Fiproguard, he said it was less expensive and had the same medication as Frontline Plus. We never looked it up. I just thought our poor pups had a GI bug and I had examined the backyard to see if there was anything dangerous out there but found nothing. They were sick for about a week. We are in a slump financially or he never would have bought the cheaper brand. I also tried to not take them to the vet for the same reason, but almost did. I thought "they've vomited before and survived it ok".
Now that I know this is like poison I would have taken them. They did not get baths or **. I will say no sores or redness seem to be on them. They have had bath since then. The only reason I even found out was because of my own flea bites. They are not scratching but we surely will be going back to our Frontline Plus next month. I have to thank the numerous reviews here and elsewhere or we may have continued to use the other doses. I will report this and report it to my vet.

Flea Collar - We bought this for my two cats and immediately one of them started itching like crazy. His whole neck and down his back is balding. He has marks all over him from scratching and I'm pretty sure he has more fleas than he started with. This product is dangerous, it shouldn't even be on the market. Please, do not use this on your pets!!

As many other unhappy pet parent reviews on here, I wish I had seen this sooner. This product is poison. My dog was also acting weird with it, lost his appetite and was not his normal self. Unfortunately, I wasn't fast enough with getting him help and this ended up killing him. He was fine and healthy before I put this on him. Please don't even risk hurting your pet that can't speak and tell you what they're feeling or going through. I feel guilty for giving him this dose of poison but this company should just take this off the shelves. I got this from Costco. PLEASE DON'T USE IT. This mourning dog parent is urging you to not use this on your babies.

This product was sold to me at Petsmart. I have a very healthy male boxer 6 yrs old. We put this on our dog to protect him and this did the absolute opposite. I thought my dog was dying. Almost immediately after applying he started spasm, crying, very unstable on his feet, foaming from the mouth. It was awful. Very sensitive to the touch. I washed it off twice and he still isn't right. This is poison. How many people have to report this company before you take action and ban this. It's a dangerous product. It's cruel to allow any other dogs to suffer like my dog and my family did. Petsmart should stop selling this product. My dog has not eaten, has trouble walking and is not the same dog. He can't go up and down stairs without help. This is insane. Please don't use this on your dog. Please take it off the market.

Please do not try this product, it is dangerous. I wish I had found these reviews before I bought this at Petsmart. My dog had a bad reaction. He was doing severe fly biting, which some think are actual seizures. He also had really red spots on parts of his body. Sometimes he would moan as if he was in pain. I gave in baths and they did not seem to help. I call Sentry and the medical person told me that if would not cause any neurological problems, which fly biting seems to be.
She said it would only travel on the surface of the skin, ya sure! I asked her why were some pets die from using this and was told she knew of no pets dying from using the product. I then talk to one of the customer reps and he told me that the company reads all of the complaints and determine from that about whether to leave it on the market. I really think they should remove it if it is causing so much harm. I had to leave a star but they deserve a zero. Please do not put this on your pet.

I cannot believe this product is still on the market and PetSmart is selling it. I don't know why it didn't occur to me to read reviews first but I applied the flea medicine on my yellow lab and within hours his back legs and mouth were twitching so bad. He was breathing heavy and nervous. I didn't know what was wrong until I read about Sentry's side effects and found other people's pets experiencing the same symptoms. I felt so bad for my dog. I ended up having to give him Benadryl and baths with liquid Dawn and the symptoms subsided thankfully. Never again. I cannot believe terrible product exists.

Please please please do not use this product on your dogs! We bought it because Petco was out of Frontline for her size. I read the directions as always and applied as directed. My 5 year old Border Collie immediately started rolling around on her back, rubbing against things, and running around the house. I let her outside and she found a dirt patch to roll in. She doesn't usually like having stuff on her so we thought that was all it was but the next day she was still upset, shaking, panting, climbing up on us obviously upset. We looked at her back where it was applied and it looked like she had been burned!!
We gave her a bath with gentle dog shampoo to wash it off (I hadn't seen the recommendations for Dawn). We washed her twice and have been putting triple antibiotic on her wounds. She seems better but is still trying to get at her back, where she now has a scab on one of the "burn" spots. We're taking her to the vet to have them check her out. This product should not be sold anywhere. I feel so terrible for her for the suffering she did before we realized she was actually in trauma! We're notifying Petco of this product (thought we could trust what they sell) and need to find a safe way to destroy the product (I'm afraid to just throw it away). Save your pets this pain. DO NOT USE!!

I have tried Advantix before with no problem, thinking it would be okay to try another flea and tick ointment from Sentry Pro without any issues. Wrong. Like many of the other reviews, my 6-month-old border collie has been restless and rubbing/biting his back since I applied the medication 8 hours ago. I gave him a bath with Dawn soap and 1 tablet of ** without any improvement. No signs of skin irritation yet but I worry about that developing with hair loss, as others have experienced. I expect a refund at minimum for such a harmful product and will never use it again. Sentry Pro should either discontinue this product or for the very few that it may work for add a Huge Warning label on the front to do a small spot test before applying the whole product.

BOTH my cats were perfectly fine BEFORE I bought them the flea collars. My youngest cat (a 1-year old) got a nasty rash on her butt, tail, and hind legs and also had hairless. She's fine now (thankfully all that was needed was a shot and it cleared up in a few days). My other cat (she's 7 1/2 years old) had the WORST reaction to it! She ended up with a bad eye infection that I had to take to an emergency vet since my usual vet is closed on Sundays. The vet blamed it on a herpes virus since they didn't want to get involved and gave her an eye drop for it. It's been a week to the day and now she's STILL having eye problems. It's still gunky, runny, red, and she's barely keeping it open. I think she's actually gone BLIND in the eye since I can put my finger right up near her eye and she doesn't notice it, but I have to wait till tomorrow to take her to my usual vet so she can be looked at by someone who cares.
All natural product? All natural my foot! Something in those collars is causing all these problems, and it has to be some kind of pesticide. Should have looked up the reviews before buying. I'm with everyone else, how are they still in business and why are pet stores selling these awful products that's going to end up killing someone's pet? I'm surprised there's no lawsuit against them yet, but soon as someone loses their pet, there's more than likely going to be one.

This crap almost killed my dog. Vomiting, incontinence, and spasms so bad he couldn't walk or stand. After reading hundreds of other horror stories online about this product, I just have one question: how the hell is this company still doing business, and why in the hell is PetSmart still selling it?

I bought this over the weekend for my cat and dog. I put this on and within hours the cat began to seizure and could barely walk. The dog could not stop shaking his ears. I wish I would have read the reviews on this product before buying. It is a terrible product. There is no reason this is still on the market. After all the reviews I have read. I spent almost all night up with the cat praying she would be ok and felt terrible I bought this and did this to my pets. 2 days later she is still not back to herself and either is the dog. They are better thank god but still not 100%. Please people do not try and save a few bucks by buying this. It is terrible... I have used advantage and frontline in the past and never have had this problem. I threw the extra dosages in the trash. Petsmart should not even be carrying this product. I will never use this again and if you are reading this please do not purchase this poison for your animals.

People buy flea medication to kill fleas not our pets! We used this product last night on our dog, within two hours he was pacing through our house with a frightened demeanor, then started whimpering & crying with uncontrollable itching & it seemed like he was in pain. We too called the number on the box & was told to wash him 3x in a row with Dawn dish soap so we did. He then started having SEVERE muscle spasms & tremors. I stayed up all night with him giving him several baths & also wiping him down w/ a cool wash rag to get off as much remaining "poison" off of him.
The spasms, itching & tremors continued all night thru this morning. He got so weak he couldn't move nor lift his head. We felt so helpless watching this. I held him petting him, apologizing to him & praying. I carried him to the tub & scrubbed him with Dawn AGAIN. He had no appetite & refused to drink. I kept wiping him w/ a rag & massaging his body as he spasmed. Slowly he has begun moving again & THANK GOD has ate & drank a little bit. I believe he is going to make it. He still has twitching in his legs but not as severe as last night/this morning. Our vet told us the main ingredient in this 'medication' is a pesticide used in bug bombs & used for home extermination of cockroaches & has even caused complications in human health.
This product needs to be banned from the market asap! It is AWFUL to watch your pet in agony. This has potent chemicals in it that obviously shouldn't be on our pets but what about the kids & pregnant mothers who pet their pets & come in contact with this poison? I don't know how these people sleep at night knowing they are poisoning & killing animals. I pray our dog pulls through & also pray for the other dogs We've read about on here. Good luck & God bless!

I so wish I had read all these reviews before I purchased Sentry XLT. Petsmart is completely liable for continuing to sell this product and Sentry must be made to stop. I have switched to another pet store for my supplies. We administered the product to our 3 year old dog as per his weight and the instructions. My wife woke me up around 3am completely terrified of what was going on with the dog. He was laying on top of her shaking uncontrollably. He is not a nervous dog by nature so we were immediately tense about something being wrong. He could not stand on our tile floor so we moved him out to the back porch to see if he could stand on the carpet. He continued to shake and could not stand. He exhibited no other symptoms - face not scared, eyes were alert, no runny nose, no gastronomical distress.
I called ASPCA poison and she called the 24-hour vet. Fortunately neither one of them were panicked and responded pretty much identically when told we had applied Sentry product. Bath the dog with Dawn dish soap several times and observe. We bathed him multiple times, and he seemed to be relieved while being bathed. Over the course of the next few hours his shaking became less and he could move around. This stuff is not a bad product. It is a dangerous product and must be removed from the market!

It's been three days now since I used this poisonous product on my two dogs, and they are still in distress. Each of them have been whimpering, barking, and wailing; suffering from constantly twitching, muscle tremors, and extreme excitability. Despite the fact that I have washed them with Dove dishwashing liquid, multiple times, within hours of application, and Benadryl. FOR GOD'S SAKE, WHY IS THIS ** PRODUCT STILL ON THE MARKET! Listen people, I'm am heartbroken that I have used this product on my dogs, and it breaks my heart to see them this way. Please do NOT USE this product!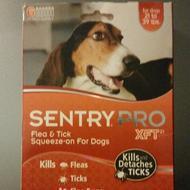 THIS COULD HURT YOUR DOG OR CAT!! My husband went to PetSmart and purchased the Sentry Pro Flea & Tick medicine. We normally use Frontline but my husband bought this brand this time. He applied it to both of our schnoodles and they were acting strange all day. We just thought they were uncomfortable with the wetness. One of the schnoodles started vomiting and the other would not leave my side. We applied it around noon and ended up bathing them at 9 pm. One of our schnoodle looks like he has a burn and keeps trying to scratch it and the other wanted to be totally covered and freaking out. They finally fell asleep at 3:30 am. We bathed them twice with Dawn dishwashing soap to get the product off and rinsed off well. Gave them Benadryl and put triple antibiotic ointment on them. Seeing vet tomorrow.
Please do not ever use this product!! People have lost their pets after using this from what I read on the reviews here. I posted on PetSmart's Facebook page to let them know what happened and called Sentry and let them know. I got case numbers for all the calls I made today but hopefully they will look into it. Please let other pet owners know this!! Also, please post on the retailer facebook page of whom you bought it from, call them, call Sentry, keep your receipt. I understand that dogs and people can have allergic reactions to products but with this many animals having a reactions which is leading to severe health issues and death... why is this still on the shelf!!! Just to think there are probably thousands of people who have not written on here or left a online review. I already spoke to two people that said they know someone's pet that either got liver damage or who died from this product.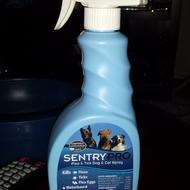 I bought the flea and tick spray for dogs and the one for home because my dog seems to be the only one guarded against fleas in my apartment complex so he picks them up from other pets. The spray for pets kills the fleas on contact and that's it. Both sprays are supposed to prevent flea and ticks, but they do not. Both sprays are harmful to humans. The furniture/home spray is also harmful to pets. Can we say irony? I only have the pet spray left, but the one for home/furniture looks almost exactly the same.
Sentry Pet Products Company Profile
Company Name:

Sentry Pet Products

Website:

http://www.sentrypetcare.com/default.aspx