Consumer Complaints and Reviews

This food made my cats go into liver failure! As soon as I stopped feeding my cats this food they started getting better 2-3 days later! This food should be taken off shelves and Purina naturals as well!!! Do not feed this to your cats! It was recalled once already and should be recalled again and taken off shelves. If you love your pet do not feed them this food!!! My cats almost died eating this.

I also have been feeding my cat Fancy Feast for years. She loves it. Lately some flavors are turning red like blood if out for a while. I thought the cat was bleeding. I called Purina and got some half a dollar word for the problem about air causing the red. He said do not give her the food cause it is dangerous. I asked if this meant do not use their product and how am I supposed to feed her if I do not open the can. He said he would send me coupons. I am not interested in coupons. I am afraid to give her the food now. Only certain flavors do this, I have pictures but I can only send them to a phone number. It looks exactly like blood in the food. Please help me because they seem like they are not interested in the problem and there definitely is a problem. They did not take the upc code or can info. That is not proper company concern procedure. I am very upset with them.

If you love your pets, DO NOT let them eat Purina brand foods. All of my indoor, otherwise healthy cats ALL got sick at the same time after eating Purina Friskies. Right now one female is extremely sick, and I don't know if she's going to make it. The other 3 are sick, vomiting, won't eat, or will barely eat. Where's the FDA now? This poison shouldn't be allowed to be sold ANYWHERE!

Like many others I had issues with Purina One Smart Blend. Dog was really sick with nuero and gastro symptoms. We nursed her back to health and once we reintroduced her to Purina she went downhill. :(

I found a 3/4 inch nail in my Purina Brand dog food. I contacted them the moment I found it. They acknowledged it happens and they are sorry, they will send me a overnight envelope to return the nail. Well 3 weeks later no overnight envelope. Check your bags of dog food for metal parts and nails that come off the machines in the production line. Look at it before you pour or scoop it into your bowls. Use a magnet and run it over your food. Take a few extra seconds and save your pet's life. The company cares more about profits than buying magnets for the end of the production line to pull out the metal nails and parts that come off and fall out of the machines. This is a specialized 3/4" nail with a round head, super razor sharp.
How do I know I can trust these reviews about Purina Pet Foods?
636,825 reviews on ConsumerAffairs are verified.
We require contact information to ensure our reviewers are real.
We use intelligent software that helps us maintain the integrity of reviews.
Our moderators read all reviews to verify quality and helpfulness.
For more information about reviews on ConsumerAffairs.com please visit our FAQ.

2009, I had the most horrible experience. I was feeding Cat Chow to my cats and ferals too. All my feral cats had died, and I had lost three of my indoor cats. Please DO NOT feed your pets any Purina brands. I did since 2009, when my vet told me that its made in China. Tell anyone you know not to buy it, I do, every chance I get. Thank you.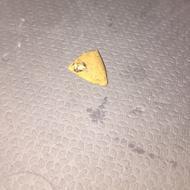 So, I've just transitioned to Purina Pro Plan Bright Minds at the recommendation of a friend/trainer. When I opened the bag I noticed something white on a couple of the bits of kibble and thought nothing of it because it resembled the chicken bits in the Savor food I feed a younger dog. Then I found a maggot. Upon closer inspection, it turns out that there are hundreds of maggots in the bag.
I called Purina customer service and notified them of the situation. Reggie, Customer Service Representative, stated that this sometimes happens if the food gets too hot. I keep it in my house, so not on my end. He would only reimburse me for the food, not the tax, nor the inconvenience of having to drive across town, the fact that I've fed my dog unhealthy food, etc. I have never used Purina with my dogs and was hesitant to transition except that the trainer spoke so highly of it and I have noticed an increase in my older labs energy level and mobility. I cannot believe that a company such as Purina would treat their customers with such disregard. Disappointing!

My husband bought the Purina Waggin Train for our 2 dogs about a month ago. I was feeding them 1 half a strip once or twice a week. My mixed breed threw up a few different times but I didn't know why. He never seemed "sick". I ran out of our normal treats and gave them the chicken treats this past Monday, Tuesday and Wednesday. 1/2 a treat each, twice a day. Now, my bulldog is lethargic, has heavy vomiting, diarrhea and restlessness, like he's in pain. He's going to the vet tomorrow but I will throw away EVERY PURINA PRODUCT I HAVE. On another note Purina Beneful caused my friend's small dog to have seizures which stopped once he stopped feeding his dog Beneful. A coworker also fed her dog Original Purina and her dog is very very sick and she has been to the vet several times and has just been informed that she needs to take her dog to MSU for testing. Her dog has internal bleeding. Cancer has been ruled out. Purina kills pets!!!

My 3 dogs have been eating Purina One SmartBlend for a few years now. I just bought another bag from Walmart about a week ago and one of my dogs has been vomiting and with diarrhea. This has been going on for a few days now. It seemed to have cleared up but he didn't eat much on Sunday and very little on Monday. Yesterday he seemed to have his appetite back and I've been up all night with him. He has been vomiting, shaking and diarrhea. I went online to find out about if the dog food could be the issue. To my surprise, many other people have been experiencing this same problem after their dog(s) ate Purina One. What is going on? I've been trying to find a number for the Purina One company but no luck.

When my vet originally, told me my cat had crystals and needed to on special food, I was terrified and slightly broke. I did some research and discovered this food. My vet seemed to think it was okay as long as he wasn't getting crystals... Well, a food that is supposed to protect the kidney and bladder in a cat has caused kidney disease in mine. He is 10, so not super old for a cat, but he's middle-aged. For kidney disease, this is early. Purina caused this and I'm terrified my cat won't survive this horrible disease. Switching his food immediately.

We began buying Purina One Smart Blend at Walmart about 5 weeks ago. Now two of my 3 dogs have uncontrollable diarrhea. The dog who got sick first was put on a 12 hour fast then fed rice and cooked chicken for a couple days. Then we reintroduced the Purina and she is sick again. Now my other dog is sick too. Now we know it is the food. No more Purina!

On Oct 6th 2016 I starting feeding my cat a new box of deli cat food that I usually buy at Family Dollar in JCNJ Martin Luther Dr. This particular box I had purchased from same name store different location in JC. After feeding my cat his morning meal about 9 am. He seemed to be fine running around and playing as normal. Between 10 am and 11 am I noticed he had thrown up his morning meal. At that time didn't think much of it. Around 7 pm he began to start yowling in pain and it continued all night. My son told me he might just have a stomach bug and it will pass.
Over the next day he threw up some clear liquid with little grey or black substance in it. I thought he was trying to get up a hair ball which he never usually have. In a short period of time he started to lose energy just laying around so I decided not to give him any more of it. Kept water down for him that night. I notice he laid in front of his water bowl to drink and that didn't stay down he moved from the kitchen on to the hallway floor were within hours he had died on Oct 9th 2016 7:57 am Sun morning. I truly believe there was something wrong with that food. His health just went downhill after he ate that morning. He was about to be 4 yrs neuter with his shots and no others pet around indoor cat no prior problems. Cat Owners Beware!!! RIP Toby.

I am so disgusted to report that twice I purchased the largest size bag of Purina One SmartBlend and found moths inside. I always pour the dog food into a plastic dispenser. At first I did not realize the moths were coming from the dog food. Now my house is infested with moths.

All my pet food goes from the bag into a sealed container. There is no question in my mind that this stuff has moths or moth larvae. What a shame. I've used Purina Dog/Cat chow for years & years and my animals have always lived long, healthy lives. I realize there is no risk to the animal, but I can't take the chance of these things spreading into the pantry and who knows where else. What a loss. Now I've got to start buying some of that fancy crap instead of a tried & true product. Oh well. All good things must come to an end.

I bought a bag of Purina Indoor Cat Chow on September 23, 2016, in Kent, WA. My cats started to have messy bowel movements, which I attributed to a change in diet. But by the end of one week the issue had progressed to diarrhea, vomiting, lethargy, and loss of appetite, as well as pained crying and irritability. My five-month-old kittens got through this with only mild digestive upset, but all four of my senior cats (ages 13-16) grew deathly ill. Three have seen the vet; two appear to be improving; the fourth will be taken into the vet tomorrow if there is no improvement tonight in her condition, which over the past two days seems to have gotten worse. The oldest had to be put down; she was too frail to withstand the assault on her body.
In all the years that I've had many cats and used many brands of cat food, I have NEVER experienced a nightmare anything like this. Normally if I switch food I see at most some mild vomiting or loose stools from one or two cats. This is different, and horrible. It didn't help that the vet thought I was overreacting initially. She was full of useless advice and utterly blind to the seriousness of the situation.
I am sick with grief and rage. Yet I know the worthless government will never, ever take serious action against a company as large as Nestle, which can afford to buy favor. I e-mailed Purina a few days ago, seeking input, and they've ignored me. I plan to move away from all Nestle/Purina products in the future. For now, I'm stuck: The brands I had fed my cats before the Purina Indoor Cat show debacle, were *also* owned by Nestle, and I'm wary of causing more problems for my cats with another switch. It churns my stomach to know how monolithic Nestle's presence is.

I have a 1 1/2 old Golden Retriever who has a sensitive stomach. He has been using the Purina Pro Plan without any issues up until the last month. I had just purchased a large bag about a month ago when I noticed my dog starting throwing up and had diarrhea. I would put him on a BRAD diet to help alleviate the symptoms and within 4-5 days he would get better. Then, I'd slowly reintroduce his normal diet again. Soon the dog would be sick again! We struggled with this for about 6 weeks off and on.
I went to my vet to purchase more food and complained of my dog's sickness and told her I thought it was linked to the food. She commented that she was having the same issue with her dogs and that another customer had just complained earlier in the week of the same issue. I've wondered if Purina has changed its recipe. One thing I know for sure is that I've just bought my last bag. I'm switching to a different brand all together, because I don't want to see my dog suffer any more.

I purchased dog food from Purina. My dog was so sick. They are poison, Beggin' Strips. He is a 12 yr old Pomeranian in great health until he ate those treats. Throwing up, not responding to his name. I knew right away it was the food. I was hoping it would pass but he would not eat or drink. I was up for 2 nights. He did come around but I did take him to the vet to get checked out. Called Purina. Never responded or called to check on the dog. I think this stuff is so full of poisons. I just thank God he recovered. I am so concerned for other dogs that didn't make it. So sad these huge company get away with anything.

My cat died eating Purina One. I rescued an Orange Tabby cat in November 2013 from the Humane Society. He was about 11 months old when I adopted him. He had annual vet exams, immunizations, good care. He was strictly indoors so was safe from outside dangers. He ate Purina One dry food exclusively. Two months ago in July the cat started to vomit periodically after eating and had trouble passing urine. Sept 9-11 the cat vomited daily after eating and was very lethargic. I took him to the vet on Monday Sept 12. The vet took blood and urine samples and found high levels of crystals in the urine. The vet warned that could lead to urine blockage.
A week later the cat vomited his dinner again and couldn't pass urine. He lay on floor in pain and cried plaintively at me. I took him to the vet the next day and the vet found a totally blocked bladder. There was no viable choice at that point but to put the cat to sleep to end his suffering. I think that something changed in the Purina cat food that led to this.

Bought a 16 lb. bag of Purina One Dry Cat Food from PetSmart and stored it with an open bag and a sealed bag of cat food in my closet, as I've been doing for a decade. A few weeks later, I opened the new bag and it was infested with bugs. They had also infested the other cat food around it. This is disgusting. There were tons of bugs in the bag I was using also. So I wonder how long I fed my cats bugs and bug carcasses. Years ago I bought a bag of Purina Pro Plan Dry Dog Food for my Satine, who has since passed away, and the top of the bag was covered with a white, web-like substance. The whole bag was infested with meal moths. Something is wrong with Purina food and I'm not feeding it to my animals anymore.

On July 1st, 2012, my kitten suddenly had a seizure and then collapsed onto the floor, screaming and defecating. After that he was incredibly lethargic and then the next day July 2nd, he was lying on the floor, barely breathing. We took him to the vet and he died on the car ride there. He was only 3 months old and they had no idea how he died when they took him into the surgery room. I was feeding him Purina Kitten Chow. I never thought about it until reading these reviews that Purina's food could've killed him. RIP Poog <3

My 2 cats 5 weeks ago would not eat this brand food when they grew up on the same food and had no previous problem. They were vomiting, diarrhea, loss of appetite and turned away from the food. After 2 weeks one of my cat became very sick, went into hiding and started to lose weight. 3 week went to see the Veterinarian and by that time it was too late. His liver enlarged and pushing on the stomach so badly that even the water would not stay down. He was throwing it up. The damage was so advanced that he had to be put in sleep. My other cat was able to vomit the food and became better after 4 weeks.
Changed food to other brand by Rachael - that she claims that everything is natural. Must be true since my 2nd cat eat the food without any side effect. I wrote to Purina company but so far no respond. I am glad that I find this site where others are complaining the same things that my 2 cats went through. Lost the 9 years old and it is a terrible feeling that the company does not come forward and do an official recall. I do not recommend this brand to anyone. If you can try to buy natural food which is not mixed with who knows what kind of positions and unnatural fillers.

On the advice of my vet, we switched our retrievers to Purina -- specifically Purina ONE SMARTBLEND Healthy Weight Formula Adult Dog Food - Turkey. There are MOTHS coming out of the secure container I keep the food in. The kibble goes directly from the bag to this lidded container and I can't believe it. I read previous reviews initially upon switching and thought for sure it was a storage issue -- nope, it's a production issue. If my dogs didn't already eat bugs and other disgusting things this would totally gross me out. Surely Purina should have better quality control.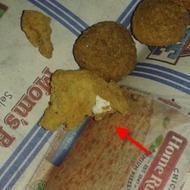 I noticed the Chicken pieces of my Purina Pro plan chicken and rice dog food had white on them. I have been using this dog food for 6 years and never noticed the white before. So I cut it open and there was a maggot in it. A LOT of the chicken pieces have the white--I cut several more open -same thing. So I go online to Purina and write to them. Then I google Purina pro plan chicken bug--and I see all these other people saying the same thing--white on the chicken pieces and bugs inside.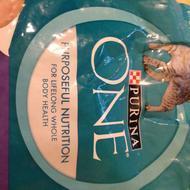 I have always bought Purina cat food off and on throughout the years and I've not had a problem with them and eating it. I just bought a bag and my two cats went a day and a half without eating and my Chihuahua who loves cat food and sneaks it when she can has also refused to eating it. Apparently, they are sensing that something is wrong with this food and I am returning it back to Walmart. I have posted this on Facebook and gotten several replies about how many dissatisfied customers there are about Purina products. I will not buy Purina cat products or dog products again.

Purina Pro Plan Adult Shredded Blend Chicken and Lamb - We have always bought this brand food for our dogs. However the last 3-4 months now we have had moths hatching in the food and it is disgusting. I was told that "Yeah that happens sometimes from the grains we use," but they are continuing to sell this item.

I have been having problems with this company since the end of May. The last few bags of "light and healthy" had tiny little moths in them that would fly all throughout the house every time I opened the sealed container to feed my furbaby. I contacted them at the end of May to complain, and was told someone would get back to me with 24-48 hours. This is their standard reply to emails. I waited about 2 weeks, then followed up with another email, and many, many phone calls. Each call, I was promised something would be done, but so far, as of today (8/11), nothing promised has come to fruition. When it came time to purchase new food, I went to another brand which my baby is loving. My main frustration with this company is that so many times I have been promised things and NOTHING happens. They have lost a customer forever, not only for the bad product but for the horrible customer service.

I can tell you that there was at least one recall of Purina cat Chow. However, they kept it quiet. I will tell you what happened. I have fed cat chow for 30 years and bought lots of it. One fall or early winter, I bought a bag and immediately all the cats had very bad diarrhea and vomiting. They had to have antibiotics because of salmonella. One cat had a rectal prolapse and that cost me $400 to fix. Another one started having liver issues and lived on medications for several years but I eventually had to have him euthanized because of liver failure. He had no problems before the Salmonella and constant liver issues after recovery from the bacteria.
Anyways as soon as that bag was gone I went to buy more cat chow and it was not in any store to be found. I had to buy something else. I had never had the issue of not being able to find it in the store. I checked online and there was no official recall. An employee at Walmart confirmed that Purina pulled the bags off the shelf because I was asking questions. I still feed cat Chow because usually they do well on it. Here in the last three weeks their stool has been more loose than normal and some of the cats have lost weight.

CRUCIAL info that will save the lives of your loved ones dogs and cats: food allergy including Hypoallergenic food - a common cause of diarrhea in dogs and cats. I would like to share with you the customers the following CRUCIAL INFORMATION that will save the lives of your LOVED ONES DOGS and CATS. I was reading one customer review about Royal Canine Hydrolyzed Protein. This is one of the Prescription Hypoallergenic dog food just like Purina HA Hydrolyzed Protein. The English Bulldog of the Customer A.B. of Pueblo, Colorado had Royal Canine Hydrolyzed Protein. She had constipation at first then later on she developed diarrhea and then sadly to say she has passed away. I am so sorry for your loss!!!
I just want to let you the customers know that my English Bulldog Zeus had the same problem when he was on Purina HA Hydrolyzed Protein. He had constipation at first and then about a month later he developed blood-tinged diarrhea and then frank bloody diarrhea shortly after. Multiple Vets could not figure out Zeus underlying problem and so his bloody diarrhea got worse with multiple bowel movements a day. So, I've prayed to the Almighty God Our Lord Jesus Christ asking for his help. God put in my heart that my dog is Allergic to Hypoallergenic dog food.
I told the Vet that I believed my dog has developed Allergy to Hypoallergenic dog food. The Vet did not believe me but I kept insisting on it and so she got upset at me. She said the food is Hypoallergenic and so what do I have to worry about and told me to put him back on Hypoallergenic food. I said to myself what do I know I am not a Vet and that the Vet would know more about it than I do. So, I put him back on Hypoallergenic food. After one feeding, he continued to have frank bloody diarrhea. I then followed what God has put in my heart and that was that my dog has developed ALLERGY to HYPOALLERGENIC Dog Food. So, I immediately stopped feeding him Hypoallergenic dog food and put him back on Natural Balance Limited Ingredients Fish (Salmon) and Sweet Potatoes.
Zeus' frank bloody diarrhea stopped within a day and his condition was much improved. THANKS BE TO GOD!!! The reason that I switched to Hypoallergenic dog food was that because I was hoping that Zeus was going to be totally free of itching from food allergy. He has minimal itchiness with Natural Balance Limited Ingredients but I did not want to see him itch at all so that was why I've decided to try Hypoallergenic dog food.
In summary, FOOD ALLERGY is the common cause of DIARRHEA in dogs and cats. So, in my dog's case, even though the Food is Hypoallergenic, It is still food. And as the name implies, Hypoallergenic Not Non-allergenic. And there is no such thing as Non-allergenic food. So, yes, dogs and cats can develop allergy to HYPOALLERGENIC FOOD and DIARRHEA is the common symptom. Hypoallergenic food will work on some dogs and cats and not on others just like any other food products for Pets.
I would like to share with you the following places which I shop for Pet stuff. I get Pet food including Prescription food, shampoo, etc. at CHEWY.com. Less expensive. No Tax. Free Return. Free Shipping and Handling if over $49. Shipping is via FedEx. I get Pet Prescription meds like antibiotics at Costco Pharmacy that are less expensive than at the Vet's and elsewhere. Need to get Prescription from the Vet or can have the Vet's staff call in. Ask Costco Pharmacy for Discount meds membership. I get Preventive Pet meds at DrsFosterSmith.com that are less expensive than at the Vet's. Also need to get prescription from the Vet or have the Vet's staff call in. If you have any question and if I can be of any help to your Pet in regard to the aforementioned subject matter, Please feel free to contact me at **.

I've been feeding my Ragdoll cat, Bromley, Fancy Feast for over 10 years. Up until recently (about a month or two ago) there has been no problem with any of the seafood varieties. Now, Bromley simply turns away from his feeding bowl whenever a fresh can of Fancy Feast is offered. A red ooze is seen collecting at the bottom of his bowl and from within the food once it is left out for a brief time (like an hour). I took pictures of the condition and called the Purina consumer line listed at their website. I would have written, but the website kept freezing and a communication could not be sent. This was on July 26.
I reached an associate named "Helen" on the phone who was more intent on sending me coupons (which I did not ask for or want). I gave her my contact information (phone number and email address) and she said I would hear from someone in 48-96 hours to discuss the problem. I was told I would be sent a link to which I could send the photographs...that never happened. I was given a case number before ending the call (Case #**). I've yet to receive a response. So, on 8/3 I called the consumer line again and this time got someone named "Reggie". I gave him my case number and asked why I haven't heard back and noted that I never received a call or received an email link. Reggie recited my phone number from the case record and then said they didn't have my email address to send the link for the photographs. Yeah, right...so why no call?
I've stopped purchasing Fancy Feast since the red ooze has mysteriously appeared and since Purina's call center has been uncooperative. To trust a national brand's reputation only to be dismissed without explanation or being basically ignored is unacceptable. I've been held to a higher standard while in the workplace and should expect no less from today's company representatives. The product manager responsible for allowing an ingredient or formulation change to go unreported to the consumer needs to take a step back and be reminded how this will affect their bottom line.
I've researched the other Purina products mentioned in these reviews and will clearly avoid them as well. I suggest to other consumers of Purina products to evaluate the dry and wet cat food selections from Fromm. You'll be pleased to see the label and analysis of the products' ingredients (I am not now or ever have been an employee of the Fromm company). I am simply a retired pet owner who is one of many who spend significant dollars on the care and feeding of my beloved companion animal. As for the cat food supply, it will be going in the trash. I wouldn't want to pass this condition on to the local animal shelter. Thank you for your attention. Purina/Nestle, wake up.

I have a 5 year old Shiba Inu and I switched him to Purina Beneful 1 month ago. Within 2 weeks I started noticing symptoms: lethargy, fur loss (his top coat was coming off, not his undercoat which sheds twice a year), weight loss. Four weeks later he was standing next to his sister (different owner and diet) -- they used to be the same colour but now he looked like a ghost next to her -- his fur lost its Shiba red and became very light and greyish. I suspected it was the food, so I switched dog food immediately. I noticed he got his energy and bounce within 1 day after switching away from Purina. Purina is garbage. I can't believe what I'm reading online about it, and now I know firsthand how terrible it is for dogs.
Purina Pet Foods Company Profile
Company Name:

Purina Pet Foods

Website:

www.purina.com