Consumer Complaints and Reviews

I buy 22 lbs. bags of Cat Chow Indoor food because I have several cats. In 4 months bought 3 bags and started up with Purina - MyPerkscatchow reward system. Well on the 22 lbs. bags I can never read the laser print codes that I can on the smaller bags. I've complained and was told to call a number. I did and was sent a survey via email. That was a couple of weeks ago and nothing since. Let's just say I gave them a very poor response in return. They won't give me the points I'm owed off the one UPC bag I had at the time let alone I've bought 3 in 4 months' time.
Purina customer service is very poor. And from what I've seen on Facebook, I'm not the only one complaining about Purina let alone from MyPerkscatchow.com. Oh and per 22 lb.=4,000 pts. and total 3 bags is 12,000 pts. I've yet to see on my account. Anyone else having this problem? Then after I call someone takes UPC # and name, sends survey, and after I answer survey I still don't get my points.

I'm very disappointed in the Purina Puppy Chow Tender & Crunchy. It made both of our bulldogs sick for 5 days. The bottom of the food in the bag made them sick. They weren't sick until we got to the bottom of the dog food. Need to find a great food for my American Bulldogs.

Worms, need I say more? The worms are actually inside the chunks of dog food. If you break them open, the worms come slithering out and nearly made me vomit. They claim it's coming from the warehouse and there is nothing they can do about it. Hmmm... you have worms in your warehouse and are not going to do anything about it? How did they get inside the food chunks? Yeah, no more for me.

As a caretaker of feral and stray cats I use this product almost everyday. Recently bought a 22lb bag from Tractor Supply and was mortified to find something looking like damp cloth buried in it together with maggots. I photographed it to show you but I threw the bag in the trash. I will not use this food again until I hear back from you and would certainly like a refund of the $13 I paid for it at Tractor Supply.

I had been looking for a cat food that didn't make my cat vomit shortly after eating. I spied the gentle formula on the shelf and decided to try it. It is very good. He doesn't vomit as often and not as much. I like the food for my cat very much.
How do I know I can trust these reviews about Purina Pet Foods?
718,857 reviews on ConsumerAffairs are verified.
We require contact information to ensure our reviewers are real.
We use intelligent software that helps us maintain the integrity of reviews.
Our moderators read all reviews to verify quality and helpfulness.
For more information about reviews on ConsumerAffairs.com please visit our FAQ.

I have a six year old cat and I have always given her Purina from the time she has been a kitten. I have always trusted Purina and went from kitten food to adult cat food. I like to give her the hairball treatment food.

I have 4 dogs using this product (Pro Plan Salmon and rice dry dog food). Upon opening the bag and filling their dishes I noticed small black bugs in the food. I took a closer look and found that not only were there black bugs but also tiny larva worms of some type. I had ordered this food through Petsmart online. I will not buy Purina products again. Since reading the reviews I now realize this is an ongoing problem that Purina does not seem to be correcting.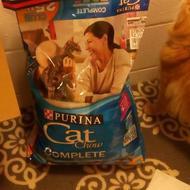 My cat just finished his bag of Purina one indoor cat, which is my usual choice but I bought the regular version because of a coupon and he has had diarrhea for 5 days, I'm so stressed, it's so nasty because he's a long hair cat so you can imagine how many baths he's had to have. I suspect it's the food now that I see all these recent complaints. Going to email them.

My cat has never had skin problems and my cat and dog eat Purina food. My dog would sometimes eat Mousey's food. Scabs were on both. Dog I have made sure has not eaten Purina indoor cat food and skin problems stopped. Mousey's haven't. Has there been any changes in ingredients in last 6 months? I gave him taste of the Wild and he has not scratched today hardly any. Used this product ten yrs. I'm taking him to the vet again and he is 11 and worried giving ** to him. ** isn't working either. I haven't changed detergents, anything. I'm gonna really upset if I find out if it's different ingredients and my baby boy has suffered for months. I'm taking samples of the scabs stuck on skin and hair tomorrow and the lady that opened the bag of Purina hairball food and moths... yes infested with moths!!! I'm highly disgusted. I've paid so much money in Purina, I should have blue chip stocks. I want answers.

I had a kennel and I raised show Terriers. I have fed Purina Pro Plan for twenty years. Healthy dogs - good coats and teeth. I have a small rescue now that was in terrible shape when I got her. I feed her Pro Plan Focus for small dogs. She looks great and is in good health. Many people that show and compete their dogs feed Pro Plan.

Last night I opened a brand new bag of Purina One Hairball Control cat food and it was completely infested with moths. It was absolutely disgusting. I recently bought this bag at Petco in Plantation, Florida. I spent $15 on this bag and had to throw the whole thing away. I'm reading other people's cats have gotten sick from moth infested food - this makes me feel sick! I didn't return the bag to Petco because I didn't want to risk moths getting loose and infesting my car. I'm hoping I killed all the ones that escaped from the bag because I do not want our home infested as well. I've read these moths are hard to get rid of. I've written Purina Customer Service and email, but have not heard back yet. I just wanted to encourage everyone to check their food as soon as they open it and say something if something is wrong!

My husband bought the "Purina Beneful Baked Delights Stars" dog treats for our dogs. They each had about 2-3 star treats and their regular daily food (Rachel Ray brand) that has never caused them any problems. The next day they both had bloody diarrhea. We took them to the ER (which was expensive) and they had high fevers and were dehydrated. We were told that if the symptoms continue for more than 3 days then it could be something serious. I don't know if this was just a bad batch but I will never buy any Purina products again. I'm hoping my little guys recover from this soon.

We used all the stages of their puppy food, then dog food when my baby got to be an adult dog. Their ingredients are good and Fudgie loves the food. In his later years, we have him on the diet control–weight control and he loves it and he lost weight from their food. I recommend their food to anyone who has an older baby (dog) and whose vet told them to put their dog on a diet like ours did. Your dog will lose weight. He will also love the taste, like my dog!

I buy Purina SmartBlend for both my labs. They like the lamb and rice formula the best. You can buy it most anywhere. They are 10 years old and are fairly active. They have tried several other Purina blends but this is a healthy balance for them. They like the smaller bite of food. It is well balanced with protein and vitamins needed for larger dogs. I have not had any weight problems while feeding them this brand.

I have small, medium and large dogs. Purina small bites fits the bill for all of them. I don't have to buy 3 different kinds of food. All my dogs like the taste. No one has any digestive problems with it and all have a clean bill of health. I mix this with canned Purina Alpo food and all tags are wagging. The prices are a bonus, too. I would recommend these products to anyone looking for good quality food for their furry family members at a very fair price.

Purina One Smartblend. Used the puppy choice until my dog turned 2. My dog seemed to like it. Now I've switched to the non-puppy choices. Tried 3 different flavors and she doesn't eat them unless I mix in canned food.

I use Purina One for my dogs because not only do I want the best for my dogs but I believe it's the best that is available in the grocery stores. It has the best ingredients for your dogs. Fresh chicken, lamb, salmon, bison are some of the meats that are available to you as well as fresh vegetables. My dogs love it and it is good for them too. You don't have to worry about what your pets are eating when you give them Purina One. You can rest assured they have had the best!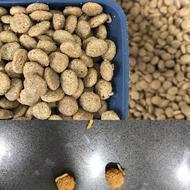 Purchased a large bag of the puppy pro plan dog food from PetSmart and after about a week discovered that it was infested with bugs. Food was stored indoors in an airtight container from time of purchase, so bugs were in there when we bought it. I decided to post in the Purina Facebook page with a photo and then realized that there were many other people posting about the same Issue. Purina has yet to take action and is blaming it on their warehouses.

A few days ago I bought this product from the Family Dollar store. I went back to urge them to pull it from inventory. It made all my cats ill; actually it poisoned them. They went into vomiting spells and have been listless & without appetite since eating it. I bought a high quality Iams kibble for them the next day & they vomited that up. One of my cats acts like she's dying. I mailed Purina right away & have heard nothing from them. I'm weighing a suit. Be advised my country cats do not have fragile constitutions or weak stomachs: they eat venison, pizza & perch-fresh caught from the river. Deli-Cat is dangerous & should be recalled.

I have twice entered the proper codes on the purina pet perks website and both times have failed. Earlier this month (12, 2016) I made a phone call to resolve the issue. What a pain in the butt! Today, 12/28/2016 I tried to enter another code and received the message INVALID CODE, so I called them again and was told the pet perks department was closed until Jan, 3rd. So I will not be able to receive the maximum of 6000 points this month. There is no way I am going to call them every month in an attempt to get my points. Which by the way it will take 10 months of entering codes to get 1 free bag of cat food. It's not worth the effort. I perceive the pet perks program is throwing so many obstacles in the way so as not to make good on the promises of their program. I would encourage you to find another brand of pet food as I am going to do in order to show Purina that they suck.

Purina One Smart Blend Dog Food - My 3 medium size dogs were switched to the Chicken & Rice Formula 3 months ago from a more expensive brand that I had been buying. They seemed to adjust okay until this last bag which I've been purchasing at Walmart. The bag appears to be lighter in weight and noticed large sponge like morsels. My dogs are now refusing it to eat it, I figured maybe they were just not hungry enough so I'd save it for the next go around. Then I noticed that my dogs are not acting as spunky, shaky and having diarrhea. When I called the number listed on the bag and ask if they changed something in the ingredients they denied any change and said that the food is 100% nutritious if they ate it all. After reading all the negative reviews I am definitely getting them off this food.

I purchased a brand new bag of Purina indoor Cat Chow. My cats are strictly indoor pets. Upon feeding my cats the Purina, my old 7 year old cat got diarrhea later in the day and my youngest 1 year old cat began vomiting. After vomiting he became lethargic and tried eating again later in the day, and threw up again. It was then I realized it was the food, Purina made my cats sick. I had to take him in for care and hand force feed him kitty milk with a dropper until he began to eat again. I'm banning All Purina brands. I'm lucky my little cat pulled through his ordeal.

I have had three dogs over the last 10 years on Purina Pro Plan. In all cases, the dogs have enjoyed their food and had healthy lives. Two were eventually put down due to age-related issues. However, the variety seems to have diminished and the availability, at least at PetSmart and Petco. My remaining dog eats canned wet food in the morning and dry in the evening and I had one occasion where I had to use another brand, which he turned his nose up at.

My Maggie was recently diagnosed with Kidney problems and her food was changed to Purina pro plan vet formula. She is doing great with the new food and I'd thriving. The ingredients are geared to her Kidney function and performance. It is a quality dog food and she loves the taste!

Nestlé Purina PetCare Company. The food used to be good. I have only fed my 2 year old Rottweiler Purina proplan sensitive skin and stomach since new born cause that's what the breeder fed and recommended. Never gave him treats or other food because he has always had a sensitive stomach and ANY other food except his main food would give him diarrhea. These last few months my dog slowly started having problems with, horrible gas, bloated, ear aches, shaking of head, hair dry and falling out, sporadic diarrhea, lethargicness, and stiffness. We've been to the vets many times in these last few months. He has been put on many different medications. When I inquired with Purina, their response was, yes the recipe had changed in June but only slightly and should not have had any effect on my dog. Then they offered to send me some coupons for more of their products.
I think they should advise people of ANY changes made to their recipes so the consumer is aware. Knowing would have saved me costly vet bills and medicating my dog unnecessarily. I have switched his food to CANIDAE dry dog food. He is doing SOOO MUCH better!! He is alert, active, playful, hair is coming back, less gassy, (he is still acclimating to new food all at once). It's all good and getting better now. My brother had recommended this food and after doing research it seems to be the best. It's more than I can afford but after the cost with the vet bills, it's worth it.

My dogs love this Purina Pro Plan Weight Control! Their hair is shiny and soft, and it keeps them energized and looking fantastic! They are six years old and they are active and lively and shiny and beautiful! I think it is is the best food we have ever tried, and for sure we will be using it forever!

I know that it is this wet food from Purina that has messed my dog's belly up. We only give it as a rare treat and three weeks ago that's exactly what we did and instantly he had diarrhea and is still three weeks later with very loose bowel movements and whines because his belly isn't well. My next step if it doesn't stop today is a trip to the vet... Thanks Purina! Never again!

This is his third bag of Pro Plan sensitive skin and stomach and he seems to pick at his food. His coat is shinier but that seems to be the only difference I see. I may have to search for something that will agree with him. The food is costly and not helping his stomach or skin issues.

I switched my dogs from Iams to Purina One about eight months ago. After my daughter moved out the dogs started to exhibit some depressed behavior and dandruff like flaking of their skin. Their hair started to fall out and leave big bare spots. I first attributed it to depression, but I soon learned that it could be their dog food so I changed them to Purina One Sensitive Systems and their skin has improved and they both seem happier. No more bare spots.

I have been buying Purina Puppy Chow for my small dogs since 2008. They have small mouths and can't chew the adult dog food. Last night I bought a new bag of dog food and fed my Pomeranian. Today I came home and she is dead. No puncture wounds or blood just a discharge coming from her bottom. She was perfectly fine last night before she ate. I'm heartbroken and my kids will be too. She was healthy and spunky yesterday. I don't understand what's wrong.
Purina Pet Foods Company Profile
Company Name:

Purina Pet Foods

Website:

www.purina.com