Consumer Complaints and Reviews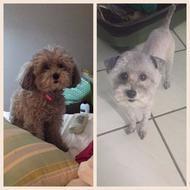 I brought my toy poodle to be groomed to the Lake Park, FL location. I dropped her off and told the woman I did not want her shaved. This was my first time using PetSmart grooming services so I was VERY CLEAR on what I wanted. She said she would have to shave in a couple of places, however when I picked her up she was completely shaved. This does not even look like my dog anymore and I am in tears over this. Her curly coat is something that essentially defined her look. Now it will take months to grow back, and I don't even know if it will grow back normal. Also, she is normally itchy after a groom but this is ridiculous, she has been itching the entire time since she's been home. I will never bring my dog here again or shop here, and will advise others against Petsmart as well. Obviously the groomer decided to put profit over my dog's needs and the customer's direction.

On Black Friday of 2016 I purchased a few things online for PetSmart. On that following Sunday I realized I made an extra order by mistake. When I went to pick it up I spoke to the manager and ask can he remove that one item. The manager ended up cancelling my whole entire order and said I can reorder or just buy it from the store. I refused to do so because that's not what I asked and I had no funds to repurchase since my card was charge. The manager stated I would receive an email about my cancellation order (which I never received). I was also told my money will be credited to me within 3-10 business days. 2 wk past and I didn't receive anything. I spoke to the manager multiple times including customer service and still nothing. I had to wait a whole month to call my bank for them to dispute the fee. Today I am finally receiving the money from PetSmart thanks to my bank.

We bought some dog food from the store and went to return it, however we were told from the manager that because the bag was not 90% full, they would not return it. Immediately we went to our phones to look up the return policy and could not find the 90% full policy anywhere. We have been weaning our puppy into the Blue Buffalo off of the Royal Canin and as soon as she was fully on the Blue Buffalo she started to have bad gas, diarrhea, puking and is scratching. We are not happy about this incorrect information we have had from a MANAGER. We have called the PetSmart Customer Service twice. The first time we were told to call Blue Buffalo, second time we were able to speak to a very helpful lady that let us file a complaint. It is only because of the second lady that I am giving them one star. Not satisfied with management or the customer service they offer.

I took my Goldendoodle for her first grooming at PetSmart because we had been given a gift card. I was on time and actually talked to the groomer who would be taking care of my pet. We talked about what I wanted in the way of the length of her coat... trimmed, so she wouldn't look so shaggy. When I went to pick her up, I didn't recognize her until she ran to greet me. She had been shaved to 1/2" - 1" of her coat. She doesn't look like a goldendoodle at all. Really shocked and very disappointed. I gave 2 stars because they did do a good job on her nails and hygiene. This is a good lesson because wherever I take her the next time, I'll have a photo of what I want.

I got to PetSmart at 8:58 and they closed at 9:00. Even though they were closing soon, the staff was nice and didn't give me dirty looks or make me feel rushed. I took a few minutes to look at the cool animals they had - they had a python and other cool snakes. I also got the kind of wet cat food I was looking for (though I wasn't 100% if it was the exact kind I wanted). The prices are not cheap, though PetSmart has a member club you can join and save each time you shop there. I liked my visit. Also I should mention that the store didn't smell bad despite there being animals there.
How do I know I can trust these reviews about PetSmart?
673,068 reviews on ConsumerAffairs are verified.
We require contact information to ensure our reviewers are real.
We use intelligent software that helps us maintain the integrity of reviews.
Our moderators read all reviews to verify quality and helpfulness.
For more information about reviews on ConsumerAffairs.com please visit our FAQ.

Don't let your children shop alone in the Princeton NJ, PETSMART!! My 14 year old son decided to get his younger brother a tropical fish tank 2 days before Christmas, so his mom left him alone in this PetSmart to make the purchases on his own. My son spent $283 dollars in cash for a 20 gallon fish tank, tank equipment, supplies and 18 tropical fish, all purchased at the same time. No one bothered to tell my son that he needed to set up the tank several days prior to buying the fish so that the water could be treated, filtered and set at the proper temperature with a heater. And with all the money spent he was not sold a tank heater or thermometer, no one at the store bothered to advise him that he needed these items for tropical fish.
Furthermore, no one bothered to tell him that they sell fish starter kits that include a 20 gallon tank, all equipment needed, including a heater, for the total price of $95. When I arrived home 1.5 hours after my son made the purchase, I found him furiously trying to set up all the equipment in the tank, painfully aware that the bagged fish would not survive much longer. He had the tank filled with water and the filter pump running but the water was a thick murky white from the gravel dust. The fish were still sitting in the bags. Anyone with fish tank experience, including pet stores, know new gravel has dust that makes the water murky for a few days and is not suitable for fish. I told my son we needed to return the fish as fast as possible and that since he didn't have a heater or thermometer there was little chance the fish would survive in the murky cold water.
When I returned the fish to the store and asked to speak to the manager she was very apologetic and said it was a new employee that sold my son the $283 worth of stuff. The manager told me it was store policy to advise customers set up new tanks two weeks prior to purchasing the fish and again said it was a new employee who dealt with my son. I told her that the cashier and others at the store should have also noticed a 14 year old buying a ton of new fish tank equipment and bags of fish at the same time. Since the manager was aware of the situation, the manager must have been aware at the time when my 14 year old was in the store and spending $283, against store policy, yet she did nothing!! I guess she was apologetic only because she got caught ripping off a minor!
When I pointed out the $95 fish tank starter kits for sale, she offered no explanation as to why these were not pointed out to my son instead of duping him out of $283. I also found out later that it is against store policy to sell any live animals to unaccompanied minors. A few days later I returned everything my son purchased including the used equipment for a full refund. That was the only good thing about this experience.

The store is clean, well stocked and the employees know the products. PetSmart is the store I go to for all my pets needs. I like the selection of products and the staff is friendly and helpful. I like that I can bring my pet in with me. Anytime I ask a question or ask for a recommendation of a product from the staff, they are quick to help me. Prices are in line with other pet stores. I wish they had more coupons during the year to help with the cost of the products.

The customer service at the Harbison Boulevard store is awesome. They groom my dog. They help me set up my aquarium and they're just really good customer service people. If you want good customer service from the time you entered the door until the time you leave their store this is the store for you to shop.

It's always very easy and affordable to shop here. The staff always are helpful. This store has a wide variety of pet products. I can shop for my dogs, cats, and pond fish. They're always available to answer questions about products. Very well organized. Good prices.

I think they could go down on their prices, they are ridiculously high priced. You pay dollars more than say, Walmart. They sell too many things from China and cost way too much. Not everything, but if you wanted to buy "Busy Bone", they want three dollars and change, when you can get it a buck off anywhere else.

The prices are not that great compared to what you can find online. However the convenience of walking in is great. The store is convenient but some of the prices are a bit higher on some items. We would like a real rewards program at least.

The store deserves these ratings as far as I am concerned. The people there have always been knowledgeable when I asked a question. I have never received bad service at PetSmart and the people have always been friendly and ready to help. If they did not know an answer, they immediately went to get help and find the answer.

I have a local pet store in Dripping Springs, TX that has better prices than this mega store of PetSmart. Ex: their cat litter (Yesterday's News) is $19-21. At my small pet store it is $16.25. It is $14-15 online. They should be ashamed of their prices. And often they are out of stock for what you came in for.

Petsmart is a good store in the fact that you can get Hill's Prescription diet dog foods there. Sometimes it's not the exact one my dog needs, I have to call each time ahead. The price is no different than a vet office though.

The store offers a very nice selection of items and their prices are pretty reasonable. They have several locations and you can order online also. They also have good sales and it's nice to get a coupon for a free item every now and then. They offer grooming services and training classes for your fur baby as well as a clinic and pet hotel at some locations.

Variety of cat litter and great sale prices. Also, they always help me to my car. PetSmart has a great variety of cat items. I wish they had VEGAN cat food, but that may be asking too much. Because of that, I only purchase my cat litter there, but I ONLY buy it there because they send me email sales. I can order and pay online and just pick it up.

Everyone is knowledgeable, but sometimes I cannot get the food I want, and the quality of the toys is not top rate. The store is convenient to reach, the clerks for the most part are very helpful and try to explain anything I ask. I love dogs and enjoy watching the ones in the day-care center play. I can no longer get the cans of Hill's Science Diet that my dog likes, but as I understand it, Hill's is now supplying it to big box stores instead of pet stores.

Whether or not the staff knows what they're doing is hit or miss. I've dealt with staff members who were fully knowledgeable and some who had no idea what they were doing. This store is close to home, which is why I frequent it over other pet stores. They have enough of a selection for our turtle and fish to get everything we need. The staff is usually helpful, but we've had a few negative experiences when we couldn't find someone to help who knew anything about turtles. Overall, though, this is still our go-to store.

The staff is courteous, helpful and knowledgeable, but the prices are continually rising and I only shop here when the regular discount stores are out of stock. There are weekend sales all the time, but the prices go up shortly afterward to compensate for the loss, e.g., treats that were $1.97 before the sale price of $1.89 rose to $2.09 after the sale. Their online prices are generally lower, but ordering for store pickup is a joke. An order placed in the morning is promised to be ready within 2-3 hours, but often, it is not ready until after I call the following day. It is not unusual for one particular store to have "lost" the order, or claim not to have rec'd it even though Customer Service HQ says they have the notification that the order was placed and/or picked. I suspect that store just does not want to honor the lower online price.

Their stock is good with many different options. I have had a few questions about different foods but the staff didn't seem to know much about their products. The staff is good however I don't believe they have any background education in pet food and nutrition. Staff that I have asked questions are friendly but not product knowledgeable.

Love this store. They have everything you need for pets. Great choices. The store is very clean. Organization is great, staff very helpful, products of all kinds to choose from. High price and low prices. They have for all pets something you will need. Animals welcome in with shoppers. Great store.

I like the employees, however there is a problem with their online ad and store ad. You see something on sale online and go in store and then either they don't have it or don't know anything about advertised items. The pricing on pet food is a little high and some brands are not in store.

The staff doesn't know basic information and the so call grooming shop injured my friend's dog! In addition the store always smells of dog urine and it looks dirty! I do not like Petsmart. No one seems to have basic knowledge of dogs or cats. In addition, I've waited in line for over 20 minutes on Saturday afternoon -- only one register was open. I almost left! The store stinks and is dirty! I stopped at Petsmart for these very reasons.

I typically shop between both PetSmart & Petco as each carry different brands and products. PetSmart's Authority line of dog food has been a hit with my finicky eater senior dog. One key difference with Petco is that they seem to carry more diverse lines (other than GNC products) for canine health and wellness products -- e.g., vitamins, digestive aids, etc. -- so I more rely on them for those products. PetSmart is reliable and consistent, and the Authority line of dog food has proven to be a winner -- according to my dog! A potential area for growth might be to consider the health & wellness products currently provided -- perhaps expanding brands, but also with an eye toward the needs of senior dogs.

They recommended food and vitamins specific to my cat's health situation and Aisha was very knowledgeable and had a lot of insight in regards to the ingredients and benefits of each brand of food. Everyone is friendly and always asking if I need assistance. They saw that my hands were full and brought me a shopping cart.

Brought my Welsh Terrier in to be groomed. They said they had experience and would fit her in. When I went back to get her they said they could not finish her face to take her somewhere else that had experience. They DID NOT FINISH HER. I am very unhappy and they still made me pay full price. They are open until 7:00 and it was close to 7 when they told me they could not finish her face to take her somewhere else that had experience. I'm not stupid. They wanted to go home. Very very unhappy. Also there were two bad lumps of hair on her tail and I had to tell them to at least trim those. I am a member of a Welsh Terrier with 1,000's of members and trust me I will tell them all about it. I will so post this on Facebook.

Placed order online for store pick up at 3 different stores on friday afternoon. Don't receive order confirmation and ready for pickup email til next day saturday. Was busy so waited til sunday then on sunday morning receive email that orders were picked up and completed. Called to verify order at store. Was told it is still there. Told them to just cancel all orders. Was told to just wait til past 5 days and will cancel itself cause for some reason seems like she didnt want to do it. Told her it says complete and picked up on my online account. She says thats what it says when ready.
So I wait 7 days. No cancel email or refund. Call store. They claim was returned on friday already but wheres my credit back, they tell me to call 800 number so I do. They are also confuse cause on their end it says I picked up already so I tell them that the store tells me its return on that end. So I tell csr to call and verify with store so they do but still confuse cause it says differently at both. I say "just give me my money back". Csr tells me I have to go to store cause she cant do anything. Waste of my time. Complete runaround. Lots of issue with online system and I'm still out money. Wont ever shop here again. Service and system is horrible. Everything is all screwed up.

I placed an online order on 11/24/16 containing 3 items: Dog Crate, and 2 packs of dog treats. Order came in a very large box, as I expected, since I had ordered a large dog crate. Upon opening the box I find tons of bubble wrap and at the bottom of the bubble wrap: 1 box of Dentastix, nothing else. According to the packing ship, all 3 items were to be included. I contacted customer service, who apologized and said the missing items would be sent. It is now 12/9 and those items have still not arrived. My online tracking states the order is completed and has been shipped, but an email from customer service states that they are delayed and it will be shipped in the next 4 days( Meaning I still will not receive it for at least 7-10 days). This was the first time I placed an online order with PetSmart, and my last. I have never encountered such a problem with online shopping.

I had made reservations for my Fur Baby at PETSMART PET HOTEL Orchard Park NY and went on vacation as I have done in the past and never had a problem. Well none that I might have know about. But my Fur Baby wasn't able to tell me if there was. But this time he was in their kennel from November 26th 2016 and it was his final time there. I had my daughter take him to the hotel where he was to stay and he was scheduled to stay for 8 days.
While I was on a cruise and 3 days into my vacation I was called by my daughters that my Fur Baby was no longer welcomed at the pet hotel where he has stayed numerous times before not because he was a vicious Fur Baby but because all of a sudden of the pet hotel concrete floors. Where they said he can't walk on and slipped but are not saying whether he hurt himself from slipping on the floor. I know my Fur Baby was always prancing and walking around after he stretched because he was given to me by the Grace of God 17 years ago. But the day he was picked up from the hotel they had to carry him to the car. He couldn't even walk out of the hotel and had to be taken to a vet and had to be destroyed. The day the PetSmart Pet Hotel called to have him picked up was the last day my fur baby took his final breath because he couldn't walk anymore!!!
I just got off the phone being I just got home from being on the vacation from hell not because of the vacation but being notified that my Fur Baby was going to have to be put down and his Dad couldn't be there for him as he was there for me for many years. They won't even let you see what they say are the videos of his final days under their care which I'm sure were not running if they had. The real sad thing about this is and beware the call might happen to you and when you can't get to your Fur baby child because you're on the other side of the world it will be crushing and leave you with this big empty hole in your heart.

While looking at the dogs to adopt with my son who had lost his dog that night to old age (18) I asked about a couple of smaller dogs. The lady there asked what kind of fence I had. I told her it was chain link. She said "nope thats like a ladder for the dogs." I asked about another one and she said that it was being held for someone else to look at, and that was for all the rest of the dogs as well. Why have dogs there that are for adoption if you dont want to adopt them out to good, long term homes. I will NEVER shop at another PetSmart ever. My son was so devastated.
Company Name:

PetSmart

Website:

http://www.petsmart.com/