Consumer Complaints and Reviews

When asking "where to go for daycare I got where definitely where not to go" and that would be PetSmart in Lincoln, NE (Pine Lake). This was by more than one person. Real concerns with the "Hotel and Daycare" manager not having ANY animal experience. Tension can be felt by employees and dogs alike; employees are not watching the dogs in daycare and some dogs are being "bothered" by other dogs, which is a big time no-no. If dogs don't "behave" they are not given water and put into a too small cage. They won't have water the rest of the day. Some employees appear to have the same mentality as this manager. Some dogs have been slapped or kicked when they do something "wrong". I write this because this information came from people I feel are truly concerned but unable to speak out. The next time your dog doesn't want to stay somewhere it may be more than they are missing you.

I read recently of an alarming number of reports of pets dying at PetSmart during a grooming. My beagle died at PetSmart in Devon, PA, which closed recently. This happened in 2008 and we did nothing to pursue it. I dropped him off for a bath and half an hour later received a call to come quickly. By the time I got there he wasn't there. The groomer had taken him to my vet who was less than a mile away. When I arrived at the vet he let me know that Bailey had died. Supposedly he had just dropped dead but I was suspicious that he had fallen from the table while tied by the neck. We were too distraught to pursue it or try to find out what might have happened. Obviously I should have!

Placed an order at 9 AM for food that was in stock at Huntington NY store location for pick up. By 3 PM am still waiting for email from store that order is ready to be picked up. Called customer service and after half hour of holding am told that the order cannot be cancelled. Doesn't make sense that if food was in stock why it takes more than five hours to be picked up and that customer service cannot cancel. Horrible customer service and online ordering experience.

Safety and the welfare of pets completely disregarded at this store. I am appalled, disgusted and concerned that an employee was spraying cleaner and leaving it sit while cats were present! This is unhealthy and certainly a safety concern because these cats are inhaling these fumes confined in a small area!! I can't believe a manager/supervisor would permit these practices unless this is an approved standard of practice with PetSmart, which is unacceptable!! This is cruel, abusive and inhumane!! How many pets have to die because your employees are not properly trained or grossly unsupervised???

The employees at PetSmart are always very nice, but unfortunately the PetSmart on E Independence in Charlotte NC, has sold me 3 beta fish with an ick disease parasite and I've returned fish and got more with this disease after I spent $160 on fish, tanks, decorations, food etc. And then I just had to spend another $40 to try and save the fish that our 9 m old and 7-year-old are in love with. I think PetSmart needs to treat their fish for parasite and diseases. I think they should look over the animals when people buy them to make sure nothing is wrong with them, as to some of us would not know if they are sick. When checking out the cashier should be able to look at the fish or the lady putting the fish in a bag should be able to say this fish is sick and the treatment for the sick fish they sold should be free.
The lady at the checkout told me that you only feed beta fish once a day every other day only 2-3 pellets which is wrong. You can feed them every day or twice a day but no more than 2-3 pellets. They also are tropical fish and need heaters to kill this parasite and keep the tanks warm, and very clean etc. That dirty tank water or left over food can lead to tail rot, which the lady helping me buy everything for these fish never even mentioned. I think that PetSmart needs to print off a what you need list for every animal they sell and give the people buying animals the list to make sure they have everything since the employees do not know what is needed. Since the employees do not know anything about the animals.
After returning a beta fish with this ick she told me it was not contagious which it is highly contagious. She told me that I didn't have to change the tank water since I bought the fish the day before not even (48 hours), that I could just add the new beta in the split beta tank and now both betas have this ick disease. Which is white spots all over the fish and tail and becomes itchy to them and they slowly die and stop eating, can't breathe, lay on the bottom of the tank and have to keep going up for air. I think that all of this could have been prevented if the lady in the fish department knew about this disease in the beta fish they are selling and the treatment, the fish could have been saved. I'm $200 into just wanting beta fish for my two daughters to be able to have to look at, instead this has been a headache and loss.
How do I know I can trust these reviews about PetSmart?
633,951 reviews on ConsumerAffairs are verified.
We require contact information to ensure our reviewers are real.
We use intelligent software that helps us maintain the integrity of reviews.
Our moderators read all reviews to verify quality and helpfulness.
For more information about reviews on ConsumerAffairs.com please visit our FAQ.

Beware when shopping at any Petsmart in Scottsdale or any other nicer area in Phoenix. The prices are a ripoff across the board much higher than online and Petco. Do your homework and compare prices. They will price match and you will save 15-30% every time but only if you tell them. Then check your receipt because they somehow "forget" to price match each item. A 25 lb. bag of dog food was 18.00 cheaper online. It's quite time consuming but the savings over the lifetime of your dog is enormous.

I always bring my dog here for grooming. We have a 1230 schedule and just because they messed up with paperwork and phone numbers, it took them almost an hour to fix things, then they have the audacity to tell me that because it was late already I have to wait longer than 3-4 hours. Like no apology... so I told them that we were there on time but because they couldn't find the record, took us longer and that they caused the delay... and this person said, "yes that's why I'm telling you that it would take longer." WTF!!! Because of that, did they know that I almost missed to pick up my son from pre-school at 1p? NO CUSTOMER SERVICE, NO ADMITTING THEIR FAULT, NO CONSIDERATION!!!

I'm a PetSmart customer since 2005, I have brought Coco to the groomer around every 3 months to get his hair cut, teeth cleaned, & nails done, in the beginning he got everything done nice. I was really happy, this last year hasn't been that way. He has gotten one of his nails caught in your pet cage & had to be removed, then there's been times his hair wasn't cut complete, then he started to get nicks when he came in, it got where they were really rough with him so he snapped at them, which he never did before, when he got nicked it would heal then next haircut it got recut. It got bigger, this week I had to take him to the hospital. Those nicks become a cyst so had to do surgery, by the time they were done, my bill was $349.16.
My complaint is they are way too busy putting too many appointments in one day & working too fast to catch up & not giving good care to our pets, they are family & we don't want them hurt. My pet has never bitten anyone grooming him until just lately, I'm 74 years old & a widow on limited income, this not only hurt my furry friend but my pocketbook.
Please talk to the workers in PetSmart in Casa Grande, AZ about this, I'm going somewhere else to have him groomed. Concerned Mrs. **, **, at P.O. Box **, AZ City, AZ. This last year he has been cut & nicked then it would heal then next haircut they would nick same one again, this week I had to take him to the hospital. It built up & become a cyst, $349.00 later. I have misplaced my last receipt. My name is Georgeann **. Please check this out so others don't go there this, we love our furry friends.

I have been bringing my GD dog for grooming many times to this PetSmart store #0601, 923 N Westhill BLVD, WI. Usually I always used one of stylist who always doing her job very good. This time because she was not available that week, so I tried the other stylist. Her name is **. I asked her if she is stylist & able to work with GD, she said yes. So I brought my GD there yet when I came to the store the stylist was not her but other girl that she referred to without telling me first. Ok, she told she should finished groomed my dog about 3/4 hours.. So when I came to pick him up... OMG... I was very disappointed half his body being groomed, half was not: his tail was very pretty & when I saw him half of his tail being trimmed very short through his skin, half was not.
Behind his ear she shaved very short, the other body hair was not... It was completely disaster: it was look like this was a joke. It look like she tried to make my expensive dog as training time for her skill to groom a GD. If you are not capable to groom a GD you should say so & don't even call yourself a stylist: & I still have to pay the bill for $108.15. Whoever responsible for this store I want my money back & if you go to this store do not go by the stylist I mention above. My visit was on Monday 10/24/16.

So I wanted to train my dog with a collar so I went in and I seen that their training collars are 169-189$. So I wanted to check if I'm getting my money worth and boom! 189$ product was going for $19.98 on amazon plus shipping 23.98$. I used to bring my dog here for grooming. ** that never again.

2 weeks ago on State Ave PetSmart I adopted 2 cats cause I already adopted 1 cat 2 month before and so pleased. I had to go back and offer a home to another homeless cat so I winded up only keeping one. The other had 2 personality. He slept with me, laid in my lap and talked all the time! So only after 24 hrs I was in between shifts. Come home real quick. I attempted to get the cat off the bed. He wrapped his body around me, started biting and scratching me! It took me a minute to realize what was happening and as quick it happened it was over! I was in so much pain but I had to go back to work so I washed off the blood but no way to cover all the scratches and bite marks. Wearing a uniform so I had to go to work with all the wounds exposed.
By the end of the night my hand started to swell and it was getting hard to use. I got home. Went to bed with a ice pack on my hand. Didn't help by morning. I couldn't even use my hand. Went to the ER. Was prescribed antibiotics. Had to call in to work that evening. The cat was laying next to my husband. He attacked and bit him so we take the cat back. The employee said "I got to get my manager." I showed her what he did to me and my husband she was really rude! And she said we signed paperwork, nothing we can do, and we can never adopt from them again for returning the cat. No apology or empathy.
The worse part I tried to go to work the next day. My hand was completely unusable! Still swollen went back to the doctor to only get more antibiotics and be admitted to the hospital the next day and had surgery on my hand cause pus was going all the way to the bone where I started losing feeling and the pus had started another path which the doctor told me it was leading to a major blood vessels. If or I not gone to the doctor when I did I been dead probably Sun. or Mon. They did emergency surgery to stop the pus cause as the doctor said it had a straight line to a major blood vessel. Spent 3 days in the hospital. Also had to work with a physical therapist to get movement back in my hand on IV cause the antibiotics I was taking at home was resistance to them.
I missed work for 4 days due to their cat. I only wanted to help. Got no apology just basically told I won't get my money back plus basically not welcome back in their store! Thanks PetSmart! I almost died due to one your cats. Then on my way to being admitted to the hospital my husband wanted to stop there to tell them what was happening cause nobody ever even apologize to us. Guess what? I seen the same cat that almost killed me back on display for some unfortunate clueless family to adopt him! PetSmart don't have to worry. We both agreed we will NEVER EVER shop or adopt there again!
They are very insensitive and don't care about the customers just making money. That's why to me I brought paperwork showing I was being treated for animal bites and just a slap in the face the cat is up for adoption again. Who cares the cat bit you? Your hand swollen up to where you couldn't use it. Missed 4 days of work. Almost died if I didn't go to the hospital when I did had to take physical therapy to regain use of my hand and have emergency surgery. We just care bout ourselves and making money! I am a manager of a business. I would never dare treat our customers that way! I would be FIRED! Bad business. Beware of adopting animals from PETSMART!

My daughter took our dog to have nails cut. Spanish employee was very rude. It's not the first time customers had a problem with her attitude. Someone need to put her in check. Customers are not coming back to the Brooklyn location on atlantic ave because of her. Customers don't feel comfortable around her.

I went into PetSmart with 2 kittens that couldn't have been more than several weeks old max looking for someone that could help find a rescue on a Sunday to take them as I didn't have the time or materials to care for them. The girl said "let me call my manager." Well a manager and a worker came over. The worker was nice enough to handle my dog while we figured something out. Well the manager stated because they weren't NEUTERED or had the shots we had to leave. If all the other animals had their vaccines why would this matter? We came in for information not to shop. They weren't touching anything but their box and were cover along with that.
She also stated they couldn't live in the box. They can't even walk yet and the box was only to carry them in. Well long story short we found someone to take them but the manager was absolutely rude about the situation. This isn't the first time either. She pretty much blamed me for my dog's seizures and vomiting blood and later death. We couldn't save her. They talk behind your back (I've heard it.) Let's just say I'm not pleased and will go out of my way to avoid that store.

I took my two dogs on Saturday to PetSmart for grooming for the first time there, unfortunately the place I usually take them did not have availability and my dogs were in need for it, especially my shih tzu. He had a bad experience in the past where he got cut and since then he is nervous around groomers. Yesterday even though they charge the double of the place where I usually go, I decided to go since they supposed to be one of the best in the business. The lady who will work with my shih tzu touched him and said he was matted, I said yes he is but I did not know they would not be able to handle him properly.
First I called them late since they did not call me, they said it would be about 3 hours since it was Saturday. When more than 3 hours passed I decided to call and they told me they left me a message long ago, I never got it. When I arrived to the store, the lady showed me the number they had it was the wrong number. After I went and paid and when I got home I notice my shih tzu was uncomfortable. I understand since the hair was done very short. Lately that day he started having a dry cough and he was feverish, he did not sleep all night and neither did I, plus they gave me a "pawgress report" using the word HORRIBLE to describe my dog.
It is not nice that they charge so much and cannot handle an animal properly, the lady had bad attitude and seems careless to me. Now I will observe him and hope he does not need to go to the vet, which if the case they should pay for it. Also his skin under the neck is super irritated. They should tell clients what to do when this happens not what will happen. They are good at cover their backs good, making you sign lots of papers. For sure never will go back.

Horrible corporate office experience. I was hired as stocker 10 years ago. I told the manager I had to quit. My mother took a bad turn health wise. Not even a week was I there. Instead of empathy for my situation he put god knows what on my application so I could never be hired again by PetSmart. I never knew this. I'm a groomer now. I have had 3 store manager want to hire me. They can't find qualified help but they can't correct what the manager did 10 years ago. I called the corporate office. They bounced me to human resources. They said we don't handle that then I was told the problem was corrected just to find out it wasn't. HORRIBLE, HORRIBLE, cold, cold people. No sympathy for my situation. I guess they don't like people who want to work for their store. Thanks a lot.

I recently had my Maltese groomed at PetSmart in Amsterdam, NY by Margaret a groomer. I had left her with a note to ONLY GIVE MY DOG A BATH, TRIM NAILS and DRY her. She took it upon herself to cut her hair... she butchered her to a unrecognizable state... She is shaved raw in the back leg area, all of her hair on her ears are cut and blotches of shaved areas throughout. I was outraged to say the least. The manager on duty that night would not refund me 35.00. She told me I would have to see the store manager in the morning. I did not want to make a scene and I was so upset about my dog I agreed to come back in the morning. I arrived the next day and was greeted by three managers who claimed, "You signed the agreement form and there is nothing we can do for you." You "MUST" sign the agreement form which releases any liability to PetSmart if anything were to happen to your pet while in their care. SERIOUSLY!!!
Once again I only signed for a "bath". Their policy also states "100% satisfaction or your money back". I disagreed with their answer and asked for a District Manager or Supervisor. They replied "Good luck. They will tell you the same thing" because you signed the form. Furthermore, "unfortunately you are not allowed in our store again due to the disagreement with our policy." I have been taking my dogs to this Amsterdam PetSmart for four years and clearly spend a considerable amount of money... I am appalled at the service that I received. There are no words to explain.
I would like to reach out to the Michael J Massey, the CEO of the company. I would love for him to first and foremost see what my dog looks like now after this "haircut" that I DID NOT ASK FOR. I would like him to see the note that I gave to the groomer requesting "no" haircut, just a bath (they made a copy of it at the store), then I would ask him to go back to develop, teach and train his staff in the field of customer service. PetSmart is in the "service" industry and "retail" industry... Customer service is about bringing customers back not asking them not to return. UNBELIEVABLE!!!

I purchased something didn't want. Took back to store where I picked the item up. They said I had to contact cs to get refund. Contacted customer service. They stated they had no way to credit back to paypal for them to credit my debit card but go back to the store and get a damn store credit. I wanted my money back. Don't use paypal with this co. Too stupid to know how to refund paypal, however I think this is just a damn ploy to get your money!!!

I recently bought the Deluxe Cat Playground. This product's PetSmart SKU # is 5526822. This product was missing the very top piece that is shown on the instructions as the top perching piece. I didn't notice this until I had assembled the entire playground which includes 16 pieces. I called PetSmart's corporate office, and they told me there was nothing they could do and to take apart the product and return the entire thing. This weighs quite a bit and the product is 63 inches tall, 19 in wide, 28 inches in length. This will be a pain to return. I will be returning the product and buying another product from elsewhere. I'm sure the store employees will greatly appreciate the return as much as I do. I will also write missing a piece on the box.

If I could give them a minus Star I would. I have waited almost three months to write this review. I was extremely upset with PetSmart Hotel, therefore I wanted to wait until things had calmed down and I was in more of a rational state of mind, so that I wouldn't exaggerate, but only tell the facts. Every Monday I take my 5 pound Toy Poodle, Wyatt, to the Doggie Day Care in PetSmart on Germann in Chandler. Wyatt is 30 months old now and I've been taking him there ever since he was approximately 6 months old. I liked the idea that he could socialize with other dogs, because I live in an apartment where socialization is rare.
I find Mike ** the manager, extremely caring and very watchful. He knows all his weekly dogs and their personalities. He cares for Wyatt like he is his own and I feel perfectly secure in leaving Wyatt among a variety of breeds and various types and sizes of dogs. Mike has a keen eye to watch your pet to keep him safe. There has never been one unhappy occurrence since I began taking Wyatt there.
On June 14th, 20016, I needed to board Wyatt, so of course PetSmart Hotel came to mind, mainly because Wyatt has had such good play times at the other PetSmart. Unfortunately, where I take him on Mondays did not have a hotel, so I had to take him to the PetSmart on Elliott in Tempe. That is where the decision I made turned into a nightmare and I will forever regret it.
Two days later, on my way to pick up Wyatt, I received a call from a person at the hotel to tell me my dog had been attacked by a very large dog and I needed to come immediately and get him. Right after that call the Vet from that PetSmart called to say Wyatt was hurt pretty bad and get here as quick as I can. When I arrived at the store, a girl at the Hotel, said, "Wyatt is hurt bad, and he is in the back of the store at the Vet's." When I asked them what had happened they told me the bare basics and nothing more. When I asked them to prepare me a telephone number of the owner of the other dog, they would not comply. They just told me "Go get your dog because he has to go to an emergency 24/7 hospital."
I rushed back to the vet to find my little 5 lb dog swollen like a baby pig. The large dog had punctured his trachea and air had escaped between his muscles and skin. So it caused him to swell and his body was huge compared to his head. I was so frightened and the Vet said there is nothing he can do because they don't do surgeries there or have a 24/7 hospital. I was in a state of anger, and frustration and only wanting to get my dog to a hospital, but I had no idea where an ER was for animals.
As I got back to the front of the store, I was upset and asked who would was going to pay for this, because I didn't have the $2000 that it ultimately cost for the ER doctors to help him, yet I knew I needed to hurry. The manager of the Hotel, said "Tell them to call me and PetSmart will have to pay." She said "Don't worry, we are going to investigate this and get back with you ASAP." I left immediately with Wyatt yelping and in pain. I had no one to assist me and I had to drive to a hospital I had never been to before, holding Wyatt, while I was trying to soothe him and drive safely.
The emergency hospital asked me if I would want to sign a DNR, as most dogs who are hurt badly, don't come out of it anyway if they have to resuscitate. (sp) They had to shave him to find all the puncture wounds and he was put in an Oxygen container to help him breathe. I was heartbroken and angry that no one paid attention to my dog at the hotel where I was paying them to give him good care and be attentive to him.
Two weeks later, finally someone from the PetSmart hotel called to inquire how Wyatt was. He could have been dead by then. But he wasn't and they told me the "investigation" was still ongoing. A group of liars. I still have no answers to what exactly happened. It took Wyatt many weeks to get his nerve back to socializing with other dogs and people. If you love your pet do not board him with people who don't watch them or care about them. This is a horrible place. The next attack could be on your dog.

We have taken our 8 month old lab to the Lynnwood location about 5 times and each time we have left there saying we will not go back. Tonight was the last time. My husband took our dog to get her nails done and was told that we can't bring her back because she peed too many times while they were doing her nails. She hates going there and she is so scared and nervous that her peeing on the floor is to be expected. I thought that PetSmart was a pet friendly place but after our experience tonight we know that isn't true. We will be telling all of our friends and family and anyone that will listen not to bring their loved pets to PetSmart. We will be giving our money to someone who actually loves animals and understands them. PetSmart is a terrible place to bring your pet.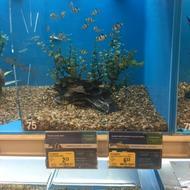 I went to PetSmart today only to get my son excited to get a new fish friend for his tank. We left sadly disappointed along with another couple who had no knowledge of their misleading fish policy. The PetSmart employee and her manager told me that their store policy is if the fish grows up to (no the size of the fish now) but if the fish you have at home grows up to 3 inches, that one single fish should have 1 gallon to itself. Therefore if I have a 5 gallon tank at home with three fish that could possibly grow up to 3 inches my fish tank is overcrowded, and they refuse to sell any fish to me.
I don't have an issue with the policy but if you are going to be in business of false advertising and fish cruelty (as they would call it) you should have that specific policy posted so everyone is aware and probably follow the same standard you set for fish owners. You are false advertising with 35-40 fish that can grow up to 3 inches EACH in a 10 gallon (max) fish tank in the store. My fish are not 3 inches long but you're telling me you refuse to sell me one single fish because I already have a half a fish over the limit, then you should be displaying your 40 fish in a 120 gallon tank, NO? I mean that's their store policy and they don't even follow it. When I asked the manager why they don't follow their own policy, she told me, "Well this is a show tank."
I'm sorry but the show tank has been there for 15+ years and correct me if I'm wrong but I'm pretty sure you have more than 3 fish in there at all times, hell there is 40 in there now. Even though they say it is a temporary home until someone buys them doesn't mean overcrowd them. There is no telling how long those fish will be in there. You wouldn't put 5 cats in one carrier to get them all home would you or put them on a plane like that? I told her she was breaking her own policy and she didn't seem to think so because it was a show tank.
The fish are still living every day in an extremely overcrowded tank, it's 11-13 times what they allow you to have at home. I'm just saying if you are going to have a policy and you refuse to sell then you should display as such and also follow the policy you hold your customers to as well. Do not make it appear these animals can live 40 to a tank when they are only supposed to be 3 in there. I will never buy anything from this store.

BEWARE: If you called PetSmart to set up an appointment to get your dog a grooming days before and that appointment was set for 12:30. You expect your dog to get that service on that time and continuously till he's done. Surprisingly soon after they had my dog and I asked when possibly is the pick up time, I was then told that they have another customer who paid extra for their dog to be taken care of at 1:30. So that gives my dog only an hour to be taken care of. I was told that they will do what they can only do to him within that time frame, stop, put him back in the cage and have my dog wait till they are done working on their 1:30 customer. So basically, put my dog in fear (because he hates getting haircut), stop and give him the relief thinking it's over only to be taken back to continue whatever it is that they have to do.
WHAT KIND OF SERVICE IS THAT??? I've had them groom my dog many times in the past and I never knew this is how they work. All I am trying to imply is when we called and you had that 1:30 appointment with another dog already, then don't bring up the 12:30 appointment since you can't continuously groom my dog OR if that other customer called later, then explain to them that you can't do 1:30 because you will be working on my dog. I mean seriously just because they paid extra, we stand nothing to all of you??? I refused to accept this kind of service and this will be the last time I'm taking my dog to your grooming services. Of course, I will have my friends & family who have furbabies know about this so they can be aware too.

Absolutely terrible store. The highlight of our visit to the store was the man that greeted us as we walked in and showed us where the grooming area was. ALL DOWNHILL FROM THERE. We recently moved to the area and have frequented many PetSmarts prior to this. We needed to get our dog's nails trimmed, and told the young lady this when we went into the salon.
The first thing out of her mouth after giving her the phone # associated with our account was, "We're muzzling today?" Now, our dog has NEVER been muzzled for absolutely ANY reason. She is not, and was not, in any way behaving aggressively in any version of the term. I looked at her and said that no, of course not and that was NOT happening. She THEN asks if we have her vaccination records with us. (We did... and we have NEVER been asked for them at any other PetSmart or other pet store, but it's totally fine.) We gave them to her, and after she spent 4 minutes looking them over, I had to point out where it plainly showed her vaccination date for rabies.
The young woman then looks at me and says, "What's your problem with muzzling anyway?", and I told her that as we have never had any sort of issues with our dog and her behavior AND her vaccines are up to date that I had no idea why she would ever even suggest it. She then rolled her eyes and turned to a customer that had just walked in and ignored us. I wanted to leave at this point, but did not.
She finally took our dog back and quickly clipped her nails. Zero interaction with her and no gentle touch. Our dog's nails are split and broken off, and the salon was absolutely filthy. HUGE clumps of hair everywhere and dirt ALL OVER THE FLOOR. I regret letting the service even happen, and most certainly will NEVER RETURN. Grossed out. Thank goodness our dog is fine.

My 3 year old Golden Retriever was recently groomed at PetSmart. Although the groomer was very friendly and seemed to care about 'Harley" I will never take him back there again. He looks like he was attacked by a three year old with a toy scissor, but worse than that, this poor dog has been insanely scratching himself, and his skin is red and raw. I had to call the vet, and am giving him Benadryl to alleviate his itch. He is so uncomfortable. On top of it, the cost of grooming was $120.00, plus I gave a generous tip. Again, he looks like a three year old played hairdresser with him. Do NOT bring your pets there for grooming. They will suffer for days due to the products they use. This was the North Haven, CT store.

I've shopped at PetSmart 10 times in the past year and all 10 times, many of my items that are on sale ring up at full price. I've also had cashiers ring items multiple times and overcharge me. This seems to be a scam. Recently, a bag of bacon strips were on sale for $7.77, down from $12.99. I got in an empty line, and when the cashier rang the bag of strips, it came up as $9.99. When I debated the price, she said I was wrong and was holding up a now 6 person deep line. She claimed she was the only cashier for the night (it was 6 pm on a weekday). I ignored the grumbling crowd and told them it was my right not to be overcharged as I ran over to the display (which was right next to the cash register), turned the box so she could see the stack of bacon strip bags, and pulled the sale sticker for her.
She immediately apologized and stated I was right about the price. I've been overcharged now by $78 between all of the sale price mishaps. I've complained to multiple managers who glare at me with an accusatory stare. Absolutely ridiculous! This has all happened at the PetSmart in Westminster and Superior, Colorado. I was also very disturbed on a recent visit when a cashier told me a dog was killed earlier that day because it got loose from its owner, ran through the automatic door, and got hit by a truck in the parking lot. I hope the owner sued! Get it together, PetSmart!! I'll shop at T.J. Maxx for my pet needs instead... way cheaper for the same exact items!

Be willing to spend half a day for a grooming on a dog. This is just a trim. Called and set a appointment for 5 pm. Showed up only customer. Told it would be 3 to 4 hours. I can get a operation on an animal in this amount of time. How could it possibly take 3 hours to trim a dog???

We had our lab @ golden retriever mix for grooming at PetSmart in Charlottesville Va twice. We tried to book another appointment and I was told that they couldn't groom him because he wouldn't stand up at the near end of grooming. They said he was too big for grooming. He is a 4 year old big sissy and we call him Gentle Ben and I have never ever heard him growl. They did it before with no complaints. I'm very disappointed by this outcome. What can you do to help us?

I've wanted to buy just the right, pretty collar for my Berner. I've had my eye on it but it was more expensive, I believe, because it was a Bret Michaels collar. Yesterday I found the collar (there were 2 of them) and 2 matching leashes on a CLEARANCE rack. Yeah! No clearance price was listed, or percentage off, but I was just happy it was going to be a little cheaper. I got to the cash register and the girl rang up the collar and I also got the matching leash. Both were ringing up at full cost. I told her, "Those are on a clearance rack." She quickly called over her manager. He told me if they were on a clearance rack it was probably put there by mistake. I told him it's not the only set, that there is another one there also. He took them and went to check. He came back and told me, "That is the price on them, they're just on the clearance rack to get rid of them."
I told him, "No, that's the original price" - that they're ringing up. He said, "Yes. That's the price. They aren't on sale, just on 'clearance'." I told him clearance means a sale. He said, "No, they just want to get them out of the store so they are on 'clearance'." I asked him, "So you aren't lowering the cost?" He said, "No." I told him that is NOT cool! NOT COOL!! I had to pay full price for clearance items because I had waited so long for a sale and didn't know if I'd be able to get them elsewhere! I REALLY don't like that manager or store anymore in Shadow Lake shopping center in Papillion, Nebraska!!!

On Tuesday August 16, 2016 at 3:00 pm I was in the Bradley, IL Petsmart. I was by the grooming window and noticed a groomer. She had long dark hair in a ponytail and glasses, roughly grooming a small dog. I believe the dog was a Shih Tzu. She was brushing the ear and extremely rough and pulling on the dog's head. I continued to browse at the dog beds and noticed something very disturbing. She was jerking the dog around and yelling at the dog. It was quick, but I know what I saw. I can only assume she thought that no one was around.
I immediately went to the window and shouted to her. Her behavior was unacceptable. I then found a manager, Jeff. Told him what I saw. He went to talk to her. I watched. They then started laughing and talking and he started sweeping the floor. He presumably did not want to come back out. I then found a nice female manager who directed me to the actual grooming manager, Alyssa. I told her what I saw and she told me sometimes it seems different from the outside. I then told her I could not shop there. This was so disturbing. I left and have no idea what happened from there. The poor dog. Please spread the word and NEVER go to their grooming department!!!

I know this is not as serious as some of the other comments I have read but I want to warn customers when shopping at PetSmart that when you check out and they offer you their "FREE" puppy guide filled with coupons don't take it... It does say on it 19.99 but when you are told it's free you expect just that but instead what they do is offer you the book for free use some of the coupons inside (obviously because they looked in my cart before offering it) and then say with the coupons coming off that's how it ends up being free and that it's filled with over 200.00 dollars in coupons (most useless to me) and they charge you for the book.
Just be warned when they say free. Make sure it's just that "FREE". I used one coupon for 15 dollars off my dog's food and they gave me 5 dollars off for spending over 25 dollars. Then charged me 19.99 for the book. When I called the Toms River NJ manager Nick I was told it was free because of the coupons I used. They are some confused people about what the term free actually means. I had to BUY the book to use the coupons to get the book FREE.
And lots of reviews mention young adults in the stores and that is exactly what they are. The manager is very much younger than myself and I am 46. They all look like young kids out of school looking for jobs just to get by until they finish college or find something better. They are definitely not educated about animals. Although I do have to give an amazing review for the very nice lady that does the dog training in the Toms River NJ store. She was extremely helpful and took the time to speak to me about a behavior issue I was having with my dog. She spent about a half hour with me and never charged me for her wisdom. So hats off to that wonderful lad (wish I knew her name). So shame on PetSmart and be warned not to be sucked in by the PUPPY GUIDE SCHEME!!!
Company Name:

PetSmart

Website:

http://www.petsmart.com/