Consumer Complaints and Reviews

Nobody explained that the test result expires within 30 days to purchase heartworm pills. After 30 days, you wasted money and suffering of your pet. Just to purchase the pills, you need to all the way to the place again and let your pet suffer from blood work then finally you can get. You only know this info after you hear anything from the online pharmacy that cannot authorize because of the stupid rule this company has and do not inform.

My husband brought our 4 dogs to get groomed, they refused to groom 2 of them. They were barking and so I was told out of control, I understand that... but they are like a pack of dogs (understandable)! The grooming was 53.00, Dematting 14.00, and flea and tick add on 15.00. Each dog no problem. The little dog will not let us brush her... My husband told me they said my dogs were loaded with fleas and my house was going to be bombed (they were infested) and my house was probably too!! I went to pick up dogs with husband, and the associate said same thing loaded with fleas and I told him I use Frontline and I follow all the directions to a T. He (Domenic) told me Frontline doesn't work. They have been around for so long and haven't changed.
First of all never had any problem with the product till they said I did. I was so upset so I started to buzz 1 of the dogs. They refused to take with extra caution to look for fleas and guess what? I found 1 on the dog. Now they all sleep together, lay, eat, hang out. So how did 2 dogs get loaded and the other 2 dogs only 1 flea on 1 dog??? So I looked at my receipt and they charged for dematting 3 times?? Now I was pushed over my limit. Called them. All of a sudden it's 7.00 for 15 minutes. We were never told this and I told her (Paige) she was not pleasant on the phone. I asked who was the manager. First she told me (Kate) then she said (Jerry). I spoke to him in between being put on hold numerous times without any satisfaction. I called June 11, 2017 at 10:56 am and this call was for 25 minutes long and being put on hold for more than half that time. Thank You Petco for demeaning me and my house.

I made an appointment at the Carbondale, IL grooming salon over the phone with Rita. This is the first time I have been back to Petco in about 5 years because the service was so bad then. My mom and I have two miniature poodles and our appointment was for 10:30 am for which I was early for. At about 10:45 the groomer saw me at the back of the store and said, "Oh by the way, I have a video meeting that I have to attend before I can start on your dogs." Why was the appointment made for 10:30 if she knew she had training? Nonetheless, I went ahead and left them there to be groomed.
I live 20 minutes away so I hung around until I thought they would be done (about 3 hours and there were no other dogs in there at that time). Needless to say, I went to see if they were done at 2:30 pm and she said "not even close". I asked her how much longer it would be and she said another hour and a half and there was still the same dog in there as this morning besides my 2 poodles! Well, here it is 3:30 pm and I'm still waiting! Never again!!! Where is integrity and work ethic? Don't people have any pride in themselves or the work they do anymore?

I just moved here and wanted to find a good grooming salon near me. I was referred to this PETCO by a friend. When I asked the groomer Rebecca about the signing up process and deals she was on her phone the whole time texting. She told me she was busy and told me to go to another store. I called management and they told me there's nothing they can do about her attitude and that this wasn't the first complaint they have gotten about her. Why is nothing being done?! She was so rude and management was so unprofessional!

Bought several fish and other pets from Petco. I have had several fish die after a few days. Usually I just throw them away. This time decide to take in 1 dead fish (bought 4 gold fish), 1 dead frog (bought 2). Was asked if they were in same tank. Was told goldfish eat the frogs. (Horse crap) I told them, "No, separate tanks." Then she wanted to know if the goldfish were with other goldfish. Told they eat each other. Told her it was in a tank itself. She tried several ways not to give a refund. (I had a receipt) I have seen them get out of refunds before. What the heck, for a six-dollar refund you risk losing a customer. Which you have.
How do I know I can trust these reviews about PETCO?
791,967 reviews on ConsumerAffairs are verified.
We require contact information to ensure our reviewers are real.
We use intelligent software that helps us maintain the integrity of reviews.
Our moderators read all reviews to verify quality and helpfulness.
For more information about reviews on ConsumerAffairs.com please visit our FAQ.

3384 Tyler. St. - Store Manager ** was very rude to me when I was trying to exchange faulty light bulb. Ended up hanging up on me. Basically told me if I can't afford my pet that I shouldn't have it. What I can't afford is to keep paying for faulty light bulbs that keep going out in two months. Screw Petco and their employees! They lost a monthly customer.

Let me say that my dogs are my children. I take very good care of them, probably better than some children get. My dogs were licensed but their rabies was going to expire. We have a great Vet, but for timing we thought a quick run to the Vet clinic would be better, due to time. Well... We took them on 5/6/17... never again.
When the clinic opened we were fourth in line. It was suppose to start at 9:00AM, it did not begin until after 10:00 AM. When it was our turn we were subjected to a hard sales pitch trying to get us to buy anything and everything. When we declined all sales, the sales associate caught an attitude and stated she was educating us on care of our animals. I looked down on the sheet and she had written 111.00 dollars, for all these unnecessary services. I calmly explained the situation, and how we just needed a rabies shot and the representative told us our dog was coughing, so she was most likely sick, and would not get the vaccine. After a few minutes and several comments, she changed the form back to 19.00 for a rabies shot.
When we saw the Vet she examined our dogs. She announces that our dog has a level 3 heart murmur. Now, my dogs had been seen less than a year ago, at the Vet and he had no murmur. She then says it is a serious condition and she is hoping I am getting him treated by my Vet. When I say I have a great Vet and will follow up, she grew quiet. A few minutes later she tells us our dog could have congestive heart failure, pass out, stop breathing, and several other horrible scenarios. I was horrified and could not believe what she was saying. She gives him the shot, and for two days after, my dog cries all night and day from that shot.
We had contacted our vet, and made an appointment. I was so upset. When the Vet examined our dog the Vet said our dog occasionally had pleural rubbing, ever so minor, which most small dogs get. Which is very different from what we were told at Petco. Our Vet said there was nothing wrong with the dog, and there was not level 3 heart murmur. Our vet stated our dog was in great health. I am very relieved, but infuriated by the Petco Vet Clinic.
I take care of my dogs. I felt what they did was cruel, as we were not bullied into buying all sorts of things they already had in place. I felt the high pressure sales tactic did not work, so they were going to upset us. I am a therapist for trade. I am an educated consumer. I can only imagine if I were a young, unsure, pet owner, who believed everything that was told to me by the professionals, how high our bill would have been. What if I had let them treat my dog for a heart murmur he does not have?
If I were not able to be confident with the care we have provided for our dogs, I might buy everything they tried to force on us. I am pretty disappointed, and can imagine they are getting away with this, with so many. I intend to find out who the Vet at the clinic was, contact the licensing board, and upload all of my documents, from both Vets. If I need a third opinion, I will obtain it, since I am in a position to afford it. To me it is about the scam they are running, and for the people they are getting to fall for their unscrupulous practices. Please question everything they say to you.

My dog is traumatized from his first grooming at Petco west in Green Bay! Bri is the groomer that did my dog and he has massive razor burns and abrasions on him from his whole entire behind up to his lower belly. He also has 2 burns on his upper belly and cuts on both hawks on his feet. My vet said it is groomer's error and my dog is now on antibiotics, anti-inflammatory and pain meds. Petco offered me to have my dog's next grooming to be free, and that's it, no treats or nothing for my dog's pain and suffering. My dog doesn't even move anymore, he just lays down and I don't know how I will ever get him groomed in the future because he is surely traumatized from this. I will not take Petco's offer on a free grooming. My dog has been groomed many times before by other groomers and we have never had any problems. If you love your fur babies please don't take them to Petco!

I took my Bichon to the store at 2733 N. Collins in Arlington TX 5/7/17. The stylist name is **. I can say that I was very impressed with her willingness to take time to talk to Nikki & make her comfortable being with her. And asking me if there was anything about Nikki that I had concerns about which I did explain to her that she had extreme anxiety & a really bad experience with the previous salon (not Petco). Her warmth seem to ease NIKKI'S anxiety & I was content leaving her. Toni did an excellent job at grooming her & I was very impressed with her work & how at ease Nikki was when I left her & when I picked her up. Thank you so much ** for your kindness & patience that you were willing to give my fur baby.

February 25th I bought a guinea pig, after a week she became very sick. I took her to the vet and we gave her all the medicine we could and did everything we could. But she didn't make it. April 6th I went back to buy another one. Once again after 1 week the same problems have occurred. They don't know how to treat their animals correctly. Please do not buy pets from here. I would hate to have somebody else go through the same things I have.

Today, March 19th 2017, at 2:00pm, I had an appointment at PETCO for my small dogs bath, nails and glands. No haircut, no blow-dries, just the basic. Usually it takes 20 minutes but today they told me it would take 2 hours and 30 minutes because they squeezed me in. Not true. When I called to make an appointment the day before they told me that if I wanted to take my dog in today they will squeeze her in at 4:00 pm otherwise I could go there tomorrow at 2:00 pm. I accepted the appointment for the day after at 2 pm. The manager (who never talked to me before) told me that I was lying and since I was a complainer I had to wait for 3 hours instead of 2:30. I couldn't believe it and I told her that I was going to complain with PETCO main office and she asked me to leave the store and never come back as if I wanted to go back there again! I was in shock for their abusive and disrespectful behavior towards me.

Brought my cocker/beagle in to get groomed. She was mangled pretty bad. Asked that they just shave her all but ears and tail. We go pick her up the groomer tells us the next time she is matted she will shave her ear and doesn't care what we think we won't have a choice. I asked why they didn't just call me and tell me it was causing her stress to comb out her ears. We would have told them to leave them and we would comb them out ourselves. Next day I call the manager and nothing was done about it. Explained that last time she was groomed she was razor burnt by them and no one said anything about it. We found it when we got home. Will never go there again.

I took my dog to get shaved and this was understood between the groomer and I. I was given a price. At checkout it was $45 more than I was told. The groomer was gone and I told the cashier to tell her, this was not acceptable and that I should have been given this price when I brought the dog in.

I made an appointment for my Papillion on March 10th and asked for a confirmation courtesy call. On the 9th, when I didn't receive the call, I called and the lady (Caroline) stated my appointment wasn't for the 10th, it was for the 11th. So whatever, I'll deal with it. So on the 11th, at 9am I called to verify what I need to bring with me. The lady (Marlene, who evidently is the manager) said I wasn't even on the schedule! So I called back a few minutes later just to make sure, and the girl was apologetic and said she was sorry but this happens all the time! I have the phone records and I saw what time I called to confirm and asked who would've been working at the time of the call. They told me Caroline and she'll be in at noon. So I called Caroline and she said I was on the cancellation list! WHAT??? Why would I be calling to cancel when I'm calling to confirm. They treated me like I was crazy!
So I asked to speak to the manager and she said the manager was Marlene, who she said "I didn't want to speak too"!!! What the heck are you saying, I asked... Now they are saying I didn't want to talk to her when I called that morning??? Then I tell Caroline that the other girl I spoke to said "this happens all the time" and she said "What? This never happens"... So whatever, I'm going to another groomer. I'm sure it's not important to the groomers that pet owners do have lives and don't appreciate being toyed with when it comes to getting our pets groomed because I sure can go to plenty other places! UNREAL... Never again would I go to this Pet Store. They have completely lost my business with not only dog grooming but pet food and supplies.

Terrible customer service at Petco in Springfield, IL. Took our bichon to get grooming services; we have used Petco before with no problems. My husband picked him up but went right back in and told them his face was not cut right or at all. I text him a picture and he showed it to them of how we wanted him to look. When they were finished he ended up with a totally uneven cut with almost no hair on his face at all!! He doesn't even look like the same dog!!
I called to complain that it was not acceptable; the girl said she was not the one that cut him but she understood and asked would I like to speak to the "grooming manager" and I said yes. Spoke with another person that asked if I wanted to bring him back in to even out the cut and I said no because it's already too short. After some time, I finally agreed to let it grow out a little and we'd bring him back in to even it out then. But when I asked to verify I wouldn't be charged for fixing it later, I was told they couldn't authorize that and I'd need to speak with the store manager tomorrow. Really???
So I called the next day and spoke with the Eric the "store manager". He tells me his staff called him so he is aware of what happened. But then he tells me that he was told I did not want to talk to the grooming manager yesterday and that my husband walked out "satisfied" with the services and that maybe they didn't understand how we wanted him cut! OK... just because he walked out doesn't mean he was satisfied and what more could they have cut off at that point?? And he showed them a picture so how much clearer could it have been? So finally after a lengthy discussion and debate, the "store manager" agrees to let us bring him in free of charge later to even out the cut once it has grown out a little. I hung up but after thinking about this entire situation, I called back and told him I wasn't bringing Pepe back ever!
I didn't appreciate them lying and saying I said I didn't want to talk to the grooming manager when I did want to AND had a conversation with supposedly the grooming manager and I also didn't appreciate being told my husband was satisfied with the services when he was basically in shock after they "fixed" it. All they kept suggesting was bring him back in and we will even it out!! Never once was I offered a refund, partial refund, free grooming service or anything else. I told him I would not be back.
I went to FB and Twitter. Petco customer service reached out to me on Twitter and after exchanging direct messages they said they would have someone contact me within 48 hours. That was February 18th. As of the 22nd, still no contact. I call customer service and explain how upset I am about this whole situation that could've been prevented by just a simple agreement to fix the bad haircut on my pet's face in a couple of weeks. But that was obviously asking too much. Later that same day, I received a voicemail from Eric the Springfield Petco store manager saying he was returning my call so I called back. A woman answered and when I said I'm returning a call to Eric she put the phone down and said "it's (my name), have fun hahaha".
When he picked up I said "have fun? That's real professional." He had nothing to say. I told him I didn't ask for him to call and did not wish to talk to him. He said he had received an email stating he should call me. During the conversation he mentioned offering me free grooming services. I told him he NEVER once offered me free grooming services. He said "yes I did" and I said "no you did not". This was repeated several times and I finally said "you're lying" and he said "no you're lying!" Seriously!
I hung up and called customer service back and told them what happened. They assured me they did not ask the store manager to call me and had requested a district manager contact me but I needed to give it 48 hours. So now it's the 28th.... 6 days later and still no contact from the district manager. Oh but the Petco twitter team sent me a message that they were updated by their team my issue had been resolved. I messaged back "YOU'VE GOT TO BE KIDDING!"
Since the grooming, I had to put a sweater on my dog because he was acting neurotic. I finally realized it was because his hair was cut so close to his skin he was uncomfortable. He kept hiding under the bed which he has never done. And he has had a problem with his ears since his grooming. He just had a checkup prior to grooming so if something is wrong, I'll know where it came from. I will never patronize another Petco again.

I am really disappointed with the grooming dept. in Bradenton Florida. They seem to have issues on keeping employees and every time for the past year I would call and make an appointment and EVERY TIME they call me a few days later and want to change it due to having employees leave. Since when did this become the customer's issue? Where is making it work come into play? I want to thank PETCO for allowing me to use their competition to be able to groom my dog. This also gives me the opportunity to buy items from them vs. Petco. Great job Petco!

Have been happy until recently every other month my repeat delivery dog food would not show up on time. This month had to make repeat inquiries to a phone center that is obviously not in America. The people tried to placate me and all I want is the service I have already paid for twice yet no delivery attempt or even shipping has happened. Just kept trying to change my mind about it instead of solving the problem. I was calm at first but after wasting 5 hours and two days of frustrations from calls have tried to cancel it all and delete Petco account. They refuse to delete account information. Only will delete email. I am still waiting on my $200 back ad have to order the food for my dogs from somewhere else and now wait another 2 weeks past the time I needed the food by. You suck PETCO. I will never use you again.

Family outing to purchase new fish for our 8 year old daughter. She has a 55 gallon tank now. Well she had about 7 fish which included a upside down catfish, Angelfish, etc. Just cute small fish to fill the tank! Well we went to the Petco on 138th Ruffly and Maple here in Omaha Neb. and they of course had no one in that department. So after wandering the store looking for associates I found someone that still had to call the employee for the aquarium department! Earlier we took it upon ourselves to look at fish and decided between a few so if one didn't work out we could get another. Well we choose a blue and orange goldfish, I asked the employee if it would be okay with my other fish in the tank. She stated no problem, the fish we were purchasing was a little lazy and stupid.
Well just days after placing the fish in my tank my upside down catfish was dead my Angelfish and a few others totaling 5 fish which included the one we bought that day, after calling to complain I received $5.99 the cost of the goldfish that died. My tank had developed several infections! Algae and ammonia level imbalance. A black/green sludge took over the left half of my tank. It was horrible!
My daughter was crushed. She cried from seeing the fishes dead because after school she always check on her pets birds, and fish! Night screams came to follow and after calling to complain and going back to the store the lead in the aquarium department just openly told me the lady that sold us the fish knew we shouldn't mix that fish but my problem not just laid with the employee but the store itself, they have untreated water in that store. I am still 2 weeks after trying to get my tank back together and save the remaining 3 fish she has! Never going there again and I'm telling everyone I know of my terrible/horrible experience and how no responsibility was taken for clearly the store's fault! Signed Sad and disappointed ex- customer!

OK salt water enthusiasts, don't buy your fish here! Paid $50.00 for a fish, which was sick by the second day. After reading online, I thought that the problem would clear up in a matter of days. Well it didn't. He got sicker, so I took him back to Petco. Spoke to the gentleman in the aquatic dept., and he said you have to have a receipt, which I went to the car and retrieved, but when I came back in he told me they do not accept returns and have NO warranty on salt water fish, if he was a fresh water fish they would take it back indefinitely!
I have never dealt with any saltwater fish store that absolutely never give you a refund or a store credit for salt water fish. "There are too many diseases" for them to stand behind their product. So, I was out $50.00 because they sold me a diseased fish! Save yourself the trouble and go to Tidelines in N. Charleston. They have a no questions asked policy, I have received a store credit and refunds on problem fish.They will test your water to be sure, but if it's right, they will do whatever to make you happy! Petco wouldn't even check!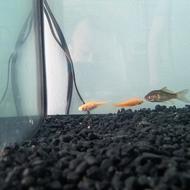 Dead fish thanks to Petco - My son bought 40 minnows to feed his Oscars (2 small hand size) and when we received them the water was very cold. He has a 2nd tank for them where he acclimated and introduced. Within an hour, about 15 were dead. Three were placed in the tank with the Oscars. Then next day, one was dead and the other had major ick. He had never had ick before. Upon investigation of the minnows, many if not most had ick. Talked to the store manager and were given the $8 refund for the minnows and $8 credit for one dead fish and a major infestation of the tank and nearly a second dead fish.
At the least, we could have been given the water treatment to correct what had been given to us and a $13 Oscar replacement. Instead, they have a very unhappy customer that will not return. Attached is one of the fish with ick. Would put up my dead Oscar picture, but have exceeded file limit. Very disappointed in Petco. Not only will that be the last $53 spent on water treatment for the tank, no more business for the dog or cats! Very upset and disappointed. They did very little to make it right. --Huntersville, NC store.

Worker cleaning chinchilla tank with vacuum while chinchilla still inside tank. Said the partition in tank dividing the side she was cleaning was sound proof, said they take very good care of their animals. All the while, the chinchilla is running around frightened in the tank. I'd give no stars if I could.

Dog grooming - I told them my old dog cannot stand for long to do it all while lying down. When I went to pick her up I had to help her up. Brought her home. She could not stand up long enough to eat her dinner. This did not happen the 1st time she was there. Also paid to have her ears cleaned. Was not done. I have had show dogs for 25 years and know when something was done wrong. Will not go back.

I've had 2 horrible encounters regarding the time it takes to receive my orders. I will never buy anything on the website again. I usually order from Chewy.com and compared to Petco, there is not even close in regards to shipping, receiving and customer service. I've NEVER had a problem with Chewy.com like I have Petco! Petco shipping and delivery is ridiculous! I ordered from them in January and didn't receive my product until 9 days later. I gave them the benefit of doubt because my order was placed and shipped out right before New Year's Eve and New Year's day.
This month (February) I made the mistake of ordering from them again because, they had a really good sale on their dog food, treats, bones and toys. I should have definitely stuck with Chewy.com. The price you get what you pay for definitely comes to mind regarding shipping and receiving. It's a good thing I'm only still waiting on treats, bones and 1 toy (and it's the wrong one) and not my dogs food because they'd be starving right now! Custom service skills suck. I was pretty much told I had to wait 9 days again. I was pretty much told that by the end of 9th is when I should receive the rest of my order when I ordered it on the 2nd and then even though their site says 2-5 business days.
I was pretty much told I was SOLD because that's between 2-5 business days because they don't ship anything on Saturday's. Which is absolutely ludicrous because they are open on Saturday, they are more than happy to take your money on Saturday. And, I received part of my shipment on Saturday. Even though everything was shipped on the same day I have to wait until the 9th when I placed my order on the 2nd because their shipping contract with USPS doesn't deliver on Saturday! Completely irritated after arguing for 45 minutes with customer service and a supervisor I'm completely unhappy and frankly a pissed off customer! A multi-million dollar corporation SHOULD be organized and do better in customer service regarding online shopping! I WILL DEFINITELY GO BACK TO CHEWY.COM. Their customer service is amazing and I receive my product in a timely manner!

I didn't know of the rule of you have to be 18 years or older to buy a live animal. My old local pet store let me buy a beta fish when I was 10 without a parent. I'm now 17 and all I wanted was to buy a $2 beta fish. I can understand that you can't be under 18 to buy a ferret, or a snake, but you can't buy a fish? Really? I walk into the store with a 95 lb healthy blue nose pit bull and I asked if there was a certain age to buy a beta fish. I couldn't. I think that rule is dumb and should change the rule for fish.

Yesterday, I took my dog "Annie" for her annual vaccinations to be performed by the staff at the Vetcoclinic (hereinafter referred to as "Vetco") during clinic hours at Petco #2897 located at 7901 Lansdowne Avenue, Upper Darby, PA. The day before, I was in the store and was elated to discover that Vetco would be there the following day since Annie's vaccinations became due this week and I had not yet made an appointment with our vet. I also appreciated the reduced cost and was told by the Petco staff to arrive before 11:30 a.m.
Accordingly, on January 29, 2017, I arrived with Annie and my 6-year-old son at approximately 11:25 a.m. Once I located where the clinic was setup - toward the rear of the store and off to the left (which was very difficult to spot amid all the inventory), I asked another customer if she could tell me where the end of the line was. Before this customer could respond, the Vetco employee who was assisting the veterinarian rudely and very loudly announced something to the effect that "No more patients are being seen."
Then a male wearing a baseball cap and bearing no i.d. whatsoever told me I would have to leave and go to the next location on Baltimore Pike, where Vetco would be between 2-4 p.m. on the same day. When I told them that it was not yet 11:30 a.m. but only 11:25 a.m., the female assistant replied "I just checked by cell phone and the time reads 11:30 a.m." Then she asked me whether I had the "paperwork". Since I had completed Vetco's Life Style Assessment thirty (30) minutes earlier, I believed she was referring to this document and replied "yes." When she rudely asked "then where is it?", I replied that the document was in my purse. This female assistant then said "go ahead" and we found our way to the end of the line.
After completing a form with the assistance of two nice female Vetco employees, we returned to the line and within minutes we were face-to-face again with the original female assistant. At this time, I told my son to step back some and into the aisle yet still within my vision, so that the Vetco employees could examine Annie. This female employee overstepped her bounds and told my son he could stand by her since "…he should be able to see his dog getting vaccinated." Did she ever think once, that perhaps I did not want my son to view this procedure since he is only 6 years of age?
Then while Annie was being vaccinated, this female Vetco assistant says "The reason I was rude to you earlier was because I knew you were lying." I said "Excuse me." She then says, "I knew you were lying when you told me you had competed the paperwork." I replied "I did no such thing" and showed her the 3-page document titled Life Style Assessment I had completed online and printed out earlier that day. She looked at the document, returned it and said "This isn't the paperwork we need." I then told her not to accuse me of lying, especially in front of my 6-yr. old, but, rather tell me that I was mistaken. She then says "ok, you did not fill out the proper paperwork". After some small chit chat concerning my dog's vaccinations, I paid the fee at the front of the store and we left.
Words cannot begin to explain how RUDE AND THOUGHTLESS this Vetco employee was. It's one thing to turn away a customer because they've arrived too late without having to feign the truth about the time, since all cell phones pretty much operate using the same clock. There is also another way to inform a customer that he or she is mistaken about something without calling them "A LIAR."
The treatment we received yesterday was appalling and has led me to reconsider ever using this company for my pet needs ever again. It is abundantly clear that they do not seriously regard their statement concerning customer treatment which appears in their website as follows: "…commitment to treating each other, the pets we serve and their loving owners equally - with integrity, dignity and respect…"

I have been bringing my dogs to this PETCO groomer for several years. Joann is the groomer I strictly schedule with. She is so caring, kind and thorough, and goes out of her way to make the overall experience as calming for my dogs as she can. Her work is beyond reproach, and I am sure that this is due to her skills, but also to her LOVE of her clients [four legged and two-legged!]. She is an excellent representative for PETCO.

I went to Petco today to buy my new fish a plant for their tank and as I looked around the store, I found a guppy I wanted to add to my tank. I walked over to one of the workers and politely asked if she could help me get the guppy. After looking at me as if I had kicked a puppy, she asked my age (17) and told me that I couldn't buy a guppy without a parent present. I work on a farm caring for 14 horses, with a puppy and cat of my own at home to care for, but apparently I can't buy a guppy at Petco. There goes my plans of starting an underground trade of guppies...

When shopping at the Petco in Mount Vernon NY there is never a large bag to put purchases only small items bags. That is crazy. I asked the cashier why. She said that Petco expected most if not all of their customers to own cars meaning that they can put large purchases example dog bed, pet carrier and such items in the car directly without a shopping bag. I thought that was so stupid. I don't own a car and do not expect to walk out of a store with the item in my hand to go wherever I am going. Petco should be able to accommodate all size items when packing them for purchase. This needs to change.

Past experiences with staff giving wrong info on products or care. I would not shop there again. I've lost trust with them after following advice and nearly lost my dog. Ended up to be an expensive lesson.

Prices are fair. Customer service is good. Staff is not as up to date as should be but still ok. Good store for me for a few years. Almost have everything I need but asking questions is a problem to some staff on products they carry. Prices are good and perks to club members are great. Very good store for many years for me.
Company Name:

PETCO

Website:

http://www.petco.com/shop/en/petcostore