Consumer Complaints and Reviews

My 9 yr old Husky/Lab mix, Bailey was eating the Ol' Roy Complete Nutrition for a few years and just seemed to stop eating so we figured it was getting too hard for her to chew. So we decided to try the Ol' Roy Dinner Rounds last week (7/13/17) because they are chewy. She seemed to love it and ate the hell out of it. We noticed the past couple days she really wasn't eating much. Sunday morning (7/16/2017) She was completely normal. Barking at us and jumping around to tell us she had to go out. Walking in front of us, practically tripping us in the process. Being her normal Bailey-self. By afternoon she seemed a little out of it. Like she just wasn't feeling well. Late that night she started to pant heavily and threw up. It was white and milky looking. I let her out in case she got sick again and she just plopped down in the grass in front of the house. She just wouldn't move or do anything but lay there and look pitiful.
I called my husband outside and she wagged her tail but still didn't move. After a while she got up and threw up again. She moved a couple times but not very far. We noticed her breathing was very labored. We were outside for over an hour with her. I brought out some water and she drank it like she hadn't had water in weeks. She kept resting her head on her bowl between long chugs of water. She wasn't able to keep the water down long and threw it up moments later. She then went and hid under one of the shrubs front of the house. We couldn't even reach her. We finally got her to come out and tried to get her to come in the house but she couldn't make it up the steps and just collapsed.
My husband had to pick her up and carry her inside. He laid her down a few feet from the door. Her breathing went from labored to shallow in a matter of minutes. There was nothing we could do. We knew a vet couldn't help. She was just too far gone. We would've been lucky to find one open at that time anyway. Bailey took her last breath early Monday morning with my husband, our kids and me with her. We miss her terribly. It just seemed odd that just 4 days after switching to the Ol' Roy Dinner Rounds my dog suddenly died. She was an inside dog so we know she didn't get into anything. She never ate or drank anything she shouldn't. I honestly believe it was the dog food that killed her.

My son brought this dog food home last night. We normally feed our coonhound mix and mini dachshund 4Health chicken and rice. We gave them one bowl and shortly after the doxie vomited. The coon dog also vomited, but appears okay this morning. We rushed the dachshund to the vet. She was cold and lethargic. It looks like her liver is shutting down and I don't think she is going to make it. This product is to blame. Horrible and should not be allowed to be sold.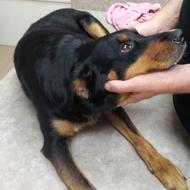 We got Ol Roy bacon flavored food 50 lb bag and it's made 3 of my dogs very sick, the other 2 dogs wont eat it. My dogs got diarrhea and one can't even walk and is at the vet now, very lethargic and just limp. Blood tests are not showing anything and waiting on X rays. But it's definitely the food. All dogs are healthy and active until now, my one who cant walk doesn't look good at all, I pray he makes it through. Never buying this brand again. Reading all the reviews it's so scary that this is still being sold.

Ol Roy Multi Flavored Basted Biscuits - Bought a box of these cookies at Walmart a few days ago. I have 4 dogs, 3 small and one medium one. Have been giving the cookies to them a few times a day after they go outside to do their necessities. Needless to say that my big one got really sick. Started vomiting and with chronic diarrhea. The others followed with the same symptoms. This is the first product I try from that brand, and I will never buy it again. I am taking whatever is left from the box to Walmart, and I plan to hold them liable for it if they give me any trouble exchanging it. This company should be shut down. They are selling bad products. Who knows what they put in it. Do not buy Ol Roy products if you really care for your dogs.

My German Shepherd vomited constantly and had diarrhea after eating Ol' Roy Bacon Flavored Dog Food. He refuses to eat any more of it (and he loves to eat)! I had only fed it to him a few times and I hope that he will be ok. I am taking this bag back to Walmart and telling them it is toxic and that I think Walmart should recall it.
How do I know I can trust these reviews about Ol Roy Pet Foods?
850,588 reviews on ConsumerAffairs are verified.
We require contact information to ensure our reviewers are real.
We use intelligent software that helps us maintain the integrity of reviews.
Our moderators read all reviews to verify quality and helpfulness.
For more information about reviews on ConsumerAffairs.com please visit our FAQ.

I've been buying these treats for years and my dogs have always gobbled them right down. I bought a 15 lb. box of large multi-flavored biscuits 2 days ago and some of them turned away. Has something changed? Have 15 rescued dogs and do not want them getting sick. I am concerned about half of them won't touch the treats.

Ol Roy killed our dogs - April 26, 2017 my roommate's beloved Wabash passed away after being diagnosed with renal failure from out of blue. She had eaten Ol Roy Soft & Moist for six year. She suffered from UTI's without cause for most of those years. Wana was bought a new supply of food in April. She eat only one pouch, then refused to eat. She was bought other food of which she only eat very little. She was lethargic and became very unsteady on her feet. She was also leaking urine.
Taken to the vet on 3rd day of this misery. She was put on antibiotics, blood work and UA. Two days after that by phone we were told renal failure stage 4. This was unbelievable and from out of nowhere. Less than a week ago she was playing in the yard. We desperately against odds tried to save her. Then Chubbs, my own dog suffered almost the exact same symptoms and faint. It wasn't until after their deaths and trying to talk through our grief that we realized the food.
I had given the stray cats in the backyard the leftover supply of food from both our dogs. The starving strays refused to eat it. Eating the canned pumpkin first. The one cat that did consume some of it lay lifeless for three days vomiting. There was dead birds at the corner of my yard. Wana, after just 11 days our baby girl lost her life. My Chubbs just 13 after that. I'm hurt, crushed and mad as hell to think that a company I trusted to have the best interest of my family member at their core, used me as the catalyst to harm and murder that family member and I paid them making them more wealthy for the ultimate betrayal!!!
How is this being overlooked, who is keeping this under the rug and lining their pockets with blood money. Why has Wal-Mart not done what any respectable company should and pull it from their shelves until it's proven safe. To protect their consumer and our loved one. After all it can't be profitable to kill your clientele. Or maybe it can and I for one want a answer so my loved babies didn't die in vain. We all need to demand answers from someone... OL ROY, WALMART, AND DOANE. Don't shut up until they Reply for the god these are our families!!! Soft & Moist sell best by March 2018. #708060022006L01. Best by February 2018. #705960021609L04. February 2018. #705960020938L0. March 2018. #706760021325L01

Ol Roy Bacon Flavored dog food is a bad product. My mother's German Shepherd nearly died from eating it. We didn't know that it caused her dog to be sick and my Dachshund ate it and nearly died. Her dog exhibited vomiting, extreme lethargy, nausea, even appeared to have a sore throat. He lost about 15 lbs in 5 days. We figured out it was the dog food because my Dachshund ate a very small portion. My 10 lb dog is now 6 lbs and still isn't back to his normal behavior. He too vomited, as soon as the water would hit his stomach he'd gag, vomit, dry heave. Couldn't even pick his head up after 2 solid days of this. No diarrhea (We feared Parvo) but unbelievably sick. I wouldn't give this dog food to anything that you want to live. I know not to ever buy this brand, for any reason, ever again.

My dogs have got sick on the last bag of Nutrition 40 lbs. Ol Roy. Had one die on my way to vets. The other just got out of the vets after a week on IV. Have her on strict chicken and rice I make Dr. recommendation. Something wrong with the food. It's sad to see my husky go that way.


Been buying this Ol Roy Soft & Moist Dog food for about six months for our geriatric dog. Up until recently he would scarf it down. This weekend he stopped eating and drinking, started throwing up blood clots, got diarrhea and then diarrhea with blood, couldn't keep any water, medicine, or food down without it coming up within seconds. Two trips to the vet in two days and two IVs along with oral meds which he can't keep down and two shots of anti-nausea meds. This food is the only thing he ate. Do not buy Ol Roy Soft & Moist Dog food.


I purchased a bag of Ol Roy Bacon flavor on my way through Walmart because his normal brand was sold out. Not long after eating the food I went outside on Friday afternoon to discover that neither my Yellow Labrador nor my Dachshund had eaten their food. This was immediately strange to me so I walked the perimeter of my yard and looked around for something odd in my yard that maybe had been thrown over the fence or that they might had eaten/chewed on, Nothing!
Saturday morning, both my babies were very slow in getting out of their beds and not in a big hurry to go outside and play/potty etc? Definitely something wrong. Again, neither one will eat! Barely drinking water. Now here it is Sunday and I am writing to ConsumerAffairs as both of my dogs stopped eating/drinking completely. I cooked up some chicken breast and cut it up in super small pieces and some soft boiled rice, they wouldn't even eat that! I live in Central Idaho and there are no vets over the weekend so I will have to wait until Monday to see what's wrong with my animals. I have every reason to suspect that the Dog food is the problem! I am going to have it tested for chemicals that should not be in it/and or traces menadione. If I lose my dogs Ol Roy execs will be sued! They are a part of my family and do not deserve to go through this kind of pain. I will keep everyone posted.


Ol' Roy's food killed my dog!! Bought the Ol' Roy peanut butter biscuits as a treat for my dog. He started having the same symptoms that others have claimed. Sleepy, didn't want to move, diarrhea, and vomiting. Spent over $1k at the vet to get him treatments. He didn't make it. My vet and I both believe it was due to Ol' Roy. DO NOT BUY THEIR PRODUCTS.

I've never been so dissatisfied with a product in my life. The product you gave me made my dog bleed internally. I had to take him to the vet. Spent hundreds of dollars to find out that you made his intestines bleed from the inside. I do not recommend this dog treat ever. It is the worst thing ever. It should be taken off the market.

I have been buying the Ol' Roy 50 lb. bag, Complete Nutrition (red bag) at Walmart for more than a year now and have been fairly satisfied with it. My problem is last week none of the dogs wanted to eat it. The ones that did eat some were vomiting and their poop was a green watery slime. One almost died and could not even be bribed to eat his favorite snack (a frankfurter/wiener). We had to change to a totally different brand to be sure not to get a repeat of whatever was wrong. As soon as we gave the other dogs the new brand they scarfed it down like they were starving. We kept the bag and some of the food hoping someone would have answers. All dogs deserve the suppliers of their food to show great care in the processing of their food. So the question I have is, what happened?

Please if you feed your dog this food throw it out now. If you are considering feeding your dog this food DON'T! My son who lives with me while going back to school recently bought his very healthy 9 month old dog a bag of Ol Roy dog food to try to save money. I had no idea he had done this or I would have stopped him. He puts the food in a plastic bin so the bag is thrown out. We first noticed Luna the 9 month old active, healthy puppy who had all shots and heartworm treatment start to become lethargic. She just lost her zest for life and had a sad look on her face so I knew something was up. This was a Wednesday and her first time eating the ol Roy was the Monday. By the friday she started with diarrhea so I thought she had a little virus so I gave her some **. On Saturday she refused to eat anything. By Sunday we noticed she was even more lethargic.
We made the decision to take her first thing Monday morning to her vet to see what was going on. Early Monday morning I woke up and took her out for a walk. When she squatted to have a BM nothing but blood came out and I freaked out. I placed a before hours call to her vet. While waiting for his call back I hurried to get dressed so we would be prepared to go when he called back. I heard my son's wife screaming and crying. Luna was gone! She had that quickly died.
We were told by her vet that the probable cause of her rapid death was OL ROY DOG FOOD! He had seen this countless times before which is why he warns all his patients about the possible dangers when feeding this kibble. He said that this kibble often contains toxins that can be deadly to dogs. He also said that is the reason so many times the food is filled with toxic mold which can be seen and as well as mold spores which cannot be seen but are present. VERY SCARY! We are sharing this story in hopes that no one else has to suffer so great a loss to try to budget in a cheaper dog food. Oh and by the way we have 3 other dogs in our home which are on Beyond dog food and none of them became sick. This food should not even be on the market! Please don't feed your fur babies this trash.

This dog food is great. My dog loves it. He will eat this no matter what. Even when he's being picky and finicky, he'll always eat this brand. It's great dry or you can even get the gravy dry dog food and just add a little warm water. He'll feel like you made an excellent brown gravy just for him.

I've been feeding my dog Bear the Ol Roy dry food for several years and he's been relatively healthy, but a couple of weeks ago, he got gravely ill. Lethargic, threw up, glassy eyes, weak... so scary. We took him to the vet and spent almost $1000 on tests and they could not find anything. He didn't eat for several days, but got better, so we started giving him the kibble again and 3 days later, the same symptoms returned only worse. He was so sick that I started researching final arrangements online. This lasted for a couple of days and again, he got better. We were so happy, but once he started eating, it happened again. Had more tests and again, they couldn't find anything. We kept trying to figure out what in the world was causing our baby to get so ill that we thought he was going to die... we went over everything we could think of, then I started reading the reviews here and the symptoms were the same that Bear had!!
I am so upset that this company that I trusted has made so many pets ill and some have passed away! We have not given Bear any more of his kibble. Only gave him rice and chicken and he's back to his old self. The longer this goes without him being so ill again, the more we are certain that it was the Ol Roy Dog Food! I am so sorry that other's pets have gotten ill and have passed away. This is just not right!!

I think Ol Roy is a good dog food. I have five dogs that eat Ol Roy and they love it. Ol Roy is the only dog food my Great Dane ate and he lived to be twelve years old. Most Danes only live to be seven or eight. The vet said I must be feeding him right. Just wanted to tell people my experience.

I have never used this product before; I did it for the price but I regret it!!! My dog became sleepy, all the time, threw up, and the hair loss begun. As a pet owner, we know that every time you change dog food brand, your pet gets little sick to their stomachs, however with this Ol Roy poison my dog was throwing up more than my cat! Then his luscious fur became dull and begun to fall really bad, I would brush him for an hour, clean my house and within two hours my whole house was full of hair, in chucks! This is a terrible product! DO NOT BUY IT & report it to the BBB!

Me and my husband decided to use this brand of dog food a couple months ago. We had a chihuahua puppy and a border collie/boxer mix puppy. We got the dry dog food brand. Within hours of using it my border collie/boxer got extremely sick, lost a lot of weight, was not her normal energetic hyper self. And within about a week my Chihuahua got very sick diarrhea, vomit, losing weight. My border collie/boxer got better but unfortunately my Chihuahua passed away the same day as her vet appointment. We did not connect the dots that it was from the food we just thought they got a stomach bug from outside. Well recently we are dog sitting a Boston terrier and we had Ol Roy's wet dog food and this morning she started having bloody diarrhea and not her normal self. Do not buy this food it might be cheaper but it seriously harms the fur babies.

We purchased a 50 lb bag of Ol Roy complete nutrition. We fed our German short-haired/lab 1 meal and he became violently ill. He was vomiting blood, had diarrhea with blood in it. We had to take him to the vet. They gave him 4 different medications and a pro-biotic. After 4 days he still would not eat so I started him on white rice and chicken broth. He started to eat a little at a time. By 3 days out on rice and broth he was back to eating his normal 3 times a day. During this time my dog lost 30 pounds and almost his life. DO NOT I REPEAT DO NOT BUY THIS FOOD. I learned the hard way after almost losing my best friend and a 750.00 vet bill later.

We have both large and small (mini dachshunds) dogs, and used the "soft and moist" packets, as well as Ol Roy dry food for inexpensive reasons. They were all hungry all the time in spite of twice daily feedings, plus their long-hair coats were dull and the dogs ALL 4 were scratching themselves, and there are no fleas present. Totally frustrated, we decided to switch feed, and found 4Health at the Tractor Supply Co. which is highly recommended, but expensive. Now, 2 weeks later, the dogs have quit scratching, their coats are shiny and soft and they eat only once a day WOW! Can't go "cheap" on these precious babies!!! Never again.

Decided to try a can of Ol' Roy dog food for my 4 month old GSD mix. I should have read the reviews first. Within an hour of eating one can she developed intense diarrhea and became very lethargic. She is very healthy and energetic usually and after reading what I've read about this company I am worried for my dog's life and praying she doesn't get any worse. I will never buy any products from Ol' Roy again and I'm going to inform everyone I know about how terrible a brand it is.

Where do I start, my husband got a bag of the Ol Roy (similar to the Beneful brand). At first I started finding these white worm things all over my house, mostly where the dogs are. Figuring they got worms from the cat behind our house. So we treated the dogs for worms, and they still had them in their poop. Then these things started to massively reproduce faster than rabbits. Well one morning I woke up to find a small bump on my arm that looked like a pimple then another then another then another. To make a long story short, I noticed the worms in my poop. Went to the doctor, got treated to the tune of $354.00 for just 4 pills. Still didn't work. Now they are burrowing out of my skin, both arms, legs and the side of my scalp. They are eating through my hardwood floors and Orkin didn't even work. My furniture is getting burrowed into. My dog is now ill with the same symptoms as everyone else's.
My doctor and my Vet are working together on trying to find out what this is. They have taken samples and sent them to the entomology department at UI. Both of them said they have no idea what they are dealing with now. Please email me if you have any questions **. As soon as I have any answers I will post them. Mine and my dogs life are at risk at this point. We have no idea what is going to happen next, I have samples and photos, I just have to upload them, they scare you.

I purchased Ol' Roy food for my puppies because of the great price/oz ratio. And out of the blue, days later, both within hours of each other, were extremely sick!!! Very lethargic and not eating, not drinking, vomiting like crazy and VERY foul smelling BLOODY and watery stools. Our Bullmastiff pup starting getting better five days after switching dog food but our little Chihuahua has not!!! She has lost so much weight and has gotten way worse! Vet at first said to give them boiled chicken and rice as well as Pedialyte but now since unresponsive she requires hospitalization which I cannot afford!!! All we are left to do is pray she doesn't die and continue to nurse her. I WILL NEVER BUY OL' ROY AGAIN!!! HORRIBLE COMPANY.

I just bought a bag of Ol Roy puppy chow a few days ago. Ever since my datsuns has eaten it they have an upset stomach and diarrhea. If I didn't know better and my babies would've gotten badly ill and died I would have someone's **... They are my kids.

Been feeding our dogs regular flavor for years with no significant issues. Bought bacon flavor a few days ago. Yesterday the german shepherd started vomiting clear mucus and then again today but otherwise acting normal, so put him outside in the pen and ran to do a few errands, got home and found him dead. Coincidence?
Ol Roy Pet Foods Company Profile
Company Name:

Ol Roy Pet Foods

Website:

https://www.walmart.com/ip/Ol-Roy-Complete-Nutrition-Dog-Food-50-lb-Dogs/22004588