Iams Dog Food
P&G Pet Care exists to enhance the health and well being of more dogs and cats. For over fifty years, Iams has supported a team of Pet Care professionals who handle consumer questions and concerns. This team, which includes pet nutrition experts and veterinary technicians, is thoroughly trained on our products, the science behind them and general pet nutrition.
Consumer Complaints and Reviews

I had just purchased a 20 lb bag of Iams Mini Bites Adult Food. My dog had been eating it for a few days, he had been eating this type of dog food for over a year, but from the new bag only a few days. The dog started acting unusual, lethargic, not hungry or thirsty, throwing up white foam. I took him to the vet and the vet gave him something for his liver and an antibiotic and told us to bring him back in two days if he didn't get better. He did not get better so we took him back, and then he was hospitalized on I.V. Two days later he died. The doctor said it was due to a toxic. We don't have anything around our house that could have done this, and it just dawned on me that it might have been his food. I don't know where to go from here, I still have the food and feel like I need to get it tested. I don't want anyone else to go through what we have gone through, this has upset my whole family.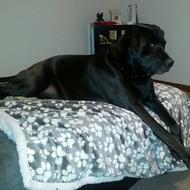 Iams for large breed and Iams weight restriction Rx foods - I got my dog a Dane/Lab mix over 3 years ago, she was 16 months old. I first put her on Iams after owning her for 3 months as she did not like the Beneful. She has been on Iams for large breed for 3 years, no issues or problems and everyone comments on how beautiful and shiny her coat is! She has had normal bowel movements twice a day. I switched Madison to Iams weight restriction when she started having pain and limping in her left knee and had some mild hip dysplasia and I and the vet knew she had gained too much weight. I had broken my foot twice and was less active, making her less active. I mixed the new food with her old food until she was use to it. She loves the new stuff and in 4 months is down 8 pounds with only 5 more to go.
She is still looking and doing great with little or no limp most days. She has 5 more pounds to go and then we can give her more of the weight loss food. She loves it. Her bowel movements are also smaller and even MORE firm since the food is even better with less waste. I would just like to say Not EVERY dog can eat the same food, not EVERY dog reacts the same way to food, not EVERY dog has allergy issues to food. Thousands of dog eat Iams and yes some have issues, most do not. I have no issues with Iams and will continue to feed my very healthy dog this brand. This pic is pre-diet btw. YES I would love coupons!!

I've been feeding my doxi jack Iams mini chunks for over a year now. Loved it initially. I noticed an improvement in his coat and the number of poo's decreased immediately. A couple weeks ago, after buying a new bag, my dog became deathly ill. He had bloody diarrhea and was vomiting for days. After vet visits, medicating, and feeding rice/chicken he was on the mend. I noticed, however, he'd stopped eating the Iams. Refused it altogether.
Over the weekend, I came to my mother's for a visit, brought with me some of his Iams dog food. Not thinking anything of it. My mother's dog is now in the very same shape, actually worse. He's currently hospitalized on fluids and medication to stop the explosive blood and vomiting. SAME EXACT ISSUES. SAME EXACT FOOD!! I'm going home tomorrow to gather the information from the bag of food and coming at Iams (mars) directly. Our dogs almost died. Something is wrong and it needs to be corrected!

Fed my dog a new bag of Iams minichunks. I have fed Iams for 30 years, three dogs. She was deathly ill. Called Iams. They were ready to send me a coupon. Stabilized the dog - starting feeding again. ANOTHER round of diarrhea. I sent a report to the FDA. Iams is slow to recall food. I will be attempting to cook her food from scratch since I cannot trust the dog food companies any longer. Before WWII dog food was made at home. Go to PubMed to find the citations. The best book is free (I am a 49 year librarian.) The complaints date back to October. How many dogs have died? What other Procter & Gamble products are putting us at risk? Please register your complaint with the FDA.

My sister has lost 6 Great Danes (dogs) to the pet food called Iams. She is so upset to find out they all died in the same manner, same symptoms. They all severed a bleeding spleen caused from the toxic side effects of the food. She thought this food was safe for the animals she so loved. She will never buy this brand (Iams) commercial type again. Make your own. They have recalls on these dog/cat foods from time to time. 14 yrs of dealing with this was so unnecessary. Her dogs meant the world to her. We buy food without the worry, not knowing it will kill them. These dogs' symptoms were as follows: weak, vomiting white foam, diarrhea, lethargic, temporary, paralyses of the legs. Read the book called Food Pets Die For by Ann N. Martin if you want to know about the dangers in commercial pet food. Please make your own dog or cat food. This way you know it's safe.
How do I know I can trust these reviews about Iams Pet Foods?
720,415 reviews on ConsumerAffairs are verified.
We require contact information to ensure our reviewers are real.
We use intelligent software that helps us maintain the integrity of reviews.
Our moderators read all reviews to verify quality and helpfulness.
For more information about reviews on ConsumerAffairs.com please visit our FAQ.

I put my 4 yr old Corgi on IAMS Weight Loss in June 2016. I was careful to change her over gradually. By August I noticed her normally silky hair was starting to be dry and wiry. In November, thinking she wasn't getting enough fat I changed her back to the regular IAMS that her brother was on. Her coat did not improve. She did not blow her coat in the fall as her brother did. Even when we combed her very few hairs came out.
I took her to the vet in Dec. The numbers for her liver and gall bladder were a normally high. She was not utilizing the protein she was eating. She was given an antibiotic and put on a liver health supplement. We changed both dogs back to Purina One Lamb and Rice. She is still under the vets care and her numbers are improving. At this time we do not know what the long term outcome will be. I don't know if it was the IAMS Weight Loss that caused her problem but if it was coincidental that it started after changing her diet.

I was feeding my dog IAMS Mini Chunks and started noticing that my dog was no longer very active and was having trouble getting up and problems with controlling her urine. She was put on medication which helped somewhat. I decided to change her dog food to healthier organic brand and now she is the dog that she used to be and no longer has the urine problem.

On Sat. night I started feeding my dog Iams dog food. By Sunday night he started having diarrhea. Poor guy would try to make it to the puppy pad but never made it the complete way. I took away his food for 12 hours and I am now, as of last night, feeding him small amounts of boiled chicken and rice. Also making sure he is getting enough water. This am there was a tiny bit of blood but his bottom is so sore it doesn't surprise me. If this continues for another day I am taking him to the vet but as of now I am sure it is the IAMS food. We have had him for 8 years and he has always been very healthy except for an ear infection. He has always eaten Beneful w/ no problems. I am kicking myself for feeding him IAMS as my little guy is paying the price for my stupidity.

For years we have fed our 2 big dogs Purina One. I was at a local pet store 2 months ago and purchased a 20 lb bag of IAMS mini-chunks. My 7 year old bull mastiff started to throw-up and suffered from diarrhea very soon after. She refused to eat the IAMS after her 3rd feeding. I thought that the vomiting and diarrhea were occurring because the brand was too rich for her system so I very quickly went back to what we would typically feed her and continued to feed our blue-healer the IAMS brand. The blue healer continues to be his active normal self but our mastiff (who is older) has been very sick since her first feeding of IAMS. We have taken her to the vet twice and $1,000 later we are administering to her antibiotics for intestinal disease. She isn't responding yet to the antibiotics; she continues to lose weight and looks very sick.

My dog has been eating Iams dog food all of his life (11 years). The past month he was vomiting and had loose stool and very itchy and losing hair. He stopped eating his food and even drinking water. I took him to the vet and he was placed on allergy meds and antibiotics. While he was taking the pills his health improved. Now 2 days after the pills are finished the vomiting and loose stool issues are starting again. His stomach has been gurgling very loud like it did before when he was sick the first time. The vet did a blood test while he was halfway through his meds and it came back clear and the stool sample came back clear as well. Now I believe he must be allergic to the food and that Iams must've changed the formula. I noticed the food does look a little different than it used to. I bought the minichunks from Walmart. Maybe that is where the issue lies as Walmart sells the lower grade items from companies.

This is going to be somewhat lengthy but needs to be. My dog would have been 13 yrs old this December. I had taken her to our vet on 9-15-16 to get a kennel shot before vacation. Vet said "VERY healthy dog." I agreed. While on vacay the kennel advised she was not eating her Iams food. They started mixing it with a wet can to get her to eat. I had purchased the Iams for Senior dry food new before we had left. Upon picking her up she was already very wobbly. Not herself at all. I thought she was just mad as usual when we boarded her. She was snub us for a bit. However by day two at home when she was not eating her food, vomiting and wobbly on her feet I took her to the ER vet. Test no parvo but mimicked the symptoms. Came home with meds, etc and the next morning my dog was passed away.
I gave the remainder of the food a couple weeks later to my daughter who started feeding the same bag to her dog and she threw up twice. We immediately agreed not to use the food any more and threw it away. I believe the dog food was tainted and my dog was smart enough not to eat it. That is why she was refusing it. Sad to say surely can't do anything about it now.

I purchased IAMS because I got a great deal on 2 bags at Target. I figured IAMS was a better product than Pedigree simply due to the price difference. I bought Proactive Health. So far, my Schnauzer has cost us near $2000 in vets bills to save her life. She was vomiting, had severe bloody diarrhea and could not stand on her own. Originally, the doctor gave her a 50/50 chance. Her symptoms were close to Parvo, yet the parvo test results were negative. At the same time we were working to save her, our Pomeranian began having the same reactions. He is a bit larger so he never became weak. He went from a dog who would never relieve himself in the house to a dog that was experiencing explosive diarrhea every hour. Our Pekingese had no reactions whatsoever.
My husband immediately stated that it was the food causing the problems. I argued. How could a reputable company like IAMS cause these types of health issues in our pets through food? After research and changing their food back to Pedigree, I had to apologize to my husband, to my Frankie and to my Mr. B. It was the food! The only reason Squishy Face did not get sick is because he decided he was not going to eat the food. He either sensed something was wrong, or he did not like the taste. Either way, he was a very hungry dog when I gave him a different food option.
I do not typically write reviews, but this hit too close to home. These are members of my family! A bargain on what I thought was great dog food cost me $2000 and almost a loss of life. I understand switching dog food brands may cause an upset stomach. Never would I have thought that a dog food could actually kill a dog. This is an inexcusable situation. More needs to be done! All I can do is warn others. Don't risk it.

We tried the dry food and our 2 yr old dog has gotten sick. She doesn't want to eat and has diarrhea. We have taken her off of it and given her charcoal and ** and rice and chicken. Hopefully she will be feeling better soon. She ate this Iams for about 2 weeks.

We fed our dog Pedigree for years but switched to Iams as we thought it was of higher quality. Within days our dog got diarrhea and began vomiting. She had blood in her vomit and diarrhea and had to be hospitalized for two days. The vet bill was the least of our concerns, as we thought we might lose our dog. She did recover, but unfortunately we did not realize it was the dog food until it happened a second time. I know that not all dogs respond this way to this dog food, but it saddens me that any dog would. We have now switched all of our dogs to a limited ingredient diet formula (no grain), which is more expensive but worth every penny, knowing that my dogs will be eating safe food. I hope that something will change as no dog and no dog owner deserves to go through this.

My adult dog has never been sick, or had diarrhea, and he has eaten every kind of dog food. I decided to try Iams and after 2 days on Iams, he developed heart palpitations, and severe mucous diarrhea. He was going every hour and despite 4 years of never going in the house he could not hold his stool and was having watery diarrhea at least every hour. He was crying and obviously suffering with abdominal cramping. I immediately stopped Iams and it has been a week now on another brand and his stools are finally coming back to normal. He is able to sleep and his heart palpitations have stopped. I totally understand that changing food causes some stool changes, but not severe watery mucous stools. OMG IAMS almost killed my dog.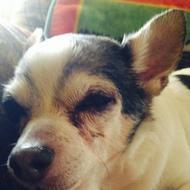 My chihuahua (Cherrie) is 15 years old and has been feed iams mini chunks for at least 12 years. I noticed she started having random seizures after she ate. She would sometimes lose her balance and fall and became confused about where she was. She has had feces that looked really slimy looking. She has thrown up a few times after eating as well. She would get severely bloated and couldn't get rid of it unless we gave her a **. She couldn't walk straight either looking as if she was drunk. She can't go up the steps. The vet gave her three to six months but as soon as we switched her to blue buffalo senior dog food she became a lot healthier as if she we'd 7. NEVER BUY ANY OF IAMS PRODUCTS. They don't care about your pet. More likely they have betrayed all pets. They just want all the Benjamin's in their pockets. :(

I am not impressed with Iams at all. I have used Pedigree for 35 years and never had a problem. I switched to Iams due to the increased nutritional value. I tried Blue Buffalo but way too expensive to use with 4 large dogs. Iams has been fine the last 2 years but has become very grainy and the dogs don't seem to ever feel full or be satisfied. I and the dogs are just not satisfied with Iams anymore. Also every bag and I go through, 40 lb a week, has a coupon in it for $5.00 the next bag if you fill a survey out. Well I filled one out which is all you are allowed and never got a coupon. So not pleased with customer service promo either. Wish Pedigree would change their formula.

No pooh issues whatsoever. The dog even prefers "Iams" over a more expensive brand and switching to the more expensive brand caused super soft stool puddles on the lawn (we use the Lamb and rice dry mix along with the odd table scraps off the dinner plates). But there is always food in the dog dish, so the dog eats as much as it desires and leaves the rest (for later). We have had about 6 different dog breed (13 to 15 years and died of old age). So, this news is interesting.

At 3 to 4 weeks (weaning) we introduce Iams Smart Puppy ground in blender moistened with lots of water (gruel consistency). We've done this for many years without an issue. NOT THIS TIME. All 3 litters born over a 3 week period (20 puppies) started with dry heaves, then loose stools and finally diarrhea. Stool samples excluded coccidia & other parasites. Puppies have been de-wormed at 2, 4 & 6 weeks. Once on chicken and rice diet, and probiotic & ** (prescription), all OK. Tried starting Iams again slowly, instant watery diarrhea, even when continuing probiotic and **. Iams is the only item causing the problem. Seeing so many complaints here is very informative as I would assume many dogs would be ill or dead before Iams issued a recall. Thank you for sharing your experiences. Iams Smart Puppy lot number: Best by Oct 03, 2017 - 16:07, 623B2NCH06 US61591

Iams chunks and mini chunks - I've noticed over the past year that the Iams dog food had become overly gravelly in texture especially the crumbs. Then one of the crumbs stabbed my finger one day and brought blood. So what would that do to my dog? I quit them immediately. Very discouraging.

My puppy was given this good on two occasions. Both he had severe diarrhea. On both occasions we eliminated every possible variable and found the IAMs was to blame. This pet food sickened my dog severely. We notified pet store and they said they do not recommend it to customers anymore because they have changed their contents of product and had many complaints.

I started transitioning my two Japanese Chin Dogs over to Iams mini chunks. Immediately they got diarrhea. So I cut back, and tried a slower transition. The diarrhea persisted and steadily got worse. They quickly grew lethargic and could no longer eliminate outside, and was stuck using paper in the house to the bathroom until they recovered. They eventually got explosive, bloody loose stools that were quite scary. I took them off the Iams mini chunks immediately once they grew lethargic, but the digestive trouble continued on for a week. I put them on a veggie broth and rice diet until they recovered, and they are both fine now. The vet said it sounded like the food was doing damage to the pancreas, and to discontinue use indefinitely. I, obviously, don't recommend this product.

My Jack Russell dog that is 4 years old is having an allergic reaction each day right after eating Iams grain free salmon and lentil dry dog food. We noticed that he sniffs the food at times in the day and leaves it like he doesn't want to eat it then I guess he gets desperate and eats it and that's when the excessive smacking starts with his mouth. It's like he has peanut butter stuck in his mouth and he does this for a long time then he starts licking his paws and biting them. We feel so sorry for him. It has taken a week for us to figure out it was from the food. I am returning the food to PetSmart and trying to figure out how to just cook him a meal that he can eat off of several days at least that would be affordable. Does anyone know what would be best to do?

My dogs have ate Iams mini chunks for over a year... All of a sudden my 2 year old would start spitting it out and got severe diarrhea and vomiting...

I have been weaning my pups with Iams Dog and Puppy food. So far I've lost 4 pups. Symptoms are the same as I have seen in other reviews. I'm not giving any of my dogs or pups this food anymore. I'm going to keep them on chicken and rice so their bodies can clean out from the Iams. I have contacted a Professor to test the food I have left. I wrote this as a warning to other pet owners. DON'T buy Iams. I will give the results from testing as soon as I can.

We slowly transitioned our dog to the Iams Proactive Health Smart Puppy food and saw our dog's digestive health decline. His feces became covered in a thickening mucus layer, then frequent diarrhea and bloody stools, and then a combo of all of them. Since we phased in the food so slowly we initially thought he had a parasite or something. After a $145 worth of vet tests/evaluations it was clear it was the food. Felt very naive and sad that we had fed him something that made him so sick. A week of boiled chicken and rice brought his stomach back to health and he's doing well. NO MORE IAMS. I wrote to the company, but don't anticipate much of a response.

My dog (pit) has been on Iams for 9 years but in the last yr has been losing weight. He wouldn't eat unless really hungry and he has been having a delicate stomach for the last 2-3 years. Gassy, loose stools. We thought it was due to aging and the vet said he was doing well. Over time it got worse. He developed gas, extreme pain, some blood in his stools and thousands of $ tests, meds, on antibiotics discovered has aggressive prostate cancers... in 2 places. Was told by an Orthomolecular Scientist who treats cats and dogs with serious conditions, and dog parents with experience it's the Iams dog food. He has a few months to live according to the vets. Now feeding him organic chicken and apricot seeds with 40+ strains of probiotics. Seems to be much more happy, active and no issues with the cancer. Will bring him for another ultrasound in a month. No more commercial dog food for him!

First and foremost my dogs are my family, and best friends. So when a dog food you have used for years throws your very healthy six year old Border Collie into a grand mal seizure you feel betrayed and scared. The worst thing anyone can experience is having their family become unresponsive and foaming from the mouth only to come out of it and not even know who you are.
Iams is cheap, low quality dog food. Plain and simple. Your best friend is not meant to eat over half of the ingredients in this dog food. Dogs shouldn't eat grains! They aren't cows people. It's common sense. A lot of dogs have food allergies and they are generally towards grains in the food. Your dog could barely show any sign of having an allergy and before you know it the allergy combined with the chemicals and preservatives in your dog food has your dog in a seizure and you're praying they'll come to before it's too late. You as a pet owner have a responsibility to feed your dog a better dog food. This brand used to be a very good dog food but a lot changed in the company and they don't care about your animal anymore. They want your money.

After feeding Iams for years with no problems, even after learning several years ago that some of the dry dog food we had already used was recalled, I went and purchased several bags from PetSmart. 2 of our dogs got very sick all of a sudden and refused to eat the food. They began vomiting. One was an older dog so we thought maybe she was just at the end of her life. Then a younger dog also developed the same symptoms. We took her to the emergency room vet and she passed on the table.
From start to finish this was just a couple of days. The vet said it was possibly something ingested/poisoning. The only common thing we could come up with was the Iams dog food. We offered to let Iams test the dog food. THEY REFUSED. After a week they basically called and said we could not prove it was their dog food so take a hike. I still have the bags bought in December 2015 with food in them. I am looking to see who tests dog food? After being a loyal customer for decades and although not able to prove it for sure, but suspect there was something wrong with the dog food and then the HORRIBLE customer service we have stopped using IAMS dog food and are warning everyone we speak to about our experience.

I've been feeding my female Doberman and male Rottweiler IAMS smart puppy proactive large breed dry dog food since they were both 8 weeks old. My girl is now 13 months and my boy is 7 months old and still doing well on IAMS with no problems. They both have shiny coats and a ton of energy and overall they look very healthy! I noticed a lot of reviews claiming that their puppy got diarrhea, well if you switch foods too quickly that would most likely be the cause and not the food either. That or your dog has a food allergy which they would require a special diet. Luckily my dogs don't have any food allergies.
If you compare ingredients to other dog foods you will notice that Chicken is their 1st ingredient. Any type of meat like Chicken, Lamb etc and not by-products should be what is listed first in the ingredients. Knowing IAMS contains real chicken which is an excellent source of protein lets me know that this is a premium dog food and much better than for example Purina Puppy Chow. I also find that this is an affordable premium dog food. I buy a 30.6 lb bag for $28.96 at Wal-Mart which lasts me almost a month. So if you want an affordable PREMIUM dog good I highly recommend IAMS smart puppy proactive.
Iams Dog Food Company Profile
Company Name:

Iams Pet Foods

Website:

http://www.iams.com/