Iams Dog Food
P&G Pet Care exists to enhance the health and well being of more dogs and cats. For over fifty years, Iams has supported a team of Pet Care professionals who handle consumer questions and concerns. This team, which includes pet nutrition experts and veterinary technicians, is thoroughly trained on our products, the science behind them and general pet nutrition.
Consumer Reviews and Complaints

First time purchase of IAMS Proactive Health Minichunks Dog Food 30 lb. bag. Ten year old Corgi Blue Heeler mix dog exhibited uncontrollable diarrhea within 12 hrs of first feeding. Later diarrhea over next few days developed into blood red liquid that repeated every few hours. Dog admitted to local animal clinic and hospital for two days on IV for dehydration and multiple medications for what the vet diagnosed as severe Hemorrhagic Gastroenteritis (HGE). We almost lost this animal and have an expensive vet bill to follow. This was a very stressful event for us that required lost work days to babysit a very sick animal. Gibson is doing much better now. No more IAMS for us, ever.

After reading other complaints, I see many other people are having the same problem with the change of the Iams Dog Food. I just spent $500 on a vet bill because my dog was vomiting, had diarrhea so bad her butt was bleeding, not eating, pacing! Thought it could of been pancreatitis or something like that but nope. After reading these other complaints and how they are spot on with what I'm dealing with, I am extremely extremely upset about this! I think the Iams company owes me $500 + dollars and they should close up shop!

I have been feeding my dogs Iams lamb and rice formula for at least 5 years now. 6 months ago or so I noticed they changed the formula to include darker chunks of food. Now they have changed it, to Iams grass fed lamb. My dog is horrible sick now. Uncontrollable diarrhea and shaking and panting. He has not been in contact with any trash, other dogs etc and after reading the other reviews I strongly believe the food is the blame. I have been a loyal customer and trusted this company with my pets health and spent 60 dollars a month for 5 years and they up and changed to formula. The packaging is the same so you don't even know it's different until it's too late, thanks a lot Iams!!!

Both of my dogs have been randomly throwing up and then simply refusing to eat their dog food. In looking at the dog food, there are some darker and lighter colored mini chunks, which I feed both animals. In the past, it has always been the same color. I will change dog foods and NEVER use this brand again. They have changed something, people, and it is making our dogs violently ill!! I order my dog food from Chewy.com.

I have been feeding my Chow Chows exclusively with Iams mini-chunks for 22 years. My dogs are house dogs, don't go to dog parks, have all their shots. I noticed the last bag of food had dark and light colored brown chunks instead of just the light brown ones. The dogs eat the food fine, but have started having diarrhea episodes, such that they can't wait for us to get home and have accidents in the house. This is upsetting to them as well as to me. These events only started after they were fed the new formula. Will have to find something new.
How do I know I can trust these reviews about Iams Pet Foods?
884,672 reviews on ConsumerAffairs are verified.
We require contact information to ensure our reviewers are real.
We use intelligent software that helps us maintain the integrity of reviews.
Our moderators read all reviews to verify quality and helpfulness.
For more information about reviews on ConsumerAffairs.com please visit our FAQ.

I bought a 20 pound bag of the mini chunks. I see the bag is different. When I opened it, I saw the two different colors of food... The normal color and these black nuggets. Nowhere on the bag did they say "New formula or new look." I used to sell Iams to breeders 30 years ago, and I've fed it to my own dogs for 20 years. There is something wrong with this batch of food!! I broke open a black nugget and looked at it. It appears to have GLASSLIKE pieces in it!!! I returned it immediately and bought a 30# bag. Just opened it up and same thing. After reading these reviews I'm thankful I didn't feed it to my 2 small Pekingese. They need to recall this immediately. I'm switching to a different brand as of now. Iams had to know this food was no good. Shame on them. If this food is responsible for the death of one dog I hope they're sued and put out of business.

We bought the Iams Proactive Health dog food in August and I've never had either of my dogs put up such resistance to eating before. One of my dogs would downright refuse to eat just laying down next to her bowl. We would refrain from spoiling her appetite with treats to ensure that she would be hungry for the next feeding only to have her vomit fifteen minutes after eating. My second dog, a lab mix, is not a picky eater put it mildly and even he would stop eating after picking at the kibbles. We switched brands for my dog that was vomiting and she immediately went back to her normal appetite. The lab after seeing that there was another option flat out refused to eat the Iams when given. We will not be buying this brand again.

I have been feeding my 2 dogs IAMS Mature Adult food for years. The last bag I bought had 2 different color nuggets, which was very different than before. After feeding it to my dog he got sick and had the diarrhea. At one point he could not hold it and had an accident which had blood in it. I stopped feeding him this and changed to a vet prescribed dog food for digestion issues and he straightened right up. I bought another bag of food from a different location thinking it would be different, but it looked the same. They changed their formula.

I have been feeding my dog with that Iams proactive health for small breeds dry foods and wet food cans for a month. She was fine but a few weeks ago she refuses to eat and she has vomited a few times. I thought she was going to die if she doesn't want to eat at all. I have stopped giving her dog treats because I was spoiling her to have table scraps and she was demanding human foods and ignore her dog food. I even have been forcing her to eat dog food till I had to find this website. I am so stunned to find that dog food, Iams is a bad product making so many dogs get sick. I am about going to dump the dog food bag into the dumpster today. I am going to find the right dog foods for her. She has not eaten for two weeks and she has lost her weights already. She is very sick and weak. Not because she is dumb for not eating. I am going to do something to save my dog's life. Thanks.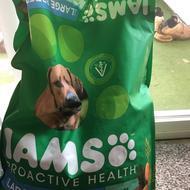 Bought a new bag of food last week and once I fed it to my dog he immediately puked. I did notice the two different color chunks but didn't think there was anything wrong with it. I gave him a few cookies 30 minutes later and he was fine. The next morning, again he puked immediately after eating it and I went to the store bought another brand, came home and fed it to him. He was fine with the new food. Never had a problem for over 5 years of their brand. They don't answer the phones and I will never buy their brand again.

I have been buying Iams mini chunks for my Beagle for 4+ years now. A few days ago he was sick and wouldn't really eat the new bag of food I just bought. The food looks different with two different color chunks now. Lo and behold, today my dog was picking out the dark chunks and dropping them on the floor while eating the other lighter colored ones. I bet the new formula or whatever this is was an effort to reduce costs. Now we have to find a new brand of dog food. What a disappointment.

My dog has been eating Iams mini chunks since I adopted her last year. I purchased a new bag on August 24 2017 and within two hours of eating from the new bag she had violent diarrhea with obvious blood. She is lethargic and not eating or drinking. She is a house pet and only goes outside on a fenced in yard with no other animals. I am very concerned about this situation. I am going to contact Iams on Monday to ask if they have had any other reports of sick animals.

We have been feeding our dogs Iams mini chunks for years. Last week we bought a new bag and they have been having horrible diarrhea and a few of them have also had vomiting. These are inside dogs, they are not boarded and don't go to dog parks. The only dietary change was a new bag of Iams. We did notice some of the mini chunks were black in color while others were the same brown color. We believe the food we purchased is tainted and making our dogs sick so we will not be buying Iams again. Too risky.

Ultimately the best grocery store food and food in general. My dogs got sick on another food and after lots of money went back to Iams. Food formulated for specific dogs as age and flavor. My dog food for my best friends in the world.

It is hit and miss with Iams. It may also be my fickle dogs who like it one time, and the next time they won't eat it. Funny enough my two cats love Iams food.

I have two 4 year old dogs boxer and a pit; I just recently purchased a bag of Iams Dog Food! This has made both of them extremely sick; throwing up liquid bile. Lethargic... They typically are very active but today they have been both lying down! No food no water!

OUR DOG IS STILL ILL - WE HAVE A VET APPOINTMENT FOR HER THIS AFTERNOON! Last month as usual, we purchased Iams Proactive Health Large Breed Dog Food (Lot #721D2NCH06 16:12 / US61591) at our local warehouse store. When we opened the bag we immediately noticed a difference in the food - it had TWO different colored nuggets (the darker nuggets looking overcooked or burnt). As we have been purchasing this food for over five years we were concerned about the change because we have a dog with a sensitive stomach. Needless to say - our dog became sick - vomiting and diarrhea.
Long story short, we returned the food to the local warehouse and went to a pet store to purchase a different lot of Iams. Unfortunately after purchasing and opening the bag, it too contained nuggets of two different colors. I have tried contacting Iams 1-800-525-4267 number, but I constantly reach a voice mail telling me the times they are open.

My chihuahua is so particular. I can't hardly get her to eat any kind of dog food. She use to like cat food but she doesn't hardly eat that now. I am going to go back to science diet dog food.

We were told to give our 4 year old female, (spayed), German Shepherd - Iams Healthy Weight because she is a bit overweight. I am happy to say that she likes the taste, and we have had no issues with getting her to eat the dry food. It also seems to be helping with us controlling her weight gain. Love it!

For the second time in 30 days, we have purchased what we thought was the IAMS Proactive Health Lamb & Rice formula and in fact we purchased IAMS Proactive Health Grass fed Lamb. The item we thought we purchased, putting our trust in IAMS as we have been purchasing the same food for 15 years, is packaged the exact same way as our long time dog food. When you feed your dogs the same product for 15 years, you can instantly notice any differences in smell, size of morsels, color, and changes to your dog's stools. The first time this happened, we refused to feed the dogs with this "other" mixture. Luckily, we had another and fed the dogs using what we consider "normal" food.
We called IAMS and we were sent a coupon to replace the large bag of dog food. The bag we got as a replacement looked and smelled as it was supposed to. The dogs ate this food and were fine. Last evening we opened a new bag of food. The bag we opened we thought was IAMS Proactive Health Lamb Meal & Rice instead it was actually Proactive Health Grass Fed Lamb. Reluctantly we fed the dogs the Grass Fed mixture because that is all that we had. Guess what? Today we have runny stools, diarrhea, and constipation in our four (4) dogs. Thank goodness, I am working from home today; or we would have come home to an absolute mess.
I will be calling IAMS today and asking for a refund. I really do not have time for this. As loyal customers whom spend at least $2400/ year on IAMS products, we are very disappointed. It will cost us more money, but we are going to Science Diet. The thought of feeding our dogs a product manufactured by a company using bait and switch; using almost identical packaging to sell a different product, is much too risky. The bags are so similar they even with same dog pictured; pretty sneaky. Additionally the bags are so similar that they are stacked interchangeably at the pet store. UPC # / Lot & Expiration date from bags are below.

About a month ago my 10 year old Pomeranian became very ill, could not stand, could not hold down water, was panting and shaking, going potty in the house uncontrollably. This had happened to him one other time a few years back so my mother monitored him closely as she was deciding if we needed to take him to the vet. As she left the room to go get cleaned up to go take him to the vet she returned to the room to him dead. He had passed. Thinking he had gotten into something, we buried him in the yard without much thought.
Well throughout the past month my mother's 8 year old boxer whom lives in the same household as the Pomeranian soon started to lose weight. We all thought it was depression due to the loss of her buddy. Well today she fell very ill with the exact same symptoms of my other dog. How strange that we had 2 dogs fall ill in a month of each other with the EXACT same symptoms. The common factor. IAMS Mini bites... my sister purchased a 50lb bag of it over a month ago, and my mother's boxer is still eating out of it. Sadly our 2nd dog had to be put down an hour ago... I am calling IAMS and filing a suit against them. After reading all of these awful reviews this has got to be the reason!

We have recently changed to the Iams brand. We have only used it for 2 days. The first night both of our small Chihuahua stool was a little softer than normal. By the second night they had full blown diarrhea. Waking several times through the night. Could not even make it outside! We had a mess on our floors and bed!! They were both trembling and fevered!! So I did some research and think I have found the culprit!! I can not believe with all the same complaints about this brand it is still being sold. I am very worried and concerned about both my babies. They will not eat today. It is only the 3rd day since the change. Total of 1 can eaten between the 2 of them in a 2 day period!! I pray they recover quickly! I will be seeking a attorney for a class action law suit if something happens to either of them!! THIS PRODUCT NEEDS TO BE PULLED IMMEDIATELY!!

We have been trying to figure out what is going on with our 5 yr old lab that keeps vomiting. He's been in and out of the vet and can't figure out what's going on. After reading all the reviews I now know it's the Iams we are feeding him. We gave him wet Hills ID and he's been fine on it and we added back in some dry Iams Friday and he's been throwing up past 2 days and today very lethargic and acting in pain. I will not be feeding our dogs this food ever again. My mom fed that to our dogs in the past but obviously they have went downhill and after all these complaints not changing anything. If you want to keep your pets healthy don't feed them this food!!

I have my little dog Iams dry pet food and he started vomiting. I noticed little tiny sharp hairs in his vomit. So I took one of the dry nuggets and put it in a baggie and hit it with a hammer. Sure enough it was full of tiny sharp hairs. I researched this company and was totally disgusted with what I discovered. I called them and told them I will never buy anything from them again. They must throw the hide and all into their pet food. We should boycott this company.

I got a new puppy 2 weeks ago. I decided to purchase Iams because I thought it was a decent middle of the road dog food. Almost immediately my puppy started vomiting and having diarrhea. I changed to plain chicken and pumpkin for 3 day. No vomiting or diarrhea, I just fed him 1/2 cup of Iams and was sick all over again. Foamy, slimy vomit and diarrhea. I feel horrible, he's so sick. Never again will I feed any of my animals Iams!

On Friday, June 9th, we put our family pug to rest after an incredible life of almost 17 years. From the time he was 1 until the day he died at almost 17 years old, he was fed a diet of Iams mini-chunk dog food for small breeds. His health was really wonderful for the vast majority of his life; only when he got very old did he have any issues, and those were primarily arthritis and some bowel problems. Very happy with Iams Dog Food. If we ever get another family pet, I will absolutely put him on a diet of Iams.

After feeding Iams wet food to my pomeranian she started throwing up a few days later. Then like other reviews she started having bloody diarrhea. They suggested changing her diet and in doing so the throwing up and diarrhea stopped but it was too late, she started losing muscle mass quickly and is now in early stage of kidney failure! DO NOT FEED YOUR DOGS IAMS! IT KILLS THEM!

I am shocked that so many consumers out there have had similar problems with their pets when feeding them IAMS dog food. I started feeding my spaniel on the 11th May 2017. Two days later she was at the vet's with a temperature shaking and lethargic. Since taking her off the food she is almost back to her old self. I believe that the IAMS dog food I fed her made her ill, perhaps an ingredients it contains or worse it was contaminated with Salmonella or another bacteria.
I have read that this item has been recalled over the years and so many other consumers have similar issues with the product range. I have contacted MARS in the UK who produce the product here and am waiting for them to address my concern in order to prevent other dogs from going through such pain and suffering. Food poisoning is not to be taken lightly. Thankfully due to taking her off the food, feeding her small amounts of rice and chicken and ensuring she drinks water she is making a good recovery. Thank goodness.

Our dog and cat started getting sick when we switched their food to Iams. Scar couldn't control his bowels, started drooling and throwing up white foam. The cat started throwing up and peeing outside the litter box. Iams refuses to test their product and offers coupons for their ** food. They are literally POISONING OUR POOR ANIMALS!! A woman lost 6 of her great Danes to this food. And 1,000's of other animals have died!! We wondered why he didn't scarf his food down like he normally did, now we know why!! This food causes kidney failure!! Luckily we caught it in time!!!
We switched to Nature's Recipe Grain-Free with Salmon, Pumpkin and Sweet Potatoes. Now, one 24 lb bag is $40! But as soon as we opened the bag and he smelled it he literally did laps around the kitchen and ate it so fast!!! He was SOOO happy!! I almost cried!! We switched the cat back to Special Kitty which is cheap but he does great on it!!! Please do not buy Iams if you care about your animal's health!!!

My 5 year old Pit/Bird Dog mix has eaten nothing but Iams Naturals and Iams Grain Free all his life with NO issues. We switched from Optimal Weight to Grain Free due to itching and switching foods to Grain Free reduced his itching with no problems for months. The last large bag of Grain Free that I bought gave him diarrhea. I thought it might be the cheap treats I bought from Rural King store. So long story short 2 weeks later, after quitting all his food and feeding him Burger/rice diet the diarrhea stopped and started feeding him Rachael Ray's Just Six and he was back to normal for that whole bag. NO DIARRHEA OR SOFT STOOLS. Ran out of Just Six and started feeding him the remaining Iams and the diarrhea cycle started all over again!!! No more IAMS dog food for us!!!
Iams Dog Food Company Profile
Company Name:

Iams Pet Foods

Website:

http://www.iams.com/