Hartz Mountain Flea & Tick Drops
Consumer Reviews and Complaints

I bought this product a few weeks ago for my kitty who was struggling with fleas. I had read some reviews saying their cat reacted badly to it while some others said it worked fine, so I went with the benefit of the doubt that my kitty would be fine, but I was wrong. Minutes after I applied the medicine she started trying to lick and rub it off, also acting very timid and trying to avoid me. I read these signs very quickly and heard they meant no good for my cat so I quickly brought her to the bath and washed the medicine off with kitty shampoo, and afterwards she was totally fine.
Today I did some research on the ingredient in the medicine, Etofenprox. And after reading some stuff on this page, ** it became apparent to me that this medicine should not at all be used on cats and scarcely on dogs. This is because etofenprox is a pesticide that is a form of synthetic pyrethroid. And with this all forms of synthetic pyrethroids are hazardous to cats. This is because the cat's body keeps it absorbed for longer meaning it can do more damage and cats do not have the required enzymes to tone down the toxicity of the poison. Now yes some cats can react to it worse than other with it being potentially fatal, but this does not mean you should risk it.
Now from to the article I mentioned above, "According to a report by the EPA from 2010, most problems occurred with spot-ons containing permethrin, phenothrin, cyphenothrin (all are synthetic pyrethroids) and amitraz, not approved for use on cats but erroneously used on them." Using these types of pesticides on smaller dogs can also be detrimental to them, but it is not as risky as using them on cats. There is also no antidote for etofenprox poisoning. If you had applied the pesticide to your cat though and washed it off them thoroughly with gentle dish soap like dawn or pet shampoo and water within 20 minutes or less of applying it, they should be fine.
Now if you had given this kind of flea medicine to your cat and have not washed it off within 30 minutes of applying it or around that time washing it off did not help, immediately take them to an emergency-vet service if they show signs of any of the following. Timidness, hiding, fear of you, excessive hair-loss, over-attentiveness to the application site, drooling, vomiting, lethargy, or anything else very suspicious of your pet.
Now the vet cannot get rid of the poison in the cat's system but they can administer many things to help with accidental ingestion, spasms, excessive drooling, vomiting/diarrhea, and supplements to protect the liver. If a vet refuses to help your pet or says that there isn't anything they can do for them I'm just letting you know that that is very untrue. For accidental ingestion activated charcoal, magnesium sulfate or sodium sulfate in water can be administered. Spasms can be treated with anticonvulsants, and hyper-salivation can be treated with atropine. Then Calcium gluconate and vitamins of the B complex can be used to protect the liver.
Anyway, etofenprox is usually very poorly absorbed by the skin anyway leading to most animals incompletely ingesting 14 to 51 percent of it. About 90 percent of the ingested chemical will come out in the animals waste though. So in the end, just don't use this product, it's a dangerous waste of time and money. You should also research the ingredients in what kind of flea treatment you put on your cat to make sure ahead of time it is not a synthetic pyrethroid.
Examples of products that are safe for cats are Frontline Plus / Pet Action Plus (using fipronil) Advantage (using imidacloprid) and at least in my case Cheristin for cats (using spinetoram). I say in my case because some reports say that Cheristin is just a reboot of an older flea treatment that was taken off shelves for being deadly, but my kitty didn't have anything bad happen to her because of it, though it did lose effectiveness after just a week, and it doesn't contain any insect growth regulators so the eggs, larvae, and pupae did not die. Then there is that fleas can become immune to frontline and advantage if used consistently so I would recommend switching between the two every month, and only using flea treatments as symptoms persist. If you keep applying treatments to your pet more than a month after there is no sign of fleas on them, fleas will very possibly become immune to it.

So this past weekend I noticed my cat had some discomfort and itching. I checked him out and found some fleas. Took a drive to Walmart and got some Sergeant's Flea shampoo, some Hartz flea powder and a Hartz flea collar. Back at home I washed my cat dried him then I applied the Hartz powder. 15 mins went by I went down my stairs and I felt a little funny, went to my kitchen started taking the collar out of its packing sitting on a stool. I lost my balance. My heart was racing and I couldn't focus on anything. My vision was blurred. My mind was racing. My heart was pounding. I didn't understand what was happening.
I went out my front door and sat on my porch for some fresh air, in through the nose out through the mouth trying to control my breathing but I couldn't see straight. I couldn't focus. I felt a panic attack coming on and I had to dial 911. I've never done this before. I've never felt that before. I was ashamed when 15 min later the paramedics were checking my heart rate and blood pressure. They told me I was fine.
After they left I was pale. When I looked in the mirror my mouth was dry and as I washed my face I saw the Hartz powder near my sink. When I read the container is when it all came together that I had been poisoned or chemically induced with whatever is in this product. To each it's own but this product is dangerous for pets and for humans. I don't understand what they mean by apply it to your pet but don't touch it? What does that mean?! My cat wanders my whole house, how can I myself or anyone else not come into contact with some remnants of this product? Anyways be safe all and read all the labels.

I wish I would have known about this product before-hand. I would have NEVER have bought it or used it. It caused renal failure in my otherwise healthy five year-old female cat, Sugar. She went from a healthy weight to nothing but skin and bones in less than a week. She stopped eating, stopped drinking, and would rarely move on her own. She finally died, in my arms, tonight, not more than 90 minutes ago. I am beyond furious and heartbroken. WHY IS THIS PRODUCT STILL ALLOWED TO BE SOLD?!

I bought the cat Hartz Ultra Guard Plus. Put it on my cat as parents used Hartz products for our dog back in the 1950-60's. This product made my cat sick. She would not eat. Just drank lots of water. I am an old man 71 years old. My gentle loving female cat 3 years old suffered and died because of Hartz poison. Why are they allowed to continue to make it. And sell it. My cat was never sick a day in her life until I put these drops on her neck. Now she is dead. Buried her this morning.
I would like to beat the hell out of someone at Hartz for this. You know it's poison yet you keep making money selling it. I bought it at Walmart. Tried to email them to ask them to take it off their shelves but almost impossible to do as the forms are formatted to do what Walmart wants or it won't go through Bullcrap. If I could give it 0 stars I would but must give at least 1 or this will not go through.

Hartz flea medicine - This stuff is abrasive and dangerous for your pet. Had a bottle spill in a container and got on a electronic cigarette lighter made of a rubberized coating and the medicine ate away at the rubber on it... I strongly do not recommend using this product ever.
How do I know I can trust these reviews about Hartz Mountain?
883,201 reviews on ConsumerAffairs are verified.
We require contact information to ensure our reviewers are real.
We use intelligent software that helps us maintain the integrity of reviews.
Our moderators read all reviews to verify quality and helpfulness.
For more information about reviews on ConsumerAffairs.com please visit our FAQ.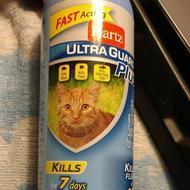 Today on 8/24/2017, I lost my sweet cat of 9 years. I bought both of these products and used them as directed on my cat. She ran after I only got 2 sprays on her back, but she let me put the flea collar on. This was a mere 2 weeks ago. Soon after, she started acting different, not as active as usual, and stayed in the same place on my chair for days... It took me a week to notice her food wasn't being eaten... And she wasn't acting normal. I thought maybe it was stress, or the storms we had been having. Until a few days ago, I picked her up and could feel her spine. I hugged her and loved on her, but she didn't act right. Then she hid for a few days, and I found her hiding spot last night... Well... She was skin and bones!
I took her to the vet today, and she had a stroke in my arms. She had to be sedated and put to sleep. I know it was these products... And I wish I had read reviews before using any of it... And this was the only new thing used around my cat... She has never been outside in her 9 years. Never changed her food... It was this horrible poison that slowly killed my cat! Something needs to be done about this company... I am crying so hard because of this... Take this crap off the market before any more beloved pets are killed! I don't have a receipt or package the collar came in... But I still have this bottle of poison!

We just got a dog and it brought fleas in the house and gave my 3 house cats fleas. Even though the dog used this product beforehand. Gave it to the cats, same as everyone else. It made them drool, walk funny and in a daze for a couple of days. We have more fleas in the whole house. Do yourself and your pets a favor buy the ones that cost more because I'm spending more money on getting rid of them from here. Hartz, you suck!

Like many on here I'm kicking myself for not checking this product out before using it. My vet recommended it so I didn't think twice. It's now 11 pm and I'm at the emergency vet with my 1 year old cat. I applied the preventative according to directions and my cat immediately began running around and became extremely agitated. When I managed to catch her about 2 hours later her skin was red and bleeding at the application site and she started having diarrhea.
I immediately washed her several times with Dawn but she started to shake and salivate so I rushed her to the vet before she got any worse. We're now awaiting the Dr for diagnosis and prognosis... DO NOT BUY THIS PRODUCT! I have read sooo many reviews of people who have lost their pets. I really hope I don't become part of that list???

Applied Hartz flea medicine on my 20lb dog. Read the directions and applied starting between the shoulder blades and worked my way down. The next day my dog would not eat or drink. He scratched a lot and his eyes got a glaze look to them. He looked dazed and confused. We let him out to use the restroom and when he came back in he started walking like he had mad cow disease. He was trying to walk but it's like his limbs weren't doing what they were supposed to. He tried like 6 times then kept falling. His legs got stiff and wouldn't bend.
We waited over 24 hrs to see if things would improve but it got worse the next day. My dog Junior's breathing was labored and he now had no function of any of his limbs. It paralyzed him. He could barely lift his neck. He had no control of his bowels, so we had him laying on puppy pads. We took him to the vet and the vet said after that many days of not eating, drinking, or being paralyzed the best thing we could do is euthanize our family dog. The guilt that I feel for using this product will haunt me for the rest of my life. Damn your souls for knowing the effects and remain to keep this killer on the market.

I put the Hartz flea and tick drops on the back of my 13 year old cat. It burned his skin so badly he was bleeding. He then began to have labored breathing which continued even after I washed it off. I took him to the vet and his lungs had filled up with fluid and he couldn't breath. They tried to get the fluid out but it at the vet but they couldn't get it all out. I then rushed him to the Penn Veterinary center where he was put on oxygen and medication but he did not make it through the night. Hartz Killed my beloved cat. Never buy this product. There should be a lawsuit.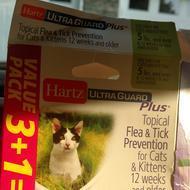 I put the stuff on my 18 week old kitten and she immediately started acting erratic. She started panting and jumping around and later started drooling. I took her to the emergency vet where I spent 10:30 p.m. to 5 in the morning and dinner having to leave her another day. I know that if I had not taken her that she would not have lasted that evening. It cost me $700 in vet bills. These people need a class action suit against them. I am so surprised that with all of these complaints nobody has insisted that they take this crap off the market. I am more than Furious.

Your product killed my dog. I put the powder on him and rubbed it in like it says and he got sick not a day later. He was sick for a couple of days then he died on July 7, 2017. He was fine, energetic and healthy before I used this product. Now he is gone. I lost my baby boy because of this product??? I just wanted to warn anyone planning to use this not to do it. It's too late for me. I will never see my precious dog again but you can keep yours safe not using this product.

Do not use this horrible product on any of your animals. I placed this product on my three cats and within seconds they began to howl in agony. My one cat Leo howled as he peed on the floor. They began to twitch violently and pant like crazy. I had to detox them with milk thistle. They are still experiencing horrible side effects. My daughter has panic and anxiety and having to watch all three cats suffer like this has caused her and I emotional damage. Please I beg of all of you do not use any of the Hartz products on your pets. We need to band together to file a lawsuit somehow against this vile company that is making animals violently ill and in worse cases killing them. This company should be ashamed of themselves. Even after washing the Hartz Guard Ultra Plus off my cats and detoxing them they are still sick. Please help us put an end to this company now before more pets die horribly.

I purchased the Hartz flea and tick medicine for my cats. I applied it Thursday evening, I got up Friday and went to work early, came home around 430pm Fri... My Buddy Cat, was meowing and on the floor in his spot where he lays down. He was lethargic and not standing up. I knew the medicine must have poisoned him because he was fine and healthy the day before. I rushed him to the bathroom and washed off the back of his neck where the medicine had been applied with blue Dawn dish soap... I then called my friends for the number of the vet. I called the vet and the girl at the desk said to bring him right in. They put a catheter IV in, and administered ** and IV solution. I arrived the next morning to pick Buddy up. He was a little worse. I laid him on my chest from 930am Sat until he passed in my arms at 253pm Sat...

I purchased this product today at Walmart and put it on my cat. Immediately she started meowing and running around the house like she was hurting. We finally caught her and managed to wipe the medicine off, using damp paper towels and even a little Dawn on a paper towel. She appears to have settled down. Sure hope it doesn't kill her. They should have taken this product off the shelves.

I wish I had never bought this trash. I bought and applied it yesterday to my perfectly healthy 1 year old cat. Today she is sick. I am PRAYING that she doesn't get worse after reading other reviews about this garbage. I should have known better than to buy this; I always say you get what you pay for. This crap is nothing but poison disguised as a helpful product. If you are reading this I beg you DO NOT BUY THIS PRODUCT.

I had purchased Hartz Ultraguard Pro for my grandmother's cats. Immediately after application one cat, Ginger started blinking his eyes and you could see the tears running out of his eyes. So obviously it burns. The littler and younger cat, Kitten started salivating terribly. Both of them are miserable. I read on here to wash with Dawn and push fluids. Ginger is not eating a few treats and drinking water. Kitten, however isn't moving much. Every time you get close she growls. However, on both of them when washing their necks with a cool rag with Dawn they seemed to love it. They didn't fight back which is unusual.
So I'm hoping and praying to the Good Lord that he lets them live a long healthy life. Please, I'm begging you DO NOT USE THIS ON YOUR PETS PLEASE. I know its cheap but getting the good stuff really is worth it. I understand that now after what I just seen. It breaks my heart. Thank you for the advice with the Dawn. I hope I got them in time.

My daughter in law purchased this product at a local Walmart. She put it on her cat's neck as described. A few days later the hair where she put the drops fell out. Then the cat began acting abnormally. She finally had to take him to a vet. The vet said the cat had been poisoned by this product. Two days later she brought him back to the vet and was told the cat will not survive and had to put him down. How can this product still be sold with all the complaints being brought forward? I will be going to this Walmart to give them a piece of my mind.

If I could give zero stars I would. I am beyond mad with Hartz. I have used this product before so I thought nothing of it. My dog had fleas so I ran out and picked up some Hartz flea and tick topical drops for puppies. The day I applied the drops she turned red. Again I didn't think much of it until the next morning when my baby was covered in nasty red bumps from nose to tail. I decided to call their customer care line to see what they would say. The lady I spoke with told me it was NOT their product that did it, that my dog already had the issues before I put their drops on her. I know for sure there was nothing wrong with my dog before the drops were applied. Needless to say if you are new or even older pet parent I would stay as far away from these products.

Bought Hartz Flea medicine for cats (which the internet said was safe for my house rabbit). After putting it on her back 2 days later she stopped eating, drinking and when she went to use her litter box there was blood in her urine. To say the least I rushed her to the vet and found out that it was the Hartz Flea Drops that poisoned her. The vet told me not to use it anymore not even on my dogs. So now we are using Advantage. Cost more but cost less than a vet bill. I don't understand how they can still sell the stuff if it does your animals so bad. Should be taken off the shelves.

Wish I would have read these reviews before buying... I have a large black cat and a smaller orange tabby female.... Luckily I actually spilled some before putting on my female but she still ended up with a small burn between her shoulder blades - my black male had no issues... After reading all of the comments WHY is this still being sold. NEVER again... Only reason I used it was because I moved to a new place and they have been scratching - and I found a tick in the apartment...

I purchased and bathed my dog with your Hartz UltraGuard Pro. After her bath her eyes had a green discharge and when I looked at her eyes they looked glazed over. I rushed her to the veterinarian and he said it was the shampoo. My dog is a 23 pound shih tzu. He prescribed eyedrops and pain medication. Her eyes looked glazed over and it seems to have a problem seeing. It is hard to give her drops because she is in pain. I am very concerned she is going to lose her sight.
All of her problems are a result of using the Hartz shampoo. My heart is broken. It is hard to hear her cry and cannot even open her right eye. Maggie got worse and the infection is now in both eyes. I had to rush her to the emergency hospital. They did blood test and looked at her eyes. They thought I might have to take her to an ophthalmologist but they have not determined if that is going to be necessary. Maggie had to stay 3 nights and during her testing they discovered she had DKA which was brought on by the stress of her eye problems. She has never tested positive for diabetes and as it was explained to me the stress brought on the DKA. She is back in the ER today to get her eyes checked and to do a curve test on the diabetes. My dog is suffering so much. She is having a problem adapting to the food and the eye treatments make her sick to her stomach.
So far I have spent approximately 5,000.00 on her treatment. The doctors are documenting everything and I will fax this as soon as the treatment is complete. This has broken my heart. By using Hartz shampoo my dog is suffering tremendously. I am at the point of a nervous breakdown doctoring my dog and begging her to eat. I got my dog for companionship after my husband died. I am on a fixed income and this is causing me so many problems financially. Emotionally I am so depressed and so upset with what she has to go through each day. Insulin shots, eyedrops and special feedings. I was surprised when I had two different vets and one national pet store tell me they always have problems with Hartz products. One telling me they do not understand why Hartz is still in business.

April 22nd I picked up my 6 1/2 week bichon puppy. On April 28th at 9:30 we watched him take his last breath. 1 day after picking him up, we noticed fleas on him. After giving him a bath in Dawn detergent, we decided to go to Walmart and get a flea collar. 2 days later he was very lethargic, vomiting, staring off in space, not eating & scratching. We immediately took him to 24 hour emergency. When we walked through the door and told the nurse his symptoms, she instantly instructed me to remove the collar. She take courage in the back to get vitals. After giving him anti nausea med and fluids, 4 1/2 hours and $160 later we were sent home. Two days later back to emergency room with worsen symptoms. It was recommended to have him hospitalized ($784.00 for one night) because the toxins from the flea collar had started to shut down his organs.
There was no way he would survive this. His temp had drop dangerous low and blood sugar was so low the meter couldn't read it. Being a single mom of 2 there's no way I could afford to have him hospitalized. After anti nausea med, dextrose injection & 30 minutes of IV fluids (another $120). We were sent home with a critical ill puppy with the IV port left in his arm in case we needed to return and just in case he made it through the night for his vet visit the next day. We were told to set the alarm and basically keep a constantly eye on him. I literally stayed up all night placing syrup on his gum every 2-3 hours to try and keep his glucose up. At 4am I watched him have a violent seizures. From 4am, I watched him have 2 seizures, vomiting, whining in pain, until he took his last breath at 9:30.
My 20 year old watch this and is having the most difficult time getting that vision out of his head. I physically had to prevent my 12 year old from going into the room where this horrible thing was happening. Courage my 1.5 bichon had to suffer and die because of their toxin product that is still being sold. It's like they're getting paid to killed these poor animals without any consequences. My boys waited a very long time to be rewarded with a puppy. We are completely devastated. How could this be allowed to happen. So many families are being affected emotionally and financially. It's not fair.

I have used this Ultra Guard Flea and Tick for cats in the past. I figured this time it would be okay. I was wrong!! Applied to my 3 cats and within 48 hours my 10-year-old Siamese had to be put to sleep due to suffering caused an from their product! I received a letter today stating that it wasn't the cat formula that would cause this but a topical dog preventive. They have all my packaging including from my dogs!! There is no way my cat got in contact with the dog formula! All I asked for was them to cover my vet bill and they are denying my claim by saying it was from another product for dogs. I would like all of us who have experienced this to please somehow band together and let's not allow them to get away with this!! PLEASE LET'S ALL FILE SOMETHING AGAINST THEM!! TOO MANY OF US HAVE LOST OUR BELOVED PETS DUE TO THEIR PRODUCT!!

This bothered my cat to the point where she was running around, terrified. Also it got in our eyes because of her being around and my eyes started to have a burning feeling. My cat still doesn't seem normal after a few hours of putting on the product. DON'T USE.

I put this product ULTRA GUARD PRO on both my 2 yr old cats 3 days ago and right away they started running around and scratching their hair at the back of the skull/bottom of neck where I put the drops as told by directions. The smell was so bad from drops I had to open my windows. Now my one cat has been throwing up since yesterday, laying around not eating or drinking. I'm trying to keep fluids in her so she doesn't die! I bought this product from Wal-Mart and I still have my receipt and if my cat dies or I have to take her to the vet I will be sue Hartz! Take Off Shelf!! Is this from China!!!
Updated on 04/11/2017: My cat Freya, is right now at Park Circle Vet Clinic in Hagerstown MD. Her Neurological System failing because I put your product Tropical Flea and Tick Prevention Drops on her! She most likely won't make it! I rescued her at 4 wks lying beside the road with her sister, Sissy. They are both 2 yrs old now. Perfect health until now. My little girl had to see our family cat convulsing today foaming green from the mouth. You probably don't even care. It's all about money. Our familiars are family.

Ok are the fleas here in Texas different than any other state 'cause these ultraguard flea & tick shampoo and spray did not work at all. Was still having live fleas on my fur babies and still scratching. Big failure. Not good at all. A waste of a lot of money. Crap not cheap.

DANGEROUS! POISON! Worst product in stores! Please do not put this on your animal! I have 5 cats; one of which is an indoor/outdoor cat. She has been on Revolution (a prescription flea med) for 5 months since she came to us as a stray, mainly because she had ear mites too. Our vet recommended keeping her on this if she would continue going outside.
I recently ordered her another 3 month supply through a mail order, but had been noticing she was itching a lot more than usual and had also found one or two fleas near her bedding area and decided to go to our local shopping center to get a quick substitute for her, as well as something for my other 4 indoor cats to prevent them from getting fleas from her while waiting for her prescription to come. When we first took her in, we used a cheaper version (around $6 per box) for our indoor kitties for the same preventative precautions.
So this time, I decided to compare the $6 box with the next amount up at $12 which was the Hartz Ultra Guard Pro. I figured if the ingredients were the same then I would just get the cheaper version. I did not want to pay $50 - $60 on the more expensive brands such as Advantage or Frontline when I had just spent that on the prescription Revolution if I didn't have to and since this dose was mainly for precaution only (prevention for my indoor cats and something to help hold my outdoor kitty until her regular meds arrived) then that would be fine.
Turns out, Hartz Ultraguard Pro did have another ingredient that the cheaper brand didn't have, so I assumed that must be what I was paying $6 more per box for. Don't you expect to get what you pay for? An extra additive must make this one work a bit better than the one that doesn't have it, right? Well, unfortunately I had to find out the hard way that this ingredient (**) which is 40% of the active ingredients is part of the ** family which is basically a pesticide... aka poison!
I put a dose on each of my cats that evening exactly as the box said: between the shoulder blades. There is just no way to prevent this stuff from getting in your animal's mouth! They are going to groom themselves and regardless of how well it's placed, they will inevitably lick it down the hair shafts or scratch and lick their paws until at least some gets ingested. Through the evening I noticed that 2 of my babies were foaming at the mouth. I assumed this was because they had ingested some and didn't think much of it until later into the evening my 3-year old, male orange tabby started vomiting and started kicking his back paws as if he had stepped in water.
When this continued to happen and didn't seem to just be an isolated event, I started to look online for the possible causes for these symptoms and found story after story of this same product causing similar symptoms in other pets (dogs included) and sometimes worse, even leading to death in many. This steming back as far as 2009.
** work to paralyze fleas and essentially when absorbed into the skin can do the same for your pet. It has been known to cause foaming of the mouth, vomiting, diarrhea, skin burns/lesions, loss of limb function, seizures, renal failure, and ultimately death in some! WTF is this product still doing on the shelves? EPA and The Hartz Mountain Corporation know good and well these things have been happening to numerous animals for years and they still approve it for sale! ABSOLUTELY DISGUSTING!
I am now 24 hours past the time when I first applied this poison to my 5, sweet, loving pets and 2 out of 5 have had a bad reaction! One of them, although seemingly doing better this evening, is still not himself and I am very worried about how an application that is supposed to last in his system for one month will continue to react with him. From what I read online, you should wash the area of treatment with dawn dish detergent and rinse well with water to prevent as much as you can from absorbing into the skin. By the time I did this, it had already been on them for at least 8 hours and who knows how much they had ingested! I'm hoping what I have done has been enough to rectify the situation, but many haven't and won't be this lucky!
This item MUST be removed from stores! Like myself, most people assume an in store product will be milder and likely less effective than prescription products, but certainly would never assume they would be so dangerous and deadly! After all, shouldn't the EPA be looking out for the best interest of pets? Isn't that their job? SOMEONE HAS DROPPED THE BALL! How many pets must suffer and die before Hartz takes this off the shelf? Stop calling it a treatment for fleas and call it what it is... Animal pesticide... aka POISON! This has been a hard lesson learned at the expense of my 5 innocent animals! I will NEVER purchase another Hartz product EVER again and would suggest anyone reading this to do the same.

This stuff is POISON and it killed my baby!! I bought this product 2 months ago for our beloved kitty Dip. He was 12 lbs and fine. He had FIV but was in good health and had no problems. Happy, fat, and enjoying a quality of life any pet parent could wish for their fur baby! Within a day he started losing fur around the application site. He then developed sores that were chemical burns. The sores and hair loss spread and he lost weight rapidly. We spent over $500 desperately trying to save him. Today the vet told us his anemia was worse and his organs were shutting down. He was 8 lbs. She said that his condition would continue to deteriorate and he would suffer. We made the heartbreaking decision to allow him to fall asleep in my arms one last time with him purring.
I hate this company for making a poison that killed our beautiful boy. You are criminals and you shouldn't be allowed to sell this garbage! He was FINE until he got those drops! I'm including pics of how he looked 2 days ago. This product poisoned him and caused a cascading systems failure in his immune system. You are a HORRIBLE company and I am sickened by how you can sell this to people who just love their pets and want to give them a good life! He had two homes, we co-parented with our friends next door because Dip loved them and decided he wanted to live there. But he was still our baby. He was ALL of OUR baby! You should know that your poison has left not one but TWO homes heartbroken tonight!

I have a cat and so my hubby and I bought the drops and the collar and it didn't do any good. We gave him a bath and followed the instructions and the next day bam fleas, looked worse than before...The product sucks. I would not buy that garbage again...
Hartz Mountain Flea & Tick Drops Company Profile
Company Name:

Hartz Mountain

Website:

http://www.hartz.com/