Hartz Mountain Flea & Tick Drops
Consumer Complaints and Reviews

This stuff is POISON and it killed my baby!! I bought this product 2 months ago for our beloved kitty Dip. He was 12 lbs and fine. He had FIV but was in good health and had no problems. Happy, fat, and enjoying a quality of life any pet parent could wish for their fur baby! Within a day he started losing fur around the application site. He then developed sores that were chemical burns. The sores and hair loss spread and he lost weight rapidly. We spent over $500 desperately trying to save him. Today the vet told us his anemia was worse and his organs were shutting down. He was 8 lbs. She said that his condition would continue to deteriorate and he would suffer. We made the heartbreaking decision to allow him to fall asleep in my arms one last time with him purring.
I hate this company for making a poison that killed our beautiful boy. You are criminals and you shouldn't be allowed to sell this garbage! He was FINE until he got those drops! I'm including pics of how he looked 2 days ago. This product poisoned him and caused a cascading systems failure in his immune system. You are a HORRIBLE company and I am sickened by how you can sell this to people who just love their pets and want to give them a good life! He had two homes, we co-parented with our friends next door because Dip loved them and decided he wanted to live there. But he was still our baby. He was ALL of OUR baby! You should know that your poison has left not one but TWO homes heartbroken tonight!

I have a cat and so my hubby and I bought the drops and the collar and it didn't do any good. We gave him a bath and followed the instructions and the next day bam fleas, looked worse than before...The product sucks. I would not buy that garbage again...

So I recently got a kitten that had been outdoors previously. So I bathed her and put this collar on her and I noticed large irritation spots on her neck, and she kept scratching at them. I took it off and looked up side effects of this product. I wish I would have saved the box. Will never use again.

My cat, Ginger, got out of the house. When she came back, she has fleas. I bought Hartz flea drops for cats. Didn't effect the fleas at all. My daughter bought a Hartz Ultra Guard Plus for fleas on cats. Nothing. Fleas thrived. I bought another flea collar thinking maybe the first was old. My cat still has fleas. I complained to Hartz and was told about the flea cycle. Bah! I told them and I tell anyone thinking about buying Hartz, DON'T. Complete waste of money. Bath your cat with Dawn. Much better treatment.

I wish it was possible to give a product zero stars because this product is absolutely terrible. I usually get my 3 cats flea and tick treatment from the vet, but I ran out and panicked when I saw a flea on one of them. Anyway, I knew something wasn't right almost immediately because the smell was way too strong. Then I could tell my sweet babies were not okay. I really think it was burning them. Anyway I rushed to wash it off of them and they seem to be doing fine now. But never again! HEY ANIMAL LOVERS, PLEASE DO NOT BUY THIS PRODUCT!!!
How do I know I can trust these reviews about Hartz Mountain?
696,839 reviews on ConsumerAffairs are verified.
We require contact information to ensure our reviewers are real.
We use intelligent software that helps us maintain the integrity of reviews.
Our moderators read all reviews to verify quality and helpfulness.
For more information about reviews on ConsumerAffairs.com please visit our FAQ.

I used Hartz tick and flea drop on my 4 year old cat. She immediately started acting strange. She began to pant heavily and her breathing was labored. She was agitated and hissing and then ran under our bed and wouldn't come out. I called my vet and she told me to wash the product off as much as possible with Dawn dish detergent. When she finally came out I washed as much off as possible but unfortunately I don't know how much seeped into the skin. Vet says to carefully watch her and if breathing gets worse get her to the emergency room. Praying that she is ok and hoping no long term neurological problems. I strongly urge you not to use this product.

I put this Hartz ultraguard plus cat collar on both by 6 month old kittens. My boy kitten seemed okay but my girl kitten was going crazy itching her self and biting her self all over. I checked for fleas thinking she was getting bit up but she did not have any fleas on her (Dawn dish soap kills fleas instantly). I got the collars to prevent reoccurrence in case there were any fleas in my house. I looked up the reviews and realized how terrible this product was so took them off both cats right away. It has only been one day but she seems a little better but not by too much as of yet.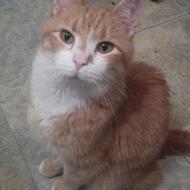 I wish I would have read all of these reviews prior to buying this horrible, horrible product. I put this CRAP on my 9-year-old cat on Friday November 11th. My cat sleeps with me every single night; that night he did not. The following morning, I woke-up because I heard him making very odd breathing noises; he was having a seizure and a hard time breathing. I immediately bathed him to get these toxins off of his body but it had already gone through his skin.
Saturday morning at 2:30, I took my poor Punky to the emergency vet because he had not eaten, used the bathroom, was having body twitches, unable to walk and overall was very agitated and hissing (not like him at all). They then told me about the toxins that are in Hartz products and said he was having a reaction to it. They had to put my poor baby under anesthesia prior to even giving a full check-up because of his level of agitation and aggression. They did everything they could for him and here we are 5 days later and I am being faced with the reality of having to euthanize him because he is not doing any better. Hartz, you are a terrible company who should not be in business. I will post this review every place that I can think of.

I used Hartz Ultraguard flea and tick shampoo on my 2-year old European boxer. He is now broke out all over his body and can nearly keep his eye open. I recommend that you never use this. It is animal cruelty and this business should be shut down or stop making stuff like this!

Please, do not use this product on your pet. I have just come from my vet's. Last evening Hartz UltraGuard plus spray was applied to our dog, as directed. This morning, upon awaking, I heard our dog vomiting. I ran to his room, and, found large amounts of vomit all over his floor. He was also, drooling badly. The vomiting ceased in about an hour, it was followed by more drooling and clear fluid, followed by more and more drooling and dry heaves. This drooling was only a precursor to seizures, which, surely would have occurred had I not gotten him to his vets. His vet has seen many cases such as this, from this product being reported to her, as being used on their animals.
Don't do as we did and freak out at a flea and go tearing down to the only store in town open, and buy the only thing available. Instead, wait until at least the next morning and purchase a product that has no life threatening reviews, like I wish we had done. Thankfully, our dog is on the mend and sleeping peacefully after being given 3 shots, and meds for a week.

I had no ideal that a product that has been around for many years such as this one is still in business. With all the laws out there for animal cruelty and abuse how can this corporation be in operation. We bought this product to treat fleas on our 16 year old male cat and after applying according to the directions on the package, we now have a cat without the use of his hind legs. We put baking soda to absorb the oily substance off his fur and skin and gave him a nice warm bath with dish soap to help remove the poison. Hopefully in the morning he will be much better. If not I want to know what steps can be taken to shut this business down? Very upset consumer in Richardson, TX.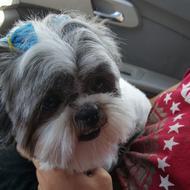 My dog recently got fleas and I decided to get the hartz shampoo, flea collar, and flea drops. A few hours after my dog started to lay around, not eat or drink. So the next day she stopped responding to her name and still was laying around. Barely walking or moving so I took her to vet. The vet said that this product was not great and to wash it all off with dawn soap. So I did washed. My dog started to drink some but was still not keeping nothing down and so today I checked on her while she was sleep with my son. And at 713 am I get a call that she was having a seizure and then stopped breathing. Hartz killed my shih tzu... my sasha, my baby!

I have 6 indoor cats, of which one goes in and out. On 2 Oct 2016 I put Hartz flea drops on all of them I had bought. Plus that same week I bought (4) Hartz UltraGuard Plus flea collars and (2) Hartz UltraGuard flea collars all that was on the shelf at Walmart. I am very disappointed after spending over $26.76 on the collars not to mention the flea drops. My cats still have some fleas on them. I don't have fleas in my home just the cats. As I said they don't go out except for 1 and I have been keeping him in after I applied drops and collars. This is very frustrating not to mention the money I have spent for the stuff not to do any good.

These people are cruel animal killers!!! I purchased Hartz Ultra Guard for my daughter's 4 month old kitten. He is now bleeding from skin, and swaying back and forth. You people are sick just trying to make a dollar. We will open lawsuit.

REVIEW OF HARTZ MOUNTAIN FLEA & TICK SPRAY - I had a Persian cat which had fleas. I spray my cat and gave her one tablet of dog & cat quick tabs. She went to sleep in a closet without a door. I found her dead when I got up about three hours later.

I sprayed my 4 year old yorkie chihuahua and my 5 year old Jack Russell lightly with Hartz Ultra Guard. Approx 7 hours later my chihuahua broke out in rashes and was scratching intently. Approx 18-22 hours later both dogs vomiting. Today approx a day later my jack Russell had a seizure. Short but still could have killed him! These are indoor dogs that only go outside to poop and pee! Unbelievable and I know we are not only ones to watch this destroy our animals!

I used Hartz UltraGuard Flea and Tick ointment on my 5 year old cat. Everything seemed okay. No reactions until about 3 weeks later. I noticed a large white scab at the application site. It started to brush off, but mainly stayed on for another week or so. The scab disappeared and now my cat is losing his fur at the application site. There's a small bald patch and it looks like new fur is starting to grow. I will not be using the other 2 applications.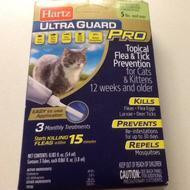 I put the drops on my cat just as the directions said. Within 20 seconds my cat started to gasped for breath and acting like she was having seizures, and the smell of the drops were so strong you could smell it in the whole house. I grab up my cat and started washing it off her. There was no way of getting it off her. I just started blowing in her face and putting cold water on her then she started having diarrhea. She is doing ok now but getting that off her took at least 3 shampoos and still it has been a week and the smell is still there.

About 36 hours after applying Hartz UltraGuard Topical Flea and Tick prevention to my pug, he had a grand mal seizure, his first ever. 22 hours later, a 2nd one. Now, we're just waiting and watching. His vet said that when he worked in an ER he saw many adverse reactions to Hartz Flea and Tick products. The consumer line "medical department" for Hartz (actually, a 3rd-party veterinarian contractor answering the phones) suggested we bathe him with dishwashing detergent, which has been done. But the woman there refused to provide any information on the number or nature of adverse reactions to this product. The Internet is littered with adverse reaction anecdotes on Hartz flea and tick products. I shall do my best to spread the word: Hartz = poison, and not just to fleas and ticks.

I've used Hartz Ultra Guard on my dog after returning from holidays where tics and fleas are rampant with great success. We were in Waterton Lakes National Park Canada where Bison, bears, elk and deer are everywhere and unfortunately, my dog did get fleas while rolling around in the scrub and sagebrush. This product worked immediately on his itchy infested skin with absolutely no adverse side effects. I have read many negative reports on this product and was quite apprehensive about applying it on my boy, but his great discomfort and several sleepless nights was the deciding factor. Almost immediately, his scratching stopped and was asleep at my feet within five minutes. I would use this product again and would most definitely recommend it to my friends with large dog breeds.

On Friday, Sept, 2, 2016, I treated my Boxer/mix for fleas with Hartz Ultra Guard flea & tick prevention for dogs & puppies (use only on dogs and puppies 12 weeks and older weighing 1 to 150 lbs.) I followed directions to the letter. Saturday, the 3rd, she was ok. Sunday, the 4th, she only ate 1/2 her normal food. Monday, she did not eat at all. Tuesday, the 6th, she was paralyzed in her hind quarters. I used the medication as directed, applying between shoulder blades. down her back to the base of her tail.
My daughter called the vet and was told to wash her with Dawn Liquid dish soap ASAP, which we did. This morning, (Wednesday, Sept 7, 2016) shows no improvement other than she is eating a little more. I contacted Hartz on Tuesday evening but offices were closed. The automated answering machine gave me the number to their product safety/poison control people. I called and spoke with a lady named Nancy and was informed rather rudely that their product did not cause paralysis in animals. I called Hartz Corporation this morning and spoke with a person named Dale in the animal emergency department and was told the same thing. I was also told to contact my vet or the animal shelter and have them to contact the company and the company would tell them what to do. My pet was in very good health prior to me treating her for fleas. She has had no ticks on her.
Needless to say, I am very upset and angry. Hartz acts like they could care less about animals. I HIGHLY RECOMMEND THAT NO ONE USE ANY PRODUCT MADE BY HARTZ MOUNTAIN CORPORATION unless they want to have a sick or dead or injured pet. I regret I did not check on this product & company before I medicated my Rosie. I have since read several "horror" stories from others about what they have gone through with their pets due to Hartz products.

I put this on my cat and my cat got very sick and now has a big sore on his neck. It looks like a burn. I will never buy this again. I am writing this to let everyone know this med is very bad for your pets!!!

I put Hartz flea and tick drops for small dogs on my 3-year-old dog. I followed the directions on the package and applied accordingly. Her hair from her neck all the way down her spine to her tail started falling out, and burn marks appeared. I gave her a bath but the damage was already done. Now her hair is falling out on her sides and underbelly. DO NOT put this product on any of your animals!! Plus the company doesn't care at all.

Our poor baby, Julio, a 55-pound boxer-lab mix has been itching like crazy! The fleas seem very bad this year. We have tried numerous remedies, spent lots of money on products that do not work. I picked up a Hartz ultra guard flea & tick collar at our local grocery outlet for $3.96. Put it on last night. This morning, no itching!!! It's a miracle! It smells good, easy to put on, it actually works. Who knew? I highly recommend this product and if Julio could talk, he would too! Thanks, Hartz. They ought to call this Hartz doggie butt saver 'cause he doesn't bit his poor butt anymore, either lol.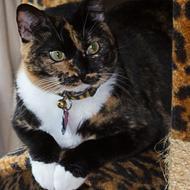 On 8/26/16 gave one dose as directed on 8 year old female feline named Clover. Following morning Clover awoke drooling, no appetite for 24 hours, slept entire day in a few different places - this morning on 8/28 she was back to her perky self with appetite and activity. I will pursue returning for credit to Hartz and/or discard this product and NEVER USE AGAIN! Will also let our Vet doc know. We are one of the lucky ones!

After reading other reviews I too am so far lucky, we put that poison on our cat and she now has severe chemical burn and fur loss. Will never buy a hartz product again.

Both of my small dogs had reactions the next day to the use of the flea and tick ampules that are applied from the shoulders down. They both had RED eyes, the smaller of the two could not open her eye and was lethargic. I saved all the vet bills which amounted to about 700 dollars. I was not expecting full compensation but I would expect a large company to be a bit more compassionate.
They wrote back saying I did not apply the drops properly and there is no way an allergic reaction can cause a corneal ulcer. Dogs and Cats die from this product and they question a different allergic reaction. The chemical is absorbed in the blood, both dogs had reactions. The smaller dog's eye was irritated by the chemical and became infection and they deny the connection. The box only says moderate eye irritation! They replied! I will never buy anything from this company. The chemicals are harsh and they are not even required to list all the ingredients on the box! How dare they try and blame me for their misuse of chemicals. DO NOT USE ANY THING FROM THIS COMPANY...

You think when you go to the store and you purchase a product from a company that's been around for years that it is perfectly safe for your animals. I am really pissed off right now. I just put this product on my adult female cat and immediately she started convulsing and foaming at the mouth and getting sick and started running around and hiding and crying in pain. I wish I would have read these reviews first before I applied it and I pray to God that I haven't killed my cat. I was going to apply it on two of her kittens that are 12 weeks old but she had this immediate reaction. I've done the best I can to wash it off in warm water and Dawn and I pray that I got most of it off.
All I can do now is watch her and hopefully she will be fine. I don't understand after reading all of these reviews of death and poisoning why Hartz even has this on the market. They ought to be ashamed of themselves. I'm taking this back to Walmart where I purchased it but if something happens to my cat they can't replace her life from this poisonous product. WTF Hartz?

I purchased at Walmart on Aug 6, 2016 and when I got home applied to my 9-year-old cat. The next morning 01:30 am I awoke to her having a grand mal seizure. I took to vet 7 am with her stitching and drooling. The vet gave her ** to calm her. This did not work and then they gave my cat ** to no avail. They had to put the cat down. I do not want any money back but for the love take this off the market... It is too late for my cat but it may save others.
Hartz Mountain Flea & Tick Drops Company Profile
Company Name:

Hartz Mountain

Website:

http://www.hartz.com/