Consumer Reviews and Complaints

I bought a bag of Alpo dog food from Dollar General in Merced California on Yosemite Parkway. A few days later my dogs passed away. Blood was pouring out of their rectum throwing up. We couldn't find anything else that could be wrong with them except for them eating the dog food. Only three of them ate it and the three that ate the food passed away. I threw the bag away not thinking being depressed and wondering what was wrong with my pet. One of my friends said to do a pet dog food recall and I did and it is the same symptoms that numerous other people have had. I am going to try to find my receipt.

Do not feed this ** to your fur babies. This crap is deadly. We just lost our 4 and a half year old Chihuahua to the can ground up Alpo. I will be contacting Alpo and let him know that they owe us for the life of our precious little boy.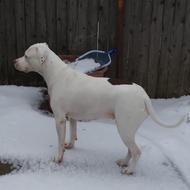 I feed my current dogs Alpo and all of my past dogs Alpo and never had a problem. Their primary source is Diamonds dry and I put in a few fork fulls (I switch kinds throughout the week). Alpo has been around for 80 years. And yes they do use by-products but some by-products are actually good for our pets. I read this online but I wasn't sure so I checked with a board certified veterinarian and my own. And they both confirmed.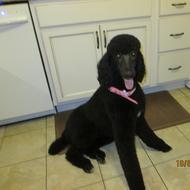 My standard poodle is 2 1/2 years old and has been eating Alpo most of her life. One day I decided to give her Pedigree for a change of pace and she got diarrhea and my sister told me not to change dog food so quickly on her. I started mixing Alpo with the Pedigree for about 5 days and she was on straight Pedigree I found her eating less and less. Found she did not like it... I went back to Alpo and have been with it since. I think that is the problem with a lot of people that have their dogs getting diarrhea is the quick change from one brand to another. Try mixing it with her old brand first. I have had no problems with her health from eating Alpo.

DO NOT BUY THIS FOOD!!! A couple of days ago I bought a 6 pack of Alpo Prime cuts: beef in gravy wet dog food for our female German Shepard. Her main diet is usually dry food, but once every couple of months my husband and I buy her wet food to mix things up a little. We have done this for years now and have never had any problems. I saw this brand in the store and thought it looked pretty good (first time buying it). The first night after she ate it she seemed okay. That morning we discovered she was very gassy and had thrown up. This is unusual behavior for her, but my husband and I just assumed maybe she simply ate too fast or was coming down with something.
This is currently night 2, she just ate another can about 4 hours ago. The excessive gas (I'm seriously talking every 5 minutes) is back, and now I feel so bad for putting my furbaby through this embarrassment and torture. I've taken her out a couple of times now and unfortunately she has been having diarrhea for the past couple of days... After looking online it says that excessive gas is caused by low quality ingredients that can't digest properly. PLEASE if you care about your dog do not feed them this food. We will never buy this dog food again. After reading the reviews I am amazed that this dog food is even allowed to be sold anywhere.
How do I know I can trust these reviews about Alpo Pet Foods?
883,201 reviews on ConsumerAffairs are verified.
We require contact information to ensure our reviewers are real.
We use intelligent software that helps us maintain the integrity of reviews.
Our moderators read all reviews to verify quality and helpfulness.
For more information about reviews on ConsumerAffairs.com please visit our FAQ.

When I was choosing what treats to buy my dogs, I always read their ingredients. And I notice that in the Purina Alpo you put chicken by-products & animal digest. That is just plain nasty to do something like that to dogs simply because they're animals and can't anything to help themselves. We as human beings find it nasty enough to put into our foods to eat so we don't so why do such an awful & nasty act to dogs? I've read your reviews of people's dogs getting sick after eating the Purina foods. And it's because of all the nastiness that goes into it! That's why I never did give my dogs this food!! Be mindful & have feelings for dogs!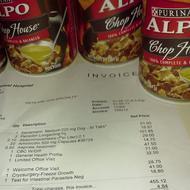 We purchased the Alpo Chop House for our picky eaters. We had been giving it for about three week. At first they ate it up but slowly ate less and less of it. Over the weekend the two older dogs were getting pretty sick. Monday morning were in the vets office. My 15 year old lab mix is in complete liver failure and outlook is not good, while the 9 year old wheaten terrier is vomiting blood and blood in the stool. Our 9 month old Shepard has bloody diarrhea. All of our dogs were healthy before we feed them Alpo. Even our 15 year old lab mix only had a little arthritis. I am heartbroken to say the least, my husband worked all week to pay a $459.00 vet bill that looks like we will making more trips to the vet before we are through this.

My dog got diarrhea from eating Alpo Come and Get It classic cookout dog food. I went to the Family Dollar where I bought it. She said I need to send it back because they can't do anything since the expiration date is 2018. Also told me to call the number and they will send me a refund. I told her I didn't keep the receipt not knowing the dog food was going to give my dog diarrhea.

I had a litter of 5 Yorkies that were 6 weeks old on December 23, 2016. On that date I took all 5 puppies to the vet. All were given a clean bill of health. All of them got their 6 weeks shots and wormed. One of the puppies (the one that died) had a stool check to make sure there were no problems with bacteria and there were no problems detected. Up until that date the puppies had been nursing Mom, eating rice cereal, and once a day they had some Purina Moist and Meaty and Purina Puppy Chow. On Dec 23, 2016 all the puppies went to their new homes. All of the puppies continued on the above diet until December 29, 2016. One of the owners ran out of the food as described above. He went to the Dollar Store since it was closer to his home and he got the puppy some Alpo.
On Dec. 30, 2016 the puppy started vomiting and having loose stools. The owner took him to the vet. Vet said that puppy had a stomach infection and gave them an antibiotic and gave puppy some IV fluids. Jan.1, 2017 the puppy was so weak that he could not hold up his head, lost weight, loose stools and would not eat. He was rushed back to the vet. Our adorable baby passed away. I hope the big shots at Purina (makers of Alpo) can sleep at night knowing this because none of us can. I will tell everyone that I know to never feed their beloved pets Alpo. Thank God the other 4 babies are doing great.


I bought 3 cans of Alpo canned dog food. My dog has eaten the ground beef but I purchased a chopped sirloin flavor and has had a tablespoon for the last 3 mornings. She started to decrease the amount of the dry food on day 2, has diarrhea and no longer eating the dry food. I am now fixing a diet of rice water, boiled chicken. I am hopefully optimistic that I have caught this in time. No longer will I purchase any Alpo product. I had a similar situation years ago with the same dog when Mighty Dog caused her to have bloody stools and many pets succumbed to eating tainted dog food.

We have 6 dogs that ate some Alpo canned dog food, for the first time ever (thank goodness we only had a couple of cans) and last Thursday and Saturday afternoon one of the dogs was vomiting and had a bloody stool. Her breathing was labored and she was drooling. We rushed her to the vet Saturday night and it turned out she had pancreatitis. She was a normal, healthy dog with no previous stomach or pancreas issues until Saturday. All 4 of my Yorkies have also had diarrhea since then too though none of them were as sick as the Schnauzer. As this was a one time purchase I never thought to read up on the product as I did use it many, many years ago, but after reading up on pancreatitis as well as the other dogs being sick at the same time, I decided to investigate.
My dog is home today after a 4 night stay at the vet clinic and seems to be doing ok but after reading these reviews I am now convinced that eating that Alpo is what made them all sick. Thank you all so much for sharing your stories so people will know that Alpo seems to be at the bottom of this horrible issue and this many stories just like mine are just too compelling to ignore. I would NEVER buy Alpo again in any form.

Our Rottweiler became lethargic with vomiting and diarrhea after eating a can of Alpo wet dog food late last week. He passed away about two hours ago. This food should not be kept on shelves anywhere! After reading other reviews on this site, I can't believe Alpo hasn't done something about it! Shame on them for not pulling this poison from their line of horrible products!

I purchased a 15 lb bag of Alpo Prime Cuts dry dog food. At first my dog ate it and seemed happy. The last few days my dog didn't want to eat the food. Today, my dog did not eat but drank water and immediately vomited. He seemed very tired and listless. When I came back home this afternoon, my dog was dead. He appeared peaceful, but he had not had any illness in 12 years, and the only thing that has changed was this new food. After reading the reviews I believe my beautiful dog was also poisoned by this product.

My brother and I are roommates and own a shih-tzu. We always buy Beneful which he loves. Well we were out of food and had no other store open but the corner store and all they sold were cans of Alpo. Well for the two days since our dog has had bloody stool, profusely puking, shaking. Off to the vet and after reading other almost identical reviews, I will be sending Alpo companies the vet bill. Since they CONTINUE selling this crap knowing how sick it making dogs. Even killing them. (after speaking with a neighbor I learned her dog died from it. Yes proven the Alpo did kill their dog.) SHAME on them to keep selling it. You would think they like animals seeing how they make animal food. Obviously not. To Alpo keep your eyes open for a vet bill and possibly getting me a new dog pending the outcome! DO NOT BUY THIS FOOD IF YOU LOVE YOUR ANIMAL! Wish I talked to my neighbor first.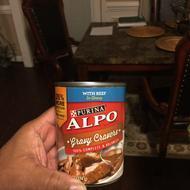 I bought this food for my Golden Retriever yesterday at the local food lion ten cans for $7.50 and he been vomiting all night and having diarrhea. I never thought that a company would leave a food on the market that will harm an animal. I will take the other 9 cans back to food lion. I hope this food is out of his system and doesn't kill my dog. My dog never get sick until now. I do not recommend this product for no animal.

We bought this brand about 6 weeks ago. My biggest dog, Houdini (he's 9 years old), ate it consistently for about a week then started tapering off. For about 4 weeks after initially purchasing the food, he started refusing it altogether, so I started supplementing the food with boiled chicken and rice. Earlier this week, he stopped eating all food. We took him to the vet this morning, and he was diagnosed with renal failure and isn't expected to make it. He has been lethargic, has lost weight, is drooling, has been throwing up stomach bile, has loose stool, is dehydrated, and is an all-around sad thing to see. I'm furious. I'm furious that this food has been kept on the shelves despite all of the negative reviews. I'm furious that I did not read them sooner. And I'm furious that my sweet guy is suffering. Something needs to be done!

Our otherwise healthy Australian Shepherd has had increasingly bloody stools for the past week-and-a-half -- since we first gave her Alpo Prime Cuts dry food. She is lethargic and not acting like herself at all. The sudden change of health and behavior can only be traced to this food. After reading that others have had similar complaints--and some with worse outcomes--I'm amazed that this can continue. Buyer, beware. This is NOT a quality product for your pet!

I started to feed my doxies Alpo canned dog food for about 3 weeks. Within those weeks I have lost both my dogs. They were in good health and lost them both within a week apart. We are lost for words. So if you love your babies please don't feed them the canned food.

My dog vomited about 15 minutes after eating this junk Filet Mignon Cuts with Bacon and he has never ever vomited with other brands. He appears weak.. Will be keeping a close eye on him. Please do not buy this brand. It's cheap priced so I even wonder what this company puts in their food processing. Upset and disgusted with Alpo.

Been feeding a large male, 8-yr old GS Dog (Mister von Bear) this dog food (mentioned in the title) over the last few months. I haven't used this brand before. Noticed he was rejecting the food more and more over the past few weeks but thought it was due to summer heat, so just kept an eye on him while hoping he gets better as summer turns to fall. He's also been losing a lot of weight (and will know more precisely tomorrow when I take him to the vet). I set the appointment this morning. It's been getting cooler, but the dog's been getting worse.
Last week I experimented by buying some canned dog food and gave him that. He gobbled it up like he was starving to death, so I ruled out the heat. Must be the Alpo -- period. Other symptoms are he heaves heavily and has trouble breathing during and after eating the Alpo. Those effects go away after a few hours. Other symptoms within the last few days are excessive drooling, and a sagging left lip and sagging left ear. So, not being a vet myself, and in an amateurish sort of way, I'm imagining that affected fluid in his mouth and throat travels up through his Eustachian tube and into his inner ear and causes problems there, and that may cause nerve damage anywhere along that path which affects his lip, and may also cause a sagging lip and excessive drooling. Then the mess that he swallows goes to his stomach then eventually to his liver, and from there it goes everywhere through the blood.
Where I live it doesn't rain at all during the summer. It's bone dry. And this is the type of weather that has existed throughout this whole time. Furthermore, after I open a bag of dog food it is poured from its bag into a metal container having a metal lid, and the emptied bag is stored in another sealed metal container. And those metal containers are contained in a rain-free outbuilding where no other food is stored. That environment serves to prevent entry by rodents of all kinds. In fact, I've never seen so much as a beetle or spider inside those storage cans. I have however on rare occasions seen clumps of dry dog food in the original product bag and those clumps had a greenish mold color, indicating that at some time before I purchased the bag, it was exposed to water.
That doesn't have to happen at the manufacturer. That introduction of mold could happen anywhere along the path from the manufacturer to the final location on the shelf within the retailer's store. The places where I buy dog food all have garden supplies and plants, and therefore potential exposure to water. I can imagine dog food on pallets temporarily stored in places at those stores where the bags can be exposed to water. Eventually those wet bags are moved into the store and all is forgotten. I'm taking a sample of the food to the vet with the hope that she will forward it to a lab where it can be tested. If it has mold, I will notify the manufacturer in addition to the retail outlet. In fact, I've already notified the manufacturer of the problem.

Bought 10 cans of dog 0 Alpo chop house t-bone & rib eye steak flavor dog food bar code 0 11132 16937 4 Best By: JUL JUL2018 61831157 L8A82099. I called Purina today & talked with Nicole that was polite & took down the info & said she would send me coupons & my money but I am concerned about getting these cans pulled out of the stores & the facility in Allentown inspected. Reading your site purina has a problems. I'm concerned with the animals not coupons nor money. I have 4 dogs & 2 cats & 57 chickens. Somebody needs to speak for all of the animals. They are innocent.

This has killed 4 of my babies within 1 week. I trusted also to take care of my babies but now I can't hold them for which they have passed. I have this to my babies for 3-4 years and never in a million years I would thank this. Could kill them. When I keep calling the company they just give me runarounds and I even had the food sent in to have it checked. I wish I would have never gave my babies this food. I love them as much as my children. I can't believe they are gone. Your company don't even deserve 1 star. I will fight this until the end. I am sick of the runarounds. Anyone in your right mind please please please don't feed your babies this. If you truly love your babies please don't. I don't want you to go throw what I had too. I lost 4 babies and now there is a big hole in my heart. Fly high mom's babies.

My friend's 7 year old chihuahua suddenly had liver failure for no apparent reason (she died). We were looking at the ingredients in her food and treats. Alpo variety snacks had garlic powder in them. Now, I'm not saying that it killed her, but what is garlic doing in a dog treat?

I started giving my dog Alpo chop house and she started to get some of the symptoms others have listed. Stopped eating, wouldn't move a lot, etc... Thankfully I googled Alpo reviews and read all these complaints. I put her on Taste of the Wild and she seems better.

One or both of my dogs threw up twice. Blood was in the vomit. The biggest dog (an Akita) had diarrhea. The same color (orange) as some of the bits of food contained in her dry dog food, Alpo Prime Cuts. I also have been giving my dogs 3 or 4 treats a day called TBonz by Alpo. I am now feeding them boiled chicken and rice and they seem to be ok. No more vomiting. I did not buy this dog food/treats because it was cheap, but because my dogs loved them! Wish I had seen this website first. Now I have to find a dog food they will eat.

I like Alpo prime cuts for my dogs. I have 2 English bulldogs, 1 rottweiler and 1 pitbull... I think the price is adorable and my dogs seem to enjoy it.

I gave both my dogs the treats (cut into small pieces) during a training session, night before last. Yesterday morning, my 14 month old Yorkie vomited up her entire breakfast with the undigested pieces of the treat throughout. By the time I returned home in the afternoon. She had vomited again (same thing), plus had diarrhea! My greedy Lab puppy wouldn't eat her dinner and had a very soft stool. It was crazy as they both received a clean bill of health on this past Saturday! Later, My Yorkie now has a bloody stool and my lab is vomiting bile! It has to be the treats. Neither of them have ever been sick. I only purchased them so they would be more anxious than they are with their "healthy" treats for training sessions. I'll submit my receipt when I return home.

I purchased my dog Purina Alpo on Sunday. His first feeding was Monday and by Tuesday after two feedings, he was vomiting almost the entire night. Now my dog is a healthy dog so I immediately knew something wasn't right. And since the only thing that has changed recently was his dog food, because I normally purchase Purina Dog Chow, I instantly knew what the problem was. I only purchased it because it was a brand by Purina, but never again, so glad I looked up the food and located this site. This food should not be in stores or sold anywhere else.

A friend of mine just had 2 Chihuahuas die within 3 days after feeding them canned Alpo (ground, not sliced). Remaining cans are being taken back to the store but wanted to mention these deaths in case it is not just coincidence and the food is actually contaminated.
Alpo Dog Food Company Profile
Company Name:

Alpo Pet Foods

Website:

https://www.alpo.com/