Consumer Complaints & Reviews

Homeaway and VRBO, you will never get another dime from me or my customers. You did us wrong. You grew too big too fast and did not think about us peons. Shame on you. It looks like everyone feels the same way. I was with VRBO since 2008. I was listed 424 out of 459 listings in April. The reason why, they said I didn't respond to inquiries in a reasonable time. Guess what, I didn't have any inquiries because they found a place to rent before they got to my listing. Lost a lot of money.
Oh wait it doesn't stop there. I paid them 1300.00 for one listing in Feb. 29th 2016. 3 months later after that I wanted to cancel. Ask what amount of money I would get back after 3 months and they said I was not to receive any money back. I was to sign up again in July for the next year at 400.00? WHAT! They charge my customers 3% for renting from me. That is just wrong. If I have to invest in my own site, so be it. I will spend whatever it cost to get my condos online. I would go to a lawyer but don't have the time to deal with you people. Sorry to say, you have lost a lot of people who were with you. I don't wish you any bad luck but will be will be. Thanks for nothing.

I have listed our vacation rental with four different companies and find that the Homeaway and VRBO provides the worst customer experience for people wanting to book as well as a very bad customer service for people wanting to list. Listings dropped: I have tried for months to work with this company to attempt to solve the problem of our listing being arbitrarily dropped from search results. When prospective clients go back to the website and look for our property, it simply is not anywhere near the place that they found it in their prior search. The last email from the company informed me that they have solved the issue. They had not. Search results also do not provide an accurate view of the market.

Our family rented a vacation rental in Kauai, HI. The address is 5001 Hanalei Plantation Rd was a nightmare vacation rental. We stayed there for 10 days and none of the photos that were on the VBRO website were true. We tried to go through VBRO & get our money back or to have them help us locate to another vacation rental. VBRO was no help and their guarantee was worth nothing. The owner stated that there was air conditioning in all the bedrooms and there was a/c only in 3 bedrooms not all 5. The window a/c's were rusty and the filters were moldy. They kept stating "change filters." The kitchen refrigerator stated "change water filter." Everything was run down & disrepair. The couch was just a frame w/ a cover thrown over it. The dining room table was a picnic table. The beds & linens had stains.
The gas BBQ was piled in a heap. The swing was hidden in the tree w/ mold & algae. The tree house was dilapidated w/ weeds & grass grown up around it. The hot water heater was plugged in through a window into a regular house outlet so there was no security in the house at all. There was no view to the ocean. There was a broken window. There was a window boarded up. There was no window in the master bedroom. In the photos it showed Adirondack chairs around a fire pit - there was no fire pit - just a pile of wood stacked up. The Adirondack chairs were just small plastic chairs. The floors were painted plywood & in the bathroom when we stepped out of the shower the paint came up on the bottom of our feet.
There were bugs & cockroaches everywhere. In fact, my grandson got bitten by a spider & his arm was swollen and had a fever in his arm. We had centipedes. There were curtains hanging over the dirty filthy plywood shelves in the kitchen. We had to park in a yard which was a swamp. I could say more but you wouldn't believe me. We tried to write a review on VBRO and the owner took the property off the site but we think that she does not want a bad review.

After I had booked a rental, I saw the next day that my credit card was charged over $51. I called the property management as I had, initially, thought it was them. Then I was informed about this fee was through VRBO. How can they charge a fee without informing us!! Very shady. I will never use VRBO again.

I will admit that yes I've had 2 or 3 great experiences on VRBO and met great property owners, but this is due to detailed research prior to booking. However on the flipside I've had one apartment double booked and was notified by the owner 1 week before. They eventually found us another apartment but not suitable for a vacation rental. Got no compensation from VRBO.
FRAUDULENT LISTINGS!! - I've seen two such listings (in the same country and about a year apart). The latest was an apartment that is actually currently for sale (know this because I recently viewed it on the realtor's website). They've used the exact same photos and made up a convincing little story on the listing. It actually had one review which was similarly convincing. However the photo used was from a real estate agent in the same country. This person I've met during property viewings and know for a fact they live in the country, however the listing portrayed them as visiting for the first time.
I've tried to contact VRBO re this listing and the other, but there's no direct link to report these type of listings and then most they do is say fraudulent listings are covered by your booking. So in the matter of interest, you show up to your vacation rental with your family and having paid a good few thousand dollars. Get out of the taxi and go to where you're "supposed" to be staying and the unit doesn't exist, is really not for rent or a property for sale. How does this VRBO guarantee help you at the last minute?? Great if you can get a property with over 10+ reviews but if not don't risk it!!
How do I know I can trust these reviews about VRBO.com?
553,564 reviews on ConsumerAffairs are verified.
We require contact information to ensure our reviewers are real.
We use intelligent software that helps us maintain the integrity of reviews.
Our moderators read all reviews to verify quality and helpfulness.
For more information about reviews on ConsumerAffairs.com please visit our FAQ.

Earlier this year VRBO went from a rental property search providing results based upon your search criteria and the "level" (Gold/Silver/Bronze) of membership the property owner signed up for their property to a search engine that provides listings based upon you paying your rental fee through VRBO/HomeAway as the primary criteria of satisfying your search. This was done purely to line the pockets of this company charging excessive fees to both the renters and the property owners. The problem they are now confronted with is that all listing that have switched over to booking through VRBO/HomeAway (passing on the excessive fees to the renter) have the "Book Now" button which leads potential renters to believe they are booking the property when really it is only sending a request to the owner to determine if they want to rent the property for the period you are requesting.
I have heard many people complain about this process thinking they are completing their vacation plans only to find out that the property is not available. Once a great property search engine now a commercialized search engine giving you results based upon the opportunity for VRBO/HomeAway making more money. Good luck folks.

I have Camp Custer Log Cabins in Custer SD. I was with VRBO for many years and have recently dropped them due to their new greediness and regulations. Problem is that they are still using me to lead people to their listed vacation rentals! Is this legal? They save your info after you quit them. So, if someone types in Camp Custer Log Cabins the first thing that comes up is my website. But the next 2 directly under that are my 2 cabins Sky View and Pine Crest and if you click on either of those 2 it takes you directly to VRBO vacation rentals Custer SD, and you will not see either of my cabins there.
Is this false advertising? I think so! Also it should be against the law to use our vacation rentals that they do not have permission to use for their advertising! They really need to be shut down! Any lawyers out there? How do they get away with such FRAUD??? Has anyone else checked this out after thinking you were rid of them? Any help is appreciated.

I just received this email from VRBO after I called to ask about the money that should be in my account. Vacationers have been in my home for 9 days now and no cash in my account. "Your request for an update on the status of the payment(s) disabled for disbursement has been submitted to our Account Management team. Please allow two to three business days for your inquiry to be reviewed. You can respond to this ticket with any questions or additional information."

Horrible. Your website is misleading, not accurate or timely in providing information needed to secure a reservation without going through many disappointing steps. For example; I input my search criteria including dates of stay. The following list of properties includes those already rented for those date. The other absurd and misleading feature are the properties that show availability for the requested date yet when you click to reserve the calendar shows no opening... and not an opening for the next day, the places I reviewed the calendar was reserved for the property for three months with no openings. You ask for criteria, you apply the criteria you chose and ignore the consumer's request. Your website provide inaccurate, false and misleading information. I would have expected greater quality of professionalism and integrity in the marketplace

Have tried four times to rent a vacation rental thru this company in Orlando Florida unsuccessfully for 5 nights in November to take our grand kids to WDW. Have submitted all info even credit card numbers only to be told they can't confirm rental or property is unavailable, even though website says it is available on all the properties. Have even called Homeaway directly to no avail. This is no way to treat consumer when trying to book a property that is "supposedly" available. Somebody needs to look into this immediately!

I had changed my bank account. HomeAway apparently didn't register it and 4 month later sent money to the wrong account (which didn't exist anymore). I made them aware of the mistake, then they told me I needed to fill the formula again even though I have email proof that it was already done and a sales guy promised me in writing that all was ok. I filled it out again, then said it was file now but for the bounced money transfer, I owed them 1250 Euros. They would not release any funds until I pay. At the end they deducted them from my rental income and sent me the difference. I am deleting my account and will never deal with them again.

I have booked with VRBO several times and just today was charged a 118.00 service fee. I called them and was told this fee was to protect me from internet fraud. I was forced to pay it. I don't understand why I gave my CC number to another agency but somehow VRBO was able to make this fraud.

If I could give this review all 0 stars I would. Rented through VRBO. We were looking to get away on a mini-vacation retreat and wanted to go to a secluded remote area to get away the stresses of everyday life. This property owner of the unit ended up "scamming" us out of $2,000.00. Owner was NOT forthcoming with information about his property. Nowhere on the property listing on the VRBO website does it state that there are surveillance cameras INSIDE and outside the property! A mini vacation in a secluded area to get away was set, at least that's what we thought until we found out "BIG BROTHER" would be monitoring our every move!
Once property owner received the payment in FULL ($2,000.00) information in regards to the cameras INSIDE and outside the property was disclosed. Property owner does not see an issue with the cameras, that he stated he uses to monitor the guests. What he does with the footage, who knows? Uploads it online? Uses it for sexual gratification?!?!... Who knows. After discussing concerns with property owner, the owner agreed to issue a "partial" refund. However, the property owner then recanted and is refusing to issue a refund. Terrible customer service. Property owner is difficult to engage with and is not trustworthy. Potential renters be warned!
Then, we escalated the issue to VRBO for assistance. However, VRBO does not see the issue with the surveillance cameras and how it is an invasion of privacy. If the camera information was disclosed on the listing or prior to payment we would have never entered into an agreement to rent. VRBO stated that they would be unable to assist us further in resolving this concern. We purchased "trip protection insurance" through the VRBO website for $80.00. After contacting the insurance we were told that the "reason" we canceled is not covered under the trip protection insurance. The insurance stated that they are unable to assist us further in resolving this issue. After everything we paid $2,080.00 for a trip that never happened and no kind of support from VRBO, the trip protection insurance, or from the property owner. There is currently no kind of resolution being offered and we are still out $2,080.00. Very dissatisfied. We paid for a service we never received.

We have had an account with VRBO for the past several years for a property that we own in Florida. They charge property owners a pretty hefty fee to use their site to advertise vacation rental property, take bookings and accept money. In addition, they charge a pretty high rate credit card fees to the owner for customer's paying with credit card (even higher if outside the US).
Just today, I noticed that they included a $300+ "service fee" to the traveler. WTF? We, the owners, are already paying for use of their system and services and now they are going to charge the traveler too? In my opinion, they have now crossed the line and are double dipping. Airbnb charges a service fee for their customers but does NOT charge the owners to list their property. I hope this turns into a class action suit. In the interim: VRBO, we are breaking up with you.

OK, I understand all the business model changes with VRBO and don't agree with them. We will not be renewing any of our listings with VRBO (we have been a customer since 2008). But now when we log in to edit our calendars or listings, we get this "sign up for VRBO online payments" window, and we cannot get around it to get to our listings!! Thankfully we have figured out a very burdensome workaround but won't mention it because it may get blocked by the VRBO terrorists. The decision has been made to cease doing business with VRBO and letting our listings expire, but what I think is ridiculous is we have to "work the system" to even update our listings or calendars due to this ridiculous pop up window.
We have absolutely no intention of signing up for their fee scraping gig, but we are also being blocked from updating our listings (which we have paid for, by the way). And now an edit we couldn't make has caused us to lose a booking. Perhaps I should sue Expedia for the lost income?? I'm sorry but preventing me from getting to my purchased subscriptions can't be legal?? Are we all in the same universe here? I think not.
I called VRBO and requested this "pop up window" be removed so we can get to our listings. I was told by the VRBO Rep that I needed to sign up for payments and then VRBO would cancel the setup and thus stop the pop up window that we currently can't escape??? Right... highly unlikely I am signing up for VRBO's payment product and believe I can get out of it???
Expedia/VRBO/Homeaway is so unethical. They changed the rules without notifying any subscribers of those changes, but I am to believe they will let me out of their payment and fee scraping gig? Highly doubt it. I am so over this company. Is there anyone out there that can guide me on more effective actions than just complaining to Consumer Affairs? What's going on with this company is wrong. I want no part of it, which is tragic since they have done a reasonably good job until Expedia got involved. Expedia needs to stay in the hotel game - they have no clue what they're doing in the private home rental biz.
If anyone out there can point me in the direction to file more than just a complaint, I would greatly appreciate it. I would also love to jump in on any class action lawsuit against them. What is happening here is ridiculous. I am forced to succumb to their tactics or I can't reach subscriptions I've paid for? There is something very wrong here... I just want out... and I hope Expedia takes a bath on this new business model.

I booked a vacation through their website and they charged my credit card without my permission or knowledge. Do Not Use this website.

DO NOT BOOK THROUGH VRBO/HOMEAWAY!!! I have booked through VRBO for years without issue... UNTIL NOW. I recently booked a condo and discovered not only the deposit, as correctly reported by the rental company but a charge to HOMEAWAY which was never mentioned in the booking process. I attempted 6 times to contact the toll-free number listed on my card with the charge and was only put on hold... The phone was NEVER answered. After googling HOMEAWAY and contacting them in another country, no resolution was offered... UNBELIEVABLE!! What a scam! I intend to contest the charge with my credit card company but customers should not have to deal with undisclosed charges like this. Please book directly through rental companies instead of VRBO/HOMEAWAY. I'm not sure who owns them but I assure you, they know nothing about customer service!

I reserved a week's stay at the Windmill Cottage in Cape Cod for late June 2016. Within 45 minutes of arriving at the home, my husband and I saw our first cockroach! Anyone who knows about roaches know they only come out in daylight when the area they are inhabiting becomes overcrowded. We immediately contacted the owner and indicated that we would not be staying and wanted our money back. We took pictures and a video as proof. We posted a review on VRBO but they pulled it down because it is their policy to not post reviews when renters are trying to get their money back. This is ridiculous. Future renters should be advised of a home's condition - especially when we have concrete proof; otherwise why bother with reviews?

I am a veteran VRBO property owner in the range of 16+ years. The initial service was good. All I wanted, and all they advertised was a "listing" site, pay for play, if you like. Let's skip over the astronomical fee increases. To outline the 'structure' to potential renters, property owners paid a sliding upscale fee specifically to HA/VRBO to only "LIST" our properties. It was meant to organize a gap in the market whereby millions of 2nd Homeowners listed their houses, direct to guests and with our fee-based structure, there was NEVER a question of charging a guest a "service fee" to book. NONE of us signed up for a 'Property Management Company', it was a straight transaction. I pay YOU, the Company, to List & Advertise... that is it! With the fees you charge, YOU go to the market and with collective buying power, you get us exposure. That is IT, that is ALL!
Over the years I have seen you 'acquire' and gobble up lesser known competitors... that is fine but now VRBO/HomeAway has become PREDATORY in a very deliberate marketing shift thinking they can effectively 'double dip'. Let me explain... I pay almost $2000 per annum to list for the platinum grade, all over the world. That in itself represents great revenue for VRBO even considering the tiered structure.
This for us is a cost of doing business, we rent a really high-end property - every owner is in a different market. I did get the 'email'. The fluffy, nonsensical English of the instigation of Customer Fees was a stupified grade school level explanation at best. I started preparing to EXIT HA/VRBO, it was only a matter of time. The minute Expedia bought HA/VRBO I knew the model would change. It is absolutely morally reprehensible that they are now charging (on top of the actual vacation rental owners) an additional "guest service fee." For what? Enhanced marketing, customer service & 'book with confidence' guarantees.
Firstly, there is no 'customer service', the standard has dropped to a level that if I was running this, I'm thinking I would be formulating an exit strategy. Enhanced marketing? There is ZERO transparency and believe me, I asked! 'Book with Confidence' is very much a scam. Not only are they making out that if Owners DON'T opt in to their proprietary online booking system, they dump their house listing further than the depths of hell that the extortionary fee-based system is truly worthless.
Of particular disdain is that HA/VRBO is now charging a between 4 and 9% charge to the CONSUMER to book. Thing is, the actual OWNER of the property does not have visibility to this. Worse again, they have now restricted the 'contact information' whereby potential guest cannot be seen by me. I can't email you directly, I can't phone you and I cannot give you local knowledge. HA/VRBO have put a stranglehold on all customer contact. They have changed from a 'listing/contact/advertising site to trying be an imposition as a BROKER. They control the conversation/listing/payment/communication... all under the guise of 'enhanced service'. I can guarantee you, there is zero way that HA/VRBO will solve ANY problem related to my property in the middle of the night. I do that if something ever arises.
I pay the mortgage/insurance/hurricane insurance/renter insurance/cleaning fees/maintenance fees/landscaping fees/ongoing stock fees/replacement of equipment & supplies/Capital management/electricians/plumbers/pool cleaning/taxes and every logistic from contracts to birthday parties. There is ZERO outlay on behalf of HA/VRBO that will ever solve a problem for a guest if one should ever arise and there is ZERO reason to charge guests up to nearly 10% 'booking', 'service' fee.
The majority of 'owner rentals' are trustworthy, honest and have integrity. For HA/VRBO to instigate a 'service fee' direct to guests is vile, but to then make out that it is US, the HOMEOWNER charging this fee is reprehensible. I want to say to all guests, no matter what the property, we have PAID a substantial subscription so you NEVER have to pay a booking fee. NEVER accept this hold on your credit card. Contact owners DIRECTLY if at all possible. Some of you may say, "But AirBnB do it." It is a different model, they don't charge me, they charge you, the guest a tiny percentage... HA/VRBO are trying to charge my guests $499 PER WEEK (high end) to book.
To my fellow VRBO owners go to Home Escape (dot com) they are only building so it may take a while, but there is NO way in this life that I will volunteer to have my guests billed on TOP of what I pay. I never wanted a partner, NEVER! I just wanted a pay for play advertising channel, which is what they said they were. I do great, I have formed so many friendships because of the level of service I provide. We get a lot of repeat, delighted renters who have come back year after year for over 10 years. HA/VRBO I am OUT... I don't need you. Good luck with your Expedia acquisition, you will need it... considering the people who actually PAY the bills shall dump you. I'm sorry.

Rented a property from a so-called "owner", turns out it was an ex-wife of the owner who scammed us of $800. Had to go to small claims and only got $300 back. VRBO did nothing to help the consumer. Beware. Owners may not be real owners of properties!

I have used VRBO and HOMEAWAY to find vacation home rentals for the last 8 years and I have always been very satisfied with the experience until now. I just booked my second vacation this year on their website. I contacted the owner, we agreed on the dates and the total price and I then paid the owner online with my credit card. Today I received my credit card statement and there was an additional charge on my credit card from HOMEAWAY! I called HomeAway and spent 45 mins on the phone with someone in another country (poor English) who said they will NOT take off the charge.
As of Feb 2016 they are now adding a fee for each booking on their website. It is listed under paragraph 9 of the User Agreement and does not tell you how much only that it will be an undisclosed percentage that may or may not include additional taxes and fees?? When you pay online, you not only need to read the owner's rental agreement but before clicking "Continue to Payment" be sure to click and read the "Terms and Conditions" of HomeAway & VRBO which is 36 paragraphs long!!! I am lodging a complaint with my States Attorney General but everyone needs to be aware of this new very hidden and deceptive practice. I might have been ok to pay a fee if I had been aware of it and knew the total amount, I would never agree to a blank amount! I hope an attorney will file a class action lawsuit!

I've had a great time reading reviews from other owners who feel the same way I do about VRBO's online booking system. I've been with VRBO for 3 years and I'm a holdout who refuses to adopt their online booking model. My rationales: A) I don't want VRBO monitoring all the dialogue with potential guests; B) I don't my guests paying the fee; C) I don't want to use credit cards -- my guests have always paid by check; D) I don't want VRBO cancelling potential bookings if I don't respond within 24 hours (and let's not forget I sleep or am otherwise not checking e-mail for at least half those hours!).
E) I absolutely need to speak to my potential guests and they need to speak to me so we can be mutually assured that we are real people and not scammers; F) All the reviews I've read on this site confirm that the online booking system is an error-prone technology that probably works most of the time but is vulnerable to failures; G) I simply don't like being forced to do something by a huge company that is trying to capitalize on my business while apparently providing virtually nothing of value to the guests who stay with me.
I pay the mortgage, the taxes, the cleaning fees, the upkeep and everything else associated with running this business, why should VRBO get a dime beyond what I already pay them? I) I want to provide a personalized service to people who rent my HOME a place that I LOVE -- I am not running a hotel and I do not want to rent to people who I've never spoken who might subject my neighbors and property to potentially destructive behavior.
Those are my rationales. Now, because I do not rent online, anyone who tries to e-mail me gets a notification that reads "This person does not do online booking, you cannot get the "book with confidence guarantee." Book with confidence guarantee??? I spoke to a customer service rep who told me the "guarantee" is that VRBO will cover the FULL COST of a customer's rental if, for instance, a water line breaks on my property and now they can't stay there. Well let me tell you something. I live and rent in the Portland Maine area in summer. If VRBO thinks they can put my guests up for a week here in July -- when everything around is booked for miles -- they are sadly mistaken.
Those renters are out of luck. Because I am a decent person, I will refund their money! That's because the hugely expensive insurance I have to buy because I have a short-term rental will cover this cost! Plus, if the customer had purchased with a credit card -- which I do not allow personally because I don't want to pay the fees -- the credit card would reimburse the cost of the rental. Small print on the VRBO site tells you that they book with confidence guarantee only applies when the credit card refund has not panned out. So, what this means, is that in Portland, Maine at least, VRBO is charging a fee for a service that THEY CANNOT PROVIDE!
Yet still they WARN guests not to rent with me, what kind of service is that??? Another thing is if someone enters my town in the search bar, VRBO now returns pages and pages of online booking sites that ARE NOT IN MY TOWN. You have to go to the fourth page to see my site, where me and the other holdouts who do not do online booking are sadly hanging out. VRBO has online booking sites located 60 miles away from my town AHEAD of my own house which is located precisely in the town the guests want to stay in! So, this is a pile of crap and I look forward to finding a new site that goes back to the old rental model which was working just fine until Expedia got their grubby hands all over it.

Don't use VRBO or HomeAway. Who owns them!!! I submitted a request for a vacation rental. My credit card was immediately sent a hold for the amount (hidden service fee included) even though the website stated that would happen after acceptance by owner. The owner did not accept the request so the reservation was canceled after 24 hours. Per VRBO website, funds will be released after 72 hours. This is not true! After talking to their customer service which was horrible (even asked for supervisor and did not get one), I was transferred to 3rd party to get release code that I had to give to my bank. It turns out that these funds are not released until 7-10 business days. I had to make several calls, wait on hold at my bank and finally gave up. Am waiting out the 7-10 business days. Funny how they could quickly charge my card but can't release the hold on the funds.

Home Away took my full week rental fee not knowing if the property would be available or not. With great intentionality they were very slow and difficult in refunding my money when the homeowner finally responded with no on availability. Customer service was horrific. Separate processing company. Poor English, huge wait times.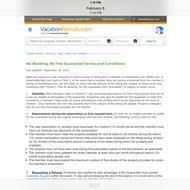 We have been trying to secure a refund of an annual subscription fee of over $1600 which was paid to VRBO in February 2015. Under their agreement which we signed at that time, they offered a full refund to property owners registering with their site, if no bookings were made through their websites - and if a number of criteria were followed - which they were - such as property being available, photos, calendars being updated, responding to inquiries, etc. We met all these criteria. They did also state they don't need to inform if there's any change to this policy. This was shocking in itself, but seeing as it's stated, I'm not sure if we would be able to argue. However, within just a few weeks after we had submitted our request for refund, which to us was an obvious outcome, we were told no refund due, as they had changed the policy just two weeks after we subscribed! This policy was dated 2012.
How coincidental that they should change it just two weeks after we subscribed! So after many failed inquiries, calls, complaints, emails etc - including one call in which the sales rep even confirmed that the refund policy still exists! I have her name and the call id - which VRBO refuses to share with us, I did further investigation. I found that the same policy under which we signed up - 100% money back guarantee of the subscription fee if no bookings made - was in fact not changed and still appears on the company's website under their terms and conditions. I have a dated screen print to prove it. Surprisingly enough, VRBO is still not taking any responsibility for their words. I would think it's illegal, misrepresentation and false and misleading information for VRBO to leave it on their website, even if they have, as claimed changed the rules.
So I would just like to warn anyone considering VRBO as their choice to manage their properties, to reconsider and definitely not to pay a subscription fee - go for a commission or nothing option. We unfortunately had no choice but didn't envision any problem. In a nutshell, we were scammed. We've had success renting with other websites. Good luck.

This will be a short review. I've been a property owner using VRBO for about three years without problem. We were very satisfied, paid our $400 annual fee to advertise with them and had the flexibility to handle rentals however we wanted...online booking, PayPal or payment by check/regular mail. My guests had no problems and everyone was happy. Early in 2016, VRBO suddenly started adding a fee to every booking without notifying owners in any obvious way that this would happen. They did not notify me when I paid my annual fee last year either. These fees were payable by guests to VRBO. They also wanted all booking to be online so they could collect more fees. Very disappointing. I'm sure there will be many members like myself that will not continue with this group.

When you book with VRBO you do not get a full disclosure of fees. I had a 4 night stay where I was charged $250 damage deposit, $72 cleaning fee and a $42 fee, of which there is no stated purpose for, other than enriching VRBO. The owner of my property stated she feels VRBO's business model is very poor as well. If you book through VRBO, beware.

The deposit explanation that is sent to you via an email does not coincide with the payment explanation under your account on your listing. It is not explained who paid which fees (owner or guest) and how much commission was charged based on what amount. It is purposely designed to be unclear and when I called customer service the person wanted to ramble off numbers without explaining how they arrived at those figures. Then I ask for a supervisor and spent almost an hour with him and he could not clarify the charges either. He created a ticket to get back to me.
Here's the rub, they are charging credit card processing fees and commissions on the room rate AND the taxes (sales and occupancy tax) which is not right. Homeowners do not make money on the taxes, every penny is paid to the appropriate entities but VRBO is charging you fees and commission on the taxes so you make even less on the actual room rate. My property is also listed with Airbnb and they charge commission on the room rate ONLY, not the taxes and they do not charge credit card processing fees. Simple and fair. I withdrew my listing with VRBO, it's not worth it.

I have listed my properties with VRBO since it's inception. It has always been a good and fair company until now. However, since it has joined with Expedia, I have not had an inquiry for the last 2 months, I also have a poor ranking because of my low response rate and my calendar was not updated. What happened? How could I respond to inquiries when I didn't receive any inquiries? How could I update my calendar when I didn't have bookings? I also found out that if you do not update your calendar ever 60 days, regardless of whether it needs it or not, your listing will be "inactive" and not be included in any guest searches. Of course, if you sign up for online booking they will keep you active. Did I miss an email telling me this would happen?
By the way, 24/7 customer support means you sit on the phone for 24 hours 7 days a week. Right now, I have been waiting on the phone for 3 hours. I'm just going to see how long this takes to get a response. This is just another penalty for not allowing them to collect 6% from your renters. I will definitely be looking into other options.

I found a vacation rental online through what I thought was VRBO. The website offered email contact with the property owner/manager. I received an email with a pricing which included a reservation fee. I called the number on the website and made a reservation, not knowing that in addition to the reservation fee another fee would be added. When I spoke with customer service, they indicated I would only have to pay the total fee sent to me in email by the property owner/manager. I subsequently discovered my credit card had been charged an additional fee by "HomeAway". My experience with the customer service agents on the phone was uninformative and directly misleading. I subsequently called and spoke with several layers of customer service who each in turn characterized themselves as unable to refund this additional fee, stating they did not have the power to do so (?).
I was very frustrated and angry, thinking to myself, "I haven't experienced such poor customer service, obfuscation, deceptive business practices and money grubbing since I booked a vacation through Expedia years ago." As I investigated further online today, I discovered that EXPEDIA owns these companies. Wow. Same rotten business model and customer DISservice. I will make every effort not to use Expedia-owned businesses again (provided they honestly and clearly display that they own the service and I don't require a lawyer to figure out the relevant, misleading websites). Disgusting.