Consumer Complaints and Reviews

I've been with VRBO since 2004 and can't believe how they have ruined good thing for vacation home owners looking to rent casually part-time to help defer expenses. Their new policy of requiring a booking fee and processing fee through them even after you pay a $400 listing fee is not working for me. I use to be on the top of searches and now I'm invisible on their site as I haven't enabled their online booking module. I'm calling them now and asking for a full refund. Michael **, once a loyal customer, moving on!

We have been renting properties with VRBO for 15 years and it was working well for us. However in the past few years they have changed their business model. Their objective is force the owner to accept on line booking through them similar to the hotel booking agencies. We have not changed to their way of doing business. The inquiries this year have dropped way off. On my listing I have notices of "warning they do not accept on line payments, your money could be in danger," and I paid them to post that. Also they "have not upgraded their calendar, can I show you other listings?" I called them to complain and to cancel the listing, however no refund. Obviously not a profitable investment in advertising.

We just own one Vacation Home and have used VRBO since 2012. The system worked great and we had no problems with their services or fees. Then all of a sudden they are purchased by another company and begin to charge large "booking " fees just to run their credit card and are forcing us to use their new unethical system or they change the order of our property and we get no bookings. I sure hope that something can be done about this unethical additional charge that they are forcing us to implement. Please help us! I will support any class action suit that might come of this unethical business practice. Thank you.

I am a property owner/property manager in Florida. I have used VRBO since 2004 and HomeAway, their parent, since 2009. It was a good partnership, not anymore! VRBO/HomeAway are pushing their online booking and payment program where the traveler pays a fee of up to 9% to book this way. Wondering why I'm not getting the inquiries we have received in the past, I found out when I search for my unit on VRBO I can't put in any dates when searching. Searching Daytona this way without dates of travel I have 300 choices for 2 bedroom units, including our own properties. However, once I put in dates the number it drops down to 57 properties, all who are accepting online bookings and where the traveler pays the VRBO/HomeAway booking fee!
Our units were among the 243 excluded once dates were entered! Even though my online calendar showed our units as open. Frankly I paid for a listing and the VRBO/HomeAway system is totally ignoring that with the way they are excluding properties in their search criteria. When you do a search the site encourages you to put in a date, even though you may find a property that has your dates open by just searching a geographical area and unit type. Surprise, put in those dates and that property just disappeared due to their search criteria! This manipulation isn't fair to travelers or the owners who provide the "product" for VRBO/HomeAway.
Expedia, the current owner of VRBO/HomeAway was one of the grandfathers of online hotel booking systems. But vacation rentals and hotels are not the same. The condos I own and manage have rental restrictions and minimum rental periods, some have age restrictions. And frankly, as a homeowner I want to talk and know who I am booking my unit to. I also want to find out how many are in the party, to make sure they are getting the right property for their needs. So I like to at speak to my guests by phone. None of this works with blind online booking.

VRBO suspended my account for 24 hours because I had a statement on my description page stating how to avoid their service fee (pay by check, cash or paypal etc.). I was told I had to remove the warning to travelers because this was directing traffic away from their system. They said my account would not be reactivated until the wording was removed. I told VRBO that I am a transparent person and expect them to be as well. I told VRBO that guests ask me for a discount but I can't afford to give them one or absorb the service fee so I give tell them their options. Wow, guess that's not acceptable! I've been with VRBO a long time and am sad this company has chosen this direction. ATTENTION: VRBO said now that my account has been flagged for violating their policy they will be reviewing ALL my replies from now on!!!
How do I know I can trust these reviews about VRBO.com?
638,664 reviews on ConsumerAffairs are verified.
We require contact information to ensure our reviewers are real.
We use intelligent software that helps us maintain the integrity of reviews.
Our moderators read all reviews to verify quality and helpfulness.
For more information about reviews on ConsumerAffairs.com please visit our FAQ.

NEVER rent on VRBO. It is a total rip-off. I booked a place in Cozumel, Mexico for $895 through VRBO and was charged $1175.55. I wrote the owner and asked why. Answer is the VRBO fee. Did VRBO disclose that I would be charged a 31.35% fee??? NO!!! I wrote VRBO and told them it was an egregious upcharge charged unethically as there is no mention of this upcharge when you book. I think you can still book directly via the owner, but only if they list their phone number. Whatever you do, never ever book through the site itself.
In addition, Cozumel is an island, but when I searched for a place on VRBO, it displayed places on mainland Mexico, accessible only via an hour-long ferry ride! I was able to figure out that they were displaying places far away, but I wonder how many people wouldn't twig to that. I agree with other reviewers. It's worth a class-action suit. Maybe somebody could print these reviews and send them to the NY and/or CA state Attorney Generals Office for a probe. I'd do it, but I live in Mexico. It's just outrageous. And disgusting. A fraud.

The worst operation existing in the home rental market. This company cares nothing for the owners who pay their way. They have zero respect and are interested in nothing but adding fees that will only hurt the owners who have ALLOWED them to succeed. Terrible wait times on the phone, no concern for issues and poor response when there is a valid issue raised. I will be moving our 3 rental villas to AirBnb, where we can feel we are part of the solution and not the problem.

We stayed in a VRBO in Scottsdale, AZ. The address was ** Scottsdale, FL 85250. Unless you like waking at 6:30 a.m. To the sound of a very loud barking from a large dog, which echoes throughout the beautiful condominium, I would definitely not recommend staying at this VRBO!!! We tried to have a lovely evening meal on the patio and the obnoxious sound of the barking dog resonated thru the common areas throughout our entire dinner.
Also, the barbecue grills were out of propane and there was no one on grounds to maintain the property. The refrigerator ice maker was leaking water thru the refrigerator for the entire time of our 4 week stay. When we arrived, we called the owner, the night of arrival, to let him know that we couldn't locate the property and we also placed a call to the Remax Agency, in Flint, MI, that is in charge of the management of this property. Absolutely no one responded, until the next morning!!! It was the owner calling to ask, whether we would accept $15/each showing, to be bothered during our stay with buyers and his real estate agent, while the owner is trying to sell the condominium!!! He "incidentally" asked whether we managed to find and "get into the property" thru the combination gate. I would never recommend this VRBO!
We should have expected to have problems, when the management service failed to advise us that the reservation fee would be paid to Remax in Flint, MI and we denied the charge, not knowing why we received a Re/Max Infinity charge (no mention on the agreement letter) so when we questioned the charge the owner had the audacity to charge us an additional $35 for declining the charges, not knowing that it was the Arizona VRBO!! We will see how much the tightwad lives up to reimbursing us for having to leave the vacation early due to health problems!! They told us that they would refund us the entire $500 security deposit, having had plenty of time to rent out the unit to the following tenants! I hope they have better luck, than we did, at being able to sleep in past 6:30 am and getting the defective refrigerator repaired!

VRBO now charges a big fee to homeowners and a fee to travelers. Also, their system is so bad, they are now expecting owners to put travelers in their home and hold payment sometimes up to 30 days after traveler has already paid and left the home. Then they expect us owners to keep allowing people in our homes without even seeing a payment... Seriously? Also, the pressure to rent to anyone that inquires, is of course to make sure they get their fee & HOLD any payment to the homeowner. I just had a traveler leave and ask for their deposit back, well, I have not even seen the payment... VRBO! PLEASE GET THIS FIXED!

We, too, had a horrific experience with HomeAway/VRBO. In May we rented what was described as a "loft" apartment in Santa Monica, CA. Upon arrival, we found it to be a 3-bedroom townhouse, that had been sectionalized as 3 separate rentals. Two bedrooms were located on the first floor of the townhouse and the 3 bedroom was located on the second floor with the kitchen and living room. Our rental of the "loft" was the 3rd bedroom and secured by a plastic accordion style door at the foot of the stairs. We spent the night, as we had no alternative. Later that evening, one of the bedroom renters started banging and pushing the accordion door to our rental, screaming we were being too loud - we were all sound asleep.
Contacted HomeAway "customer" service at 5 am the next morning, and contacted the owner. VRBO stated to "work it out with the owner". After offering the owner payment for the night and the cleaning fee, we were told by him, he would not refund us the remaining 4 nights, and VRBO said they could not help but we could use our review to voice our dissatisfaction. Well, our review was just taken down because "we used the review to gain monetary gain(?)" and the owner was allowed to untruthfully rate me!
Thank goodness, we paid by credit card, and the VISA fought the good fight and we were 100% refunded all fees, and charges by owner/HomeAway. Do yourself a favor and DON'T use this site. It will save you $$$ and allow you to enjoy your vacation, not spend countless, worthless hours on the phone with a company that cannot/will not help you resolve any issues. Oh, and the owner is still allowed to post his deceptive advertisement on VRBO, and now the only honest review of the apartment has been taken down. DON'T USE THIS SITE!!!

What service do you get with online invoicing? You get a third party that subcontracts as the invoice company that offers no protections or help in disputes. This shelters VRBO from responsibility for any protections they claim to offer the host. So we pay VRBO a hefty fee, and when a problem happens they just send a reverse charge and take funds back w/o our permission.
Here are the details: We had a cancellation on our rental with a "strict policy" outside of the agreed refund dates. The customer appealed the charges, and Chase bank (credit card bank of traveler) decided that the VRBO online policy disclosure is not sufficient and gave the traveler a 100% refund. We lost the ability to rent for many days of this cancellation due to the last minute cancel date.
My advice is to never use the online invoice "service" since you are not granted refunds stated in VRBO's own policies. We are recommending to all of our local 246 rental association members to do the same and NOT use VRBO unprotected invoicing services. How sad that VRBO not only charges extra new fees, but they do not even know how to invoice properly with full refund policy disclosures needed on the website. What we will do is use Squareup.com as well as checks for pre payment on our rental. We have nothing to lose since VRBO offers no security or protection for the host! What we have to gain is more security and less fees! We get more security by being able to screen and get immediate information about the card holder.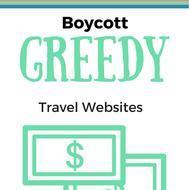 I have advertised my NJ beach house rental on VRBO since 2007. Owners of quality rentals like mine are jumping ship as fast as possible since the Expedia takeover of the VRBO and HomeAway websites. Expedia has ruined a good thing with its greed and bullying of the owners who advertise on its sites. The sad fact is: You can no longer trust the search results when you are looking for place to rent on VRBO and HomeAway. The search algorithm is skewed to show you listings that make Exgreedia the most money in online booking fees.
Also, pay close attention to the geography in your search results. The search algorithm automatically expands the geography to show you homes miles and miles away from your desired destination. I have seen it happen in my own area, with my own listing. When I typed "Belmar NJ" into the destination box, homes as far away as Manasquan and Lavallette have appeared in results AHEAD of mine. My home has earned nearly 45 five-star reviews, and I've also seen properties with fewer reviews show up before mine when I sorted the results by number of reviews.
YOU SIMPLY CANNOT TRUST EXPEDIA, HOMEAWAY, OR VRBO ANYMORE. Everything they do is for the benefit of their shareholders and their overpaid executives. Their Book with Confidence Guarantee is a crock, too, nothing more than a scare tactic so you will book through their system and pay their online booking fee. These corporate greed mongers do not care about travelers or their paying advertisers! We are all commodities to them. For this reason, we all must stop using these sites for good! Read my blog for tips on how to beat these companies at their own game.

I am a property manager and have used VRBO/Homeaway for ads for the past 10 years. I have had between 8 and 20 listings each year. Recently I received an e-mail stating that my listings violated their Marketplace Standards and were being suspended until I agreed to meet those standards. It all involves them demanding that all of a sudden, they want all bookings to go through them and they are going to charge the renters a fee for that. I have been fighting it, and have placed wording in my ads that I do not accept online booking or online payment. It is my feeling that this is not legal, since the standards were not in place when I paid for the renewal of the listing(s). It does not seem right that they can change their policy in mid contract. In my opinion, they either need to allow my listings to be posted until the next billing period, then demand that I make changes, or they need to refund my money.

Poor relations between consumers and newly acquired VRBO. I have been with VRBO for years and been satisfied until now. Since being acquired by Expedia, my inquiries on VRBO have dropped 50%. There were 8 listings on our VRBO New York lake site and now they have over 200 listings, some as far away as the Berkshires, and most of them not on the lake at all. VRBO now want us to accept online booking which takes another layer of control away from us and lines their pockets with additional fees, this time from the renters. I wrote VRBO a complaint and since then my listing went from the first page ranking down to number 150 ish. I am hoping someone will file a class action suit and put the new CEO's out the front door. My subscription expires in March and I am going elsewhere. Goodbye dishonest VRBO. You should be ashamed.

I booked a flat in Florence through Homelidays in May (used them before with no problems). Paid 50% by VISA (yes, there were fees, but the total was acceptable) and "talked" to the "owner" (through emails) prior to 1st payment. 2nd payment was raised automatically and I paid it on VISA on Oct 25 - VRBO this time on the CC statement.
Waited 2 days for the owner to get in touch with the details of the property - like the exact address. Nothing. 3 days - nothing. I wrote, gave all our details - tel numbers, etc arrival time. That was 14 days prior to est. arrival. Nothing happened for 3 days. No replies. I called the number on the listing - international number - to Italy = voicemail, which didn't identify the owner - just a standard "leave a message" in Italian. I left a message. Nothing happened.
Time is going, flights are non-refundable, was looking forward to the short stay there. As of right now I am scammed out of 400eur. Got the bank involved to refund 100%. Emailed Homeaway - got autoreply and a case number. And still nothing. The .COM site shows the listing was edited on Nov 4th. My emails were totally ignored by both sides. I booked, I paid and I got done over. It's the most appalling way to treat people. Never again will I use these people.

Could I please leave a negative five-star rating for vrbo.com??? We have listed our lovely and popular vacation rental for years on vrbo.com and that's where most of our bookings came from. We were OUTRAGED by the new service fee (for what service? Indeed it's only greed!) that vrbo.com started charging once they were acquired by Expedia. Plus the pressure to require online bookings (to make sure that vrbo.com receives that service fee). AND we just heard from a potential renter that they couldn't request or book dates for early 2017 because we haven't paid for our new subscription that comes due in over two weeks. Our inquiries and bookings are down by almost 80% since 2015.
So we are DONE with vrbo.com and will not renew our subscription. It's obvious that many other property owners and vacation renters are leaving vrbo.com as well. I honestly hope Expedia and vrbo.com tank. They deserve it. Such blatant corporate greed has got to go. And it's heartening that consumers are waking up and choosing other ways to spend their money.

I am a home owner who makes our property available for rent on HomeAway. For a decade I used VRBO with excellent results. HomeAway acquired VRBO and changed its listing fees and policies. HomeAway did the classic BAIT AND SWITCH. They are FORCING renters to use online bookings, which adds 9% service fee the renter has to pay PLUS 3% credit card processing fee the owners have to pay. When I moved my subscription under HomeAway, I was told by their agent that I could give the renters an option to use online booking or to book directly with me. Today, HomeAway DEACTIVATED my listing stating that that online booking is REQUIRED. This is nothing more than a public company gouging both renters and homeowners. HOMEOWNERS BEWARE. Renters, know this is not the service VRBO homeowners want to provide. We are stuck.

HomeAway VRBO requires a damage deposit to be paid in the foreign currency where the rental apartment is located at the time of the booking. When I got my deposit refund after the apartment stay, it was $95 lower than what I was charged, because of the currency fluctuation due to Brexit. When I complained to their "customer service", they blew me off and did not even address my point that they should charge the deposit in the payer's currency or hold it in escrow. They said they are just a "venue for online advertising". Refuse to deal with this company, unless they change their policy.

Just reviewed the charges on my credit card for an upcoming rental. $108 service fee? Really??? I have booked on VRBO several times, but rest assured this is the last! The phone rep said the fee covered if 'we have problem with the reservation'. Problem? No, the charges went through just fine. Just another way to make money. If we arrive at our destination and the rental is not available they will 'help' us find another one or get our money back? That is what a credit card dispute is about. How will you 'find us another rental? Contact other owners on the site? I have used VRBO for years, but this is the last time and I will not refer friends anymore. This 'new' fee is ridiculous! Goodbye VRBO!

I received an email warning and phone call from VRBO for making the potential guests aware they are being charged a fee when they inquired about ways to pay and pricing through the messaging system. Anyone else have this happen? All I said was I can send a private invoice for $2000 or you can pay through VRBO where they charge their service fee bringing the total to $2180. Can I not do this? They said I was violating policy because I was deterring guests to book through their system. Not only this but my invoicing is 2.9% for any credit card fee, where VRBO charges me near 5% sometimes! Let me do my own thing or help me out VRBO!

My wife first contacted VRBO last April seeking a house for relatives to stay in November. They were coming in from all over the US. We paid the fee and assumed that we had done due diligence. We attempted to contact the owner and VRBO in the ensuing months with no success. We were repeatedly assured that we would be hearing from the owner. We heard nothing from anyone. We were unhappy to say the least. On October 29 four days before our relatives were arriving, we were determined to get some resolution. After hours of calls with VRBO, we were able to talk directly with the owner. I'm now awaiting directions and access to the property. I will never use this shoddy company again and recommend the same for anyone else.

I concur with Kelly's post from October. I have used them in the past with no problems. I need to cancel and am attempting to get my service fee back from them. They refuse to send me an email indicating the fee will be refunded, instead turned it onto the home-owner who has no idea of their charges. As the credit card charge for their service charge goes through to homeaway why would the homeowner have anything to do with it. The phone rep refused to put me through to a manager and kept repeating that I had to call the homeowner and that all monies would be refunded. NEVER AGAIN! Stay clear of this corrupt business.

I rented a house in the south of france through HA/VRBO. The owners had the website set up in french (which is not my first language) and had the exact same listing in English on Airbnb. I read the terms on Airbnb(for the ease in English) and since I had contacted them initially on VRBO just continued the conversation on the VRBO website. They asked for a deposit (which I sent), having seen that the cancellation terms on the Airbnb website were "full refund up to a week before" and also having seen VRBO's guarantee policy that stated that they would protect my deposit with a full return policy.
Once I sent the deposit the owners sent me a contract that had so many hidden costs (linens, deposit of $2000, insurance needed etc) that had not been on their listing that I told them I no longer wanted to continue the rental. They offered to waive the linen rental and when I told them it was a matter of trust and I was no longer comfortable with renting from them they offered to waive another small fee. I was adamant that something like this that starts badly is bound to end badly.
I told them that their policy stated "full refund" up to a week before and I was canceling 2 months before. I also told them that the VRBO website in French did not state any of their hidden terms in their contract, and neither did the Airbnb site. They refused to refund my $1850 deposit.
I took this up with VRBO stating that their cancellation policy should help me, they kept saying - "Resolve it with the owner!" I spoke and emailed VRBO between 15-18 times and each time got a robotic response back saying "take it up with the owner". The owner obviously has no intention of returning $1850 that they made for absolutely NOTHING. Vrbos' website demands we make the payment through their payment system to protect ourselves, which I did. And yet, they are absolutely unwilling to resolve this or to even look at it as the massive wrong that this is. This is appalling behavior on their part and no one should EVER rent from them again.

Firstly, I agree with Bruce of Silver City (6th Oct.) that VRBO should be forced to change its name. My properties are in Europe and I have said for months that "OWNERS DIRECT" is misleading to the public. I would be happy to mount a campaign to get their name changed in Europe. Contact me at **. There are many people on this side of the Atlantic who are also angry at the imposition of the proposed changes in contract without ANY consultation with customers.
OD's marketing department wrote to me in March 2016 saying: "According to a survey conducted in March 2012 to 2,199 holidaymakers who enquired on HomeAway or VRBO, 85% of holidaymakers want the option to book properties online." After receiving this, I asked their marketing department if they had asked their customers at the same time as that survey. They said that that was the only report where they had asked customers. When I pointed out that property-owners were the customers since it is us who paid the subscriptions that paid their salaries, they didn't understand what I was saying!
When I asked if the survey was UK or global, they didn't know. Nor did they know whether the research related to expensive or cheaper, or urban, or rural properties. I also pointed out to them that if I was a Director asked to make a decision about a fundamental shift in the business model (particularly in the fast-moving, digital product world), I would want to see the research supporting any such proposal being less than 3 years out-of-date! Like many other European owners, I shall not be renewing (despite the bombardment of emails to encourage me to do so) and will be using one of the better-targeted and less ripoff oriented companies for finding my customers.
Should anyone have any doubt the objectives of HomeAway Group, just look at their history. Acquisitions include: (Date, Acquisition Location) 2005 CyberRentals.com U.S., 2005 GreatRentals.com U.S., 2005 A1Vacations.com U.S., 2005 TripHomes.com U.S., 2005 HomeAway.co.uk United Kingdom, 2005 FeWo-direkt.de Germany, 2006 VRBO.com U.S., 2007 Abritel.fr France, 2007 VacationRentals.com U.S., 2007 OwnersDirect.co.uk United Kingdom, 2009 Homelidays.com France, 2010 BedandBreakfast.com U.S., 2010 AlugueTemporada.com.br Brazil, 2010 Instant Software US, 2010 Escapia US, 2011 RealHolidays.com.au Australia, 2012 Toprural.com Spain, 2013 Travelmob Singapore, 2013 Stayz Australia Australia, 2013 Bookabach.co.nz New Zealand, 2014 Glad to Have You, Inc. U.S., 2015 bought by Expedia, 2016 introduce new contracts/model, bust by 2018?

Booked a property on homeaway.com paying via bank wire transfer per their instructions and assurances it was covered. Their page was hacked and the booking was a fraud. After they admitted to the hack and that they verified information belonging to criminals, not owners of the property, they demanded a letter from my bank that it could not legally provide. They rejected the claim despite their acknowledgement of the fraud, proof of payment and communication, even though they originally guaranteed insured transaction. Beware!

VRBO does not address problems; My rental was cancelled for no good reason three days before my departure for New York. VRBO did nothing to help me find another place. I just had to make all these long distance phone calls from Canada because VRBO would not help me. VRBO charges a service fee now but did not announce it; it is actually hidden. Do not use any of HomeAway banners, including Homelidays, Abritel and other banners. It has all been bought by Expedia and now, customers are the last of their worries.

Homeaway sold 2 property annual subscriptions saying no guests fees, that they would continue to permit owners to use personal contact info. However, as soon as they got everyone to pay 3295 they changes their policy. They are cheats, low life, money grabbers. Stay away from them.

Spent days researching houses on Long Beach Island that are for rent, for the prices that they are listed for. Drove 3 hours with my family to go see the houses that we all agreed on and spent hours driving, looking, & driving back home. Upon reaching out to the owners of the houses to start a contract agreement, the houses that were listed for 2,000-3,800 for the week- were mysteriously all posted "incorrectly" and wound up being 3,000 more than listed prices. If this were the case, those houses we never would have considered. THANK YOU, for a waste of an entire day, miles on my car, & leaving a frustrated family with no options. RENTER BEWARE.

Rented a London flat from VRBO. Paid a 300 GBP refundable damage deposit using one credit card. Subsequently paid for the balance of the rental using a different credit card. VRBO refunded the damage deposit to the second credit card - not to the card I used to pay for the deposit. When I asked VRBO to correct their error, they stated refunds are made to the account/credit card used for the second payment... "by default". Why wouldn't you issue the refund to the credit card that was used to pay it? Sounds like VRBO was too lazy to correct the error. Won't use them again.

I concur with the many negative reviews by homeowner renters who object to VRBO's recent policies. I would like to sue to force the company to change it's name since it is no longer Vacation Rental By Owners. But I would like to hear from others about what alternatives they have chosen. It appears that VRBO can get away with its policies because the competition is just as bad or worse. What can be done?
Company Name:

VRBO.com

Website:

https://www.vrbo.com/