Consumer Complaints and Reviews

As a longtime customer of VRBO I am dismayed that they will charge our guests an additional fee of 4 to 9 percent based on whatever their "system" decides. We as homeowners already pay a fee of around 500 per year and the practice of charging for on-line bookings fees is appalling. VRBO's greed is extraordinary. Our potential customers are backing out as a result of additional costs. We just renewed our service and there is no alternative to on-line booking with VRBO unless you are willing to pay an additional $150.00. Their "take-it-or-leave-it" attitude on the phone is impertinent, condescending and rude. Over the past 15 years this company has gone from bad to worse to worst.

I had this service for 15 years, paid an annual fee, and was all good. I didn't like to use PayPal or credit cards because of the fees, and I generally do not cash damage deposit checks, freeing up vacation dollars for the renters. Looks like Expedia paid BILLIONS for the site and is trying all sorts of scams to generate revenue. They want the renter to book immediately, before the owner has a chance to learn if it is a senior couple or a frat party, then the credit card costs 3%. Plus they add their own fee, raising the rent by 4 to 10 %. The CEO is on a video, calmly explaining that "It's all to enhance the experience, trust me it will be good for you."
They monitor your correspondence and if you tell the renters to mail you the check, cancel the account. They just did it to me. Oh if I want to join back up, they have tripled the annual fee. Goodbye HomeAway. For the $590 annual fee, plus the estimated $3000 in annual fees I will go in with my fellow owners and create our own website for our area.

We recently rented a vacation home through VRBO. What gets me is their service fee and $59 protection (insurance). We had a family emergency and had to cancel our trip and the owner did not respond for days. The owner then stated they would give us a refund minus a few days. We paid 1420.00 total for the rental for a month and the owner refunded us 550.00. We called the owner and they agreed to refund the entire amount. The refund was submitted through VRBO and then the owner canceled it stating it was a system error and they never agreed to it. We called VRBO, no help. They told us to settle with owner. I asked what the service fee and $59 fee was for and they said the service fee went to the owner. If you read the description of the service fee when booking it states it is for 24/7 customer support and assurance of protection. THEY LIE! The owner gets that money too as they told me when I called about refund.
VRBO told me the owner needs to refund it. They should be sued for false statements! VRBO also told me I would get back the $59 but now says that since refund was not totally done I lose that. No one notified us the owner canceled the refund. VRBO told us for a week it was processed. After 10 days we called after not seeing the money and then they said it was canceled. They claim they could not see it was canceled. They provided no help in assisting with the return of our money. Their security department told us to write a complaint and they would send it to owner. Other than that it is our problem to recover our money. They said they have nothing to do with that. I had to do a chargeback on credit card which could take 45 days. VRBO states everything is between you and the owner and they do not get involved. They let you get ripped off!

I have subscribed to VRBO in order to promote my home in Keystone, Colorado and when I search for it as a guest might do with a fairly strict criteria I start seeing homes in Utah, California, etc. Mine does not come up so unlikely I will be getting any rental bookings through this site. They of course do not have a refund policy so I can say goodbye to my $800 USD and look forward to an empty house. It turns out if you do not pick their online booking system as an option you are relegated to a listing deep deep down in their website, however if you opt for the online booking system anyone can book it including a young group of students who play beer ping pong in your great room and punch holes in the walls plus they charge you and the guest separately for the pleasure of booking through them. Beware. Use Evolve, Airbnb or Lodgify. Don't get scammed like I have.

Available properties for rental, never seem to be available. Have requested bookings, which never are available. My credit card has pending charges, which take too long to clear. Bad experience, but VRBO gets 1 star because I've made a contact with a responsible rental owner, that I will rent from independently. I do not recommend VRBO.
How do I know I can trust these reviews about VRBO.com?
672,188 reviews on ConsumerAffairs are verified.
We require contact information to ensure our reviewers are real.
We use intelligent software that helps us maintain the integrity of reviews.
Our moderators read all reviews to verify quality and helpfulness.
For more information about reviews on ConsumerAffairs.com please visit our FAQ.

I have been using VRBO for many years and wondered why my inquiries dropped off dramatically in the past several months. I normally have my house booked at least a year ahead and insist on having a conversation with the potential renter to get a feel for our compatibility. It has worked out well with no problems. Because of the drop off in inquiries I spent $300 to have a professional photographer provide better pictures. VRBO is charging a premium now to NOT book online which takes this interaction away. I cancelled my account yesterday without any real resistance so I give them credit for making it easy. Now I am left to find new venues to advertise the house. I will go back to Air BNB and Craigslist. If anyone has recommendations I'd be interested. I've had a bunch of fly by night companies call me but when you do a search looking for houses to rent they don't show up.

Don't let anyone book on short notice. These guys will take a payment for you without vetting the source. I had someone stay at my house and I don't know if that person disputed the charges or if it was actual fraud. VRBO's charge back service wouldn't provide much information on the person disputing the charge. They literally withdrew the entire funds plus 2 $50 fee charges for the taking back the deposit and the rental fees. No one would talk to me, only got generic email responses for about 60 days, only to be told I wouldn't get my money back. Don't do instant bookings. Make sure payment is made at least 2 weeks in advance so that if there is fraud, the charges will have had time to be "seen". And get a copy of driver's license of the person renting. If they don't provide that, don't rent to them.

We rented a vacation home in Rim Village near Moab. After staying 3 nights and getting home to receive an email stating that we had broke furniture and left stains on furniture in the living room. We had stayed in the kitchen and bedrooms to eat and sleep and went out playing in Moab. Upon leaving I did a final check. Everything was left as we found it minus the dirty towels. I've demanded before and after pictures that they don't have. These people made comments not to worry because we had "purchased the insurance". They are making claims to insurance that should not be paid. These are not honest people. Do not recommend staying here.

Review of 57476 in San Miguel de Allende. My cousin and I stayed at this 2BR, 2 Bath apt. December 10-17, 2016 and we found it to be very centrally located - only a short walk up Mesones, right on Hidalgo where you will continue to the Jardin. The apt. is located in a very safe area and is beautifully furnished, decorated by famous artist Toller Cranston. You will find bookshelves full of books. This is a second floor apt. with stairs up to the apt. and another set of stairs to the 2nd BR and bath. Older folks with mobility or knee problems need to be aware of this. The owner had a bottle of champagne, red and white wines awaiting us upon arrival, as well as bananas, oranges, and apples. There is a wonderful bakery across the street and they make the most delicious almond croissants and cappuccino you have ever tasted. There are several other sweets available. I highly recommend this apt. for its location and decor.

The VRBO listing 3573121ha lies to the customer. It says everywhere on the site West bay and it does not mention that is Keyhole bay and I am going on a family trip (28 of us) and everybody else is in West bay, for a family vacation that doesn't make sense. I am very, very very annoyed. I have rented VRBO for the past 15 years and I had never being lied by omission of the facts in the VRBO site before, this is a first. Very disappointed and sad the day before my vacation. This is not fair. If I write keyhole beach on the internet shows some very different pictures as the ones in the listing. FIX IT BECAUSE THIS IS A LIE TO THE RENTERS. I booked everything with advanced and I feel betrayed. I arrive tomorrow and I just can't believe it.

I was trying to find a rental in Flamingo beach and the search results gave me locations as far north as Playa de Coco and as far south as Janquillal. Both are 25 or more miles away from Flamingo. After going through some 15-25 properties I found a few for the location I wanted. They also try to push you to Potrero which is no Flamingo with its ugly brown sand beach. They are trying to force properties on us on some criteria other than where we want to go. Do some owners pay more commissions and thus VRBO/Home Away force the visitor to pay more and go where they do not want to go? This seem dishonest and unethical to me. I wanted help and not to be lead by the nose to somewhere I really did not want to go.

We used VRBO/Home Away to list our rental in the Grand Oasis Sens, Cancun. After seven rental transactions within a space of about 6-months had occurred, we had a problem with the eighth renter, who turned out to be a scam artist. After spending the entire seven days they were booked for, but a week after their return, they had the gall to complain about their stay citing three problems, which were contrived. A week later, they came forward with a list of ten other complaints, including one stating that the air conditioning in their room was not working. If true, this complaint should have been mentioned in their original list of problems, but it was not.
All our guests booked into the resort interact daily with the VIP Customer Support staff, and after we contacted the Grand Oasis Sens management to investigate this guest's complaints, the detailed report submitted proved that the complaints were totally baseless. All the correspondence with the guest and the resort's management, along with the detailed report the latter had prepared were submitted to VRBO. We also spoke to the VRBO Customer Support staff, who said the case opened would be thoroughly investigated and we would hear back from them.
Not only did they do nothing, but a couple of months after the guest had stayed at the resort, our bank account was debited (without our authorization) for the full rental amount plus a $25 processing fee! It should have been perfectly clear to anyone reviewing the correspondence and documents sent to VRBO that the guest (Melissa **) was a fraudster who had made up the complaints in order to get a free stay at our expense. Yet, VRBO did nothing. In this past year, VRBO have changed their listing fee structure to the detriment of owners and a business model that leaves a lot to be desired. Needless to say, we no longer do business with VRBO/Home Away as there are other internet residential property websites far more attractive to choose from.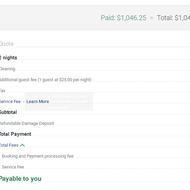 First experience with VRBO and already upset. They could not explain why, instead of getting paid the right amount I was paid less than half of that. After nearly an hour on the phone the THIRD rep hung up on me!! Upon calling again and asking Shakenya (?) what her name was as I did not catch it the first time, was hung up upon again. Now trying it for the third time, but not much hope... I CAN HEAR THE REP USING A CALCULATOR... NOW ON HOLD!!! UNBELIEVABLE!!!

I attempted to book a VRBO rental yesterday. When I went to pay, it repeatedly declined my credit card and said to check it and my billing address and resubmit. I phoned up VRBO Customer service, was told to contact my credit card company because the issue lay with them. The credit card company's agent confirmed no error their end so together, she and I phoned back VRBO Customer Support. In total I believe I spent two hours yesterday, and a further two hours today trying to just *pay* them to book the rental, without success.
It seems VBRO outsources their customer support to a contact centre in the Philippines. Their agents are basically trained to read off a script and if you inquire as to what the problem might be, their answer is, 'I suggest you try to book again in an hour or I can transfer you to the payment processing dept.' When you get transferred to that dept, they claim nothing is wrong their end and they will transfer you back to customer support. When you ask to speak to a supervisor, none is available. They do not notify that they will be placing you on hold, they just do it, so you are left wondering whether you have been disconnected or are still on the line.
On the last occasion I spoke to a VBRO agent, they concluded that 'a few travelers have been experiencing payment issues and it is something with our system.' When she came back on the line she contradicted herself and said I must have typed in a number or letter wrong on my billing address. All told, this company cannot solve customer issues, nor are they apologetic at all, nor do they care about earning your business or making the customer happy. This was my first, and undoubtedly my last, time using them. Back to airbnb!

I made a reservation for a condominium in Costa Rica and after paying in full could no longer reach the "owner". It turns out that my email was intercepted and I ended up paying a scammer. This condo rents through a rental agency so it seems that anyone working there could pull off this scam. VRBO accused me of not using their site as they "had no record of it". VRBO was the ONLY site I was using. They also refused to investigate the scam or help and the same house is still on VRBO today! When you talk to them it's clear that they have a lot of problems and appear to be trying to milk as much money out of a failing enterprise as possible. Airbnb is a much better choice from what I can tell.

I made a reservation online on a property that was showing 'available'. I waited for the 24 hr window required to get a confirmation. During that time, as per guidelines on VRBO, the booking amount gets held up on the credit card. Later I was told that the property wasn't available to rent although it was showing as available. Later I noticed a charge of $66.24 on my credit card made out to HomeAway. I called the property owner, called back and informed that a refund would be issued in a couple of days. A week later, no refund was received. Then I had to call them myself. That started another time consuming ordeal. They asked me for a reference number starting with "HA". The only one I had started with "BZ". The first lady wasn't able to locate that transaction.
Then I was transferred to another lady (after waiting for 10 mins) who also wasn't able to locate. Then she transferred me to Billing department (after waiting for another 10 mins) who told me that they couldn't do anything as the charge was made out by HomeAway. When I told them that I thought they were HomeAway, she said that they were just the billing company. (I was already 35 mins into the call). She said that she'd transfer me back to HomeAway with the details of the transaction. Then the person at HomeAway after asking "how can I help you" and me giving all the details all over again for the 5th time, he says that I'd have to call them again on the 19th - since they can't issue a refund before 14 business days. So here I'm am, having spent almost an hour on the phone talking to 4 different people only to find out that I'd have to go thru the same process again on the 19th!

I paid a deposit on 19/10/16 and the following day the owner emailed me to say that the charges were higher than listed and there would be a further £100 cleaning charge to pay (after only a 3 night stay!) which was not listed on the advert, I said, "No thanks. That was not what I signed up for." And he said, "Ok I'll cancel the booking", all this happened in 24 hours but 2 months later and after many emails I was still waiting for my deposit to be returned.
I had used the site in previous years to book villas in the US and had left good feedback as I received good service but the original company has been bought out and now the site is fraught with problems. I canceled in a matter of hours due to some very suspicious 'extra' charges quoted once I had paid a deposit & it's not right that I should have to wait 2 months for my deposit back and it's even worse being ignored.
VRBO just send 'copy/paste' emails saying 'how seriously they take customer service' then do absolutely nothing and ignore further contact. I would recommend you NEVER USE THIS COMPANY and on ANY online booking site use your credit card (not debit card) as you are then spending your credit card company's money (not yours) and they will get the money back as you have not received the service you bought. My card company got my money back but from what I have read online about this company I was the lucky one, just google 'VRBO complaints' and keep your money safe. Use another booking company and always pay by credit card only.

I have been a home owner and renter with 2 rentals with VRBO for 10 years with one home and 4 years with another. Since they were bought out in early 2016 my contacts have continually dropped 90% compared with past years. Both homes have 100% 5 star guest reviews and I have not changed my rents. I am normally booked 60-80% annually and have had only one contact for both homes together for the 2017 season. Their whole business mode has changed. I called customer service and got a foreigner who was barely intelligible and when I complained, the rep told me to call another number. I wanted a refund, so he directed me to the VRBO payment number 866-210-6106. I called 3 times and given two choices of prompts. Neither prompt responded and was disconnected each time. This service is the worst and I can't even talk with someone to complain let alone get my money back!!!

I have been renting through VRBO since 2009. Recently they have tried to use their monopoly power in the web vacation rental ad market to force owners into their online booking system and charge large fees. If you do not use their system, they still take your money for an ad like before but drop your ad from the search so no one can find it, rendering it useless. They try to force all email communication to go through their site by not giving you the renter's email address. Also if you put your email address in one of their forms to message a renter, they automatically remove it. The reason they give for this is for "your protection". This is kind of like double speak from the book 1984.
My rentals, and probably everyone else, are disastrously impacted when a large, automated, careless bureaucracy gets between the renter and me. Pretty much the whole business is having a responsible homeowner that the renter can talk to. That is why people rent from us and not from a hotel. If you mess this up, the business goes away. I do not understand why there is no alternative to VRBO. I tried Craigslist but got nothing. Seems like it would be easy and profitable to start a competing vacation rental ad website.

Like many of the comments on this site, we have used VRBO for many years but have noticed a recent change in orientation away from customer needs to VRBO requirements. Our most recent experience was a Thanksgiving rental that cost over $5000 and was less than satisfactory, i.e., the house had fewer bathrooms than shown in the listing (2.5 vs 3.5), some electrical outlets in kitchen were not functional, oven inoperable (on Thanksgiving!), minimal water pressure, internet connection not functional, fewer bedrooms than advertised (four and an open area vs an advertised five).
The advertised occupancy was 22 people but this house should really only comfortably accommodate 15 or so people. I asked the owner for a partial refund and have yet to get a response. I contacted the VRBO website about filing a complaint and discovered that their role is to simply forward the complaint to the property owner, an action I had already taken. I then completed a negative review on the VRBO site about the property and soon discovered that only those ratings that were very positive (5 star) were displayed on the VRBO website. The consumer has little recourse in this VRBO system short of hiring an attorney and going to court.

We have used VRBO to find vacation rentals around the world for the past 14 years. This year our quotes included a service fee of over $400 that you don't see until you actually contact the owners and receive the formal contract. Another big business going for the money grab! We have cancelled the rental we were in the process of booking and have decided to try companies other than VRBO and HomeAway. This may be impractical for a short term but I expect fewer and fewer homeowners to continue using VRBO.

Been paying VRBO for 15 years annually... and paid them thousands of dollars!! I run a vacation rentals by owner business in Arizona. I told a customer to visit my website since the VRBO listing was booked for their dates. So what does VRBO do? Cancel my paid advertisement!! I just paid them $499 for annual agreement!! And only ran for 3 months!! Stealing money now eh? Good luck VRBO.

Upon a recent booking with VRBO/Homeaway it was discovered a few days later that I was in fact booked in for the incorrect dates. I wondered if I had made an error but was certain that I entered the dates in correctly. I contacted VRBO, and they sent me an email back stating that I was right and it was THEIR system that had a glitch and sent the owner the incorrect dates and to contact the owner to see if we (the owner and I) could find a solution to the problem VRBO caused. The owner was already booked out for the dates I actually wanted so I requested to cancel and to re-book elsewhere. The owner canceled the reservation but I only received a cancellation for my second payment and the damage deposit. The first payment of $500 was not going to be refunded.
The owner was apologetic, but stated that VRBO told him that due to this being no fault of his he could keep the money as it was his right because of the cancellation policy I had agreed to. He said that he had asked VRBO if they were going to issue me a refund out of their pockets since they had admittedly made an error that caused this situation that affected both he and I. He already was losing half of the reservation as the second payment was now cancelled and that I was not fair to him either and that VRBO told him it was going to be either he or I who ends up unhappy, but they would not issue a refund to anybody even though this was caused by them. They also told him that it was a computer glitch and that nobody on their end actually caused it to happen.
Basically, they are washing their hands clean of the situation and that they did not consider a computer programming glitch on their website and servers to be their fault or problem. I called to ask VRBO for a refund directly and they were short and said they could not help me if the owner did not want to refund me. I lost $500 because of VRBO and will never book with them again knowing their shady operational policies.

I would give zero stars if I could! A month ago I accepted a same day booking request through HomeAway, only to find later that the guest had not been required to pay for the property damage protection plan. In the details of my listing, prospective guests are always required to purchase the coverage. What HomeAway does NOT tell you up front, is that reservations made same day as check in are not even eligible for the damage coverage and that you are basically renting to this person at your own risk, with zero protection against loss or damage. I was informed of this by a HomeAway representative four days after the guests had already been occupying my home, and only then because I called to inquire. I was also informed by this rep that the reason these types of bookings do not qualify for this coverage is that they are often problematic, with guests using fraudulent payment sources!
The very least HomeAway could do would be to alert owners in very bold, clear, concise language that same day reservations are known to be an issue of concern. Turns out that the guest completely trashed my home, beyond belief! I had no recourse and was forced to swallow the expense of hundreds of dollars for cleaning and replacing damaged items with no assistance from HomeAway. To add insult to injury, I was informed yesterday that this guest has initiated a chargeback for the funds they paid to rent my home. Now I have to fight to prove that they were actually ever there at all. This is criminal, and HomeAway has taken no responsibility or offered help of any kind. What's worse, there is no way for me to add detailed comments to the guest's user profile in an effort to warn other owners to avoid him. Huge fail HomeAway! Where is your accountability? Run from this company.

I've been with VRBO since 2004 and can't believe how they have ruined good thing for vacation home owners looking to rent casually part-time to help defer expenses. Their new policy of requiring a booking fee and processing fee through them even after you pay a $400 listing fee is not working for me. I use to be on the top of searches and now I'm invisible on their site as I haven't enabled their online booking module. I'm calling them now and asking for a full refund. Michael **, once a loyal customer, moving on!

We have been renting properties with VRBO for 15 years and it was working well for us. However in the past few years they have changed their business model. Their objective is force the owner to accept on line booking through them similar to the hotel booking agencies. We have not changed to their way of doing business. The inquiries this year have dropped way off. On my listing I have notices of "warning they do not accept on line payments, your money could be in danger," and I paid them to post that. Also they "have not upgraded their calendar, can I show you other listings?" I called them to complain and to cancel the listing, however no refund. Obviously not a profitable investment in advertising.

We just own one Vacation Home and have used VRBO since 2012. The system worked great and we had no problems with their services or fees. Then all of a sudden they are purchased by another company and begin to charge large "booking " fees just to run their credit card and are forcing us to use their new unethical system or they change the order of our property and we get no bookings. I sure hope that something can be done about this unethical additional charge that they are forcing us to implement. Please help us! I will support any class action suit that might come of this unethical business practice. Thank you.

I am a property owner/property manager in Florida. I have used VRBO since 2004 and HomeAway, their parent, since 2009. It was a good partnership, not anymore! VRBO/HomeAway are pushing their online booking and payment program where the traveler pays a fee of up to 9% to book this way. Wondering why I'm not getting the inquiries we have received in the past, I found out when I search for my unit on VRBO I can't put in any dates when searching. Searching Daytona this way without dates of travel I have 300 choices for 2 bedroom units, including our own properties. However, once I put in dates the number it drops down to 57 properties, all who are accepting online bookings and where the traveler pays the VRBO/HomeAway booking fee!
Our units were among the 243 excluded once dates were entered! Even though my online calendar showed our units as open. Frankly I paid for a listing and the VRBO/HomeAway system is totally ignoring that with the way they are excluding properties in their search criteria. When you do a search the site encourages you to put in a date, even though you may find a property that has your dates open by just searching a geographical area and unit type. Surprise, put in those dates and that property just disappeared due to their search criteria! This manipulation isn't fair to travelers or the owners who provide the "product" for VRBO/HomeAway.
Expedia, the current owner of VRBO/HomeAway was one of the grandfathers of online hotel booking systems. But vacation rentals and hotels are not the same. The condos I own and manage have rental restrictions and minimum rental periods, some have age restrictions. And frankly, as a homeowner I want to talk and know who I am booking my unit to. I also want to find out how many are in the party, to make sure they are getting the right property for their needs. So I like to at speak to my guests by phone. None of this works with blind online booking.

VRBO suspended my account for 24 hours because I had a statement on my description page stating how to avoid their service fee (pay by check, cash or paypal etc.). I was told I had to remove the warning to travelers because this was directing traffic away from their system. They said my account would not be reactivated until the wording was removed. I told VRBO that I am a transparent person and expect them to be as well. I told VRBO that guests ask me for a discount but I can't afford to give them one or absorb the service fee so I give tell them their options. Wow, guess that's not acceptable! I've been with VRBO a long time and am sad this company has chosen this direction. ATTENTION: VRBO said now that my account has been flagged for violating their policy they will be reviewing ALL my replies from now on!!!

NEVER rent on VRBO. It is a total rip-off. I booked a place in Cozumel, Mexico for $895 through VRBO and was charged $1175.55. I wrote the owner and asked why. Answer is the VRBO fee. Did VRBO disclose that I would be charged a 31.35% fee??? NO!!! I wrote VRBO and told them it was an egregious upcharge charged unethically as there is no mention of this upcharge when you book. I think you can still book directly via the owner, but only if they list their phone number. Whatever you do, never ever book through the site itself.
In addition, Cozumel is an island, but when I searched for a place on VRBO, it displayed places on mainland Mexico, accessible only via an hour-long ferry ride! I was able to figure out that they were displaying places far away, but I wonder how many people wouldn't twig to that. I agree with other reviewers. It's worth a class-action suit. Maybe somebody could print these reviews and send them to the NY and/or CA state Attorney Generals Office for a probe. I'd do it, but I live in Mexico. It's just outrageous. And disgusting. A fraud.
Company Name:

VRBO.com

Website:

https://www.vrbo.com/