Consumer Complaints & Reviews

Please do not spend your time making cards, brochures and other business related items at Vistaprint. I used their services for over 10 years and spent countless hours designing labels and brochures as well as business cards. They have problems now and you cannot access your portfolio to make any changes to your materials. I am told (for the past 6 months) they are "working on it." They now tell me I have to go through all the things that I have ordered, place the item in my shopping cart, and then I can edit them. They do not seem to understand that I do not have time to go through endless (over 100) items to locate them and make changes. They also do not have a way to allow you to delete things you no longer order, which makes it VERY time consuming to have to go through 100's of items that you do not even use any longer.
They charge excessive shipping fees on top of everything else. I am so upset that I will be forced to pay yet another company to do these cards, labels and brochures, the set up fees alone would be astronomical. I urge you, if you have a business and plan to use the same design for your items FIND A REPUTABLE company that you can depend on for years. It grieves me that I have spent countless hours designing materials that I can no longer access.

Horrible experience. Ordered bookmarks for my father's funeral and paid for expedited shipping to make sure I had the memorial bookmark for the funeral. I received an email less than 36 hours before the service that there was problem meeting the deadline. I called and spent over an hour on hold and got cut off four times. I finally spoke with a person and they said they will miss the deadline. I got a refund but that does not really help me with the funeral, they should not commit to a delivery they can't meet! I'll never use them again and recommend you think twice before using them.

Entered Vistaprint website through page promising 500 business cards for $9.99. Designed cards with a B/W back side, which the design page said would cost an additional $2.99 (discounted from about $5.99). Charged $9.74 for the back side. Maybe we missed a notification, but that was a surprise. Triple what we expected. Not a lot of money, but we have not done business printing for about 5 years, and wanted to determine if this company was still on the ball. We have always been happy with their service and products in the past. Chatted with Customer Support. Refunded the full $9.74 plus taxes on the spot and emailed us the proof. That's service, we think. Extraordinary.

Ordered business cards and they have not arrived, not one Vistaprint representative "knows" where they are or could track them down. Vistaprint offered to reship them for a Tuesday arrival date, but frankly, I am not convinced the new shipment will arrive... This one didn't. I have no faith left in this company's promises. Besides that, I needed them last evening (estimated date of arrival) for a business meeting I scheduled specifically around the arrival of these, not four days from today. They have cost me money in business. Why can they not overnight these business cards? Nicholas in customer service offered me a full refund and to resend the order, but... A full refund does not cover the business that I have now lost due to not having my items.
I was transferred to a manager, Vanessa... She still only offered two days shipping on new order, with full refund. So now I am out hundreds, possibly thousands of dollars because I will not have the items I ordered and paid for and expected to have, by their promised date. Vanessa refused to even try asking the post office where my items were. She assumes they were tell her they don't know. She's not trying very hard, is she? Should've gone with Moo... My husband convinced me to go with Vistaprint because they were cheaper. You really do get what you pay for.

I have been ordering from this company for the past 6 years. Always liked their service, however in the past 6 months I have had to phone in on a few occasions to correct mistakes. One project I received a refund since the mistake was made on their part. The refund which is held in your account has an expiry date. It's my refund and they are going to put an expiry date of when it can be used. Not good practice. I have not received a response on whether or not I will receive the money back onto my credit card. Recently and I am so upset about this. I had a project that I completing. It took about 10 hours to finish. Because I did not go back to it within 2 months their system deleted the project.
When I phoned into Vistaprint the explanation I received was: the company sends out everyone e-mails when their project has been sitting for 2 months without being worked on. This saves customers money since the server they use only has limited space. When I told her I did not receive this e-mail, she told me to check my junk mail. I thought she was kidding me when she told me to check my junk mail. Deleting items is not to save customers money. Prior to their changes, I had unfinished work in the server for months before going back and paying for the item. This forces people to pay for items at Vistaprint's timing. Just sick that I did all that work and it is gone with no apology from this company. Not even a response to my e-mail. I am now looking for a new printing company, even if that means I pay a higher price.
How do I know I can trust these reviews about Vistaprint?
553,564 reviews on ConsumerAffairs are verified.
We require contact information to ensure our reviewers are real.
We use intelligent software that helps us maintain the integrity of reviews.
Our moderators read all reviews to verify quality and helpfulness.
For more information about reviews on ConsumerAffairs.com please visit our FAQ.

I was skeptical about using Vistaprint with all the negative reviews, but I'm glad I did. I recently ordered some business cards from them and I didn't receive my order in the mail lol. The UPS company said it had been delivered, but I never got it. I sent VP a couple emails really upset and they sent an email stating that they'd send them to me again with a tracking number. The tracking number didn't work so I thought oh no... But the very next day I received the business cards overnight USPS! And they looked beautiful! Exactly how they looked on the sample shown on the site. Very happy! They went above and beyond to make me happy, so maybe Vista Print has new management or something. :)

I have been using Vistaprint for over 3 years now and may I say I am very please with their services. They give you the option to review your products before placing your order. They have live chat support which I think is super convenient. Their prices are affordable and convenient, I can say they get the job done.

I have ordered business cards from Vistaprint for years now and in the past they were very reliable and produced good quality cards for a reasonable price. For about the last year every time I order their signature card stock (it's the medium weight) I get the standard which is flimsy and I cannot use it. Every single time I order I have to call in, wait on hold forever and then speak with someone who asks me to take a picture of the card (the picture would be the same on standard as signature because it is the same picture on the business card). Then I have to wait another week to get the correct cards.
The last three times this has happened I have called in and told them that it happens all the time BUT nobody does anything about it. They were good in the past but I would not recommend ordering anything from them today. They couldn't care less about the quality of their product or customer service as I realized as I spoke with Nikita today. She kept giggling about the situation as if it was really funny. Unbelievable!!!

I have been using Vistaprint for the last 5 years and the last 3 months of print material and lack of customer support has led me to seek out other suppliers. We spend thousands due to our several businesses and unfortunately they are losing the quality and poor customer service. My reverse white text is appearing green on all our print material. The proofs look perfect on the screen. Contrary to the material once it arrives. I've reached out to their customer service more than 5 times without a response.
The electronic artwork files are prepared by our in-house graphic designers and we have reviewed the files before sending them in for printing. That's what happens when you grow too fast. Something gives and in this case the customer is the one who seeks service elsewhere. You need to pay attention to the ones like us because we were your biggest cheerleaders and we told everyone how great and reliable your service was. Not anymore.

Vistaprint have taken 4 unauthorised payments from my account and I am disgusted by this!!! I want my money back immediately and would warn everyone to stay away from Vistaprint.

I ordered some business cards. They arrived in about a week. When I inspected the business cards, they had been poorly cut, with white space around the top and left sides (only on the back). I called Vistaprint customer service, and described the problem to them. They were immediately able to find the source of the problem and issue a new order, at no cost to me. I would highly recommend Vistaprint's customer service and business card printing service.

Cannot order. Your website sucks. When I put the information on computer it will display what I just wrote leaving content not on screen.

I never made a purchase and have no idea how they got my credit card details. I found 6 charges made today on my online acct.

We found ourselves with the need to write a check for a single bill each month. So I wanted to order some plain jane checks. I ordered these through Vistaprint. Their pricing draws you in but by the time you add in all the fees the checks become expensive. They never provided the tracking information as stated. I requested it via email twice after I received an email that my order shipped. Each time I was told to check back later. I finally broke down and called them and that even more pathetic than the emails. Customer service is severely lacking, quality is minimum at best and pricing is high for minimum service and quality.

So far, we have been well pleased with the products we have ordered from Vistaprint. Does this success have anything to do with the time of year the order was placed (early June) or our location (the Midwest)? The order was shipped rapidly and the print quality on the magnets is superb! I just pray that the outstanding quality continues and that I will be able to report the same excellent results with the order for wedding invitations.

We ordered some save-the-date photo postcards and they arrived in a timely manner and the graphics were acceptable. The price was reasonable. Given how much negative feedback there is out there on many of the major online print companies, I realize that whether an order comes out good or bad amounts to taking a gamble, regardless of what particular company it is that you are ordering from.

I want to share with my experience of dealing with Vistaprint. I've been a customer of Vistaprint for over 10 years. 5 years in the US and 5 years in another country. Business cards, calendars, flyers and stuff like that. Then a website with email (5 years). One day when my payment was due I didn't find my country in the list to choose from. So I politely contacted customer service which said "Sorry." I've never got any explanations from Vistaprint, so I assume that political situation somehow affected their weak minds to remove one or another country.
My account was closed, no website, no email with all the letters. I've asked to give me some time at least to inform my business partners of changing email, to save the contacts. So they did - I've been granted the access to my completely empty mailbox. I see this situation as a betrayal of a loyal customer. I address this to the people who want to deal with Vistaprint - if you are not sure that you'll spend the rest of your days in the US you might want to think twice.

Last year I ordered business cards and the experience was very pleasant. However trying to reorder them has been a nightmare. The only thing I needed to do on my reorder was to change my title but they have lost my logo so they are unable to reprint the cards unless I resupply them with the logo again, which I no longer have available to me. I have called their "customer service" and they have been absolutely no help. So beware, if you have a problem you are on your own. I am going elsewhere.

They are very bad in T-Shirt printing. Their printing will go off only in one wash. It's waste of money. Please never ever try.

If I can give a half a star or none I would, but 1 star seems to be the minimum required. I have tried to get my company's uniform patches done with Vistaprint not once, not twice, but several times and I kept getting the same response. They could not help me because the colors were too difficult to work on and the product may not look good. I went with these people because I thought they were the best and could do pretty much anything their customers needed, as they make it look on their very expensive tv commercials. I thought these people had the tools necessary to get the job done, but wow! Was I wrong! I had to outsource and have what I needed done in China, where they had no problem following our design and did exactly what we needed.
We were absolutely thrilled and happy with the work they did in China and have been doing business with them since. Also, my business cards suck, but I have been stuck with them since I bought them from Vistaprint over a year ago. Their templates are horrible with only a few to select (no creative designs), so I have been wanting to just make new ones. In my naive nature I have try, yet again, to have Vistaprint do my business cards but with the system they have it's a little bit of a pain in the ** to have it done and they still lack a few things like, having maybe our logo faded in the background to be able to write on top and have a good presentation. It is difficult to write our company name without having the letters of the template underneath.
Anyway, if I start to name every issue I have to overcome this comment will be too long to read, so I went to a place where they specialize in business cards and they did a magnificent work. Every time I give one of business cards people tend to ask me where I had them done. I am puzzled and amazed Vistaprint it is still in business because I am sure I am not the only one who had a bad experience with them. A real American company would do anything to satisfy their customers needs, not have them outsource because they were unable to do the job. Again, how Vistaprint it is still in business it's beyond me.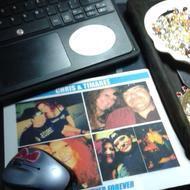 My experience with Vistaprint is great. They print my business cards, banners, sweatshirt, postcards, magnetic car decals, mouse pads, engraved business card case... and everything came fast and affordable. I gave 4 stars because the only problem is the website. I'm forever having problems... now it won't let me post items in web store! My customers can't buy something if they don't see it in web store... Please fix it and I'll give 5 stars for sure, but my business stuff great. I order at least once a month. Love Vistaprint.

I have a long history of ordering from Vistaprint and I have generally been happy with the products I've ordered. Like other reviewers, my orders were canceled and no one contacted me about it. I placed an order and later I suddenly realized the arrival date had passed. It showed it was "processing". I contacted them and they said it was canceled because they didn't receive payment. I placed the order again. This time I received a confirmation that my order was received. The exact same thing happened. I'm wondering if my credit card company has gotten complaints about Vistaprint and now simply automatically refuses payment to them. In any case, take my advice - save yourself the trouble and shop elsewhere.

What a joke! After being with them for two + years I decided I had enough (it was a horrible website host as far as posting pictures of my designs etc.), and so I cancelled my subscription with Vistaprint in January 2016. However unbeknownst to me they failed to put cancellation through and continued charging my bank account $1.99 a month for a frozen website fee. When I sent them and an email this week regarding same and called yesterday regarding same, I open my bank account only to find out they have charged me a website fee of $12.71 for this month.
As I kept telling their customer service person that I cancelled this website in January 2016 - she kept insisting that it was my mistake because they didn't do their job and cancel as I wrote and called about in January. I told her to put that money - all of it - back in my account by today. They did put the $1.99 x 2 back but not the $12.71 - she said it would take two billing cycles and I told her they better do it within 24hrs or I was going to report this to the police for consumer fraud. As far as I am concerned it is outright stealing and theft. NEVER USE THIS COMPANY!

I'm very disappointed in Vistaprint. Having been a frequent business card customer, I decided to expand my loyalty to design t-shirts for my business. I bought $50 worth of t-shirts and merchandise for freebies and company branding. When the t-shirts first arrived, they came with a horrible smell and a bad print that made the shirts ugly and unprofessional. The black t-shirts had white outlines that the design didn't have and the white shirts were faded in color. I contacted customer support and they were happy to assist me reorder the purchase, and so I did.
I thought that I would be satisfied after this, but the t-shirts did not improve in quality. Customer service became unhelpful after that and I am stuck with double the quantity of t-shirts that are unusable and unprofessional. Despite my efforts, Vistaprint had not been able to resolve this problem, leaving me very unsatisfied. I will not trust Vistaprint with t-shirts; I will just stick to business cards next time.

I tried the 500 business cards for $10 "promo" but if you want a backside to your business card, it's $12.00 more. I don't think $22 is a bad deal but what really irks me is that it just seems like a bait and switch tactic. They know by the time you design and upload your card/other printed items that you will just give in and pay whatever to avoid the hassle. By the time you pay for shipping, it's closer to $30. I would just prefer no coupon (no bait) and just show pricing up front. Show it loud and proud if it's a good deal. Like I said, I don't think the pricing is terrible. I'd rather just know up front what the costs are, no pricing games. Deception leaves the consumer going away with a negative experience. Product is fine, the help with the design is nice too. Too bad to spoil a positive experience with pricing shenanigans. Low score to being duped.

I ordered business cards from Vistaprint. After 2 weeks of waiting, I contacted customer service because the business cards did not arrive. They said the order was cancelled and that I have to reorder. I would not have know if I didn't call! So I ordered again. The second time. 3 days before expected arrival date, order still shows PROCESSING (just like the first order I made which was cancelled. Even if they say the order is cancelled, it will still show as processing on your account). So, I called again, they cancelled my order without letting me know, AGAIN! Apparently because of some issue they had before with the shipping address! I live in a 600 unit apartment complex, BTW! So, again waited for nothing.
Vistaprint could've called me and let me know what was going on instead of making me wait for my order when I'm actually waiting for nothing!! They wouldn't even expedite my order to make up for my wasted time! All they could offer was free shipping. They asked me to place my order again and wait for 10 business days to have it shipped. I wasted 1 month waiting for a business card order. Terrible customer service! Will not recommend.

I ordered checks from Vistaprint. I used them to pay rent. They printed the wrong acct number on my checks. Needless to say my check bounced and I acquired fees from my rent being sent back. I called to complain about it. I was treated poorly.

We were working on six document for a month. When we came back to our project everything was gone. The support person said that all document are being erased after 60 days. Hours of teamwork are gone. We cannot rely on such a service.

Ordered 1000's of magnets from these imbeciles. I order them as promotions for my business with a pic and a discount code. Great idea if they don't look like garbage. The last batch I ordered several hundred of one design that is identical to what I've ordered a couple times before, but this time I get white edges on one or sometimes two edges? Supposed to be no white, why is it there now? Why are they cut so poorly that some have it on one side and some on two sides? Why no "heads up, something may be wrong here important customer." I may have approved the proof online, but my eyes aren't young and I am 100% sure they could see there is an issue when setting up the run. Yet, they legally screwed me.
Wouldn't hold up in court if I sued so they are probably laughing over a couple drinks on how they screwed over yet another customer. Yay for the Jerks. These guys do not care at all and sent me this garbage that I cannot use and spent hard earned money on. This isn't the first time either, but this is the last. Horrible quality, no customer service when I complained and what is with the huge long wait to get shipping unless I pay tons extra? This company just wants to take your money and otherwise could care less about you. Buyer Beware!

I recently purchased 1,000 rack cards and 1,000 business cards from Vistaprint. After the items had shipped, someone at Vistaprint noticed I had misspelled a word on the rack card. They then proceeded - without prompting - to re-print and re-send the entire order, free of charge. I was extremely impressed with their customer service, and once I received the order, was also blown away by the quality of the product. Would highly recommend this company, and will be using them for future print orders.