Vistaprint
Vistaprint is an online supplier of printed and promotional materials as well as marketing services to micro businesses and consumers. Customers are unhappy with business cards, monthly fees, ordering and customer service. The company offers printed marketing materials, promotional products and marketing services such as copywriting, design, Websites and postcard mailing.
Consumer Complaints and Reviews

Placed first order on 14/5/17, order arrived and one side was printed upside down. Rang Vistaprint and they sent a second order out, second order arrived and they were exactly the same as the first, upside down. Rang Vistaprint and they said they would send it out again and guaranteed it would be correct. Third order arrived, they had only sent envelopes. Not what I ordered. Rang Vistaprint and they said they would send the order out for a fourth time. Gave up and went elsewhere in the end. Customer service department are rude. AVOID and go elsewhere!

I contacted Vistaprint regarding some charges, and I received excellent customer support from both of the above-named individuals. They were professional, understanding, and, I feel, upheld the values of the company. I was disconnected from Paula-Gaye before we could finish addressing my issue, however after chatting with Jazdia, I was able to be advised of my options so that I could resolve the problem. Would recommend to friends and family. Thank you.

I ordered some stamps, stickers and a car sticker from Vistaprint with a promo code making them free. I received a confirmation email and then I received another one stating that I will not be getting my order because they would not honor my promo code. I didn't understand why the promo code would go through then be told that it wasn't going to work.

First big workshop/performance in a year, I ordered business cards and paid a little extra to ensure that they would arrive early with time to spare *just in case*. They never arrived. I contacted the company, they had no information as to why I didn't receive them, tracking number offered no useful information. They told me they could send a replacement on Thursday. My workshop is the day before, on Wednesday. I had to ask for a refund. The only good thing I can say is, unlike the business cards, which were supposed to arrive in 5-7 days, the refund actually showed up. I can't even put my disappointment into words, but I can say I will probably go back to Moo and never take suggestions from friend ever again.

I ordered "matte" business cards. They sent something printed on semi-shiny cardboard, the kind that dry cleaners sometimes use when you send your shirts out to be laundered and folded. Cheap, cheesy, mottled with shiny and not shiny surfaces. And they claim that is matte. It isn't, it's crap. They wouldn't replace them with matte, only refunded my money. I wasted a lot of time, and the only thing that benefits (!) is the landfill.
How do I know I can trust these reviews about Vistaprint?
791,967 reviews on ConsumerAffairs are verified.
We require contact information to ensure our reviewers are real.
We use intelligent software that helps us maintain the integrity of reviews.
Our moderators read all reviews to verify quality and helpfulness.
For more information about reviews on ConsumerAffairs.com please visit our FAQ.

They claim that for any reason they will honor a satisfaction guarantee, but this is under their discretion. That is what they "forget" to mention. I tried to get my document reordered that they messed up, they left out one part of the order, and then when I reached out to them again, they said there is questionable activity on my account and that I can no longer place any orders. What a joke! No wonder they are so cheap.

I won't go into detail about their ineptitude, what I will say is do not waste your time on this company. I have been chasing a refund for their mistakes for 4 months and they show little to no common courtesy. Help yourself. Find another company.

Throughout the 4 step checkout procedure Vistaprint is quoting $39.99 'of your photo book'. This price is reflected on two different pages with absolutely no indication that the price may vary at checkout or subject to any additional costs. It is only once you go to pay that you discover that the actual cost is much higher! In my case it was over 4 times higher! I feel this is false advertising because Vistaprint make it appear in their wording 'of your photo book' that it is the final cost and is not subject to any additional fees or charges.

NO customer service despite many emails. Ordered on line - very simple - but when product arrived the print quality (colour) was very poor - illegible. I used the suggested format online. Despite many emails (4 now) and the promise of a response in 1 working day... nothing from when I asked several weeks ago. Phone number does not work. Please refund.
I wrote this to their customer service dept and their response: "Our staff has read your review and values your contribution even though it did not meet all our website guidelines. Thanks for sharing, and we hope to publish next time!"

Vistaprint will not publish my review, it is the truth. I was placing an order for business cards. I placed an order around 2/17/17, it was never shipped. I did not receive an email, I was not contacted in any way with an update about my order. I finally got ahold of someone in customer service and was told my order never got to the printer. It is still in processing. I've had an account with Vistaprint for many years and did not need any new artwork, I just changed the color so what's the problem?
Finally I was able to get in touch with customer service and she refunded my money. (I did not ask her for a refund) I just wanted my order. Then she told me she would resubmit my order and I would receive my order ASAP. NOT, my order is still pending. I seem to be in processing purgatory. Money is not the problem, they have yet to notify me as to what the problem is. Maybe someone at Vistaprint will read this and help me out but that's what the last person was supposed to have done.

I was working on a flyer for a client. A lot of graphics etc. When the client decided to proceed I found it had been deleted from my account. 3 HOURS WORK! They delete all drafts after 60 days. What world do they live in? SUCKS.

Bought two car magnets from Vistaprint. Following instructions for installation and care. Prior to a car wash I pulled the car magnets off my door only to find that the magnet seems to have melted onto my door. Contacted Vistaprint through email and received a response to please include clear pictures and estimate for repairs. Emailed 3 clear pictures and two estimates. Received a response that was word for word the same responses first email asking for clear pictures and estimate. Sent a second email with pictures and estimates and received an email from Vistaprint word for word same as previous two emails. Don't trust a company that doesn't stand behind their product.

RUN!! Do Not use Vistaprint for website hosting!! There are always issues with the servers, in which causes their websites to go down FREQUENTLY and customer service is almost impossible to get thru to. The wait times are ridiculously long in addition to them NOT providing 24/7 customer support, in which I could probably be ok with if I was able to contact support during off peak hours at least... I as a business owner am not able to remain in a call Queue for 30-40 minutes daily. Not to mention trying to redirect your domain name to another provider... GOOD LUCK!! You will definitely need **! It's definitely a headache trying to and SEVERAL long periods of hold time in addition to the first 30-40 minutes to be told you absolutely will NOT gain access to YOUR domain manager nor obtain YOUR log in credentials which if you as a Online entrepreneur this can be EXTREMELY frustrating and time consuming!!
I've also experienced not being able to view my websites analytics on NUMEROUS occasions as well which even after contacting customer support it took over 24 hours to rectify this issue also. Forget about running a social media ad from your website to the platform that you're trying to advertise... even that's completely complicated! As I am definitely not one for leaving dissatisfied reviews due to the fact that I too am a business owner and I am one who always see the glass half full and not half empty. If you're looking to start a website I would RUN far away from Vistaprint.

I ordered 500 business cards for myself for my business. I had ordered from Vistaprint before and had a previous card saved. I just needed to update my email address and add my website to the card. I ordered the cards along with some product stickers. Package came in about 3 days. When I received them I noticed I made a mistake and accidentally put an extra letter in my email address. I checked my order just to verify that I had made the mistake and not them, which I did. I corrected the mistake and added 500 more cards to my cart.
On the verge of ordering them and paying for 500 more cards I decided to call them to see if they could maybe discount my new order since I made the mistake. Which they didn't have to do at all considering they did nothing wrong. The customer service agent ended up sending me 500 more cards for free. No shipping charge or anything. So I'd have to say they have great customer service. Only thing I don't like is the amount of stuff they try to sell you on when checking out. But I can deal with that when they are willing to help their customers out like that. I'll order from them every time.

While ordering postcards to send out for my best friend's baby shower I messed up on the date putting Saturday instead of Sunday and having it say "21srt" instead of "21st". I was mortified when I received them in the mail! However, I decided to use the chat function on Vista Print to see if there was anything they could do so I didn't have to just simply reorder and be out $20+ dollars. The woman I worked with not only fixed the problem but she didn't charge me anything additional!!! I had a great experience with Vista Print and will use them for all my printing needs!!!

Decided to purchase 250 business cards from Vistaprint for a base price of roughly $20, with about a $7 shipping charge... ok. When it came time to check out, I get this bonus offer for around $13 with an offer of no additional charges for an additional 250 cards... ok. I hit submit and see my total charge has increased to $40. Misleading, to say the least. It appears they will not give back my money but will provide store credit, meaning that they have made a nonrefundable sale that I didn't see anywhere. This was my first use of Vistaprint, and I won't use them again. You would be better served using another company.

I had ordered visiting cards from Vistaprint. I received the product before the deadline but print quality of the product is worse, it's not even visible. I want to chargeback my amount ASAP. I heard good reviews of your company but as I can see your company's print is worse.

Folks, you don't get anything for $9.99 as they advertise, Vistaprint charge a lot on shipping and it comes to $28+ for 250 basic cards. I cancelled the order and then lost money on exchange rate. Please be aware of this scam.

Vista Print blatantly advertises "500 cards for 9.99". If you believe that you are in for a huge surprise. The truth? You will get 250 of the most basic cards available and the price won't be $9.99. More like $28.99. That's right. $28.99 for 250 basic business cards. A complete rip off. Don't bother with this company. Go have your cards made locally and get twice as many for half the price.

WARNING!!! I purchased a messenger bag 6 months ago for my daughter's birthday and had it embroidered with her logo. The buckle/snap for the shoulder snap broke today and I called Vistaprint looking for a new buckle or shoulder strap. They said they don't have parts and are not responsible for the quality of the products they get from their supplier. They suggested that the only thing I could do was purchase another one from them. SERIOUSLY?? I told them I would be writing this instead. DO NOT BUY ANYTHING FROM VISTAPRINT. WARNING WARNING WARNING!

I had lost my business cards and was in urgent need of a new set. I had paid £9.99 for Vistaprint's 'Fast delivery' within 48 hours on a Tuesday for an event on the following Saturday - we are currently on a Sunday! Delivery was 'apparently' made on the Friday but I had REFUSED the delivery. On the Saturday, Vistaprint staff had stated it will be delivered for the Saturday by 6 pm (when I told them about my event). Staff were meant to call me back but there were no calls - that particular staff was not available when I called back later and 'off' of work the next day (how ironic).
Staff had told me to contact DPD - though I pointed out - they chose to have the item delivered by DPD - not me, so responsibility lies with them. A few hours before my event - One of the staff members told me to print the cards at another place and they will reimburse me. It was not possible for me to do this with only a few hours until my event - I would have been able to do this earlier in the morning when I had called, if they stated they CANNOT have it ordered and not had made me wait.
I had NO business cards available during my event as I left trust in a company who constantly highlights their aim to provide good customer service, instead they had left me stranded and waiting for a call back - I have to admit - my naivety played a large part in this. My business lost out. What I would like to advise other businesses is to have a backup plan and not rely on Vistaprint to help you in a time of need, even though they promise to deliver by charging a high delivery fee (£9.99!).

I ordered prints from Vista. They gave me proofs to approve which I did. Then they arrived. To my dismay were not acceptable. Whoever stretched the canvas over the frame did not center them and it looked like a 3 year old did the work. I even paid 5.00 per print to revise photo to adjust resolution and to fit on the size canvas I selected. TOTALLY HORRID. WHAT A JOKE THIS COMPANY IS. A REAL JOKE.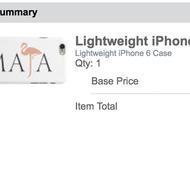 Cheap and terrible quality. I am so upset, I ordered a phone case with my logo on it and it's starting to crack at all 4 edges within 2 days of having it and I haven't dropped it a single. Also got a hoodie that feels rough and cheap, not impressed at all. They were absolutely overpriced, especially the phone case that was £17 but felt the same quality as one you get at a booth in the mall for a fiver.

Hi all. I have been using Vistaprint for 7 years in NZ. Yesterday I seen a car at my local supermarket signwritten with my logo which I purchased 7 years ago from Vistaprint. The issue is that I am still using the logo. I did some research and turns out that the company started in 2016 so 6 years after my business. I contacted Vistaprint and asked what the story is with this. Can they resell your logo which you have purchased 7 years ago. I purchased a logo 9 years ago from Vistaprint in Holland. After I purchased it, they took the logo offline so no one else could use it. That is not the case in NZ. After logging my complaint via phone they basically told me they couldn't do anything and that they own the rights to the design! I have paid for the logo and it nowhere stated that when I purchased it that someone else could use the same logo. Why would I buy a design that someone else already has.
Now I believe that this is a mistake from Vistaprint and not mine. Now the best thing is coming. Vistaprint offered me a refund of the logo I purchased so I could re-brand with their personal logo designer which I would own all the right to. Just let me think about this. Ha ha what a joke. You are asking me to re-brand after seven years using this logo, signwritten my car, reprint all my t-shirts, hats, pens and caps because you sold the same logo twice. I believe this option should be given to the other company which started in 2016 not to me when I started my business in 2010.

I was very happy with Vistaprint for years. But then I start seeing another landscape company in my town with the same exact logo, saying, colors and everything just a different name and phone number. I am very known around here for my quality of work and pricing. Now some brand new company has my same everything. Hopefully this won't affect my business. But the Vistaprint does not discriminate for exact logo for the same ZIP code which means some lazy company can look exactly like you and possibly make you look bad or take your rep. So what do I do? Change my logo of years of building up? Super bummed.

I have never done business with this company. My credit card had 5 charges from them in January. The charges were refunded 5 days later. I called and was told that they would need to "escalate" my inquiry to the fraud department. I have no idea how they obtained my credit card number or what the charges were for. The charges were not associated with an order number or description, and the representative could not pull these up, although she did seem to have the credit card number. I have canceled that card.

I have used Vistaprint for years with 0 issues in the past. I recently placed an order with them for business cards and postcards. My business card was just too dark. I contacted them and they made it right within 5 min! I will continue to do business with them! THANK YOU for standing behind your slogan. "Absolutely Guaranteed. Every time. Any reason. Or we'll make it right." and you did! :)

I ordered bridal shower invitations and the tracking information said they were delivered by USPS; however, I never received my order. When I called Vistaprint's customer service line, they went ahead and reordered the invitations to be sent to me within 3 days, only this time, they would be shipped directly through UPS. It was such an easy process and friendly process! I will definitely be continuing to use Vistaprint for all of my printing needs.

I recently ordered two shirts. However I ordered the wrong size and didn't realize. I went on the website to change the Larges to mediums and was a little disappointed to hear that the order had already been shipped. However, I checked my email and saw they had sent me a free one. Great company!

Vistaprint Digital Website Hosting is terrible in the extreme. I have been with Vistaprint for 5-8 years. The three websites that I have with them were down for 90-120 days out of 2016. Thus far in 2017, they have been down 6 out of the 8 days so far (It is 01/08/17). They have customer service seven days a week but they cannot really resolve this ongoing problem. I have not left because after googling web hosting companies, I have yet to find one with a great reputation. Until I have some confidence that the grass is actually greener on the other side, I am just going to try and effect change where I am. I literally have hundreds of hours in talking to the tech dept. The sad thing is, they have a really great website builder that can make you look very professional. If only it worked better, really at all.
Vistaprint Company Profile
Company Name:

Vistaprint

Website:

http://www.vistaprint.com/