Consumer Reviews and Complaints

I have purchased items in several categories over the last two years. Clothing tends to fall apart quickly. The Tod English cookware I purchased in March already has the finish chipping. When I called them about the clothing they said I couldn't return it because it was beyond the deadline, I told them the clothes weren't worth returning. I do feel they should have offered a refund regardless. Same for the cookware. I am hoping someone has started a class action lawsuit I can join. I've used Evine because of the value pays. But it isn't worth it because the quality is poor.

I was approved for an Evine card for $700.00. I ordered $271.31, which $44.90 was shipping, the items that I ordered I sent back everything was too big and I didn't like the items, cost me another $7.50 return shipping. I get a bill saying I owe credit card $27.00. Late fee from not paying on my bill. I didn't understand what I owed them for, when I got my bill it was for calling in my orders over the phone. I've never heard of a hsn charging you to take an order on a 1800 number!! So I owe Evine credit card $45.13 in phone calls to Evine, but they don't warn you that you're being charge for them to take orders. I have nothing to show for owing Evine credit card, when I returned all of their merchandise. Some of the calls are $6.62, $6.25,$5.95,$5.95,$4.67,$4.66,$3.75,$3.30!! And I want my money back, I'm on SSI, I don't have that kind of money to pay just for placing orders, they got their items back that should have taken care of my bill what I paid for!!!

I purchased two watches and paid with my checking account. They say they shipped it and they sent it to the wrong address. I told them that they shipped it incorrectly and they said they are not paying me back or sending it again. What kind of company is this? They take your money and don't send the product?
They are fraud and cheaters. I hope no one buys here anymore and I hope government investigates them and shuts them down.

We purchased an $1,100 55" UHD Curved television from Evine that included a 2nd Year Bonus Warranty. The picture has gone dark on the tv and we are having great difficulty navigating through the confusion in an attempt to get the tv repaired or replaced. Evine points the finger at Samsung and Samsung points the finger at Evine. I contacted Evine both by phone and by e-mail and I have gotten two different case #'s regarding the same issue. Samsung tells me they need the warranty contract #, which I don't have, Evine never provided it and they are telling me that there isn't a warranty contract #.
They did tell me that they will correspond with Samsung and then they will get back to me in 3 to 5 days - REALLY! I insisted that I speak with the department that handles the manufacturer warranties, insisting that they must have a procedure or policy in place for these situations when a warranty needs to be used. The rep I was speaking with told me she was in that department and that Evine would call me back in 3-5 days with a solution. I told her this was absolutely unacceptable. It has already been 3 days of phone calls and e-mails, after which, nothing has been resolved. I have a feeling that I will not hear from Evine and I am extremely frustrated right now. Any suggestions? I do plan to pursue the matter even if I have to hire an attorney. Thanks for the opportunity to vent!

I have not ordered but a few things from Evine thank god! I did order a ring and the rep told me everything went through fine. Weeks later I get 2 letters telling me they denied me!! The flex pay was to be deducted from my visa, I was never told they run your credit. One any company that runs your credit should always tell you that is going to happen! And if it was setup to deduct from my bank why do I need your credit card!!! All you are doing is putting marks on our credit report without our permission! I do think I will call the credit bureau and report this company, and I encourage everyone that has had this happen to do the same! Never will they get my money I don't care how high my credit score is! I honestly give them a -5 Stars! You need to be closed down!
How do I know I can trust these reviews about Evine?
880,156 reviews on ConsumerAffairs are verified.
We require contact information to ensure our reviewers are real.
We use intelligent software that helps us maintain the integrity of reviews.
Our moderators read all reviews to verify quality and helpfulness.
For more information about reviews on ConsumerAffairs.com please visit our FAQ.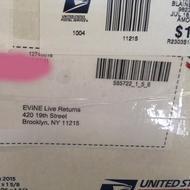 I purchased something, didn't like it and after one week of receiving it I returned. With my order, I got a return slip with warehouse in Brooklyn, NY so I did return my parcel to this location to find out a few weeks later that my return will not be process due to not returning item to Bowling Green, KY. When ask customer service why was I provided with the pre-printed return label for this location my question was unanswered. Seems to me, they have more returns than they like and that's their way of forcing customers to keep unwanted items to keep their business afloat. That's very deceitful business practice and if there is more people with similar experience we can sue them.

I ordered 3 of the Clorox Scrubtastic indoor/outdoor cleaning wands... One for my 2 levels in my home, and the other for my Mom. After charging one, I could not get it to work, but the wand extensions were hard to join, so I thought it may have been my fault. They were not user friendly to me, but especially for my Mom who has arthritis. I contacted CR and was told to return at my own expense, even though 2 were not opened. The least expensive shipping for each one was $11+, so I could have bought one at Walmart for less, considering all shipping charges, and returned it with no hassle. After reading the complaints about this site, I do not plan on ordering from this company again.

I have had a line of credit with Evine for approx. one year. I pay my account every month the minimum due or more. I have never maxed out my line of credit. I rec'd a letter stating that they were reducing my line of credit because of a recent review of my credit. My credit has not changed with exception to me using other credit cards to pay for some random items that increased my overall credit usage percent, but had nothing to do with my Evine account. My credit report shows that all of my credit accounts are paid on time and shows no late payments. Also, I did not give them permission to check my credit again. I am very disappointed in their practices and will be paying my account with them off completely and will no longer purchase anything from them again. My other credit cards I use are professional and respectful and I will continue to have a positive relationship with them. There are many other places to shop, I do not recommend Evine.

This company has gone down the tubes. Instead of sending me a quick email reminder that one of my credit cards on file has expired, this company pulls a hard credit inquiry instead and says I'm no longer eligible to use value pay, its installment payment option. I had two remaining installment payments of $7.97! Even more creepy, this purchase was not made with a credit card, but was purchased via PayPal, using the value pays. So why, then, on payment 5 of 6, did this sleazy company suddenly switch the charge to an expired credit card? apparently, they use this as an excuse to pull a hard credit inquiry, which stays on reports for two years. obviously, being the careful and conscientious person that I am, I paid off the approximately $15 immediately (both the July, early August payments), no big deal.
I have no credit card debt and FICO scores of 827 and 829, on combined large credit lines that I obviously don't use! A 1% debt-to-credit ratio! How is it possible that I'm not eligible for a $9 dollar value pay on a $54 piece of jewelry? And why are these clowns putting hard credit inquiries on my sterling credit report? STAY AWAY.

I recently ordered a item on value pay and the representative asked which charge card I would like to use on record. I told them Master Card. The person placing the order said that I did qualify for a EVINE charge card. I told her I was not interested and all was fine. The woman I was talking to placed my order on my Master Card. Then about 5 days later I received an alert on my phone from my credit monitoring agency that EVINE has requested a credit report on me. I have been shopping with EVINE for some time now and I would have not placed the order if I had known my credit was going to take a hit, especially for an item I was not 100 percent sure I wanted. I actually ended up returning the item I ordered because it was not up to standards.
As soon as I received this alert I called up EVINE's customer service (on 7/5) and the first I spoke to said that EVINE will run a credit report every time someone uses value pay. That did not sound correct to me since I have used value pay in the past and never had this happen (where EVINE just runs a credit report). I asked to speak to the customer service rep's manager and the next person I was transferred to said that EVINE will randomly pick people to run credit checks on and he said that he has seen in the past where a customer has bought some expensive items like a TV and home furnishings and no credit report was run on them, then the same person buys a $30.00 item and a credit report is run on them. I asked if he could tell me where EVINE informs its customers that they can and will just run arbitrary credit reports on their customers.
The rep I was talking to said that it sometimes appears on the TV show itself. I happened to have the TV turned on to EVINE and told him I did not see anywhere on the screen where it states anything about running credit reports and I made it clear to him that I have never seen any such wording in all the years I have been watching EVINE and the years preceding when it was ShopNBC. He then said they don't show it all the time, which did not sound correct again. I then made mention that the reps you talk to when placing your order should mention the fact that a credit report might be run on you, he said they don't. Well after getting nowhere with this gentleman I hung up.
Now I guess I will just wait and see if an unwanted charge card comes in the mail since my credit report was run and the first person I place my order with said I was already approved. I go to great lengths to keep my credit in the upper 5 percent and I don't appreciate random credit reports being run on me without my consent.

I don't like the way Evine runs their business - Every time I had to call to make a payment I ordered it on Easy Pay. For Christmas gave them my credit card number when I ordered. They said they had the wrong credit number the first time. You would think they would had fixed it the first time.

The other day I attempted to go into my Evine ValuePay to change my credit card, and make a couple of a payments and pay off one of my items, but every time I tried to do anything, I continued getting message "to contact customer." Upon contacting customer service I was told that I needed to talk to some dept. that wouldn't be open until that Monday. When I called back that Monday the chaos began.
First of all, I was switched around three times until I finally ended up in their investigation fraud dept. Here I was advised by Tammy that they had received two disputes from my credit card company for two of my Value payments. I informed her that I had not made any disputes, but she advised me that Value payments for $25.87 and $9.57 were disputed by my credit card company. So, I informed her that I was going to contact my credit card company and call Evine back.
After looking at my credit card statements, and talking to my credit card company, which confirmed that there were no disputes initiated (this I knew because I'd never made any disputes, or any complaints with my credit card company regarding Evine). I've never had any problems with neither the items I've purchased nor the customer service that I have received from Evine, both had been exceptional up until now.
Nevertheless, currently Evine has gone above and beyond in their quest to accuse me of deliberately disputing my Value payments. Ultimately, another individual was added to my account (confirmed by Diana in the 'executive' dept. whom I believe she was instrumental in having added) without my knowledge or authorization. After initially speaking with Tammy on June 12, and contacting my credit card co., on June 14, I called Evine's investigation and fraud dept. back, as I advised Tammy I would. This time I had the displeasure of speaking with a "Robert" as I attempted to explain to him that I spoke to my credit card company, and that they do not have record of any disputes for Evine. I told Robert I did not know what was going on; I just wanted to clear up the two payments they are insisting that I disputed. He informed me that I could make the payments, but my ValuePay account would remain blocked.
Everything I attempted to say fell on deaf ears. This guy was rude and obnoxious as he constantly talked over me. I asked him to stop talking over me, as I continued to maintain that I did not dispute any transactions with Evine. He responded, "Well they didn't fall out of the sky!" Astoundingly, I replied to the effect, that "I'm the customer and you are unprofessional," and before I could finish he told me I was disrespectful. At that point, I became highly upset and more so extremely suspicious of Evine's practices. At that point, I asked to speak with a supervisor; he said that dept. did not have a supervisor. Further, Robert informed me he was putting some sort of notes on my account. To keep my composure, I hung up and I called my credit card company back.
Upon speaking with my credit card company again the representative offered to contact Evine on a three-way call; I gave her the direct number to the fraud investigations (one of the hundred different departments they have), and the representative brought me back on the line with Ms. Tammy who again continued to insist that Evine received two disputes that they accepted them, and charged back the funds. The representative from my credit card company attempted to advise Tammy that no disputes exists, yet Tammy continued to repeat the same thing over and over like a recording. I put an end to the "conversation," but I stayed on the line with my credit card company. The representative transferred me to their investigation fraud dept.
The rep. in that dept. offered to call Evine on three way; however, this time Tammy, Robert, etc. (fraud investigation dept.) told the credit card co. rep. that they did not accept three-way calls. So, I requested to speak to a manager when she came back on the line, and the manager called them on three-way. This time they answered and a Tyler was on the line. Giving credit whenever, wherever due, he had a pleasant, professional demeanor (wasn't argumentative,) which I was accustomed to from all the customer service representatives that I had spoken to. The manager advised Tyler that she went back to 2016, and she found no disputes whatsoever for the reference numbers, which they provided. Furthermore, she also informed him that she was looking at the very same system that Evine uses.
At that point, I told Tyler that all I was attempting to do was to pay whatever I owed, to clear up this matter. He said he could take the two payments; I gave him my credit card number and, he processed the two payments while the credit card manager and I remained in the line. He advised me that my payments went through and that my ValuePay account was unblocked. I was in awe (so efficient). My credit card co. and I thanked Tyler and we disconnected, yet the credit card manager had me to remain on the line with her.
Subsequently, I added an item to my cart without any problem. Later that day, I called Evine's customer service to ensure that the few Value payments were all paid for the month of June, and that my current credit card information had been updated. While speaking to representative I expressed to him that I did not understand the bizarre events that I had experienced, and that I would like to speak to a supervisor regarding everything that had transpired. He listened to my concerns and responded to me like I was a valued customer of Evine. He informed me that he was referring my concerns up to a supervisor.
I received a call the next day from another customer service representative who just told me that my account was unblocked. I replied I realized that and that I had asked to speak to a supervisor/manager regarding the "disputes," and Evine's trying to associate me with another individual who apparently "owes" them money. Rep. said, she was transferring me back over to fraud dept., and I was put on hold before I could tell her that I didn't want to talk with them ever again. So, I hung up.
Most reputable company CEOs provide their company email addresses, and welcome any comments, concerns or complaints. I am disappointed that I could not locate an email address for Mr. Robert Rosenblatt CEO, or a qualified customer care individual in the corporate office. So, I called the corporate office hoping to ultimately receive some genuine quality customer assistance; however, I received just the opposite. Diana gave the impression that she was trying to help me obtain some answers although, after repeating my experience for the hundredth time she put me on hold, and returned in her polite demeanor with no help at all. She, basically, kindly, blamed me for everything. And she used "policies" and "privacy rules," as an excuse for not answering any of my questions.
She spoke with fraud investigations dept., credit dept., verification dept., etc. regarding my account. She informed me that another individual was added to my "account." And she advised me that she didn't know how long my ValuePay account would remain unblocked. I believe she was responsible for having my account blocked again because later that day I checked, and my ValuePay account was again blocked. Also during our conversation she informs me that I had some late ValuePays, which was irrelevant. If there happened to be a Value payment that didn't go through that dept. would leave me a brief message, and I would supply them another form of payment, which was not on any regular basis and was not significant enough to even mention (just used as a deflection). Yet, Diana went as far as attempting to count them and how long any may have gone delinquent. I was insulted.
Evine had blocked, unblocked and blocked my ability to purchase anything again within 24-hours. And Diana in the "executive" office was instrumental in Evine's unprofessional, unethical practices. How can a company add an individual to another account without the customer's consent, without crossing some privacy laws? How can a company ask me about another individual that has nothing to do with me, (unethical) but then state "privacy policies" to keep from answering my questions. Diana in the "executive" office confirmed my suspicions that Evine practices are shady. They play this game, which they tell you for security reasons they are not able to see "whatever" on your account, and tell customer they need to contact one of their hundred different depts., which they attempt to lead you to believe they don't have access to any of their information.
Before contacting Consumer Affairs, I ignorantly tried once more to get some sort of understanding of what was going on. So, upon contacting Evine one last time I spoke with a Lance in customer service only to be further disrespected. She accused me of being (same thing Diana in "executive" office was alluding to) associated with someone that used the same shipping address I use, and who supposedly has an unpaid balance of over six months. They play this game, which they attempt to interrogate you for information but they wouldn't answer anything "game" because of privacy rules. What about my privacy laws? I feel like I am being used as a pawn in their attempt to collect a debt that I have nothing to do with.
I am requesting that the individual they have called themselves associating me with, and have added to my "account" in their shady collection efforts be removed immediately. I have given Evine enough of my money, time, thoughts, personal information and effort trying to keep me separate from their attempts in linking me and clear my name and trying to get some fair treatment. I'm done and do not need one of their generalize responses that they will refer my issue to one of their inefficient depts. to handle my concerns.

I placed my orders for some long dresses, tops, tote bag, am suitcase set, but they started sending me items that I did not order. I told them the items I kepted, but wanted full refund, on items that I returned, but I didn't get that. I paid close to $4,000 on stuff that I didn't order, or buy from them, and their collected for them screams at you, and you can't get a word in. I paid the amount on my card and my husband card, I don't owe them anything.

I purchase a set of Cozelle bath towels for my guest room in February. (460-089 - Cozelle] 100% Cotton Silvadur-Treated 16-Piece Towel Set Color: HONEY) I gave a set to my guests to use in April. I am extremely embarrassed the towels shed fiber worse than a dog in summer. I washed the entire set 3 times hoping to wash away the annoying fibers. Each wash and attempt to use was a waste of time because the fibers still deposit on the skin. I printed the return slip from Evine and sent the towels back to Evine. The box was returned to me on June 8 with a note indicating that the purchase was over 30 days old.
I do not accept that Evine will not return this faulty product to Cozelle and extend a full return of my purchase. I cannot use these towels for myself or guests as intended. I would NOT use them to dry my yellow lab after her bath; I wouldn't even use it to dry a car because of the annoying fibers. I cannot even donate them to charity because they're substandard! This is the second incident of poor customer service that I have experienced with Evine. I have shopped with the company since it was ShopNBC.

My wife ordered a pair of shoes that didn't fit which was one shipping fee then to ship them back it was another shipping fee and if she had wanted another pair of shoes they were going to charge her another shipping fee. So to get one pair of shoes the correct size it would have cost us 3 shipping fees. I will not deal with Evine again. I call customer service and she it agreed that it would be three shipping fees. I am sending them back and Hope there are no more problems getting my credit put back on my card.

I ordered a One World t-shirt in the flag design with bling on it on April 23rd. I received the heart shirt with no bling whatsoever. I called and spoke to a service rep who E-mailed me a return postage label. I returned the shirt. On July 24, I received the shirt back with a letter accusing me of returning a shirt from 2 years ago. I have called and e-mailed Evine on several occasions about the issue and they did not help me. All they had to do is look up the pictures of my past orders and they could tell that they are in the wrong. They would not listen and still accused me of sending an old shirt back that I never ordered. I have been a good customer for many years and even though the item was only $27.00, it's the defamation of character that I am concerned about. They took down my review of the item twice. I will no longer be a customer of Evine.

I have been an satisfied Evine Live customer for a long time. I had several value pays that I was paying on. Last order was approx July 2016 for beautiful clothing. I was hospitalized and had hip replacement surgery July 14, 2016. A lady in customer service credit dept was going to make sure my payments were prompt applied to the right order. I called and questioned her several times, as I was unable to see these items were being paid off. She was using something other than my account number as payment. They were banks that I had never heard of. I have my bank statements as proof of these. The total account balance finally went down and I called several times for a payoff. I also did not get the specials on shipping and buy more save more. I finally got two payoffs that matched so that is the amount I paid. The account was paid off the first part of Feb 2017 with money orders. I had it show a zero balance online on my account.
Then all of a sudden this lady is calling me several times a day, and still calls. She has over 200.00 balance that I owe placed on my account. When I called customer service about this they, at that time, said I had a zero balance... which is correct. Then I called a different time and they said my account had been SOLD to Oliphants. Evine is still calling me every day and I quit answering my phone..if it is sold to Oliphants, and should not be because it has been paid in full Feb. 2017. I sure wish we could have gotten this straightened out, but I cannot pay more than I owe. I love their clothing and the value pay. I am watching a recorded Evine program right now. I don't know who to talk to about this. I was always eager to make sure that I didn't miss a show. I still watch but I can't order because of Michelle in the credit dept, I guess!! My order number is probably Part of several orders.

Ridiculous. I used the prepaid label to complete my return and it "mysteriously" took longer than a person could WALK across the country to be received in their warehouse. I then received an email that my refund was being processed, only to have the item shipped to me again (signature required this go round). I contacted customer service because I was confused and they told me I missed the return window.

Evine is the 3rd type of online company I've tried and they are simply the worst in terms of customer service for returns. I purchased several items from Evine and also returned some unopened/unused items within 30 days of receipt. Thank heavens I retained the post office return receipt as proof for my credit card or PayPal charges. Evine is running a scam on returns. I've called Evine several times without success; talked to "Managers," etc. Their version is the return products have to be sitting in their warehouse within 30 days for a refund/credit yet that's not what's on their receipts or posted RETURN POLICY online. They said if I keep sending the items back; they will eventually destroy the items but that I'm legally obligated to continue paying for products returned within 30 days. IS THIS LEGAL?

I placed an order back in January, it was sent to my old address which was held at the post office. When I called Evine, the young lady reprocessed half my order and overnighted it. I then received the original order in March. I returned the 2 items that were replaced, and kept what was on back order (replacement order). When I called Evine, they told me that my return was denied because it was 30 days past the original order date in January and was at a drop location 40 miles from where I live and work and I can just go pick it up. I explained I am not doing that. Was hung up on. Called back and another person helped me and said "not to worry, the package is automatically returned after a certain number of days" and they were going to put in the notes to accept the return.
2 more weeks go by, I call again and explain this story now for the 4th time and was told they are behind with processing orders and to allow another few days. No problem, I wait 10. Call and explain again, the customer service agent spoke to a supervisor and stated no further action was needed. They will process the full refund. GREAT, however he processed the refund for only one of the two items returned.
I call tonight and spoke to an extremely rude lady. I had called 10 mins. before they were closing and instead of helping... She stated "well I don't see that in the notes"... Apparently the package had been lost in transit after downplaying the situation and being sarcastic, told again my order was lost in transit and was lucky she was able to get that information since the 2 departments do not communicate??? I demanded to speak to a supervisor and she said "I will see if one is available." She came back and said since customer service is closing it will have to be a callback and said "you have a great night" and hung up on me.
I have NEVER had so much trouble returning a package nor have I dealt with 4 out of seven incompetent people (3 were helpful, kudos), who have a hard time understanding a basic return, when everything is right there in the notes that I have been hearing about. The 2 prior customer service agents saw everything in the notes, this women could not be bothered. I am truly disappointed with this situation as it has been ongoing since January and for 54 dollars. The supervisor and agent should go back to training and Evine, shame on you for allowing these people to represent your company. I will never order anything from you again. A truly unpleasant experience. SEVEN PHONE CALLS TO RECTIFY THIS SINCE JANUARY, are you serious??? And hung up on... Not good.

We agreed before purchase that they can combine payments but they didn't. They charge individual payments on my account and I didn't have sufficient funds because my check did not clear and was charged $200 in fees. I asked Evine to reimburse me some money back and they didn't, telling they would do it my next order within 90 days like I would ever want to order from them.

Ordered some soap from Beekman 1802 to send to my son in AZ. They offered six payments, so I accepted that. Checked the order status after being notified by PayPal that the entire amount was charged. Soap is being sent to me in IL. Called customer service and spoke to a real jerk named Mike. Told me there was nothing they could do about it, and I "probably entered the order wrong". Gee, Mike, I don't seem to have this problem with HSN or QVC... only the three orders I've placed with Evine. So, his "solution" was that I accept the package and then send it to my son in AZ. Wow, Mike, you're a real genius and problem-solver. So, now I get to pay another shipping charge, and the package will be delayed. Will never shop with them again.

Scam... Company puts thru unauthorized charges on your credit card after receiving back defective merchandise (skin cosmetic creams). Legally you have to give money back if products are defective and you can't put thru additional charges on a person's credit card without their permission. Especially when you are holding products sent back. Buyer beware, if you try to send something back they will hold it for a month, not credit you and continue to bill you without your permission... So then when you call up they tell you too much time has passed to get a refund.
This business is scamming the public by holding merchandise for over a month then mailing it back to you. They scam people so they don't have to give refunds! Don't buy anything from this company!!! This also happened to my friend and her sister... So we are joining together to start a class action lawsuit against Evine for felonies committed!!!
The day I received skincare creams it had black dots in it which were bugs. Called customer service the day I received it 2/25/17. They said I could return items and they would give me my money back. So I sent items back the third week in March. I work 70++ hours a week so it's hard for me to get to the post office. They received items back on April 11. They never credited me for the items. They kept billing me for more flex pays. They held the products I sent them for another month. Then after a month they sent back the items to an address I very seldom go to.
The products were at my PO box for weeks without me even knowing about it. Still my account was never credited. As soon as I found out they were sitting at my PO box for weeks... I sent the products back again to Evine. I called customer service at Evine and was very upset... Customer service said they were not going to credit me for the creams. Called back 8 times, no one would help me. Spent a total of 3 hours trying to get help for receiving defective products. No one would help me after 4 hours on the phone... I had enough.
Legally if you are sold defective products a company has to give you the money back. Buyer be aware Evine is a scam. They hold defective merchandise you send back for months then tell you it's your fault. This company scams people by charging your credit card for flex payments when they actually received the products back. I'm demanding refund for items returned!!
Buyer beware. This company puts through unauthorized credit card sales on your credit cards after you return merchandise!!! This is fraud and a felony!!! I'm seeing an attorney tomorrow and seeking further legal actions for the felonies and scams this company has done to me!! Also this happened my friend and also to my friend's sister... All of us are going to start a class action lawsuit for fraud and felonies committed by this company!!!

My hubby purchased me a purple Google certified tablet. And in moving we had no wifi. Buying a home, cut all costs we could. It paired with my phone at first. But soon that quit. When we moved (got new wifi) it wouldn't update. Bought bigger micro sd card. Passed the book all over and wouldn't help me update and get it functional. Sent me all over the northern hemisphere and still as dead as a doornail tablet that doesn't work. Why don't they stand by their merchandise? Is it some bogus knock off crap? Or is it just a POS, period. I loved it!!! But what he paid should last longer than 18 months!!! I could have had an Ipad. Of great tech for what he paid!!! I'm not happy with these people. And their we aren't responsible attitude!!!

Wanted to cancel order less than 24 hours placing, customer service gives excuses they can't. I have to wait for them to send it to me, then I have to pay shipping to send it back! What a scam. Don't buy from this company!!

I haven't ordered anything from Yvonne for almost two years because the last time I tried to return something I had to pay for the shipping to return it and I wasn't informed of that and the product was defective. I felt I had no responsibilities and having to pay for the shipping going back so I decided to order something again. It was told that I was not eligible for Value pay because I had a compromised card and had to change a different checking account number and credit card number.
I was put through to a lady in the credit department. Unfortunately I didn't get her name and I didn't understand what she was telling me so she rudely told me that she was going to repeat herself again and that I should understand what she's telling me so she explained to me that I had to order something and pay for it full price for six months and then they would decide if they were going to allow me to have the privilege to have value pay.
She told me in the end that I obviously didn't understand her correctly and then she explained it again and made me feel like an idiot. I will never order anything from Evine again. Now I know why I waited 2 years to order anything from them. They have lost my business and I will tell everyone else who orders from Evine to do the same. They treat their customers like they're idiots.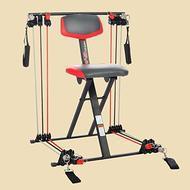 Called in to get an okay to return a Nano Gym on April 7th since I was right on the 30th day to return. The representative gives me an extended date to return till April 16th. I do not delay, put the smart label on the item and drop it off at the post office that day, April 7th... and I have documentation on evine.com that says so. Well the USPS does not get the package there till the 21st and they then sent the package back to me as unreturnable. I call and talk to customer service to no avail. What was I supposed to do drive it there myself??! She offers me a $20 credit. I told her, "No thank you." I will not be shopping with them any longer... and as soon as I finish my value pay on the credit card for the item I will be canceling that as well. You could have had a customer for life, but instead, I will be telling everyone who will listen about my experience.

I received a call from Evine collections stating a value pay payment failed and they needed payment. I thought this was odd, payment only $9. I have my payment source as PayPal. Checked PayPal nothing. Called Evine customer service told by CSR 1 nothing they can do. Gotta add credit card. I declined. Called PayPal customer service. Confirmed no $9 transaction. Called Evine customer service spoke to CSR 2 no help either but transferred me to another customer service payment specialist. Held on phone 20 minutes then voicemail.
Decided to email Evine customer service. Got a email response that I needed to make a payment. So I go to Evine website add credit card. Call Evine customer service speak with Karen CSR 3 who assured me she would get this resolved. Processed my payment for $9. Thinking end of a pathetic experience with Evine. But I checked my bank account and of course there are 2 $9 transactions from Evine today. SMH. They are a total **show.

When I had about six claims for stolen packages they even decided to close my account indefinitely. The reason is the area I live in that package have been stolen but they have no problem taking all the money of items have been ordered for about 4500.00. They don't know how to treat a customer. 97% of their customer services reps are rude and nasty to you on the phone. I don't refer this company to anyone. The items are really junk!!! Well I just buy from QVC, HSN and Amazon. This company is unbelievable. They punish the customer. They blame our area Las Vegas. I think I will go on to every social media and write a review. Don't buy from them, period.

Clearance on boots were advertised. Prices were very low. I placed items in cart but prices went to higher prices different from clearance prices as listed. Called cust service. Was told this was reported by another consumer. Person said he would have Evine compensate for this malfunction in their system. I had to call back because break at work was over. Of course malfunction was corrected and new rep wouldn't honor what previous rep told me. This is unacceptable to me. Also as other reviews indicated shipping costs for purchases and returns are too high. You lose at least one item just to return items that were misrepresented by show host. Paid off my account. I'm done with Evine.
Company Name:

Evine

Formerly Named:

EVINE Live

Website:

http://www.evine.com/