Consumer Complaints and Reviews

If there was a lower rating than a one star Evine would be even lower. I purchased a winter coat and the size was right but the fit was horrible! The sleeve length was too short, not good tailoring! I order clothing all the time and never had this much of an issue. Took them forever to process my refund and they have a policy if it was not damaged, broken, etc, the shipping is to be paid AGAIN by the consumer! Did your company make up this horrible policy as an excuse to not give true customer satisfaction? I just threw shipping money out the window and not only my time to ship it back. I tell everyone I know never buy from Evine ever! I received back and forth emails and their poor excuse not to refund but charge an additional amount for shipping. No other company I know makes the consumer pay for the shipping back. I have deleted my account and they could care less if they lose another customer.

I bought a set of 3 Invicta watches $138.97 and a watch tool kit $37.00. The watch wasn't what I expected. I returned the watches and tool kit. The watches came with a return label. I used it. I paid for return of the tool kit. Come to find out Evine charged me for shipping to return the watches so I got $10 less than the amount I paid for the watches. DO NOT USE EVINE. SUCH A RIP OFF ON RETURNS.

I ordered three Waterford candles (what I thought were sets) on November 27. All three for Holiday gifts. I received one of them today and found out that it was only one candlestick. When they were presenting them on their show they were using two candlesticks which led me to believe it was a set. I called to get verification that it was for only one candle and the receptionist told me that it was for one only. I told him I wanted to return this one and the other two when they arrived. He said that was fine and that it would be almost $8 to return them which would be deducted from my refund.
So for three candles to be shipped to me was $9 and $24 to return them all because they led me to believe it was a set by using two in their presentation. This being my first purchase from Evine I have to say that it has been somewhat of a negative experience. To order from them again is very questionable. Just be careful if you decide to order from Evine and ask lots of questions before you give them your card number.

I went to order an item and was told by customer service that I'm not allowed to order until I talk to loss prevention. I contact them, they don't answer. I leave messages, they don't call back. I've ordered quite a bit from them in the past several years and this is how I get treated?? I pay my bill on time every time, there is no reason at all I need to speak to loss prevention. If there is an issue with my account HSN or QVC go out of their way to call, email, or send a letter to the house. Not Evine, this place is awful please do not do business with them. Save your sanity and deal with QVC or HSN. Loss prevention is losing Evine business! What a useless department that does nothing but make long time customers leave.

I called on the day that the package showed deliver. The "representative" (I use that term loosely) told me I had to wait and check with the post office. I then was told by the post office that they delivered it to the wrong location so I then tried to get the package back and called the post office for assistance. Then I called back Evine and explained what happened to the package. A representative told me I would have my refund in 72 business hours. I have just called 5 days later because I was told I would have my refund. Then Kevin told me I should have had a form emailed to me and until it is signed I won't get me refund. He gave me a phone number the claims department and attempt to dissuade.
How do I know I can trust these reviews about EVINE Live?
639,780 reviews on ConsumerAffairs are verified.
We require contact information to ensure our reviewers are real.
We use intelligent software that helps us maintain the integrity of reviews.
Our moderators read all reviews to verify quality and helpfulness.
For more information about reviews on ConsumerAffairs.com please visit our FAQ.

I recently bought my mother a Cooks Companion cookware set. The pot set were extremely heavy and had spots in it. I told my mom to return it because we did not know what the spots were on it and it was too heavy for her to handle. It was returned the very same day she received it. I had to stalk EVINE to return me my money. Customer service were extremely nasty people and as much as I was so friendly and respectful, they were nasty and even hung the phone up on me when I kept asking why I wasn't receiving my refund. Finally, they refunded the money but kept the Shipping and Handling money of $27.00. Now to many, that may not be much, but to someone like myself living on disability that was a lot!
When I contacted customer service for about the 5th time, the lady was rude and told me that they are not sending me back the cost of shipping and handling because there was nothing wrong with that Pot Set that they "Got back". I explained to her about the black spots on the pot to which she replied, "That's not a reason to send it back." Really? I'm suppose to pay for something that has damage? I'm suppose to be forced to allow you to keep money for free? Are you people crazy? I will NEVER EVER buy from this company again and I will make sure to contact as many people as possible about this. It's ridiculous what they do to people. They should not be allowed to keep people's money!!

I wanted to add my voice to that of other reviewers about value pay & credit checks. In fact my experience, as well as that of friends, is that even if your installment payments are made on time, i.e., there is no trouble with your credit card or debit card used for value pay payment, at some point they will cancel your value pay privileges & suddenly charge the balance of installments and full amounts on anything you have on auto delivery. This is done on some pretext of creditworthiness. If payments are being transacted with no issues, why would Evine withdraw installment payments. I think they do this hundreds of shoppers at a time to bump up revenue. No reasonable explanation other than they are not A list players on the tv shopping scene and need to exercise these shady non transparent practices.

I have ordered from this company before. First of all, their prices are higher than most shopping channels, and they do not have much diversity in the items they carry. I ordered an item 8 days ago and it has not shipped yet. If another company has a problem with shipping an item, it usually am told. Their operators have to always be right. When wrong, they claim they tried and true, IT'S COMPANY POLICY. If that's so, I am shopping with the wrong company. I have given up, I can't even cancel this item. It was a comforter set. I guess they had to walk it to China and have it made. That's the only reason there could possibly be for not even shipping an item after half a month.

You can buy a 4ox shirt and these idiots charge you 5.99 - 6.99 for everything. When I asked why... Their stupid answer was... "We haven't been around as long as other shopping channels..." Didn't know I remembered when it was shop HQ... Sorry excuse for a sorry channel!!!

This company provides goods and services. The goods are nothing special and the service stinks to high heaven. On November 4th I placed an order. Three days later I received an email stating my order had shipped. It didn't ship until the 9th. The item is still sitting in La Vergne Tennessee on November the 11th. This has happened with every order I have ever placed with them. After contacting three different customer service representatives, who could care less and did nothing to improve the situation my date to arrive was changed from Monday the 14th to Wednesday the 16th.
I spoke with two rude combative argumentative women at Evine's corporate office Bridget and Lisa who could care less. From their attitude obviously in their minds the customer is their enemy. Hello. No customers, no money, no business. Once if ever I receive item and it doesn't need to be returned. Evine can add me to their ever increasing list of customers who won't be doing business with them anymore.

Order Date: 12/16/2015. Starting having problems shortly after receiving the tablet as it would not start up when turned on. Called TMAX & we were able to resolve issue on the phone. I noticed the screen had a "dead" pixel, but never mentioned it. Then same issue happened again, but we could not resolve it so I sent it back, & TMAX paid for shipping. Shortly after receiving it, same issue recurred, but this time I had to pay for shipping. Now it has happened again & I would have to pay again. The tablet was supposed to be a "bargain", but now I need to pay again to have a defective product mailed back and forth. I finally contacted Evine, shortly after my last contact with TMAX and received a runaround for approximately 4 months. Just a runaround without resolution. BUYER BEWARE! Evine does not stand behind their products or vendors.

Manitoba boots. The host said, "Oh they are made in Canada." No, no. Some were made in Vietnam and they used real rabbit fur on them. Disgusting. I will never buy from EVINE again. They really are awful.

Cancellation Policy - Early in the morning approximately 2 a.m. I placed an order. When I called at 8 a.m. the same day they refused to cancel my order stating it was being processed and they had no way to contact another department to cancel my order within those few hours.

I recently ordered an item from Evine and had updated all my billing and shipping info. My order was sent to my old address (I didn't realize you had to update every order, thought changing it in my profile would be sufficient). When I called Evine to see what I could do about it, they were not very willing to help, told me it had shipped already. I called UPS they told me to have Evine send them a return label and they would try to have it sent back. I called Evine again, they told me they never heard of that, never did it before, again, unwilling to help me. Their customer service leaves a lot to be desired, QVC and Amazon go out of their way for you, Evine does not seem to care whether they have satisfied customers or not. I've had shipping issues in the past, but thought it was isolated, I guess it was not.

On 9/28/2016 the USPS delivered my watch to Evine tracking # **. While doing E-Mail correspondence to their customer no service I was told on 10/14/2016 their warehouse had not yet received the watch. Nine (9) e-mails and 1 phone call later here on 11/4/2016 they are still telling me their warehouse is still searching and no settlement has been offered. Good luck to those that buys from these people and has to return anything.

There is no way to contact EVINE. I have tried several times. I went online to change my credit card info. They never changed it. I was charged and got a 30.00 penalty with my bank. I wanted to pay it off. NO CUSTOMER SERVICE WHATSOEVER. They should pay me back for that charge. My next step is contacting my attorney. Nowhere did I get an email stating how many more monthly payments do I have. This is why I changed my card info. So that I would not have any issues. I WILL NEVER RECOMMEND EVINE TO ANYONE.

I ordered 2 sets of bakeware, when I tried to return them I was going to be charged twice what it cost them to send it to me. They refused to send me a return slip for the same amount it cost them to ship it to me. BEWARE Of EVINE's return shipping. It was going to cost me $30.00 to send back baking pans. More than the pans were worth.

I purchased the Waterford cake pedestal last week. It isn't very pretty. I gave it a bad review but what I didn't realize is that it has razor-like feet on the bottom. It got moved left to right a bit on my table and I have the deepest gouges in my table from it. I could not believe it! It's the heaviest piece of crystal. I can't even believe it is crystal. My table is ruined and I have to pay $13 return shipping on top of the first shipping. So I am paying darn close to $30 for the privilege of having a ruined table. What the heck is their quality control doing? They don't care. It's awful. I'll never order anything from them again.

I purchased a coral necklace from Evine Live. I wore it to work over a blouse. When I came back home, I noticed the color of the red had bled onto my top and stained it so red and so bad. I immediately called & complained! The date was exactly 30 days from the time that it shipped!!! They blamed ME for not realizing that the coral would've transferred color to my skin and to my clothes!!! They don't care one bit and don't stand behind their product. When I put a review, it was not posted. When I went to their Facebook page, I was blocked.

I purchased two mattresses from Evine at the time they were called ShopNBC. They stated that the beds had a 10 year warranty. Well one of the beds its completely sagging. When I called them they stated that I had to go through Serta which is the beds manufacturer. I had to pay them $35.00 to come check the bed. Then Serta would not honor the warranty, that the bed was stained which is totally LIE. The bed has always been protected with a mattress protector. Bottom line is I spent over $1,000 and they refused to honor their so called 10 year warranty. We have only had the bed for about 3 years or less.

I purchased a new tablet from Evine June 24th 2016. I wasn't sure if I would keep it for myself or gift to one of my grandchildren for Christmas, so I did not open it within the 30 days return period. Recently my computer stopped working and after a few days without the computer I decided to open the tablet and use that until I got my computer working again. Much to my chagrin I find I was sent a used tablet with scratches and even hard small droplets of something (who knows what) on the screen. I attempted to use the tablet, but it would not function.
I called Evine customer service and got an apology and was told perhaps it was a return that accidentally got put in with the new items or that it was returned but didn't appear damaged. Then I was told that I am not eligible for a refund. So too bad for me as it was over the 30 day return period and Evine would not accept it back. Buyer Beware with Evine-they send out used merchandise they advertise as new! If you do decide to order be sure to check all your new purchases immediately!

I cancelled an auto-ship item in June 2016, by phone via Evine's customer service rep. They shipped the same item again August 2016 and now October 2016. I called customer service and asked them to cancel the Auto-ship again and refund me the Prepaid postage since the auto-ship was their error. They agreed, but never refunded the $6.99 x 2 for prior shipping. Now I will have to call them again to ask for 3 shipping refunds. The items were returned the same day as received and I was never credited the returned shipping as promised. I checked the website under my account and noticed that the customer service person never updated my account. This is not good business and I will not order from EVINE again.

I purchased a bluetooth headset from Evine in August and 2 weeks later the headset just stop working. I kept plugging it up hoping it would catch on but it never did. I called Evine customer service to ask if they could send me a return slip even though it was over the 30 days. I still shouldn't have to pay for a product that stop working in a 2-month period. It don't work but I still got to paid for it. I could see if I had it for a while but I just got it. This is why I don't like shopping online. I don't think I will be shopping from Evine again. They didn't even try to help me.

First time I ordered from EVINE. I never receive my package. Took me over 2 months to receive. Just received order and something is missing. Both times has been horrible. All I want is my order and I expect what I order to be in the box. So now it will probably take me 3-4 weeks to receive my vitamins. Very frustrating!

Bought this little Trio (brand), 7" Tablet from Evine. Pretty little thing. Aqua color. Open box, Wow! Nice! Then let's turn it on. All the fun stops. It starts displaying all sorts of letters but no one is touching it. OK can Evine offer me another? Nope only offer call warranty company... OK fine I get some 20 year old sounding punk who starts asking for this number and that, My response? I do not have those numbers, so he says call Evine. Evine tells me to call warranty Dept who then once again ask for these "special" numbers... in other words "Go away boy. You bother me". They started barraging my phone with calls wanting me to finish paying them which I have no intention of paying more on this piece of junk trio tablet. Beware of Evine you, will only get apologies and JUNK!!! BEWARE.

I purchased an 'Ultimate PC SUITE' Dell Laptop from Evine on 8/11/2016. Being a senior citizen I waited til my children were here to try to sign on 9/25/16. I'm not computer savvy and technology is so foreign to me. The number for Express Tech Support 24/7 hotline # 800-885-5866 is simply someone trying to sell me a $100 certificate to be used by anyone in the family. Very high pressure. Not tech support at all. This so irritated me. I'm unable to sign on and the lifetime support we were to have with it is a farce from what Dell tells me. It'll cost for them to reset the password on something I've never even used. Now it's past the time to send it back so looks like we're out the $600+ we paid. I just feel we've been taken and Evine should not even be allowed to be on TV.

October of 2015 purchased LG Tracfone. Last week, September of 2016, phone would not hold a charge nor take a charge. Advised by Tracfone to mail back phone. They did not advise me what they would do. They sent me refurbished phone, blank. I lost all my information. I lost my phone number. They took my phone case. Will do nothing for me. Called Evine Live where I purchased phone. Their return policy is 30 days. They do not stand by their products. Don't purchase anything there. Now, I have no phone. Phone less than one year old. Evine sells garbage.

I was charged $18.99 for 3 Day shipping on 9/18/2016 but I received email for a delivery date 9/28/2016 not acceptable, when I notified them they told it wasn't in stock, they were waiting for a delivery. They are deceitful and not trustworthy... They should have said not in stock - will notify when back in style.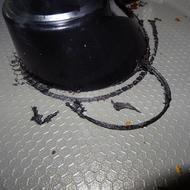 Whatever you do don't purchase this Chinese made product. I wanted an Air Fryer with a large capacity and was duped into paying $120+ for this unit. During the very first use the stirring paddle melted halfway through the cooking cycle. Had I not been vigilant it could have resulted in a serious situation. I wrote a review warning others of this issue but they refuse to post it on their website. After writing to Customer service I got a reply stating I would be contact by a customer service representative within 72 hours.
Well what a surprise 100 + hours later and nothing! Take a look at the reviews on the site, large number of people hate this cheaply made appliance. I wish they had those reviews when I purchased but it was new with no reviews posted. I purchased Invicta watches from the same company and they send out returned items that have no factory packing and have obviously been used. Send anything back and you are made to pay mailing costs both ways. Never again will I purchase from this company and I advise you to use Amazon or even Jet rather than Evine.

I ordered a twin and a queen Cozelle Microfiber Embroidered Vine Sheets. They are so cheap. I washed them in cold water, and dried for a short time. They fell apart. I paid $49.58. I really wish someone would call me and I want my money back. I feel this product is very cheap and I cannot believe I paid $37.60 and $11.98 for shipping. I am so unhappy, and I do not believe I will order anything else from Evine. Well, I do hope I either get an email or a call and yes I want a refund for this purchase!!!
EVINE Live Company Profile
Company Name:

EVINE Live

Formerly Named:

ShopNBC

Website:

http://www.evine.com/