Consumer Complaints and Reviews

I used to adore watching QVC even if I didn't always buy anything. I have been a customer of theirs for more than 14 years. They always make a point of saying how honest they are - unfortunately not true. Their main selling comment is "If you aren't happy you can always send it back." I now know why. Recently I bought a pair of earrings which I have no problem with. The postal charge was £3.95. I actually sell quite a lot on e-Bay and I know that a parcel which can weigh up to 2kg and be in a box 45cm long costs £2.90 second class. The earrings arrived in a flimsy little plastic bag - no box, no wrapping, second class, unsigned for. I was so annoyed I returned the earrings (weighing 30 grams) in exactly the same packaging. The cost £0.76p!!!
I was furious and sent the receipts to QVC proving the cost difference but they didn't refund any of the postage. I tried to post feedback on their website about the cost of the P&P to warn other buyers but QVC refused to post it even though they constantly claim that they post all feedback good and bad. How can QVC keep claiming how honest they are when clearly they are not. It leaves a bad taste in the mouth and is very upsetting.

We purchased two TracFones from QVC with 1350 minutes airtime, text and data which were advertised to triple the airtime, text and data when buying more of airtime, text and data. When purchasing more minutes, etc., nothing was tripled. I have argued with both QVC and TracFone and they each refer me to the other company. I was told by TracFone that I was not getting triple minutes, etc. I have talked with several representatives and still have not received triple minutes. This additional minutes transaction was done online on the TracFone site. AFTER I purchased the 500 minutes plan, I was told it was "already tripled" and I would not get additional minutes according to my QVC purchase. I am sending the two phones back to QVC for a full refund and will find another cell phone provider that keeps its word. I will not be buying two more cell phones from QVC either!

I have an account with QVC - Qcard with Synchrony Bank. I received an email yesterday from QVC telling me my account was delinquent. I opened my most recent statement from Synchrony Bank and discovered it was not delinquent. I contacted QVC and was told that my Qcard would not accept easy payments on some items, so they, QVC, opened another account, without my knowledge. I have never received a statement for that account and when I called QVC on 8/1/17, I was told someone would return my call within 4 hours.
This morning I again called QVC and was told a supervisor would have to call me back. I refused and went on FB where I wrote a scathing review. I was contacted by some idiot at QVC asking for my account number. Thinking it was a private message (it sure looked like one and most people would pm when asking for that kind of information), I gave it to them. I was then informed by someone that I really shouldn't be putting this information on FB as it was going out to the world. I was horrified. I called Synchrony Bank and closed my account immediately.
I am now concerned about my private information being used against me and all the ramifications of what that means. So, besides putting my private information on FB, QVC apparently opened another account where they could charge my items WITHOUT TELLING ME. That is grossly illegal and if necessary I will turn this matter over to the AG of Az.

I had been a loyal customer of QVC and spent 10's of 1000's of dollars over the years on many items including their fine jewelry, as well as household items and things for my children. I was one of their most valued customers and received many promotions because of that. When the economy took a dump, my husband lost his job and we were forced to file Chapter 13 five years ago. Our bankruptcy is about to be discharged within the next few months. I applied for and was approved for a new Q card. When I made a purchase through QVC's website it initially went through. I checked the status the following morning and couldn't find the order anywhere in my order history.
I called customer service and was told that my account had been permanently closed. I asked for a corporate phone number and was told "there is none." I am very angry because I was a loyal customer for years who purchased quite a bit of their high end jewelry, and am hurt that a company could treat their customers in this manner. We paid back EVERY creditor by filing Chapter 13, and QVC is the ONLY retailer who has discriminated against me because of this. We will be following up with our attorney to see whether or not we can take legal action against them. How you be approved for a Q Card and then be told by the retailer that you aren't allowed to shop there??

I ordered a sweeper. They took money out of my account... I called QVC because it was supposed to be delivered today. QVC said it would be delivered today. I checked Fedex. It showed it had already been delivered. I called Fedex. QVC had it sent back to them because supposedly my account was closed. How does this happen??? No one called me. No reason at all for it… They said they called to confirm my order and no one answered. THEY NEVER CALLED!!! IF THEY CALLED AND NO ONE ANSWERED WHY DID THEY TAKE MONEY OUT OF MY ACCOUNT!!! Sounds like a BBB complaint is going to happen…
How do I know I can trust these reviews about QVC?
850,588 reviews on ConsumerAffairs are verified.
We require contact information to ensure our reviewers are real.
We use intelligent software that helps us maintain the integrity of reviews.
Our moderators read all reviews to verify quality and helpfulness.
For more information about reviews on ConsumerAffairs.com please visit our FAQ.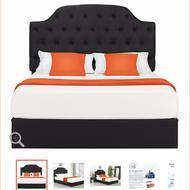 Trying to understand how I can order something and then it's put on Backorder and they won't take the necessary steps to have my monies released to me immediately. I was told that they don't email or call the banks and I have to wait 3-5 days but yet this is not my fault. However Customer Service cannot help me. I have ordered thousands of dollars of merchandise from QVC and will no longer.

Placed order for 2 game console bundles on 6/9. Went to check status tonight and my account has been closed and order has been cancelled. This is the 4th time that they have done this to me in a 2 year period. I am livid. I currently have 2 Easy Pay orders with them that are up to date. I now cannot see those orders and I am out of the 2 consoles that I bought for birthday presents. THIS IS HORRIBLE CUSTOMER SERVICE. They also have a hold on my credit card for 160.00. Total bull.

I have just gotten off the phone with Synchrony Bank... only to find out that since you closed my account and sent the remaining easy pays to collections... I now have 2 bills to pay instead of one... so you just COMPOUNDED THE ISSUE!!!! I have no more CASH at the moment so they will also have to wait and I cannot pay it all at once, since now I have to send the minimum payment to the QCard and then another payment to the GC Services of which QVC will only get a portion. You will lose money as a result of being impatient! After over 17 years of doing business with you... I am sorely disappointed that you would treat a loyal and trustworthy customer in this manner. Thank you for nothing!!!!
It will be a cold day in hell when I deign to order another item from QVC. All of this could have been avoided if a thinking person at Synchrony Bank would be making credit decisions instead of a computer robot!!! I only wanted a credit line of $1000. $500 was OK in 1959, but not today. This whole situation is STUPID at STEROIDS!!!! Sadly disappointed! This account to defamation in my view!!!! I see there are a lot of complaints online about the business practices of QVC. Maybe you should take note and make some positive changes in policy, which is arbitrary in nature instead of shafting your customers?! Lousy abusive customer service!!!!

Thirteen days ago, on a Friday night, I ordered 7 items totaling $206 and then 9 hours later decided to cancel. I immediately received a "cancelled" response from QVC so I thought we were done. I know a hold would be placed on my card and then expire in about 5 days. QVC is real quick to use email to market and to notify you about shipping, but I wasn't expecting to receive the CANCELLED items so I didn't worry about not receiving the notifications. The following Saturday I went to the grocery store and had my card declined. I was mortified and disturbed as to what was going on. I drove back to my house and got 3 apology letters from QVC stating that my cancelled order had shipped anyway.
I started to understand what had happened as I made several other purchases during the week of varying amounts as well as had some automated transactions hit my account. I logged into my bank account and sure enough, good ole QVC hit my account and then the NSF fees just kept piling up. You notice that QVC sent no notice of this except via "snail mail". For the last six days I have been lied to repeatedly by "Customer service managers" that the transactions and the NSF fees were refunded on 05/22/2017. I finally had a manager admit that they were not done until two days later. My account is seriously in overdraft now due to automated payments and multiple NSF charges. I hate QVC now and am searching for an attorney with the damage to my credit score, my anxiety and aggravation.

I bought two Apple iWatches Series 2. They were 200.00 each more than buying them from Apple because they came with bands and 2 years support. When I asked who gives the support they told me the manufacturer which I assumed was Apple. It turns out it is garbage support by a no name company and the only support they provide is how to set up the watch. If the watch doesn't turn on or any other support with the watch having any problem working is not covered. The bands and holder they gave me as the package are being sold on eBay for 15.00 for the set so basically they ripped me off for 400.00. When I called and complained to a supervisor I was told QVC doesn't have price protection nor do they match the manufacturer price. Buyer beware.

Shipping is exorbitant, service is lackluster. It seems that they are growing, a new channel has now been added - QVC2 - and what used to be the best retailer online has now become someone that I no longer want to do business with. They clearly are worried about how much profit they can make as opposed to worrying about their customer. "Oh, we lost your order? Too bad. Oh, and we can't replace it. It is out of stock and not coming back." Gosh, that's a bummer. Shipping? It can range from $3.00 to $25.00 - and oh yes, Amazon can get me the same product tomorrow. QVC? Hmm... hope it comes in the next week or so! I'm just so underwhelmed. And I was truly a QVC fan, bought a lot of merchandise from them, and now look other places. Love their hosts. Hate what has happened to them in terms of service. I'm not sure if they have new people at the top, but if they do, bad idea!

QVC says that they accept returns within 30 days if you're not happy with the purchase for any reason. This has been the appeal since purchasing without seeing an item is difficult. They have just suspended my account which I was told by a company rep and no email or other correspondence and the rep stated that they feel I have returned too many things. How am I to know how it fits, smells, works or feels without trying it on? I don't think they should say they accept returns and do this.
Something has changed with their management since I've been a loyal customer for well over 15 years and never had a problem before. I want to warn people that their policy about accepting returns is fraudulent. I am concerned with some of the products I have already purchased from them which I've also purchased insurance on. Since I can't contact them (they've suspended my account) how can I properly identify that my insurance on these items is still guaranteed? I can't. So I've thrown my money away on these insurance policies? That's wrong and they should be reprimanded for false advertisement.

I ordered goods valued at £133 5 x weeks ago, and despite emailing QVC four times, they have not yet replied to me. I am about to contact my bank to see whether they can reimburse me the out of pocket expenses. If anyone can advise me I'd really appreciate your advice.

I order 3 pairs of shoes from them. All I had to return. They charged me $11.95 on each pair returned. Their policy clearly states the top return amount is $10.95. Shoes do not weight 10 pounds or more especially when they are sandals. So they originally charge 5.00 shipping and handling and then $11.95 to return. Cost $16.95 to try on a pair of shoes. Wow... Such a rip off. The other thing I noticed is the sales people will say anything to hype up a product and clearly the reviews are horrible on the product. I no longer shop there... Shop locally is better!!

Took almost 2 weeks for the return to get to them... **. By the time it was "received" it was too late for return so being charged for something I don't have. Been a customer for awhile and get no satisfaction from customer service. NEVER AGAIN.

I thought companies were held responsible for being fair and having nondeceptive and fraudulent trade practices. When I pay $127.00 for something and when I return it after taking away my shipping and handling I am left with a credit of $89.14 meaning I paid $37.86 for nothing. And this is only one example of many... I have spent thousands and thousands of dollars at QVC and it wasn't until I had to pay everything off. I realized what a nightmare this company was. I couldn't even get them to pay off my Easy Pays correctly. I spent months with rude nasty customer service representatives, at many times leaving me in panic attacks on the phone with their hang ups and manipulating behavior.
I had to step away from this for a month before even commenting because I thought I was going to lose it. Why so many customers are so unhappy and it is one email after another making the same statement about the horrible customer service, does QVC do nothing. This used to be a company I was proud to shop with. And I am ashamed and angry to speak its name. For being taken advantage of with my money, my time, my emotional well being. A business has never negatively affected me more.

I filed for Chapter 13 last year and I had a Q Card that was part of the bankruptcy. And now they refuse to sell to me, even though I am paying with my debit card, same as cash. No risk to them. I can still order from other places where I had their credit card and still purchase. I think it's terrible to discriminate. Besides with Chapter 13 they are being repaid.

I have been a loyal customer of QVC for years until March 2017. I ordered a birthday gift for my husband. I wait for weeks with no updates from qvc. I finally chat with customer service and they give me a number to contact another company to schedule shipping. After that, I take off work to sit home and wait on my item to be delivered and qvc decides to cancel my order. So now, no bday gift for my husband, I missed work, and all qvc has to say is sorry. Never ordering from them again.

Appalling customer service. I placed my yearly order of Lawn Magic with QVC. They emailed me to say there was a problem with my order but that was it. All my attempts to contact them have gone unanswered. Well they've lost a previously very loyal customer. I sent a final email to close my account and that too has gone unanswered.

I placed an order on 3/12. They IMMEDIATELY charged my card but never shipped the product. The website said I would receive by 3/17. Never happened and never shipped. FINALLY, 10 days later, I get a shipping confirmation - BUT NO ONE CAN TELL ME WHEN I AM TO RECEIVE. The website and a live rep tell me 3/17... since we are already several days past that, clearly it is not accurate and there is no attempt to help! If you want to take your time, then don't take my $! I will not be ordering again anytime soon!

I love the Mally lipstick. It is a nice shade, not too bright, not too dull in color, I think the argan oil is great but I am in love with Bye Bye Under Eye. It also came with Farmacy Sleep Tight Night Balm and I love that too. I could not get into Julep. It has no rich, thick coat to it and the Peter Thomas Roth Irish Moor Mud I have not tried yet so cool. I think I am in the market for Bye Bye Under Eye for sure and argan oil is a hit with me.

I ordered on March 5, 2017 a pair of Sketchers. Gave my card number. I was given a estimate delivery date of March 14, 2017. As of March 15, 2017, it still had not been shipping. It was not out of stock and the color was not out. Customer Service could not tell me why it had not shipped out. So I canceled it. Again I ordered underwear. Estimate delivery date was March 17, 2017. It's sitting in New Jersey for the past two days. I order some shampoo from Amazon on Tuesday. It's coming from New Jersey. It's at my post office, out for delivery. QVC shipping process is the worst I have seen. I have ordered during Christmas from Macy's and Amazon and QVC. QVC is by far the worst shipping. I'm disgusted.

I was lied by a QVC representative that the return shipping would be free of charge to me. The shipping label states that the amount will be deducted from my return, I was very upset. I didn't like the air fryer which is basically a really bad toaster oven in the shape of a futuristic egg with a compartment, totally sucked. NEVER buying from QVC again!! That whole try it at home for free is a HUGE SCAM!! DON'T BUY FROM THEM!!

After reading other reviews, seems like the issue I am dealing with, is a common problem. I have been ordering with QVC for almost 10 years or so. I recently ordered a power washer because the price was $50 less than in stores. I frequently use easy pay or pay in full for items, just depends. Never missed a payment. I logged in today to check the tracking of my recent purchase and my account info was WIPED out completely! They have no explanation other than my new address is the same as a customer who owes them money. And is no relation to me. I am a renter and just moved in February.
Now I cannot access any of my account history or current easy pay order status. I also frequently pay my easy pay orders early and off in full. I call customer service and they have no record of me!!! This is scary especially if I need to return something. Of course the charge for the recent item I ordered is still sitting on my credit card. I guess I will have to call my bank to discuss options. I am so upset about this.

I have been a happy QVC customer for over 20 years. Unfortunately I will no longer be a customer. The customer service has gone downhill. In speaking with different agents in 2016 I experienced incompetence and rudeness. I consider myself a patient and fair person. In trying to resolve an issue, one agent would say one thing and the next something completely different. They sometimes seem to be flying by the seat of their pants! After 4 months my issue was never resolved and the last supervisor I spoke with TELLING me to be "patient" in a very stern voice. Hanging up on me when I told her how frustrated I was. Over the years I have purchased thousands of dollars; furniture, rugs, appliances, jewelry, clothes, skin care products, pet supplies, makeup, food, plants, and more. I am taking my money elsewhere.

Purchased the 11" Hudson Lantern with flameless candle and remote from QVC. Less than six months later, the candle no longer worked. Called QVC and they could not help... QVC sells the remotes if you need to replace them, however, they do not sell replacement candles for the lantern... So you then have a lantern without a candle... QVC stated to call Luminara... I did... Left messages, emailed them and NO response... I was and am willing to buy a replacement, but can't get anyone to respond. Will not purchase another lantern and I have three.

Ordered a hurricane spin broom knockoff on QVC.com on 2/22/17. As of today, March 1st, status has not changed. Emailed customer service on 2/27 and after not receiving a response, called the customer service number. Was told nothing other than a ticket would be forwarded to review the issue with the order and that it would take 4-5 days to receive a response! They're kidding right? It's already taken over a week to process a simple, single item order. No communication from QVC. Is it back-ordered? Out of stock? An issue with the PayPal acct they forced me to open (rather than allowing me to use my existing? No idea because they TELL ME NOTHING!!! NEVER AGAIN WILL I DEAL WITH THIS SHAM COMPANY! I hope they go bankrupt soon!

I just found out today, after shopping with them for over 20 years, when you return something you are not only charged the return shipping label, usually $6.95, you are also charged the original $3 shipping charge AGAIN. So, when they say "Love it or return in 30 days, no questions asked" they mean "return it and we'll just charge you a minimum of $9.95". I have bought many items trying to see what color I like or what style I like, not realizing that when I buy 5 of something and return 4 of them, I'm being charged over $20 to return them. I must've lost thousands of dollars by now. Wow, not cool. I will not be doing business with QVC ever again.

I also had some easy pays QVC provides, been with the company over 30 years, a very good customer. I recently changed by bank card because it was lost. I knew I was behind on a few easy pays, so I go online to take care of them, and I am blocked from my account, my husband is blocked and my daughter. I call them, they sent to collections, so I set up my payment arrangements thinking ok that it all I owe on the EZ pays. NO. I go to look at my bank account and see 10 charges from QVC.
I call them, they say I owe NOTHING. I said "really then why are you taking money from my account." The representative had no clue. I call the bank, I told him I am puzzled how they even took money, because I had lost my debit card and had not changed it yet on my QVC account. He checked and said they can just get it from the bank. He told me to wait a few days, maybe the charges will go away, or maybe they will provide item or order numbers. Meanwhile QVC won't tell me a thing and won't let me look at my account.

I ordered a large fireplace 2 months ago. It was defective. It had 2 right planks instead of a left and right which exposed all hardware on left side. I contacted QVC as this package weighs over 150 lbs and came in 500 pieces. I was unable to repack it. Originally, I was told they would contact manufacturer and have the right piece sent so I discarded packaging. I trusted them. 2 weeks later after no word, I contacted them and they had no record of the original call. Shocked and disgusted as this fireplace was over $500. I asked for a supervisor to call me because the 2nd rep told me the piece could not be replaced. Now let's remember that it has a 30 return policy and I have wasted over 2 weeks.
Several days later a supervisor calls me and tells me they don't have any more of the fireplaces in stock or he would send me a whole one to take whatever part I wanted out of and return. So at this point, there is nothing I can do short of disassembling and repacking and returning. I asked for a credit for the damaged item, as I have photos, and I was told they couldn't do that. They gave me a number to the 'manufacturer' and told me I might have better luck with that. Guess what??? The number was to an electrical supplier and had nothing to do with my fireplace. I am so upset by their refusal to help me and make the sale good. My fireplace is damaged and I paid full price for it, what is right with that???
Fast forward to today, when they took the February Easy Pay for the damaged fireplace out of my account TWICE!!!~ I was told this morning their finance department would call my credit union to have the 2nd erroneous charge hold released. I waited all day, as I have 2 checks coming through that could possibly be returned NSF, and I called my credit union who stated nobody had contacted them. If they had provided documentation, the funds on hold would have been immediately released. I called QVC back, and the new rep helping me said my account was closed. Then said she found my account under my number and I had never ordered from QVC. Wrong!
After 10 minutes of insanity, she finally found it. Told me what I had been told earlier was incorrect. Also told me QVC would not reimburse me NSF fees. I am done with QVC. I will NEVER purchase from them again. 5 years ago they were amazing and sadly that just isn't the case anymore. I don't think they have a right to do either of the things they did to me and if I had the money and energy I would pursue legal channels to hold them accountable. Instead, I will move on with a bad taste in my mouth and warn other consumers.
Company Name:

QVC

Website:

http://www.qvc.com/