Consumer Reviews and Complaints

I was searched my name and hometown online and came across this website called "MyLife.com". This site had all my personal information, my date of birth, my age, my address, where to find me at and overall personal information I did not put or gave permission for this site to put out there. When I contacted MyLife.com, the representative sent an email messaging saying, "It's all public information." How is it MyLife.com is able to profit by using personal information about private citizens without consent? I need my personal information to be taken off the site immediately. Please help!

I agree with other reviews. This site is a scam. They have no right publishing personal information and/or offering it for a fee. No one except law enforcement or maybe an employer should have access to this information. This and similar sites (Whitepages may be even worse, they give out emails & pH #s for free) should be shut down by the government. I think we should all pool together and file class action lawsuits against them.

This is the biggest scam possible, I have the lady name and code number I talked to whom told me I would be getting a refund because it didn't work, then after checking my account it shows the amount completed, no longer pending. One posses off last about to make a theft report on them...

I paid for a background check on a man that assaulted me. All MyLife.com sent to me was the info they had on me, and when I tried to search for the man again, they wanted to charge me another $14.95 for that. Then I called them, and their phone says you've won a cruise or another prize, and then it hangs up on you. This company is a total fraud and scam. And it signs you up for automatic payments even if you don't select that option.

I was looking online and came across this website called "MyLife". This site had all my personal information, my date of birth, my age, my address, where to find me at, my children's names, personal information I did not put or gave permission for this site to put out there. I do not like this and it's dangerous due to my job and husband job. This is not good. I need this to be taking out immediately. Please help!
How do I know I can trust these reviews about MyLife?
880,156 reviews on ConsumerAffairs are verified.
We require contact information to ensure our reviewers are real.
We use intelligent software that helps us maintain the integrity of reviews.
Our moderators read all reviews to verify quality and helpfulness.
For more information about reviews on ConsumerAffairs.com please visit our FAQ.

I discovered a public profile using my name and personal info posted on a site called Mylife.com. I did not sign up for this. Additionally it shows my address to the public, which the site indicated. My ex-husband whom I have a restraining order against as he is extremely violent and tried to kill me 3 times was able to search for and find me. I contacted the company which they say will contact you within 24 hours but took them a week to respond to me about removing my profile and they indicated I have to pay a fee to them to have my profile removed from various websites. This is BS! I did not authorize for them to publish my info and I did not sign up for this account. They are as a result endangering my life. If my ex finds me he will kill me.

After paying monthly fee gives you one search then refers you to another search business to pay more fees for info, then continues Monthly charges to your account indefinitely. Big scam of a business.

I do not appreciate seeing my name, age, birthday, address posted on the internet without my permission. They make a file up on you and put it out there. I never subscribed to this. This is a definite invasion of my privacy. I want this stuff deleted and removed. What can I do to get it removed?

This group sends out mass spam emails to tell you that there is something poor written about you online. To get the who and what, you must pay a small fee. The recurring payment isn't optional, it automatically comes out. When I called and let them know the phone call was being recorded (after a very long wait), they informed me recorded calls were not allowed and hung up. When I called back, the individual James wanted unnecessary information and was confrontational, trying to rebut and asking me why I signed up for MyLife.com.

Where did this site come from and how did they get permission to post anything about me? How is it that the founder posted a review of me when I never heard of the guy? They need to be investigated. Anyone they post information on should have the right to make them take it off their site and they do not have that option. I was never contacted and came across this site accidentally. Further, the information on me is not correct. Consumer Affairs please help us to protect our privacy from these pirates of information.

I agree with the other reviewers. This site posts inaccurate information and will not let you "edit" to correct it or update it unless you provide them with your "real" information. No way. Besides being a scam they are actually terrorists who hijack parts of your information then want you to pay them to correct their errors. The federal government should remove this website!

This is a truly AWFUL scam. I subscribed to it, so I could perform my own background check. I checked myself and 80% was false. I called them and complained. They would not change it or refund my money. This IS A SCAM. Why hasn't this company been shut down yet for false and misleading information, WHICH THEY CHARGE FOR. They also have written "customer satisfaction guaranteed." No they will not even refund your money. It is disgusting that these types of businesses are allowed to be continued.

MyLife is a scam. I made the mistake of accepting a friendship request from a friend years ago. This site plays on people emotions! It sends me emails saying I have new people have viewed my info, but it is the same people from years ago! Sadly one of those people that signed up for this crap has since passed away. TOTAL SCAM!!!


I tried a people search & they offered me a 1-month renewable account for $1.00 for the first month, cancel at any time. I closed my browser window and a don't go away popup offered me an account for $1 per month to be charged monthly for the next 12 months. I selected this offer and after entering my credit card number, it came back with a "You have been charged $119.40 for your subscription". I immediately called them and they said they don't offer a $1 account and there are no refunds. I told them I would report a fraud transaction with my credit card company, and was put on hold. A rep came back and said I would be given a full refund. We'll see.

I was lured in by an ad that kept popping up on my browser. I decided to give it a try and did a complete search on their site, then it led me to fill out my personal information and of course pay. I choose a 1 Time payment of $14.95 with my full intention of canceling before this thing renews, as I know I dont need it. I get a message to go to my email and confirm account and I do so. I get into the site and the entire report that had so many detail claims before I actually paid is now chipped down to a simple name, possible age, possible city location that is not even what the previous report says. The only options are to pay more to find out more when I was lead through every statement indicating I would have full access subscription for one month.
Tomorrow I will dispute the charge, and I am canceling my credit card, also with the hopes these fraudsters do not double charge me as I read reviews of so many doing. I will also make a BBB complaint, as I remember this is not the first time this has happened. Also when I was on the original signup I do not recall seeing Mylife.com as the company but instead another name as a search company. I am shocked how much personal info they have on me and they say click delete details you do not want out to the public. But then you have to pay to remove your own inaccurate or private info???

This Company only consists of stealing your money. Out well over $100.00 on a trial and charged without my consent. Constant emails claiming negative information. Do not sign up for anything on this site. Jeffrey Tinsley, CEO & Founder of Mylife.com.

Foolishly tried the $1.00 trial - charged twice the first day, once 3 days later, apparently set to continue charging weekly - customer service cannot understand English, scripted to avoid handling request to discontinue service. Advised bank to block all further transactions with this company. Do not use this company!

Years ago I had contacted MyLife and I told them they need to remove all my personal information to the public for safety reasons. They did for a period of time until for about a year again now they have all my personal information and photo etc. available to the public and said I would have to pay a fee if I want to get rid of it. First of all I am not paying any fees. I am so sick of your company scamming money from innocent people and exposing people's personal life! I want all my information associated to me and my life to be removed asap or I will be contacting an attorney and the local news channels as well as BBB complaints. This needs to stop! Too much ID fraud is already happening and destroying people's life!

I Googled my name, as I occasionally do, to see what showed up, and that's when I located a profile under my name on MyLife. I was angry to see how much personal information they were sharing, so I requested to be taken off the website. They seem to have granted that request, but ever since, I'm suddenly receiving several notifications a day indicating that I may have an arrest record (I don't) that people are 'searching for me,' and that my 'privacy may be at risk.' Yeah, no doubt - thanks to their shady website! I've unsubscribed to these notifications, but they keep coming. Also, the emails are addressed to my husband's name, yet they are coming to my email. Stay far away from this company.

I paid for access for one month for people background searches for a flat fee. MyLife.com charged my credit card account twice on the same day. It also did not provide any more than one person search. I disputed the charge card being twice charged and MyLife refused to credit my account. This is fraud and misrepresentation of the offer. Charging twice for the same service without revealing that costs were double what is advertised is fraudulent representation. I would be willing to be the token victim if an attorney wants to run with this as a class action lawsuit. Otherwise, MyLife.com should voluntarily refund/credit one of the two payments.

I signed up for a 1 month that's all. I happened to look on the card I used and it shows a recurring monthly charge that I did NOT authorize. I noticed on my statement the charges are coming from United Kingdom and made me instantly sick to my stomach. When I tried to deactivate my account it won't let me. I will be contacting the customer service number that is given on their site and contacting the BBB and reporting for fraud. I will also be replacing my card as well with a whole new one so they can't charge me anymore. I am so pissed off and sick to my stomach.

Their website says $1.00 for one week. So I did that. Then I noticed another $1.00 charge, then a $14.95 charge. I have tried to cancel with this company several times, and they still continue to take money out of my account. How can they do this. I'm thinking class action lawsuit!!!

MyLife.com has posted a series of complaints about me which are totally fictitious. Also these reports are attributed to unknown persons with just first names. Since the "reporters" have only first names I doubt that these people actually exist. I hope you will ignore these reports. ALSO PLEASE NOTE THAT MYLIFE.COM IS CURRENTLY ENGAGED IN MULTIPLE CLASS ACTION SUITS FOR LIBEL.

I signed up for the $1 for a week. I tried it same old same old new people searching for you. It was the same for people over and over again. I cancelled it about a week later. There was a $14.95 taken out of my account. I thought I just didn't cancel in time. Three days later there was a $60 charge. I was very angry I called them, spoke to a service rep, told her, "You charged me over $75 dollars for nothing." I told her to take the $60 charge off and give me a refund. Well it's 3 days later and they have still not put it back. I received no receipt.

To start - I am a hardworking student juggling between campus jobs and a demanding educational program. I have been receiving terribly threatening emails from MyLife saying they have found information on an arrest record. These obscure and untrue emails have been hitting my inbox in great frequency and interfere with my daily work as it is a great source of concern to me. I am in an extremely fragile state for multiple personal reasons and wish to sue this company. Could someone please help me take some legal action.

Well recently I've been searching my family background through search engines, MyHeritage, My Family Tree, etc. Out of nowhere I get emails from MyLife.com saying I have a profile that wasn't even my name or correct information. It was brought to my attention to my husband saying I'm making a fake profile that I signed up. I know I did not. How do these people even get my information? But they need to be shut down. I tried to tell him they were ads or something Spam which turned out to be so I see I'm not the only one having this problem.

Your company butts in where it don't belong. I am tired of people asking me questions about what they see online about me. I have never been arrested in my life and was in the military for 31 years. I've never been married or had a girlfriend for more than 2 years. My last name is misspelled and I get phone calls for that other person who ever he is. My last name is **, Jaime not James. Get your information right!!! A lawsuit will be enacted.

I received an email today from MyLife.com stating that there has been recent activity regarding my account. Upon logging in, the site said no activity has occurred since 2009. It would appear that Jeff Tinsley is misguiding and misleading his subscribers with emails stating activity on accounts that are in reality, not occurring. Assuming this site is a monetary fear-mongering cash register, they will say whatever it takes to keep 'customers' (victims) renewing memberships for no valid reason.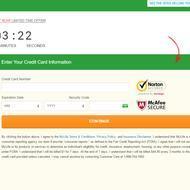 I signed up for the $1 7 day "special" and cancelled same day online. I was billed $23.85 on my credit card statement. I contacted their customer service #888-704-1900 and spoke with a representative named Hya. First she advised that I had signed up for the 3 month subscription and that what I cancelled online was only the "e-mail notifications". She said my account was set to auto pay also and the only way to cancel auto pays is via phone. Thankfully, I had saved screenshots of my account and when I said that, she immediately offered a refund, to cancel the account and gave me a confirmation number. Will see if the credit is that easy. This service is a scam.
Company Name:

MyLife

Website:

https://www.mylife.com/