Consumer Complaints and Reviews

Their website says $1.00 for one week. So I did that. Then I noticed another $1.00 charge, then a $14.95 charge. I have tried to cancel with this company several times, and they still continue to take money out of my account. How can they do this. I'm thinking class action lawsuit!!!

MyLife.com has posted a series of complaints about me which are totally fictitious. Also these reports are attributed to unknown persons with just first names. Since the "reporters" have only first names I doubt that these people actually exist. I hope you will ignore these reports. ALSO PLEASE NOTE THAT MYLIFE.COM IS CURRENTLY ENGAGED IN MULTIPLE CLASS ACTION SUITS FOR LIBEL.

I signed up for the $1 for a week. I tried it same old same old new people searching for you. It was the same for people over and over again. I cancelled it about a week later. There was a $14.95 taken out of my account. I thought I just didn't cancel in time. Three days later there was a $60 charge. I was very angry I called them, spoke to a service rep, told her, "You charged me over $75 dollars for nothing." I told her to take the $60 charge off and give me a refund. Well it's 3 days later and they have still not put it back. I received no receipt.

To start - I am a hardworking student juggling between campus jobs and a demanding educational program. I have been receiving terribly threatening emails from MyLife saying they have found information on an arrest record. These obscure and untrue emails have been hitting my inbox in great frequency and interfere with my daily work as it is a great source of concern to me. I am in an extremely fragile state for multiple personal reasons and wish to sue this company. Could someone please help me take some legal action.

Well recently I've been searching my family background through search engines, MyHeritage, My Family Tree, etc. Out of nowhere I get emails from MyLife.com saying I have a profile that wasn't even my name or correct information. It was brought to my attention to my husband saying I'm making a fake profile that I signed up. I know I did not. How do these people even get my information? But they need to be shut down. I tried to tell him they were ads or something Spam which turned out to be so I see I'm not the only one having this problem.
How do I know I can trust these reviews about MyLife?
744,857 reviews on ConsumerAffairs are verified.
We require contact information to ensure our reviewers are real.
We use intelligent software that helps us maintain the integrity of reviews.
Our moderators read all reviews to verify quality and helpfulness.
For more information about reviews on ConsumerAffairs.com please visit our FAQ.

Your company butts in where it don't belong. I am tired of people asking me questions about what they see online about me. I have never been arrested in my life and was in the military for 31 years. I've never been married or had a girlfriend for more than 2 years. My last name is misspelled and I get phone calls for that other person who ever he is. My last name is **, Jaime not James. Get your information right!!! A lawsuit will be enacted.

I received an email today from MyLife.com stating that there has been recent activity regarding my account. Upon logging in, the site said no activity has occurred since 2009. It would appear that Jeff Tinsley is misguiding and misleading his subscribers with emails stating activity on accounts that are in reality, not occurring. Assuming this site is a monetary fear-mongering cash register, they will say whatever it takes to keep 'customers' (victims) renewing memberships for no valid reason.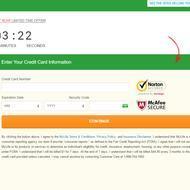 I signed up for the $1 7 day "special" and cancelled same day online. I was billed $23.85 on my credit card statement. I contacted their customer service #888-704-1900 and spoke with a representative named Hya. First she advised that I had signed up for the 3 month subscription and that what I cancelled online was only the "e-mail notifications". She said my account was set to auto pay also and the only way to cancel auto pays is via phone. Thankfully, I had saved screenshots of my account and when I said that, she immediately offered a refund, to cancel the account and gave me a confirmation number. Will see if the credit is that easy. This service is a scam.

I went into "My Life.Com" website. They advertised a 7 day trial for $1.00 with previously advertising a monthly rate of $21.95 or a yearly rate of $14.95 monthly, depending on your commitment. So I assumed that when they offered the 7 day trial that the monthly rate of $21.95 would apply. No other information was ever mentioned about charging me for the next 3-months and then they did it twice, for $44.85 + $50.85 = $95.70 total. The expiration was 2017-01-19.
The cancellation policy read "When you terminate your membership your account will not be automatically renewed and your access will be terminated on the expiration date or your current term". The problem is they gave me no further information about how long they decided to charge me for. When I called they informed me that they had charged me for a 3-month membership, expiring by 04/19/17, but could not tell me why they charged me twice. So far the supervisor is suppose to return my call within 24 hours. The information they gave me was so general that I knew I was not going to keep this membership going. I cannot believe they had the nerve to charge me twice for 3 months without my knowledge. I'm not letting this go. A very upset consumer. I hope others will read this and not do business with them. I'm going to fight for a refund.

Is anyone else tired of seeing emails and promotions from MyLife scaring you into believing someone is watching you or taking your personal information. As far as I see it MyLife is offering our personal information up to anyone with a credit card. This website needs to go away. WE can choose what Social Website our information is on, and furthermore what information is public without paying anyone. It's a scam and a terror group. Living in fear that your personal information is at risk is not okay, and not American. I'm sure I will now receive tons of emails stating my personal info is at risk by MyLife.

My ex-husband of 30 years said I was a "relative" on MyLife. This company then created its own profile of me. I was distressed. I called my ex-husband's company and hope he gets fired for after 30 years of following me it is almost like stalking. However, MyLife makes this all possible. I was told by customer service that they could possibly cancel the webpage in less than seven to ten days if I paid additional fees. By that time my ex-husband could find and kill me. How comforting. I live in stress until this mess that I did not create is resolved.

I did not enjoy my experience with this company! YES it is a scam so stay away! The non-English speaking reps are rude and you can't understand them. The first time I called is because they charged me $119 and said it was in the terms and conditions that they would charge me that way and not when you choose the subscription you desire! Then she said she had to ask her supervisor if they can refund me back my money. So after I really became upset she said it would be no problem and would cancel my subscription.
Now today I get a pending charge for $50 and this rep (with a baby crying in the background) tried to tell me what I said when I spoke to a different rep... saying I only cancelled a portion of my subscription... When I checked her on it she rudely said I will receive my money and they will cancel my subscription. I still don't trust them!! I NEVER received what they promised and will NEVER recommend their services or business to anyone else. I see why they received one star from the BBB. What a waste of time and energy. I wish there was an option for zero stars... They do not deserve any!

MyLife.com told me my info was being shared with about 50 companies. They only told me they would request to remove them. They only requested 6 of the companies to remove my info. This company is a scam. They do the bait and switch and keep giving you (bs) when you call their phone help center. Beware. Even after I giving the help center a list of the companies I found still listing my personal info. It was never removed. Beware. They just want to keep you paying and paying so they do not remove all the info. Also the day my membership ended (wow) they sent me another alert saying they found more companies sharing my personal info. This company is nothing but a scam. Beware.

I just spoke to a "customer service representative" about a refund and she was surly and certainly not helpful. The company is a total scam. None of the information they have is accurate or even close to what I needed. I had a real fight on my hands trying to get my money back. They wanted to charge me a $9 "mandatory fee" for canceling. I protested and finally received my full refund. I've never written a bad review before about anything but this company needs to be exposed.

I signed up for "Who's Searching for You" thinking it was able to search for information on other people. I was charged $180 only to find incorrect personal information. The ad was misleading on what services was being provided, despite reading the fine print. Then the daily nag emails began saying that there was new additional information on me that was potentially incorrect. Today I received another nag email which I pursued research on a past family member which I assumed was covered by the program for which I had previously signed up.
After compilation of the report, I received a request to pay another $180 in order to read the report. I inadvertently hit the read button and was billed another $180 for a service I thought I already had. I called their tech support in India and was told since I had run a report that I was being billed for a separate service. The only thing they would do is turn off the auto renewals for both. The company is a RIP-OFF. DO NOT USE THEIR SERVICES. As you can read from other posts, the employee fraudulent practices and it is a waste of your money. BEWARE.

Received an update today, in spam, informing me they had "new" information about my daughter. Thought I'd just take a look and what garbage. I knew they were lying when the address they had for her was over 5 years old, not even getting the city correct. Save your money!

Do not use their service because once they have your credit card they will not stop charging it. They will make it difficult for you. DO NOT SIGN UP!!!

MyLife schemes you into giving your credit card information, for the purpose of getting basically general info about whoever you're searching for. Make a long story short, I could not find the info I was looking for. Not even close. Then, the website sent me to another website that asked for more money. I spent $35 bucks for nothing. I went to a different website and was I not only able to find the information I was looking for, it only cost me $1 to retrieve it. When I asked for a refund, the agent on the phone would not even acknowledge my request. So, I emailed them. And they would not acknowledge the refund request through email either. Please don't use this company.


I received multiple emails from this company stating that my background was being looked at, being changed and being reviewed. None of that was true. I signed up for the trick 7 day membership for $1 that has no place to cancel. Cancellation information is only on the sign up page that disappears after you sign up. I called and cancelled. Since then I have been slammed with two charges of $29.99 each. When I called and told them I did not sign up and asked for proof of signing up for the 29.99 per month, they said they can only send me proof of cancellation. When I told them that that was fraud and not proof of signing up they said they will place that note in my file and refused to issue a credit or cancel the membership.
This is a bogus outfit. No one should need to sign up to this service. It is useless. ONLY A MONEY MAKING OPERATION. First, the information they have has been illegally collected from various websites without my permission. Most of it is inaccurate. It vastly outdated. Completely meaningless. There was no record of who was looking at my background as claimed in their emails on on their site. The only review was done by the owner of the website himself. Who the hell is he to review me? Fraud. This site is useless, serves no purpose, collects data on people in blatant violation of federal privacy laws of other websites and makes money by scaring people. COMPLETE FRAUD. SHOULD BE SHUT DOWN. WHAT MORE DO THE AUTHORITIES NEED TO SUE THEM?

As with a lot of websites on the internet, incorrect information abounds. I would gladly change it, but they want money to post the correct information. I don't have money and I won't give into a soft form of bMail either. Not saying they do that - but when you have a company that supposedly has your information and they won't allow you to change the incorrect information unless you pay them. Well, You do the math.

I signed up for $14 and change a month and was hit with a $180 bill. This company is bogus and steals money. I did one search and will pay for that as it is only fair, however to advertise monthly payments and then bill a total year is FRAUD. The best part is that the order confirmation went to SPAM and everything since then has gone to my regular inbox. Also now when I go to login I am directed to a Yahoo search page. DO NOT DO BUSINESS WITH THIS COMPANY.

I got an email that says $6.99 and $1 seven days trial. The next day they charge $83. When I called to cancel they said no cancellation. Very bad company. Ripoff.

I signed up then instantly noticed the charges were more than I thought. When I tried to cancel it wouldn't let me. I called and got ** around for 20 minutes, telling me I wouldn't receive a full refund because I "used the service" which I did BEFORE I gave my credit card info and I didn't get any information. Clearly they are in India and are taught to lie to the customers. Worst customer service EVER.

I was very dissatisfied to find out when looking at my profile all the inaccurate info and skip info. They even had me living in cities I never knew of. The only way I was able to confirm they actually had my profile was to look at my family & friends. Although they did show friend I never heard of and left off my 33 year old daughter. What a joke for a company. If my profile was so inaccurate & out of date, how could I trust info searches on other individuals? Bad 100.00 investment.

How do any of us know if they aren't creating a place for someone to hack and steal your information. There are already so many people on here saying they have had wrong amounts taken from them and the information they found wasn't even about them. Get "LifeLock", it's more trustworthy and legitimate. There should be a class action lawsuit against this "MyLife" for their scare tactics and harassment. I never asked for their assistance or gave them my email address so their stealing information to get business. How does anyone know of that if you don't sign up, that your information they have will be sold to some other shady identity thief.

As with many other reviews I have read, I kept getting e-mails suggesting they could remove personal info from sites displaying this information without authorization. Once on their site they wanted money before they could tell you anything. These e-mails never prompted me to pay for any membership. Last week they offered me a 7 day trial for $1.00. That was the hook they needed to spark my interest. Had the site been able to live up to the hype, I would have remained a customer.
About 95% of their info was wrong. My birth date, current address, and phone numbers - all incorrect. People, places, and names mentioned who had nothing whats-so-ever to do with me. Again, as someone else mentioned, no way to correct their mistakes. If you clicked on the "remove" link, it prompts you to give current information. No thank you!! I like that you really know nothing about me, nor will anyone looking me up on your site! When I attempted to get more info for someone they had associated with me, I was expected to pay additional fees. Again, no thank you. Thus I elected to cancel my "trial offer" on the 5th day.
Three days later they billed me $7.95 and they had taken $1.00 two separate times. So they are $8.95 to the good and I'm $9.95 out of pocket to discover yet another well-masked scam on the internet. My second phone call verified total cancellation with reps name, employee number, and verification code. No refund just no further billing. $8.95 may not seem like much, but multiply it by who knows how many people they pull this on and it makes for a great pay day for them!

Non-stop emails got me as the wrong person. Plus when I finally found myself they got my gender wrong lol. Everything about it is a scam.

I received multiple emails from this company stating that there is information online that may ruin my reputation financially or professionally. Just like the other reviewers, I was naive to sign up to this sham. Everything they had about me was outdated and even a lie. Supposedly, I had tickets in which I was in contempt with the law. This terrified me, I've never been in trouble in my life. My family tree was all incorrect. They wanted me to call them to straighten it out. No, thank you. I called the City of Riverside, to ensure that these tickets were incorrect. Hired a monitoring service and purchased fraud insurance. All of which said that I have nothing to worry about. This company is TERRIBLE. Trying to scare people into a monthly membership. I will wait for a class action suit.

This morning I signed up for the $9.95/mo expecting to just be charged $9.95 a month, however they charged for the full year ($119.99) in one transaction. There was nothing on the page stating that upon signing up that they would charge the full amount. No links to click on to read any disclosures - nothing. Thankfully I realized this 30 mins after I registered so I called to spoke to a representative, James, and told him the situation and that I would like to be refunded and to have my membership/page canceled.
At first he said he is unable to give any refunds so I asked if I could speak with a manager. He put me on hold for a few minutes and said that they can charge me for only one month of service at $29.99 and refund me back the remaining money. At that point I took the "deal".. This wasn't as bad as some people they screwed over... (Another thing that is extremely irritating is that you cannot deactivate your account without having to call and speak with a representative!)
So far I have not seen any refund on my bank activities but I am going to wait a few days in case it takes a while. I am also marking my calendar to check my profile in 30 days to ensure that my membership is canceled and not going to auto pay. This company lacks information and professionalism and I strongly advise anyone who's considering signing up to avoid MyLife!
Company Name:

MyLife

Website:

https://www.mylife.com/