Consumer Complaints and Reviews

You've been warned. You can't really pay for just one month or just one report. They want to trick you into a subscription. There is no free information but you have wait like 5 minutes for a series of fake processing steps to happen until this becomes plain. The data they have is not special, not necessarily current and totally not worth it.

Decided to check upon a family member, waited quite a while for all of their supposed checking. When the report was ready they wanted payment before seeing it. Reading their payment deal, they actually was going to get you to sign up for monthly payments. I declined and opted out without giving them a credit card number. As of yesterday a charged showed up on my card transactions and I was not sure who it was. Had to look up the name since it had been a while since I had tried to use their service. I believe this is called fraud and theft of my card number somehow.

I signed up for a one week trial and then I cancelled the subscription prior to the expiration date. I cancelled online and I made a phone call to them to verify the cancellation. I used a credit card that I use for my business and there are dozens of charges on the monthly statements. My bookkeeper pays the bills and thought that BeenVerified was a normal charge that we get so she just kept on paying the bill monthly.
22 months later BeenVerified contacts me and says that the card expired and they want a new card on file. I informed them that I cancelled their service within the trial period and did not agree to the monthly subscription of $25.47. They said that they have no record of me cancelling so they were justified in charging me even though their records show that I did not use their service even once. Since they don't issue you a copy of the cancellation I have no way of proving that I cancelled. They are a scam operation. Don't use their service!!!

I signed up with this background check company to obtain a one-time report. I specifically selected the account type I wanted, which was one time only. I did not want or need to access the services more than one time and did not want a monthly subscription. As such, I paid a higher, one-time fee. Then, I received notice that I was being billed for a second month. I then tried to sign into my account and was told my password was invalid. I contacted PayPal, through whom I paid, initiated an investigation, and put a hold on the account. Only through PayPal was I able to obtain a customer service number for BeenVerified. I was told by a BeenVerified customer service rep that I did sign up for a monthly subscription, and that is all they offer. THIS IS AN UNTRUTH. This is not what was offered and not what I chose when I signed up.
I was told my account was closed and the charge reversed. I will be monitoring for that, but feel confident that PayPal will not allow the charge to go through. I suggest being very vigilant if you choose to use this company. It may be helpful if you make screen copies of the account choices offered and selected before providing any payment information. Use a VISA or MasterCard that will assist you with disputed charges. Or, just try a different company.

I was given a prompt refund of all the charges that I disputed from Been Verified.
Original Review
I used BeenVerified one time and thought I would be billed only once. Instead I was billed for 12 consecutive months at $22.86 per month. I called them to cancel and requested a full refund for 11 months. They said they would cancel and refund me my money. That was 3 days ago. So far I have not seen any refund. What is interesting about this is I cancelled the original credit card number used for the original purchase. However, they were able to get my new number and continue charging me. This company is not ethical. Somebody should investigate them.
How do I know I can trust these reviews about BeenVerified?
634,392 reviews on ConsumerAffairs are verified.
We require contact information to ensure our reviewers are real.
We use intelligent software that helps us maintain the integrity of reviews.
Our moderators read all reviews to verify quality and helpfulness.
For more information about reviews on ConsumerAffairs.com please visit our FAQ.

I use their services. They told me the charge. Did not tell me that it was going to be a monthly charge. It's a scam to get your money by not telling you that. Just going to be additional monthly charges. They make it sound like that there's only going to be one charge. When I call them up on the phone they hung up on me as soon as I mentioned the problem. They do not care about the bad reviews online because by then they charge 5 more people. Do not use the service. Use somebody else. It's a scam.

I chose the one month only membership, but was then told, as my card was charged a second time, that the company had snuck the membership into the "terms and conditions" (which they know full well practically no one reads). I am a business owner myself and would ever consider screwing over my customers in the manner as was done. The excuse given to validate this dishonesty is that "you should have read the terms". Well, perhaps that is true, but when a business owner such as BeenVerified is full aware of the number of people being screwed over and being angry at the advantage taken, then it becomes the responsibility of the business to see that customers are satisfied.
I spend my days trying to calm customers down who call me already angry, certain that I am going to take advantage in some way BECAUSE of businesses like BeenVerified. I take great pleasure in having 99% of my customers walk away happy with the end result of whatever problem they have may encountered. My number one responsibility is customer service and customer retention.
I was very satisfied with the services rendered, the report was complete, concise, and to my knowledge, accurate. However, I will never use BeenVerified again and will not recommend their service to anyone, knowing full well that "caveat emptor" is too necessary to do business with them. Customer service is always the most important thing in business, and by being greedy and taking advantage of what you are aware is an issue, you have failed.

Be very wary of this website. The billing is set up to look as though you can subscribe only for a month when in actuality they will charge you for 6 months to the tune of $58.98. The monthly charge breaks down to $9.98 but you can't subscribe for only one month. Luckily my bank called me to let me know about this and I immediately called to cancel. The gentleman I spoke to kept wanting to show me on the website where the charges came from and I told him I did not care because I never agreed to a 6 month subscription. When I asked for his supervisor, he agreed to refund the entire amount. He was unfazed by the accusation that the billing is deceptive. I still couldn't figure out how to delete my card information which means I have to call my bank to flag this vendor to make sure nothing else comes through. It's companies like this one that make dealing with things online so much more difficult and fiscally unsafe.

I used BeenVerified through another site to learn about a sex offender in the area's criminal record, so you can imagine this was important to me, and not something I did on a whim. The site is set up to take your money by making you wait for numerous stages as it theoretically gathers information and searches public records. As someone with some familiarity with technology, I can assure all this waiting has nothing to do with this. It's simply designed to build up your expectations and take your money, as many people will just be too frustrated after waiting for 5 minutes, to not sign up and pay something. This is manipulative and a disgusting unethical business practice. If they just said it this was the case from the get-go I'd have more tolerance for it but the fact that they try to hook you with all this fake technology is just offensive.

As I was using this site to check on some info I needed, I pick one month only background. They had three option to pick from month 6 or 12. If I wasn't someone that looked at each charge I wouldn't have seen this. Even after I called them they informed me that even if I picked the one month that I still would be charged until I personally contacted them. It is a scam! So when you pay for one month that doesn't mean one month and to get everything they have hidden fees.

The website advertised a cost of approximately $9 for obtaining background info. After I put in my credit card info, the bank notified me that they charged my card over $58. That is false advertising. Had I known it would cost that much, I would not have ordered it. I sent them an email demanding they refund the $58 back to my card. As this happened today, May 8th, 2016, it has not been resolved yet. However, I do expect a full refund and have already notified my bank of this incident.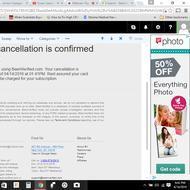 I checked out the website to see if someone I knew has a record or had ever been trouble. I signed up for a one month, it did not say MONTHLY... subscription. I signed up for 22 bucks for one month however it began to show up on my credit card bill. I missed it for three months, when I called they said that it was for a recurring subscription. They were careful not to use the words monthly which is how it should have read if it was reoccurring. They did refund one month only after I said I would contact my credit card company, I have insurance against this sort of thing.
The site worked pretty well, except the very thing you would want to know about someone, whether or not they had a arrest record, is not available at the 22 dollar price. You would have to pay even more to see anything other than someone's address and names of family members which is moot and not worth the money. Don't waste your time with this site.

Two nights ago I received an email once again telling me that all of my personal information was online. Did I want to see it? Of course. After my previous experience with "MyLife.com" I wanted to know what dirt this group had on me. Much of the information was the same, only it got even worse. They had all the information on our mortgages for every house we had ever bought and every time we refinanced. That information is not for the public. If they want to find it let them dig and dig deep. Again they had information about every house we had ever owned and who lived there is its entire history.
The people related to my children that are just not true. They are names I've never heard of nor have they. This company should be removed from the internet because of all the bad information they are putting in a public information site. They should also be charged heavy fines for attempting to represent people without their permission. I'd like to see them hung out to dry!!!

Searched for address and phone number by name on WhitePages.com. When clicked on "View Listing", I was re-directed to "beenVerified.com. Then, the Internet Hyenas (beenVerified.com) hijacked my search and no longer I was able to get the information I needed. In fact, I was no longer able to log in to my Google page! After considerable effort, I was able to restore Google but not functioning as before. Still, when I am able to search WhitePages, the name is highlighted in light blue and still not able to get the information I am looking for. I was able to figure out: DO NOT CLICK ON "View Listing" or the hyenas will hijack your search and you will be not able to get out of it! CLICK ONLY ON the house or phone symbol on the upper right on the page!!! This kind of "slammers" should be hung or tortured to death! I would be happy to be the executioner.

On August 14, I had occasion to use a background service called Been Verified. The information that was given concerning the individual was mostly inaccurate to a astonishing level. (I am able to note this as I was checking on myself) The information showed a residence that I have not occupied in nearly thirty years and the only other data was for age and no reference to the social media I use. When I called I spoke with a representative who appeared disinterested in the various issues I raised. I immediately cancelled the service I had engaged less than a hour before and received a cancellation number. I have from time to time had the pleasure of using other more professional services that make every effort to supply correct information. Nevertheless, I can only rate this service as the poorest of the poor and would never recommend its use as it is of very little use in its function.

ConsumerAffairs Research Team
The ConsumerAffairs Research Team believes everyone deserves to make smart decisions. We aim to provide readers with the most up-to-date information available about today's consumer products and services.
Been Verified is a people search site based in New York, NY. It aggregates public records into an easy-to-read report.
Affordable plan options: BeenVerified is one of the most affordable People Search services available. The company offers plans starting at $10 per month.
Instant result reports: BeenVerified offers several services that can offer results to customers within a few seconds.
In-person researchers: For records that cannot be accessed online, BeenVerified employs in-person researchers who can go to places where public records are kept and gather information to report to clients.
Seven-day customer service: BeenVerified offers customer support representatives every day of the week to assist customers who need help.
Clear guidelines: The rules regarding running background checks can be complicated and fuzzy, but BeenVerified offers clear guidelines, illustrated with cartoons, about what the site can be used for and what it cannot be used for.
Best for People utilizing online dating sites.
Compare Background Check Companies
BeenVerified Company Profile
Company Name:

BeenVerified

Year Founded:

2007

Address:

307 5th Avenue - 16th Floor

City:

New York

State/Province:

NY

Postal Code:

10016

Country:

United States

Website:

http://www.beenverified.com/