Consumer Complaints and Reviews

I placed a custom order with https://www.etsy.com/shop/sord SORD leather bags for a Christmas gift. The item was delivered incorrectly and I returned it. I sent a sketch and pattern to better define the item. SORD admitted to not looking at the information and sent another bag not as ordered. I returned the bag. AND NOW ETSY TELLS me sorry, I am out my money and the bag because I did not "have a return for refund agreement with the seller". So the seller can do whatever she wants and the customer is left holding the bag. Bad pun. I have no bag - right or wrong. WORST CUSTOMER SERVICE EVER.

I opened my Etsy shop back in 2009 but started to actually sell in 2015. I was doing great. So well that I recommended my sister to open her own shop through Etsy and she did, selling her handmade items! I was so surprised to see my profits at the end of the month. Well that all changed in November 2016. My account was suspended. They said one of my items were not handmade and I needed to take them off. I agreed even though they were handmade because it was my busy season and I was back in business. The last week of December I was completely shut down because they claimed another item was not handmade when in fact they were!
I emailed their "integrity" department said I can prove that I make all the items in my shop and integrity dept said it didn't matter that they could shut me down as per their terms and conditions. I gave them a list of over 7,000 items I found which were the exact same I was shut down for!! "Integrity Dept" said that I should report them. Well there was one company with 180,000 sales selling the same item I was closed for. I have reported this shop every day for the past 2 months and yet they are still selling. Did the Etsy integrity dept not easily find this shop? How when they had so many sales! Was it because they promote their items and pay for Etsy advertising? Wouldn't that be considered discrimination? They have ignored every question I have had as to why this person can sell and I couldn't.
Not only did I lose my entire business, but I lost all of my feedback, listing fees, pictures and descriptions of some of my items but most importantly I lost my income. Then I get a call from my sister that Etsy shut her shop down because "an account related to this one was shut down for policy violations". She had nothing to do with my account at all!
So fast forward to February 2017. I opened a new shop under a different name selling all different items. I only put up the stuff I had recently finished making and once again I was shut down because I had a shop that was recently shut down so now I lost more money. I have read that they can find you through your IP address, either way I am finished with Etsy. You are taking a gamble. They can shut you down without a valid reason or explanation. My sister's shop had nothing to do with me. In total we have lost over $100 in listing fees that were paid. Etsy is a scam. How they are legally allowed to just shut you down without reason is beyond explanation.

In November I placed an order that was charged to my credit card but as of today, 2/4/17 the order has still not been delivered. I have repeatedly contacted them to no avail. A month ago I was told that the shipment was scheduled to go out the following week. Nothing yet!

I have been getting mail at the UPS store for over 10 years and for the 1st time I did not receive a package I bought from a seller at Etsy. When I called Etsy directly regarding the seller and the lost merchandise, I was not able to get the issue resolved. I spoke to a gentleman that works there, he stated that they would be calling me back and no one got in touch with me. I sent them an email and it was ignored. I have had issues with one seller in Amazon before (1 out of 1000) and Amazon took care of the issue immediately. Etsy is the absolute worst customer service, and I will not be buying or selling anything with them again.

Etsy does not have a single number available for communication. I submitted proof they wrongfully terminated my account yesterday for allegations of infringement from ELF on shelf lawyers of which my items were for barbie like dolls or Elf like dolls not EOS and stated handmade not ELF on shelf. They flagged an Auburn T-shirt stated war Eagle as ELF on shelf violation shutting account down and holding funds. They will not communicate with allegations nor investigate say "Too bad, it's done." Don't sell on Etsy they'll screw you.
How do I know I can trust these reviews about Etsy?
695,474 reviews on ConsumerAffairs are verified.
We require contact information to ensure our reviewers are real.
We use intelligent software that helps us maintain the integrity of reviews.
Our moderators read all reviews to verify quality and helpfulness.
For more information about reviews on ConsumerAffairs.com please visit our FAQ.

Never used Etsy before, but found a cute charm for a gift and order from CharmsInBLISS. Received a "shipping confirmation" but when tracked it would go nowhere. After a week I contacted the seller, no response. Contacted a 2nd time, no response. Had to open a case to get Etsy to help. They tell you wait a week then we will escalate. Seriously? Are they gonna take the sellers side and my money? Still no response from seller. Wrote a 3rd email. Finally, 2 days after 3rd email, I get a rude response with spelling errors, about how this is the first time he saw the emails. Seriously? How about apologizing for the lack of customer service and inconvenience? I was able to get my money back, but will never shop via Etsy again! They are no Amazon that's for sure.

Attempted to request a custom order- asked several very specific questions, when I received reply (It is the policy to reply only once in a 24 hour period) they only addressed one question, ignoring the rest. In my reply I expressed that if they intend to only answer one question each 24 hours this was going to take way too long and could someone call me. Their follow up reply was so rude I was shocked. They balled me out about how there are only two of them answering emails- here is a copy and pasted excerpt: "You contacted us yesterday regarding your order and typically all conversations are answered within 24-48 hrs. We are now responding to yesterday's emails, we are two people who make and process everything, emails are answered in the order they are received."
When I replied I brought up the fact that they did not answer but one of my questions and in fact did not reply to my custom request form that was 2 days old. I also informed them that I was no interested in doing business with a company that felt they needed to "school" their customers. Want to know the funny part- they IMMEDIATELY replied to that e-mail... which really pissed me off. They can answer an email pretty darn quick if it is to give a snarky reply to an unhappy customer- but will take up to 48 hours to reply to an actual question. They replied with false sorrow with a few more jabs at how "offputting" I was. Can you believe that? Avoid Etsy.com and save yourselves the grief of having to deal with them. I did not purchase anything and will never do so.

I have an Etsy shop and I was mostly satisfied for the first two years. I noticed that I was being charged a lot of fees. It cost 20 cents to list each item for 4 months. That seems cheap, but if you list over 100 items the price adds up. I am charged a base fee of 15% of what I sell automatically at the end of the month. In addition, they collect a 3% processing fee. Altogether I pay 20% of the total cost. In other words, I would have to raise my prices by at least 20% to earn back what I am being charged. Etsy Inc. will deactivate items at their digression and I still had to pay the fees. They are really dirty about that. When I confronted them, they just blamed someone else rather than take responsibility of their own actions. I found their practices and policies to lack integrity. I would suggest using a different web seller, or create a website on your own.

I'm warning you, do not purchase from this company!!! I had a nightmarish experience with them. In February 2016, I paid for them up front to build me a custom table and bench. They told me it would take around 3 months. I did not receive it until the end of November. 10 months! I've had for 2 months and the tops are both cracking, the table is wobbling terribly, and the finish is peeling up in spots and also scratches super easy. They refuse to refund my money and now they are ignoring me. Etsy is just as bad. They won't help me in any way either. So I'm stuck with a busted table, cracked bench, and over $2,000 wasted. GROVER GROVE is bad news!!!

Have been a seller on Etsy for a little over a year with 300+ sales (most all multiple item). Put forth countless hours into my shop making sure pictures, SEO, etc. was "perfect." It seemed to be going so well I took the profit I had made and invested a ton of money into a huge assortment of craft supplies, a Circuit, heat press machine and everything I thought I could possibly need for a successful Etsy business.
Everything seemed to be going smoothly until Christmas season hit. My biggest seller is hand painted ornaments. I had 1 initial complaint due to a lost package (not surprising with how hectic USPS can get during holiday season). I resent the lost packages completely free and gave the buyer a full refund. A few weeks later, I had another issue with a lost package. A case was open & I received an email from Etsy my shop had been permanently suspended due to 2 recent cases. I tracked the 2nd package and it showed as delivered!!
I contacted Etsy regarding this and was basically told, "Too bad." I contacted the buyer and after giving me the runaround finally admitted she had spent too much on Christmas gifts and was just looking for a refund (& essentially free item). I screenshot this and sent to Etsy -- yet again was basically told, "Too bad." They are also holding my funds (which was several thousand dollars) for 6 months. Keep in mind I shipped out approx. 80 packages throughout Dec and received numerous 5 star reviews. None of this was even considered. My shop was closed not due to problems with products, copyright or other issues as I've seen other complaints about. It was closed simply for 1 lost package I corrected (& over compensated for), and 1 package falsely claimed as not delivered by someone trying to scam for free item.
I have tried countless times contacting them with no response. I had way over 100 listings they kept all listing fees and paid advertising. I've invested a ton of time, effort and money in this shop for it to unreasonably be shut down. Of course the more packages you ship, the higher the chance something will be lost (especially during holidays). I did not have all of the descriptions saved on all of these listings. So now will have to start completely over with measurements, etc.
I read another review "don't put all of your eggs in one basket" and that is something I agree with. I never dreamed my Etsy shop would be closed so unexpectedly over such menial things. I had no warning whatsoever. Now I'm out of a lot of shipping, supplies, etc I will not see payment for 6 months. Most importantly out a LOT of time. Not only time making products, but time invested in my fruitless efforts of contacting Etsy and debating over this decision, to no avail. If you are considering selling online -- do not waste your time here!

I placed an order, then was contacted by the seller to say the order did not go through. I tried to explain I had a confirmation but she insisted I must do it again, which I did. As it turns out the original did go through but with another seller for the same item. And then that order took 30 days for me to receive it as it was missent. So now I have 2 identical items and paid for 2, and I only need 1. Etsy will hold no responsibility for the double order, only giving the same not really our responsibility answer as described by others. My advice is not to shop Etsy.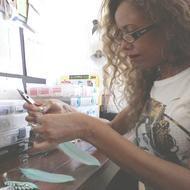 They are very very rude in and not professional. To have a business that you can communicate with is asinine. I have been on eBay for years... when there is a problem you can speak to a human... may have to get through a language barrier... but they are human. Esty seem as though they do not want to make money... shutting people down when they are generating money on items they are truly making. What gives Etsy the right to think one is not making them. I was shut down as well as many other and they made money on me as well. I made the wigs I sell and the jewelry earrings. But you know... their lack of professionalism will eventually catch up with them. And yes I know many of the people selling on Etsy. I know first hand they are resellers. They stopped my income this Xmas as well. But it is ALL good. Etsy days are numbered. I am actually glad to be rid of them. Go to Bonanza.com... good site.

Terrible service. I ordered a shirt on the 2nd of Dec. It did not arrive until the 3rd of Jan. It was suppose to be a birthday Christmas present. The seller (**) of the shirt only responded to 1 of many messages. I could not get a tracking number, was only told it was coming from uk and to be patient. I started a case with etsy and was told I had to wait a week before I could escalate it, after that week I was going to have to wait another week before it could be resolved. I strongly suggest not to order thru this site.

Renae ** at renaestreasurechest - jewelry vendor. Item was not delivered, she cannot supply shipping info even though she promised she would, and will not refund my $ unless she gets the item back. I'm out the item and my $. She was slow to answer my first emails. She told me I was cheap because I took the free shipping and blamed holiday mail for all the delays! It's been 3 weeks! I have all the emails as evidence.

I was injured by a antique metal phonograph that was sent to me without packing material in the phonograph box. When I opened the antique phonograph box, broken record shards, rusty needles, screws and the reproducer metal head fell from it. I was injured. It was like the Etsy seller sent me a type of bomb. I informed Etsy what this seller had done.
Etsy sent me a email totally ignoring the facts and tells me the item must have been damaged in shipping. Etsy has no intention on taking any action regarding the seller and the fact I was injured. Etsy tries to distant themselves and ignore the issue. This is unacceptable. No action whatsoever was taken against the seller that did this through Etsy.

If your seller dupes you, you are out of luck. Etsy will NOT help in any which way. By and large, Etsy works if the sellers care about their reputation. Etsy has a terrible system where they protect the sellers and not the buyers. I lost several $$$ because Etsy would NOT help me get my money back for a damaged item shipped to me. My advice: AVOID ETSY. Find the seller and the item - message the seller directly and buy from their website if you must. I refuse to support such a terrible business.

Libelled by Etsy - Received a very curt email from Etsy saying my shop was being closed down and my account suspended due to copyright infringement. Etsy refused to provide any reply to any request for proof or evidence to support their libel claim. Quite amazing given I've never even had an Etsy store. Not only terrible customer service but they are libelous accusing their customers and providing no avenue to prove otherwise.

Liars, thieves, scams, and Etsy lets it go on for years. Etsy is the pits. Etsy stinks as a company. If you can call it that. And retarded morons answer the phones. Flunkies of the worst ignorant kind. Go elsewhere. You won't have hassles with scumbag sellers like Cestsla...a scammer jeweler in nyc. Don't use her. She is a liar and a thief! Jewelry is fake!

I ordered these items on 11/3. They were mailed out 11/28, tracking was provided and anticipated delivery was 12/2. 12/9 I contacted the local post office and placed tracking on the item stating it was missing. I also went online and placed tracking with email and text updates. On 12/10 I submitted a missing mail request. I contacted the seller explaining what was going on and her response was "once it's shipped the seller is not responsible." She would not believe that I submitted tracking requests and called the post office stating "tracking is not showing, that there was a call made and asked to track" even though I submitted screenshots of the confirmations to her. Then her response became "it went missing somewhere near you." Missing is missing regardless.
I paid for an item and did not receive it. I requested a refund or a replacement item and her response was "personalized orders are not refundable." I contacted Etsy and they stated that there was nothing they could do because once it is shipped all the seller has to do is provide tracking and they're in the clear. I also submitted a complaint and request for refund through PayPal and have yet to hear back.

I placed an order, never received confirmation or a tracking number. Since this order was a Christmas present I started to wonder about my order so I called the company and left a message. My husband also called. Both calls no return call. I also e-mailed Etsy 2 times. Also no response. This sent me a red flag to check my credit account. It turned out not only did they charge my account they also put a recurring charge where I would be billed $28.59 each month. This company is a scam and should be put out of business, also criminal charges. I also saw on the news yesterday that Esty plans on opening stores. They need to be stopped. This company is so bad they deserve 0 stars.

Regarding my Etsy account, my email address was changed without my authorization. Consequently, over $300.00 of Etsy merchandise was charged to my credit card this month (December 2016) without my authorization. I contacted Etsy by email, but their only response was that they would look into it. I have heard nothing further. I will never order products from Etsy again and will share this experience with family, friends, and business associates.

I tried to order an item and ran into a circular loop that had me unable to change credit card numbers. Repeated e-mails and attempts to ask for help were ignored. Extremely frustrating. I gave up and cancelled the order. Just awful.

I opened a business at ETSY and after 2 years when my shop was doing well the closed me down with no warning claiming that my products did not meet their handmade Policy just before the holidays. They would not work with me to get the matter resolved. When I told them that most of their accounts are selling product from Ali Express and EBAY they said they did not care, that I was to follow policies. This company is the worst company I have ever known. No Ethic and with no shame. They even have a department called the Integrity. Wow they have some nerve. They have 2 sets of rules and very unfair with their customers. Be very careful with this company - no morals.

I purchased a dress and shirt from a seller at Etsy. She made these items and sent to me. I told her what size and she insisted I give her my measurements. I gave. She made. They were the wrong size. I couldn't get the dress over my hips to try on… and the shirt was skin tight. I contacted her for fix. She agreed to fix… it cost me almost $100.00 to send back to her, while it only cost her $30.00 to send to me. She wanted me to pay for the return back to me after she fixed. I told her I would give her the $30.00 and let her send rather than I pay outrageous charges to have it picked up... She acknowledged that she received my goods, but never contacted me to send back. I contacted her many times and no response.
After a few months, I filed a complaint with Etsy. They contacted me as if they were we concerned and wanted to help, but each update they gave me was the same as before. It was like a robot was sending the messages. They never responded to anything I said during the resolution process. They finally decided that since I won't cooperate, they will block me from the website and close my case. Therefore I am out of about $300.00 and no one cares, not the lady with my clothes or Esty, her representative.

Etsy closed my shop for 'not selling handmade items'. I sell faux fur cosplay tails, I can't even contact them to send photo of me making the tails as proof. They have ignored my emails and have taken off the request a phone call facility. It's no wonder their share prices are dropping as their customer service is horrendous. It's 4 weeks until X-mas, I now have no income as I worked on Etsy full time with over 2k sales to my name. Thanks Etsy and shame on you! I intend to share this view on every possible review site and social media to spread the word. Feel free to message me and vent fellow ex-Etsy people.

Was shut down with no explanation, loss of income and no reason why. They say my items are not handmade. Don't quite understand their handmade policies as there are a lot of sellers on there that are buying from Ali Baba and reselling and a lot of wholesalers that are using others to resell their products. Etsy have no morals and no ethics and feel that they can open and shut shops as they see fit with no thought for others. Etsy has one rule for some and one rule for another. Was not going to review them but they need to know how many peoples' lives they are destroying and hopefully someone will have the courage one day to take them to court.
I have tried everything to find out what their reasons were and still no response. They have a holier than thou attitude which needs to be addressed. I was threatened by members to the point of no sleep and scared. They chose to ignore it and the member is still selling on their site even after numerous complaints. They are selfish, ignorant people who don't care as long as it doesn't affect them or their business. Stay away.

My credit card information was stolen and and the thief went on an online shopping spree. One of the things they purchased was something on etsy.com. Etsy, however, does not have an working phone number online to call so I can try to find out where the items the thief purchased was being shipped to. Now I am completely distrust this website due to lack of a proper customer service phone number.

Prior to April 2016 of this year, I was making an extremely comfortable living with my Etsy shop, which has been opened since 2011. So comfortable, in fact, that I quit my "day job" completely and my entire household could live off of my Etsy income alone. Unfortunately, as of April 2016, Etsy implemented extreme algorithm changes that essentially "spread the love". In other words, despite good pictures, good SEO, or good tags and titles, you can be pushed down by Etsy in search in order to give other sellers a chance to sell, who may have horrible pictures, horrible tags and titles, etc. This has caused most Etsy shops, including my own, to lose somewhere between 40 to 60 percent of their revenue. Successful sellers are now having to go find outside work because Etsy is artificially manipulating the search algorithm to fit their own agenda.
To say this has been devastating would be an understatement. The sudden loss in revenue caused me to get behind in every bill I have, and I lost my home. Luckily, I was able to find a small place just before I was expelled onto the street with my family. My savings, my nest egg, everything is gone. I had to find outside full time work for the first time in years. It barely pays half of what I was making on Etsy prior to these changes. To make this even worse, Etsy refuses to acknowledges that they have actually changed or done anything to the search algorithm. So while there are hundreds of sellers drowning and losing their livelihoods, Etsy keeps dropping benefits and forcing you to purchase them if you want even a chance of being seen in search. It's so sketchy, so vile, and now I've had to start all over from the ground up on other sites, including my own website.

I bought 3 dolls from TheCrochetMagicShop, www.crochetmagic.com.au and doll measurements were wrong by 3-4cm and custom-made eyes were warp shaped instead of nicely round. After opening case with Etsy.com as seller was rude, would not admit any mistake in measurements or do a partial refund. I have been waiting for a decision for soon 1 month. Etsy has been asking for pictures from me non-stop with no decision made. I suppose they just mean to ask me for pictures 10,000 times without making any decision. Would advise not to buy from Etsy.com as it's hard to get any refund if item is not as described.
Seller policies are also return item at own cost even if item is not as described, that's just own loss to buyer then and no risk for seller to just send out any rubbish product. If one uses PayPal to pay maybe there is means of recourse to get money back. I'm not sure just guessing, but if via Etsy.com money is probably gone forever if order goes wrong and seller is dishonest. Ebay is really much better so is Amazon.com.

Much like Etsy's relationship with its buyers, they treat their sellers with just as much neglect. Setting up an account is easy and the site looks very inviting with its sea of "successful" sellers. But don't be fooled by this mask. Etsy has a reputation for ignoring their buyers and neglecting their sellers. When it comes to provably false reviews and policy violations, Etsy is the first to refuse to enforce their own policies. Contacting the support team for any problems you may have is also a challenge. After opening 33 tickets on their support page and sending 21 emails to their support team, eventually (2 weeks later) I get a response from "Kieth" whose response in short was basically, "we don't care, hope you understand." If you are looking for a selling platform I strongly advise looking anywhere else or seriously consider your own website and investing google ads. You will be much better off financially and will benefit from a much more stable business.
Company Name:

Etsy

Website:

https://www.etsy.com/