Consumer Complaints and Reviews

I paid $110 for DVDs from a vendor highly rated by Etsy and never received them. Etsy said that the vendor was told by the USPO that the items had been delivered. My post office ran a trace to discover what happened and that was placed in file 13! My post office showed that the package was delivered to my address. I NEVER received the package. I asked if something could be done to help me. Nothing was. "Too bad, so sad" was the attitude. Unfortunately, the vendor delivers only by postal service. The solution is simple, I will not shop again at Etsy. I cannot afford to donate to their vendor's charity, or the post office. Whatever.

It's plain, in ratio, most people only speak when they have a grievance. This leads to a society where the satisfied could have negative changes come about to satisfy the few who complained. I've used Etsy for only a year, but in that time I furnished a bedroom at one home, and most an entire house at another... from queen bed frames to coffee table and end tables, to cutting boards. And for me anyway, the system worked. Of the 40 or so transactions, I had an issue with only one, the seller didn't deliver after a bit over 3 months. The reasoning was they had their first baby. I created a dispute just to protect myself but had good faith they would deliver.
Etsy gave a deadline, they promised to it... and didn't deliver... so Etsy automatically closed the case and refunded me. That's life. Obviously as a buyer I was satisfied. I'm sure the seller feels he was treated unfairly. *Shrug*. 3 months is a risky position for the buyer to be out $800, so I'm pleased that Etsy had my back just in case it became never. But back to the good news, the sellers I met are great people with great skills. I truly hope Etsy treats both parties fairly. It's a fantastic system and I'm loving how I can find custom crafts so easily. It opens a whole world where I can avoid run-of-the-mill industrial junk for just about anything.

I Ordered a customized, brand new, white t-shirt from Elizabeth ** shop called happybelliesanbabies from Mexico for $50. I received a USED, LIGHT PURPLE T-thief that was full of white fuzzies and REEKED OF VINEGAR. After I filed a complaint with customer service, I was told that the item I received was not 'substantially different' from what I ordered because they haven't seen it in person. Once I offered to the supervisor to ship it to them for inspection at my cost, they refused. Wow. What a company ETSY is. I will never use that site again.

Etsy claim to promote Jon Allen Metalworks in the USA. There was an item I wanted to buy. Etsy give a price in Sterling. We stated Paypal for payment. ETSY ask for credit card details when we find we can't place an order, so effectively they want money with no tie-up with what for. Tried to contact the Vendor to find this impossible. Tried for days to sort out this because the Vendor uses PayPal (they say). The whole operation is an amateur scam and should be closed down. The internet is full of criminal activity. The whole web have standard ways to buy things. Etsy don't follow the standard for some suspicious reason. What a waste of space! I use Amazon who has a one click ordering system that works - they are honest and very successful outfit. Etsy are not this so "Let the Buyer beware" big time - you will get stung. I feel sorry for the vendor who just loses business being blocked from their market by Etsy.

Made a first time purchase through Etsy from the Lava Lamp Shop (Chad **). Paid 320$ for a custom lamp. It was supposed to be shipped within 14 days. I never heard a word from them. After 30 days I contacted the vendor who said parts were on backorder but product was already shipped (USPS...really?). I contacted seller repeatedly who told me it was my issue to track the package. I told him that I did not want product any longer and he agreed to refund my money when shipment was refused. 16 days later... Product arrived damaged (surprise! USPS).
I contacted seller requesting my refund. This is where Chad ** refused to respond to my emails until I opened a complaint with Etsy. Then he claimed he would not refund my money until product was returned to him. (Really??? It took 46 days to get to my door). Then he claimed he was following etsy return policy. Etsy claimed they would contact seller and get back to me in 7 days or so... Can you see where this is going? I told Chad ** what exactly I thought of him and he promptly dropped off the map. All I got out of etsy was a lot of (we are here to help) no action. Moral of the story... Stay away from etsy, the lava lamp shop and all their vendors or you will end up ripped off and pissed off also. Thanks for reading. I don't want this to happen to people who actually earn their money. Not steal it.
How do I know I can trust these reviews about Etsy?
790,852 reviews on ConsumerAffairs are verified.
We require contact information to ensure our reviewers are real.
We use intelligent software that helps us maintain the integrity of reviews.
Our moderators read all reviews to verify quality and helpfulness.
For more information about reviews on ConsumerAffairs.com please visit our FAQ.

Please do not be fooled by this GoudsmederijHerfst seller's reviews. She took down my review as it wasn't good. No wonder she has only good reviews. My rings were smaller than ordered and stones were not right size and she would not change or refund. I sent them back and she has nerve to and me to pay for 3rd shipping cost after paying €440 for rings and she made wrong. Do yourself a favour and go to your local jeweler who will make your item as you would like. She is a gangster and don't be fooled. It's not worth the risk, trust me.

Joined up with Etsy. Placed an order for the first time in April 2017 with someone who had good feedback. Was suppose to arrive between 15 days-30 days. It's nearly June and no sign of it. Been in regular contact by email. Apart from giving me tracking number they don't want to do anything to help find it. Meanwhile I paid for the product and haven't received it. I've spent a lot of money making international toll calls trying to trace it because the seller didn't want to make a local call in their own country to try and see why it hasn't arrived. There is no record of it arriving in the country.
Disappointed in the seller not helping me track it, and in Etsy administration service who say they can't do much it's between me and the buyer. There is no protection for buyers who pay from Etsy. You can pay and order something and if it doesn't arrive no one seems accountable. Will never order anything from them ever again. I looked online at Etsy reviews to see if anyone had same experience and it's mainly bad experiences. I wish I saw those reviews before ordering from Etsy website. I'm surprised Etsy is allowed to practise their business.

After selling on Etsy for 5 years (9,600 sales and 1,500 5 star reviews) my account was deleted last December. All that blood sweat and tears GONE! Etsy don't give a ** about their sellers. The reason they gave me is complete BS. I pointed out 10 other shops using the same name in their product titles and still today those shops are all up and selling with the same apparent violation I had made. Don't expect to be treated fairly by Etsy and don't make the mistake I did by putting all your time and effort into building up Etsy. Make sure you build a site as well through Shopify or one day you'll end up with nothing. Don't trust Etsy!!! I wouldn't recommend Etsy to a single soul.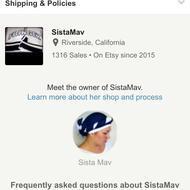 I have been selling handmade products on this site for almost 2 years now and Etsy has made thousands of dollars off the top of my sales and offered very little to no help to either myself or buyers. The platform is very restrictive in the way of listing items for sale with multiple buying options such as size, color, style, etc. This forces you to re-list the same item in different ways to allow the customer to choose extra buying options in which you as the seller are charged additional fees for each listing. There are lots of hidden costs like restocking fees, processing fees, product listing fees, etc. then they also skim 3.5% of your sales off the top but offer little to no help on the back end.
Out of the thousands of positive sales I've made I have had a few "hard to deal with buyers." (You can't please everyone 100% of the time.) I chose to refund instead of deal with some of these hard to please customers; and Etsy allowed them to leave completely false reviews saying they never received the product as if they had been scammed but in reality they were refunded in full. When I reported this to Etsy and let them know the situation they did nothing and allowed the few bogus reviews to stay on my profile. Then later despite my still overall 5 star review status they suspended my buying and selling privileges due to those same false reviews. I asked them to please look into the history of the few bad reviews I received and they will see the efforts I put forth to try to work with these customers.
They refused to even look any deeper into the matter and only based their decision solely on these few reviews. I had almost 300 active sales in process when they shut down my account and it's restricted most of my privileges like access to listings, pictures, shipping labels, etc. It makes getting these last orders out extremely difficult not to mention the panic it caused and floods of emails with my customers asking if I was still open and what happened to my online shop? I'm now having to redo my entire website from scratch on another platform which has turned out to be a blessing in disguise. I would strongly urge new sellers to get off of Etsy as soon as possible or not start with them to begin with. Horrible, horrible people running this company.

Etsy opened the doors to mass-produced factory merchandise in 2013 to feed their greed. The plan since this happened is to cater to Chinese Factories and Corporations while squeezing out Independent Shops. The perpetual format and platform changes (before sellers can absorb the last change, POOF, another major change) are insane. Etsy keeps forcing fewer payment options, and consolidating shipping, payment processing to be more and more controlled by Etsy. With all of the manufactured garbage they allow to be sold that are copies, fakes, and things that have never seen a human hand, true Artisans and Crafters have little chance of making a living.
For me, I went from making over $60,000.00 a year to $119.20 in one shop and $8,100.00 in my second shop. It is near impossible to get my items seen when Chinese Shops use every keyword under the sun, even though it has nothing to do with the item they are selling. Shops list thousands of products that are mass produced and cheap. They dominate the Search returns so the little shop that lists a dozen new items will never be seen.
The cheap cost of the Chinese Factory pieces has also driven away business for true hand-made Artisans. When a necklace is $2.50 and it doesn't even tell the Buyer that it is coming from China, then they see a true handmade item for $65.00, you can see how it devalues the quality and time that unique art takes to make. If you are serious about selling your art or crafts... Create your own website so you have control over it. Artisans are closing their shops and leaving in droves so much so that it's called the "Great Etsy Exodus"... Don't open a shop just to give 1/3 of your revenue to support a greedy corporation and foreign manufacturers. Don't do it.

I purchased a custom made ring in November or December of 2016. In January, the ring was received. It looked nothing like the picture and I immediately started crying because it was to be my engagement ring. I immediately contacted the seller, GloriousJewelOnline, and advised of my concerns. He proceeded to tell me that I should have said "Hello" before starting the conversation, told me I was wrong about my ring being of power quality than the picture, and told me to "Show it to my friends. They'll tell me that it's high quality". Needless to say, my fiance was so angry when he saw it he almost threw it.
We requested to return the item, the seller refused. We opened a dispute, uploaded pictures, and won. We were told that it was over and we didn't have to do anything further. I start receiving message after message from the seller, telling me to return the ring "As it's only fair". He then continues to message me to the point where I feel overwhelmed even being on that site. I message Etsy, they tell me that I don't have to talk to him again or send anything, but there is no way to block a person. So I stop going on there... And today, for some stupid reason I pulled up their website and saw a new message, dated 3.21.17. The seller had threatened me with having police show up at my home because I will not respond to him.

My first purchase on Etsy was furniture and it was damaged. The box looked like it had been around the world a couple times and the item was packed poorly. Etsy sends email for customer to give a review long before item arrived. Nothing in email says there is a time limit of 60 days from purchase to give a review which only seems to have the purpose of enabling a seller to run out the clock. Seller (I.A.Decor/SunnyBrook Furniture) gets in claim process with shipper and shipper drags feet eventually denying claim which will only run out the clock on any recourse or review. Emails to Etsy only respond with "we can't help you". Shipper denies responsibility, seller denies responsibility while Etsy is missing in action. The only purpose in a website like Etsy is to manage a fair market place. It is now clear that's not what they want. Stay away!

I have been a seller on Etsy for over 3 years with a 5 star rating. All my customers had been wonderful telling me how much they love my product, quality, etc., until this person opened a case against me over a month after receiving their item with all kinds of made up, false accusations about the item. They didn't even have to provide proof of their accusations and the Etsy representative sided with them and I had to give a full refund. The Etsy representative wouldn't even answer my questions about seller protection/shop policies which were totally bypassed and ignored. I am in shock at how horribly I was treated and how easily I was scammed. I will no longer be selling on Etsy as there is NO seller protection.

I've been selling on Etsy for nearly three years and I'm a five star shop. I had a personal conversation with someone concerning religion... nothing nasty or demeaning... the other person was rude and put my particular faith down. Etsy decided to ban me from the Forums indefinitely as if they give a ** about their members in the first place.
This site is rapidly going downhill and treating their sellers like crap with perpetual format changes, forced payment options, and unfair dispute settlements usually favoring the buyer over the seller. And, with all of the manufactured garbage they allow to be sold, true artisans and crafters have little chance of making any real money.
If you are serious about selling your art or crafts... create your own website so you have control over it. Etsy no longer cares about true artisans and crafters anymore... they make more money off of reproduced pieces of junk that are often knockoffs copied from the smaller shops. Folks are closing their shops and leaving in droves so much so that it's called the "Great Etsy Exodus"... Don't open a shop there unless you enjoy giving 1/3 of your revenue to support a messed up management system and foreign manufacturers.

I have made several purchases on Etsy, and most of them have been good ones; however, two have been sketchy. A woman selling a counterfeit product and another one giving inaccurate measurements and refusing to understand how measurements are important. She should have shown, with pictures, where she measured the purse. Sloppy salesmanship!!! Annoying shopping because of each seller has own policies and do not give refunds for immediate returns. I do not recommend Etsy. Pay the full price and buy from a place where you can return the item if you are unhappy.

Unless you open a "Case REVIEW" with ETSY before 60 days after your order, they will not let you open one if your item arrives after that, for example custom furniture that takes sometimes months to make and ship. ALSO if you use PayPal, they won't let you open a case, they tell you to go to Paypal to file your complaint. This company is NOT buyer friendly at all, it does not compare to eBay... BEWARE.

Did not receive item... The vendor would not respond so I wrote a review criticizing the vendor... I told the vendor to please resend me the item or give me my money back and I would be happy to change it to a positive review. Etsy then informed me they consider that EXTORTION!!! Etsy clearly could care less about whether customers are satisfied... Etsy should at least let their customers know that they have no recourse if you are scammed. BUYER BEWARE the Etsy does not stand behind their vendors!!!

I've been a buyer on Etsy for some time and have bought a number of nice apparel, handmade items etc. I've never had a negative experience with any seller luckily but have now had a terrible experience with Etsy. They suspended my account privileges for some reason which I don't know and so that reason can't be legit. I'm not a fraud, I've always paid and been honest. Getting this fixed is proving to be a nightmare. Their customer service is so deeply buried it's practically nonexistent. I never received any email explanation for why I was suspended and am unable to open a new account because they even blocked my freaking IP address.
My receipt on Etsy says unpaid even though my PayPal has paid it and sent me a receipt. They're hardcore and for some reason don't want to take my money which I've been giving plenty of for some time. I'm baffled. Sellers, please set up your own websites so you can sell to customers who are blocked by Etsy. Monumentally disappointed.

I purchased a Pope John XXlll medal pendant 1950s for my mother's birthday 25 days before it. When I had not received it by 20 March I open a case of non-delivery with Esty. The trader had marked it as having been dispatched on the 10 March but shows a receipt for the 21 March as proof of posting. Well, whatever happen to the medal I never received it and Esty thinks the proof of posting is proof of delivery. They don't seem to understand The Consumer Rights Act 2015 says different.

Hello, I'm shocked after 8 years of selling on Etsy to find my shops permanently suspend. Etsy didn't listen to my side of the story, I was harassed by a buyer, having the man get my email address, send me disgusting messages & pictures. He was a disgruntled buyer who ended up leaving me a bad review & why? Because I told the sick pervert not to contact me anymore, after I did so, that when it all started. I replied to this man using a few choice words, well thinking I was only defending myself, I got terminated from Etsy!
At this day & age it's ok for a man to harass a woman! Instead of Etsy helping me, they suspended me! Etsy was a problem from the very start from no customers, to opening up the marketplace for all foreign junk. A vintage site? Where is the vintage, it's all retailers. What vintage site removes the antique section? Their new categories are a joke! Who wants to buy a 20 year old toy ball?
As for buyers, if they have a problem, forget it, it's a nightmare. Their main target is someone living a perfect life, a woman who has nothing else to do but, plan a wedding, have a baby, cook, decorate & organize a house with an endless supply of money to spend. What fantasy land do they live in? The employees stink, they know nothing. They also don't know a vintage item from new, the site is such a joke. Real antique collectors & dealers are laughing. Their search system is ridiculous, who has time to look through 250 pages of junk. I hope many people file a class action lawsuit against Etsy & they go out of business.

I use different platforms to sell my items, but the big mistake was to bet on ETSY. They enable people to offer handicrafts personally by them. But this is not so. There are many sellers who do not sell their products, resell foreign goods. There is nothing worse when you correct a given platform with buyers. Although it is against their rules Etsy a blind eye because otherwise you will fail. I think it's time to change its policy and give people legally sellers of foreign goods to sell on their platform because they already do.
The problem is that this company employs super incompetent and spiteful people who do not have a human attitude towards anyone. Employees choose who to sell and who is not. Stupid employees of this company closed profiles without warning, indicating the reason - that the goods are not manufactured by vendors. At the same time there are thousands of such vendors. I hope soon this company to fail because they are despicable and devious people with unsubstantiated claims. Their policy is one, and reality another. Curse them a thousand times and I wish them the most miserable existence. Please if anyone knows where can be made a formal complaint from this company to share it! Please if anyone knows which institution can test this firm also share it. I'm ready to destroy them as they destroyed me.

In December, I placed an order via ETSY which was never delivered. The only path to make an inquiry is via the computer. I have done that several times, but received no reply. ETSY is a customer-hostile enterprise, and I will not deal with them in the future.

My first time using Etsy and already I'm fighting to get money back on non delivery on two items I purchased. One open case and one closed even though I haven't received the goods from Mercy Madge and didn't get a chance to dispute the case as it went in favor of the seller without consultation with me. I've had to contact PayPal in the first case and now have a chance of getting my money back. I will never use Etsy again.

SCAMMED BY - Sumer ** - OWNER of SittingKittyVintage on ETSY.COM I (me) shopped at Etsy for the first time & purchased 2 items from 2 different shops. The first item I purchased from Tangoboutique5968, another shop that couldn't find the item I ordered in their inventory. They never offered to refund my money nor did they ship the item I ordered. I contacted the owner and this person said they would have to find it in their inventory. I NEVER heard back from the store owner from Etsy until weeks later. I reported this to my bank and was credited a full refund. Etsy.com IS INDEED THE WORST PLACE YOU COULD WASTE YOUR TIME & SHOP. PLEASE DON'T shop at Etsy.com... Please read on.
The # 2 item I purchased from Etsy was a very horrible experience!!! This store owner was indeed a Scam Artist and Etsy allowed Sumer ** from SittingKittyVintage to scammed me, even though I opened a case against this store owner and took the time to send pictures in of this damage - no arms - the Barbie arms were off as soon as I opened the unsealed box and I found a dirty, used Barbie that was indeed taken out of the unsealed box before and was not in manufacturer condition. The Vintage Ballerina Barbie was damaged during shipping is untrue. This is false! Shipping had nothing to do with damaging the Barbie. I'm not sure if Etsy or the Scammer are going to try to get money from the post office. I am going to report this to my post office so they are unable to collect any money from the insurance from the post office.
RESERVED Vintage Ballerina Barbie 1975 in box No. 9093 Transaction # ** Quantity: 1 I was so excited when I found this V.B. Barbie from 1975. The owner Sumer ** from SittingKittyVintage on Etsy.com scammed me! I was told the Vintage Ballerina Barbie VBB had never been taken out of the unsealed box. This scammer, Sumer ** on Etsy, blamed me as if I had done something wrong which is how a scammer works. I can't believe Etsy aka Etsy.com allowed this dishonest store person on their network to take advantage of me their customer. I recommend to everyone NOT to shop at ETSY.COM because they don't care about their customers. It's all about how much money they can't get from the sales. If I have enough room here in this space I will copy and paste the dispute case I opened up with Etsy.com... Please read on...
Me February 15, 2017 When I was a little girl my Mother and Dad gave me this ballerina Barbie doll for my birthday. I was looking for this doll for this reason. My parents recently died 6 months apart from each other. First my precious Mother & then my dear Dad. The Lord gives me HIS peace they are living their new lives together in Christ Jesus but I still miss them very much! I found your website & was looking for this Barbie for the best price. This is why I am VERY DISAPPOINTED Etsy would have someone like this on this website! Please take down their store so they cannot mistreat your good customers! I am thankful you have my information in this case and a permanent record to keep of this scammer's real name.
This is totally outrageous and dishonest!!! Etsy Admin, Logan from Etsy's Dispute Resolution team is allowing Sumer ** -OWNER SittingKittyVintage to get away with scamming me, their customer. This is not a safe place to shop!! I finally called my post office to let them know this scammer is going to try to collect money from them through insurance placed on the used and broken barbie doll.
I hope all of those who are reading this complaint will choose to shop online with anyone else but Etsy.com who allowed a very dishonest store owner on their network, Sumer ** - OWNER SittingKittyVintage to get away with scamming me! Etsy.com allows their customers to be scammed by their online store front owners. I have placed several pictures of the used and dirty ballerina barbie so others may view what was sent to me BY Etsy.com DISHONEST SCAMMERS. BARBIE WAS NOT AS DESCRIBED!

Very rude people working there. I had my shop there for 5 years, 4000 feedback, rating 4.9 out of 5.0. They shut me down. One person working there lied to us with false information and next building jeweler called us about connecting my shop to his. Basically they falsify information and shut you down after all those years working with them. Good thing I opened my website. Started working from my own site or else I was going to lose my mind. Never trust them and I recommend every seller there to open their own private website and build your own. Once they shut you down they will not respond to your emails or calls. So basically you are dead on arrival for them.

Etsy closed sellers accounts without prior notice and gives fake arguments, I sell since 2015 and I did great job selling 500+ handmade and vintage items and I get 120+ POSITIVE REVIEW with 5 stars and just one negative feedback in 20 October 2016. Etsy closed our shop and sent an email telling us that we are not the designer or the makers of the products. We responded that we can prove that we are the designer of our product and the makers are listed on the about page. They sent another email telling us that we sell mass products and our account will close permanently. They didn't give us any opportunity to prove. Our business that we built with a great effort go overnight. What is that fake Etsy system! Go to hell Etsy.

How to get a free piece of jewelry on Etsy: Contact the seller and complain about something small and nitpicky and then threaten to write a negative review. Seller then offers a refund in an attempt to avoid said review. Jewelry is not returned. Negative review is posted anyway. Etsy, your review system sucks. I quit your marketplace the first time this happened to me. Now I have reopened my shop and someone is attempting to do this again. Too many negative reviews and you will close me down, whether they are honest reviews or not. I do great work and practice business ethically, and the vast majority of my reviews have been 5-star ones. Etsy is not seller friendly, not only do you open them up to getting ripped off by this bogus review system, you charge way too much for the limited advertising exposure you get. P.S. This review is real.

I requested to have a tunic dress made with a small top and medium bottom, and the seller indicated that she would be able to do that; however, the bottom was 5" smaller at the hips than the measurement on the site indicated. She said that having the medium on the bottom only meant having a longer hem. When tried to resolve the dispute through Etsy, they required multiple rounds of pictures documenting the difference, which I provided. At the end, the seller accused me was washing the item and shrinking it, and Etsy determined that the item was sent as described.

I had enjoyed success at Etsy up until recently. I had my shop on a long vacation as my mother was very ill and I was pregnant. I tried to reopen my account and was told I am suspended. Upon contacting trust and support and asking them why my account which has glowing reviews and a 0 balance is suspended. I was told A similar account was found to have an outstanding bill and I had to pay it! Now this account is my friend's account! The only way they could have linked us was by similar product and locale.
I told them I am in no way affiliated with this person and yes they were my friend but I am not responsible for their accounts in way. I was not even given a reason other than there's too much overlapping information and until my friend pays his bill, My shop is also shut down. This is like living in the upside down. I have never ever used anyone's account but my own. I am in shock that because I am friends with this person I now owe his bill. Not good ethical business practice.

Etsy is corrupt as hell and has killed my shop after I presented them all the evidence that I manually create all my work, there is no one helping me. I thought that with the amount of pictures I provided with all the steps it is literally impossible to claim I am not one making it. They did approve me after the first time and reinstated my store and I was happy but then about two weeks later they killed it again, as if they can't check that it was done before and asked for evidence. I again sent them even more pictures and description, and this time they said that I was not allowed to sell again for no reason or explanation and asked me to not email them again.
This is harassment, this is my work and no one can claim it otherwise. It really seems that those working at Etsy 'integrity' dept. are the big Etsy sellers themselves or that Etsy is discriminating against certain sellers for some funny reason, they kill small artist stores and keep those giants. More people buyers especially need to know about that, it's like talking to a robot, they don't give explanation and I'm 100% sure I am not violating anything. If you don't believe it's my work, COME, VISIT, WATCH ME make it happen! If you want real handmade products, I'm doing handmade by Amazon now, they actually answer all of my emails and respect big and small artisans unlike the evil and corrupt Etsy.
Company Name:

Etsy

Website:

https://www.etsy.com/