Consumer Complaints and Reviews

I have been a perfect eBay seller for over 10 years. Last December I got ripped off by a South Korean buyer. I listed a GoPro Hero 4. This buyer named ** made a offer and I accepted. He paid and I mail the camera in the same day. I wasn't aware that I was not able to track the item after leaving USA when mailing to South Korea. I have mailed items to Brasil, France and Japan without tracking issues. Sure enough the buyer opened a case against me stating that he did not received the camera. PayPal put my funds on hold until the case was resolved. I did contact eBay different times and customer service was awful. They did not stand by me for a second. They told me that I had to find out if the camera was delivered. Well... after many attempts and searches online I was able to get a hold of the Korean post office via email.
The email stated that the item was delivered and the security guard for that building received the camera and he was authorized by the buyer. So, I contacted eBay back with that info. I asked them if I had any way to forward the email to them. Customer service said that they could not help me. They needed online information that the item was received. Isn't a email from the Korean post office, stating that the camera was delivered, online information? What am I missing here? I contacted the buyer, begging him or her to be honest. Oh silly me! This person is not only using my camera but also kept his money and eBay did not give a crap about me. So wrong! If anyone have any idea for me to get this resolved I will really appreciate. I'm just so sick to my stomach. I'm so furious with eBay. Ebay is my second source of income, but since this happened, I refuse to list anything with them.

eBay does not care about the sellers when they have issues. I got my account suspended because of a buyer claiming a fraudulent dispute even after evidence proves that the item was sent and signed for. I forwarded all info to eBay thinking it would be in my favor. Did it go my way? Nope. They sided with the buyer despite the evidence proving otherwise. Buyer gets their money and the item and I get my account in the negative and suspended outright. Tried several months to get in contact with eBay to get my account reinstated, but with no success. All that time wasted which I just gave up. Only other option was to go stealth using the help of Auction Essistance. I am back on, but I am pretty sure it won't be for long since eBay does some dumb things to begin with.

Beware of New products claimed to have warranty or guarantee that were being sold on eBay. Most sellers are not authorized resellers, therefore the manufacturer will not honor any defective items even if they were brand new and being sold off eBay. Call Manufacturer to verify if sellers product includes warranty. Ebay cannot insist that Sellers honor their promise of refunding the money once the resolution time frame has ended. China Sellers knew the limited times for buyers protection and play the stalling game, to temporary pretend to want to resolve an issue, until buyers lost their voice and their rights as resolution time had lapse. There is no guarantee to get our money back even if a promise of a refund was implied by a seller.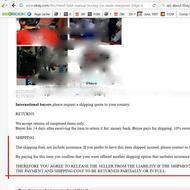 We sell on eBay for several years and have 100% positive feedback. In order to make our items accessible to buyers from countries with lower income we give them the option to make a purchase without insurance. This option is clearly displayed in the listing description and our Shipping Policy. It states that By paying for the order the Buyer confirms his decision to make a purchase without insurance and agrees to give up his right to demand the payment and shipping costs in case the shipment is lost or damaged.
We have recently shipped an item to another country, had a tracking code and can prove the item was shipped. The buyer informed us he didn't receive the item. In the correspondence we reminded twice about his decision to pay less for the shipping and don't pay for insurance. Nevertheless the buyer opened the case and eBay charged us for the undelivered shipment. We strongly believe that it is not fair and should not take place. eBay use their monopolistic position to dictate unfair rules and not protect sellers.

I have the delivered defective piece. I purchased Intex Cloud 4G Star mobile from eBay at 5/02/17. I received at 8/02/2017. This mobile phone was used and damage and headphone was not working. Flip cover screen guard was missing inside the box. I call eBay about my product. They take my PaisaPay Id then I call seller on this number **. He told me "what you want." I told him for replacement as soon as possible. 10/02/2017 they rejected my PaisaPay Id. Now today eBay also misguiding me. Seller not picking my call now. I want refund my money. I saw comment about seller inside eBay. Someone told him fraud seller.
How do I know I can trust these reviews about eBay?
697,568 reviews on ConsumerAffairs are verified.
We require contact information to ensure our reviewers are real.
We use intelligent software that helps us maintain the integrity of reviews.
Our moderators read all reviews to verify quality and helpfulness.
For more information about reviews on ConsumerAffairs.com please visit our FAQ.

I recently sold an item to a customer for $20, plus roughly $10 for shipping and handling. I matched the images with the serial number of the item and shipped promptly. The customer first demanded a refund because they said they had not received the item despite FedEx tracking proving otherwise. Then the customer opened a case for a return stating the item received wasn't what was listed. EBay sided with the customer, sent me 4 separate emails about the case and stated the case was on hold (which it turns out wasn't the most recent case notification or even relevant to me, they were waiting for me to send the buyer more money).
Then eBay forced the reimbursement, plus cost of shipping, so the item I was originally selling for $20 has now cost me $20 and I have not received the item back (and this does not include listing fees and monthly recurring charges). Now I have spent $20 to send some random person a gift, and I am quite sure I will never see the item again. I contacted eBay about the issue and they stated that it was an issue outside of eBay and are now refusing to close my account because I have a PENNY ($.01) credit. The customer service rep said he was sorry I felt "badly" about eBay. What a scam.

Don't trust the Ebay guarantee - weaseling out of undelivered items. I purchased an electronic item from a vendor in China. Cost was $15 + $5 shipping. After three weeks tracking showed the item was delivered but never reached me. I proceeded to file a claim and was told to wait another three weeks to see if it turned up. I did this and still didn't get it so I contacted the vendor. Vendor wanted to replace it and refused a refund request, though they admitted it probably was lost in the mail. So I filed a claim under the eBay Buyers Protection. eBay said they denied the warranty because the vendor had tracking however their customer service said that Chinese tracking information isn't reliable.
I also had a problem with occasional misdelivery of packages by my post office. I appealed ebay's decision discussing the misdelivery problem as well as the seller's admission it was lost and they did a "one time" refund. This guarantee is not reliable and I recommend if you are purchasing things from ebay to always use a credit card with buyer's protection.

A buyer bought a purse from me and as soon as she got it, she open up a case saying the item was not as described so she could get return shipping from me. eBay sided with her even though she lied about it. I have decided to closed my seller account, they are a very unfair company. So sellers beware, if you sell something on ebay it will end up costing you money and at the same time you have an unsold item.

I sold two items on eBay and was charged 10% on my shipping cost. The shipping is separate from the item sold and should not be charged 10%. My customers were charged less than the actual costs for shipping these items, so a extra 10% is a eBay price rip-off.

Before I went on a 3 week vacation, I placed my eBay store on vacation mode, which displays a message under every listing telling buyers the seller is away until a certain date so they can decide if they want to still purchase that item and wait for me to return and then ship it to them or to move on and purchase from someone else. During my vacation I checked my eBay activity and saw that people were still buying items from me so when I got the chance I would contact every single buyer making sure they understand the wait and asking to confirm or for a refund. Every single buyer either agreed to wait or said they did not see the message but are ok waiting.
When I came back, I shipped every item the same day. But on my next evaluation period, I realized I lost the top rated seller status along with a 20% discount for being a top rated seller because my percentage of 1 day handling which is required to be a top rated seller sky rocketed of course because it took between 1-20 days to ship them depending when they purchased it. I was confused but realized there was nothing I could do. The game was played, I lost. Even though it was unfair. I never knew about such practice. I feel that was cheating. I did not cheat anybody because I let them know and never received a negative or neutral feedback from any of those buyers.
What the problem is about all that is when I lost the 20% discount, even after 6 months I am still not able to meet their goals so I ended up paying eBay about $200 more in seller fees. For example if my total eBay fees for I month are $400 with a 20% discount it would have been $80 less or $320 total but every month I end up paying more for that. They simply cheated me. I don't know any ONE seller who has eBay store and top rated status that would put store on vacation mode. So why did they do that. It is very sad. I wish someone would do a class action lawsuit for this. I would love to join. Thank you.

My husband purchased some items off of eBay. There was an error in the address so we never received the items. We then contacted eBay trying to resolve the issue. They are telling me there is nothing they can do for me since the seller tried to send out the items. Not only did I not receive my items, I am out of my money. The only option they gave was to go get it from the seller. I live in SC the seller shipped out of Florida!! This is the worst experience ever and I will NEVER shop with them again. They are not even trying to fix it like it's ok to purchase something and never get it! GO FIGURE EBAY!!!

I have been shopping on eBay for 10 years now. Most of my experiences have been good. However I have bought some counterfeit products as well as some falsely described products. But I wasn't mad. I knew that came with the game. Recently I have been made aware that eBay is definitely tailored to the seller. As a buyer you always run the risk of getting screwed over. Just recently I placed an order with several sellers at once. However the address I used for my order is somewhere I no longer reside. Recognizing my mistake a minute later, I tried to cancel my order. Most sites you cancel your order and they do it. Because it normally takes a site a couple of days to process and ship items. Unfortunately eBay makes you go through the seller to cancel a transaction. Which is BS because each of the 5 sellers all failed to contact me about the cancellation.
Then I sent them all an email asking to send the items to my current address. But eBay's policy doesn't allow that. So all of my items got sent to the wrong address and all eBay customer service said was send the stuff back when it reached me. How can I send it back when I never received it? I instantly left bad reviews for each seller, because they all chose not to communicate with me. They refused to cancel my transaction. And it's funny because I probably would have bought the items again from the sellers. So after not receiving over $100 worth of items, I attempted to open up cases against each of the sellers. All of these cases except one went in favor of the sellers. eBay's rationale was that the sellers sent a tracking and number and it showed delivered via the tracking numbers.
But the issue is I never wanted the orders placed in the first place. I literally tried to cancel immediately. Not only did they not decide in my favor, they also removed my feedback score. How can you remove my feedback score? That was the last straw. It's convenient that each of the sellers were top-rated sellers. That title is deceiving because if you look at the sellers that get bestowed that honor, they all have hundreds if not thousands of negative and neutral feedback. I also had an issue buying an item from the Toys R Us eBay Store. I chose to pick the item up in store opposed to getting it sent home. Surprising Toys R Us had technical malfunction that sent my item to the wrong store. After hours going back with the seller and eBay customer service there was no solution in sight. eBay refused to cancel the transaction because Toys R Us said the item was ready for pickup.
After explaining to them that the item was nowhere near me, eBay refused to cancel and told me to work it out with the seller. That makes no sense. It's not like the item shipped. I could understand that. But this item was just sitting at the wrong store. How hard would it be to just simply cancel the transaction. But apparently eBay is designed to protect the seller not buyer. At one point they even told me to go through PayPal to get my refund. Which PayPal said I had to go through eBay. Ultimately, I had to drive over an hour away to pick the item up at the wrong location.
Also if you do sell anything on eBay, you will be cheated. They charge 10 percent for every item you sell on top of listing fees. And my account has been compromised at least twice. At this point I wanted to cancel my account altogether, but they wouldn't even let me. They said some nonsense about me having to wait 30 days. I'm contacting corporate early Monday morning. And don't ever daily customer service, it's outsourced to India. And the customer service people on the site are incompetent.

If I can give eBay zero stars I would give them zero. I order iPad and within 10 mins I cancel order. The sellers on second day he shipment me the order. He said "I didn't see cancel email". Why Amazon has better system than eBay. I returned the item but I was charged 3.56 for shipping returned.

I am 81 years old and have been an eBay "Power Seller" for more than 8 years, usually Top Rated. eBay will not abide by their own Return Policy... which is as follows... "If you receive a different item, an item in a different condition than the way the buyer received it, or an empty package, contact the buyer and try to resolve the issue. If you're unsuccessful, report the buyer to us. We take these reports seriously, and will carry out a thorough investigation before taking any appropriate action. To protect the privacy of our members, we're unable to inform you of any actions we may take against another member. You shouldn't report the buyer if you receive the item back with the same damage that they reported. We recommend you purchase shipping insurance to provide coverage for items lost or damaged in transit."
On 12/13/2016 I sold an alabaster vase for $500.00. The buyer requested to return the vase. The vase was intact, but he complained that the packaging smelled of smoke. He refused to accept my offer to pay for any necessary cleaning of the vase. The vase was returned to me via United Parcel Service and arrived completely destroyed and irreparable. He had insured the vase for $1,000.00 but he refused to file an insurance claim. When I requested that he do so he replied, "You are dishonest". My reply to him was "Please stop the insults". eBay reps repeatedly told me that I should request UPS to pay the insurance to me. eBay should know that UPS will pay insurance only to the shipper. The eBay buyer refused to open an insurance claim so I opened the claim.
The insurance was claim was denied. I contacted United Parcel Service Corporate Office regarding the denial of the insurance claim. I was told, "The insurance claim was denied because the shipper (the buyer) did not use proper packaging. Therefore, he is responsible for the damage." I received it broken into two irreparable sections. He returned it via UPS, using the Priority Mail box in which he originally received it from USPS. UPS saw clearly in the photos I sent that the box had been previously subjected to a long shipping route. It is illegal to use USPS boxes for UPS shipments "misuse of government property".
EBay issued the buyer a refund of $520.00 from my PayPal account, putting my account into a serious negative balance. I did not initiate that refund and I wasn't even aware that it had been issued until I saw my PayPal balance! In addition to that refund, eBay charged me a final value fee for the sale of the vase! I told PayPal that if they want to resolve that negative balance, they should discuss it with eBay. I have closed my Bank account and ended my 89 auctions. I will no longer be a buyer or a seller on eBay. I will not support their unfair business practices. This is not my first such experience with eBay - they have ripped me off many times in the past.

"Get the item you ordered or get your money back... Covers your purchase price and original shipping." is the eBay refund promise. I received the wrong color car floor mats paying $49.00 and was returned $25.00. The wrong color floor mats had been reportedly shipped to at least three other buyers. The dispute has not been resolved; however, just try to talk to a person at eBay about a problem... they give no customer service phone number. It is very frustrating dealing with customer service. Resolutions are tilted to sellers not buyers. I've the choice to cancel my account and I will take that option... Be cautious of the refund guarantee... it's not really a guarantee. I will be taking my complaint to the CA. Department of Consumer Affairs..

I inadvertently sent a double payment to eBay for some items I sold in the amount of $615. After several attempts to find out when this payment would be sent back I was told it takes 30 days! So eBay used this money for 30 days instead of returning it to my PayPal account. Then prior to receiving this payment I sold another item and they immediately deducted the commission on the sale without my permission and without first seeing me a statement or informing me of this transaction. So in effect if eBay owes a seller money they choose how they will handle that money without informing seller of their intentions. Beware of these tactics before you choose to use their service. I will never again buy or sell an item on eBay!

Recently a buyer purchased something from me that was used and had normal wear and tear. The photos were presented to represent the product. The buyer did not have enough money when purchased and decided to get back with me in a couple days to pay for the unit. I granted him that. A few weeks later the buyer said the speaker piece next to the listening part on the phone was broke. Clearly in the picture taken just seconds before posting it was perfect. My son even inspected the phone prior to sending. He then stated that the battery was dented.
The photos show that the battery is in perfect shape. He stated the battery ran out of juice quickly and was dented. It typically lasted 16-20 hours like any used battery on a phone. NORMAL WEAR AND TEAR. He stated that the viator didn't work. Later to explain the vibrator. Likely a programming issue as it worked fine prior to selling. EBay granted his return request in less than 3 minutes without any input from me. Nowhere in the world does a retailer not evaluate the issues before giving up money for free. Obviously they are using robots for responding. This is ridiculous. Ebay use to be fair and balanced and protect the seller from less than trusting buyers. Likely as this buyer had money issues before they have them again and look at this as a way to get a few of their bucks back. Not right!

Buyer is always Right. I feel betrayed as a seller on eBay. I feel betrayed and neglected as a seller, about the way the great and powerful eBay acting as judge, jury, and excursion in matters regarding buyer initiated returns. Furthermore, I believe that eBay is acting outside of UCC law, acting as my agent in authorizing a return without my consent or input in the matter. I thought that eBay was a neutral trading platform. One final note, the great and powerful eBay grants a return, on my behalf, without my authorization, and when I get a non-sellable product back in damaged product beyond recovery the great and powerful eBay tells me that it is not their problem, unfortunately, the return process is not eBay's responsibility. I would beg to differ once they intercede in the buyer-seller relationship they take ownership of the consequences. There must be warranty and insurance in place to cover errors made by eBay employees.
The first decision in my case was made on a Saturday morning at 4 a.m. It quickly backed up on Monday by another decision made without consultation with the buyer, my feeling is that eBay was 100% wrong. They failed to understand the claim and treated a $650 claim as though it was $10. As I sent a photo of my beautiful sugar white mink and the returned product in an ivory shade the likely cause was it was worn by the buyer got wet and was then incorrectly stored to dry.
I have spent hours on the phone discussing this matter in an adult manner, and although each rep has told me they understand how I feel, nobody has helped. I am going to continue today to reach to eBay to voice my concerns - this practice of the great and powerful eBay does not seem legal and the two class actions I have viewed seem to support my view. Giving instructions to PayPal to refund is an inexcusable betrayal of the trading platform. eBay legal department state they can do anything they want as it is in the contract, it would seem this legal situation has been disputed in court in two recent class actions and has been found incorrect.
In 2008 eBay angered sellers have by the move blocking negative comment. Their objection is leave them unprotected and open to manipulation from problem buyers. On the face of it, the change shifts the balance of power towards buyers - who can still provide adverse comments about the service they receive. The buyers will use this power the threat of negative comment to try and extract unfair advantage on this trading platform. If you feel you have been on the end of unfair decisions as a seller please join me in a Class Action.

1/27/17 Ebay is doing the "buyer is always right" thing again to me.. I Sold an vintage toy cap gun in good condition, with pictures to prove it. I packed it safely. Now the buyer says that I didn't describe it well cause it was broken. Ebay has agreed that my pix show it wasn't broken, and that the insured seller (USPS) should pay. BUT they've withheld my money so that if USPS insurance doesn't cover it. They'll take it from MY paypal anyway. EVEN THOUGH IT WAS USPS OR BUYERS FAULT!! What a ripoff. Please put me down for the next class action lawsuit against ebay/paypal..(maybe I'll call around to some "contingency lawyers" myself.

I have been on eBay for almost 20 years and have kept a pretty good honest record as well as helping them keep the criminals off along the way. Recently this happened and so far greed has seem to be the results... I recently found out my 20% discount on my bill was removed! After calling them and being passed on to 3 different time consuming people I was told that the reason was that I was OUT OF STOCK on 4 different transactions. I said I was never out of stock my entire time on eBay which has been about 20 years! What we found out was I gave a partial refund to these 4 people and they kept the items and were all satisfied and we moved on. Since I did not go and find a page to let them know I gave a partial refund they marked it as I never shipped the item! I told them the customer would of filed a complaint had I never shipped anything but that does not matter. I had to go and file with eBay that I gave a partial refund!
Since it was over 90 days ago, I just found this problem out yesterday, that they could not do anything about it! I explained that this out of stock never existed. It was all lies! Does not matter, they cannot do anything about it was the only answer they kept repeating. So I lose 20% a month based on these lies that they state they cannot fix! That's over $100 a month! They also have no idea how long it will take me to get my status back. This is how fair they can be to people that supported them for so long making them so rich while we lose more and more money because of these rules they cannot fix. I find this very hard to believe.
I canceled many of the higher cost items last night to try and get my costs down for now. I cannot afford to absorb such a loss over this apparent greed. Not happy with the customer service and how they sneakily did this. I asked for a boss and they said their boss was busy and would call me back. That's been over 24 hours ago!

Terrible buying experience. It's always difficult to buy glass on eBay. Some sellers seem to think it's acceptable to describe their glass as perfect, forget to photo the area of damage to the glass, then when you open a case. To start the long drawn out process of getting a refund. I've been told numerous lies from eBay staff from here's the number to give to PayPal for an instant refund. When no such thing happens. To the seller has not claimed the money so phone PayPal for an instant refund. What a shambles run by idiot liars and dishonest sellers. They should be all chopped up and disposed of.

SquareTrade offered an extended warranty on a Crosley console cd and radio I purchased on eBay. What SquareTrade did not mention was the extended warranty was completely contingent on the manufacturer's limited warranty. A week or so after the purchase the manufacturer wouldn't honor their warranty. Because the item was purchased on eBay. Thus the extended warranty was invalid. SquareTrade refuses to refund money and eBay will not step in and help.

Insurance my a...! I was just cheated of £200, and eBay won't do nothing about it even though they know they have a dodgy seller on the site (UK-Performance-UK) that sell fake car parts. After returning the item last month, never received my money back (and eBay closed the resolution case 3 days before deadline and before they paid back). I did nothing wrong, kept in contact with that cheating seller, asking about my return. Because the case is closed and the item wasn't paid through PayPal, there is nothing eBay will do to help. Only told me to be more careful in the future(!!!) Scum!

EBAY SELLERS BEWARE has ripped me off for over $800. I have had a domino effect lately after being a seller with them for several years. I've sold several items that abide by their seller protection policy and have done 100% right as the seller. Seems like every time I sell anything the buyers are getting one over on me. eBay DOES NOT CARE about their sellers any more. I sold and shipped quite a few items in perfect condition they receive it and after having it for a few weeks they open a case claiming not as described.
I got the item back today which was a new model smartphone and open the return package and the buyer sent an empty shell of a phone with screws loose in it. eBay will not protect the seller on any case no matter the situation. They side with buyers 100%. Don't sell phones or gift cards. Buyers buy use funds claim they didn't buy. eBay instantly refunds buyer and you're out the balance of the card as well as what the buyer paid. BS BUSINESS!!!

eBay's customer service is below average at best. Which makes the app pointless. The presence of knockoff products is overwhelming. There has been several occasions where I have received products that were fakes and eBay seems to not acknowledge this issue. SO BEWARE.

Beware there is a 10% additional fee once your item sells on top of listing fees. Unacceptable in my opinion. Lots of scam artists and high risk to sell anything of value on eBay. STEER CLEAR!!

I ordered a toilet supply line from eBay. The seller sent me the wrong item. I requested a return label be sent by USPS. The seller refused as well as eBay. My request reason is because I do not have a printer and I am Disabled. I wanted to do the right thing by returning the item, so by getting no help from either the seller or eBay I paid a person to ship it back to the seller a $10.03 item. My cost to do this was $42.63. Needless to say I will never do business with eBay. By the way I told eBay person I am Disabled and the rep said to have someone go take care of it when this could have easily been prevented by sending a return label by mail.

This would be my first transaction on eBay. I've always tried to avoid using eBay and similar sites because in my personal experience people will try and pull one over on you. It's hard enough to hold the direct retailer accountable if a good is damaged or not what was stated, so I never liked the idea of the added risk for purchasing second hand item through a middle man. Well I recently became interested in a tabletop RPG that is no longer available from the manufacturer and after reading eBay's money back guarantee and exhausting other search option, I let my excitement for the item get the better of judgement.
The core game was going for upwards of 50-100% of the retail value, so I decided to go ahead and bid on the core game plus all of the expansions. I won the bid at $1485.60 on 12/11/16. The seller contacted me and told me that there were just so many items (including fragile miniatures) and he needed to break it up into three shipments. I agreed to it. He sent the heaviest box first with all of the paper goods and it arrived in good order. When it arrives, I sit down to inventory because of the quantity of the cards and pieces, but there is no inventory sheet included. I reach out to the seller for an inventory sheet, he says I should look online.
The final box to arrive had all of the miniatures that he had already assembled. It arrived in a used amazon box and the 20+ miniatures were all stuffed into the box, none were individually wrapped for protection and he used grocery bags and paper towels for packing stuffed in wherever he could do it. There were pieces that were outright broken, many seemed as if they had been broken at glue joints just so they would all fit in the box, and some had ink or paint on them. I immediately filed a return for damaged merchandise and the seller accepted on 12/22/16. The seller was given until 12/28/16 to give me shipping labels to return his merchandise.
The seller tried multiple times to get me to go outside of eBay policy; asked me for my personal email for the shipping labels (at the time I was unaware of eBay policy and that the shipping labels could be delivered through them, but I asked them once it looked like he was trying to start having our conversation through my personal email instead of through the eBay message system). Tried to get me to pay for the shipping twice (eBay policy states that damaged items should be returned at the expense of the seller).
Had me get quotes for shipping the boxes and then only sent me a shipping label for the big box with the core unit and not the other two boxes including the one with damaged goods (claimed he was overseas and his card wouldn't go through for USPS, even though he had asked me to get all three quotes at FedEx). Tried to tell me that I should ship the first box and he would worry about the other two after 1/2/17 (I didn't feel right about that, especially with the deadline that eBay had set for the 28th of Dec, and eBay verified that that was not how it was supposed to be done).
Tried to tell me that he had talked to eBay and they said that it would be ok to just send one box now and worry about the rest later. (This conflicted directly with what eBay had told me and advised to only mail the boxes when I had all three shipping labels. They also note every time someone calls on a high value claim and what the call entailed, but there was no record of them telling him that this was ok.) Tried to get me to give him my PayPal info. (I didn't use PayPal to purchase the item. I used my bank card directly through eBay, and eBay once again stated that I should not give him this info.)
I reported all of this to the eBay High Claims Department. Every step of the way they supported my claim and told me that I would receive my money if not from the seller, then through their money back guarantee in the timeline stated by their policy. This is where it all starts to unravel. Miraculously the seller is able to get me all three shipping labels the evening of the deadline. I get them out within the hour of receiving the labels. The boxes arrive back to the seller on 1/3/17. I receive no update from eBay stating that he has confirmed delivery. I message the seller on the status. He says they have arrived with minimal damage and that he would inventory the next day.
I once again call eBay to give them the tracking numbers for the returned boxes and to make sure they note that the items have all been returned and to also ask about his inventory comment, because I had requested an inventory sheet from him when the box first arrived and was not given one. They say they have it noted in our messages and that I do not need to worry.
EBay tells me that the seller has until 1/11/17 to refund my money. If I have not received my refund by that point, they will step in and render judgement in my favor and I will receive my money through their money back guarantee on 1/12/17. I receive an email from eBay on 1/7/17 stating that an e-check has been initiated through Paypal for my refund and that it should clear on 1/11/17. The morning of 1/11/17 I check my bank account and it has not been deposited nor are there any deposits pending. I did however have an email from PayPal saying that the sellers bank had denied the funds and that they would try to get the funds again in 3 business days (1/17/17). I immediately call eBay to update them with this information from PayPal.
EBay now starts to play a different tune. Where they first told me that if the funds hadn't cleared by 1/11/17 that they would have my funds to me by 1/12/17 has now been changed. They verify that I was told this but apologize profusely because the e-check status is pending and they will wait until 1/12/17 to see if the funds clear. If they have not by 1/12/17, then on 1/13/17 they will render judgement in my favor and have my money refunded to my account through their money back guarantee in 24-48 hours (or by 1/18/17 because of the MLK holiday).
The money is not deposited on 1/12/17, so on 1/13/17, I call to verify that we are all good. eBay claims that yes, they will file the judgement and I will have my refund by 1/18/17. I wake up this morning, I check my bank account, my refund has not been deposited and there are no transactions pending. I call eBay High Value Claims department to find out what is going on. Once again, their tune changes a little bit further.
They claim they submitted the judgement to give me my refund, but it was denied because the e-check still says pending. I ask why that concerns me anymore, because the seller had his time frame to have that money back to me (this was the time frame laid down by eBay and their policies). He missed it. He even missed the extra day that eBay gave him to clear it. I was told that at that point his financial obligations to me were null and void because I was now under the eBay money back guarantee and that eBay would give me my refund and they would settle up with the seller.
They once again take accountability for telling me one thing, but then apologize profusely because they are now going to wait until 1/25/17 to see if the e-check clears. And now, where in the past they told me that I dont even need to call in anymore because they are going to take care of me. Now they say that I should go ahead and let them know when I get an email from PayPal stating that the sellers bank has denied the funds for a second time.
So as of this moment, I'm still without my refund. The seller has already resold the item (which I reported because he didnt bother to mention in the item description that it was damaged, but instead tried to brush the "possibility" of damage on future package carrier, and I didnt feel that he should be allowed to dupe another buyer), and eBay had gotten their commission twice.
So to break this down here, only one party involved out of the three (myself the buyer, the seller, and eBay) has actually done what they said they would within the eBay policy that they laid down. I won the bid. I paid what was owed. I worked with the seller when he stated that he needed to send three shipments. I waited to close the case until I received all of the boxes, and when the final came in damaged, I reached out to the seller. He said he would accept the return, so I filed it through eBay the way their policy states. I followed everything eBay advised me to do through their policies.
The seller tried to go outside of eBay policy multiple times and they eBay knows it. EBay set deadlines and broke them. So out of the three parties involved, the only one that has continuously obeyed the rules and regulations set down by eBay has been me and I am the only one who has not received any of what was promised. Or to put it another way: Seller = +$1485.60 - cost of shipping x3 + $1400.00 (sale to second buyer). EBay = Commission on sale of a $1400+ item x2. Me (original buyer) = -$1485.60 - item, but at least I have a handful of empty promises and the eBay money back "guarantee". I have strings of emails that include the conversation between myself and the seller, and myself and eBay if verification is required.

I had an account there for 15+ years with a 100% perfect feedback rating and sold thousands of dollars worth of items. Some hacker idiot decided to create an account last August using a similar username but not exact, my physical address, my phone number, and my email. I assume he proceeded to try and sell something and apparently never shipped it and when I looked had about 5 bad feedback ratings. eBay noticed the similarity in the account info and decided to link the accounts and permanently ban me and my account and this bogus one. This is the worst security practice ever.
I tried to get them to verify my identity with all kinds of personal information SSN, DOB, etc. but they would not even try. They went so far as to tell me I am banned off eBay forever and to have a good life. What a sorry excuse for a company. So it is possible to shut down anyone's account if you know just a little info about them, which all of this info eBay happens to provide anyone who buys something from you. This is the worst security practice ever.

I was a very enthusiastic buyer for 10 years Nov 2006-Jan 2016. I called myself an eBay junkie constantly looking for items on eBay. Car parts, DVDs, items from China, a big variety of merchandise, even antique, saws, chain saws and fossil sharks teeth. But over time eBay kept giving me problems. I found out 90% of silver dollars from China are counterfeit fakes. I noticed they are always the same years. So I refused to pay for a few I won and tried to have the sellers cancel the transaction and eBay gave me "didn't pay for items" marks against my account. Then they started this harassing "items out - bid" pop-ups list that appeared over and over constantly covering the items I was trying to look at on my eBay.
But the last straw was when they protected a top rated seller with 100,000 transactions and 200 negative and neutral feedbacks from having to refund me 7.00 for a broken Batman vs Superman 2-disc DVD set because I sent it back 1 day after the seller's time frame. They removed my feedback to him seconds after I left it. As my only recourse against the seller that's when I got fuming mad and decided to leave if that's the way they treat me. I've had enough. And then the constant harassing messages about the same computer mouse to my email about 20 times probably from the same customer service agent. Every employee there is Asian.
They are pro-seller and anti-consumer. It was like they wanted me to leave. I saw a commercial where a company's motto is every customer matters. It's definitely not eBay's motto that's for sure. All for 7.00 and a feedback I hope they think it was worth it. I was very sad, upset and mad. I didn't want to leave but you can only put up with so much before you say enough. Thank you, Thomas **. I don't have an order number. I don't know what that is.
Company Name:

eBay

Website:

http://www.ebay.com/motors