Consumer Complaints and Reviews

I've used eBay quite a bit and have always received great service and products. I like how easy it is to use, the amount of product selections, the safety of using eBay, and knowing that if something happens eBay will do what they can to fix the problem. I've had nothing but good experiences and I love shopping there.

It helps with knowing the going rate people will give for used items and the kinds of things I could sell even elsewhere and to try almost anything I have. But it became too much trouble to keep checking back to see if an item is mine or not and then have to look for another, I ended up spending more. And it was fine until a seller sent the wrong item, claimed I defrauded him, but reported me as the fraudster to eBay and kept me off - obviously not a fair system.

Product selection was great and I enjoyed the purchasing process. When I am looking for something I can find nowhere else I know eBay will have this at a discount or close to retail. When I want a quality of something eBay is the place I shop. Price and availability are important for me and eBay comes through every time. But eBay is so simple that many times criminals and eBay has its characters. But, I am confident any customer service problems will be attended to in a speedy fashion. To say that I was satisfied is an understatement.

My experience with eBay was excellent and worthwhile. I would do it again. I bought books because that is what I collect and like to have. I like the selection and dealing with different people from different areas around the country and the world to build my collection.

Overall, it was okay. I like pretty much everything available. You can find whatever you need and there is quite a huge price range. I would do it again if I was unable to find an item elsewhere. But a lot of the sellers seem sketchy and I don't trust it. And only accepts PayPal for most transactions. I would like to be able to just use my credit card. Also, selling an item costs too much money. Shipping costs are outrageous on a lot of items.
How do I know I can trust these reviews about eBay?
762,878 reviews on ConsumerAffairs are verified.
We require contact information to ensure our reviewers are real.
We use intelligent software that helps us maintain the integrity of reviews.
Our moderators read all reviews to verify quality and helpfulness.
For more information about reviews on ConsumerAffairs.com please visit our FAQ.

I have bought Nokia mobile but the sent duplicate and defective product. My friend was already told me not to buy anything from eBay. But same case happened with me. Finally they refuse to refund. I thought this site will like Flipkart & Amazon but worst. LOL. What is this (An eBay Guarantee* claim has been opened).

I called billing because of charge of unfair billing fees. Spoke with a Sarah that said she could lower my fees to 50 dollars. The next morning realized that was a lie and she lowered them but significantly less than we spoke about. This is not the first time I have had issues but gave eBay the benefit of the doubt. No more. The government regulation agencies really need to look into their business practices. Crooks!!

eBay is easy to deal with and navigate website. I like the many choices of selections, ease of ordering, fast and free shipping, convenient and most offer returns shipping. I also like the use of PayPal.

The company sustains itself by being impossibly difficult whenever confronted about crediting money owed. A business that has such an unbelievable lack of transparency to how they charge their sellers should not exist. I loathe this company so deeply. I've never experienced such run around in my entire life. Selling here is a tragic mistake and should be avoided at all costs. A scam of the highest level.

Do not buy or sell on eBay. They do not back up their highly touted 100% money back guarantee. If you buy something that is nothing like as described and return it, you will not receive a refund. Not a dime. They don't care, despite all the promises that they will help. They will ultimately side with a dishonest seller than properly refund your money, despite proof of return. They will side with the dishonest seller who they make $$$ off instead of the innocent buyer. Buyer beware!

I have listed many items on eBay and am not certain if it's the folks who shop there or the economy or perhaps both but my items should sell for twice what I have been asking, or MORE!!! And I can't sell a dime for a nickel on this site. I'm done selling on this site!

The reason for my review is because eBay allows sellers from all over the world with no accountability whatsoever. I haven't counted fraudulent vendors unreliable vendors and counterfeit vendors and it's getting out of control and I get no support from eBay whatsoever. I stopped selling on eBay because of their high fees which leaves almost no profit for the seller. It almost seems as if we're working for eBay instead of ourselves. Now I face another issue where I purchase things with estimated arrival dates that are not real. For instance I will order a sport jersey estimated to arrive on April 14th when I receive it around April 25th that is almost a two-week difference. EBay sucks and I'm going to Amazon. Yeah Amazon. They have more respect for their customers. I'm only one until everybody else starts thinking the way I'm thinking and then I will be power. I hope eBay founders like the Titanic.

I purchased a clutch on eBay, made a simple mistake, got the wrong one! Then the one needed this guy of course don't carry the one I need. So here's where the $$$$ start to rack up. 117.00 clutch, shipping to send back 29.87, Oh and don't forget the 23.50 restocking fee 53.47. 117 - 53.47= 68. Really guys come on.

I ordered 10 bulbs, Fall Blooming SAFFRON CROCUS Sativus; Item ID: ** on March 19th, 2017 from Seller - pietrsaemia. The seller appeared to be confused about what I had bought from the beginning. The bulbs I order was not in good condition when I received them. I planted them, but NONE of the bulbs came up. I sent a message to the seller but he did not respond until I gave him a bad review. The seller then replied to me and told me that since I had given him a bad review, he was not responsible and that was eBay policy. I really wasn't as concern about the refund as I was about his comment about that if you give a seller a bad review, eBay policy guarantee is no longer any good. Somehow when I filed the claim, it was filed as I had not received the product. I tried to change the claim to that I had a problem and I had receive the product, but eBay system would not allow it.
Ebay denied the claim and NEVER read the claim, or ANY of my messages that I sent to eBay. I know I sent at least 7-8 messages and NONE of the messages was read by eBay except the message where I ask them why they had removed my bad rating about the seller. Ebay did respond to that message and said that since the seller had Won the case they removed the bad review. I still do not know if it is eBay policy that if you give a bad review, eBay guarantee is no good. That must be their policy since no one from eBay will reply to me about this. I closed my eBay account and I will NEVER buy anything else from eBay and I would certainly not recommend eBay to ANYONE.

As a seller I know there are certain aspects that have to be in place for buyers but you know buyers can scam too and so you need to have protection for sellers. eBay doesn't work that way it seems. I shipped an international package, in which the buyer choose to have first class to save on money. Well after 3 weeks the items didn't arrive so they put in a complaint. Of course I was out the money. When I tried to escalate with all the facts and how I am not responsible due to them choosing the type the shipping and it being clear in a message from the buyer, they understood. We all know too that it takes sometimes 6-7 weeks for international packages to arrive.
So after another 2 weeks I get a message from the buyer stating the items has arrived and they would like to pay me. I called eBay and told them of the news because I was told that I could appeal the decision within 30 days if I had a message proving the item was received. So that's what I did. NOPE... The only acceptable means of proof is a tracking number. Unbelievable how the people that make this company money are treated like dirt and given no protection for anything. Now my buyer was honest and did let me know, you'd think eBay would step up. Why they get their money one way or another it seems in anything they do, so what advantage do you have as a seller, NONE!!!! eBay you are a crook and the second I am able to start my own website I most certainly will. Stop taking advantage of the little man just trying to make a living with all your large corporate greed.

As a long time seller on eBay with a 100% positive feedback rating, I have recently become more and more dissatisfied with their listing policies as they continue to evolve. I recently had a listing removed for violating policy. The item was a lot of antique toy key chain cap guns about 1.5 inches in length that were compliantly listed to eBay's policy by having a orange cap affixed to the end of the barrel. What the policy doesn't tell you is that the orange cap has to be affixed by the manufacturer albeit something that the manufacturer's did not and were not required to do 40 years ago.
The customer service representative I spoke with could not tell me why the listing had been canceled 7 days into the auction? Very disappointing eBay!!! So my punishment is a 3-day suspension by eBay for listing items. They can take my suspension and extend it indefinitely as I'm done with them. I've put up with their increasing listing fees, poor customer service, and misinformation in their listing policies longer than I should have.

An incident happened to me about seven years ago. Still very angry today. I was the victim of identity theft. Someone used my information & checking account to set up an eBay account and make purchases. Several purchases were made. I contacted eBay customer service and explained what had happened. They refused to give me any information about what was purchased and where it was sent. As you can imagine, that information would have been more than a little useful to finding and prosecuting the thief. They flat out REFUSED to give me that information! It was their policy to protect the thief's privacy! So sadly, it's all about the profit. I have not, and will never use eBay. Hope this does not happen to you, but it may. I was forced to give this one star. It would not let me give a negative five rating!

Purchasing a faulty item from a sell (later so discover the seller was untrustworthy based off 100's of other reviews I really should have read before buying), I returned it. My mistake was forgetting to include a tracking feature. Basically... despite my 100% positive reviews and thorough communication vs the sellers very high number of negative reviews about the same issue and absolutely zero communication from the seller with myself or eBay, eBay tells me "their question is how will I pull it (fraud) off" after asking them how can the seller be trusted over myself. Wow huh. I don't care about the item. The main thing is what disgraceful treatment of a loyal user.

I sold a pair of very expensive Gucci shoes to a buyer in Israel. I send the shoes with free shipping. Buyers contacts me and said she received different shoes and wants a refund. Is crazy because the correct shoes were send. Ebay makes me send them a return label for $60 and also will refund buyer $300. I am left with wrong item return and minus $360 and a negative feedback. Ebay told me I had no choice but to accept return and pay for label!!! So upsetting so how am I getting protected by Ebay???

I purchased an item from a Power Seller on Ebay called fivestar007. This seller posted a nice picture of a reserve tank for 1998 M3 BMW. So I purchased it based on the picture. When the item arrived, it did not look anything like the picture. It was a complete bait and switch. So I sent the seller a message requesting a return because the item was falsely advertised. The seller refused, and in fact was really rude. Claiming that I had faked the pictures that I had taken of the product. This was probably one of the worst Ebay experiences I have ever had. So I opened a case against the seller. The seller continued to be rude through the whole process. Finally Ebay stepped in and gave me my money back. So I left a bad review for this obviously poor seller. Then Ebay never posted my negative review. I waited and waited, then I realized that it was never going to post my negative review.
I realized that day that Ebay protects its "Power Sellers". If you are a power seller on Ebay, you can do whatever you want, Bait and Switch, Insult your customers, whatever, and Ebay will just turn a blind eye. It bothers me that Ebay is boosting their "Positive sales reviews", by never allowing negative reviews to get through. Amazon and other online stores allow you to leave detailed explanations of what happened, but not Ebay. You get 80 characters to complain. And now they don't even post those if they are negative. So in reality you cannot trust any of the review ratings posted by Ebay. They are false, doctored, and misleading to always be "Positive". Ebay's business model is to support their "Power" sellers at all costs. Which is a bad model. As everyone knows, give a man a little power and it will go straight to corruption.

So I was looking for stuff to go into my new car and I find this listing that says, "Seat Covers and Mat Combo" for $24.95. So to me that says, "Hey, you're buying a combo set that involves seat covers and mats." Right? It doesn't say, "Seat Cover and Mat Combo Variations." Well apparently there is a drop-down arrow somewhere for you to pick which combos there are to choose from and the site automatically already had one picked. I only got mats so it wasn't even a combo of anything.
I've tried talking to the seller (lyfe_essentialz) several times about this and they won't do anything, so I decided to finally talk to eBay about this since there is a "Worry-Free Shopping Guarantee." Well apparently that is a bunch of BS because they said they couldn't and wouldn't do anything, and wouldn't give me a refund or a credit or anything, and then on top of that took my feedback away from the seller (I didn't cuss or anything) which isn't something you're suppose to do because that is suppose to be our feedback of our opinion for a reason because other buyers want to see that.
So, on top of all this I couldn't even buy the matching seat covers or anything matching for it because they are out of stock of those items and refuse to say anything about whether or not they will even get those items back in stock. They were completely unhelpful and neither one gave a crap. The money-back guarantee is a big, fat lie. Amazon actually sticks to their money-back guarantee and they don't jerk you around, and they actually care about their customers and not just money!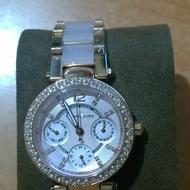 The product that was ordered and the one received in the package is not the same. The MK watch has three buttons, but the one that is sent has only one button. Also the dial for the date is different. It is clearly visible that the product sold is not an original product. The Michael Kors sticker is just put on the dial. I demand that the complete amount to be refunded and arrangements be made to collect back the product. Such a shame that eBay is selling fake products to customers. They are faking the MK watches for woman. The packing is also low standard and doesn't have a premium look.

Ebay was a failure at problem resolution. So their fix was to rule for the buyer at every turn. Also the fact sellers cannot rate buyers is wrong. Why even show a negative rating when you can leave nothing but good reviews for buyers. Unreal. Been selling for years. Have like two negative ratings. First one was the guy gave it to me for painting a tool. Never contacted me. The second was a listing that the buyer ask me to relist. A 100 year old headlight lens. He claimed it was scratched. I listed it as scratched and no returns.
He opened eBay case and I told them "no" that I would not accept a return. Sent in pictures and saw his pictures that showed no damage. Ebay ruled for him. Even when I called and discussed the situation in length. Cost me $50 plus return shipping on item. I wrote the buyer a letter and told him he was a crook. Ebay refused to fix the deal. So I no longer sell on eBay. They have no hands on resolution and apparently use monkeys as phone reps, that is if you can get to talk to one. Worst company along with PayPal. Worst companies in history.


The eBay is becoming a site without any security. I believe many profiteers should sell products that do not exist. Only to receive your payment within 60 days and after that the dollar is falling, the value will be refunded and you will have lost part of what buying and seller Invest profiting by selling products that do not exist. Estoou buying since 2012 and never received the products purchased. I really believe hesitate a mafia.

A large number of people have been harmed by the actions of the company eBay, Inc. EBay's policies are unfair to sellers and make it easy for dishonest buyers to defraud them. EBay and PayPal (the payment-processing company owned by eBay and required for all eBay transactions) always side with buyers over sellers in any dispute, allowing buyers to keep whatever items they bought and receive a full refund of the purchase price. Furthermore, in such instances eBay also keeps the listing and selling fees collected from the sellers. EBay makes it difficult for sellers seeking refunds of fees for items which eBay allegedly de-listed even though the buyers did not follow through on the sale. I will contact a class action lawyer and get this ball started. I will try to make contact at the very least once per 3 weeks, even if there is nothing to report.

I sold a product on 3/12/17. Pick up only. The item was picked up. Item was paid for. eBay refuses to release my funds for 22 days after the transaction is complete. Even after multiple calls to PayPal and eBay they refuse to release my money. So people be aware when using pick up only or PayPal payment they are a 0 out of 5 ratings.

eBay members play games with people's accounts. Specifically by emailing questions like a customer then screwing with the stars in response. I ain't stupid. Also if you tell em off on phone they manipulate your status. Also, I think if you have something really rare, some workers block bids and tip off high-end dealers for kickbacks. Workers play little games. Do not doubt me on this. It may be borderline fraud. Anybody can be an eBay worker. There are workers in there that have no life, are a cancer to the company. They wouldn't do it face to face with me, no backbone, work behind the scene. They play Ha Ha. They screwed company up. Losers trying to stick their nose in like big shots. Hidden fees, manipulative, and fraudulent activity. Somebody gonna sue the hell out of em one day and win big.

Ebay does not have any money protection for your purchase. It's a lie. I bought a laptop through eBay and never got it. It might be stolen. When I tried to talk to the seller the seller refused to give my money back. I was thinking I was protected by eBay money guarantee. That's not true!!! Now I do not have the money and no computer. Ebay refused to give me money back too.

I ordered Wellesse Glucosamine Chondroitin Juice on the 4th of March. The seller canceled the order on the 14th. He took my money, and I never received the item. Ebay and the seller promised a $17.99 refund but I have yet to see it.
Company Name:

eBay

Website:

http://www.ebay.com/motors