Consumer Complaints and Reviews

I have ordered EZ Lip car skirting (lip) through eBay on first week of January 2017. Until now I have send around 20 emails regarding this issue to the supplier and eBay. Just 3 or 4 times they have replied but their replies are same as making us fool. What can I do to get my money back? It is almost 75 days now since I paid for this item. Until now no one called me to collect the item or to ask about my location. Anyways it is no more useful for me, so kindly guide me how can I get my money back.

I have purchased a wrist watch of Armani AR1756 which is not a genuine Armani watch. I didn't get any bill or warranty card with watch. I will never shop anything from eBay if my matter will not be resolved.

Customer service are missing: judgment and common sense! I purchased a car starter that need to be installed by technicians. I paid $100 for the technicians to install all the wiring in my truck, which involve a lot of work for dismantling part of the dash board and soldering. Turn out the interface module (pc) of the car starter is defective. Seller didn't want to replace the module only but wanted me to return everything, including the wires which would mean additional cost for me (another $100) in order to have the technicians to redo all the works. I made several suggestions as compromise (refund part of the amount, which would allowed me to buy another module) but seller and eBay refuse and wanted me to buy another module from the same seller!
So Ebay and the Seller were on the same page, which is me paying: $150 + shipping for buying the car starter, $100 for labor of technicians for installing the wires + programming, $100 for labor of technicians for removing all the work they did, $100 for labor for technicians for reinstalling and doing all the same work, for a total of $450!!! Are you crazy? So, after making more than 400 purchased items on eBay with 100% feedback, I'm saying good bye to eBay. I want to buy items, got get ripped off my money!

Burberry Reverse Brim Hat Return ID: ** Seller ID: ** eBay willfully allows the sale of fraudulent items on their website. The buyer is punished and has to wait and go through a series of questions and proof before his money is returned. eBay does not care about the consumer. What they're concerned with is a loss from the sale. When I received this hat it was clear to me and anyone else the seller created a fake tag and attached it to the hat.
The hat has been examined by a professional in the retail industry. The first thing you should stop doing is attempting to patronize someone that works in the law. Second I am letting you know that the Postal Inspector has taken several photographs of the box that you sent it in and pictures of the hat. Third of all I'm letting you know that I am demanding immediately a refund of my money on my account. Fourth you need to send me a return label paying for all cost to ship it back. Again I'm letting you know that the police are involved. The United States Postal Inspector is involved.
The hat has been deemed a fraud. You have 24 hours to refund my money and send me every turn label that hat will be shipped back by the police department I will be returning the hat to them and sent and having it sent from their Department. The police department will mail the hat back to you so they will have the correct information the address where these hats are being fabricated. That way this operation will be shut down permanently.

I have purchased four different balance boards via auctions on eBay. All four are listed from China. I spent much time to win these bids. Only to wait months and never get my products. It almost seems that they (ebay, the seller or PayPal) is putting things up for auction sales, only to hold people's money for months. I always get my money back but someone I think is making a lot of money in interest holding people's money for months. I really think this is a scam to hold and collect interest off others money. If this is the seller's doing this then why isn't ebay policing this better. Or perhaps it's ebay doing it to make money via interest collections for bogus sales. Just saying! Seems to be a scam to me.
How do I know I can trust these reviews about eBay?
717,984 reviews on ConsumerAffairs are verified.
We require contact information to ensure our reviewers are real.
We use intelligent software that helps us maintain the integrity of reviews.
Our moderators read all reviews to verify quality and helpfulness.
For more information about reviews on ConsumerAffairs.com please visit our FAQ.

We bought a kitchen stuff in Sep, 2016 from an Asian seller (lgf6789), and the stuff was damaged on the way of shipping. We opened up a request for refund to the buyer right away with pictures of the item received, the buyer agreed for full refund at beginning, but they sent us another message next day that says they could only do partial refund without any reason. At the same time, I saw an instruction message from eBay team for the refund case opened that says: "The seller is responsible for return shipping charges. Contact the seller for a return shipping label. If they can't provide one, you can purchase a label, and we'll ask the seller to reimburse you." And eBay also informed us that the seller "cannot buy a shipping label" for the return.
On the last day before the case is closed, we followed the eBay instruction and paid the international shipping costs ($28) for the return to the seller. Things happened surprisingly that, eBay denied their instruction for this return case, in the case the instruction message with the Seller's shipping address info provided by eBay is no longer available on my message board after the case is closed. The good thing is we did a copy and paste of this instruction into one of our messages to the seller which can be a record actually.
However, eBay just denies that they had provided this instruction, and they say they cannot contact the seller for the return shipping cost responsibility - in the case the seller told them they could not follow eBay's return policy. eBay representative keeps denying existence of the instructional message in the case I copied it into one of my messages sent to seller that is still in the records, and by doing so eBay could deny their responsibility for their wrong instruction.

For 15 years I have been an eBay seller with at present a 99.1% feedback rating and have always maintained a rating of 99%. The few negative ratings never had anything to do with late shipments. My customers have been satisfied and now big brother has come up with a convoluted rule that eliminates what your positive feedback is supposed to do.
Satisfy your buyer - Many sellers are not big corporations where they can hire help to keep track of the zillion rules & regulations that are heaped upon them, with the lingering fear of losing the small income derived from selling on ebay. I am a senior citizen who has served my country and with the small income I have derived from selling my product on ebay. Ebay in my opinion and the people behind them have no soul or compassion for sellers who are in the same position that I find myself.
At this point sales are down for 2 reasons. They are eliminating my listings and will not allow me to relist. Final curtain, they will eliminate me altogether. Without taking in account that late shipments could have other reasons the seller has such as illness or other personal problems. The new 2nd problem is that big china companies are undercutting U.S.A. Sellers using different names from the original companies & ebay allows this not giving a damn for American sellers. As a senior I depended the money I earned from sales. Ebay made money on my sales. Errors in their system has cost me thousands in money over the years. In the 15 years I was with ebay, I was honest and tolerated many injustices. My experience is the same as many other honest ebay sellers. When I signed on, the two rules were be honest with your products and satisfy buyers. I followed these rules and ebay kept changing their policies on a continuous basis.

I have two incidents and complaints. 1 was when I sold unopened iPad Pro for just under $400 more than $400 with shipping. The the buyer received the package and either during shipping by USPS or from the front door to his living room one of the corners was slightly rounded and on the clear plastic around the package there's a small one and a half inch slit on cellophane wrapping. The buyer claimed that it was damaged and he had doubts the authenticity of the clear plastic wrapping. And claimed that it was a counterfeit item. All of this was done while never actually opening the box.
Of course I basically said "well why don't you open the box and see exactly what it is." He claimed the corner was rounded by about a third of an inch. The iPad Pro was probably still in perfectly working order. I'll never know because eBay sided in his favor and he shipped it to address that I no longer lived at. That the U.S.P.S. refused to deliver to empty house and under tracking it marked it UNDELIVERED. eBay gave him his money back. All while the package was being sent back to him.
Please understand this was not the address that was on the package when I sent it to him. eBay gave him my old address. Please understand when you change your address with eBay there are six different categories. I changed only my current address and return address. The other 4 things are if you're a company and you had a different return address or a Trans. Shipper or if you were a business with a different return addresses. And even though it showed that this package was delivered back to the buyer did I mention they'd already given him back his money and he chose never send item back and has never answered any email that I sent him afterwards. Course I called the resolution center with being date already giving the money back. There was nothing they could do or would do.
Then there's my second that experience eBay when I sold a Epson projector sold for just under $300, more than 300 with shipping. It was delivered to a freight company in Miami. It was accepted by agent on Thursday. He opens it on Monday. Finds not what I sent him but some protein packs and some two and a half inch diskettes that don't work in computers anymore. He sends me e-mail with pictures. I send back him pictures and a video of me packing the Epson LCD projector before I shipped it.
I do a Google search and find out that this address over the past three to four months has 12 claims on Yelp of breaking into people's accounts, ordering fake goods and other shady business practices. I send this to the buyer and to eBay through the eBay email service and he puts in a claim for being delivered the wrong item that I didn't send him. 3 days later eBay decides in his favor and says they would send him a shipping label to return eight pounds of garbage back to me that I didn't send him and I don't want.So I sent them an email saying I'm okay with their decision because I don't believe he was the one who switched out the item but at the same time I don't want to pay for eight pounds of garbage be sent back to my home.
I refunded him the money because they decided in his favor. eBay then says "well being you refunded him back the money we can't do anything now to help you, because yes you acted based on our decision but you should have allowed him to send back the garbage and then told us that it wasn't what you sent him and because you refunded him his money we're not going to help you any further." Of course I called the resolution center that never seems to resolve anything. It was basically told "Yeah you acted on our decision but you shouldn't have and now we can help you or won't help you."

Ebay is the Worst online shopping website. They sell fake products and not talk to customers. They also have unauthorized sellers. I purchased iPhone 5s from eBay, the seller of this product is Blueberry. The Apple iPhone 5s is Totally Fake Product. If eBay is not ready to solve my problem, I will give their complaint in respected department, then they will know the power of COMMON MAN. I am waiting for their reply to refund my money. PLEASE DON'T BUY ANYTHING FROM EBAY.

I've been an eBay top-rated seller since 2004. I've lost that status because of 2 buyers who are clearly in the wrong. I sold a brand new hoodie, buyer said it was used, opened case, eBay sided with her, let her keep the hoodie and forced me to refund her. Now I'm out $50 and she gets a free hoodie. Most recently, a buyer bought a video game for $12 which I shipped free. He said it didn't work, opened a case, eBay charged me the return shipping. He returned an empty package, stuffed it with papers to make it look full. EBay said because the tracking said "Delivered" I was forced to refund him the full $12. I ended up losing about $20 with original shipping and return shipping, plus I don't even have the game to show for it! No help from Customer Service whatsoever.

First I sold a Guinivere Ralph Lauren Set to an **! I told him when I sold it to him the Comforter is a King size, however it had no tag on it, this was before I ever shipped it to him; the comforter has no tag and he still wanted it. He altered it and had it cleaned and decided he didn't want it. He makes a request "Item not as described," what does Ebay do? Side with him, they forced a return. Therefore, I purchased $18.85 off Ebay site to mail it to him, and when I took to the post office it cost me another $22.00 just to ship to him. Now I got to pay the shipping for him to return to me. I guess what infuriates me most is Ebay siding with him; the ** that purchased it. After reading some of the post on here, which I wished I had read first, I am now done with eBay! PLEASE WATCH YOUR P 7 QS WHEN PURCHASING FROM EBAY, I WILL NOT BE PURCHASING OR SELLING ON EBAY AGAIN!

I have two seller accounts on ebay. On one I used Stamps.com to create shipping labels. On another occasion I use PayPal shipping, pack them up, take boxes to the post office to scan the items in and then have them shipped. On several occasions these tracking labels didn't show up in "my ebay" and ebay docked me for these labels not being transferred from Stamps.com or PayPal into "my eBay". That is a penalty and "defect" (like I'm in grade school!). Just got another one today even though the post office scanned the items in a week ago. One item already delivered, showed no uploaded by carrier. One defect!
I uploaded the tracking and make sure all are in "my ebay". Even though this one particular item was scanned in and showed up in "my ebay", in the top rated seller this item did not show as being scanned by carrier. eBay tells me it's system generated, there's nothing they can do, I should try a different carrier (for a $27 item use UPS or FedEx????) and I've used USPS since 1999. This person in the review or appeals dept was of no help and they have general answers. Then I just now checked my seller dashboard, and before my call I was at 83% (you have to be 90% for Power Seller which they took away for six non-uploaded into "my eBay" items due to no transfer of this information from Stamps.com nor PayPal). Now I'm at 81%. They took 2% from me. Is this legal? I think eBay is running an operation with marginal legal steps. No help from them. Sellers be careful when running eBay stores. No matter how perfect you try to be, it's impossible.

Pathetic experience! We ordered a folding wardrobe and Mixer from Ebay worth 5000/-! First they delivered the said products very late and then they delivered the faulty products and refused to make any refund. Huge disappointment as a customer. Later, when we gave bad rating on Ebay website, then we got a call from Vendor asking to change the rating and make it positive. And in return they asked to give us a gift voucher worth 500/-. Such a cheater! Never ever buy anything from eBay!

I bought a unlock service on eBay, the service delivery period was 11 days. After completing my purchase I noticed on the order the delivery period was now 22 to 30 days. I reported the seller's fraudulent behavior and eBay responded informing me that the account has been suspended for authorized activities. I called eBay to get my money back, went through the automated response system, then kept on hold for 5 minutes to get to speak to a service agent, they collect my details then I am kept on hold again for 15 minutes awaiting to speak to a supervisor to handle the refund request then the line hangs up. I redial again same process.
So I decide to open a resolution case after six days. eBay respond saying I have to wait for the end of the delivery period. I go to my PayPal account and open a resolution case. eBay closes my case on grounds that I opened a similar one with PayPal. eBay make it impossible to contact them to air your complaint thus condoning fraudulent behavior and with that they complaisant with fraudsters.

False information in the website and did not receive the product. I need the eBay team to cancel my order as soon as possible and return my money as soon as possible and don't want it to be delivered now. I don't want your product. Better cancel it and immediately return the money. Return the money as soon as possible and don't want your product.

I have been a perfect eBay seller for over 10 years. Last December I got ripped off by a South Korean buyer. I listed a GoPro Hero 4. This buyer named ** made a offer and I accepted. He paid and I mail the camera in the same day. I wasn't aware that I was not able to track the item after leaving USA when mailing to South Korea. I have mailed items to Brasil, France and Japan without tracking issues. Sure enough the buyer opened a case against me stating that he did not received the camera. PayPal put my funds on hold until the case was resolved. I did contact eBay different times and customer service was awful. They did not stand by me for a second. They told me that I had to find out if the camera was delivered. Well... after many attempts and searches online I was able to get a hold of the Korean post office via email.
The email stated that the item was delivered and the security guard for that building received the camera and he was authorized by the buyer. So, I contacted eBay back with that info. I asked them if I had any way to forward the email to them. Customer service said that they could not help me. They needed online information that the item was received. Isn't a email from the Korean post office, stating that the camera was delivered, online information? What am I missing here? I contacted the buyer, begging him or her to be honest. Oh silly me! This person is not only using my camera but also kept his money and eBay did not give a crap about me. So wrong! If anyone have any idea for me to get this resolved I will really appreciate. I'm just so sick to my stomach. I'm so furious with eBay. Ebay is my second source of income, but since this happened, I refuse to list anything with them.

eBay does not care about the sellers when they have issues. I got my account suspended because of a buyer claiming a fraudulent dispute even after evidence proves that the item was sent and signed for. I forwarded all info to eBay thinking it would be in my favor. Did it go my way? Nope. They sided with the buyer despite the evidence proving otherwise. Buyer gets their money and the item and I get my account in the negative and suspended outright. Tried several months to get in contact with eBay to get my account reinstated, but with no success. All that time wasted which I just gave up. Only other option was to go stealth using the help of Auction Essistance. I am back on, but I am pretty sure it won't be for long since eBay does some dumb things to begin with.

Beware of New products claimed to have warranty or guarantee that were being sold on eBay. Most sellers are not authorized resellers, therefore the manufacturer will not honor any defective items even if they were brand new and being sold off eBay. Call Manufacturer to verify if sellers product includes warranty. Ebay cannot insist that Sellers honor their promise of refunding the money once the resolution time frame has ended. China Sellers knew the limited times for buyers protection and play the stalling game, to temporary pretend to want to resolve an issue, until buyers lost their voice and their rights as resolution time had lapse. There is no guarantee to get our money back even if a promise of a refund was implied by a seller.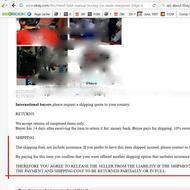 We sell on eBay for several years and have 100% positive feedback. In order to make our items accessible to buyers from countries with lower income we give them the option to make a purchase without insurance. This option is clearly displayed in the listing description and our Shipping Policy. It states that By paying for the order the Buyer confirms his decision to make a purchase without insurance and agrees to give up his right to demand the payment and shipping costs in case the shipment is lost or damaged.
We have recently shipped an item to another country, had a tracking code and can prove the item was shipped. The buyer informed us he didn't receive the item. In the correspondence we reminded twice about his decision to pay less for the shipping and don't pay for insurance. Nevertheless the buyer opened the case and eBay charged us for the undelivered shipment. We strongly believe that it is not fair and should not take place. eBay use their monopolistic position to dictate unfair rules and not protect sellers.

I have the delivered defective piece. I purchased Intex Cloud 4G Star mobile from eBay at 5/02/17. I received at 8/02/2017. This mobile phone was used and damage and headphone was not working. Flip cover screen guard was missing inside the box. I call eBay about my product. They take my PaisaPay Id then I call seller on this number **. He told me "what you want." I told him for replacement as soon as possible. 10/02/2017 they rejected my PaisaPay Id. Now today eBay also misguiding me. Seller not picking my call now. I want refund my money. I saw comment about seller inside eBay. Someone told him fraud seller.

I recently sold an item to a customer for $20, plus roughly $10 for shipping and handling. I matched the images with the serial number of the item and shipped promptly. The customer first demanded a refund because they said they had not received the item despite FedEx tracking proving otherwise. Then the customer opened a case for a return stating the item received wasn't what was listed. EBay sided with the customer, sent me 4 separate emails about the case and stated the case was on hold (which it turns out wasn't the most recent case notification or even relevant to me, they were waiting for me to send the buyer more money).
Then eBay forced the reimbursement, plus cost of shipping, so the item I was originally selling for $20 has now cost me $20 and I have not received the item back (and this does not include listing fees and monthly recurring charges). Now I have spent $20 to send some random person a gift, and I am quite sure I will never see the item again. I contacted eBay about the issue and they stated that it was an issue outside of eBay and are now refusing to close my account because I have a PENNY ($.01) credit. The customer service rep said he was sorry I felt "badly" about eBay. What a scam.

Don't trust the Ebay guarantee - weaseling out of undelivered items. I purchased an electronic item from a vendor in China. Cost was $15 + $5 shipping. After three weeks tracking showed the item was delivered but never reached me. I proceeded to file a claim and was told to wait another three weeks to see if it turned up. I did this and still didn't get it so I contacted the vendor. Vendor wanted to replace it and refused a refund request, though they admitted it probably was lost in the mail. So I filed a claim under the eBay Buyers Protection. eBay said they denied the warranty because the vendor had tracking however their customer service said that Chinese tracking information isn't reliable.
I also had a problem with occasional misdelivery of packages by my post office. I appealed ebay's decision discussing the misdelivery problem as well as the seller's admission it was lost and they did a "one time" refund. This guarantee is not reliable and I recommend if you are purchasing things from ebay to always use a credit card with buyer's protection.

A buyer bought a purse from me and as soon as she got it, she open up a case saying the item was not as described so she could get return shipping from me. eBay sided with her even though she lied about it. I have decided to closed my seller account, they are a very unfair company. So sellers beware, if you sell something on ebay it will end up costing you money and at the same time you have an unsold item.

I sold two items on eBay and was charged 10% on my shipping cost. The shipping is separate from the item sold and should not be charged 10%. My customers were charged less than the actual costs for shipping these items, so a extra 10% is a eBay price rip-off.

Before I went on a 3 week vacation, I placed my eBay store on vacation mode, which displays a message under every listing telling buyers the seller is away until a certain date so they can decide if they want to still purchase that item and wait for me to return and then ship it to them or to move on and purchase from someone else. During my vacation I checked my eBay activity and saw that people were still buying items from me so when I got the chance I would contact every single buyer making sure they understand the wait and asking to confirm or for a refund. Every single buyer either agreed to wait or said they did not see the message but are ok waiting.
When I came back, I shipped every item the same day. But on my next evaluation period, I realized I lost the top rated seller status along with a 20% discount for being a top rated seller because my percentage of 1 day handling which is required to be a top rated seller sky rocketed of course because it took between 1-20 days to ship them depending when they purchased it. I was confused but realized there was nothing I could do. The game was played, I lost. Even though it was unfair. I never knew about such practice. I feel that was cheating. I did not cheat anybody because I let them know and never received a negative or neutral feedback from any of those buyers.
What the problem is about all that is when I lost the 20% discount, even after 6 months I am still not able to meet their goals so I ended up paying eBay about $200 more in seller fees. For example if my total eBay fees for I month are $400 with a 20% discount it would have been $80 less or $320 total but every month I end up paying more for that. They simply cheated me. I don't know any ONE seller who has eBay store and top rated status that would put store on vacation mode. So why did they do that. It is very sad. I wish someone would do a class action lawsuit for this. I would love to join. Thank you.

My husband purchased some items off of eBay. There was an error in the address so we never received the items. We then contacted eBay trying to resolve the issue. They are telling me there is nothing they can do for me since the seller tried to send out the items. Not only did I not receive my items, I am out of my money. The only option they gave was to go get it from the seller. I live in SC the seller shipped out of Florida!! This is the worst experience ever and I will NEVER shop with them again. They are not even trying to fix it like it's ok to purchase something and never get it! GO FIGURE EBAY!!!

I have been shopping on eBay for 10 years now. Most of my experiences have been good. However I have bought some counterfeit products as well as some falsely described products. But I wasn't mad. I knew that came with the game. Recently I have been made aware that eBay is definitely tailored to the seller. As a buyer you always run the risk of getting screwed over. Just recently I placed an order with several sellers at once. However the address I used for my order is somewhere I no longer reside. Recognizing my mistake a minute later, I tried to cancel my order. Most sites you cancel your order and they do it. Because it normally takes a site a couple of days to process and ship items. Unfortunately eBay makes you go through the seller to cancel a transaction. Which is BS because each of the 5 sellers all failed to contact me about the cancellation.
Then I sent them all an email asking to send the items to my current address. But eBay's policy doesn't allow that. So all of my items got sent to the wrong address and all eBay customer service said was send the stuff back when it reached me. How can I send it back when I never received it? I instantly left bad reviews for each seller, because they all chose not to communicate with me. They refused to cancel my transaction. And it's funny because I probably would have bought the items again from the sellers. So after not receiving over $100 worth of items, I attempted to open up cases against each of the sellers. All of these cases except one went in favor of the sellers. eBay's rationale was that the sellers sent a tracking and number and it showed delivered via the tracking numbers.
But the issue is I never wanted the orders placed in the first place. I literally tried to cancel immediately. Not only did they not decide in my favor, they also removed my feedback score. How can you remove my feedback score? That was the last straw. It's convenient that each of the sellers were top-rated sellers. That title is deceiving because if you look at the sellers that get bestowed that honor, they all have hundreds if not thousands of negative and neutral feedback. I also had an issue buying an item from the Toys R Us eBay Store. I chose to pick the item up in store opposed to getting it sent home. Surprising Toys R Us had technical malfunction that sent my item to the wrong store. After hours going back with the seller and eBay customer service there was no solution in sight. eBay refused to cancel the transaction because Toys R Us said the item was ready for pickup.
After explaining to them that the item was nowhere near me, eBay refused to cancel and told me to work it out with the seller. That makes no sense. It's not like the item shipped. I could understand that. But this item was just sitting at the wrong store. How hard would it be to just simply cancel the transaction. But apparently eBay is designed to protect the seller not buyer. At one point they even told me to go through PayPal to get my refund. Which PayPal said I had to go through eBay. Ultimately, I had to drive over an hour away to pick the item up at the wrong location.
Also if you do sell anything on eBay, you will be cheated. They charge 10 percent for every item you sell on top of listing fees. And my account has been compromised at least twice. At this point I wanted to cancel my account altogether, but they wouldn't even let me. They said some nonsense about me having to wait 30 days. I'm contacting corporate early Monday morning. And don't ever daily customer service, it's outsourced to India. And the customer service people on the site are incompetent.

If I can give eBay zero stars I would give them zero. I order iPad and within 10 mins I cancel order. The sellers on second day he shipment me the order. He said "I didn't see cancel email". Why Amazon has better system than eBay. I returned the item but I was charged 3.56 for shipping returned.

I am 81 years old and have been an eBay "Power Seller" for more than 8 years, usually Top Rated. eBay will not abide by their own Return Policy... which is as follows... "If you receive a different item, an item in a different condition than the way the buyer received it, or an empty package, contact the buyer and try to resolve the issue. If you're unsuccessful, report the buyer to us. We take these reports seriously, and will carry out a thorough investigation before taking any appropriate action. To protect the privacy of our members, we're unable to inform you of any actions we may take against another member. You shouldn't report the buyer if you receive the item back with the same damage that they reported. We recommend you purchase shipping insurance to provide coverage for items lost or damaged in transit."
On 12/13/2016 I sold an alabaster vase for $500.00. The buyer requested to return the vase. The vase was intact, but he complained that the packaging smelled of smoke. He refused to accept my offer to pay for any necessary cleaning of the vase. The vase was returned to me via United Parcel Service and arrived completely destroyed and irreparable. He had insured the vase for $1,000.00 but he refused to file an insurance claim. When I requested that he do so he replied, "You are dishonest". My reply to him was "Please stop the insults". eBay reps repeatedly told me that I should request UPS to pay the insurance to me. eBay should know that UPS will pay insurance only to the shipper. The eBay buyer refused to open an insurance claim so I opened the claim.
The insurance was claim was denied. I contacted United Parcel Service Corporate Office regarding the denial of the insurance claim. I was told, "The insurance claim was denied because the shipper (the buyer) did not use proper packaging. Therefore, he is responsible for the damage." I received it broken into two irreparable sections. He returned it via UPS, using the Priority Mail box in which he originally received it from USPS. UPS saw clearly in the photos I sent that the box had been previously subjected to a long shipping route. It is illegal to use USPS boxes for UPS shipments "misuse of government property".
EBay issued the buyer a refund of $520.00 from my PayPal account, putting my account into a serious negative balance. I did not initiate that refund and I wasn't even aware that it had been issued until I saw my PayPal balance! In addition to that refund, eBay charged me a final value fee for the sale of the vase! I told PayPal that if they want to resolve that negative balance, they should discuss it with eBay. I have closed my Bank account and ended my 89 auctions. I will no longer be a buyer or a seller on eBay. I will not support their unfair business practices. This is not my first such experience with eBay - they have ripped me off many times in the past.

"Get the item you ordered or get your money back... Covers your purchase price and original shipping." is the eBay refund promise. I received the wrong color car floor mats paying $49.00 and was returned $25.00. The wrong color floor mats had been reportedly shipped to at least three other buyers. The dispute has not been resolved; however, just try to talk to a person at eBay about a problem... they give no customer service phone number. It is very frustrating dealing with customer service. Resolutions are tilted to sellers not buyers. I've the choice to cancel my account and I will take that option... Be cautious of the refund guarantee... it's not really a guarantee. I will be taking my complaint to the CA. Department of Consumer Affairs..
Company Name:

eBay

Website:

http://www.ebay.com/motors