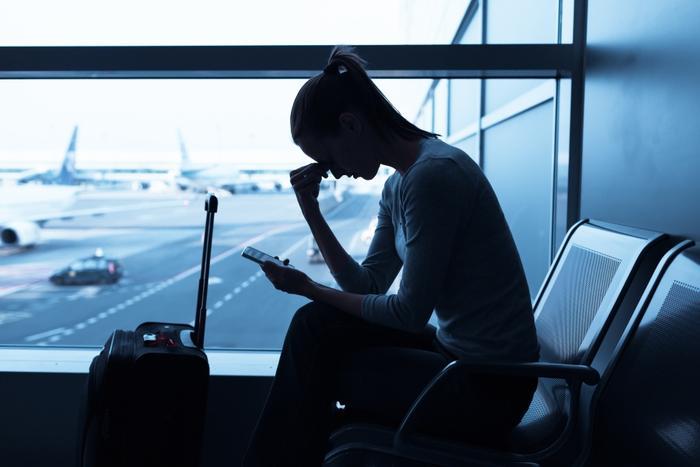 Flying somewhere soon? Bring some aspirin because your fellow travelers have been stuffing the U.S. Department of Transportation's (DOT) complaint box like they never have before.
The latest DOT Air Travel Consumer Report has been released and complaints are four times greater than they were in pre-COVID 2019. And, get this –  that volume came at a time when fewer people were flying, too.
"Unreliable air travel has ruined too many special times for too many Americans the last couple of years. The Christmas weekend disaster just exposed everything that's wrong with most of the airlines," said Teresa Murray, Consumer Watchdog at U.S. PIRG Education Fund and author of "The Plane Truth," a new report detailing the aviation industry's faux pas.
The biggest blunders
When ConsumerAffairs dove into the DOT's consumer complaint report, two of the most glaring slip-ups were mishandled bags – up 49% – and being involuntarily bumped from a flight – up 133%. 
In the "mishandled bags" department, the American Airlines network chalked up 919,211, good enough for the worst of the worst, while Allegiant had the fewest complaints with 10,295.
However, in all fairness, it should be noted that American has many more flights than Allegiant and carries 17 times more bags. Still, Allegiant's number of bags mishandled per 100 enplaned was 0.16 and American's 0.88 per 100.
Southwest took the cake in the "involuntarily denied boarding" column, followed by the American Airlines network, Frontier, and Spirit. Between those five airlines, 24,662 passengers were bumped vs. 427 (56 times greater) for the five airlines with the fewest bumps – Allegiant, Delta, Hawaiian, United, and JetBlue.
If courtesy is important to you, well…
The trend doesn't look good this year, either. January's data shows that complaints about courtesy are up.
"To the future customers of United airlines: On June 30th, we were flying from Albany, N.Y., to California with a 6-month-old and a puppy. This being our baby's and pet's first flight, we were really excited and were looking forward to a pleasant journey," Nakul of Latham, N.Y., wrote in a review of a United Airlines flight. 
Nakul said that check-in went smooth as silk, but once the family got on board, everything fell apart. A flight attendant told them – both when they came on the plane and after they took their seats – that they couldn't fly because of the size of their pet carrier and the family was ushered out of the plane with a pet and crying baby in tow.
"We were traumatized, disturbed and insulted. We will never ever fly with United. Under the pretense of following rules, we were subjected to a lack of basic human courtesy!!! What should have been a pleasant journey turned out to be a nightmare."
Murray suggests it's time the airlines face the errors of their ways.
"The airlines have made short-sighted decisions about staffing, scheduling and technology," she said. "Bad weather can be a factor in cancellations but storms don't treat customers poorly -- airlines do. We wouldn't see this avalanche of complaints if airlines took better care of travelers."
Bone up on what your rights are
The U.S PIRG Education Fund report also looked at existing passenger rights, proposals by DOT and lawmakers to improve air travel and tips on what consumers can do to protect themselves. And it's a pretty thorough list, too – one worth printing out if you're taking a flight in the next few months.
PIRG covers everything a traveler needs to know: when to fly, if you need flight insurance, whether to pay with a credit card or a debit card, etc. PIRG's "Flyer's Bill of Rights" can be found here.