---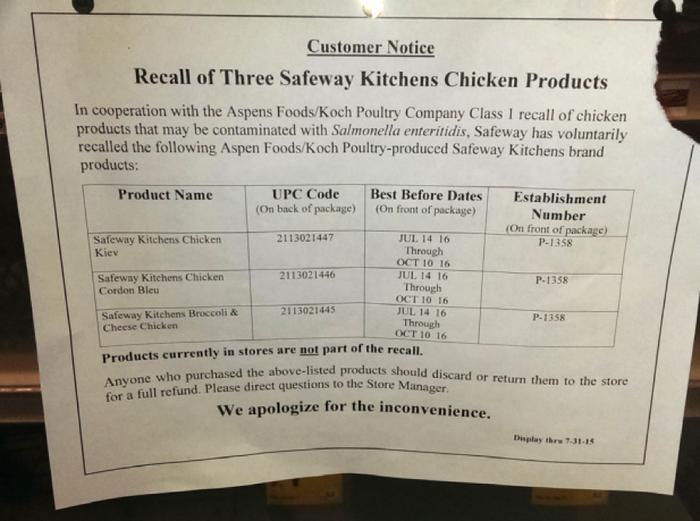 Food safety is something consumers contend with several times a day, whether they realize it or not. Food can be contaminated with bacteria or other toxins, or it can contain unlabeled allergens.
Back in 2010, Congress passed the Food Safety Modernization Act that, among other things, required the Food and Drug Administration to prepare standard recall notices that grocery chains would be required to post in order to alert consumers to recalls.
More than five years later, the FDA has still not finalized the rule, and supermarkets are on their own.
The Center for Science in the Public Interest (CSPI) recently studied supermarkets' practices and, not surprisingly, found wide variations from one chain to another.
"Supermarkets are clearly doing an uneven job, and the FDA is taking far too long to implement the notification system that the law requires," said CSPI senior food safety attorney David W. Plunkett. "There's no fool-proof approach, but in-store notification of recalled foods should be one of several overlapping systems aimed at helping Americans reduce their risk of eating contaminated food."
No fool-proof approach
Most chains that responded to the study said they do post notices but placement varies. Some put them at the store entrance, some at check-out lanes, and others on the shelves where the recalled items had been displayed.
The nation's three largest supermarket chains -- Walmart, Kroger, and Costco -- all said they post food recalls on their websites, in their stores, and email them directly to customers who have provided their email address as part of the stores' membership or bonus club process. 
Some stores like Publix, H-E-B, and Whole Foods don't have loyalty programs that collect data. Of the chains that do collect data, Food Lion, Cub Foods, and Winn-Dixie didn't disclose whether they use it to notify consumers about recalls.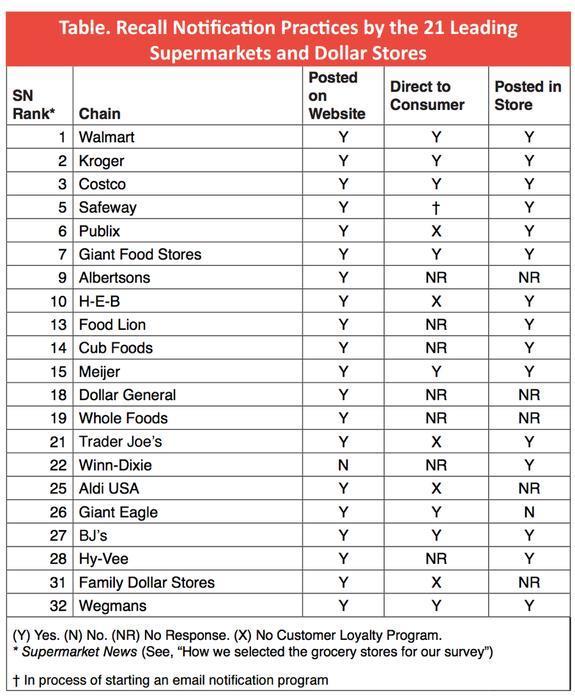 A few chains -- notably Whole Foods and Aldi -- refused to disclose their policies. One -- Giant Eagle (not to be confused with Giant Food) -- does not post recall notices at all, CSPI's report said. 
In a letter to FDA Deputy Commissioner Stephen Ostroff, CSPI wrote that it is concerned by the agency's lack of progress on this particular provision of the FSMA.
CSPI recommends that consumers keep an eye out for recall notices in supermarkets and safely dispose of or return recalled products. Consumers should also ensure that grocery stores with membership cards or customer loyalty programs have accurate contact information.
---