---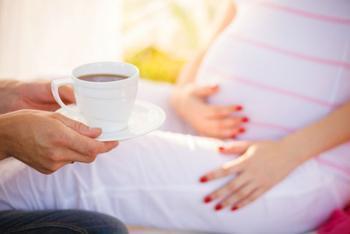 Trying to conceive? If so, you and your partner may want to take it easy on the coffee. A new study finds that men and women who drink more than two caffeinated beverages daily during the weeks prior to conception are more likely to miscarry.
The NIH study, published recently in the journal Fertility and Sterility, looked at the lifestyle habits (including cigarette and multivitamin use, in addition to caffeine consumption) of 501 Texas and Michigan couples who were trying to get pregnant. In the end, 344 couples were successful -- but 98 (28%) of those pregnancies resulted in a miscarriage.
"Male partner matters"
Not surprising to researchers was the fact that age made some women (those over 35) more likely to miscarry. However, data also showed that caffeine intake -- and not just that of the gender with the womb -- contributed to the likelihood of a miscarriage.
"Our findings also indicate that the male partner matters, too," said Dr. Germaine Buck Louis, in a statement. "Male preconception consumption of caffeinated beverages was just as strongly associated with pregnancy loss as females."
Preconception health is often viewed as being more important for women than for men -- but according to the CDC, men's preconception health is just as important. In addition to living a healthy lifestyle, this study suggests that men may want to cut back on caffeine.
Further research needed
The study authors say further research is needed on the subject. Existing research on the link between preconception caffeine intake and the likelihood of a miscarriage doesn't yet explain the exact reasons for the association. There may be some other factor at work, such as food aversions in early pregnancy causing women to forego caffeinated beverages.
It is, however, clear to researchers that excessive caffeine consumption -- by either gender -- near the time of conception could affect the outcome of a pregnancy.
If you're trying to conceive, the authors recommend limiting caffeine intake to less than three caffeinated beverages per day. Taking a daily multivitamin may also be beneficial; women who did so in the study were 55% less likely to miscarry than those who didn't.
---