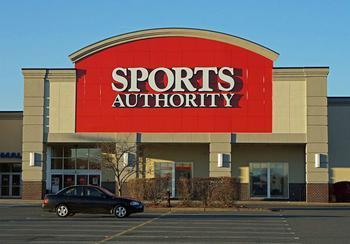 After failing to reach agreement with major lenders, Sports Authority has told a bankruptcy judge that it is abandoning hopes of reorganizing and will instead liquidate its nationwide chain of big-box stores.
Sports Authority filed for bankruptcy protection in March and said then that it hoped to trim costs and keep at least some of its stores open. But yesterday, company lawyer Robert Klyman said major debtors were instead pursuing a sale.
It's possible one or more major chains will take over some or all of the stores but it's equally likely that professional liquidators will win a May 16 auction for the company's assets.
Many Sports Authority stores are already runing going-out-of-business sales, which could make the property slightly less appealing to liquidators. Reports say vendors are reluctant to send more inventory to Sports Authority stores for fear they won't be paid.
Landlords are also miffed, according to the Wall Street Journal, by Sports Authority's filing its bankruptcy documents one day after the March rent was due, in effect giving itself a free month. The company pays about $27 million in rent each month and landlords could be left hanging if other creditors are paid first from the proceeds of the liquidation.
What to do
Consumers who are holding gift cards from Sports Authority should use them immediately. Likewise, any pending returns or exchanges should be done quickly. 
Sports Authority credit cards are not immediately affected by the filing and all payments should be made as usual.