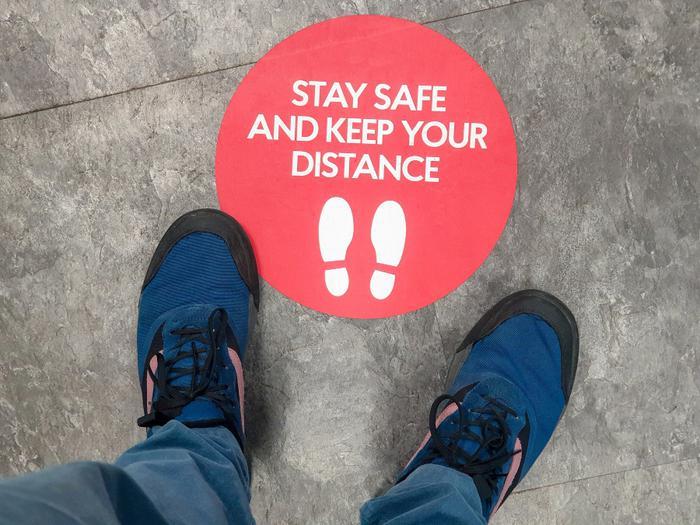 Since the start of the COVID-19 pandemic, many consumers have grown accustomed to wearing face masks and socially distancing when out in public. 
Now, researchers from Massachusetts General Hospital have found that following social distancing guidelines is an effective way to reduce the spread of coronavirus. Findings from their new study revealed that just a few weeks of staying physically distant can lower both the number of COVID cases and the number of related deaths. 
"Many have strongly suspected that physical distancing policies helped interrupt COVID-19 transmission during the early days of the U.S. epidemic," said researcher Dr. Mark J. Siedner. "This study adds clear evidence to support those suspicions. The results show the timing of government-issued orders correlated strongly with reductions in both cases and deaths. In short, these measures work, and policymakers should use them as an arrow in their quivers to get on top of local epidemics where they are not responding to containment measures." 
The benefits of staying physically distant
To gauge the efficacy of social distancing measures, the researchers analyzed nationwide data from the first five months of COVID-19. This included detailed state-by-state information on closures of everything from schools to local businesses. With this information, the researchers then tracked how the virus spread in each state, as well as the number of deaths occurred in each region. 
Overall, the study revealed that social distancing measures were effective in containing the spread of COVID-19. It didn't take very long for such measures to prove their effectiveness: in less than one month, over 620,000 cases had been prevented. As daily case counts dropped, the number of coronavirus-related deaths also dropped while social distancing rules were implemented. 
The researchers explained that it's impossible to know which -- if any -- of these closures were the most effective, as many states began closing public facilities around the same time. However, the numbers show that efforts to reduce the number of people in public spaces are effective when it comes to slowing the spread of coronavirus. 
Moving forward, the researchers hope that lawmakers can understand the significance of these findings and continue to put them into practice, especially as trends around the virus continue to change. 
"This is a case where past success does not predict future control," said Dr. Siedner. "Until a vaccine is made available and widely deployed in an equitable fashion, we have few other options. Fortunately, our data shows that these measures work -- if we have the wherewithal to use them."