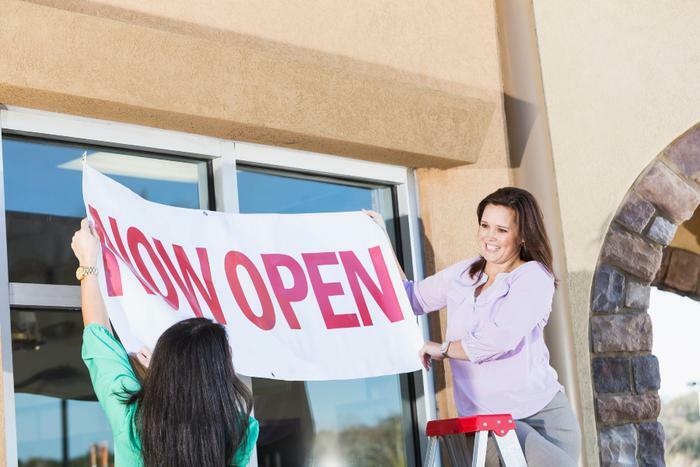 While COVID-19 put a great number of businesses in a perilous situation, new data from the U.S. Census Bureau shows that the number of new business applications actually climbed by 20.6% – or 5.4 million – from 2020 to 2021. 
Much of that growth spurt came from entrepreneurs who were looking for ways to cater to Americans who were adapting their buying patterns to the pandemic's new "normal."
The startup spike happened coast-to-coast, but the U.S. west (28%) and Northeast (24%) saw the biggest bump on a national scale. On a state-to-state basis, Georgia experienced a 56.8% rise and Illinois saw a 45.1% increase.
A boost for the economy
It's too early to say how many of those new businesses will turn out to be actual moneymakers, but business startups have traditionally driven economic recovery and innovation, says Andrea Hsu, a labor and workplace correspondent for NPR. 
"And with huge disruptions to the labor market and workplaces themselves, a reshuffling seems expected — even necessary," she theorized. 
For comparison's sake, Hsu noted that after the Great Recession in 2008, the number of new business applications was essentially flat. In pre-pandemic 2019, there were only 3.5 million new business applications.
One key data point should give job-seekers some hope. The number of "high propensity" applications – business applications that have a high propensity of turning into businesses with payrolls – was up 21%.
Doing it for themselves
John Rosen, an adjunct professor at the University of New Haven's Pompea School of Business, said this growth brings with it an interesting paradox. 
"In the midst of a pandemic, millions of people, apparently, no longer want to work for someone else, they want to try their hand at starting their own business,"  Rosen told ConsumerAffairs. "Faced with the uncertainty of whatever the coronavirus may bring next, adventuresome Americans are deciding that this is exactly the right time to pursue their dreams, choosing the added uncertainty of entrepreneurship over the certainty of a job offer."
One example Hsu brought up was Juby George, who left his two-decade-long career as a computer programmer to satisfy his dream of owning his own restaurant. "I loved my job. I also loved cooking," he said.
George, who had grown up the son of a caterer and had helped prepare meals for small gatherings as a side job, found the pandemic to be a perfect opportunity to ply his culinary interest and satisfy the growing number of consumers wanting prepared meals they could take and eat at home. 
Bethala-George, who often cooks with her husband, says the food was just what people needed in the midst of the pandemic. "The feeling of having a nice home cooked meal — you really feel the love through his cooking," she said.