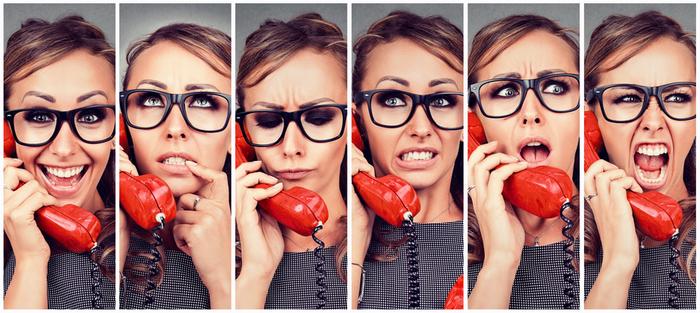 People of a certain age may remember when a landline phone only rang when a friend or family member wanted to talk. Not anymore. Robocallers have figured out there's a massive untapped audience they can turn into a tidy little revenue generator.
So much, in fact, that illegal and spoofed robocalls have become the FCC's top consumer complaint and the agency's top consumer protection priority for the 100 million Americans who still have landline phones. 
If you don't have a landline phone, you may push that metric aside, but those landline lovers received more than 5 billion unwanted calls just last month, an increase of more than 2 billion unwanted calls since July, according to imp's latest Landline Report.
Key findings of the study 
"We're seeing a big uptick in the unwanted call volume on landline phones as we head into the election season," said imp's president George Lightbody.
"Close to one-third of all U.S. households rely on their landline phone as an essential tool for communicating. But it is becoming increasingly difficult for landliners to cut through the noise and actually use their phones."
Here's what imp's study found:
83% of landline owners are actively bothered by unwanted calls: Nearly one-third of all households in the U.S. still have a landline. Of those households, eight out of every 10 households report being actively bothered by unwanted landline calls.
87% of landline calls are unwanted: Households with a landline phone receive on average 46 calls per week. Landline users classify 40 of these 46 calls as "unwanted." According to imp's study, only six of the 46 calls are "wanted" calls from friends and family.
Traditional call blocking is only a 5% solution: Of the 40 unwanted calls received each week, only two would be stopped by traditional call blocking devices. All of these 40 unwanted calls are, essentially, what imp calls "telephone invaders."
The FCC refuses to give up
The problem with robocalls is that it's basically a game of whack-a-mole. No sooner does the FCC whack one robocall company but another pops up. Unfortunately, advancements in technology make it cheap and easy to make massive numbers of robocalls and to "spoof" caller ID information to hide a caller's true identity.
FCC Chairwoman Jessica Rosenworcel and her staffers get these calls too. As she said during one of the Commission's monthly meetings: "I'm a consumer, too. I receive robocalls at home, in my office, on my landline, on my mobile. I've even received multiple robocalls sitting here on this dais. I want it to stop."
The FCC knows that these calls are a major concern of millions of Americans, and is sending out cease-and-desist letters like there's no tomorrow. Until the day when there's no more robo-anything, the agency suggests that consumers with both landline phones and digital phones take these steps to keep robocallers at bay:
Don't answer calls from unknown numbers... Let them go to voicemail.

If the caller claims to be from a legitimate company or organization, hang up and... call them back using a valid number found on their website or on your latest bill if you do business with them.

If you answer and the caller (often a recording) asks you to press a button to stop receiving calls... or asks you to say "yes" in response to a question, just hang up. Scammers often use these tricks to identify, and then target, live respondents, or to use your "yes" to apply unauthorized charges to your bill.

If you answer and the caller asks for payment using a gift card... it's likely a scam. Legitimate organizations like law enforcement will not ask for payment with a gift card.

If you receive a scam call... file a complaint with the FCC Consumer Complaint Center by selecting the "phone" option and selecting "unwanted calls." The data we collect helps us track trends and supports our enforcement investigations.

If you have lost money because of a scam call... contact your local law enforcement agency for assistance.

Ask your phone company if it offers a robocall blocking service. If not, encourage them to offer one. You can also visit the FCC's website for more information about illegal robocalls and resources on available robocall-blocking tools to help reduce unwanted calls.

Consider registering your telephone numbers in the National Do Not Call Registry... Lawful telemarketers use this list to avoid calling consumers on the list.