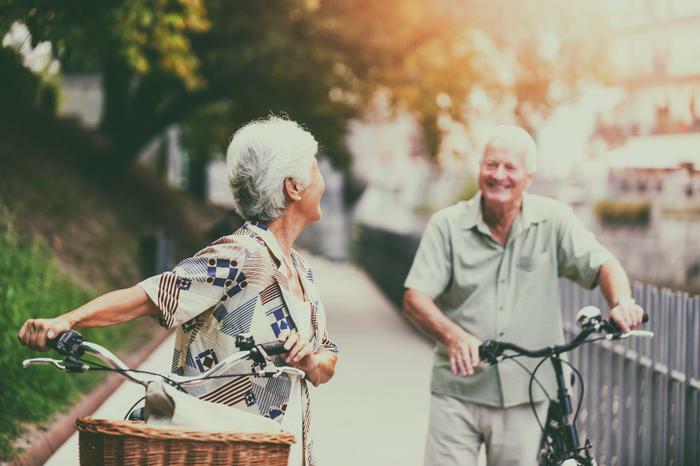 Opting to walk or bike can be incredibly beneficial for consumers' health and wellness. Now, a new study conducted by researchers from Boston University School of Public Health is exploring how having more opportunities for physical activity can benefit consumers' health even more while also helping the economy.
The researchers explained that their work is based on a program that has been developed by several northeastern states -- the Transportation and Climate Initiative (TCI). This program focuses on creating an infrastructure that is designed to promote walking and biking. The researchers say having more opportunities for physical activity would lead to better consumer health, a drop in health care costs, and a decrease in air pollution.
"Our study suggests that if all the states joined the TCI and collectively invested at least $100 million in active mobility infrastructure and public transit, the program could save hundreds of lives per year from increased physical activity," said researcher Matthew Raifman. "These benefits are larger than the estimated air quality and climate benefits for the TCI scenarios, highlighting the importance of leveraging investments in sustainable active mobility to improve health." 
Saving lives and money while reducing pollution
For this study, the researchers used data from the World Health Organization's (WHO) Health Economic Assessment Tool to predict how the TCI would benefit consumers, the environment, and the economy. The researchers used this predictive model to determine nine different outcomes, all of which were based on the amount of money the states invested. 
Currently, there are 12 states across the northeast and the District of Columbia involved in the TCI. The researchers found the benefits ramped up when more money is invested into creating walking and biking infrastructure. They say more lives could be saved, greenhouse gas emissions could be lower, and more money could be saved and reinvested into public transportation.
Though the TCI continues to evolve, four regions have already agreed to a plan that would save nearly $155 million a year. The WHO model predicts that the increased physical activity created from the plan as it stands would save 16 lives each year. However, with more money invested into the program, the researchers predict that monetary savings could surpass $7.5 billion, 770 lives could be saved, and greenhouse gas emissions could drop by 25 percent. 
"Given the legacy of inequitable investment in infrastructure in the United States, the opportunity exists to address racial disparities in access to sidewalks and cycling infrastructure through equity-focused project siting," said Raifman. 
Creating a nationwide plan
These findings are especially important when you consider that only 12 states and the District of Columbia are currently connected to the plan. If these efforts were applied to the nation at-large, there would be even greater health, economic, and environmental benefits. 
"This study sheds light on potential health benefits from investments in biking and walking infrastructure," said researcher Kathy Fallon Lambert. "Actual outcomes will depend on how much funding exists and how it is invested. We hope this information is useful to policymakers and advocates as they consider how to best target transportation investments to gain greater and more equitable health benefits."