The Standing Rock Sioux's on-the-ground protest against the Dakota Access Pipeline drew a heavy, coordinated response from local law enforcement agencies, sanitation crews, federal agents from the Bureau of Indian Affairs, and the Alcohol, Tobacco and Firearms bureau. Even agents from the FBI's joint terrorism task force reportedly opened investigations into some of the anti-pipeline activists.
But a pipeline leak on another North Dakota reservation drew a very different kind of bureaucratic reaction. 
"They don't have any support. They feel kind of alone. They have no authority to go through," recalls Dr. Aver Vengosh, a Duke University geochemistry professor who has studied the impacts of domestic fracking across the country since 2010. Several years ago, people from North Dakota's Fort Berthold Reservation called to tell him about a spill on their land.
Officials initially said there was little reason for concern when fracking wastewater leaked onto the reservation in 2014 out of a gathering pipeline -- a pipeline that carries byproduct from oil and gas drilling. Gathering pipelines until recently received little government oversight at the federal or state level. This wastewater spill left 200 yards of dead vegetation in its wake and occurred right next to Bear Den Bay, a bay that feeds into Lake Sakakawea, which is the reservation's source of drinking water.
Still, pipeline operator Crestwood Midstream Partners assured the public that "there is no evidence yet that the spill has contaminated nearby Bear Den Bay." The Environmental Protection Agency said it had no confirmed reports that the brine reached the bay, and the Associated Press reported seeing "no visible signs of contamination in the bay" on a boat trip.
Widespread contamination found at the site
Vengosh and his team collected data from the bay anyway. "There was a need for that given the lack of local authority," Vengosh tells ConsumerAffairs. Sure enough, Vengosh and his researchers reported finding widespread contamination lingering in the bay and the soil.
At the Fort Berthold site and three other fracking wastewater spill sites in North Dakota, the fracking fluid, or brine, was laden with radioactive pollutants and inorganic compounds. The chemicals could not degrade over time, creating what the researchers described as  "a legacy of radioactivity at spill sites." The researchers published their results in April 2016, nearly two years after the Fort Berthold spill had occurred. 
Regulators, Vengosh says, expressed little interest in his findings. "The reaction of the state was very defensive, there was not any true attempt to see what we found."
In the year following the spill, authorities calculated the total leak on Fort Berthold at one million gallons of brine. The EPA eventually gave Crestwood Midstream a "Notice of Potential Violation" concerning the leak in 2015, but that government investigation has appeared to languish since then.
"EPA's investigation of the Crestwood Midstream brine spill is an ongoing enforcement matter," EPA spokesman Katherine Jenkins now writes to ConsumerAffairs in an email. Crestwood recently indicated to investors that it would commence a clean-up or "remediation" of the Fort Berthold spill site -- but only once the EPA investigation is finished. "We expect to enter into a settlement agreement in the second quarter of 2017 and, thereafter commence the remediation actions contemplated by the settlement agreement," Crestwood wrote of the EPA investigation in its 2016 annual report. 
An attempt by a tribal agency to impose a $1.1 million fine on Crestwood has also been fended off, according to the annual report. "Although we continue to have productive settlement conversations with the Tribe," Crestwood wrote to investors in its 2016 annual report, "we cannot predict if or when we will be able to settle the dispute." Reached by ConsumerAffairs, a Crestwood spokeswoman said they had nothing more to say other than what was in the annual report.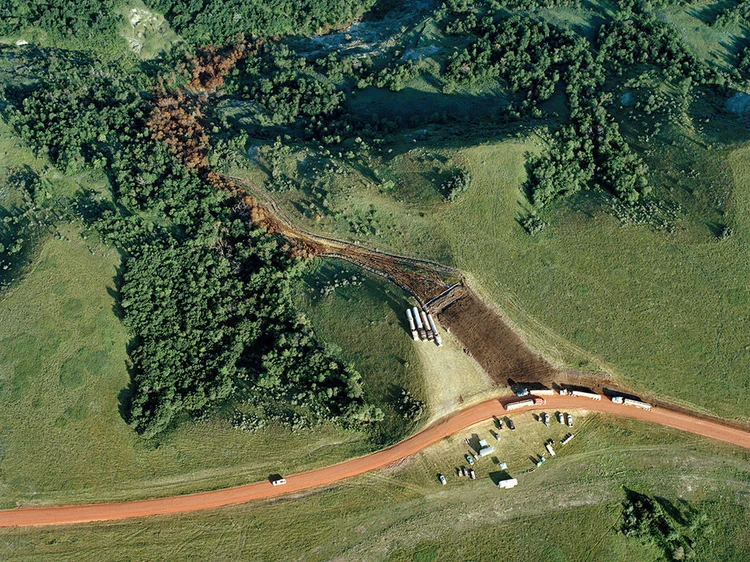 New study suggests nationwide under-reporting of fracking pipeline spills
Just six months after Crestwood Midstream announced a leak out of its gathering pipeline, a saltwater spill nearly triple its size leaked out of gathering line run by Summit Midstream Partners and into a creek that feeds the Missouri River. That saltwater spill was the largest of its kind in North Dakota's history. Summit Midstream promised to work "tirelessly" to clean-up the mess, but the following year the company experienced a leak in the same spot.  
Spills of this nature aren't unique to North Dakota. A new study published last week by researchers from the Harvard Law School's Environmental Policy Initiative confirmed what the anecdotal evidence has suggested for years: that spills related to fracking, including spills of toxic saltwater as well as gas and oil itself,  have occurred "far more often than previously reported." North Dakota had the most spills out of four states the researchers studied. "Analyses like this one are so important, to define and mitigate risk to water supplies and human health," co-author Kate Konschnik told Courthouse News. 
North Dakota's health department, meanwhile, has been developing new guidelines for cleaning up saltwater spills. The agency has also done a better job than it has previously of helping ranchers affected by saltwater spills, Troy Coons, chairman of the Northwest Landowners Association, tells ConsumerAffairs. Last year, the state's industrial commission even finalized new rules governing gathering pipelines. "Are we heading the right direction? Yes. Is there more to do? Definitely," says Coons.
 At the same time, North Dakota's lawmakers are trying to give the oil and gas industry more breaks. A bill approved this year by the state House would no longer require companies to report spills of wastewater, crude oil, or natural gas that are less than 420 gallons, a move Coons describes as a major setback for landowners.
And while the ranchers affected by brine spills have received some clean-up help from authorities and industry, Coons is unsure whether people on reservations get the same assistance. Because reservations are designated as sovereign tribal nations, "there's different standards that they require on the tribal land."
North Dakota lawmakers crackdown on protesters
Rather than acting more aggressively to tackle pipeline spills, North Dakota's leaders have instead opted to set their focus on protesters. On February 27, Governor Dough Burgum signed into law four bills drafted in response to the Dakota Access Pipeline protests. The bills increase the penalties for criminal trespassing and the penalties for engaging in a riot, two charges that were commonly brought against anti-pipeline activists. The laws also criminalize wearing a mask or hoodie while committing a crime and give the state attorney general more authority to seek help from out-of-state law enforcement agencies.
The American Civil Liberties Union, which has joined 34 tribes in court to support an ongoing lawsuit that the Standing Rock Sioux filed against the Dakota Access Pipeline, has described North Dakota's overall response to the protests as a "suppression of free speech and civil rights."
Vengosh's advice to Fort Berthold Reservation
In 2016, several months after the Duke University study on saltwater spills in North Dakota came out, author Dr. Aver Vengosh took another trip back to the Fort Berthold reservation. In the absence of any help from regulators, he wanted to discuss the group's findings directly with the community.
In several presentations, Vengosh says he tried to put the risks that the reservation faces in perspective. For example, he doesn't think there is an immediate risk that the reservation's drinking water will be poisoned. But there are long-term concerns and ecological dangers, he says.
Most importantly, the spill has a very easy remediation, Vengosh says---pumping out the contaminated spill water, collecting the contaminated soil, and storing it all in a landfill or in a deep injection well. But he has yet to see this mitigation process take place.
"What you need to do is very simple," Vengosh says, "and it hasn't been done."