Two women blame United Airlines for the deaths of their dogs in separate instances that occurred just several weeks apart this year. Kathleen Considine's mother surprised her with a six-week-old golden retriever puppy when she was a junior in high school. The puppy grew up to become an 80-pound, 7-year-old, "derpy, dopey, active" dog named Jacob.
Jacob was supposed to follow Considine in her recent move from Dearborn, Michigan to Bend, Oregon. Considine had her mother ship the dog to her new home using United Airlines' Petsafe Program  "PetSafe® is our specially designed program for transporting animals that are not eligible to travel in the aircraft cabin," United writes on its website.
But the name of the "Petsafe" program betrays conditions that advocates say are actually not suitable for pets. Under PetSafe, pets and animals can only be transported in the cargo hold of the plane. "Putting an animal in cargo should only be a measure of last resort," Jeff Pierce, an attorney with the Animal Legal Defense Fund, tells ConsumerAffairs. "Because the conditions of flight, even if the animal doesn't suffer physical injury, most animals who fly in cargo are going to suffer some trauma."
A 20-hour layover 
Due to Jacob's size, Considine already worried that his crate would be too large to fit on the two separate planes that his trip required. But the airline agent in Detroit assured Considine he would fit on both flights, she recalls.
The United agent, it turned out, was wrong. Jacob did not fit on his connecting flight to Oregon, Considine says she was told by United, and would have to endure a 20-hour-layover at a PetSafe boarding facility at the Chicago airport. A United spokesman reportedly told Fox News at the time that they "were unable to accommodate the dog on the second leg of the flight, because his original crate size had been marked as a much smaller series."
Due to the change in schedule, Considine had to send her boyfriend to pick Jacob up at the Portland airport when the dog finally arrived. "He asked, 'Why is he so out of it?' and they said, 'He's probably just jiggy from the flight,'" Considine tells ConsumerAffairs. United Airlines spokesman Charlie Hobart responds: "I don't know why an agent would tell someone that." 
More money promised
Both the United agent in Portland and a vet in Bend advised Considine and her boyfriend to let Jacob rest and bring him home. "When he got to me, and I saw him, I knew right away something was wrong." Considine took Jacob to the emergency vet in Bend, where he died shortly after. "His stomach flipped due to the stress of his journey that was 20 hours longer than expected, and suffocated his organs," Considine wrote on Facebook afterward.
Considine quickly informed United about the experience."Respectfully, Jacob's death occurred approximately 8 hours after he was released from United's care, custody and control," the United Cargo Claims department responded in a letter dated January 31. "Based on this condition, we must respectfully decline responsibility."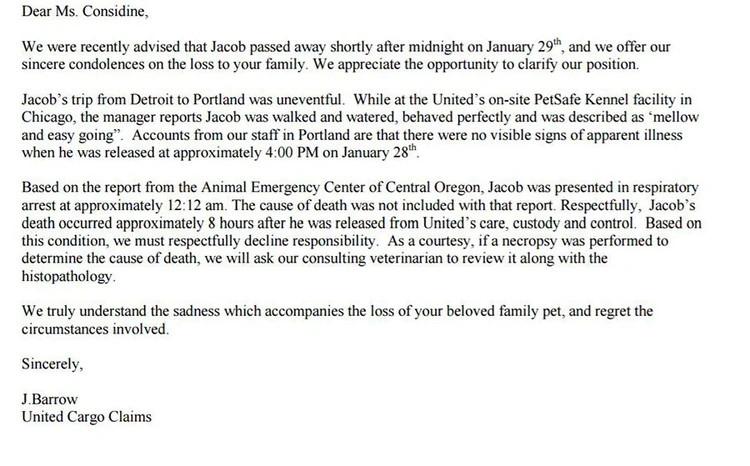 Airlines are required to report all animal deaths and injuries publicly to the Department of Transportation every month, but Jacob's death is not listed in the DOT's January 2017 animal incident report, in which United describes the death of a cat, two geckos, and another dog while in their care.
"That is because Jacob did not pass away in our care," Hobart, the United spokesman, tells ConsumerAffairs. "Jacob passed away several hours after Ms. Considine took him into her care." (The drive from the Portland airport to Bend is approximately three hours ). 
Hobart initially told ConsumerAffairs that United Airlines refunded Considine the full cost of shipping Jacob."We reached out to her to see if we could donate some money  in Jacob's name to the charity of her choice, in addition we refunded the cost of Jacob's travel," he said.

But Considine says this is not quite the case. United offered $500 to charity and initially refunded Jacob's ticket, but did not refund his additional travel expenses, Considine says. Over the phone, an agent said that Jacob's travel costs, such as the cost of getting his mandatory pre-flight physical and purchasing his PetSafe-approved kennel, would also be reimbursed, Considine recalls. In total, the company promised her an additional $1,115.60. 
But on February 24, the claims agent clarified in an email that Considine would only receive that money if she agreed to sign a release.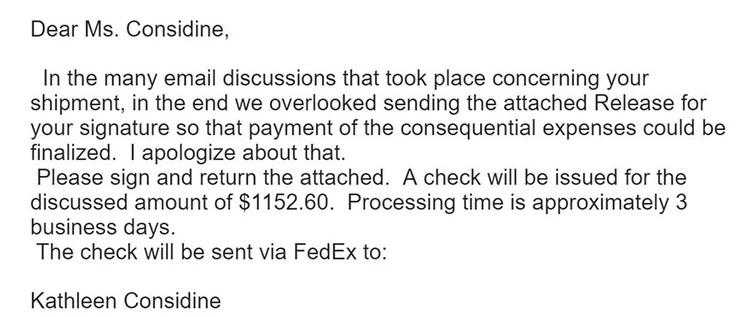 The release ensures that United is not liable for "the Claim" and, in the final paragraph, demands confidentiality. "Releasing Party further agrees that this Agreement, its terms, and the consideration provided shall be maintained as confidential by them unless ordered to be disclosed by a legal authority."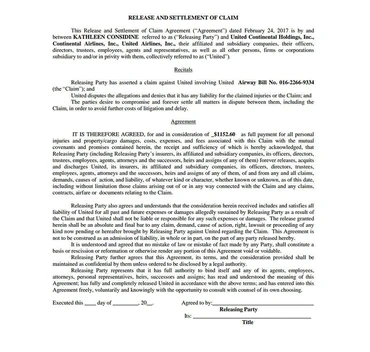 Considine, preferring to speak about Jacob on Facebook and to the media, says that she refused to sign the release. As a result, she never received the $1,115,60. Told of this, United's spokesman Charlie Hobart said he was running out of time to talk. "We consider this case closed," Hobart said.
Hobart repeatedly refused to discuss the non-disclosure agreement that United asked Considine to sign. "I'm not getting into that with you," Hobart said."We did not need to refund that cost. Okay?  That is something we did because we did not feel good about what happened."
"We're not obligated to refund that cost," he reiterated. "We offered to, is what I'm saying."
A pit bull arrives deceased to a layover
In February, several weeks after Jacob died, Lisa Nolasco was preparing to send her three-year-old American pit bull terrier, Sadie, from Hawaii to California. Nolasco serves in the military and had been stationed in Hawaii when she picked Sadie out of a litter in 2014. At 105 pounds, Sadie could be intimidating at first, "but after she knew you weren't a threat, she was a pretty good dog," Nolasco says.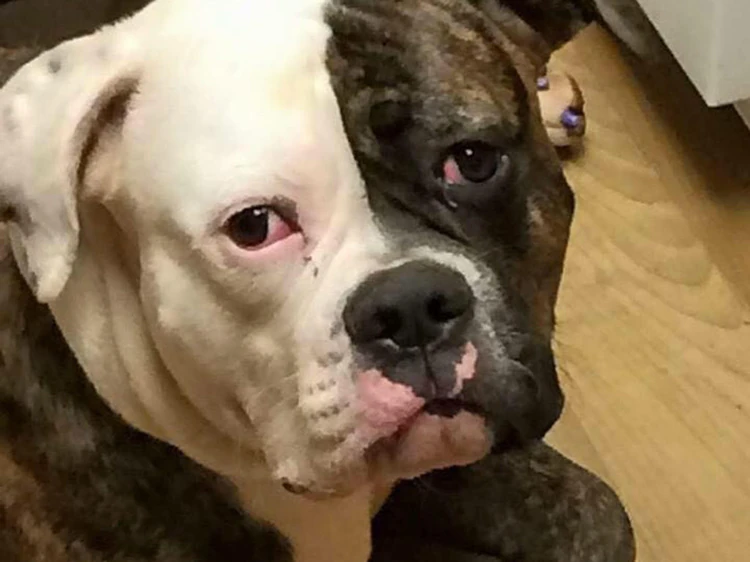 Knowing that she would eventually be stationed elsewhere, Nolasco asked coworkers how they handled transporting pets from the Hawaiian islands to the mainland. One friend warned her that animals were placed in cargo and treated like suitcases. "This person told me they'll never have a dog when they're in the military," Nolasco tells ConsumerAffairs.
She considered paying for one company advertising island-to-mainland pet transport, until she learned that they simply place animals in the cargo of planes anyway. "I would put her on a boat if I could have." Instead, Nolasco turned to United Airlines and PetSafe.
Nolasco's family planned to pick Sadie up from the San Diego airport, where they would then embark on a road trip to Nolasco's new military station in El Paso, Texas. But on February 13, United Airlines informed Nolasco that Sadie arrived to her layover in Denver, Colorado, already dead. Then they told Nolasco that they would arrange for a necropsy report to determine what caused the dog's death.
The report, conducted by a veterinarian funded by United Airlines, describes Sadie as suffering from "gastric dilation," or a stomach-twisting condition, a similar diagnosis to what Jacob received. The report also claims that Sadie had a pre-existing heart condition that could have caused her death. Nolasco says she had never been aware that Sadie had such a condition. Additionally, United Airlines requires all people using PetSafe to take their animals for a physical within ten days prior to the flight, to ensure they are healthy enough to travel. That physical did not detect any heart problem, Nolasco says. 
United's necropsy includes this assertion at the top; "This report supersedes all previous reports for this case."
After receiving her results, Nolasco arranged to have Sadie cremated with United Airlines' help and started her own Facebook campaign to call attention to pet travel safety and Sadie. The airline compensated her for the cost of Sadie's ticket, and that was the last time they communicated, Nolasco says.
Neither Nolasco nor Considine are planning to sue, because they do not know how to. Jeff Pierce, the Animal Legal Defense Fund attorney, says that airlines have almost full immunity from being sued over lost cargo, which pets are considered to be.
It's typical for airlines to fund necropsy reports to determine why an animal died in their care. Pierce doubts that an airline would ever find itself at fault in its own reports."The airline inevitably finds some pre-existing condition," he says. "I have not seen an instance in which the airline determined that they did something wrong.  I would wager, as you suggest, that the airlines do have a pretty significant incentive to obtain a veterinary report that might absolve them from liability." 
United Airline's spokesman Hobart was not familiar with Nolasco's case and asked for additional information to be provided over email. He has been in calls with reporters all day, he says, regarding United's more recent and much bigger controversy. "As you know we've got a pretty busy couple of days here and I've got about a dozen reporters we need to get to."