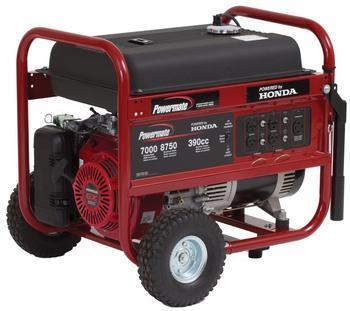 If you live in the continental U.S., chances are Mother Nature hasn't been particularly warm and friendly toward you lately. (And if you're lucky enough to live in a part of the country where "harsh winter" hasn't been an issue, wait a few months and you'll get "miserable summer" instead.)
Point is, winter and summer storms both have the potential to knock down power lines and leave people without electricity for anywhere from a couple of hours to several weeks. So maybe you're in the market for an emergency electrical generator, and wonder: "Which type should I buy?"
You don't want to end up like Marcia of Belgrade, Maine, who wrote to us on New Year's Day with this sad story about her Briggs & Stratton generator:
"Generator stopped on Christmas Day during ice storm and with no power,  can't get anyone to come and service it. I am a widow living in the country and need to have this as a reliable source -- that is why I spent a lot of money on it and dealt with local business."
Other brands can also cause problems, of course, but beyond the question of which brand to buy there's the issue of what kind of generator is best for you. There's no single answer to that question; it depends entirely on your needs — and your budget. However, no matter what type of generator you buy, you definitely need an open outdoor space well away from your house in which to run it.
Home electrical generators emit toxic exhaust just as a car engine does, so under no circumstances should you try running a generator in your basement, attached garage, or inside any building where humans actually live and breathe. Nor is it safe to run a generator outside, but close enough that its exhaust blows in or near your building.
Unfortunately, if you live in a multi-unit apartment building with no dedicated outdoor space to call your own, it's possible that an emergency generator simply isn't an option for you. Even running a generator on an outdoor balcony can be deadly, if the exhaust vent blows gas into your home.
What kind?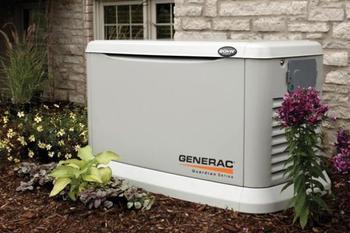 But let's assume you do have a safe, properly ventilated outdoor space in which to run a personal electrical generator. What kind should you get? There are four basic types of generators, only two of which are likely to be useful to the average homeowner: portable generators and standby generators. (There's also RV generators for recreational-vehicle campers, and "power take-off" generators which you're likely to find on any well-equipped modern farm.)
So as a typical homeowner looking for emergency electricity, you're most likely to choose between portable and standby generators. What's the difference? The portable models are … well, portable. Some of the smaller ones can actually be picked up and carried by a moderately strong person, though most such generators are built on wheeled carts.
Standby generators are permanent structures; ElectricGeneratorsDirect calls them "mini emergency power plants." They're far more expensive than portable generators, and you'll need to hire a certified electrician to install a standby generator and integrate it into your house's electrical circuit. But they're also the best option if you want (and can afford) the luxury of un-interrupted whole-house electricity in the event of a power outage; most standby generators come on automatically when the power is cut, so you needn't even go through the trouble of turning it on.
Generac is one of the larger manufacturers of standby generators but as Jay of West Greenwich, R.I., learned, even the best-known brands can present problems.
"I spent $4,000 to have a Guardian generator installed at my house. After using it once for about one hour, I was pretty happy," Jay said in a ConsumerAffairs posting. "Next time we lost power, the motor came on but the unit did not generate power. I contacted a manufacturer's representative, and he said I was out of luck as the warranty was one month out from the three-year [warranty] period, so I was told that I needed to spend another $1,000" for repairs.
Jay was unhappy but he needs electricity to power a sump pump that keeps his home from flooding, so he spent the money.
"We lost power again, and again, the motor came on but still did not generate power. I had an electrician check the output right from the unit, and he said it was the same problem again. I feel I got the unit made on a Friday afternoon, just before a holiday weekend," Jay said. "I do not understand how Home Depot and Generac could let me spend $5,000 and still have nothing to show for it."
A portable generator is much cheaper, but of course generates much less power. If your goal is to keep your entire house electrified in a power outage, a portable generator isn't right for you. But if you only need to keep power in part of the house – for example, if you want to keep your refrigerator and freezer running to avoid spoilage of food or vital medication – a portable generator is the most affordable choice.
Fuel is essential
Whichever kind you choose, though, you must remember this: the best generator in the world is completely useless without fuel. And if your area is hit by a storm bad enough to knock out the electrical grid, that pretty much guarantees that gasoline will be hard to buy.
One alternative is to buy a generator that uses propane. Some portable generators can run on those little propane bottles that are used on outdoor grills.
Standby generators can use natural gas, propane or diesel fuel, avoiding the problems of gas spoilage and availability problems.
If you end up going with gasoline, remember that the time to buy gas for it is before the storm hits. But also remember that gasoline has a short shelf life; even under ideal storage conditions, it can "go bad" in a couple of months—in other words, undergo chemical changes that make it worthless as fuel.
This means that if you do store gasoline for your backup generator (or your car), you'll definitely want to rotate your stock; once that stored gas is a month old, use it and replace it.