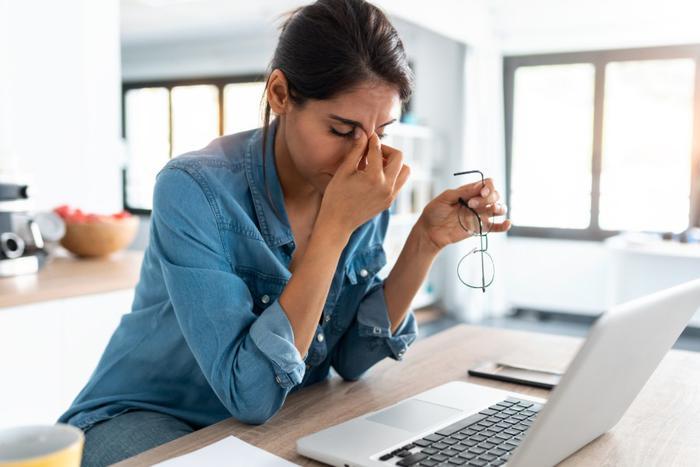 The start of the COVID-19 pandemic gave rise to an uptick in the number of Google searches for anxiety or panic attacks, according to research published Monday in JAMA Internal Medicine. 
Between March to early May, there were 375,000 more Google searches for anxiety or panic attacks than would normally be expected.
The study was carried out by researchers from the Qualcomm Institute at the University of California San Diego. The researchers analyzed Google Trends from the past 16 years and found that the number of searches for anxiety-related information skyrocketed starting in March when the COVID-19 outbreak was declared a national emergency.
Lead author Alicia Nobles, an assistant professor in the department of medicine at the University of California, San Diego, said she and her colleagues set out to collect data on how people's mental health is being affected by the pandemic. 
"We turned to internet searches to see what people were searching for in the United States," Nobles said. 
Rise in anxiety 
In total, there were 3.4 million total searches for anxiety in the two months after the pandemic was declared a national emergency. 
Searches for panic and anxiety attacks returned to normal levels halfway through April, suggesting that people may have become more resilient to the initially troubling unknowns presented by the unexpected health crisis. However, since the data is based solely on the volume of internet searches, it's not clear whether those seeking information on anxiety were actually having panic attacks or experiencing symptoms of anxiety.
"In practical terms, over the first 58 days of the COVID-19 pandemic there were an estimated 3.4 million total searches related to severe acute anxiety in the United States. In fact, searches for anxiety and panic attacks were the highest they've ever been in over 16 years of historical search data," Benjamin Althouse, a principal scientist at the Institute for Disease Modeling, said in a statement.
Anxiety versus panic attack
Symptoms of a panic attack can include shortness of breath, rapid pounding heart rate, chest pressure, and sweating. True panic attacks typically come about suddenly and peak within ten minutes. 
Symptoms of anxiety, on the other hand, include trouble concentrating, experiencing sleeping problems, and feeling restless, on edge, worried, or irritable. For these symptoms to fall under the category of "generalized anxiety disorder," they must persist for at least six months. 
Health experts recommend combating anxiety by focusing on what you can control, which include thoughts, feelings, and behaviors. 
"Identify negative patterns, like constant scrolling on your phone, looking at the news and hoping for new info," Vaile Wright, senior director of health care innovation for the American Psychological Association, told ConsumerHealthDay. "Take breaks from your devices. Take breaks from the news. Don't watch it constantly. Social media is an anxiety bomb, so limit the time on there." 
Wright also recommends getting enough sleeping, maintaining a balanced diet, staying active, and maintaining social connections in a socially distant way.