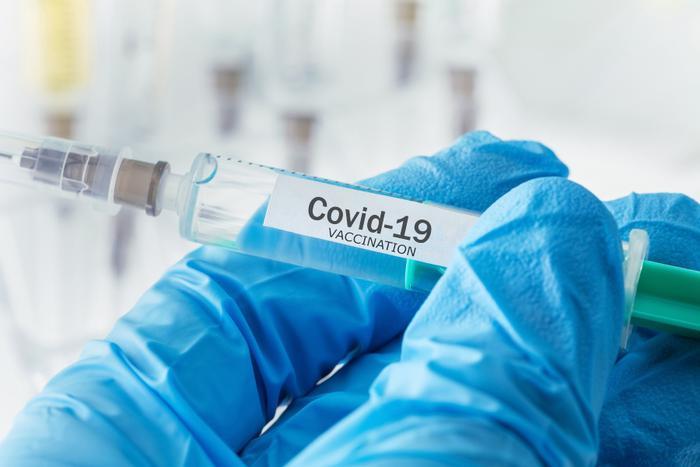 Coronavirus (COVID-19) tally as compiled by Johns Hopkins University. (Previous numbers in parentheses.)
Total U.S. confirmed cases: 6.306,412 (6,289,964)
Total U.S. deaths: 189,236 (189,069)
Total global cases: 27,372,211 (27,200,943)
Total global deaths: 893.382 (889,842)
Vaccine makers pledge safety before speed
Nine of the pharmaceutical companies actively working on a coronavirus (COVID-19) vaccine have pledged to make sure whatever drug they come up with is safe for people, even if it means taking longer to develop.
In a joint statement, the U.S. and European firms, including AstraZeneca, Pfizer, and GlaxoSmithKline, promised to "uphold the integrity of the scientific process as they work towards potential global regulatory filings and approvals of the first Covid-19 vaccines."
The pledge comes as polls show consumers, by and large, are hesitant to be inoculated with the first vaccine to hit the market. Over the weekend, a CBS News poll showed just 21 percent of voters would be willing to get the first vaccine, even if it is free.
Researchers find lasting effects from severe cases
Many people recover from the coronavirus quickly with no ill effects, but in one of the mysteries about this virus, some patients get very sick and have lasting effects after they no longer test positive.
Austrian researchers tracked 86 coronavirus patients after they were released from the hospital. All had suffered severe cases of the virus.
Six weeks after their discharge, the former patients still had signs of lung damage, revealed by CT scans. Forty-seven percent reported difficulty breathing. In fact, 24 patients had less than 80 percent of normal lung volume.
Experts see complex task in distributing a vaccine
Nearly a dozen pharmaceutical companies are at work on a coronavirus vaccine, and some are reporting swift progress. But what happens once a vaccine is developed and is approved for use by people?
That's what health experts are beginning to think about now as they begin to set up plans for distributing it among the population. "It's just incredible," Tinglong Dai, a professor at Johns Hopkins University, told USA Today. "I think the vaccine supply chain is one of the most mind-bogglingly complex supply chains ever built." 
The task may be difficult if there is an overwhelming number of people seeking to be vaccinated, but that may not turn out to be the case. As we've reported, there appears to be a large number of Americans who don't want to be first in line once a vaccine is approved.
Wildfires may make coronavirus symptoms worse, doctors say
With wildfires ravaging parts of the parched western U.S., health officials in some of those states are carefully monitoring how the smoky conditions might affect those who have COVID-19.
Dr. Cheryl Pirozzi, a pulmonologist at University of Utah Health, says smoke from wildfires can potentially irritate the lungs and affect the immune system. "What we know about wildfire smoke and particulate pollution is that exposure increases the risk for respiratory viral infections," she said.
The virus that causes COVID-19 can cause a wide range of symptoms, including several respiratory symptoms such as cough, sore throat, and difficulty breathing. These symptoms of COVID-19 may overlap with respiratory symptoms caused by air pollution or wildfire smoke exposure.
Alcohol, drug abuse increased with the pandemic
The U.S. was already in the grip of a deadly opioid abuse epidemic when the coronavirus hit, and researchers say the pandemic has only made it worse. Statistics collected by The Wall Street Journal show counties across the country are reporting rising opioid overdose injuries and deaths.
A study published in Alcoholism: Clinical and Experimental Research shows that there was also a large increase in adult alcohol consumption during the early weeks of the pandemic as daily life became disrupted. 
The risk was greatest among participants with greater depression or lower social connectedness. It also appeared to affect those with a child under 18 living at home, as they reported greater alcohol consumption than those without children living at home.
Around the nation
Florida: State health officials hope the flocks of people who headed to the beach on Labor Day won't lead to a massive spike in coronavirus cases. Heading into the holiday, Florida reported 1,838 new cases, the lowest number in nearly three months.

New York: Administrators at New York University (NYU) say more students may be suspended following a huge party over the weekend at Washington Square Park. As many as 20 students were sent home on Sunday for allegedly violating safety protocols.

Arizona: Athletics at the University of Arizona may return this week after 13 student athletes tested positive for the coronavirus. University officials now say 11 of those cases were false positives.