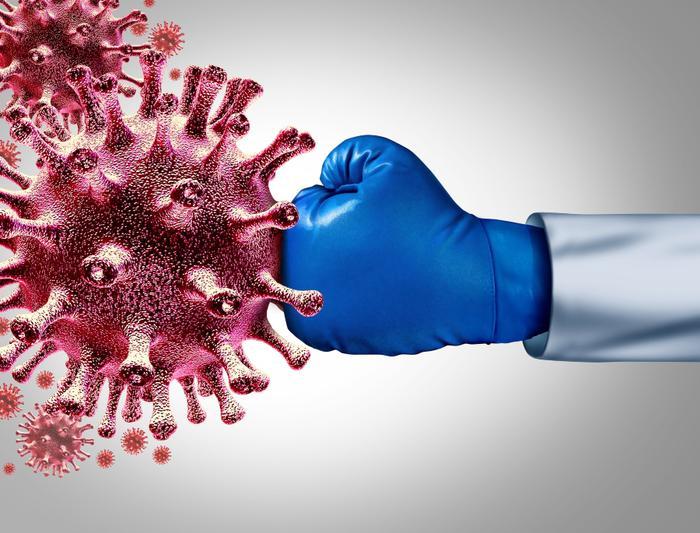 Coronavirus (COVID-19) tally as compiled by Johns Hopkins University. (Previous numbers in parentheses.)
Total U.S. confirmed cases: 5,408,268 (5,379,914)
Total U.S. deaths: 170,131 (169,745)
Total global cases: 21,720,713 (21,527,747)
Total global deaths: 776,127 (772,370)
Immunologists: lasting immunity even after a mild infection
If you've had the coronavirus (COVID-19), even a mild case, here's some good news. A series of studies conclude that you might not have to worry about the virus in the future.
The studies found that antibodies and immune cells that can fight the virus were found in former patients' blood months after they had recovered. The findings give hope to doctors who have counted on "herd immunity" to eventually defeat the virus.
"This is exactly what you would hope for," Marion Pepper, an immunologist at the University of Washington who authored one of the new studies told the New York Times. "All the pieces are there to have a totally protective immune response."
The studies have not yet been peer-reviewed.
Conflicting data on the effectiveness of bandanas and neck gaiters
The five months of the COVID-19 pandemic have been marked by a lot of conflicting information as scientists try to learn more about a new virus. Lately, some of the conflicting information has extended to face coverings.
Researchers at Duke University have published a study contending that bandanas and neck gaiters are among the worst choices you can make when selecting a face covering. They say the two items are actually worse than wearing no face covering at all.
But medical researchers at West Virginia University have an opposing view, saying a gaiter, assuming it's properly fitted, will provide a respiratory containment of exhaled droplets comparable to a common over-the-ear cloth mask. They admit that the cloth provides no filtration but say tests show they do limit the spread of exhaled droplets.
The risk to obese patients isn't always the same
Doctors noticed from the start that people who are obese are at increased risk of death from the coronavirus. But now they have discovered that not all obese people are affected in the same way.
Researchers at Kaiser Permanente found that the risk of death from COVID-19 associated with obesity disproportionately affects men and people under 60 years of age.
"Although this study examines a variety of factors that may be associated with risk of death from COVID-19, our main objective in this paper was to understand risk related to obesity, and obesity-associated chronic conditions in our health care system," said lead researcher, Sara Tartof, PhD, MPH, of Kaiser Permanente Southern California Department of Research & Evaluation.
Pre-existing heart conditions may increase death risk, study finds
While the coronavirus appears to affect the lungs and respiratory systems of people who get the illness, it also can cause heart problems, especially in patients with a history of cardiovascular illness.
An Italian study published in PLOS ONE found that patients with pre-existing heart conditions are more likely to develop cardiovascular complications while hospitalized, and they're more likely to die from COVID-19 infection.
Cardiovascular complications were observed during the hospital stay of 14 percent of the COVID-19 patients with a history of heart ailments. When the researchers analyzed the data, they found that pre-existing cardiovascular risk factors were significant predictors of cardiovascular complications but age and gender were not.
The great pepperoni shortage
Pizza restaurants across the nation that have seen their business boom since late March, when Americans were told to shelter in place, are reportedly having trouble finding their customers' favorite topping. 
Bloomberg reports that pizza restaurants across the nation are now facing a growing shortage of pepperoni, and the cost of that popular topping has nearly doubled. The report attributes the shortage to two factors -- production problems at some meat plants that have reduced output and growing demand from consumers over the last five months.
Smaller "mom and pop" shops have been hit hardest. According to Bloomberg, Charlie's Pizza House in Yankton, South Dakota was paying $2.87 a pound for its supplies of pepperoni in January. Now, the price is $4.12 a pound. One independent New York eatery has seen its pepperoni cost go from $4 a pound to $6.
Around the nation
Michigan: A dispute over wearing a mask turned deadly after a state employee reportedly stabbed a man during the heated argument. The suspect was later fatally shot by a sheriff's deputy. Authorities say the suspect had been reprimanded three times over workplace issues.

Maine: Tiny Homes of Maine, a specialty builder, says business is booming during the pandemic. The owners say demand has increased for "tiny homes" for a number of reasons, but the main reason is the financial insecurity many residents are feeling. 

New York: A mass exodus from New York City and stringent pandemic-related requirements have some giving up on America's largest city. One of the latest is best-selling author and hedge fund trader James Altucher, who says the city is "dead forever." He added that his temporary relocation may become permanent.