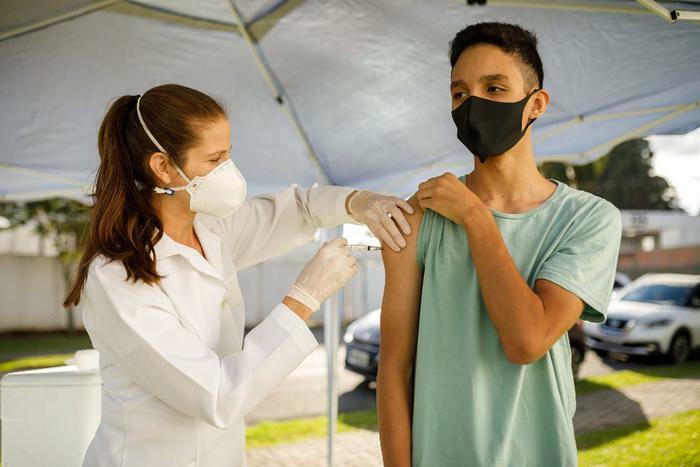 At a meeting of the CDC's Advisory Committee on Immunization Practices, health experts said there's a "likely association" between a rare heart inflammatory condition in adolescents and young adults following COVID-19 vaccination. 
The meeting was planned earlier this month after vaccine safety monitoring systems showed that a small portion of vaccinated people experienced a condition called myocarditis. The CDC said the systems revealed a higher-than-expected number of cases of heart inflammation after the second dose of mRNA COVID-19 vaccines. 
CDC officials said at the meeting that there have been more than 1,200 cases of myocarditis or pericarditis in 16- to 24- year-olds after receiving either Pfizer's or Moderna's COVID-19 vaccine. 
Occurs most often in younger men
Most cases occurred in men under 30, and most happened within a week of receiving the second shot. Symptoms, which include chest pain and shortness of breath, tended to be mild and usually cropped up a few days after the second dose. Of those who developed the condition, nearly 80% made a full recovery.
"Clinical presentation of myocarditis cases following vaccination has been distinct, occurring most often within one week after dose 2, with chest pain as the most common presentation," one of the presentations said. 
The CDC said it's still gathering more data in order to fully understand the potential risks and to determine whether there may be any long-term problems associated with the cases.
Researchers say the possible link between some COVID-19 vaccines and heart inflammation should be studied and monitored. However, there's no reason for parents or teenagers to avoid vaccination. 
Overall, more than 310 million doses of Pfizer and Moderna's vaccines have been administered in the U.S. and there have only been roughly 1,200 cases of myocarditis or pericarditis.
"It's an uncommon phenomenon," said Dr. James de Lemos, a professor of medicine at UT Southwestern Medical Center in Dallas. "They don't change the overall dynamic."