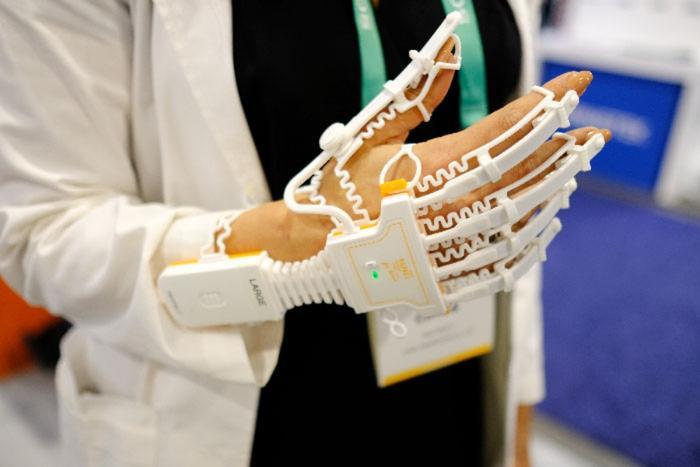 Health-related technologies have come a long way since the back massager. We've reached the point where digital healthcare is more attractive, especially to tech-savvy consumers.
At the 2020 Consumer Electronics Show (CES), ConsumerAffairs found that healthcare tech is starting to grow a very long tail -- especially when it comes to tech for seniors and baby boomers.
Therapy that's both fun and effective
Neofect's focus is on building "smart" rehabilitation solutions to help patients who have a neurological or musculoskeletal injury. As part of the company's array of solutions, it has built everything from the Smart Glove (shown above) to a high-tech stroke rehab device to a "Dance Dance Revolution-esque" board that users stand on and do on-screen rehabilitation training exercises via electronic games. 
"The Neofect smart rehabilitation solutions are more measurable than traditional therapy alone and they're engaging so patients are encouraged to practice more," Neofect's Andrea Case-Rogers told ConsumerAffairs at CES 2020. "Repetitive actions are the key to successful rehabilitation, so games help keep patients motivated."
Neofect has also built the Neofect Connect app to connect the stroke community and remind patients to practice and stay engaged. The app will also have the ability to chat remotely with a therapist from the patients' own home so they know they're just a click away from help.
Epilepsy-related tech
To address the continued rise of epilepsy -- nearly 1 million adults aged 55 or older have the disorder -- an armband device called The Nightwatch has been developed to help monitor consumers' heart rate and motion while they're sleeping. If the system suspects an epleptic seizure is on the way, it sends a signal to the caregiver.
"The NightWatch not only provides safer nights for people with epilepsy, but also improves the lives of family members and carers by offering more worry free and restful nights," the company told ConsumerAffairs in an email. 
The device is fairly simple to set up. Users can do so through Nightwatch's Plug and Play feature, which doesn't require any configuration or additional devices to work.
"What did the guy on the TV say?"
There's a lot of "huh" and "say again" comments when seniors talk to each other. It's frustrating for both sides, and if a senior with hearing loss lives by themselves, they're probably also missing voice content like a newscast on TV.
To help improve situations like that, a U.S. company named Nuheara has developed a TV audio streamer -- IQstream TV -- to give back to people with hearing loss some of the enjoyment they've been missing.
ConsumerAffairs found the simple nature of how the device works rather enticing. The phone app's interface and the device itself connect to a TV's USB port.
Coupled with Nuheara's earbuds, the user can sit anywhere in a room and get "perfect audio" (or so says the company). As a plus to the partners of hard-of-hearing seniors, the level of the streamed TV audio only affects the person wearing the device.