---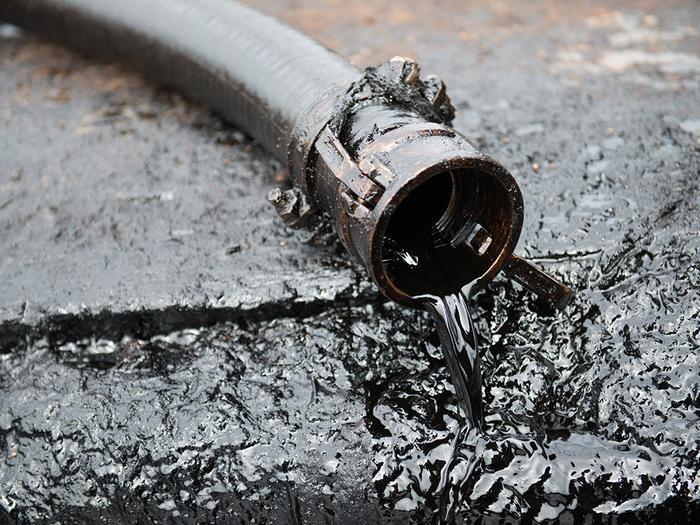 On December 6, as protesters near the Standing Rock Sioux reservation celebrated a victory against the Dakota Access Pipeline and vowed to continue fighting the project, North Dakota state health workers were about 200 miles away, cleaning up oil leaked from another pipeline.
A landowner in Belfield, North Dakota noticed the spill the previous day, according to the Bismarck Tribune, as the pipeline operator Belle Fourche Pipeline Co, said its own equipment had failed to detect the leak. Officials estimated that spill affected 2.5 miles of the Ash Coulee Creek, a tributary that feeds into the Little Missouri River.
So far, more than 176,000 gallons of crude oil have leaked from the pipeline, North Dakota officials announced on Monday.
The timing might seem fateful, given that the Standing Rock Sioux tribe's primary concern about the Dakota Access Pipeline is that it would be built under a body of water, one that similarly feeds into the Missouri River. But people who study energy infrastructure say such news is unfortunately not a surprise or a rarity. It's simply the cost of doing business with fossil fuels, and part of the reason why the anti-Dakota Access Pipeline protests have gained widespread support from environmentalists and green think tanks.  
"Pipelines are like every other piece of physical infrastructure in the world, which means that they fail, and they fail surprisingly often, definitely more often than people think," Eric de Place, policy director for the think tank the Sightline Institute, tells ConsumerAffairs. "It drives home the fact that over time, we know, just from observed evidence in the world, that physical pipelines corrode, leak, decay, and the monitoring equipment that companies use is not foolproof."
Documenting the risks of oil spills and pipelines
Researchers are still trying to determine the full cost of such leaks. One study authored by Duke University researchers this past April found that toxins linked to oil development were present in North Dakota's soil and waterways at levels above what the federal government has deemed safe. The researchers linked the contamination to oil spills. "We found even if you take away the spill water," Avner Vengosh, the study's lead author, told InsideClimateNews, "you still left behind the legacy of radioactivity in the soils."
Nationwide, the research on pipeline safety and oil spills is equally troubling. An analysis two years ago by the Center for Biological Diversity, using publicly available data from the Pipeline and Hazardous Materials Safety Administration, says that there have been nearly 8,000 "significant" pipeline incidents since 1986, resulting in $7 billion in damage, 500 deaths, 2,300 in injuries and an untold long-term impact on the nation's waterways.
"Pipeline leaks are common and incredibly dangerous, and the Dakota Access pipeline will threaten every community it cuts through," Randi Spivak, a program director with the Center for Biological Diversity, said in a recent press release.
Oil surplus
De Place, the Sightline Institute policy director, who documents the risks of fossil fuel extraction in his own research, points out that the United States is already awash with crude oil. In fact, a worldwide surplus of crude has sent oil prices tumbling and recently lead members of the Organization of the Petroleum Exporting Countries to agree to production cuts, the first deal of its kind in eight years.
"We don't have a problem where we're running out of oil and we don't know what to do next. We've got the opposite," de Place says. "My view is that there is no need for additional crude oil infrastructure. We have all of the crude oil infrastructure that we will ever need in this country. What we need to do is make sure the infrastructure is safe, well-regulated and well-protected."
On the other hand, de Place joins the chorus of other environmental researchers who say that the only real long-term solution to concerns about oil spills is to phase out production of fossil fuels altogether. "The whole nature of crude oil transport involves risk...there's going to be spills, there's going to be environmental impacts, which is why I think the protest at Standing Rock was so on point.
"You cannot build this and guarantee it will operate safely. You just can't."
Thanks
Keep an eye on your inbox, the lastest consumer news is on it's way!
Unsubscribe easily whenever you want
---