Allstate has filed to increase its car insurance rates by 25% in Georgia, a filing that state insurance commissioner Ralph Hudgens says leaves him "deeply concerned."
It will doubtless further annoy Georgia consumers like Ronnie of Griffin, Ga., who is already steamed at Allstate, according to a ConsumerAffairs review he filed recently.
"For the people who have Allstate Insurance, you picked a really good scandalous company who has no problem cheating everyone else. No integrity whatsoever. It's sad we have to deal with companies like Allstate," said Ronnie, who was rear-ended by an Allstate policyholder and had to pay for all but two days of car rental while his vehicle was being repaired.
Hannah of Atlanta, who said she has been an Allstate policyholder since 2009, has an even more hair-raising story. Her car was totaled earlier this year. Then, a few weeks ago, the car that replaced it was totaled and Allstate now says the policy for which Hannah has been paying is for her old car. At last word, it was refusing to pay off on Hannah's claim for her newer car.
"I am at my wit's end, completely livid, and no one at this company seems to show the slightest concern," Hannah said. "It is my full intent to switch providers once this is sorted out. Never, ever, for any rate, will I be a customer of this horrid company."  
"Continued dialogue"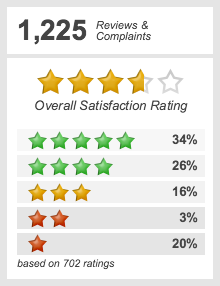 Hudgens says the increase, which will become effective on May 22, will average 25%, but many policyholders will see rate hikes as high as 58%.
"Georgia law prohibits me from stopping or delaying this increase unless an actuarial examination proves the rate to be legally excessive," Hudgens said, adding that he has launched an investigation to determine if the increase is legally defensible.
Allstate spokesman Daniel Groce said the company will cooperate with the state's investigation but, in a statement to Insurance Journal, insisted the increases are justified.
"We work closely with state departments of insurance whenever we adjust our rates, and look forward to a continued dialogue with the Georgia Department of Insurance," Groce wrote in an e-mail.
Rate adjustments are made "very carefully to charge properly for the risk we assume and ensure our ability to protect customers from life's uncertainties," Groce said.
Do what he can
Hudgens pledged that if his investigation finds the company can't fully defend the increase, he will do what he can to block it. 
"Georgia adopted a 'file and use' system in 2008 to promote competition and lower rates among insurance companies," Hudgens said. "This rate filing appears to promote neither."
Hudgens recommends that Allstate policyholders in Georgia discuss their options with Allstate, the second largest policy provider in Georgia with an 11% market share.
Those options might include revising deductibles, reducing coverage, or comparison shopping.