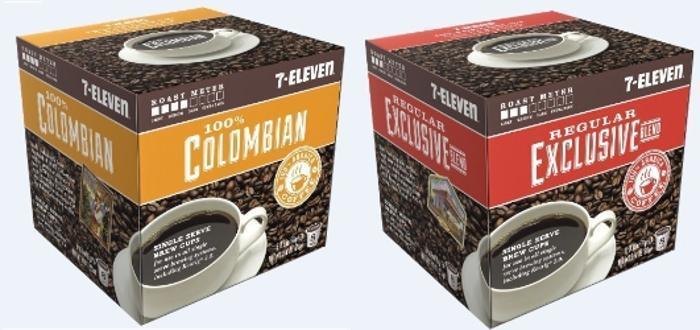 Single-serve coffee brewing, popularized by Kuerig Green Mountain, is becoming the norm. Not only are these coffeemakers popular in homes, automotive service centers that once operated a lonely coffee urn for customers are switching to these single-serve brewing systems.
Increasingly, coffee roasters are offering their product in these K-cups as well as bags and cans. Even the 7-Eleven convenience store chain has decided single cup brewing has opened the door for it to get into the coffee business.
Coffee provides a big draw for convenience stores and 7-Eleven said it will begin packaging its proprietary 7-Eleven brand coffee for single-serve brewing systems. They'll be sold at participating 7-Eleven stores in two package sizes – an eight-pack for$3.99 and a two-pack for 99 cents.
"Ultimate in convenience"
"Brew cups are the ultimate in convenience for home-brewed coffee, and convenience is the core of 7-Eleven," said Dennis Phelps, VP, Fresh Foods & Proprietary Beverages. "Convenience wasn't the only goal when we developed our new brew cups. We wanted to make sure we offered the same delicious coffee available in our stores at a great value."
A recent National Coffee Association survey found one in five adults who drank a cup of coffee at home the previous day made it in a single-serve brewer. But just five years ago, Phelps says that number was one in 14.
In fact, single-serve appears to be driving coffee growth with some estimates predicting it will surpass retail roasted coffee in 2017.
Retail sales of brew cups grew from $132 million in 2008 to more than $3.1 billion just five years later. Single-serve remains the fastest-growing segment of the coffee category.
Starbucks has offered its coffee in single-serve brew cups for years. So has Dunkin' Donuts. According to The Atlantic, so-called K-Cups accounted for most of Kuerig Green Mountain's $4.7 billion in revenue in 2014, more than five times the company's previous five-year profit. But even the man who developed the Kuerig system is concerned this increase in coffee convenience comes at a high environmental cost.
Environmental concerns
Keurig founder John Sylvan told the magazine he now wishes he had never invented the single-serve system because he says the disposable K-Cups are bad for the environment.
Kuerig Green Mountain, meanwhile, is meeting the environmental criticism head on. The company said it is committed to making K-Cups recyclable by 2020.
"To meet our 2020 target, we're evaluating product development solutions and working with the recycling community and partners to ensure that our new K-Cup pack design isn't just recyclable in theory, but will also be able to be effectively recycled in the majority of community programs," the company said on its website.