Consumer Complaints and Reviews

Like everyone else, I reserved a truck - two months ahead of time, called the day before to confirm, went to the office in Las Vegas to pick it up when they told me 'sorry, I don't have anything available.' And then, the guy tells me to call customer service. Wasn't I TALKING to customer service? At the front desk of the Budget office? I spoke to the manager who told me to come back tomorrow and try again. She said she would call me when she had a truck available for me. That was 5 days ago and she hasn't called yet. This was for a planned move which got turned upside-down. I'd provide more detail but honestly, the only thing I can say is DO NOT RENT FROM BUDGET TRUCK RENTAL.

I rented a 16 foot truck from Budget. When I went to pick it they required a 150 cash deposit saying once I returned the truck I would receive my deposit back. This is a Lie. Three week and they will send me a check. I would like to know if they go to school to learn to lie like this because she did not even bat an eye when laying that whooper of a lie out there. They have overly unconvinced me and my family trying to call around to borrow money. They were supposedly going to return to me "Once the truck was returned". I kept up my end. Returned the truck full of gas ran and in same shape I received it in. Never and I mean Never rent from. They only care about your money. Customers mean nothing at all to them. Only their bottom line seems to matter. They are an awful thieving company.

DO NOT RENT FROM BUDGET!!! I thought I would save $100 and it was a terrible decision. I rented a 12' box truck in Nashville and had to move the pick up date back a day due to weather. The location even closed early that day due to the same weather. It was supposed to be 9 days and unlimited miles. On the way I had some problems and called roadside assistance. Put an order in and was told they would get on it and get back to me. Luckily a passing motorist pulled over and helped me get going after being on the side of the road for about 2 hours. I called back to cancel the order and after being on hold for 30+ minutes I was told the order had never even been started. WOW I would have been there all night.
Upon returning the truck to Portland, OR there was a major storm. I was lucky to return the truck what I thought was a day late. I tried to call the drop off location the day before to no answer. Then got kicked to customer service (which is a complete waste of time). They told me the only way to amend the reservation was to contact the location. I called at least 10 more times still to no answer. Once I dropped it off they charged me for 2 overage days plus 2 days of insurance that I had declined originally. The clown at the desk told me he has to charge me but just call customer service and they will reimburse because of weather. I called and was told the can only reimburse $30 of the $237.24. I asked to talk to a supervisor and was put on hold for 15 minutes only be told over and over "I am sorry this is all I can do". It's U-Haul only for me from now on.

Got a confirmed quote for truck rental a week prior to pick up. Called pick up location to see what time they opened, just to find out they did not have my truck or several other people's. Gentleman was very upset with corp. and gave me name and number to call. All I got was "sorry, no trucks available in that area for 5 days." I had purchased furniture from individual moving, and had to be picked up that specific day. And all I get is "sorry," no email or phone call warning me that they could not come thru with truck! Obviously, they are not dependable.

I reserved a truck with Budget Truck Rental (BTR) in early Dec 2016 online for pick up on Dec 22 to move some furniture from Florida to Virginia. They emailed me a confirmation and even a reminder on Dec 11. When I showed up at 3:30 pm on Dec 22, an hour before my scheduled pickup time, they told me that they are waiting for a truck to return at 5 pm and asked me to check back later. In the meantime they have 4 other trucks in the lot and I was told that they all require service and not available. When I checked back at 5:30 pm, they told me that they still were waiting for the truck to return and ask me to check back the next morning.
When I call at 8 am on Dec 23, they told me that the truck was expected to return by 10 am and will called me as soon as the truck was available. They never called me and I had to scramble that morning to find a truck and luckily there was one available at U-HAUL but cost me $300+ more. A week later I saw my noticed BTR posted a $50 charge to my credit card for "no-show". I felt that BTR was running a scam to trick consumer to book with them with unbelievable offer and then made excuses not to meet the commitment so that they can charge you for the "no-show".
How do I know I can trust these reviews about Budget Truck Rental?
692,060 reviews on ConsumerAffairs are verified.
We require contact information to ensure our reviewers are real.
We use intelligent software that helps us maintain the integrity of reviews.
Our moderators read all reviews to verify quality and helpfulness.
For more information about reviews on ConsumerAffairs.com please visit our FAQ.

In trying to help my son move I got online and booked via Budget. After booking online with Budget, received a call several hours later they did not have a truck. I got back online and booked with another location... same thing happened. We ended up getting a truck from another agency altogether. This morning, both locations have charged me a NO SHOW fee of $50.00 each! What in the world? I called customer support. It takes them such a short time to pull money from your account but when calling to get a refund it takes forever between the calls and the banks. I have been told that I will receive a refund in 5-7 business days. Why would I have to wait to receive money back they never should have taken in the first place? When I asked to speak to someone higher to approve getting it back immediately she refused and said I would have to talk to MY bank about the timeframe... that was where the hold up was... fine I called my bank.
Needless to say Budget customer service lied! My bank was apologetic that I was getting the runaround but that it was on the Budget side of things. They had pulled the money and my credit union would return it as soon as the funds hit. What the heck? So now I wait to see if I truly get a refund. I have not see an email confirming the transfer back to my account and no info at all as of the point. I will NEVER use Budget again.

The truck that Budget rented us had bad tires and one tire blew out. We were stuck on the road at 1 o'clock in the morning until the tire shop open up. Budget would not send a truck to repair as they said they only swap out trucks. However they cannot get a truck until late that morning closer to noon. Three different Budget employees told us that we have an option to get the tire replaced ourselves and send the receipt for reimbursement to Budget. Only to find out that Budget will not reimburse us for the tire. This is a totally dishonest company to put people lives at risk with unsafe vehicles.

The agents have no idea what they are doing. I booked two 24 footer trucks. The idiot reserved one 26 footer. Called and changed. Told them two 24 foot truck. Another agent put me down for 16 foot. Drove to the pickup location in Fort Lee, NJ. Was told they don't even carry 24 foot, and if they did they won't do one way. Called another location in Hackensack, NJ. 4 days and no one answered the phone. Budget Truck is a joke. I should have stayed with U-haul in the first place.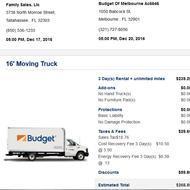 Budget Truck Rental broke their promise and it cost me an extra $200. Had a reservation with Budget, but the day before the scheduled pickup, I called Budget to confirm my reservation at Family Auto Sales in Tallahassee. The person there said they didn't have any trucks for the next day and to call customer service. So, I immediately called customer service, who referred me to another number and that customer service rep apologized and said they had reserved a truck for me at another local location.
Well, when I showed the next day on Sunday, December 18, 2016, at the new location, the Budget Truck Rental Associate didn't have the reservation! WTH! So I called customer service again and they said to expect a callback within two hours. I did receive a callback but they said there wasn't a truck within 150 miles of Tallahassee that day. I asked them what good was a reservation I had booked almost two months prior. They said if I read the terms and conditions, it was actually a quote and not a confirmed reservation. Grrrr! Thankfully, I called U-Haul and was able to get a truck that afternoon but it ended up costing me $200 more. I am mad as heck at Budget for breaking my reservation when I clearly booked it almost two months before.

Drove one hour to another city to help my son move. Had reservation. Gave my credit card info to hold. Got to establishment at 0800 hours. No truck for me!!! Explanation was prior rental never returned truck. I stated no call, no email, no text!!! Then the kicker. Budget charged me $50 on my credit card for not picking up the truck. Called customer service. The only answers were "I'M sorry." Do not rent from Budget!!!

On October 16th, 2016 Budget rented a truck to me with at least two bald tires. While on the highway with my belongings in the truck, a tire went flat, endangering me and my belongings. I called Budget roadside assistance who assured me repeatedly that I would not be charged for sending someone to come help. I then waited for close to three hours on the side of the highway for someone to come and replace two of the tires. A few days after the incident I called Budget Customer Service to complain about the unsafe condition of the truck I was rented and I was given a partial refund.
This morning I received a call from Sedgwick, the company who handles Budget's claims, who says that I am being charged $626.91 because the truck was damaged while I was using it and that it's my financial responsibility because I didn't get under the truck to check that the tires weren't bald before signing paperwork. Shame on me for assuming that a nationwide company wouldn't send their customers on the road in unsafe vehicles. I suppose I should have checked under the hood as well to ensure that the transmission won't crap out before taking it out on the road.

We rented a truck on 11/30/2016 and had some issues with this unit. First the truck was sent out without DEF fluid in it so the guys noticed that and had to stop and fill that up. 6 hours into the rental the unit broke down. I had 2 employees that were driving the truck and at 6 am they called me and told me that the truck had an issue. The check engine light had come on and the truck was smoking. I told them to get to a safe place and call roadside assistance. Roadside sent out a guy which was pretty fast in getting there and looked and the issue tapped on a couple of things and said they were good to go that the DEF filter was clogged and they should be good.
20 Miles or so later the truck started again with the smoking. Again told them to get to a safe place and call roadside and tell them to either bring a new truck or a DEF Filter with them. They were told that they would have to return the truck to the place that it was rented from to get a new truck --- Well we were about 6 hours away from that --- Roadside told them they get a text within a half hour. 1 hours go by nothing. I called and wanted to know what was going on and they told me they could not locate a tech. I asked for a swap and got denied. Another half hour goes by I called again, the lady tells me she still cannot locate a tech. I pushed again for the swap of the truck as am paying these 2 guys plus 2 guys in Superior Wisconsin who are waiting on my 2 guys to get there.
Finally in a final call they tell me they are going to get another truck out to them and I will receive a call or text - I received a call and it was someone telling me
that the truck is on the way but they are coming from St. Paul MN and that was 3.5 hours away. So again everyone is sitting and I am paying everyone to sit and wait. So all in all I have 10 hours of sitting time at 260.00 per hour which I am losing on a job that should only take my guys 21 hours to do from start to finish and instead it takes 35 hours plus a night stay over.
I am looking to see if Budget will work with me to get compensated for this loss of time and money. I will include receipts of the hotel stay, DEF fluid replacement and not sure what we need to do for the hours of labor that have incurred. I am hoping we can resolve this issue fast as I am a very small business and really cannot afford to have added expenses when we give a customer an estimate and lose. Called customer service, talked to the supervisor (supposed), "All we can do for you sir is give you 150.00 for your trouble" - tried to explain that I am now out 2600.00 due to the inadequate truck that was rented to me. "Sorry sir. That is all I can do." They Suck; will never use them again. And we rent a lot of trucks throughout the year.

I rented a truck and an auto towing trailer from Budget in Aug. 3. Hours into my move I was left stranded on the side of the road for over 6 hours with three flat tires. After asking me to continue to sit and wait for another 12 hours minimum for it to be repaired, I had a tow company pick up the trailer, which I was ensured I would not encounter any fees from. At this point I was mad that I spent $225 for a trailer that I was suppose to have for 7 days but had less than 1, however I was thankful to not be on the side of the road anymore. When I turned in the truck I asked about a refund on the trailer and was told no but I would not see any more charges for my trip. I walked away very angry that I wasted my money on this company but I let it go as I was glad to be done dealing with them.
106 days later I get an email with a bill for $500 for "towing" fees. SURPRISE!! I talked to the adjuster Patrick twice, got several different stories that magically changed every time he needed it to fit in with what he was saying. However I learned something VERY EYE OPENING: Budget Rentals (depending what state and which laws they want to go by) have up to 3 years (some states longer) to come after the renter for any "damages" and "fees" they feel is necessary up to the amount of the insurance you purchased. The statement in the contract that they use to get away with this is "You are responsible for and will pay us for all loss of or damage to the truck whether or not you were at fault from any cause natural or unknown."
So if you rented from Budget take note/pictures of any prior damage, hold on to all documentation for at least 3 years and if you have any issues know that you will be given a bill, even if they tell you you won't and it will be when you least expect it! I am shocked a company that treats customers like this can still be in business.

I had a reservation for a moving truck through Riverside Air Service, a week in advance. Less than 24 hours from my scheduled move date I get a call from the local dealer that THEY were cancelling my truck because they had leased it To another company because they pay more. Just left me hanging with my labor and no truck for my move... These folks could care less about anyone but themselves...

I reserved a truck for pickup on Saturday November 19th at 11:30 am at a Fort Pierce Florida location. When we arrived to pick up the truck, the clerk told us they did not have any trucks for us to take. He claimed the one they did have, he was unable to rent out because it needed maintenance. He did not offer to help us locate another truck or assist us in any way. We left and found a different truck with a different company due to the experience we had that morning. The issue I'm having, is that I'm now being charged a $50 "no show" fee after showing up and being told that there wasn't a truck available. I expect to hear from someone tomorrow morning, after the holiday today. I also expect to have my money refunded IMMEDIATELY, as this as already been the worst experience with a moving truck company I have had to date.

Budget corporate broke their promise and it cost me an extra $300. Had a reservation with Budget, but the day before the scheduled pickup, Budget called to tell me they didn't have a truck for me, told me to call customer service. I immediately called customer service, who referred me to another number, and the person there said to expect a call back within two hours. No call back, so I called again to follow up. Still no truck.
This time I was told that their system showed me as just having a quote, not a reservation. The email I had received clearly stated "confirmed reservation," and the last four digits of my credit card, but Budget never charged my card. I'm guessing Budget has a business practice of emailing a "confirmed reservation," but not charging the credit card so that they could call it just a quote, instead of a reservation, and walk away from their commitment.
Budget couldn't fix their problem, but I called U-Haul, and they put me on the list for one of the two trucks scheduled to come in the next day. Cost me about $300 more because the only truck available from U-haul was a larger and more expensive truck. I credit U-Haul with a win, and will likely not ever rent from Budget again.

Made Moving truck rental reservation in October 2016, an hour before we were suppose to pick up truck from the Moving Store in Lancaster, Ca. They called and said the truck was broke down and they had nothing for us. We drove from Arizona to move our things, took time off work, paid for hotel and not one person had the common decency to pick up the phone and make arrangements for a truck!! All they could say was they didn't have anything and there is nothing they could do for us! They gave us no options. No one called to let us know anything. Just cancelled it! They have poor customer service!!

I called and reserved a truck and gave my phone # credit card and email address. I was told I would receive an email confirmation and never received it. I ended up having to call and cancel my reservation because the people that were going to help me move cancelled on me. When I called to cancel the agent was very rude and unhelpful and said I would be charged a $50 cancellation fee. I explained that I never even received any confirmation through email or over the phone so I should not have to pay and I asked to speak to supervisor. The agent put me on hold for 3 minutes and came back and said she could waive it. I asked her could she make sure I get a cancellation email because I never received a confirmation in the first place and she said she would.
Two days later the $50 charge shows up on my account. I call them back and they give me a hard time and once again the agent is rude and unhelpful. They said I would get a refund but I will believe it when I see it back in my account and I will keep calling them until they do. I will never use this company again that's for sure and make sure to discourage others from using as well!

Made an online reservation, put in my credit card number and received a confirmation number. Got a confirmation email as well as email reminder not to forget about reservation and that I would be billed for a no-show. One hour before pick-up and while I'm on my way to get the truck for the move, I get a call from Budget that the owner of the location decided not to come in and I would have to travel to a further location to still have a rental. Never mind the fact that if I had reserved it from the city further away, the price would have been cheaper (lower price per mile) but now when I return it to the original location it will be priced as a 'one-way' and double the price (which the person on the phone specifically told me would NOT happen).
I coerced my friend to drive the distance to get me to the further city to pick up the truck. Guy behind the counter is having a terrible day because I'm already the 5th person with the same story and he is running out of trucks. I'm about to leave there with the second to last truck, when he confides in me that there are another 11 people after me who've made reservations who will be unfortunately also have a VERY bad day since there are no more trucks for their reservation! How does this company stay in business? After an already stressful move, I return the truck to the location I picked it up at instead of the closer location to my home and where I made my original reservation. The location is closed but I was told to just lift the gate and slide the key under.
This easily lift-able gate is locked and weighed about 1000 pounds. I didn't mind crushing my hand trying to slide the key underneath, it was trying to do it in the pouring rain while 10 or so rats felt like I was either invading their territory or inviting them to get into the business as I tried to lift the gate (I could see why they kept the garage door gate shut CLOSED). After begging the rats not to bite me and let me leave with my life, I walked the streets of the BRONX, NY at midnight in a secluded part of town trying to navigate my way back home. I call this morning to make sure that they got the truck back safe and sound and figure out my bill. They came in, took a look at the truck and promptly drove the truck over to the location near my home and left it there, and then charged me the one-way rate ANYWAY.
So, the fiasco with the midnight knife fight in the pouring rain with the ninja rats was all for nothing. I call customer service to get this fixed. "We can't work on this because the reservation is not closed out." WHAT?!? I dropped off the truck at midnight and the location opens at 8am. They've had the truck for 4 hours now. Call back the location. "Go call where we dropped if off at, ya putz." Call the original place. Is he sorry that he just didn't show up to work and caused this entire problem? NO. Does he know where my truck is? NO. A few more of these back and forth calls and he finally agrees to close out the reservation. Here is the kicker, he tells me "Don't worry, I didn't add any extra fees to the ONE-WAY rental you dropped off at the pick-up location. We won't charge you for driving the truck back over here."
I don't know how I found the fortitude to not explode. I think I even thanked him for his help. I have a feeling it was likely due to disorientation from the colors I was beginning to see. I call customer service back and explain my situation. They are the only other victims in this story because they likely get millions of calls from enraged, frustrated customers like me. They have to help, but are forced to do it in 1-minute increments and then stop to ask you for permission to work on it for another minute.
I tried to tell the young lady that I was happy to wait however long it took to fix the problem, but she told me she was not allowed to just work until it was finished. She HAD to ask me once a minute if she could continue to work on it. Eventually she was able credit me for the difference in the price of the one-way and local rental. However, she could not change the payment option (I wanted to pay with a different card since they take a large deposit for local rentals) since payment had been taken immediately. While I ended up in a lot better position than most who rent with Budget, I certainly will not be using them in the future.

Was looking for a truck rental for one day to move some furniture. Saw Budget's offer of daily truck use - I think $19 plus mileage - moving within the same city so a perfect fit for me. Guessed my total cost could not exceed $40. As I said, perfect fit for me. Secured the truck for the following day online. Received a confirmation in minutes - everything as advertised - could not have been easier. I lined up all my appointments for the following day - picking the truck up at 9AM. Arrived at the truck rental spot with labor ready to go. The local rental location talked to me like I was crazy. What was I doing there? Said of course here to pick up my truck and gave him my confirmation number showing charge to my credit card. He simply said "Sorry can't give you a truck I do not have - completely booked up. You will have to call around to somewhere else."
I demanded that he call the company and see what was available. He said there was a location 10 miles away. He would check with them and call me back when he could. I headed out of my way to the new location. No phone call and when I arrived at the alternative location - no truck. Now my entire day was shot - behind on scheduled appointments and wasted labor expense. Drove out of my way to the closest Home Depot to rent a truck from them - they were sold out but referred by to a second Home Depot location even further away. Last minute had to pay premium price for the Home depot truck and because of the late hour - an all day price $104.00.
After taking care of all the paperwork and way behind on my way to the first location the Budget guy finally called back (2 hours later) to say he knew a location I could go to - rent the truck. After telling him "thanks but no thanks" I went on with my day. Totally cost be truck price of $64 and a minimum of $50 in labor. I called Budget the next day as they charged me anyway and said no show on the invoice. Called, spoke to their joke of a customer service department. They agree to reverse the charge of $50 when I threatened to reverse the charge with my credit card company. They agreed and said it would take 5 to 7 business days for the credit to surface!
The gall of these people. I asked to speak to a customer service supervisor. They said and I quote "there were no supervisors in the US. You could email an international location" but they would not do anything for me anyway. A total disaster. Choose another company - these people are crooks and do not care if you are taken care of.

I recently moved from Topeka Kansas to Lagrange Georgia. I had to pick the truck up in Lawrence, Kansas. First of all when making my reservation I wasn't told that there was a $150 deposit. I paid $1440.00 I had a truck and the equipment to tow my car. I was given instructions to turn the truck in Alabama. I had to return the truck on Oct 8th and was told that the facility would be open from 8 am til noon. Upon arrival the facility was closed so I had to leave the key and the contract there and I would return Monday to get my deposit back.
On Monday I got a call from the facility saying that he does not handle cash so I would have to be refunded by check via mail in which I was not told that when I asked the gentlemen at the facility. Suppose I came to rent a truck and was paying cash you would take the money so you do handle cash and I had to leave Georgia to go to Alabama to return the truck.
This was a inconvenience because I am thinking when I return the truck I would get my deposit back. I called to do a follow up today and explained that I turned in all the paperwork and I didn't know the town in Alabama I turned the truck in. I was told to call the facility and I said how can I call the facility and I don't even remember the town it was in. So I have yet to get my refund and the customer care rep was very rude. I would never use them again.

Statement/Timeline: We reserved a moving truck from Budget Rental Glendale in my husband's name on 9/25/16. We received confirmation of the reservation that day. I took off work that Saturday so I can help load the truck. On Sep 29th, I received a second confirmation that said it's almost time to pick up my truck on 10/30.
We called the evening of the 29th to confirm we would by at 10 and they said, "Oh, we canceled that reservation. We overbooked!" "But we did just leave you a voicemail!" "But call this number for Budget and they will help you find another reservation in the area." We called that number and were told we would be called back within 2 hours. We weren't called back, and our search on the internet made it appear that nothing was available anywhere in LA. We called again because we did not hear back. Again, they said, "we will call you back in 2 hours." NO CALL EVER CAME! At this point, I had now wasted hours and hours trying to resolve their screw up.
I then tried UHAUL and made a reservation for an 11:30 pickup in North Hills. I call them to confirm and they say, "oh, we don't actually have anything available, that was just a request for a truck, not a reservation." It appears that this is common practice in the rental industry these days. I spoke to several other locations and they said, "yeah, we don't have anything, we have 7 reservations and only 3 trucks!"
We finally, finally found a truck to rent 2 days later with Penske, which required me to take a second day off of work. The lady at Penske said that Budget and Uhaul are notorious for doing this and that she gets calls all the time from people who have had the same thing happen to them. THIS IS A TERRIBLE PRACTICE. People are already stressed out about moving. I tried to make all the plans and to be prepared as possible, only to run into this MAJOR problem that is not our fault at all. It's really awful, and I can't imagine how many families are affected by this.
WHAT I AM SEEKING AS A RESOLUTION: I am seeking acknowledgment that this is a poor business model, apologies that I was never contacted on both of the occasions I was told I would be, compensation for my time wasted, stress accumulated, and for the extra day of work I had to take off. In a perfect world, I would like for these companies to change their business model, as this seems like a giant problem.

Just got off the phone with Budget Truck Rental. I had a problem with my brakes freezing up on a truck this weekend. The mechanic came out 3 hours later and of course the brakes were cooled down by then and worked fine on his 20' test drive. He told me to ask for a replacement truck. So, I called Budget and the maintenance manager told me if they couldn't replicate the problem that I would be responsible for the bill. I asked what bill and he wouldn't answer. I'm not sure if it was going to be for 2 truck rentals or the mechanics bill. I asked him if he was telling me to drive a truck that I thought was dangerous and he reiterated that I would have to pay if they couldn't replicate the problem. Now it is about 11 pm and it was too late to do anything. Sunday morning Budget calls and same thing so by now I tell them to **.
They say "you don't want a replacement truck?" I said "** no". Now they ask where I am returning the truck. I ask "why?" And they say so they can repair it. Lol. I said "why? YOU don't trust the brakes?" I took it back to the place I rented it and they exchanged it - no questions asked. 24 hours after I picked it up. Two days later I call Budget to complain and they said it was my responsibility to bring the truck to a repair facility on Sunday for repairs. WHAT??? Waste 2 days on a 3 day rental. Luckily it wasn't loaded yet and I wasn't stuck on the side of the road. Hopefully I don't get billed for complaining. Do yourself a favor and avoid Budget Truck Rental. BUDGET SUCKS!!!

Here's a quick summary of my experience: Reserved a truck on Tuesday. Received a confirmation e-mail Thursday. Showed up on time Saturday to pick up truck, and was told that none are available. Received no support in finding a replacement truck, and therefore was unable to move. The representative didn't care at all. Noticed a $50 no-show charge on my credit card bill on Monday. Called customer service Tuesday, got a simple "sorry", and was told the $50 would be reimbursed. Thank goodness U-Haul was able to provide something last minute. Never using Budget again.

I booked a truck over telephone 9/18/16, pickup 10/1/16 at Belvedere Road, WPB, FL. Received phone call 9/28, that my pickup location changed to N Congress Ave, Boynton Bch, FL. When I arrived was told by a very non-interested representative that there were no trucks and I must call for new reservation from a 1 800#. Called and was told it would be 4 hrs later and my truck would be only 16 ft instead of my 26 ft. This was the poorest experience I have ever had with mover rental. Then spent a long time waiting on my cell phone to cancel, with no success. I have notified my credit card provider AmEx to refuse payment on any charges from this lousy company. We had to complete move over 2.5 days with small vans from U-Haul to get our move completed. One way miles 55, so each trip was 110 miles. We made 5 trips. DON'T DO BUSINESS WITH THIS VERY UNPROFESSIONAL COMPANY.

A reservation was made and confirmed with Budget Truck Rental for a pickup at 2pm for Sept. 30 - we are moving. The day of the rental when we went to pick up the truck, there was no truck available. Yes, no truck. We were told we would receive a call within 2 hours - heck no! Of course there was no call. I had to call customer service only to be told "your request has been escalated and you should receive a call within 49 minutes or tomorrow. Is that ok?" Hell no. We contracted for a truck on 9/30 not 10/1 - what can I do. I have to wait but I can post on this site in the interim.
The rep, Kim, I spoke with said 'you don't have a contract and we don't guarantee a truck when you book online' as a response to my strong "we made a contract with you when we booked and received a confirmation number". What??? Reservation & confirmation does equal a contract! So now, we are waiting to hear from them as our house is packed with boxes ready to move. Such a large corporation without any sense of organization, and more importantly, they doesn't care about their reputation or posts that consumers make as you can see my complaint isn't the first. You pay for a service and don't receive the merchandise. Will "never" use them again and won't recommend them.

My daughter and I rented a truck in New Bedford, Mass. on Sept 27. I drove the truck to Maryland on the 28th. The truck was extremely hard to handle due to a worn out suspension system. Worse, while driving at high speed on the NJ Turnpike, the right rear tire blew out causing me to have to struggle to control the truck and get it safely off the road. Budget paid for the repair; that is not my complaint. Rather it is that they rented the truck in an unsafe condition, and when I tried to inform the service person of this when I returned the truck, she was entirely uninterested. I felt I should document this event so that others know to avoid Budget Truck Rental, and so that the company will be on notice of the unsafe condition of their vehicles so that they either will take steps to rectify the situation, or risk liability for a lawsuit if/when someone is not as fortunate as I was, and is seriously injured while renting a Budget vehicle.

My mother just rented a truck from them. She is going from ATX to Detroit. At no time did the website or the people at the location tell her that NONE of their trucks LOCK. Since when? I'm SURE this would be a deal breaker for everyone traveling for multiple days. I rented from the Ben White location in 09 and my truck most definitely locked. Also, they did not have her truck available at the Ben White location, even though she reserved over a month prior.
They sent her up north to the 183/MLK location. They made no effort to have it driven down by an employee. So now because my mother is on a budget and HAS to use Budget because of the price, she is forced to drive a truck that doesn't lock for 3 days with all her possessions inside. She also was not offered a discount for these inconveniences. Horrible service. Horrible. If you can afford it, rent from a different company. Phone calls WILL BE MADE to customer service.

The online reservation of our truck was smooth and easy. UNFORTUNATELY, that was the only thing. When we went to pick up the truck the facility was closed. Just so happens the manager had come to the office to pick some papers. When she saw my husband there, she was wondering why. He told her that he was there to pick up our truck that was rented via the web. She was shocked as they were closed for the week. My husband explained to her that we need our truck as reserved online because we are moving out of State and his job starts on Monday.
Well she gave us a truck, the only tr6 on the lot, which was a little bigger than what we reserved, which we were grateful, until the big surprise of the ants. We picked up our truck on a Wednesday, packed it but didn't get on the road until Thursday. It wasn't until Thursday evening when we finally pulled over to eat that we were surprised. The bag of chips that was sitting on the passenger seat was covered with red ants. My husband said he had seen a couple of ants but didn't think anything of it as the truck had been sitting on a lot for days. But when the ants started coming from the vents, floor mats, passenger door, up his leg, he had to pull over, jump out of the truck to get the ants off of him. All trying not to have an accident.
Once we reported this to Budget, there only words were "we are so sorry. We can send another truck." Well that would have been fine but who was go to repack a truck. So we bought bug spray and had to stay overnight at a hotel until some of the ants subsided, plus my husband could not drive because of the ** he took due to the ant bites. So we report all of this. Was told that we will be issued a refund once we return the truck. Well we were satisfied with this because at least they were not going to charge us for this horrible experience. So we go to drop off the truck, only to be told that the office is closed for 2 days and will not open until Wednesday. This was not told to us by budget, but by a tenant in the company next to the budget rental office. As a matter of fact, he said I was the third person he had told that morning.
Well once again we get screwed. There at 8:00am, late to work, and no one there. We were told by the service rep that once we return the truck, they would issue the refund. Well how convenient to be closed. Once I reported this incident to customer service, I was told that the charges will remain on hold until the ticket is closed. He assured my husband that NOTHING CAN BE DONE UNTIL THE TICKET IS CLOSED. So left the keys in the night drop as instructed, waited until Wednesday to speak with the rep, who stated that she had informed Budget that she would be out until Wednesday and please do not lost this site as a drop off until Wednesday.
Bottom line after contacting customer service, my husband was told that no charges will be charged to our credit card, the hold should call off in 5-7 days. NOT. THEY HAD ALREADY CHARGED MY ACCOUNT ON MONDAY AFTER WE WERE TOLD THAT NOTHING COULD BE DONE UNTIL WEDNESDAY. Liars, poor customer service, infestation, all made for horrible experience. Never rented from this company.

So we are an active duty family. Last April my family and I were restationed from Fort Carson Colorado to Fort Drum New York. We rented a budget truck in Colorado and got in an accident that damaged the roof of the vehicle. Prior to starting our move I purchased what Budget Truck claims to be a foolproof insurance purchase through them. Directly after the accident contacted local law enforcement reported the accident and then called Budget Truck customer service where I was redirected multiple times until finally connected to somebody who informed me that the cover all insurance that I purchased for almost $400 did not cover rooftop damage even though I specifically told buy a Budget Truck employee that it covered everything that you could imagine.
The accident happened in Illinois in the middle of the night. We were advised that Budget Truck would not rent us a second moving truck and we were told that we needed to get all belongings out of the 24 foot box truck. They left my father and I stranded in Chicago with everything we have ever owned. They had no regard for our situation and simply left us out to dry. My insurance covered the damages after they attempted to charge me 10,000 dollars in repairs. It was nowhere near that amount in true damages/labor. I want the public to hear my story and acknowledge the complete disregard for the customers well-being or simply safety. Thank you U-Haul and State Farm for helping me and my family out.
Budget Truck Rental Company Profile
Company Name:

Budget Truck Rental

Website:

https://www.budgettruck.com/