Written by

Edited by
Our promise. We provide a buying advantage with verified reviews and unbiased editorial research.
About Medical Alert
Medical Alert by Connect America is a professional emergency response monitoring company. Its systems come with a wearable lanyard or wristband that connects to a monitoring center. You can set up your monitoring system through a landline or cellular connection, depending on the device you choose.
Pros & Cons
Pros
GPS Capabilities
Optional fall detection
30-day money-back guarantee
Cons
Upfront activation fee
Large devices
Bottom Line
Medical Alert offers top-rated emergency equipment. Its upfront costs are higher than some other companies offer, but all packages include 24/7 professional monitoring, waterproof buttons and access to the Medical Alert Connect app.
Featured Reviews
Verified
Conroe, TX
Medical Alert is perfect for our parents. My dad had a bad COVID and my mom didn't know what to do. So, she hit the button and they dispatched 911 right away. It's amazing. It's w...
Read full review
Verified
Willcox, AZ
… A couple of times I hit the button by mistake, I had an immediate response and that's what I expect. When my husband fell down, I used the button to get the help rather than cal...
Read full review
Medical Alert systems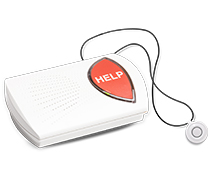 Medical Alert
Home Landline System
$19.95 to $27.95 per month as of publishing date
Basic monitoring equipment with a waterproof emergency button. It has an 800-foot range and 30-hour backup battery.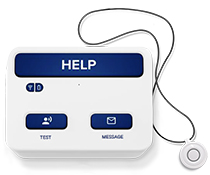 Medical Alert
Home Cellular System
$29.95 to $37.95 per month as of publishing date
Cellular monitoring equipment with a waterproof emergency button. It has an 800-foot range and 30-hour backup battery.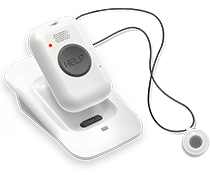 Medical Alert
Wireless Mobile System
$39.95 to $47.95 per month as of publishing date
Portable access to monitoring centers with a wearable button and GPS technology. It has a battery life up to five days.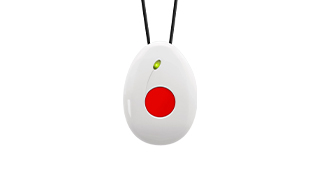 Medical Alert
Fall Detection Pendant
Extra $10 per month as of publishing date
Fall detection technology uses accelerators and barometric sensors to automatically sense a fall.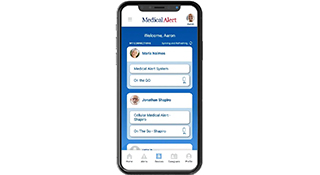 Medical Alert
Connect Mobile App
Included with service as of publishing date
Subscribers and caregivers can view call history, check battery status, contact customer service and more.
How Medical Alert emergency response systems work
Medical Alert's systems consist of a wearable button or pendant and a base station. When the button is pressed, it sends a signal to the base station, which connects you to a professional monitoring center. A trained operator answers and establishes communication.
They then assess your situation and send the appropriate help, whether that's contacting emergency services or notifying designated family members or caregivers.
The direct connection to a monitored call center is a plus for many of Medical Alert's reviewers on our site. A reviewer in Louisiana had a different device before Medical Alert, "but it was not really monitored and the company would alert [her] sister."
With Medical Alert, "the call goes straight to someone that's monitoring the device and they can call the fire department, which is about two blocks down from my house. So, when I get on the floor and I can't get up, I don't have to crawl to get the number for the fire department. They call for me and that's what I like about it."
About Medical Alert's monitoring centers
Medical Alert's U.S.-based monitoring centers are staffed by trained operators 24/7, including holidays.
Response centers are TMA Five Diamond-certified and UL-certified. SIA-certified multilingual operators are trained to use the International Language Line for real-time translations in 140 languages. The company is also a member of the Medical Alert Monitoring Association (MAMA).
Medical Alert costs
Medical Alert systems start around $20 to $40 per month, but you can save money by enrolling in an annual or semiannual plan. Annual plans also include perks like free shipping, a lockbox and a free month of service.
There are no equipment costs, but there is a one-time $79 programming fee. Fall detection is available for an extra $10 per month. For an additional $1 per month, you can purchase a protection plan that covers up to $350 if your system is lost, damaged or stolen.
Keep in mind that your rates might go up over time.
"Everything has gone well when I've used them," a reviewer in Arkansas told us last year. "But I'm 92 years old and I don't like something that goes up $10 a year so I am working on trying to get something that's not expensive."
Around the same time, a reviewer in Maine said: "It does the job and it's very useful. But I think they put the price up pretty well. It went up $15 a month."
Home Landline System

Home Cellular System

Mobile System

Month-to-month
$27.95 per month
$37.95 per month
$47.95 per month
Semi-annual plan
$24.95 per month
$34.95 per month
$44.95 per month
Annual plan
$19.95 per month
$29.95 per month
$39.95 per month
Optional fall detection
$10 per month
$10 per month
$10 per month
One-time programming fee
$79
$79
$79
| | | | | | |
| --- | --- | --- | --- | --- | --- |
| Monitoring fees | $19.95-$47.95 | $29.99 to $39.99 per month | $29.95 to $58.95 per month | $29.95 to $44.95 per month | $49.95 to $69 per month |
| Equipment cost | $0 | $0 | $0 | $0 to $199.95 | Varies |
| Activation fee | $79 | $0 | $79 to $99.95 | $0 | $198 |
| Fall detection | Available | Yes | Yes | Yes | No |
| Trial period | 30 days | No | No | No | No |
| | Read Reviews | Read Reviews | Read Reviews | Read Reviews | Read Reviews |
Medical Alert FAQ
Do I have to sign a contract to get a Medical Alert system?

You need to sign a month-to-month monitoring agreement to comply with privacy laws, but no long-term commitment is required. Paying on a longer-term basis can save you money, though.
Are Medical Alert devices waterproof?

Medical Alert's help buttons are waterproof, so you can continue wearing your pendant or wristband in the shower or the bath. However, your base unit may not be waterproof.
What happens if I accidentally press the emergency button?

The monitoring center confirms whether it was a genuine emergency or a mistake. They ask if you're OK and if there is a real need for assistance. If you confirm it was accidental, they update your account records and take no further action.

However, if they can't reach you or receive an unclear response, they may contact emergency contacts or send help to ensure your safety.
Is Medical Alert's fall detection reliable?

Medical Alert's sensors use high acceleration sensors to measure force, barometric sensors to detect changes in pressure and an algorithm to distinguish between a real fall and a false alarm. However, no fall detection is 100% accurate.

"I used my Medical Alert two or three times when I fell down and I couldn't get up. And I was here by myself," a reviewer in Michigan said. "They came right away, took me in the ambulance, and they started working on me to check me out."

» COMPARE: Best medical alert with fall detection
Will the cellular system work in my area?

As long as you have adequate AT&T cell coverage in your area, the system should work.
Is Medical Alert a good company?
Medical Alert offers top-rated emergency equipment with two package options: Home System and Mobile System. Both packages include 24/7 professional monitoring, a two-way speaker, a waterproof button and access to the Medical Alert Connect app.
It's important to note that the upfront costs for Medical Alert are higher compared to our other recommended choices. To get started, there is a $79 programming fee.
But other companies charge additional fees for similar mobile features — caregivers can easily monitor the status of their medical alert device, update contact lists, conduct system tests and more — so the costs could even out over time.
A link has directed you to this review. Its location on this page may change next time you visit.
How do I know I can trust these reviews about Medical Alert?
4,308,422 reviews on ConsumerAffairs are verified.
We require contact information to ensure our reviewers are real.
We use intelligent software that helps us maintain the integrity of reviews.
Our moderators read all reviews to verify quality and helpfulness.
Page 1 Reviews 0 - 5
Reviewed June 8, 2023
The Medical Alert helps a lot. I try to remember to have it with me all the time or to have it on. The first one did not have the fall alert on it. They sent me another one. But I couldn't tolerate the cord that was on it. It irritated my neck so bad, so we put a chain. That did the same thing. Now I have a loop tied on it and a safety pin to it. I pin it through my shirt. I'm one of those old people that still wash their hair in the sink. I've set it off a couple of times that way. But other than that, I have no problem with it. Last January, I had a heart attack. I called my daughter-in-law who lives 13 miles from here. She said to push the button which I did and they answered right away. They were here with the ambulance right away. Since I had my heart attack, my legs get shaky and I have to sit down quick sometimes. I did the other day and it set it off, just me sitting down hard. My daughter-in-law was there and she was pleased too. That's the fall part of it. It's well worth it.
Thanks for subscribing.
You have successfully subscribed to our newsletter! Enjoy reading our tips and recommendations.
Customer Service
Punctuality & Speed
Staff
Reviewed June 7, 2023
On July 11th of 2022, I got up to go to the bathroom in the middle of the night and for some reason, I fell. My Medical Alert was on the counter charging. I wasn't wearing it in bed. I had to crawl over on the floor, drag myself over to a chair and had to reach up. I finally reached it. I hesitated quite a while about calling it. Then I pushed the button. They came on and asked if it was an emergency. I said, "Yes, it was, but don't call the medics to come. Call my daughter." They did. She came over. She couldn't get me up, so she called the medics and had them come and take me to the hospital. I had a broken hip. My Medical Alert was very helpful.
They responded right away as soon as I pushed the button. They did what I asked. They called my daughter. She had a key to the house, so she was able to let the people in when she called them. They took me to the hospital and they were very good. I was very well treated. This is the first thing I put on when I get out of bed in the morning. I leave it on. It's also the last thing I take off at night. But I don't wear it in bed because I figure I might set it off. I've got it on a side table right by my bed so I can reach it.
Anna
Saint Helena Island, SC
Customer Service
Fall Detection
Staff
Reviewed May 24, 2023
My husband sits outside a lot and when I'm in the house or if I go shopping, my problem is that he doesn't remember to push the button when he falls. One time, put in a walk-in tub and I had a painting on the floor. He walked into the glass and had a piece of glass stuck on his leg. I couldn't get him up, so I pushed for Medical Alert. I thought I would have a quicker response but everybody came. And as I have a gated community, the guys from security and fire came. They helped get him up and they had to Steri-Strip his cut. It wasn't that bad of a cut and he didn't have to go to the hospital.
My husband falls a lot and thank God we have security. If he doesn't hurt himself, I call up Medical Alert, and they come and pick him up. But 911 also has what is called the lift and assist where if you call 911, they'll come and they'll pick him up. Other than that, I would recommend the Medical Alert button. It's a wonderful idea and it's a very good device, especially on his wrist. We didn't get the pendant because he would keep pushing it and it would annoy him. But the wristband is not very nice. I had to cut it because the strap was too long. It could be a better quality.
Reviewed March 28, 2023
I set my Medical Alert off two times in a few days. I didn't even know it went the first time, but I was so embarrassed. I had it on my arm, and we were playing games, and I didn't know what I did. Next thing I know, my son-in-law came here. I was in the dining room, we were playing games, and I thought, "Oh, my goodness." I solved the problem by using a chain. I had a locket on it, and I put it on there, and that works well. I put it so the button itself is against my skin. I just put it around my neck, and that works better than anything else that I had. People can even hardly tell the difference because it's black and it looks almost like some piece of jewelry. It's all right to have it. I feel a little bit more confident.
The people from Medical Alert were great. Even the emergency people came to the door and I was so embarrassed. They said, "Well, I can see you're fine." I said, "Yes, I am." They were very nice. They said, "Oh, it happens," and I didn't get charged for it. One thing I wasn't happy about is this gal pushed this $10 thing on there a month for some kind of insurance on the equipment. I said, "I don't need that." Then, I got charged on that for a while until I told the guy that called, "Be sure and take it off." So, I'm hoping it's off there.
Customer Service
Installation & Setup
Punctuality & Speed
Online & App
Fall Detection
Reviewed Nov. 21, 2022
I'm by myself and my kids said that when I'm by myself, I really should have a Medical Alert device. That's what I did and I got it last spring. I had the necklace and I didn't like it. I sent the necklace back two weeks ago Monday because I'm not using it. Medical Alert sent me an envelope to send it back in. There was a note on it to call in a little over two weeks to make sure that it had gotten back.
I also had a bracelet. The first bracelet was made of a stretchy material. I lost it. When I called Medical Alert to get it replaced, it turned out they had problems with that one because they sent me another bracelet and I really like it. They fasten on my wrist. medical Alert said since it was the first one I lost, they would not charge me anything for the next one. When I'm here by myself, I have my device on all the time. When I go outside, I do too. I accidentally pushed the button twice and the response was very quick. Medical Alert also wants us to call once a month and check in. If I don't, they call me. They're doing everything they can and I appreciate that.
Reviewed June 18, 2023
Medical Alert is a very good place. The only thing that I was unhappy about was when they called me here a while back, and then sent me this letter saying that we needed the insurance thing if something broke now, it's gonna cost us more. I have to pay $55 a year in case and then I wouldn't have to pay for it. But, to me, that's paying in money that I would have paid if something did break. So I wasn't happy about that at all. I did tell them that if they called me for boosting up something, I was gonna be done with it. But overall, I'm satisfied with it.
Reviewed June 18, 2023
My wife and I fell on the floor one night and I had to call Medical Alert. But I couldn't get nobody on this thing because electric was out. So I called 911. Medical Alert won't work when electric is off. But when the electric is on, it takes them about five minutes sometimes to respond.
Shirley
Indian Head Park, IL
Customer Service
Monitoring
Online & App
Reviewed June 18, 2023
Accidentally, I hit my Medical Alert a couple of times. When I hit it, a message came through on that white receiver and I have a hearing problem and I didn't hear it. So, they called me on my regular phone. The fire department was here and the police department within 10 minutes. But I don't wear it every day. I have it placed in a spot where I could just reach it.
Reviewed June 17, 2023
The device feels just like a neck bracelet. Every month I try to check the button and make sure it's working. Medical Alert gets to me within a minute.
Customer Service
Fall Detection
Staff
Reviewed June 11, 2023
Medical Alert was the best device for me. I didn't feel pressured from them. A couple of companies were like, "You gotta get this because you're getting old and you live by yourself." I got the facts that I needed and I went from there. I feel comfortable that if I need them, they're there. They've answered it when I've dropped it, in a positive way. The other biggest benefit I find is I don't have to push the button if I fall. A lot of alerts, you have to activate it, which is all well and good if you're conscious to think about it. It's not so good if you're unconscious. I've recommended Medical Alert to at least a half dozen people.
Medical Alert Company Information
Company Name:

Medical Alert

Address:

1 Belmont Ave, 12th Floor

City:

Bala Cynwyd

State/Province:

PA

Postal Code:

19004

Website:

www.medicalalert.com